Have you also seen those incredible pictures of the Balos Lagoon and Gramvousa Island where some of Crete's most excellent beaches are located? Do you wonder if those places are really as beautiful and as dreamy as shown in those pictures?
Well, yes and no. While those places are truly mesmerizingly beautiful, they are pretty far from being dreamy. Simply because hundreds of day trippers would cast out any kind of dreaminess even from paradise.
But here is why you still should go.
Modern Days' Crusaders
It's still early as I pace from my tiny apartment not far from the Venetian port to Chania's main square called square 1866 in honor of the uprising of the Cretans against the Turks. As always, I'm a bit early, and thank god, some of the coffee shops are already open. This way, I can grab two hearty pastries and a big coffee with milk and have breakfast on a bench while I'm waiting.
The spot between the local Alpha bank and Funky's snack bar – which later will become my go-to place whenever I need a tasty snack – slowly fills up with people. There are single individuals, young couples, and also entire families including grandma. There is not much energy at this hour, all those people look quite tired. Now, at around eight, there's no vibe of anticipation of a lovely day out.
Then, the first tourist buses stop at the curb. Dynamic tour guides get off. They are pointing at people, asking for names, checking vouchers, comparing them to the long lists of names on their clipboards. "Elafonisi bus number 3". "Yes, this one is going to Balos, but it's not yours. Wait here." "Your bus will be here in a while." Tourism definitely is an industry. The whole idea of exploring the world, getting to know hidden gems, meandering across planet earth – on the northern edge of Chania's square 1866 there is undoubtedly nothing left for Dora the Explorer.
As the next bus arrives, an energetic lady gets off, asks for my name, wants to see my voucher, crosses me off the list on her clipboard, and ushers me onto the bus. Let the trip to Crete's most excellent beaches begin.
Balos Bay
Crete's most excellent beaches – I'm not exaggerating since the bay of Balos is one of the main natural attractions of Crete along with the pink beach of Elafonisi and the Samaria Gorge. The bay is located on the western side of the now uninhabited Gramvousa peninsula – not to be confused with the equally uninhabited Imeri Gramvousa island rock.
Protected by a land bridge from the open sea, a lagoon formed from alluvial deposits. This lagoon is located in the east of the bay between the Gramvousa peninsula and the western Cape Tigani. The shallow waters in the lagoon are mostly less than 50 centimeters deep with no vegetation whatsoever. That makes it the perfect swimming pool even for young children. On the northern edge of the beach, however, you can get into waters that are deeper and colder. Those are great for swimming and snorkeling. Nevertheless, entering can be very tricky since there are huge slippery rocks along the shore.
Balos Beach
The beach around this tenderly turquoise lagoon consists of fine sand from shells and corals. In many places, they make the sand shimmer in a lovely pink.
The lagoon and the wider area with some rare species of flora and fauna are protected under the Natura 2000 program. As a matter of fact, falcons, shags, and cormorants nest in the caves of the area. Also, the area is a refuge for seals and turtles.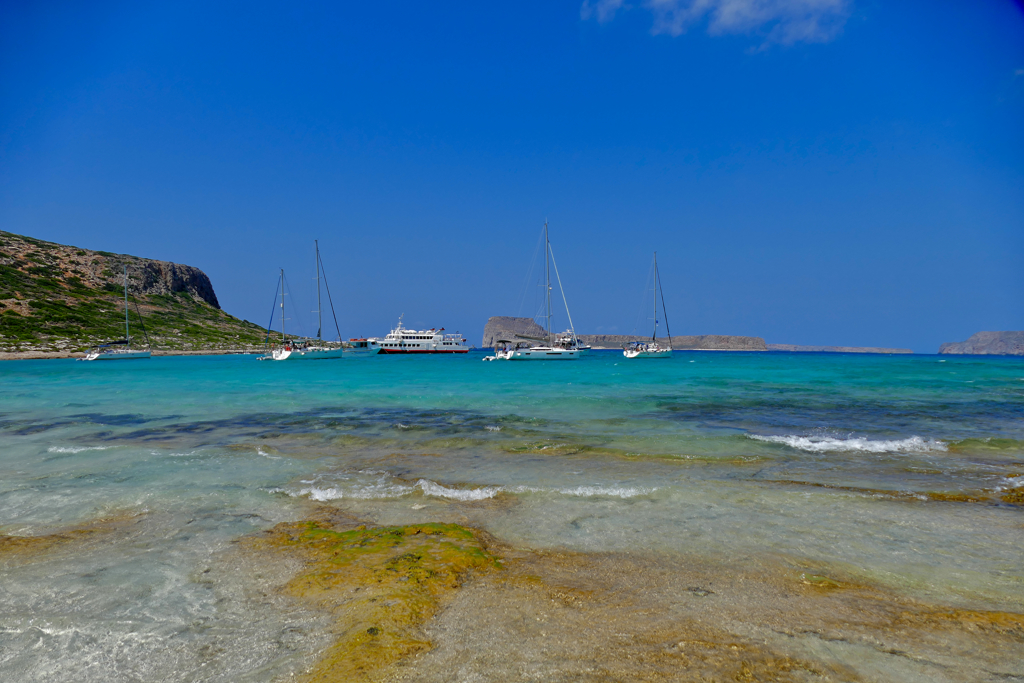 Yet, during the high season from April to the end of October, you will find a beach bar and some mobile toilets on the eastern side of the lagoon. Also on the beach between the lagoon and the bay that opens to the open sea, there are umbrellas and sunbeds to rent. Other than that, there is no further infrastructure. Therefore, I suggest that you check my list of useful and even indispensable items you should bring with you on a trip to Balos.
Let's Get Real
While the bay of Balos is famous for its soft sandy beach and clear turquoise waters, much of the real experience will depend on how many other visitors there will be. Mind you, the beach is rather small and as the passengers disembark from the ferries, it might get very busy. After all, even then Prince Charles and Princess Diana visited Balos decades ago. Obviously, those two did not come on a ferry from Kissamos but on a private yacht.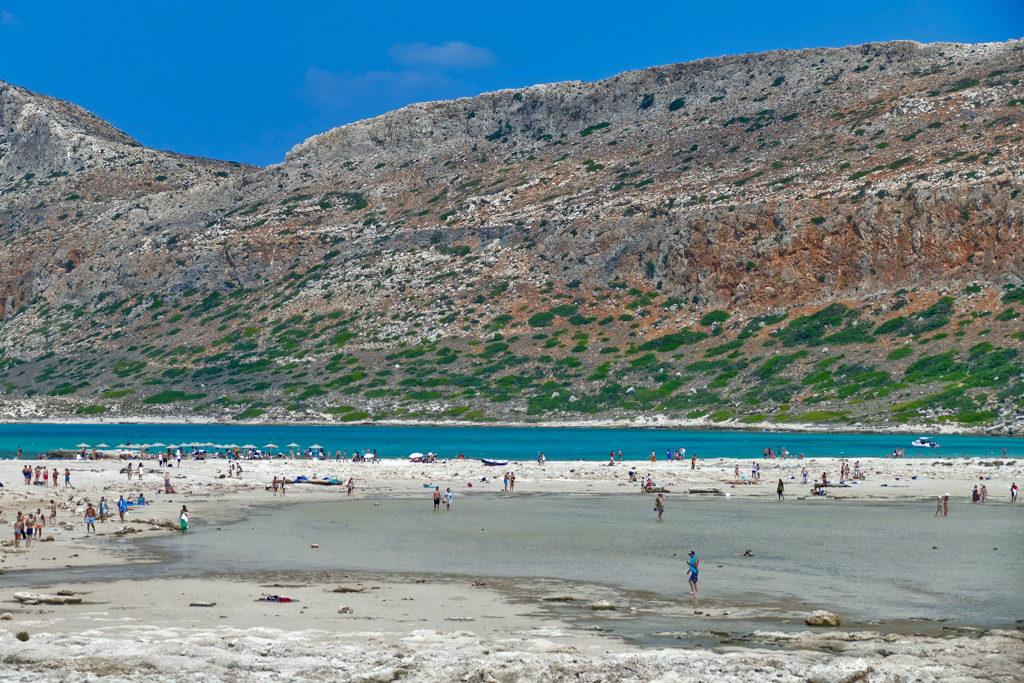 Hence, to avoid huge groups, you better not visit in July and August. However, I was there in September and found it annoyingly crowded. It might be much emptier in the morning before the first ferries from Kissamos get there. Then you probably can actually enjoy moments of serenity.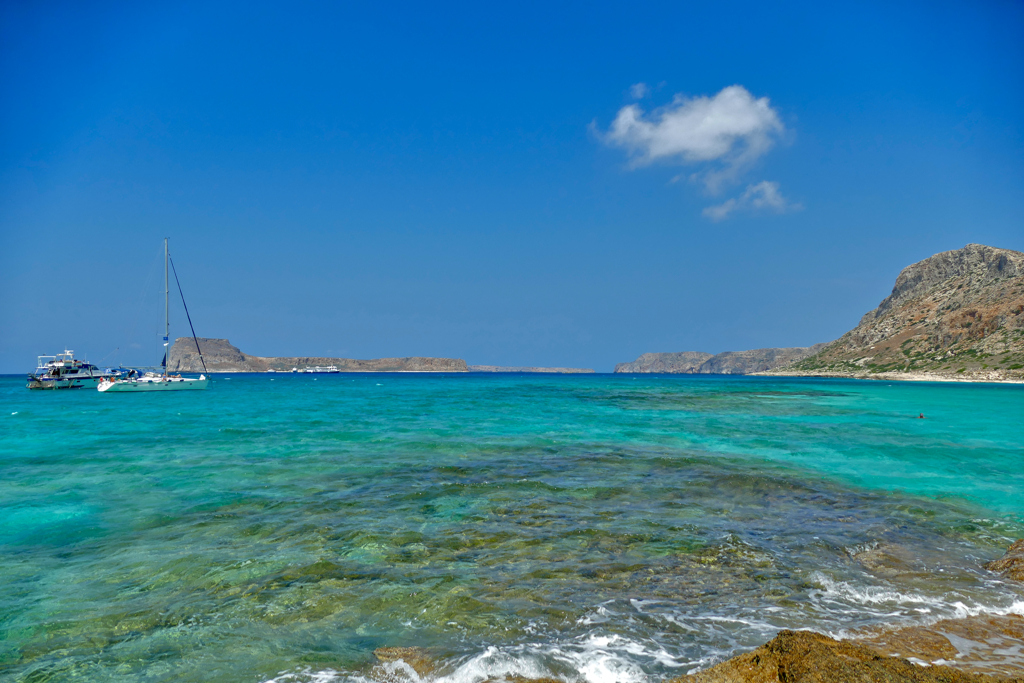 Also, please be respectful and considerate to preserve this piece of paradise as well as you can. This includes taking all rubbish with you including those nasty cigarette butts.
Gramvousa Island
The second part of the day trip brought our lot to the island of Imeri Gramvousa. It is located just about a kilometer off the west coast of the Gramvousa peninsula. It was the island's westernmost defensive point during the Venetian rule of Crete in the late Middle Ages. Hence, to this date, the ruins of the Venetian fortress can be visited here. It stands on the islet's highest peak at 124 meters.
Hiking up the steep stone stairs, you enter the premises through a gatehouse. Actually, this is the best-preserved part as there are hardly any remains of buildings inside the walled fortifications. The former chapel is the only structure with a preserved roof.
The construction of the fortress was completed in 1584. The Venetians actually kept it even after the conquest of Crete by the Ottomans in 1645 in accordance with a contract. During the Great Turkish War from 1683 to 1699, officer Luca della Rocca surrendered the fortress to the Ottomans in the summer of 1692. The new owners eventually reinforced the fortification and equipped it with 66 cannons.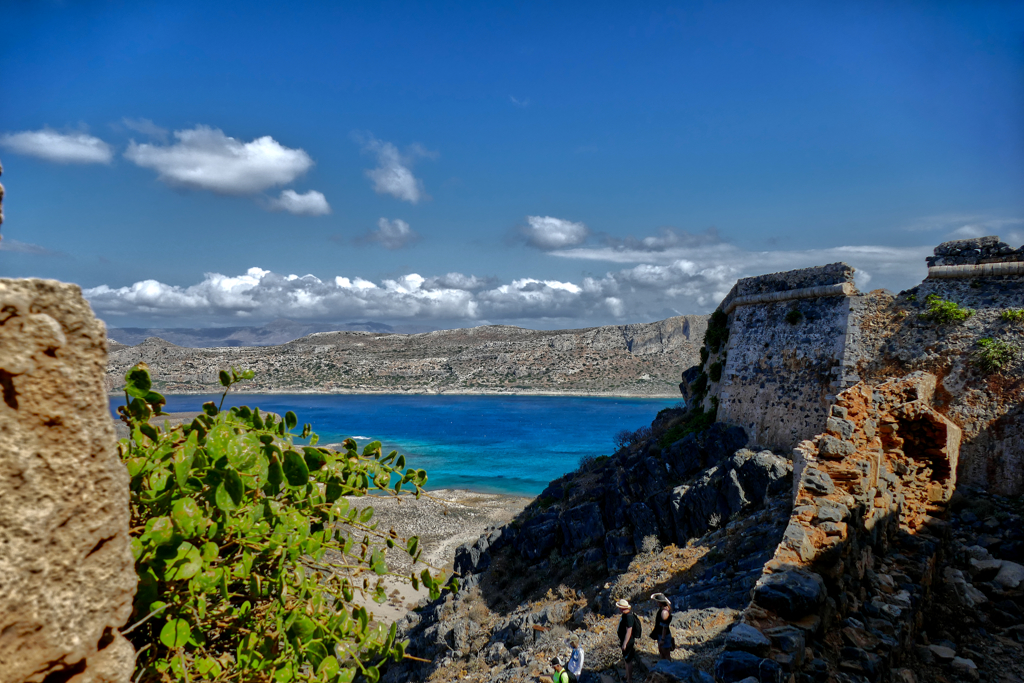 Only during the Greek revolution from 1821 to 1829, did the island gain new importance. It was used as a fortified retreat. At times. up to 3000 people lived on the island. Due to the isolated location, supplies were scarce, so the inhabitants looted ships sailing by. Finally, in 1828, a British-French fleet took Imeri Gramvousa and drove the pirates out. As the fortress has fallen into disrepair, today, it only serves as a lookout from where visitors have overwhelmingly beautiful panoramic views of the marvelous surroundings.
Solid As a Rock
Cliffs encircle the island almost all the way around. Only on the southern side, below the fortress ruins, is a small bay including the jetty for the ferries.
Also, this bay is partially surrounded by a beach. A rusting shipwreck lies aground off the shore. It sunk there in January 1968.
Behind the bay are still a couple of small buildings amidst a multitude of agaves. However, they are not permanently inhabited. On the western end of the bay, a steep path and stone stairs lead up to the fortress.
My Tip: Go to the fortress first. Although it looks so close, don't underestimate the time you need to climb those stairs up and down again. Also, I bet you that you'll spend more time admiring the views than you can imagine. The whole visit will take at least one hour.
If you have a little time left before the ferry takes off again, you can still enjoy a refreshing dip in the clear waters afterward.
How to Get There
On An Organized Day Tour
The most comfortable and secure way to visit the bay of Balos is on an organized trip. The downside is quite obvious: You are automatically part of the crowds instead of beating them. That's actually the only downside – that I absolutely do not want to downplay – since the costs of a ready-made day trip and a self-organized visit are basically the same.
So if you just want to enjoy your visit and leave the organizing and planning to others, here are some day trips to Balos bay and the island of Gramvousa to choose from*:
By Public Bus and Ferry
Balos can be accessed in three ways, but only the ferry ride includes a visit to the beautiful islets of Gramvouse. Therefore, I would bite the bullet and take the morning ferry from Kissamos together with all the other jolly day trippers. If you do it on an organized excursion or if you get to the port by public bus is totally on you. The costs won't differ much. However, during the high season, the public bus might get quite packed.
Also, going to the port by public bus from other places than Chania will be a drag. Hence, if you're not staying in Chania, I would definitely recommend visiting on an organized day tour.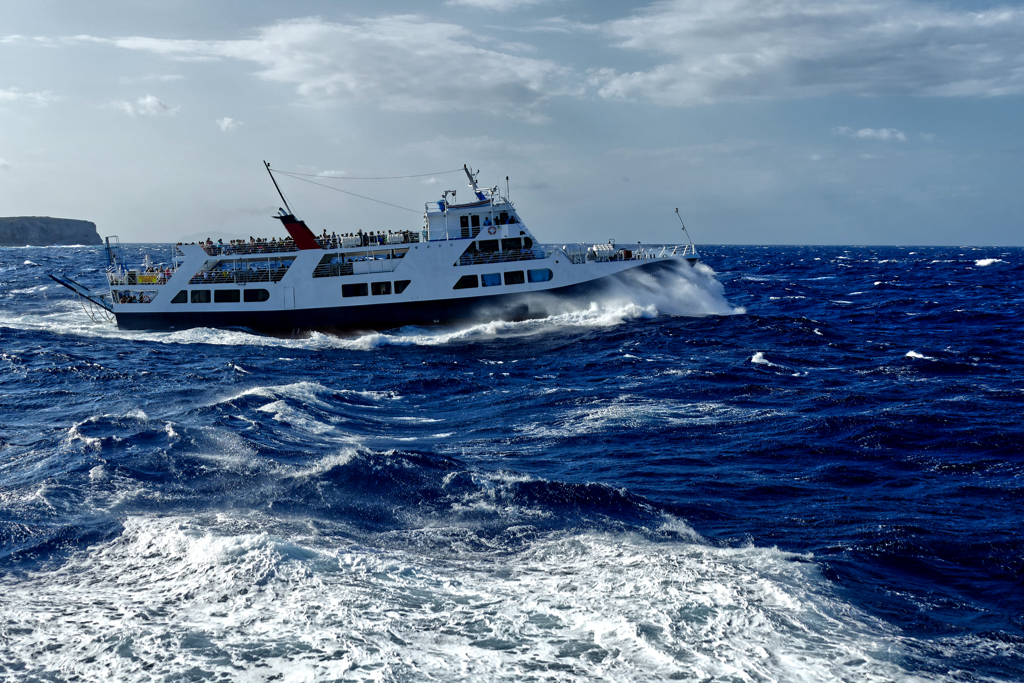 From Chania, the public bus takes you to the port of Kissamos in about one hour and costs about 7 €uros each way. Compared to organized trips, this is a difference of about 5 €uros, hence, next to nothing. And don't forget that in your ready-organized tour, everything – apart from a 1-€uro eco-charge, is included.
If you take the coach around 8.30 a. m., you'll have plenty of time to grab a snack and a coffee at the port. The buses are scheduled according to the ferry trips so that also upon return from our cruise, the bus will be waiting for you in front of the ship to take you back to Chania.
By Car
If you do not want to come by boat and have a car or motorbike, you can drive to Balos on the dirt road starting from Kaliviani. There you have to pay a small fee for the protection of the Gramvousa Reserve and the preservation of the road. After about 10 kilometers you get to a parking area above the lagoon from where the panoramic views are just amazing. Especially photographers will love this vantage point.
Yet, I still believe this is not the best way to visit Balos since from here, however, you'll have to walk for 20 minutes under the sun from the parking spot down to the bay. Eventually, the way up takes supposedly double the time and can be a real struggle. Don't forget that there are basically no facilities and also protection from the sun. Therefore, you'll have to carry your towels, maybe an umbrella, food, and lots of drinking water with you.
Also, not everybody knows – or prefers to ignore – that rental car companies explicitly forbid driving to Balos. Therefore, if you break down on that road, the insurance policy is void. Why? Because the dirt road is long and full of potholes and basically only suitable for off-road vehicles. But most visitors rent small cars and drive extra slowly to avoid damage. But those wicked small gravel stones fly in all directions, hitting windshields and scratching the car. Also, the road is on a cliff, and goats might cross the path.
While this sounds scary, the main reason for visiting Balos by ferry is that this is the only way to visit also Imeri Gramvousa.
Hiking
However, the hardest yet most compelling way to get to the bay of Balos is by trekking from Kaliviani. You'll walk across the dry terrain of Gramvousa and the range of Platyskinos for about three hours. Therefore, make sure to wear sturdy sneakers or even better, high-quality hiking boots. You'll also need a hat against the hot Greek sun and plenty of water, obviously.
As you get to Balos, you can visit the small chapel of Saint George located in Tigani. There you could also visit the large cavern where the Turks massacred women and children during the Greek uprising in 1825. Those people were hiding in the cave, but were soon found and murdered by the Turks.
However, beware that although the road is not hard to walk, the hike is strenuous. Also, you won't be able to visit Imeri Gramvousa which to me personally was the highlight of this day trip.
What To Pack For a Beach Day
If you stay at a beach hotel, you can simply walk from your room to your sun bed in a swimsuit, a book, and a cocktail in hand. But going on a day trip, you need to prepare and take some indispensable items and gadgets with you.
Therefore, the below list does not only contain quintessential items like your wallet and your reading glasses but also some gadgets that are not crucial but will make your day on the beach more comfortable and pleasant.
Nevertheless, I'd like to prevent you that you can buy water and snacks on the ferry. A bottle of water costs about 1 €uro, a pastry 2 to 3, and a hot meal about 8 to 10 €uros. While that's by no means expensive, the food isn't very good so you might want to stick to the smaller snacks.
Also, you can rent a large parasol for 5 €uros – whereby you have to leave another fiver as a deposit. I know that sounds great and I was absolutely thrilled until the moment my open parasol took off and literally flew across the entire bay. Fortunately, a friendly gentleman grabbed it as it was floating in the lagoon and gave it back to me.
I don't know if there is a windless day in the bay of Balos ever. When I was there, it was not stormy, but there was a slight breeze that then carried away my precious parasol.
Hence, I don't know what to tell you.
Would I rent it again? No, I wouldn't. I would rather see if there is one of those permanent wooden umbrellas on the beach available.
Howsoever, here's the list of what to take with you for day:
1. Wallet and Keys
Sometimes it's the most evident stuff that we tend to forget. While you are focusing on your swim goggles, you realize that you left your wallet in the room only the moment you need it. Therefore, the most important item is your wallet with some cash, one credit card for emergencies, and some form of ID. I'm emphasizing taking only one credit card for security reasons. If you should lose your wallet or if it gets stolen, you'll still have your other cards safely in your room. Also, I'm always taking my ID with me instead of my passport. Yes, losing it is annoying, however, not as serious as losing a passport.
Oh, and don't forget to take your keys before you slam that door. I'm always having a noticeable lanyard with me that I attach to my holiday apartment key during my entire stay. Maybe this idea works for you, too.
2. Backpack
I strictly recommend taking rather a backpack than a tote since once you get to Balos by ferry, you have to climb across some pretty wicked rocks to get to the beach and the lagoon. I can imagine that this is even more challenging when you have to carry a bag full of your stuff in one hand.
3. Beach Towel and Possibly an Extra Towel
Despite the fact that there are some rental sunbeds and umbrellas on Balos beach, the number is quite limited. Since you won't like to lay in the sand, obviously, you need a beach towel. Also, I like to have also a smaller towel with me just in case.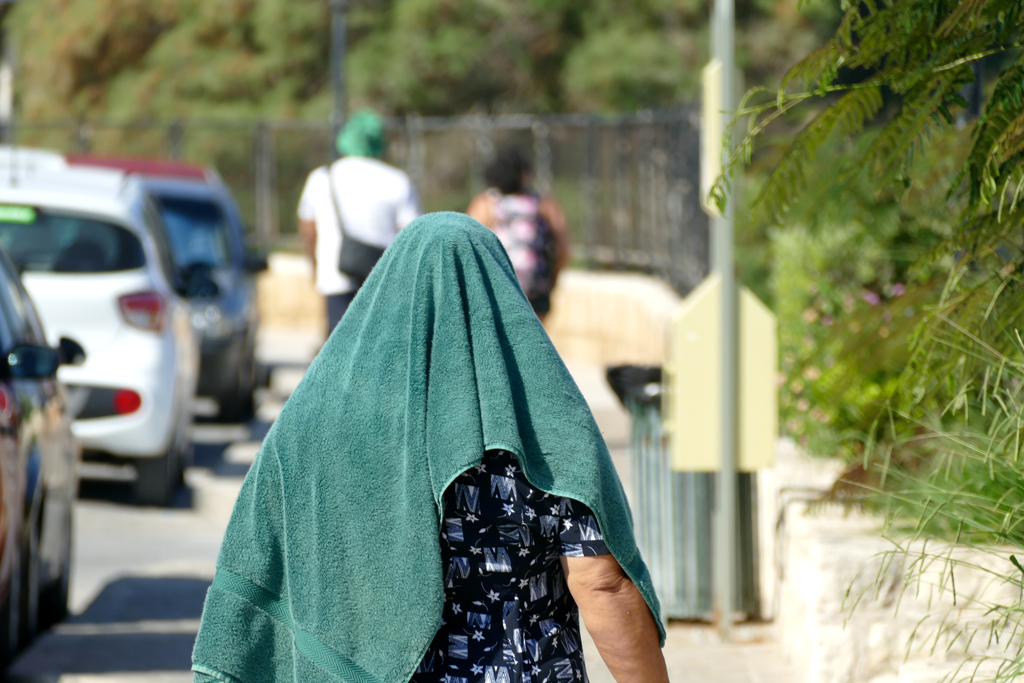 Apart from serving its original purpose, it can also be folded or rolled into a small pillow.
4. Swim Suit and a Spare
When I'm planning on spending the day on the beach, I put on my swimsuit underneath my clothes. If you do that, too, don't forget to pack either some underwear or simply a second bikini so you can change and don't have to spend the day in wet swimming clothes after a refreshing dip.
5. Sun Shades and Possibly Reading Glasses
In the bright sunlight on a white beach, sunshades are not a fashionable accessory but an indispensable necessity.
If you need reading glasses, you probably have also sunshades with the visual acuity you need. If not, don't forget your regular glasses since you don't want to schlepp that big novel in vain.
6. Sun Hat or Shawl
Just like you don't need shades just to be trendy, a sun hat is not only a fashion statement. Especially if you're planning on walking down a beach for a while, not covering your head can become truly dangerous. To cover also your neck, a light scarf or shawl that you wrap around your head and neck can be a very chic alternative. Either way, make sure to cover your head when you are exposed to the sun.
7. Swim Gear, Goggles, or Snorkeling Mask
So now we finally leave the necessity department and we're moving to the fun section. Goggles or even a mask will allow you to experience the underwater world in the bay of Balos.
8. Swim Shoes and Sturdy Sneakers
While the water of the Aegean sea is just incredibly translucent, the ground can be nasty. There are big rocks with slippery surfaces and sharp edges. That's a terrible combination and I definitely recommend wearing swim shoes with a good grip.

My Tip: Don't waste little money on those low-quality shoes that you can buy at drugstores or souvenir shops. Go for good quality and buy your shoes at a professional diving store. They might cost triple what you'd pay for the cheap ones, but only high-quality shoes will really protect your feet. Also, swim shoes are great for walking on hot sand in the noonish heat.
9. Change of Clothes
I already reminded you of taking a change of underwear or a spare swimsuit with you. In addition, I like to pack a spare T-shirt and even light trunks just in case I get wet or spill something on myself. Remember, you are planning for a long and hopefully a bit adventurous day, hence, expect the unexpected.
10. Storage For Valuables
A gadget that helps to protect your valuables is probably far more important for solo travellers like me. But also couples or even groups of friends might want to frolic carelessly in cool waters without getting robbed.

There are various kinds of pouches that store your money, credit card, ID, phone, and the like. As those containers are waterproof, you can have all your valuables on you even in the water. I'm personally not a big fan since I simply don't feel comfortable carrying all that stuff with me while swimming or snorkeling. Also, one of my most valuable items is a camera that doesn't fit in any of those containers.
Therefore, I'm using a mobile safe. That's a bag reinforced with a metal web that cannot be cut open. Also, it is secured with an iron string and a padlock. The downside is that you need a big tree branch, a post, or the like to attach the safe firmly. For instance, the post of a wooden beach umbrella is ideal. At the end of the day, you need to protect your valuables against a petty quick'n'dirty theft, not armed robbery.
11. Snacks
As I mentioned above, you can buy snacks and entire meals on the ferry. Since especially the meals aren't very good, I'd recommend you bring some snacks with you. Fortunately, Greece is one of the countries where bakeries are selling all kinds of hearty and sweet baked goods. So before you hop on the bus at the central square of Chania, make sure to pay my favorite snack bar Funky Pizza a visit and stock up on their delicacies.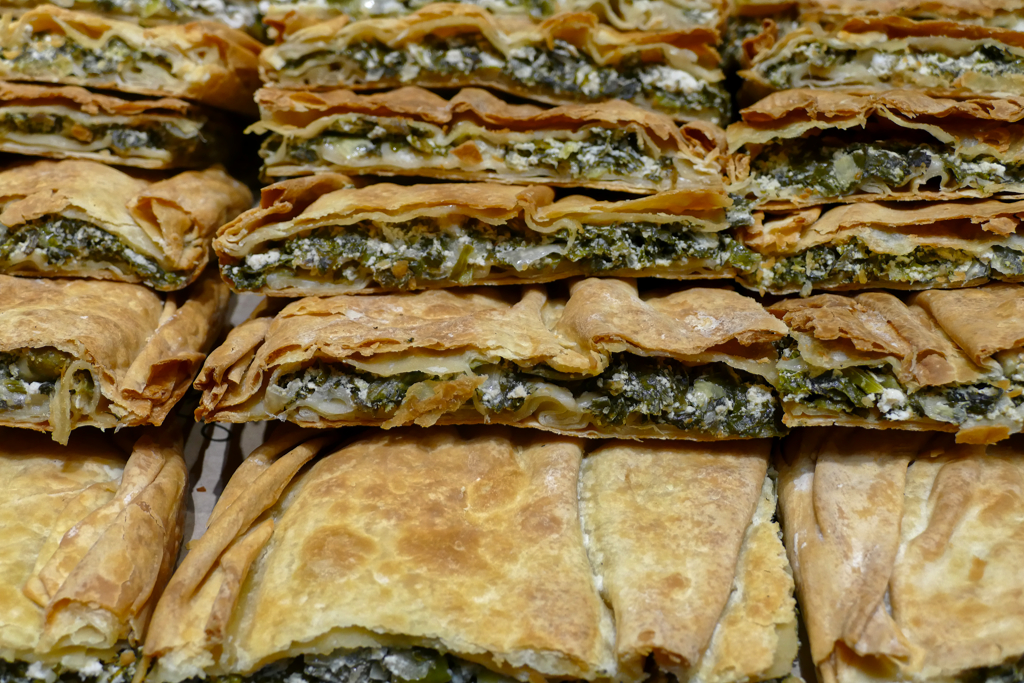 In addition, I like to take some hard fruits or vegetables like apples, cucumbers, and carrots with me to the beach. These snacks are simply more refreshing.
12. Water And Possibly some Juice or Soda
While having something to munch on is good but not necessarily vital, having enough liquids to replenish definitely is. For a beach day, that should be at least a bottle of 1.5 liters.

But what good does it do to have something with you that you don't like to drink? After a while, I tend to get tired of drinking plain water. Therefore, I also take a small bottle of juice or even a soda like Coke or 7Up with me- just to mix things up a bit and ensure that I drink enough over the day.
Since drinks aren't very expensive on the ferry, you might want to take only one large bottle of water with you on the trip and get other drinks during the ferry ride.
My visit to the Balos Lagoon and Gramvousa Island was just a wonderful day tour during my trip to the island of Crete. To read about the others, go to this post and take your pick!
Pinnable Pictures
If you choose to pin this post for later, please use one of these pictures:
Did You Enjoy This Post? Then You Might Like Also These:
* This is an affiliate link. Hence, If you book through this page, not only do you get the best deal. I also get a small commission that helps me run this blog. Thank you so much for supporting me!