Cali, next to Medellín another Colombian city name that in the late 20th century made your blood freeze, is actually an inspiring place in the lovely Valle del Cauca so that you can easily go on a day trip to some paradisiac haciendas.
After the last Gentlemen of Cali were arrested in 1995, the city came to peace. Without the world noticing, though. Hence, to this date, Cali carries the stigma of a dangerous cradle of a dangerous drug syndicate.
As a matter of fact, it's really sad how long it takes the wonderful country of Colombia to get rid of these ugly blotches and stains that all the injustice and violence left on the nation. They deserve better, they really do.
What Not to Miss out on in Cali
In cities, it's always all about views, and Cali is quite mountainous.
Nevertheless, the problem with the mountains is you have to climb them. And in Cali, it's hot. Albeit, after four days of freezing in Bogotá, I say this joyfully.
Still, climbing in the noonish heat is sweat-breaking.
Hence it's disappointing when you reach the top and the city still doesn't look any prettier.
Cali, probably the hottest Salsa hotspot outside of Cuba, has tourism-wise not much more to offer than its nightlife.
Cali City Center
Besides its airport, the most important hub in Cali is the Bus Terminal northeast of Rio Cali.
From there, you reach the old city center around the Plaza de Cayzedo by public bus – or cab – in about ten minutes. It's one of these typical South American squares with some of the most important buildings like the neoclassical San Pedro Cathedral, the courthouse, and the headquarters of some of the major banks.
Walking Carrera #4 westwards, you get to the small chapel of La Merced. Here, the first mass was held after the city's foundation in 1536. Today, this complex houses two museums.
You also find a couple of interesting museums in this area like the Casa Museo De La Ciudad Hernán Martínez Satizabal, the city museum. There is also the Calima Gold Museum of the Banco de la República – in case you didn't make it to the gold museum in Bogotá or just can't get enough of all that glitters.
I rather enjoyed the Calle 6 around the right corner – aka Calle Escopeta – with all the cute shops and cafés and fun street art.
Before crossing the bridge to the northern bank of Rio Cali, it's worth strolling a bit up and down the south bank where already some of the iconic cats can be admired.
Parque de Los Gatos – The Cat Park
One of Cali's main attractions is the Parque de Los Gatos. Here, Hernando Tejada's El Gato del Rio is greeting visitors and locals alike. Also, some international artists painted about 15 cats to their liking.
It's pretty, however, there are the BuddyBears in Berlin, there is the worldwide cow parade, lions in Munich, and Hamburg's symbolic Hummel. All of them are designed in the same fashion.
To cut a long story short: The idea is far from being new and original.
Once you cross the bridge at Calle #3 Oeste, you'll spot the most iconic of the clowder. El Gato del Rio aka El Gato del Tejado named after the artist who created it. The sculpture was inaugurated in 1996.
For ten years, the poor Gato del Rio was prettifying the city all by himself. Until, in 2006, the chamber of commerce decided to find him some lady friends.
The idea was to create 15 exhibits, shaped identically, but painted and decorated to the artists' liking. This art project is called Las Novias de Gato, the cat's girlfriend.
More Parks
After a visit to the park, in case you need a break, just walk back to the south bank and continue one block up to the square Parque del Peñon. This is a very cute square with some really cozy coffee bars – perfect to relax for a moment in the shade.
Because the next spot to visit is way up high: Walking up to the Sebastián de Belalcázar monument is sudatory, but it grants a great view of Cali and its surroundings.
Climbing down Belalcázar's hill, the next ascent is awaiting you: The city park. Even if you skip this greenery – which I could totally understand – you cannot avoid major ups and downs in Cali – it's really very hilly – be prepared.
Why do I totally understand that you skip the city park? Because it's not very pleasant. There are many homeless people there – which is totally fine, but it's a bit awkward strolling around while they are camping there and taking sponge baths and doing their laundry under the trees. But that's just how I feel, otherwise, it's no problem visiting the park.
Free Walking Tour Cali
If you don't want to explore the city by yourself, you can join a free tour – based on tips, of course. Free Walking Tour Cali offers different tours like one to the historic sites, a salsa tour – which is a tour on the topic, not a club crawl – and also a tour to Cristo Rey.
This statue of Christ is overlooking Cali and prides itself on being only 12 meters shorter than the one in Rio de Janeiro.
Cristo Rey
After climbing uphill and downhill a couple of times, we've had it and decided to pay Cristo Rey a visit. This Christ is overlooking Cali and prides himself on being only 12 meters shorter than the one in Rio. Hmm, I personally find 12 meters a lot. Anyway, we got on one of these buses I always thought existed only in clay and miniature size. But no, they are real, and passengers and goods are actually stacked according to the clay miniature models. 
The bus ride is a truly Colombian experience and great fun, but it doesn't bring you all the way up to Christ. For the last 1.5 miles, you're on your own hiking uphill – in our case at 1 p.m. sweating and swearing. No wonder the construction worker at the site we passed presumed we were German. I hardly see any other nation walking uphill in the blistering sun around noon in South America.
Firstly, it's a nice trip for the sight of Cristo Rey himself and, secondly, the view of the city at his feet.
Before leaving Cali, don't miss out on a visit to the truly enchanting haciendas El Paraíso and Piedechinche. These two farms were transformed into beautiful museums showing how life used to be for the privileged Latin American land barons. Living la Vida Telenovela.
Day Trip to the Valle del Cauca
Valle del Cauca is one of the 32 Colombian provinces.
Apart from its dark past related to the Cali cartel, it's known for its agriculture such as sugar cane, coffee, corn, bananas, and more.
Once in Cali, a visit to this lush area is definitely something you should do. This area is really the South American rural cliché and, therefore, absolutely worth the trip.
I think that some agencies offer totally overpriced day trips – but you should be a sport and do it on your own.
To reach two ancient Haciendas from Cali is easy. It's easy and it's cheap, but it's neither very comfortable nor fast.
You have to take one of these public buses where the driver stops abruptly as soon as he spots a human being of any kind so that the conductor can scream and shout and advertise the final destination. Then, the new passenger is squeezed into the bus, and off you go – till the driver breaks again because of a potential passenger who sometimes actually isn't one.
Here, cab drivers are waiting and you need to negotiate a reasonable fare to either one or both haciendas. We paid for two people about 8 $ for the trip from Amaime to El Paraíso to Piedechinche and back to Amaime.
However, in the first part, there were two or three more people in the cab, so it might be a bit more expensive if the car isn't full.
Hacienda El Paraíso
In front of the backdrop of the picturesque mountains tropical birds are overflying the sumptuous landscape – no wonder the first Hacienda's name is "El Paraíso". But the locals call it also "Hacienda María", and María is the main reason people are visiting this place.
The owner's son Jorge Isaacs wrote the semi-biographic, hyper-romantic novel María in 1867 and since then, every Colombian student had to cry over her death at the tender age of 18 from a broken heart.
So every detail of the former Hacienda and all explanations during the tour are wrapped around sappy María. Also, our empathetic guide didn't get tired of citing the most cheesy romantic parts of the novel.
Nevertheless, the Hacienda is worth the visit because the 200 year old building is beautiful, and the views are breathtaking.
By the way, there is a statue of Efrain and María at the Parque Simon Bolívar in Cali – in case you want to picture their unhappy romance; and if you wonder: Efrain was Jorge Isaacs' alter ego in the novel.
Casa Museo Hacienda El Paraíso
El Cerrito
Valle del Cauca
The museum is open every day from 9:30 a. m. to 4:30 p. m.
Hacienda Piedechinche
More complete is the visit to Hacienda Piedechinche, about five miles from El Paraíso.
The building is older and it has no romantic story to it. Just a couple that had 16 kids who were mainly raised in boarding schools in the city – the sons – and in cloisters – the daughters.
These good people, too, made their fortune from sugar cane and abusing slaves. During neither tour was this fun aspect emphasized, though.
However, they do explain all the different sugar mills they are keeping and make you try some of the products; surprise: they are all very sweet.
What makes Piedechinche more special to me is the magnificent garden with numberless flowers and trees. It's like being Gulliver in the land of giants – overtowered by humongous cactuses, ferns, and fan tree palms.
Since Piedechinche is still in such excellent condition and you have the feeling that the owner will come riding around the corner any minute, it was even used as the film set for the Colombian TV series Azucar.
Also, if you have a sweet tooth, don't miss out on the sweets they sell at their gift shop.
Museo de la Caña de Azúcar
Corregimiento Santa Elena
Valle del Cauca
Phone: + 57 – 2 – 554 08 09
Email: promoeventoscali@hotmail.com
I must say I liked both places a lot, and if someone insists on giving me a Hacienda for a weekend home, I will gracefully accept the favor.
Practical Information
How to Get There
Cali's Alfonso Bonilla Aragón Airport, also known as Palmaseca International Airport, is actually located in nearby Palmira.
Still, it's only 14 kilometers from there to the city center. So normally, it takes around 45 minutes.
The easiest way to get there is, obviously, by cab. There is a taxi stand at the airport and the driver will charge 50,000 to 60,000 pesos to Cali, clearly depending on your final destination.
However, there are public buses that charge 7,000 pesos. You'll find them in front of the domestic part of the airport. They are going all the way to the bus terminal in Cali.
And this brings me to the terrestrial travel alternative, namely going….
By Bus
The bus station, called Terminal Cali, is actually the city's most important hub and is located northeast of Rio Cali.
From here, you can travel by bus basically everywhere in Colombia and even the neighboring countries.
If you follow my recommendation and do visit the beautiful haciendas at the Valle del Cauca, you'll catch the bus towards Amaima here, too.
Also, all relevant city transport stops at the terminal. Going from here to the city center takes about ten minutes.
How to Get Around
Obviously, Cali's center isn't as vast as for instance Bogotá. However, it can get tiring walking up and down the partly very steep hills in the heat.
On the main streets, there are public buses. There are very modern ones that almost work like trams. However, there are still those old, colorful chicken buses that I love so much.
Other than that, you can always hail a cab. Often it's a collective, hence, a shared cab which makes your travel not only cheaper. It's also fun to meet all those lovely Colombians that are going your way.
Especially after dark, you should not venture too much around. At that time, you might also want to book a cab through your hotel or a reliable app instead of just hailing it somewhere on the street.
Best Place to Sleep
One of the best things I did in Cali was…staying in my hotel room. We had a huge room on the 19th floor at the Torre de Cali Plaza Hotel* overlooking the entire city.
The Torre de Cali Plaza Hotel* is not the most charming or cozy or originally designed place on earth. Nevertheless, from the upper floors, you have a fantastic view.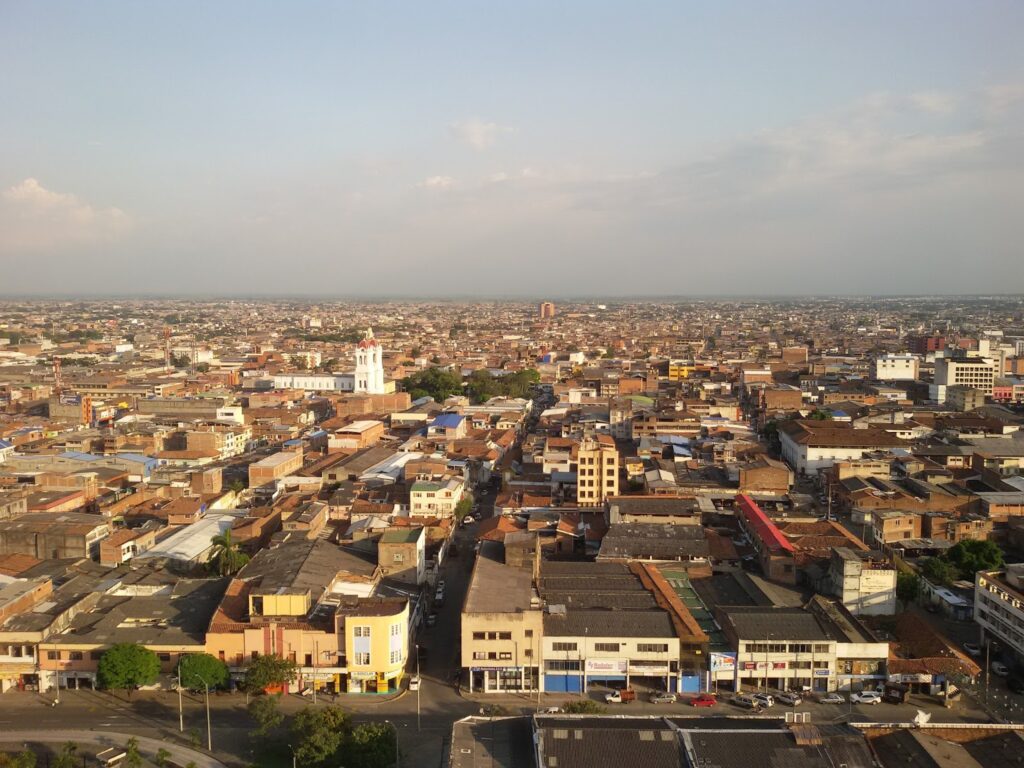 ¡Espectacular!
Especially at night, it seems that you are flying over an illuminated place.
Anyway, if for whatever reason you cannot get a room at the Torre de Cali Plaza Hotel*, you can check out here some valid alternatives*:
Best Place to Eat
My daughter is mostly a vegetarian which makes visiting South America a bit tricky.
However, in the big cities, it was not that difficult to find places where vegetarianism didn't just mean removing the meat and serving plain rice and beans.
A truly pleasant place serving light, healthy cuisine with an Asian tendency and fresh natural fruit juices, and good herbal teas is
Mascabado Cocina Artesanal y Casa de Te
Calle 17N # 8N-30,
Cali 760031
Phone: + 57 – 2 – 667 79 86
It's within walking distance from the Torre de Cali Plaza Hotel*
What to Do
I'm an avid solo-travelling woman. Since solo travel doesn't equal solitude, I love to join organized tours here and there. They allow me to meet fellow travellers – for just a short moment or a lifelong friendship.
Therefore, here are some great ideas of what to do during your stay in Cali. Especially if you have only a short time to stay, they'll enable you to make the best of it*:
Best Place to Shop
Cali's nicest place to shop for some amazing local handicrafts is at the small park Loma de la Cruz.
Here you'll find many shops and stalls selling all sorts of handicrafts.
There are carts where you can buy some Colombian street snacks.
Also, the street art in this area is just amazing – hence very sad referring to the oppression and injustice the people of Cali had to suffer.
Cali was only one of many beautiful places I've visited in Colombia. To read about the others, go to the main post and take your pick! There you'll also find valuable general information that will make your trip smoother.
Pinnable Pictures
If you choose to pin this post for later, please use one of these pictures:
Note: I'm completing, editing, and updating this post regularly – last in November 2022.
Did You Enjoy This Post? Then You Might Like Also These:
* This is an affiliate link. If you book through this page, not only do you get the best deal, I also get a small commission that helps me run this blog. Thank you so much for supporting me!