When you look at pictures of Jeonju's famous Hanbok Village, you might think that we are dealing with a cute small town where time has been standing still for centuries. But no, with almost 700,000 inhabitants, Jeonju is actually a bustling'n'busy mid-sized city. Nevertheless, the cultural heritage is the most celebrated side of Jeonju – together with the best food Korea has to offer.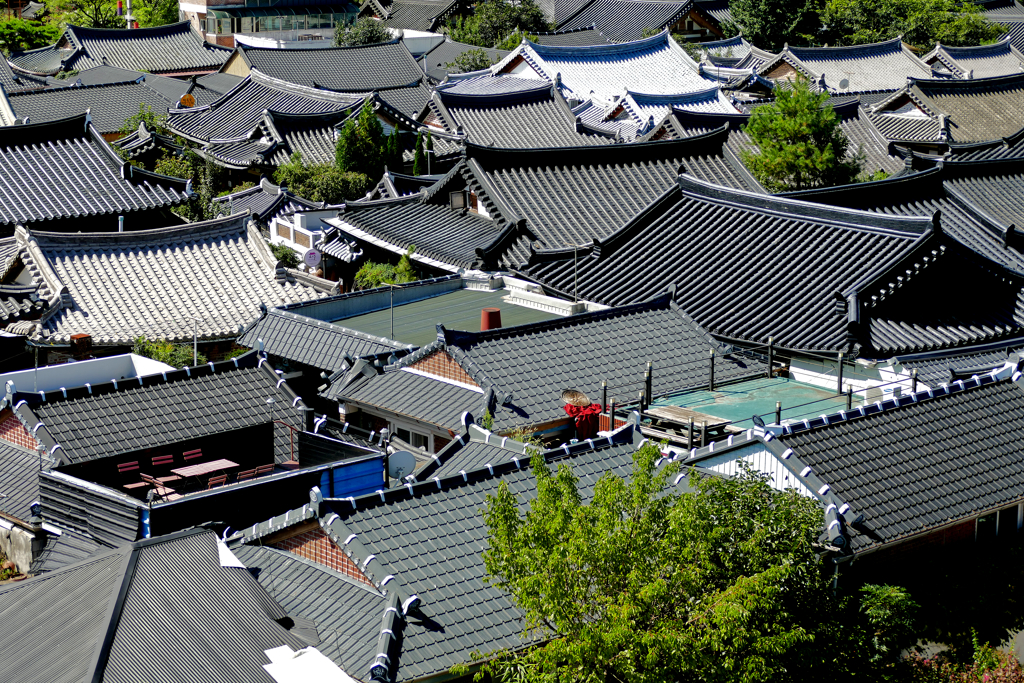 Mind you, Jeonju's amazingly rich culinary scene even catapulted the city onto the list of Creative Cities for Gastronomy as part of UNESCO's Creative Cities Network in 2012. Hence, it's no wonder that Jeonju is one of Korea's most important tourist centers.
Perfect Jeonju
The forefathers must have known that the place would one day be celebrated as one of Korea's most famous tourist destinations. Hence they called it Jeonju which literally translates to Perfect Region.
Located about 230 kilometers south of Seoul, Jeonju looks back at a long history. Already during the Kingdom of Baekje, it was a center of the region albeit at that time under its former name Wansan. However, Jeonju is also the hometown of the Jeonju-Yi family, the founder of the Joseon Dynasty.
Already during the time of the Three Kingdoms Goguryeo, Baekje, and Silla who competed for hegemony over the peninsula until 660, Jeonju was famous for its paper production. The city is South Korea's largest paper manufacturer to this date. Not only is there a well-known paper museum where you can make your own paper. They even organize a paper fashion show during the annual Hanji Culture Festival!
Perfect Village
Jeonju's most famous feature, however, is its old town. 800 well-preserved historic Korean houses, so-called Hanoks, make the Jeonju Hanok Village the largest contiguous traditional residential area in Korea.
However, many of these structures house museums, restaurants and tea houses, as well as souvenir shops and boutiques. For this reason, the district has come under strong criticism for replacing traditional culture with a commercial sell-out and a focus on fast tourism.
Over the past few years, the number of visitors has grown to more than 6 million per year. Hence, the number of commercial facilities in Jeonju Hanok Village has increased significantly in the past years. Over half of the businesses in the village opened after 2013, with the number of shops increasing rapidly. Many of those are small eateries. However, at the same time, the number of traditional teahouses has fallen by almost half.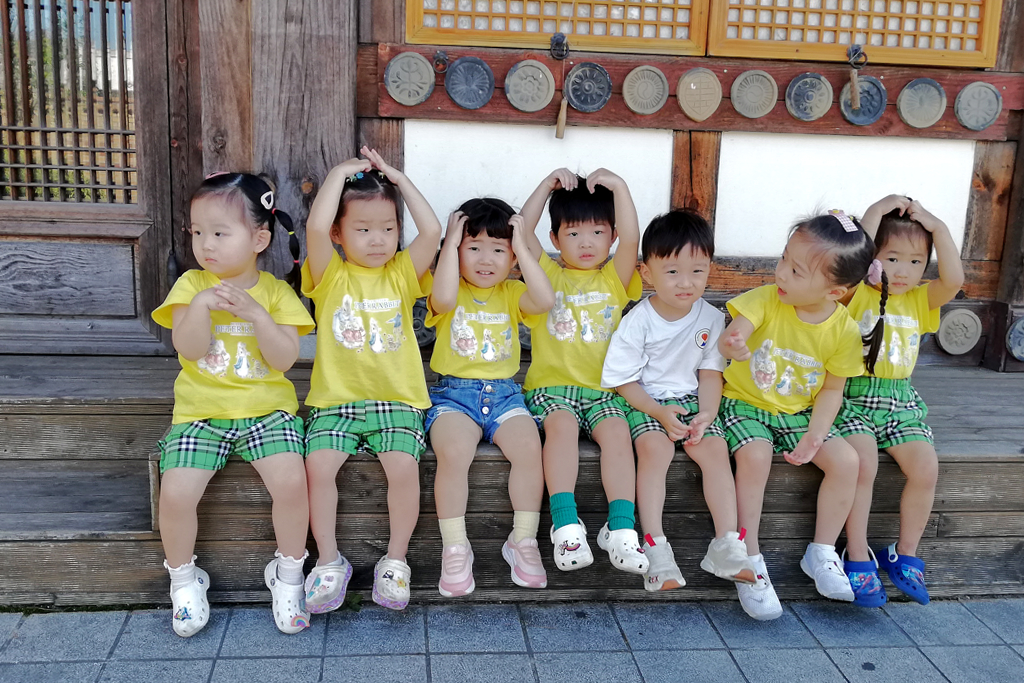 Many stores selling mass-produced souvenirs have replaced traditional high-quality craft businesses. And finally, the high number of tourists has led to an increase in costs not only for lodging and other travel-related businesses. It also affects the overall costs of living of the residents.
Perfect Tour
Although I immediately fell in love with Jeonju's atmospheric old town, I must agree that there is a weird kind of sell-out going on.
As soon as I entered the old town area, swarms of tourists dressed in Hanboks crossed my way. A Hanbok is typically a beautiful traditional garment. It consists of a wide underskirt and layers of the finest silk. A traditional, high-quality Hanbok can cost thousands!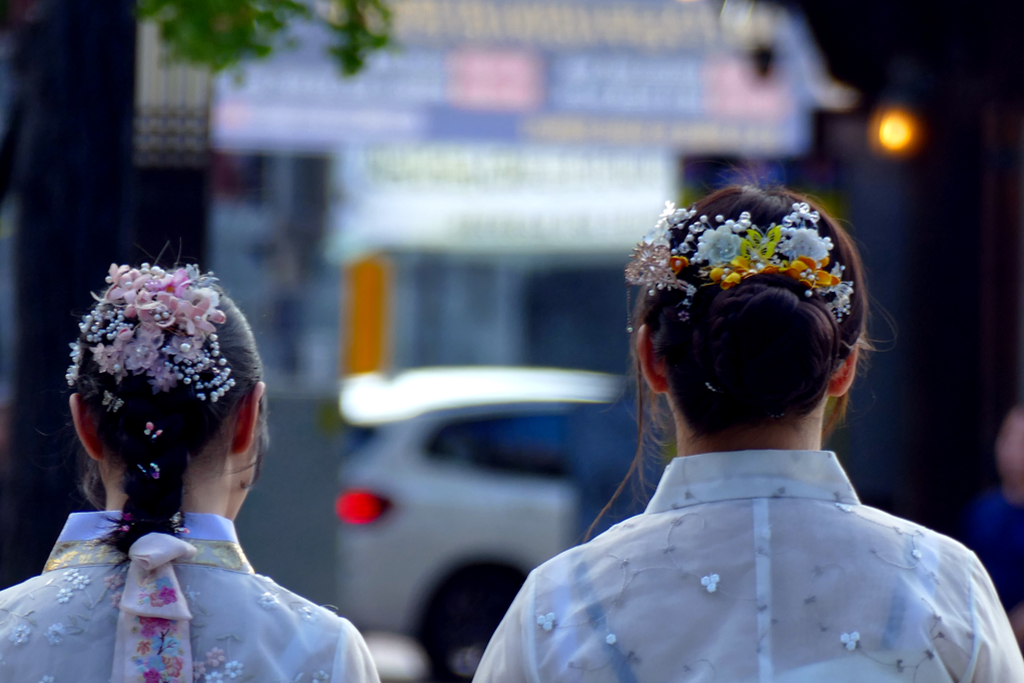 For many tourists, the most fun is walking through the streets in a hanbok and taking photos in front of palaces, temples, and traditional houses. The world as a theme park. Many Koreans saw it as a simple business idea and Hanbok rental shops were springing up like mushrooms.
Needless to say, the swarms of tourists are not provided with the valuable silk hanboks, but rather cheap copies made of the simplest plastic. And so crowds of tourists march through the streets of Jeonju wrapped in layers of the cheapest plastic, trying to revive the city's old splendor.
When I arrived in Jeonju it was a stifling 30 degrees Celsius, which supposedly felt like 36 degrees. Although instead of being wrapped in layers of colorful plastic, I was wearing a loose dress made of thin black linen – and yet was I sweating. So, please wait just a moment, I have to get myself an iced Black Sesame Latte and then I'll show you the most beautiful corners of the historic village of Jeonju.
Jeonmang Cafe
As a matter of fact, Jeonmang Cafe, hence, the place where I grab my Black Sesame Latte is the perfect spot to start a village tour.
Not only is Jeonmang one of the highest buildings in the area. Also, its beautifully decorated bar is located on the two upper floors.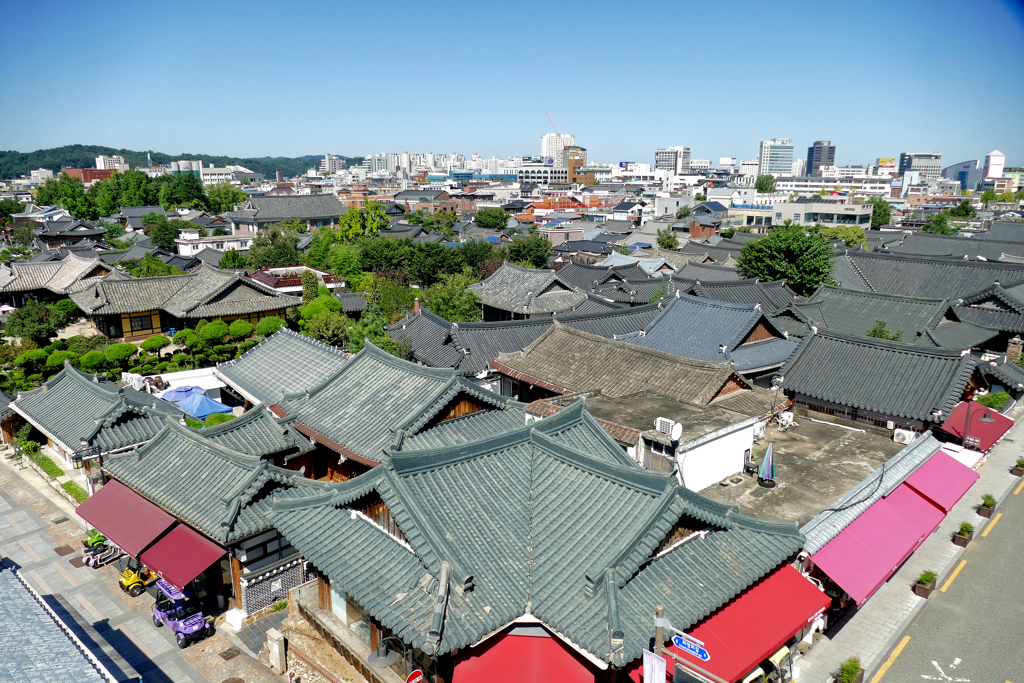 This way, you can enjoy a delicious beverage and a tasty snack while relishing an amazing view of the entire Hanok Village and beyond.
I urge you to follow my lead and try at least one of their amazing drinks – preferably the Black Sesame Latte that I'll get.
Jeonmang Cafe is located at Hanji-gil 89, and they are open every day from 9 a.m. to 11 p.m. You have to take the elevator to get to the fourth floor.
Gyeonggijeon
Just two blocks west of the Jeonmang Cafe is Jeonju's biggest tourist attraction, the Gyeonggijeon Palace. It is the shrine of Taejo, the founder of the Joseon Dynasty. He commissioned the palace in 1410, and the shrine houses his portrait.
The premises make up about 20 percent of the entire Hanok Village. But believe it or not, it used to be even larger! Sadly, during Korea's Japanese colonial era, the western part of the complex was demolished to make room for a Japanese elementary school. After Korea's independence, the elementary school was removed and most of the palace's original buildings were restored.
However, this was not the only time the Japanese destroyed Gyeonggijeon Palace. Already in 1592, it was burned down during their invasion. Eventually, King Gwanghae, the 15th ruler of the Joseon Dynasty, had it rebuilt.
After having paid your admission fee, you enter Gyeonggijeon through the Hongsal Gate. It is followed by the three-door gate Oesammun. The central door remains closed unless there is a ceremony in honor of Taejo. Ordinary visitors like you and me can only use the gates on the left and right. However, according to Korean belief, entering through the right door is recommended. And I definitely don't want to incur the wrath of some Korean Gods!
Gyeonggijeon is open every day from 9 a.m. to 6 p.m. and the general entrance fee is 3,000 KR₩.
Jeondong Cathedral
Right across the street from the main entrance to Gyeonggijeon is Jeondong Cathedral. The French priests Victor Louis Poisnel and François-Xavier Baudounet commissioned the house of worship. It was then completed in 1914 in a spot where many Christians were martyred. Its design is a mix of the Romanesque and Byzantine styles.
Since Poisnel designed also the Myeongdong Cathedral in Seoul, there is a striking resemblance between these two structures.
Jeondong Cathedral can be visited outside of service times free of charge.
Pungnammun, Pungpaejigwan and Jeolla Gamyoung
As Jeonju was the province's capital during the Joseon Dynasty, fortifications protected the city. During their invasion in 1597, the Japanese destroyed all four city gates. Only Pungnammun, the southern gate, was rebuilt in 1768.
On the axis running north from Pungnammun, two more historic buildings were rebuilt, namely Jeolla Gamyoung and Pungpaejigwan.
During the Joseon rule, the latter was the provincial government complex for more than five centuries. However, the complex was repeatedly damaged and reconstructed during the Joseon's tumultuous history.
Finally, it was completely destroyed during the Korean War.
Only in 2020, seven key buildings of the formerly much larger complex were restored.
The site can be visited free of charge every day from 9 a.m. to 7 p.m. from March to October and until 6 p.m. during wintertime.
Two blocks further north is Pungpaejigwan. This so-called guesthouse was part of a complex that was constructed at the same time as the Jeonjubuseong Fortress was erected. Hence, at the beginning of the Joseon Dynasty in 1471. It provided accommodation for government officials.
Interestingly, the fact that the big sign at the front of the building is written in cursive letters underlines its importance.
The property on which Pungpaejigwan stands can be accessed free of charge every day between 9 a.m. and 6 p.m.
Gyodong Tea Garden
I lamented above that so many of the traditional teahouses have closed over time. Fortunately, a few still remain, and the most beautiful is undoubtedly Gyodong Tea Garden. As it is an oasis hidden behind the houses lining Eunhaeng-ro, you have the feeling of stepping back in time.
As they have two very different rooms, you can choose between a cozy secluded part that has rows of lovely tables. Or you take place in the main hall where you sit on cushions on the floor in the traditional Korean way.
Obviously, they do have a menu. Nevertheless, it's much better to ask your waiter for recommendations. You then get a tray with all the essentials you need to prepare a perfect cup of tea – nope, a teabag is not part of the process. You don't have to worry about messing it up as the waiter explains the process with great knowledge and passion.
A visit to a tea house should not be a quick break in between. It is a contemplative, holistic experience in which all of the senses are inspired. I visited the Gyodong Tea Garden in the early evening and it was the perfect place to just wind down after a busy day of sightseeing.
Gyodong Tea Garden opens from Wednesday to Monday between 11 a.m. and 8 p.m., on Saturdays, they are closing only at 9 p.m.
Omokdae
After an invigorating break at the Gyodong Tea Garden, it's time time to check out the southern part of the village.
First, let's climb up the hill to the so-called Omokdae. This is the place where Yi Seong-Gye, founder of the Joseon Dynasty, organized a banquet following his triumphant victory over the Japanese invaders.
"But wait a minute", I can hear you wondering, "haven't you repeatedly named King Taejo as the founder of the Joseon Dynasty?"
You are absolutely right.
There is an easy explanation: During his lifetime, the first ruler's name was Yi Seong-Gye. Only after his death in 1408 was he called King Taejo which translates to the Great Founder.
Although there is no lavish banquet waiting for you at Omokdae, it's still a spot you shouldn't miss for the amazing views of the village.
Hyanggyo and Hanbyuk Cultural Center
As you walk down the hill to the other side, you get to the more private and serene part of the Hanok Village. Here, you get a much better idea of how pleasant and tranquil life in Jeonju can be.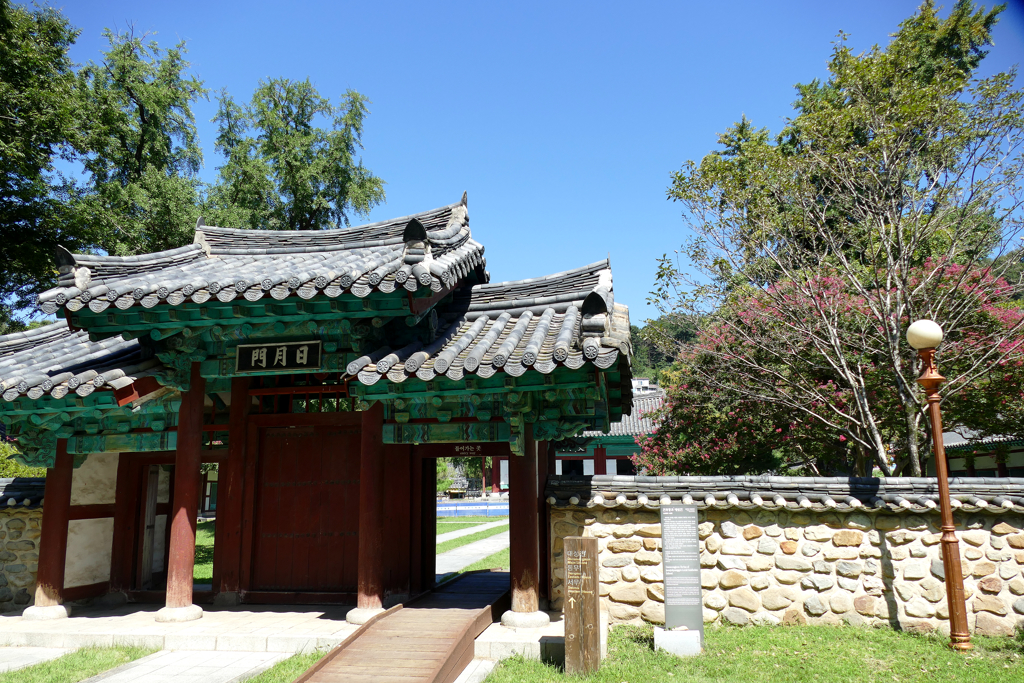 Amidst beautifully designed Hanoks are architectural gems like the Jeonju Hyanggyo, a traditional school complex. As you enter the premises through a three-door gate, you find yourself in a courtyard with various buildings in the shadow of massive ginkgo trees.
Just one block east is the Jeonju Hanbyuk Cultural Center where you can learn about various cultural traditions. Performances including Pansori chants, Minyo folk songs, as well as traditional dances are organized throughout the year. If you are lucky, you can even witness a traditional wedding ceremony held at their original wedding hall.
Namcheongyo Bridge and Cheongyeollu Pavilion
From the culture center, you can take a wonderful stroll westwards. The right side of the narrow road Jeonjucheondong-ro is lined with meticulously maintained Hanoks in lush gardens. To the left runs the river Jeonjuchun. Some old folks are sitting in the shade of large trees, chatting with their neighbors. A lady gets fit at the public outdoor gym on the river's right bank while an elderly gentleman slowly cycles towards the Namcheongyo Bridge. The bridge as such wouldn't be very impressive if it weren't for the Cheongyeollu. This lovely hipped-and-gable roofed pavilion is perfect for a break – despite standing right next to the roadway.
It's not very big, but it has a couple of tables to enjoy a picnic. That's especially alluring after dark when everything is bathed in warm light and you have nothing but the sound of the river and the crickets as an acoustic background.
But even before it gets dark, Cheongyeollu is the perfect place to watch the sunset.
Hanbyeokdang Pavilion and Hanbyeokgul Tunnel
Another not only beautiful but almost mystic spot is the Hanbyeokdang Pavilion. Built on a plateau on the steep face of Seungamsam Mountain, it peeps out from the lush greenery of bushes and trees.
The Hanbyeokdang Pavilion was a place where artists could interact with each other. Many a poem was also written here. The poet Choi Seung-Beom sang of the nobility of Confucian scholars who met in the hazy Hanbyeokdang Pavilion. The site is one of eight scenic views in Jeonju.
Below the pavilion is the Hanbyeokgul Tunnel. It is famous because it was the filming location for the Netflix series Twenty–Five Twenty-One, other than that, there is nothing special about it.
Walk through the tunnel past the Jeonju Eco Museum – unless you are fluent in Korean as all the exhibits are explained in the local language. On a piedmont, you'll spot Seungamsa. It is a small but very beautiful Buddhist temple surrounded by an old tree and a flower garden with many butterflies.
Jaman Mural Village
If you walk from the Hanbyeokdang Pavilion not to the temple, but in the opposite direction, you'll reach the Jaman Mural Village.
The village is located on the ridge between Omokdae and Imokdae along the foot of Seungamsan Mountain. In the past, it was one of Korea's so-called daldongnae which translates to moon villages, poor working-class neighborhoods built on the steep slopes of hills.
Many local artists have transformed the former shantytown into a trendy neighborhood with their murals in bright, friendly colors. Obviously, the works cannot compete with murals in Paris, London, or Berlin in terms of size or artistic value. The village is also by far not as spacious as the famous mural villages in Seoul or Busan.
Nevertheless, it is obvious that the residents have put a lot of effort into creating a beautiful environment. There are a few small shops and cafes with balconies from where you have a nice view of the southern part of Jeonju Hanok Village. Since the Jaman Mural Village is built on a really very steep slope, walking around can be a bit of a physical challenge. Above all, you should definitely make sure to wear suitable, hence sturdy, footwear.
Also, always keep in mind that this is not an open-air gallery or an amusement park, but a residential area. So please don't be that ugly tourist. Be respectful, don't look nosily into windows, don't wander onto people's private property, and keep it down.
By the way, if you are interested in learning more about Korea's improvement of so-called Culture Villages in different parts of the country, I highly recommend my post Culture Villages in Korea: Real People, Real Art
Out of the Hanok Village
So after one and a half days of walking up and down the old town's picturesque alleys, avoiding standing in the pictures of ladies wrapped in layers of colorful plastic, I thought it might be a good idea to leave the village limits behind and venture out into Jeonju's real world.
On the map that the manager of the hostel gave me on arrival, there are also a few places of interest that are in the center of the modern city. So I hop on the next bus west to the Palbok Arts Factory. It can be visited every day from 10 a.m. to 6 p.m. free of charge, hence, what's not to like?
In this plant, cassette tapes were manufactured for around 25 years. Today, a creative hub was installed from industrial containers in this inhospitable place. It offers space for start-ups and other resourceful minds.
I enjoy the outstanding installation, visit an amazing exhibition, and enjoy a refreshment in the artsy café.
As I don't want to establish a start-up today, that's enough for me.
So, back to the bus.
Where to next?
Some peace and greenery would be nice. The map shows a park with a pond. It's on my bus route anyway, so let's check out Deokjin Park.
Korea's Got Talent
I can hear loud shouting from far away. What's going on there, are they torturing someone? The closer I get to Deokjin Park, the clearer it becomes that this is singing. Very loud singing. Because of the volume, it's easy to find the way to the source of the music, and a few minutes later, I'm standing in the middle of Korea's Got Talent.
A stage has been set up on a meadow in the blazing sun. Various aspiring singers demonstrate their talent; or not. Spectators sit at small tables in the shade of the trees. Some of them can't stay in their seats and they get together for a little dance right in front of the stage. They aren't picky, they dance to whatever is on offer. And what's on offer is decided by a few Korean Simon Cowells. Just like the original, some get to sing longer and others are stopped almost right away. I don't know whether the short-singers have to endure the same verbal abuse, my Korean vocabulary really isn't enough for that.
Either way, I'm thrilled! I unexpectedly found a piece of Korea that probably isn't in a single travel guide. Folk art at its best. It's hard for me to tear myself away – which, I have to admit, is not due to their singing skills. No, the spectacle is simply too endearing.
With the songs in my ears, I stroll around the huge pond. It is so densely covered with lotus that it could be mistaken for a field. I take dozens of photos, take one last look at the stage where a young girl is passionately performing a romantic song, then I slowly make my way home.
It was definitely worth leaving the beaten tourist path.
Made of Paper
As I mentioned above, Jeonju is known for its high-quality papermaking. To this date, you can purchase artisan sheets and other paper products there as well as writing brushes and other stationery.
If you are interested in the art of papermaking, you absolutely need to visit Jeonju's Hanji Museum. There you'll learn everything about the production of different types of paper from Korea, but also from China and Japan. As it is just a small museum, a visit takes about an hour. However, you also have the opportunity to make your own paper.
The museum is open from Tuesday to Saturday between 9 a.m. and 5 p.m. and admission is free.
Practical Information
How to Get There
Train
Jeonju is one of Korea's most touristy destinations and is quite centrally located. To get to Jeonju from Seoul, you can take a KTX train from Yongsan or Seoul Station. However, with a bit over two hours, it is the fastest but with KR₩ 30,000, also the most expensive option. If you are coming from Gyeongju or Busan, you probably need to change trains in Osong. Finally, you arrive at Jeonju's train station which is about four kilometers northeast of the Hanok Village. Local buses take you there in less than half an hour.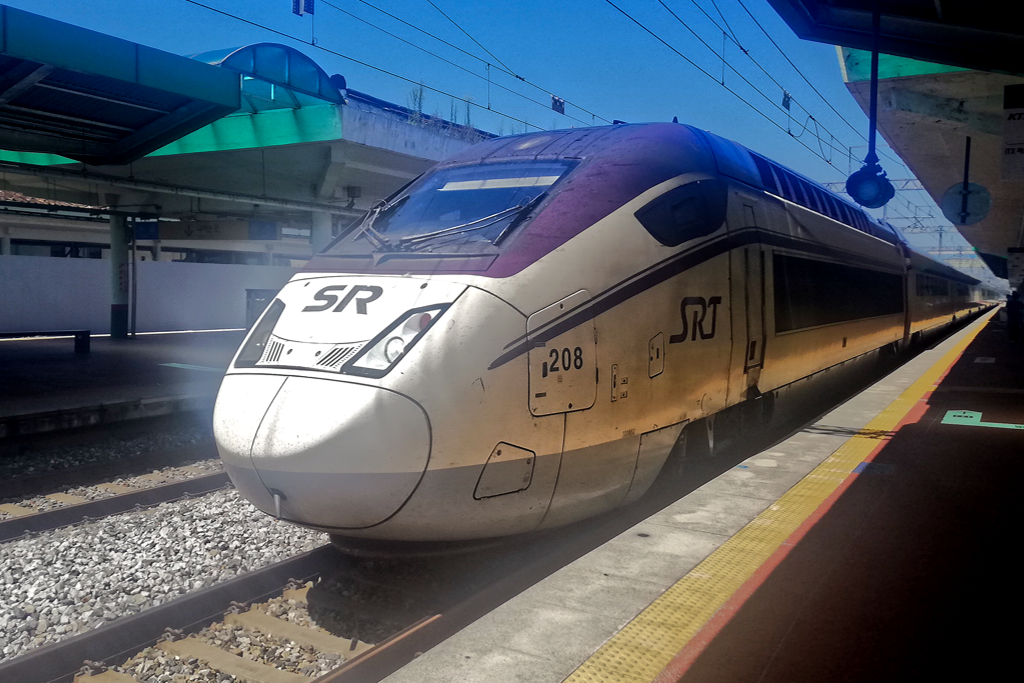 As you are departing from Jeonju, you can buy your ticket at the railway station from vending machines as well as real people and supposedly on the internet. Nevertheless, some fellow travellers told me that they couldn't pay with their international credit cards. I don't know since I always bought my tickets before departure at the station.
For the sake of order, I would like to point out that there is the KORAIL Pass for tourists. However, I cannot even imagine how much time you have to spend on trains to get your money's worth out of them as the cheapest pass costs a whopping KR₩ 121,000 for two consecutive days. In comparison, I paid about KR₩ 20,000 for my tickets from Jeonju to Boseong.
Bus
As a matter of fact, I took the train only twice during my entire three weeks in Korea as the bus stations were often more conveniently located. Also, I went to places where there were no train stations.
For travel between cities, towns, and villages, so-called express and intercity buses are a great option. They are fast, clean, and comfortable. Fares vary a bit depending on the bus type and the time of the day. However, in comparison with other countries, they are always rather cheap. I always paid KR₩ 10,000 to KR₩ 15,000 for four-hour trips.
You can buy tickets right at the bus terminals from vending machines or very helpful clerks. A shoutout to all the lovely ladies who recommended connections and explained to me what to do despite their lack of English.
From Seoul, express buses depart to Jeonju from the Central City Terminal in Gangnam and fares start at around KR₩ 20,000. The ride takes about four hours. If you are coming from Busan, intercity buses leave more or less every hour and they'll take you straight to Jeonju in around five hours for around KR₩ 30,000.
The Express Bus Terminal and Intercity Bus Terminal in Jeonju are right next to each other. To get to the old town, you can take one of many public buses or you take a cab.
Naver is a Saver
You've probably heard it before: Google Maps doesn't work properly in Korea. Obviously, you can see where places are and you are still the blue spot on the Blue Planet, however, it's not possible to check distances and create proper routes. That's a huge handicap, especially in a country where not only you don't speak the language, but you aren't even able to figure directions out with the help of names on signs.
Therefore, you better not start even planning on going to Korea if you don't have either Kakao Map or Naver Map. That I picked Naver was a totally random choice: I tried it first, liked it, hence, stuck to it.
Naver knows where I am and when I tell Naver where I want to go, the App designs various convenient routes. Naver is a great travel partner, I definitely couldn't have done without it, whether within the city limits or during my travels across the land.
While Naver is great, it is not perfect. Sometimes, it suggests a far too complicated connection. As I showed Naver's suggestions on how to get from Taean to Jeonju, the lady at the ticket office smirked and indignantly shook her head. She even made a cross with her underarms. That's the very Korean way of signaling no. In her rudimentary English, she resolutely objected to the cross-country trip Naver had suggested and recommended a connection via Gansun instead. And since she was the one who supplied me with the tickets, I – and Naver – surrendered. Ten minutes later, I was sitting on a bus to Gansun.
Since this way, I arrived at my guesthouse in Jeonju thirty minutes ahead of the time Naver had calculated, I must say that nothing beats the human brain and the knowledgeable ladies at Korea's central bus terminals.
How to Use It
Yes, it was fantastic that the lady at the ticket counter suggested a better route. Nevertheless, Naver remains your best travel buddy when touring Korea. Not only is Naver still almost as good as the ladies at the stations. Naver's strongest suit is that you can check routes at any time.
Naver works basically just like Google Maps: You type in from where to where you want to go, specify the date and hour, and choose the means of transportation. Then, Naver does the magic and suggests various options.
However, Naver sometimes transcribes destinations into Hangul. I solved this problem by verifying Naver's suggestion on Google Maps.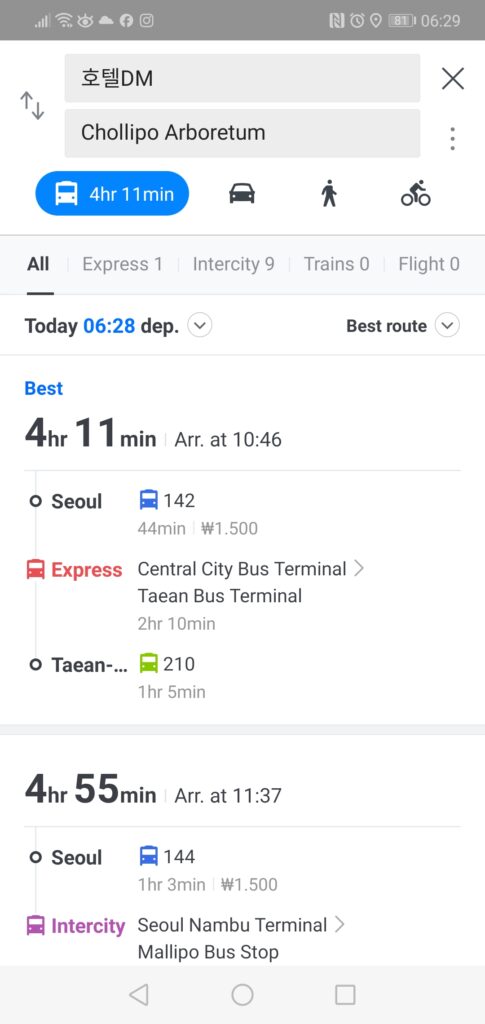 Also, Naver sometimes didn't show any search results. For instance, if I wrote XYZ restaurant instead of restaurant XYZ. In this case, I first looked it up on Google Maps and then searched for the same spot right on Naver's map. As I found it, I tapped on it on the screen and saved the result for future reference.
To be able to save my search results, I set up a free account. I organized them in folders, you can see them in the second picture.
When Naver showed the result in Hangul, I wrote the Latin equivalent in the field for notes before saving. This way, I had the places once and for all in Roman letters, and they also appeared on the map. Eventually, I planned my routes by simply tapping on two marked spots on the map.
You can download the Naver App for Android and for iOS
How to Get Around
Public Transport
Now, like anywhere else in Korea, inner-city transport in Jeonju is bliss! Although they have no subway, there is a comprehensive and reliable bus net. A single trip costs as little as KR₩ 1,200 when you pay with your T-Money card.
Nonetheless, although Jeonju is far smaller than Seoul or Busan, you shouldn't underestimate the length of your trips.
Also, during rush hour in the morning and in the late afternoon, the buses tend to get extremely crowded. You might want to consider this when planning your itineraries for the day.
Walking And Cycling
Korea is a very safe country, you can explore all neighborhoods by walking without any trouble. However, as I mentioned above, distances tend to be longer than they appear on Google or Naver maps. I'd argue it's impossible to explore an average-sized Korean city exclusively by walking. On the other hand, don't miss out on experiencing the vibe of different neighborhoods on leisurely walks.
Now, would I recommend exploring Jeonju by bicycle? Well, it depends on the part of town you want to see. While cycling alongside the Jeonjuchun River is a relaxing activity, cycling at the Hanok Village among all those tourists might be rather annoying.
Nonetheless, many guesthouses are renting out bicycles to their guests. And if yours doesn't, you can always fall back on Kakao T Bike. It is a shared electric bike service and is available in many cities including Jeonju. There are two kinds of bikes: One type has 24-inch wheels and the other has 20-inch wheels. Obviously, they are equipped with lights and a basket.
The first 15 minutes cost KR₩ 1,130. After that, you have to pay KR₩ 500 per 5 minutes. You don't need to pick up and return the bike to designated stations. You can leave them wherever as long as they are locked in a public place. It should be a common courtesy that you park your bike in such a way that it doesn't hinder anyone and can be easily accessed by the next cyclist.
Visiting Organized
Although I'm an avid solo-travelling woman, I sometimes like to join organized tours, especially in a country like Korea where I didn't have many opportunities to interact with locals or even other travellers.
Therefore, here are some great ideas of what to do when visiting Jeonju – particularly if you just want to go there on a day trip. Especially during high season, pre-booking online will guarantee your place at the activity of your choice**:
Where to Stay
As the Hanok Village is Jeonju's most significant attraction, I presume you want to stay anywhere nearby. Obviously, you can also stay right in the heart of the village – maybe even at one of the beautifully refurbished Hanoks as many of the former residential houses were transformed into eateries and guesthouses.
Take for instance Pungnamheon**. Until 1934, this traditional Hanok was a private residence. Eventually, it was transformed into a traditional tea house and accommodation.
I wasn't really keen to stay right in the center of the action, hence, I opted for a lodging option on the very outskirts of the Hanok Village. Actually, the 24 Guesthouse** is a chain with branches in various Korean cities. Also, it has rather a hostel-vibe to it despite the fact that you have your own room with an en suite bathroom. It is functionally furnished without any frills.
It's great to have the opportunity to prepare breakfast in the morning. The fact that I didn't know how to turn on the stove led to a pleasant morning chat with a helpful Slovenian and his wife. Yes, I always find that the simpler the accommodation, the more communicative and open the guests are. I would therefore highly recommend the 24 Guesthouse**, especially to solo travelers.
In addition, the owner is super friendly and helpful.
This being said, you can choose a lodging option according to your preferences on this map**:
What to Eat…
Jeonju is Korea's foodie paradise. Not only was the national dish Bimbibap invented right here. Today, there are trizillions of amazing and amazingly reasonably priced restaurants all over the place. In May 2012, Jeonju was even listed as a so-called Creative City for Gastronomy as part of UNESCO's Creative Cities Network. UNESCO honors the city's traditional cooking handed down many generations but also its food development and the food festivals. Also, the coffee house culture is really big in Jeonju. Skip Starbucks and enjoy one of the local coffee shops, the quality will astound you, take it from me.
…and Where to Eat
As I mentioned above, Bibimbap, nowadays arguably Korea's most popular dish, was invented right in Jeonju. It's made with rice and various vegetables like carrots, spinach, bean sprouts, and mushrooms. It can then be topped with beef, tofu, or fried eggs. Indispensable is a generous dash of Gochujang, a slightly spicy chili paste.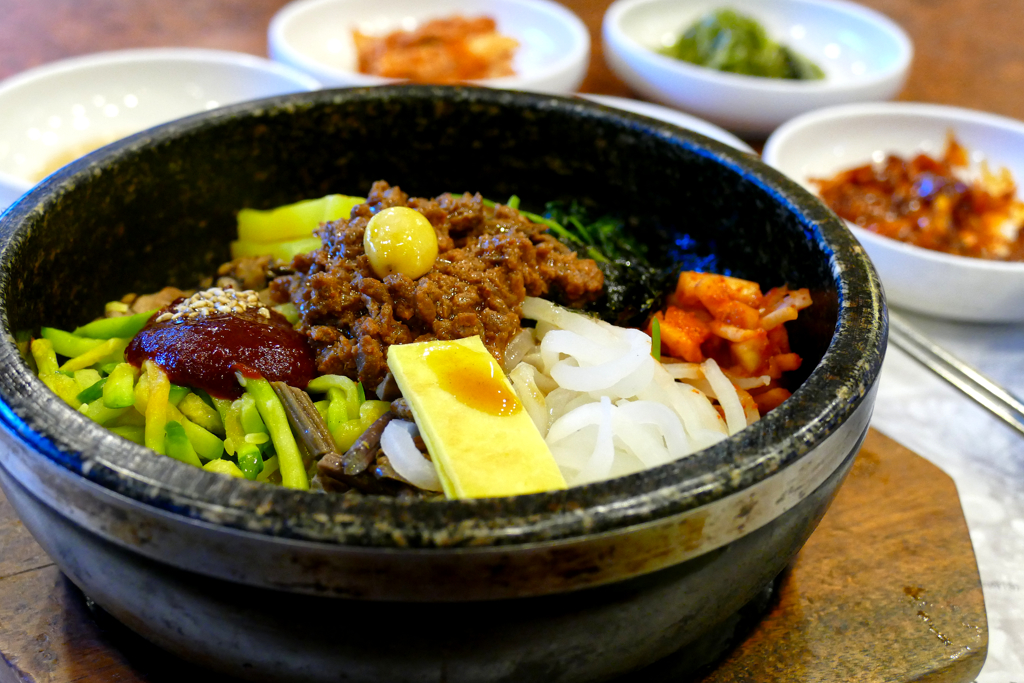 As the name derives from bibida, which translates to mix or stir, all the components have to be stirred together before eating although they are served unmixed. Bibimbap is served with a light bean sprout soup and comfortably eaten with a spoon. Obviously, it is also accompanied by all those amazing side dishes called Banchan.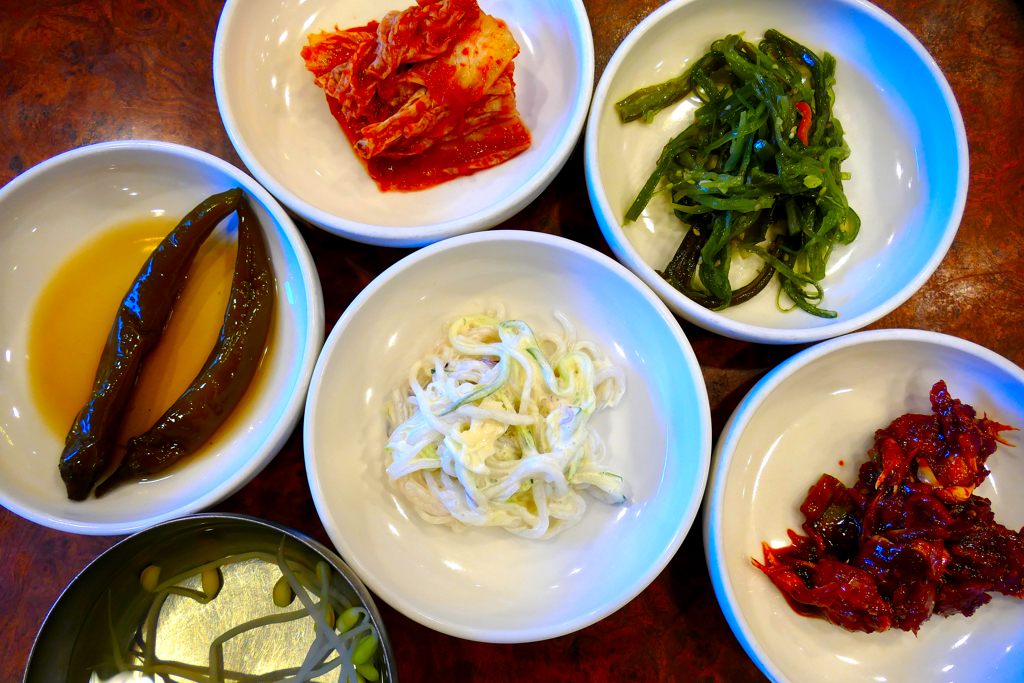 A great place to order Bibimbap is Hangugjib Bibimbap, a traditional family-style restaurant. You'll find it at Eojin-gil 119 and they are open every day from 10.30 a.m. to 9 p.m.
.
Another rather hidden gem when it comes to Jeonju's traditional restaurants is – nomen est omen – the Veteran. Basically, there are only four items on the menu: Hot noodles, cold noodles, mandu – which are Korean dumplings – filled with meat and with kimchi. You'll find them printed in Korean and in English on the menu, and the rather efficient than friendly waitresses also understand some very basic English.
You'll find the Veteran at Gyeonggijeon-gil 135 and they are open daily from 9 a.m. to 8 p.m. Yes, indeed, they are closing at 8 p.m. – like most of the restaurants.
Last call for Dinner
You'll notice that the above-mentioned restaurants close quite early. And unfortunately, they are not inglorious exceptions: Basically all eateries in Jeonju close absurdly early. I wonder how southern European tourists, for whom dinner at ten is nothing unusual, cope with this. Anyway, keep that in mind, and don't even think about going for dinner after eight – you'll go to bed with a growling stomach!
My Tip:
If you wonder how to eat your food as the waiter didn't bring you any utensils, just look in the drawer underneath your table. There you'll find chopsticks, spoons, and serviettes.
Also, the water on the table is always free with your food. If you prefer some soda or beer, they serve that, too, obviously.
Cash And Cards
The currency in Korea is called ₩on and abbreviated KR₩. There are bills of 1,000, 5,000, 10,000, and 50,000 and coins of 10, 100, and 500 ₩on.
As of November 2023, the exchange rate is 1,000 KR₩ = 0.75 US $ (current rate) respectively 1,000 KR₩ = 0.70 €uro (current rate).
Most of the time, you can pay with either cash or card in Korea. However, some businesses accept only cash while others take only cards. Although payment goes smoothly most of the time, you might encounter some hurdles here and there.
In Korea, they draw a not-so-fine line between local cards and international cards.
Therefore, it can happen that certain readers are only suitable for cards issued in Korea. More importantly, you can get only money from ATMs that are suitable for so-called global credit cards.
Either way, it's recommended to have always at least a small amount of cash on you as international cards may decline for no apparent reason.
T-Money Card
A very Korean means of payment is the so-called T-Money Card. It's basically a debit card that you have to purchase for an initial price of KR₩ 2,500. You can get the basic T-Money Card at any subway- and train station as well as at convenience stores around the country. However, you can get a free card for instance when buying a SIM Card*.
Eventually, you have to charge it with the amount of your choice either at a ticket vending machine or a convenience store. You can top-up the card in units of KR₩ 1,000 up to KR₩ 90,000 at a time. The total deposit cannot exceed KR₩ 500,000. It's important to know that you cannot top-up by credit card, you have to use cash. Also, I'd recommend topping it up with smaller amounts in case you lose it.
If you don't use up the credit on your card by the end of your trip, you get a refund at all retail locations. However, they won't refund the initial price as well as an additional service fee of KR₩ 500.
As I needed both, a SIM card and T-money, I obtained a combined card through GetYourGuide* and picked it up at Incheon International Airport on arrival. Obviously, you can use the T-Money card even after the SIM card expires.
Connection and Communication
You can connect to the internet without any issue at basically every museum, eatery, café, and hotel, obviously, as well as to open Wi-Fi in many public areas.
As I depended so much on a reliable internet connection during my trip through Korea, I highly recommend getting your personal data either by a mobile router or a local SIM card. I kid you not, the few moments I for some reason didn't have an internet connection, I felt like travelling blindfolded.
There are prepaid SIM cards by various companies such as KT Corporation, SK Telecom, and LG U+. I got my card from the latter and loved it. LG U+ offers SIM cards, eSIM, as well as portable Wi-Fi. My card came with a T-money card. I obtained it through GetYourGuide* and picked it up at Incheon International Airport on arrival. For unlimited data, they charge between KR₩ 27,500 for 5 days and KR₩ 99,000 for 40 days. I had the 20 days-version for 60,500 ₩on*.
In South Korea, they use plug types C and F. Their voltage is 220 V, and the frequency is 60 Hz. Whereby, nowadays, in general, all these chargers have integrated adapters so that the voltage and frequency don't really matter.
By the way, you'll find this information and many more comprehensive travel tips in my post World's Most Complete Travel Information – an indispensable globetrotter-classic.
Map
On this map, you can see where all the wonderful places I'm introducing in this post are located.
Clicking on the slider symbol at the top left or the full-screen icon at the top right will display the whole map including the legend.
Jeonju was only one of many amazing places I visited during my road trip through South Korea. To read about the others, go to the main post and take your pick! There, you'll also find further valuable general information that will make your own trip much smoother and more enjoyable.
Pinnable Pictures
If you choose to pin this post, please use one of these pictures
Did You Enjoy This Post? Then You Might Like Also These:
* I received this service free of charge as part of my affiliate cooperation with GetYourGuide for participating in a special promotion. The recommendation of this service is based on my own experience and was in no way influenced by my cooperation partner.
** This is an affiliate link. Hence, If you book through this page, not only do you get the best deal. I also get a small commission that helps me run this blog. Thank you so much for supporting me! All other links are a free service to my readers and were in no way remunerated.