Krka, green paradise nestled between the hills and mountains of Central Dalmatia. Here, even the way can be the goal, since a picturesque trail connects the National Park with the idyllic small coastal town of Skradin. So let me guide you through impressively rich habitats full of endemic bushes, trees, grasses, and wallflowers.
Bumpy Start
Sometimes, you just need to give a day space and time to unfold from a tightly closed blossom to a beautiful flower.
Or, to rephrase it less poetically: I need to stop being such a nagging old bat.
Skradin, despite being a cute little town, didn't promise to be a big success at first.
I misinterpreted the folksy service of my hotel, and the waitress at the restaurant where I finally had dinner screwed me over with the wine.
So I just wanted to visit the Krka National Park and get out of there as soon as possible.
And then miraculously everything came up Renata.
Skradin…
It doesn't need much imagination to figure out how people in the little town of Skradin used to live off the land not too many years ago.
Along the charming main road – an about three meters broad way – actually called Broadway, are small shops and cafés. Every here and there is a grandma or a grandpa selling figs, almonds, or Žižula, a local fruit looking like an olive, bursting with vitamin C.
The Žižula trees are found in every orchard around town, along with pomegranates, grapevines, apples, pears – you just name it.
All this could be so secluded and serene and just nice – if there wasn't one of Croatia's main natural attractions about four kilometers, a bit over three miles, north of Skradin: The famous Krka National Park.
Skradin is the main gateway to Krka. Consequently, the many visitors to the national park cause a funny mix of traditional Dalmatian rural life and booming tourism in Skradin.
That posh yachts are anchoring at the tiny port adds to this culture clash.
…And Beyond
The Krka National Park is much, much smaller than Plitvice. It has a whole different charm – just like the mountains surrounding it.
Here, everything is stone. I was actually amazed at how much greenery is growing on the stone. The mountains are densely covered with all different kinds of trees – and on the ground, you see grey stone instead of brown soil. Very unusual. And very beautiful.
While in Plitvice I was far more impressed by the waters in the pools, in Krka, it's more about the waterfalls. And there are some old cottages where you can learn about rural life in the area which gives the whole complex a cozy feel. 
Krka National Park
It was amazing to see how during the bus ride from Plitvice to Skradin the landscape changed from lush green forests to stark, stony mountains that made you wonder how the plants do survive on the rocks. However, the sights are absolutely exquisite and fascinating.
The main attraction of the Krka National Park, the Skradinski Buk is, obviously, named after Skradin, a town with about 4,000 inhabitants.
It is located on the Krka river and since the entrance to the national park is only a couple of miles away, it's the perfect gateway.
Besides the National Park, Skradin has a small but pretty posh sailboat marina.
Walking along the river, you will even spot a pretty long and not-so-bad beach area – actually better than many of the beaches I've seen in some of Croatia's designated beach destinations. And much less crowded.
On my walk back from the national park, I just spread my towel, took a nap, and eventually a dip – and life was just good; really good.
Touring the Town
Another nice activity is just strolling through the town, admiring the number of different fruiters and olive trees in the lovely orchards.
There is a medieval fortress from the turn of the 14th century. You can take a walk uphill and enjoy the view – or you don't. Believe me, you'll see more impressive scenery during your stay in Croatia.
The most iconic sight of Skradin is the tower clock, built in 1872. Because of its weight, it had to be built next to the church of St. Spiridon.
But there is also the Baroque Catholic Church of the Blessed Virgin Mary from the 18th century, famous for its pipe organ being part of the national cultural heritage, and finally, a teeny-tiny church located right in the cemetery, the church of St. Jerome.
Close to the Church of the Blessed Virgin Mary and next to the parking lot, you can buy a ticket at the information center – you have to buy it on the same day, it's not possible to get it in advance.
Skradinski Buk
So after you get your ticket, a boat takes you to the park entrance in about 25 minutes. It's a very scenic ride. However, as I walked back, I enjoyed the austere landscape without the crowds much more.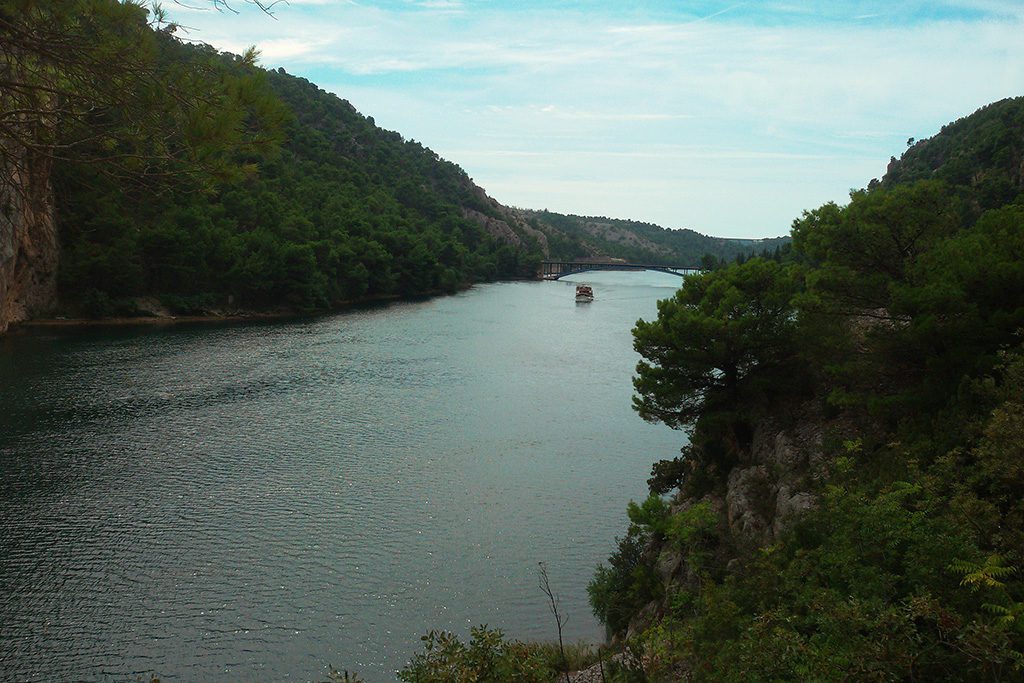 Anyway, Skradinski Buk, the huge waterfall, is one of the most attractive features of the park. Bring your swimsuit – dipping and swimming are allowed.
Skradinski Buk is a massive, clear, natural pool with high waterfalls at one end and cascades at the other. It is the lowest of the three sets of waterfalls formed along the Krka River.
While in Plitvice – despite the crowds – you can walk on secluded trails where you meet about three people in one hour, here you have to follow a trail of wooden planks that are bridging the small lakes and creeks.
Hence, you never walk alone.
Solitary Hike
Stop – that's not true: If you don't take the shuttle boat back – like almost everybody else does – you can walk instead on the trail along the Visovačko Jezero, the Visovac Lake, back to Skradin. This way, you have at least one to two hours to yourself; it's you and the incredible nature and a handful of like-minded wanderers.
Nevertheless, it is beautiful but if I had time to do only one of the parks, I would definitely opt for Plitvice. Also, it is not necessary to spend the night in Skradin as the park is about one hour from Split and buses are going by the hour.
Hence, Krka is definitely an attraction doable on a day trip.
Extra-Tour to Visovac Island
A very popular extra-tour is the visit to the island of Visovac also located in the park.
On the island is the Roman Catholic Visovac Monastery founded by the Franciscans in 1445. Since the iconic view of the island is always from above, I don't know if it's worth the extra tour – and the extra fee.
Practical Information
How to Get There And Around
Since Skradin is about halfway between the Plitvice National Park, my former stop, and Split which was supposed to be my next destination, it was convenient for me to spend the night in this small town.
However, this is not a must since there are many organized day trips from all the beach locations along the Adriatic coast straight to the Krka National Park. Also, if you prefer individual travel, there are public buses taking you to Skradin in about an hour – and usually, they are also going every hour.
From Skradin, you get to the national park either by a big boat. Or you just hike there – it shouldn't take more than two hours.
Best Place to Sleep
Well, the best place to spend the night in Skradin is definitely not the hotel that I had booked.
Although it seemed to be the prime hotel in town, the service was incredible – respectively, there wasn't any.

While the room seemed to be freshly renovated and – although very small – quite nice, in contrast, the breakfast was terrible. Really terrible.
It was interesting to see this phenomenon that I experienced in Cuba: As soon as there are employees, the service goes down the drain.
If you stay at an apartman, the host makes sure you feel like royalty – they get out of their way to make you feel comfortable.
Whereas at a hotel – who gives a damn about these tourists?! I get my salary no matter how I treat them.
So I would definitely recommend you book an apartman in Skradin – I only cannot recommend one since I stayed at this service hellhole.
Here are some places you might like*
Best Place to Eat
Skradin seems to be so off the beaten, however, it is very touristy. There is a pretty posh yacht harbor and there is, of course, the national park.
And with tourism comes lots of good food, namely the traditional local dishes such as the Skradinski rižot, risotto, traditionally prepared by men. It contains a generous mix of meats, stewed with rice in a rich broth.
Another local specialty is suckling pig, and, due to the proximity to the ocean, fish and shellfish, mainly squid.
There are many good restaurants around. However, all of them are relatively pricey. Rule of thumb: The farther you go from the marina, the cheaper the prices – whereby the taste and the quality remain the same.
Cash And Cards
In 2022, Croatia replaced its currency Kuna with €uros. The exchange rate is 1 US$ = 0,94 EUR as of July 2023, but you can check the conversion on this page. Credit cards are widely accepted.
What to Do
I'm an avid solo-travelling woman. Since solo travel doesn't equal solitude, I love to join organized tours here and there. Since I was travelling through Croatia by public bus, I needed to join organized tours when I wanted to go on a day trip. Hence, especially if you don't have your own vehicle and want to visit more remote places in a comfortable and secure way, here are some great options*:
Krka National Park is only one of many beautiful places I've visited in Croatia. To read about the others, go to the main post and take your pick! There you'll also find valuable general information that will make your trip smoother.
Pinnable Pictures
If you choose to pin this post for later, please use one of these pictures:
Note: I'm completing, editing, and updating this post regularly – last in July 2023.
Did You Enjoy This Post? Then You Might Like Also These:
* This is an affiliate link. If you book through this page, not only do you get the best deal. I also get a small commission that helps me run this blog. Thank you so much for supporting me!