Las Palmas is probably the most underrated place on the island – yet, it's the perfect base if you want to explore Gran Canaria beyond the notorious tourist areas in the south.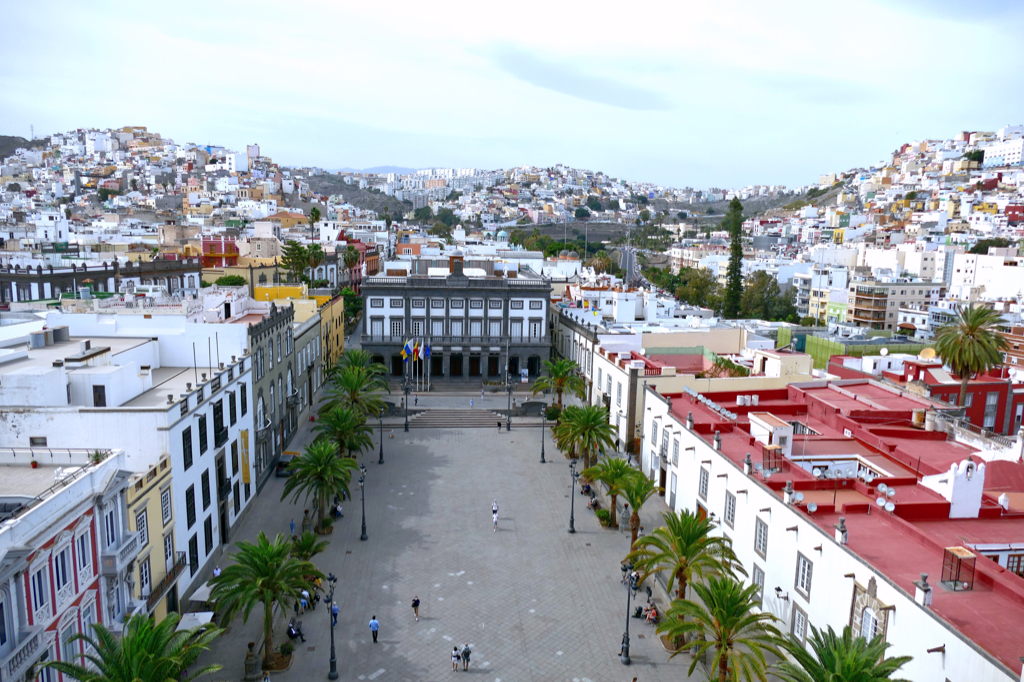 Apart from having a charming historic center with cool venues and some of the island's best beaches, it is a great hub for visiting the entire island even by public transport.
Life Is A Beach
"This is what's supposed to be a sea view?" Mimi and I are standing at the window of our studio. Yes, the building is facing a waterfront. To be precise, behind the eight-lane road is Gran Canaria's harbor and between all those ships and boats, we can actually spot some water. We giggle and close the window to keep the noise from the incessantly passing vehicles out.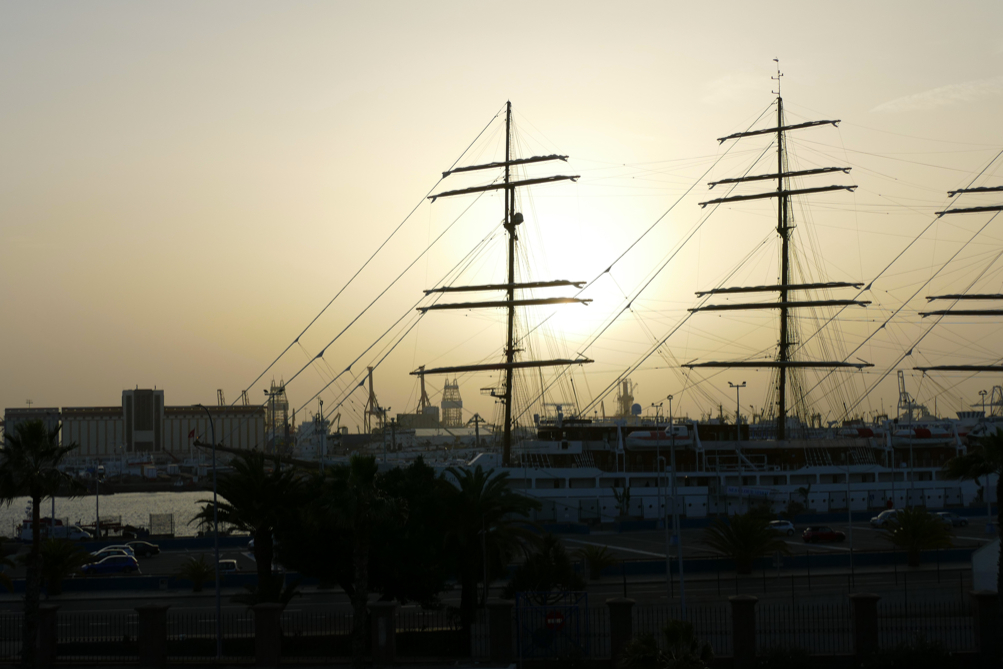 So we don't have what we would call a sea view. But actually, this doesn't bother us at all since the other side of the apartment building faces a narrow street, and behind it is the Las Canteras beach. Some people compare it to the Copacabana in Rio de Janeiro. I don't know about that and I don't feel the need to constantly compare places. All I know is that the Playa Las Canteras is long and broad and clean and borders the Atlantic and that's good enough for me.
It's In The Mix
If you've followed my blog for a while, you know that I'm not the leisurely cocktail-sipping next to the pool type of traveller. I do like to squeeze in a day or two on a beach. However, I mainly get my travel kicks out of meeting the people, getting to know the country, its traditions, and quirks. Therefore, a place like Las Palma's Playa Las Canteras is perfect for me.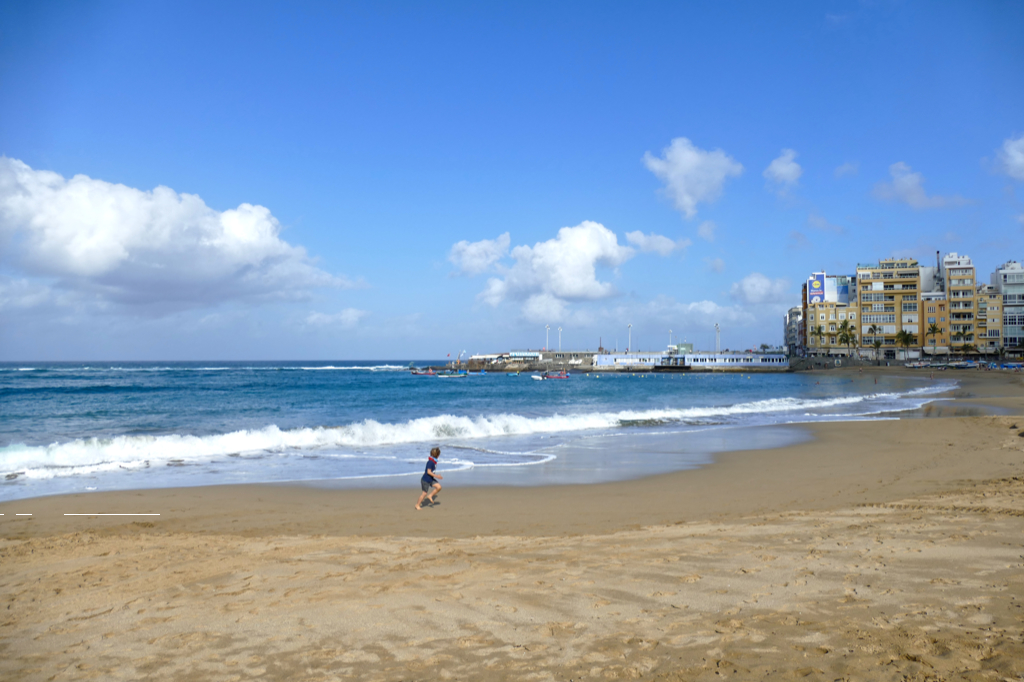 To get to the four kilometers long beach, we have to cross one narrow street. To get to anywhere else on the island, we have to go to the bus stop three minutes from our apartment building. It is the perfect mix of staying in one spot and roaming every forlorn corner of the island, of relaxing and exploring, of touristy activities and local everyday life.
Even if I think very, very hard, I don't find anything to complain about.
Las Palmas has the perfect mix.
Las Palmas de Gran Canaria
Before I'm taking you to the most alluring and interesting spots in Las Palmas, let me quickly tell you a bit about her history.
The origins of the city of Las Palmas de Gran Canaria date back all the way to the year 1478. That year, Juan Rejón, captain of the Crown of Castile, began the conquest of the island. He entered at the mouth of the Barranco de Guiniguada ravine. Today, it's the neighborhood of Vegueta.
The fight lasted five long years, causing many fatalities, particularly on the Canarian side. They simply lacked sufficient powerful weapons to defend themselves against the gunned troops sent by the Catholic Kings. Still, their resistance was fierce. Nevertheless, the conquerors defeated and subjugated the Canarians in 1483 and comprised the island to the Crown of Castile.
Leaving Las Palmas
Christopher Columbus came to Las Palmas in 1492 which proves the city's importance at that time. Here, they carried out some repairs on the rudder of the Pinta. Also, they had to change the original triangular sail of La Niña for square ones to make this caravel go faster.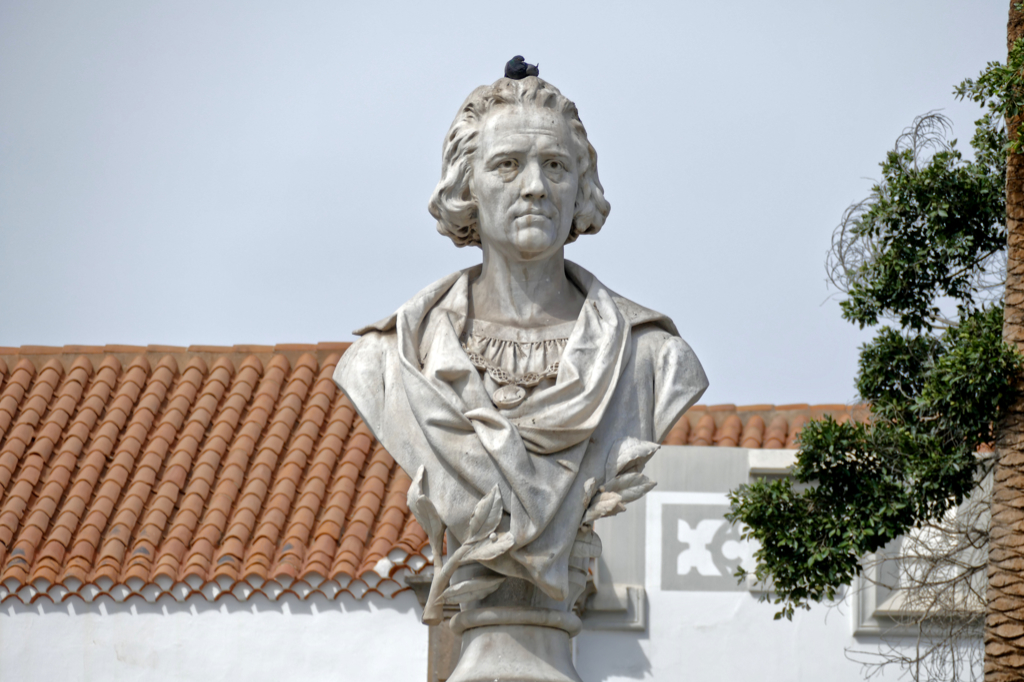 During the centuries following the Castillian conquest, the sugar cane trade strengthened the city's economy strongly. In the 17th century, however, due to the cutback of exports to the European continent as well as to the Americas, Gran Canaria suffered a recession.
Welcome to Gran Canaria
Things changed drastically when the free ports were established in the Canary Islands in the 19th century. These special economic rules favored the commercial activities of the archipelago. Numerous shipping companies established branches on the island. As a matter of fact, they were implanting the seed of what would become the main source of today's prosperity: Tourism.
Consequently, Gran Canaria's first hotel, the Hotel Santa Catalina*, was built in 1890. It actually still exists to this date. It even won the award for the best European historical luxury hotel in 2019.
The era of modern tourism had begun in the mid-1950s and Las Palmas was actually the main tourist hub. However, during the 1970s, the city lost its position in tourism to the newly developed centers of mass tourism on the south coast.
Today, Las Palmas de Gran Canaria has almost 400 thousand inhabitants which makes it the largest city not only on the island, but in the entire Canaries. It offers locals and visitors everything any other big city does – actually, with the big'n'beautiful Puerto de la Luz and five fantastic beaches, I would argue, it does offer a little extra.
Playa Las Canteras
As I said, we had to cross a street and found ourselves on the promenade that runs alongside the Playa Las Canteras. It's a city beach, hence it's not like the coast of a deserted island in the Caribbean, obviously. But it's far better than many beaches I've seen – whether in a city or in the countryside.
Playa Las Canteras is a broad, more than four kilometers long stretch of golden sand. As we were looking for the perfect spot to place our beach towels, I noticed how very clean it is. As a matter of fact, they clean it every morning.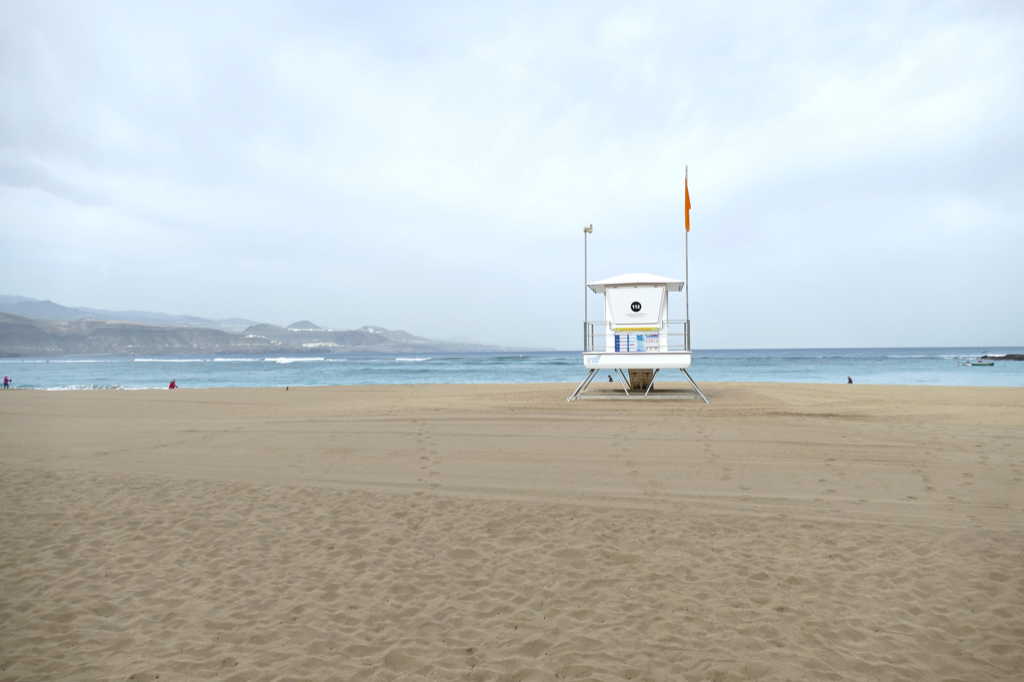 The other thing I noticed and appreciated was the good mix of foreign visitors and locals. While mainly Germans and British transform the beaches in Gran Canaria's south into modern days colonies, on Playa Las Canteras were large Spanish families sitting next to us. Housewives from the neighborhood were having a chat on the promenade. Every morning, a sprightly elderly gentleman was jogging on the freshly purged beach. On some days, we even noticed a young trainer yelling at a large group of older people as he coached their morning gymnastics.
Award-winning Beach
If you've ever been to the Atlantic Ocean, you know that going for a swim can be a challenge due to the rough sea with huge waves. This is different at Las Canteras where there is a barrier reef around 200 meters from the shore. This forms a unique ecosystem with different habitats and abundant fish wealth. And you, my friend, can swim in much calmer waters at pleasant temperatures.
It comes as no surprise that according to a study carried out for the magazine Mundo Ciencia, Playa Las Canteras is one of the best urban beaches in the entire world.
There are lifeguards on duty and at the corner of Calle Gomera, there are public showers, restrooms, and changing facilities beneath the promenade.
There's a Lot Going On
But not only the sandy beach is stretching from La Puntilla southwards to the Alfredo Kraus Auditorium. There is also a very pleasant promenade lined with restaurants, bars, and shops. While in the morning, you can take a quiet walk, later in the day bands are playing, hip-hoppers are dancing, artists are offering their small paintings – there definitely is a lot going on.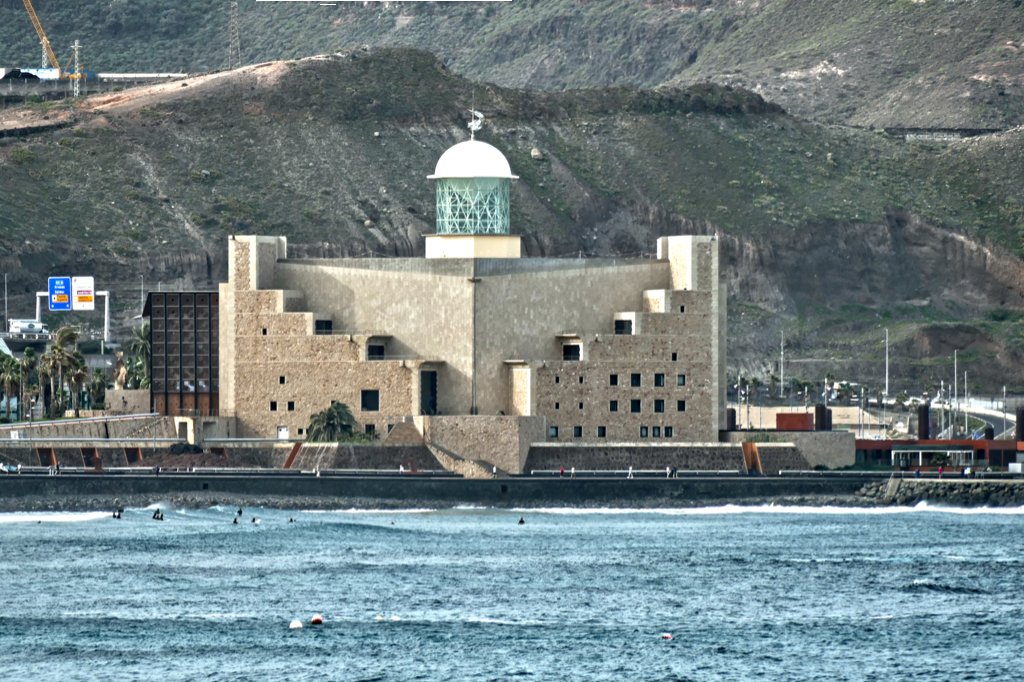 The Alfredo Kraus Auditorium is Las Palmas' most important venue. The architect Oscar Tusquets Blanca from Barcelona designed it in the late 1990s. Today, it hosts the International Film Festival, the Opera Festival, and some concerts of the Canary Islands Music Festival.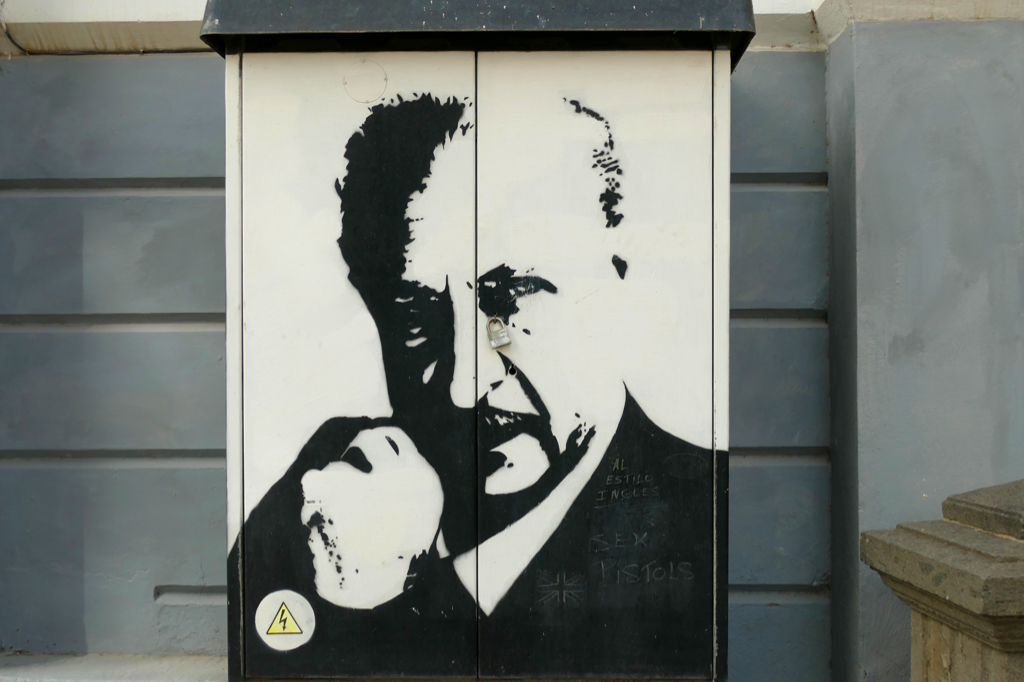 Next to it, you find one of the island's main shopping malls.
Puerto de la Luz
The Puerto de la Luz is a fishing, commercial, passenger, and sports port stretching alongside Las Palmas' entire eastern shore. It is the most important port in the Canary Islands and the fourth most important in all of Spain.
Historically, it has been the most important maritime enclave in the Eastern Atlantic. Linking Spain and territories in Africa as well as in the Antilles, it has served as a warehouse and as a redistribution point. Here, ships loaded water, coal, and provisions for their long trips.
Due to the excellent climate and favorable location, docking at the Puerto de la Luz is possible at any time of the year. Also, as a fishing port, it is close to the largest fishery on the planet.
In 2011, the prestigious magazine Dream World Cruise Destinations awarded the Puerto de la Luz in the categories of the best connection, transport offers, hotels, baggage handling, and world tourism level.
From an economic point of view, this is certainly nice for the city, however, I'm not a fan of sea cruises due to the horrific ecological impact.
Yet, I enjoyed the beauty of Puerto de la Luz on long walks and while lazing on the Playa Las Alcaravaneras. As there was a strong breeze blowing from the west so that we were freezing and covered in sand on 'our' Playa Las Canteras, we simply took a quick walk over to the eastern shore. Here, on Playa de Las Alcaravaneras, we spent a very pleasant morning till the breeze slacked off.
My Tip:
If you want to lay in the shade, there are a couple of palm trees on both beaches. Also, the lifeguard stations offer some shadow – as long as you don't obstruct their way'n'work, obviously. However, if you go to Playa Las Canteras in the morning, the buildings alongside the promenade cast some shadow.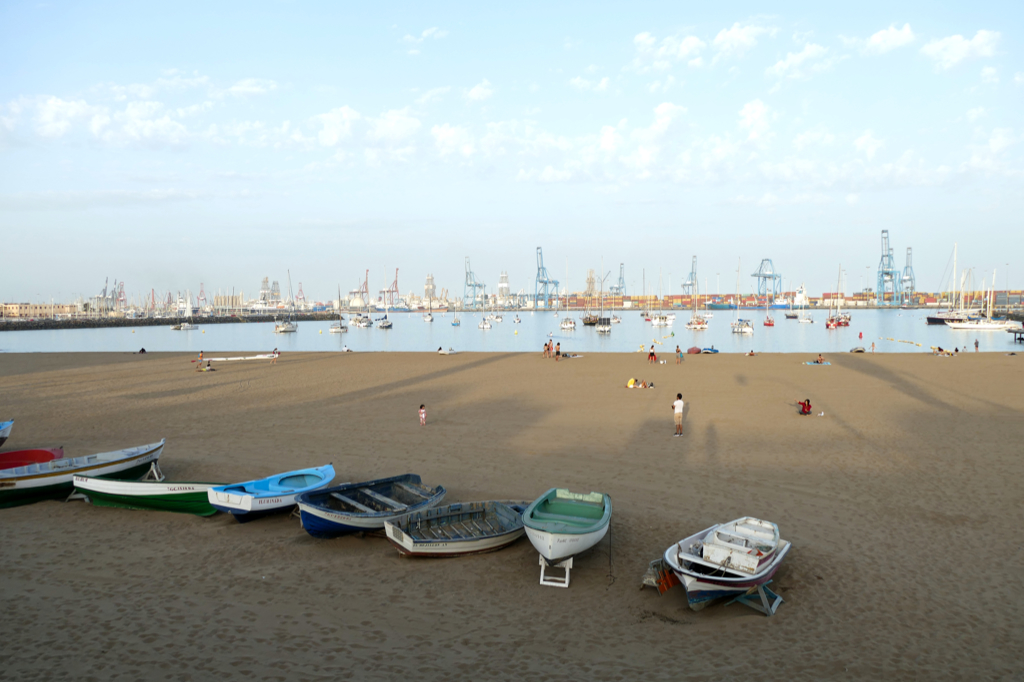 Since Playa de Las Alcaravaneras is on the eastern shore, it's exactly the opposite: The buildings across the street cast a shadow in the afternoon.
Playa Las Alcaravaneras
Playa de Las Alcaravaneras was once a fishermen's beach and even today some fishing boats dock on the shore in the morning with fresh fish. There are marinas to the left and right of the beach, and large cruise ships also dock here. Therefore, Playa de Las Alcaravaneras doesn't score with the same magnificent view as Las Canteras, but it does have other advantages.
The beach is only 550 meters long and 85 meters wide, hence, much smaller than Playa Las Canteras. But it's much closer to the city center and therefore very easy to reach even by walking. On weekday mornings, it remains quite empty and quiet. Then, in the afternoon and on weekends, it's a popular spot mainly for locals.
There is no water sports provider at Playa de Las Alcaravaneras, but there is a field for soccer, volleyball, and basketball. There is also a nice children's playground. Under the boardwalk are public showers, restrooms, and changing facilities.
Gran Canaria's other three beaches are El Confital, San Cristóbal, and La Laja.
Playa de Las Alcaravaneras is flanked by two posh yacht clubs, the Muelle Deportivo in the south and the Real Club Náutico in the north.
The Muelle Deportivo has more than 1,200 mooring places. It is the biggest yacht quay in the Canaries. A stroll alongside the countless vessels lazily swinging on the water is just so relaxing and something you should definitely do at least once during your stay in the city.
Also, the Muelle Deportivo is a great place to have some drinks or dinner, especially on Thursdays during discounted tapas nights. Finally, on weekends, it's party time.
Parque de Santa Catalina
Parque de Santa Catalina is one of Las Palmas' main squares. It's located almost halfway between Playa Las Canteras and Playa de Las Alcaravaneras. Since it's also very close to the cruise terminal, there is a lot going on here. During Gran Canaria's carnival season, the main stages are built right here.
Around the central greeneries are shops and many very pleasant bars where you can rub shoulders with locals from breakfast until your last nightcap.
On the adjacent Paseo de Santa Catalina, you can watch Las Palmas' talented skaters, and towards the cruise terminal to the east is the shopping mall El Muelle.
Also, one of Las Palmas' most important museums is right at the park.
Museo Elder de la Ciencia y la Tecnología
On the four floors of the Elder Museum of Science and Technology, you'll find different exhibits on technology, physics, mathematics, astronomy, biology, medicine, and geology. In addition, there are temporary exhibitions, a digital planetarium, as well as a large-format 3D movie theater.
Visitors can witness entertaining experiments and admire historical pieces such as a steam locomotive from 1885, and ancient model steamships. Another great asset is an authentic CASA-Northrop F-5 supersonic combat aircraft. Visitors can actually sit in the cabin.
The museum is open from Tuesday to Sunday between 10 a. m. and 8 p. m. for a general entrance fee of 6 €uros.
Poema del Mar Aquarium
An even more spectacular place of interest is the Poema del Mar Aquarium. It is the second-largest aquarium in the world.
The poetic name which translates to a poem of the sea pays homage to the Canarian symbolist painter Néstor Martín Fernández de la Torre. The gigantic, wave-shaped structure opened in January 2018.
German entrepreneurial family Kiessling co-financed this prestigious project. They have already funded the famous Loro Parque and Siam Park on the island of Tenerife.
At this moment, opening hours are daily from 09.30 a. m. to 5.30 p. m. The general entrance fee is 17.50 €uros.
Castillo de la Luz
Some visitors complain that there isn't much to do in Las Palmas. Well, it's certainly no New York, Rio, or Tokyo, however, most of those moaning minnies don't see beauty and interest in small'n'simple cultural identities – or they simply miss out on many things. Like for instance the Castillo de la Luz.
The Castillo de la Luz is a former fortress east of Playa Las Canteras in the district called La Isleta. The square building with massive walls was built on the remains of the ramparts of a destroyed castle from the conquest period in 1541. Equipped with eleven cannons, it was an important defense system against pirates. While Francis Drake did not succeed in taking the fortress in 1595, Dutchman Pieter van der Does plundered and burned it down in 1599. It was rebuilt in 1601 and finally abandoned in the 19th century.
In 2014, the castle was reopened by the Crown Prince and Princess as a maritime museum and art exhibition venue. Also, works by local artist Martín Chirino are on display.
The Castillo de la Luz is open from Tuesday to Saturday between 10 a. m. and 7 p. m., Sundays, it closes at 2 p. m. The general entrance fee is 4 €uros.
Vegueta
The Vegueta is the founding neighborhood of Las Palmas de Gran Canaria. The name refers to the plain around the fortification Real de las Palmas, initially called La Vegueta de Santa Ana. As a matter of fact, it was the first settlement founded by the Crown of Castile in the Atlantic at a historical moment, immediately before their men set sail to conquer the Americas. It has remained the center of the political, administrative as well as religious life of Gran Canaria.
From a visitor's perspective, the Vegueta might not be the largest or most impressive historic neighborhood. Also, especially if you stay in the areas closer to the beaches, the Vegueta lies actually a bit off the busy tracks so that you don't pass through every time you go to Las Palmas' city center. Nevertheless, it has some very picturesque spots and historically interesting buildings and you definitely should not miss out on a visit.
Mercado De Vegueta
We began our visit to the historic old town at the Mercado de Vegueta. It is a covered farmers market and was the first produce supply spot, inaugurated in 1858.
The numerous vendors arrange their predominantly regional produce with a great love for detail. You eat with your eyes first, after all.
Here, you get fresh fish, they sell juicy fruits and excellent vegetables as well as herbs and spices. Don't be bashful and ask for samples. Normally, the vendors will happily give you a taste and also advice on how to prepare certain produce. As a matter of fact, you're up for a complete shopping experience.
The market is open from Monday to Thursday between 6.30 a. m. and 2 p. m. Fridays and Saturdays, they are closing only at 3 p. m. You can pay by cash or credit card at basically every stall.
Calle Mendizábal
At the Mercado De Vegueta, we turned right into Calle Mendizábal. This is one of the main streets of the Vegueta and it's lined with beautiful old buildings housings bars and restaurants on street level.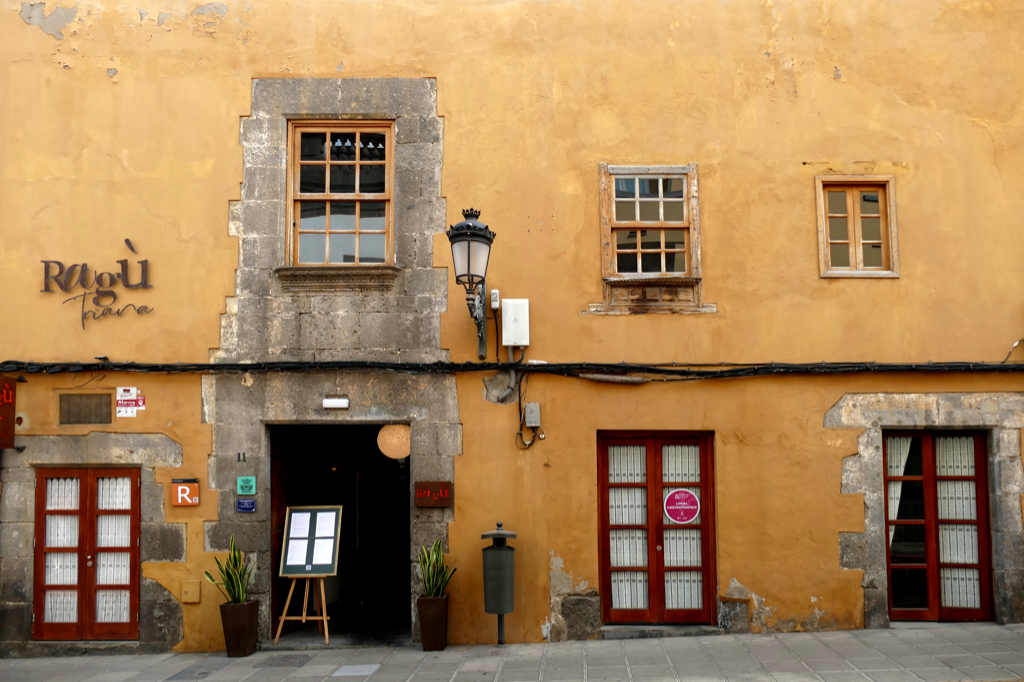 Thursday is Tapas Night, and Calle Mendizábal is so ready for this! Tapas Night is actually a mix of food degustation and party as you get tapas and drinks at relatively cheap prices. After you choose whatever tickles your fancy from one of the tapas bars, you can enjoy it sitting inside at a table. However, it's far more fun to take your plate outside to mingle. For this purpose, many of the bars put tables out on the street.
As you go from bar to bar, you'll find different tapas in each place. Therefore, you by no means should fill up at the first joint. Also, brush up on your Spanish as you'll probably make some new friends.
Calle Los Balcones
Walking down Calle Mendizábal, you wonder if it can get any better. Surprisingly, the answer is yes, and you will agree as you turn right into the legendary Calle Los Balcones.
This cobblestone street is a place with a great historical past. As a matter of fact, you are walking between some of the city's oldest structures, all of them decorated with the typically carved balconies made from dark wood.
While all these buildings are just precious, I'd like to point out the red Gothic and Mudejar façade of house number 13. The term Mudejar defines the architectural and decorative style which unites Moorish and Christian fashion after the Reconquista. It is reflected especially in the Andalusian architecture and you find many grand examples for instance in Seville, Granada, and Córdoba.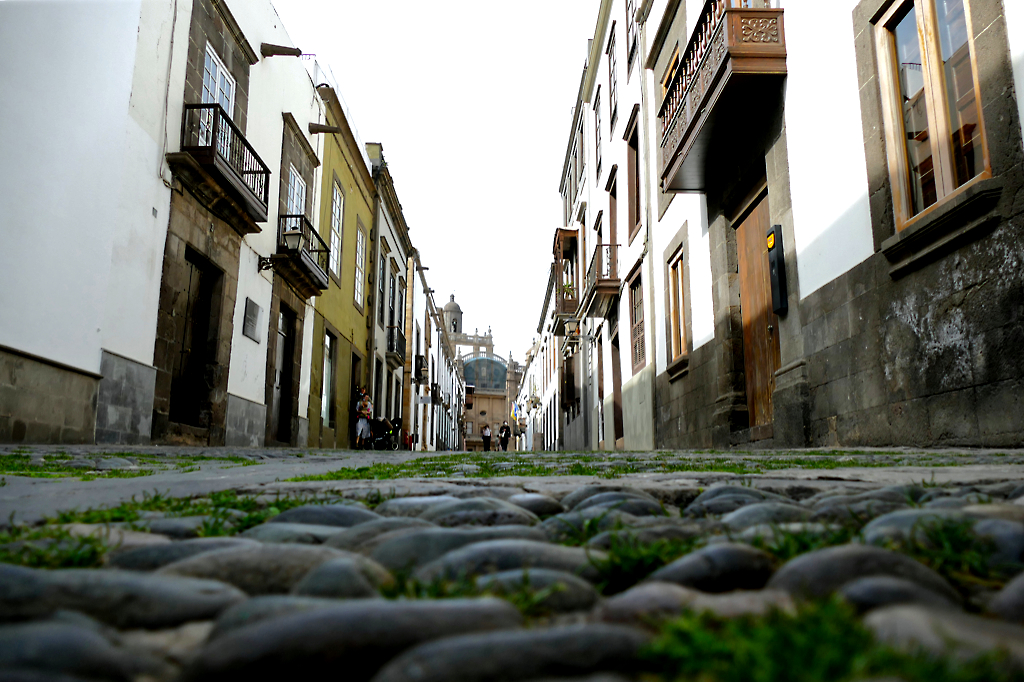 Next to it, at number 11, is behind a Renaissance façade the Centro Atlántico de Arte Moderno, short CAAM, the leading museum of contemporary art in the Canary Islands.
They have a permanent collection and organize temporary exhibitions ranging from the historic avant-garde to the latest in contemporary. The CAAM can be visited free of charge from Tuesday to Saturday between 10 a. m. and 9 p. m., Sundays only till 2 p. m.
Casa de Colón
This stately mansion right behind Las Palmas' cathedral used to be the house of the governor of the island. In 1492, Christopher Columbus temporarily made it his home on his voyage to the Americas.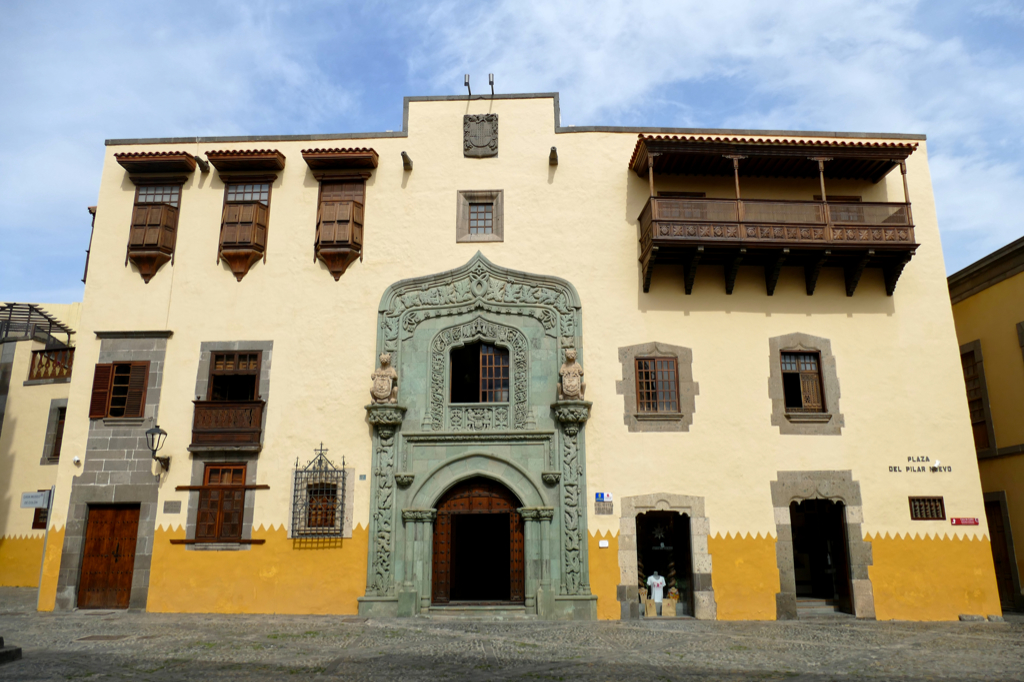 The Casa de Colón is actually a complex of several buildings and houses a museum. It has fifteen exhibition halls and two courtyards.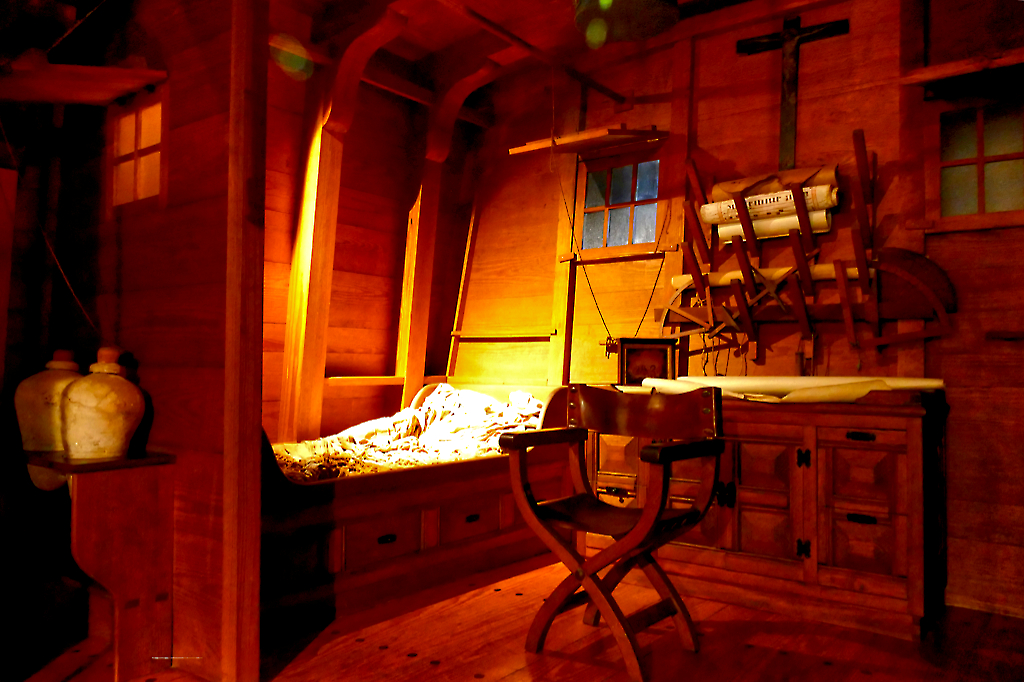 Columbus and his voyages are the main focus of the museum. The exhibitions on the ground floor deal with his person and seafaring at this time. Paintings and exhibits on the history of Gran Canaria and the city of Las Palmas are then presented on the first floor. In the crypt located in the basement is a small collection of decorative and everyday objects stolen brought from pre-Columbian peoples in Latin America.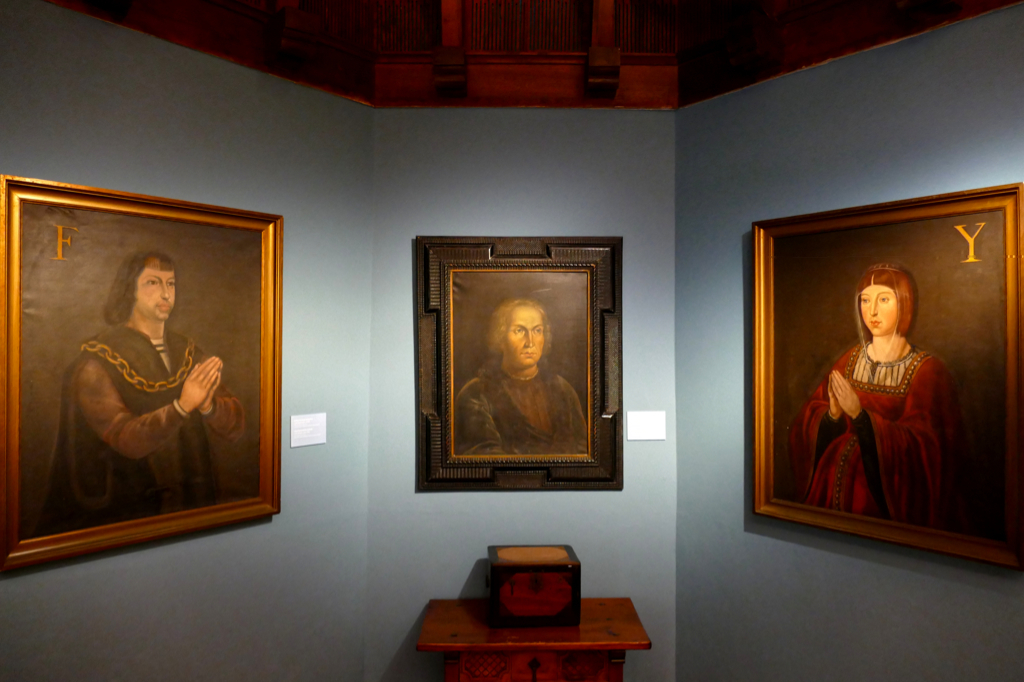 One of the museum's great treasures is the collection of paintings from the 16th to the 19th century.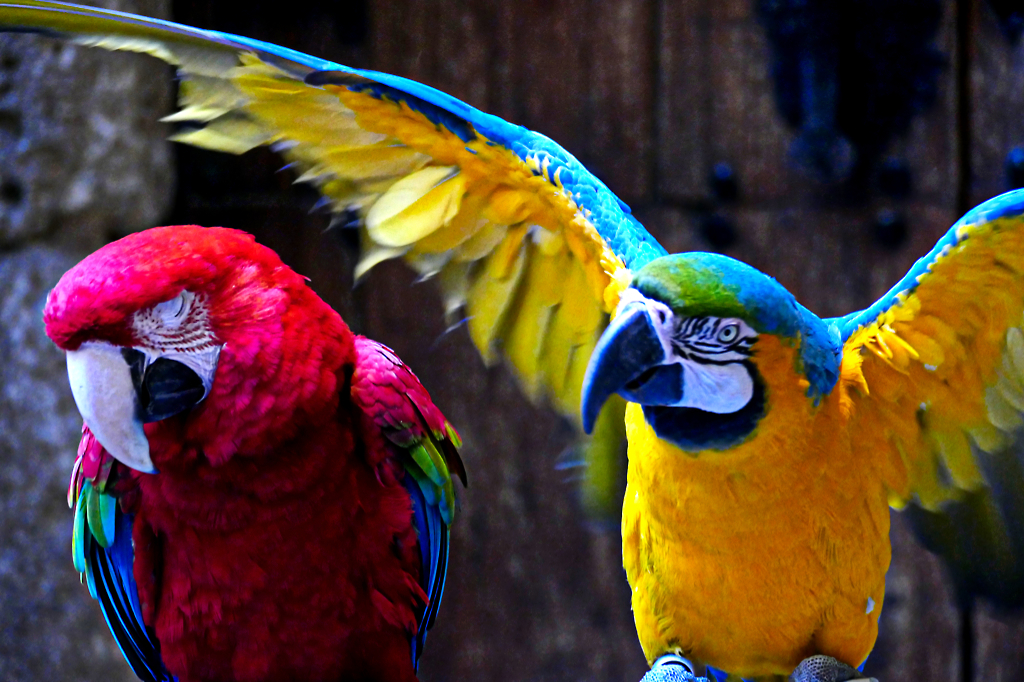 The museum is open daily from 10 a. m. to 6 p. m., Sundays only till 3 p. m. The general entrance fee is 4 €uros. On the first weekend of each month, entrance is free.
Eremita and Plaza de San Antonio Abad
Just a few steps from the Casa de Colon's main entrance is the small hermitage of San Antonio Abad. Today's building stems from 1757. It stands on the spot of a former chapel built in 1478.
Rumor has it that Christopher Columbus prayed at that chapel before heading out to the Americas in 1492.
Currently, the hermitage is part of the exhibition complex of the Atlantic Center of Modern Art CAAM that I'm introducing above.
Walking in the opposite direction from the Casa de Colon, you'll get to the idyllic Plaza San Antonio Abad. It's surrounded by the backside of the cathedral, the public library San Antonio Vegueta Biblioteca, as well as the San Martín Contemporary Culture Center housed in Las Palmas' Ancient Hospital.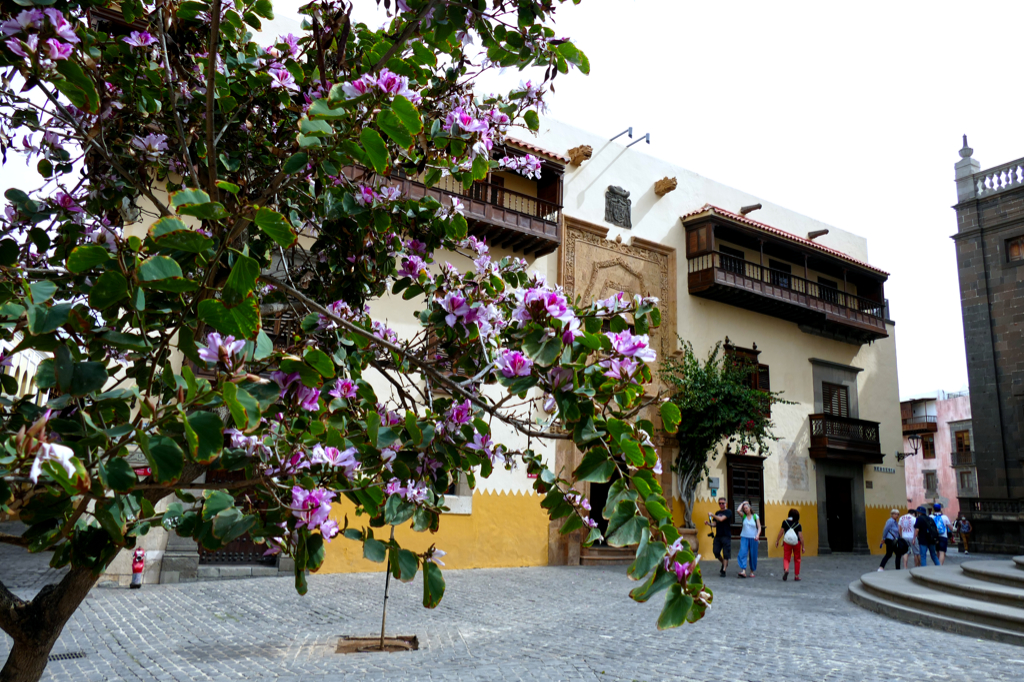 This is a great place to take some beautiful pictures – or just sit on the cathedral's stairs for a couple of minutes before you continue through the Calle San Marcial to the Plaza Santa Ana, Las Palmas' main square.
Getting there, you also pass by the Palacio Episcopal, the Bishop's Palace, built in the 16th century as a symbol of religious power. Today, only the ornate façade remained after the great fire of 1599.
Catedral and Plaza de Santa Ana
Construction of the Cathedral began in 1497, however, it was opened for worship only in 1570. That many different architects participated in the project is reflected in the various architectural styles. While the façade is neoclassical, inside, the Cathedral has baroque altarpieces and a sacristy in Plateresque style, a Spanish architectural fashion developed between the late Gothic and early Renaissance.
The Cathedral can be accessed through the Diocesan Museum of Sacred Art from Monday to Saturday between 10 a. m. and 4.30 p. m. for a general admission fee of 3 €uros.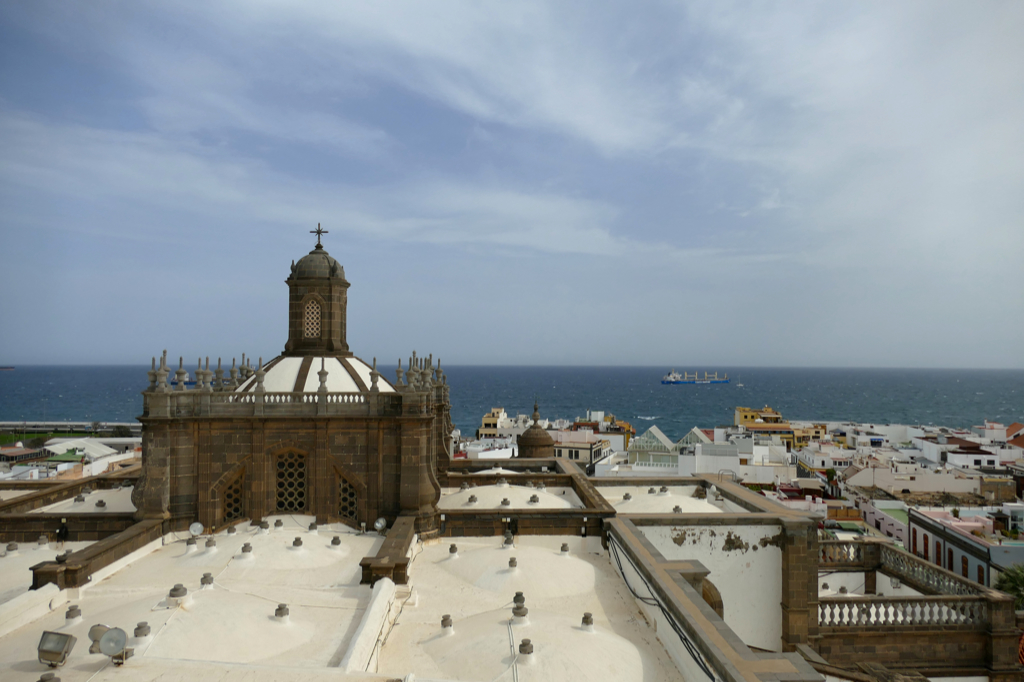 As the Cathedral can be seen from almost any point in the city center, in return, you do have a fantastic view of the city and beyond from the roof. It is open for visits daily from 10 a. m. to 5.45 p. m., Sundays only till 2.15 p. m. The ticket costs as little as 1,50 €uros and getting up, you can either take the elevator or climb the stairs.
Standing on the Cathedral's roof looking east, you'll see the Atlantic Ocean. Looking west, though, you are overlooking the Plaza Mayor de Santa Ana. Since the conquest, it has been the most emblematic spot in the Vegueta. Together with the Cathedral, the Bishop's Palace as well as the Town Hall have made it the city's most significant political and religious center.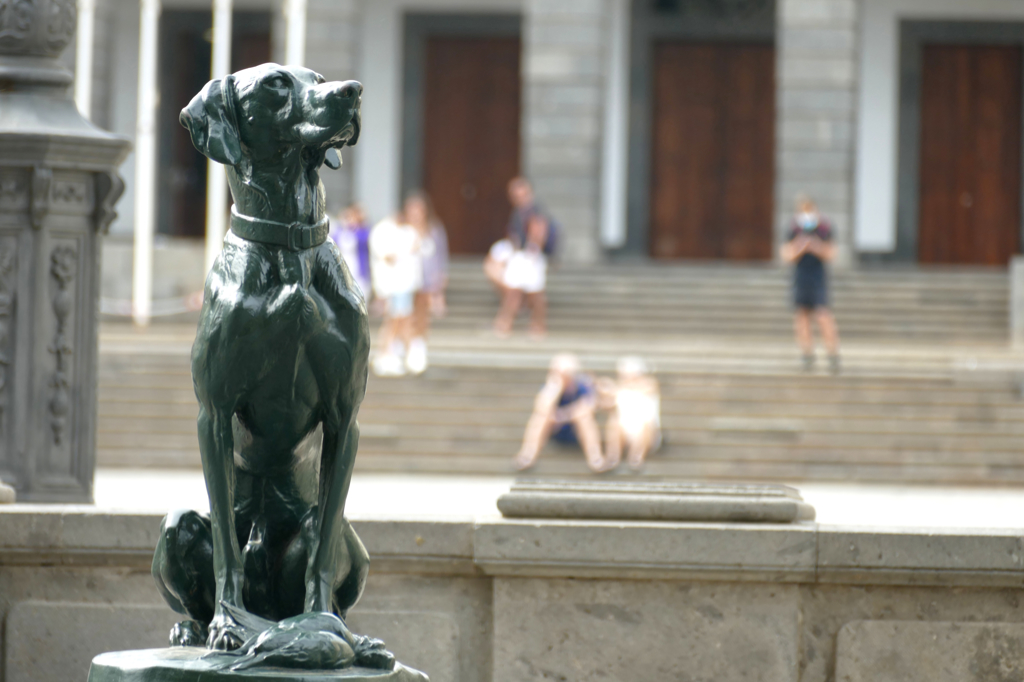 Eight cast-iron dogs are hanging out on the Plaza de Santa Ana, nowadays, probably being the visitors' favorite motifs. Facing the Cathedral, they were placed in the square in 1895. Supposedly, they are a reminder that the archipelago's name stems from the Latin Canariae Insulae, hence, the island of dogs.
Plaza del Espíritu Santo
Just a few steps behind the town hall is the triangular Plaza del Espíritu Santo. Surrounded by stately historic townhouses and with lush greenery in the center, the square is a very idyllic place. The most outstanding feature, however, is a majestic fountain built from stone in the 19th century. On the east side of the Plaza de Santa Ana is the small chapel Ermita del Espiritu Santo from 1615.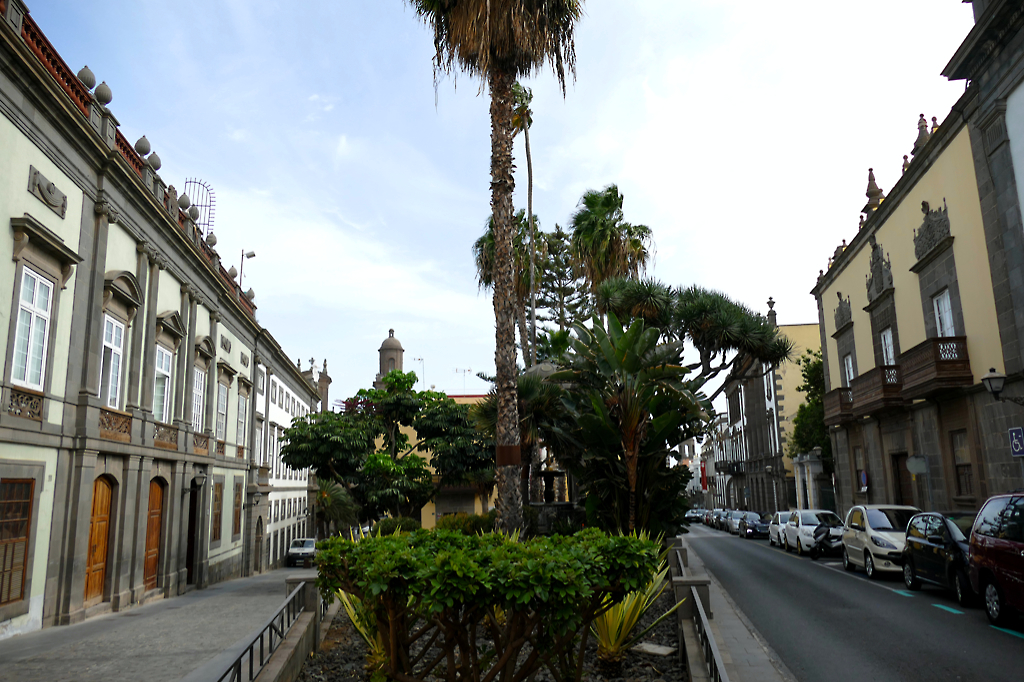 Two blocks east of the Plaza del Espíritu Santo is the Museo Canario. Founded in 1879, it possesses a valuable collection of archaeological objects from the Canaries. The majority of the thoroughly preserved objects stems from Gran Canaria, however, there are also pieces from the other islands.
Among them are ceramic vessels, idols like the Ídolo de Tara, and over 200 pintaderas, hence, stamps. There are also stone and bone tools as well as clothing made from fur and plant fibers.
Triana
Crossing the Guiniguada ravine, today's Calle Juan de Quesada, towards the Puerto de la Luz, you'll reach the Triana neighborhood. It was actually named after the eponymous district in Seville due to certain similarities.
Triana is one of Las Palmas' oldest districts was the neighborhood established by the wealthy bourgeoisie for over 200 years. Today, it is the city's commercial center. In 2013 won an award for the best Spanish commercial street. Almost all of the buses go through Triana, you can get off at Teatro or San Telmo Bus Station.
, accompanied by the mansions and lands of the first lords. All this motivated the relatively rapid growth of the city in its first stage of expansion, which led part of its inhabitants to settle on the other side of the Guiniguada ravine, where the Triana neighborhood was established.25
The neighborhood was structured around the Calle Mayor de Triana, a street of great architectural beauty with a large sample of modernist buildings and a long commercial tradition. Near it are buildings such as the Pérez Galdós Theater, the Literary Cabinet, or the Church of San Francisco.
Teatro Pérez Galdós and Plaza de Hurtado de Mendoza
We started our walk through Triana at the Teatro Pérez Galdós right across from the Marcado Vegueta.
After Las Palmas' city theater burned down in 1918, reconstruction began in 1921.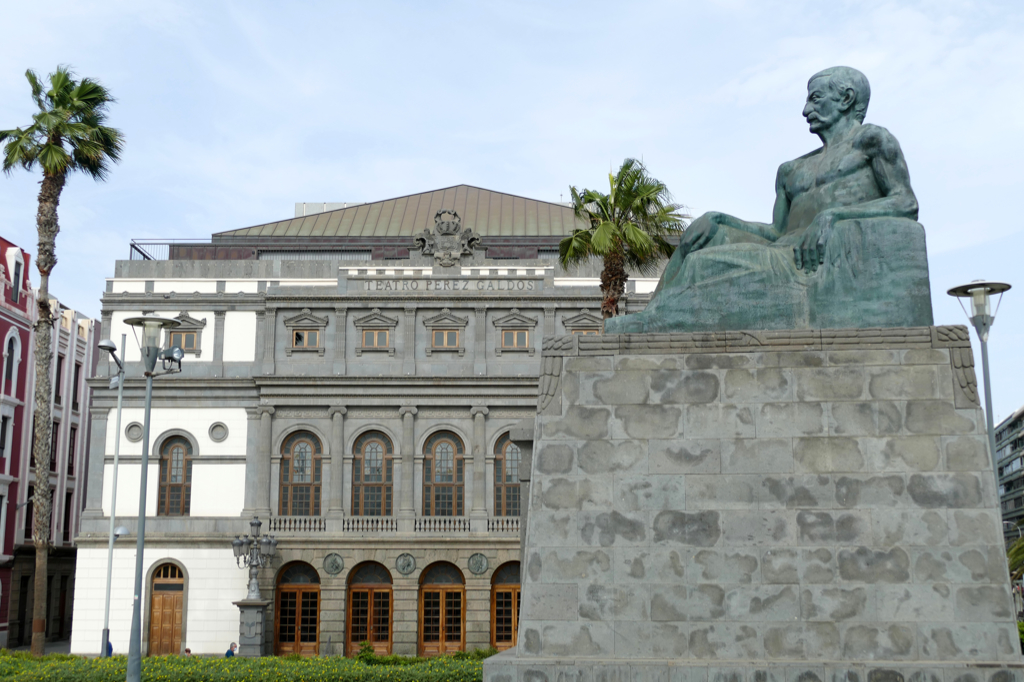 Arrchitect were first Fernando Navarro y Massenet and from 1923, Miguel Martín Fernández de la Torre. As he completed the work in 1928, he commissioned his brother, the well-known painter Néstor Martín Fernández de la Torre, to accomplish the interior design.
The theater has been a listed monument since 1994. After its general renovation in 2007, it is one of the most modern theaters in all of Spain.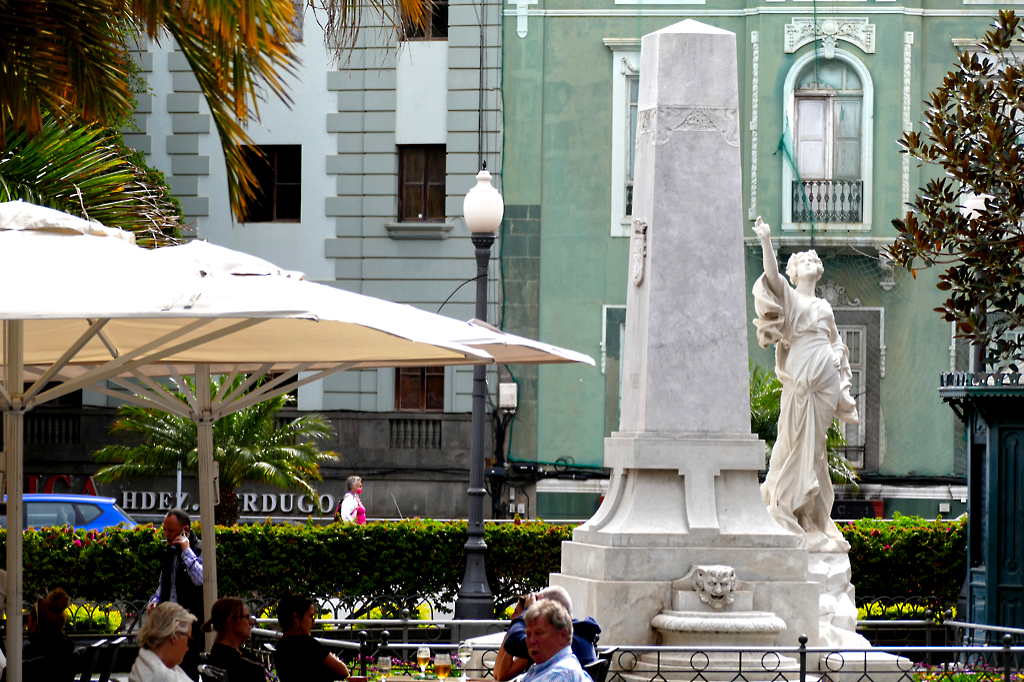 As you walk three blocks up the road, you'll get to the alluring Plaza de Hurtado de Mendoza, more popularly known as Plazuela de Las Ranas. The latter name refers to the ornamentation of the grand fountain.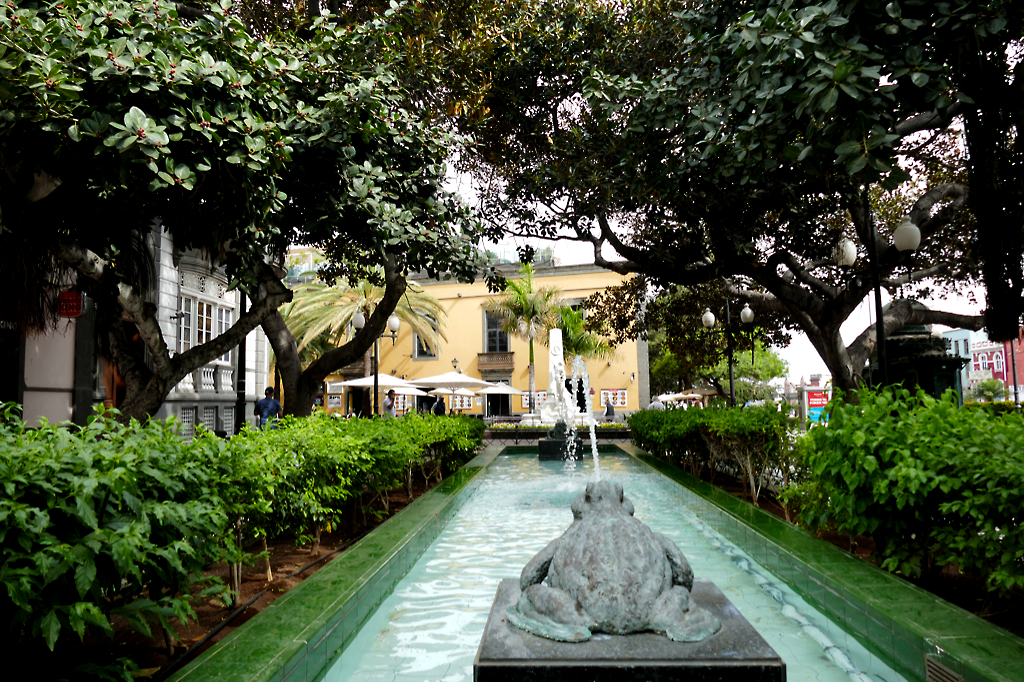 From here, you can see the unique neoclassical building that today houses the island's library as many other stately buildings.
Opposite the library are y couple of cozy cafés with pleasant outdoor seating, so if you need a break, you came to the right place.
Alameda de Colón
We, however, walked around the corner where we enjoyed some ice cream at the Plaza de Cairasco. It is located right next to the lush and serene Alameda de Colón and we actually sat right next to one of the city's most prestigious buildings, the Gabinete Literario.
This Art Nouveau building is on the northern side of Plaza de Cairasco and belongs to a literary association founded in 1844. The purpose was to provide the association's members with current English, French, and Spanish newspapers as well as popular books.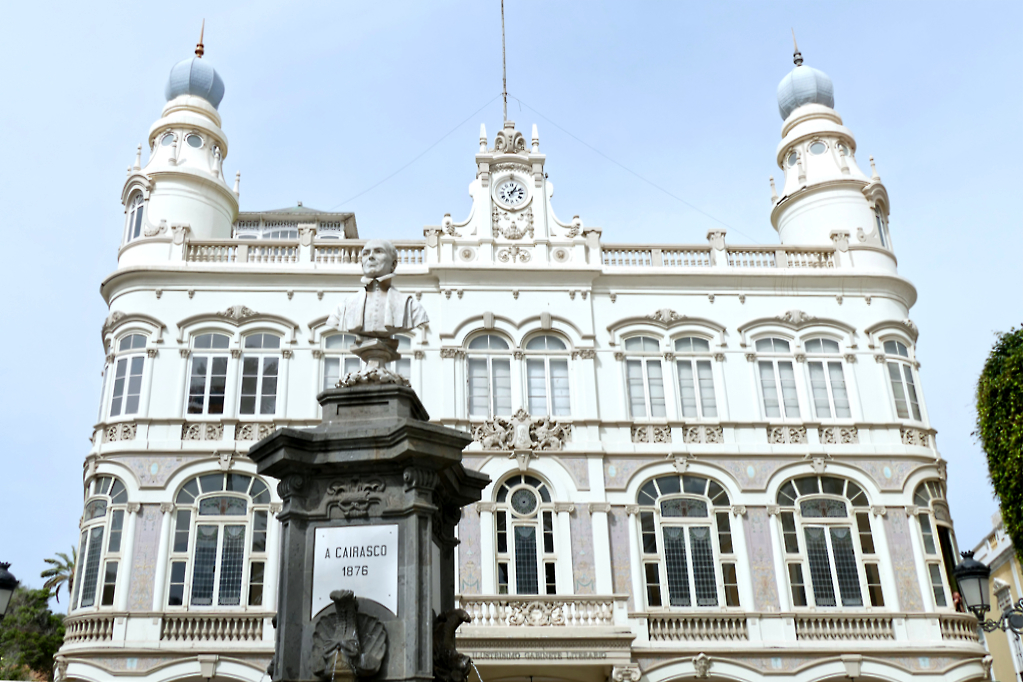 To this date, only members have access to the noble institution, however, the café on the ground floor is also open to the general public.
A stroll between the manicured lawns of the Alameda de Colón takes you to the Parroquia de San Francisco de Asís. The current parish, founded in 1821, occupies the church of the old convent of San Francisco, one of the first to be founded in the city. It was built in 1518 and burnt down during the attack on the city by Dutchman Pieter van der Does.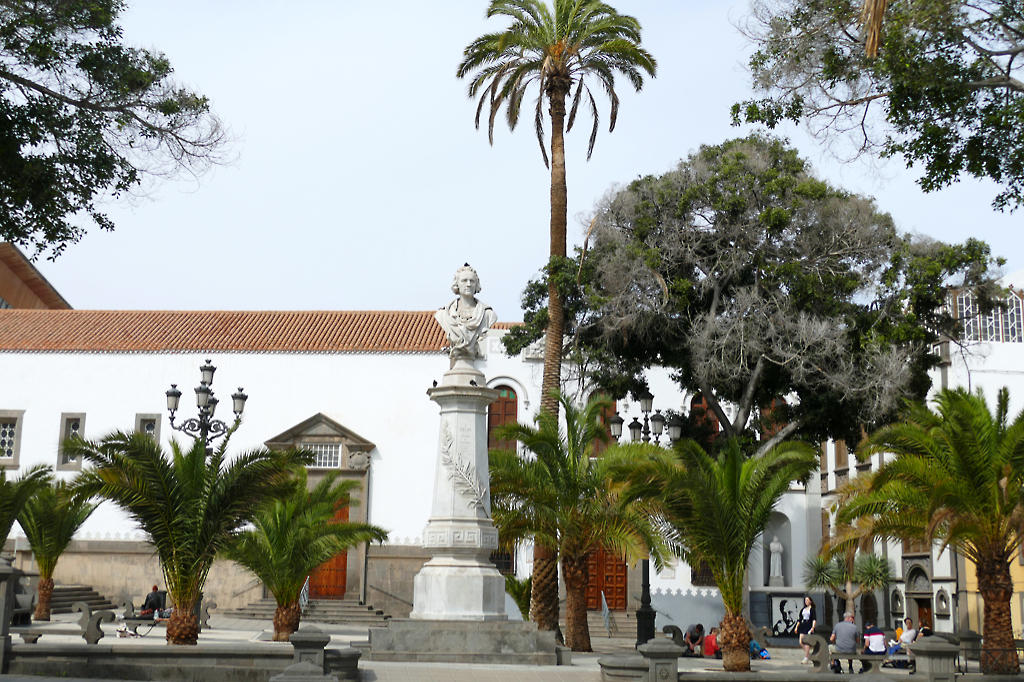 Here it's time to turn right into the alleys of Triana. On Calle Cano, you can finally learn more Benito Pérez Galdós by visiting his birthplace. Born in 1843 in Las Palmas de Gran Canaria, the city is very proud of its talented son. And rightly so, since he is considered one of the most important Spanish-speaking writers of realist novels. Because of his enormous literary output alone, he is often compared to Balzac and Dickens.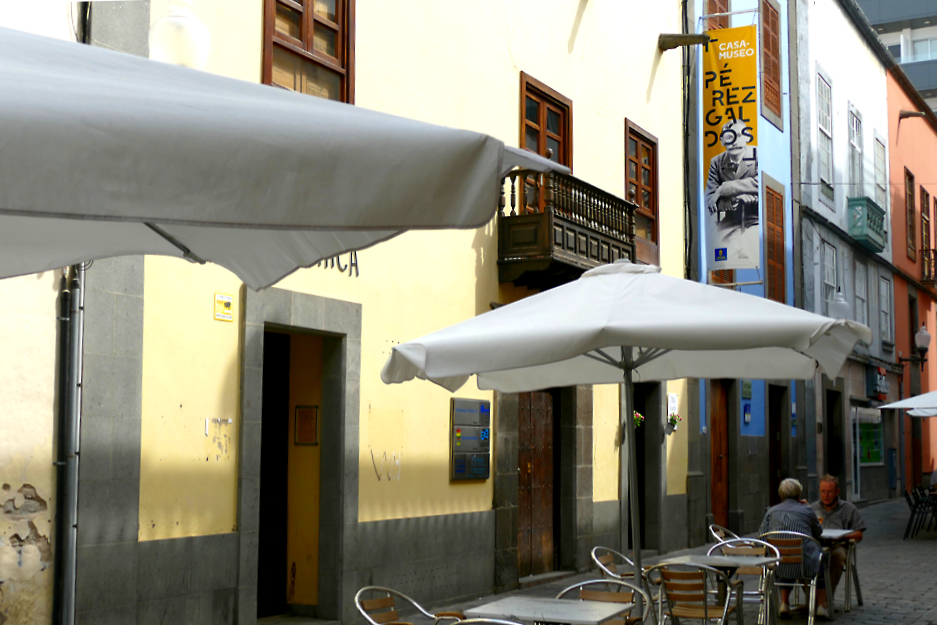 He was born and raised in the building on number 6 until he was 19 years old. To this date, it also preserves Canarian domestic design and architecture from the 19th Century.
Casa-Museo Pérez Galdós
Calle Cano 6
35002 Las Palmas de Gran Canaria
The museum is open from Tuesday to Friday between 10 a. m. to 4 p. m. and on weekend only till 2 p. m. The general entrance fee is 3 €uros.
Calle Triana and Parque San Telmo
At the beginning of the 20th century, modernist architecture splashed over Las Palmas from the Spanish mainland – you can read about this iconic style of architecture in my post Antoni Gaudi in BARCELONA: A Guide to Modernism. Since then, it defined the architectural appearance of Las Palmas' Triana neighborhood. Especially the houses between numbers 76 and 82 on Calle Triana as well as the Mansion Rodríguez Quegles on Calle Pérez Galdós are the most exquisite of this style.
However, in the upper-class Triana neighborhood, they soon got electricity which replaced the old oil and petroleum lamps. Also, a tram, popularly called La Pepa, circulated across Triana between the historic center and the Puerto de la Luz. Today, the Calle Triana, Las Palmas' most important shopping district, is exclusively reserved for pedestrians.
In the north, it ends at the Parque San Telmo, and that's also where our tour of Las Palmas' historic center finishes.
In the past, this site was the historical site of the north wall of the city and actually the first wharf of Las Palmas de Gran Canaria. Today, it is a recreational area in the city's bustling center. Its most outstanding feature is probably the Modernist kiosk designed by Rafael Massanet y Faus in 1923. Today, there is an open-air café. Also, at the southwest corner is the Hermitage of San Telmo from the 18th century.
To tell you the truth, we mainly came here since east of the park is the giant Estación San Telmo from where you can go by bus to even the most secluded spot on the island. It's a subterranean station built over with a pedestrian area and connected safely through tunnels and bridges.
Practical Information
How to Get There
By Plane
Gran Canaria International Airport is located about 18 kilometers south of Las Palmas. Since there is only this one airport on the island, it serves conventional as well as European low-cost airlines alike.
There are also flights to and from the other islands such as Fuerteventura and Tenerife operated by local airlines like Binter, Canaryfly, and Air Europa. If you check prices on their websites, don't get over-excited about the incredibly cheap prices as these apply only to permanent residents. However, even for other passengers, flying between the islands is very reasonably priced and oftentimes cheaper than taking the ferry.
By Ferry
The Puerto de la Luz in Las Palmas is the main port on the island. From here, Olsen Express and Naviera Armas grant regular ferry services to Tenerife, Fuerteventura, Lanzarote, La Palma, and El Hierro as well as to Madeira. The trip to Cádiz on the Spanish mainland by Acciona Transmediterránea takes about 2 days.
Another port that connects Gran Canaria with Tenerife is the Puerto de las Nieves in the northwest of the island.
Taking the ferry is not necessarily cheaper than going by plane. However, it is a more eco-friendly way of travelling. Also, it is the only option if you have to take your car across the sea vehicle. I went from Gran Canaria to Morro Jable in the south of Fuerteventura in about 2.5 hours and I paid over 50 €uros, which is not exactly cheap.
If you're on a flexible schedule, you should check thoroughly the prices at different times of the day as well as between the individual companies as they can differ a lot. Also, just like the airlines, the ferry companies grant residents of the Canary Islands a considerable discount.
Land Transport
If you haven't booked a package where the travel company arranges the shuttle from the airport or jetty to your hotel, you have different options of how to get to your final destination. The most comfortable option is taking a cab, obviously.
However, you save lots of money by taking one of the public buses. Buses #60 and #91 take you to Las Palmas in about half an hour for as little as 2 €uros. You can pay cash – only with change or small bills – or by credit card if it's equipped with NFC.
As there are many more connections to the different towns around the island, you better check out the website of Global, the local bus company. As a matter of fact, Global's blue buses are only connecting Gran Canaria's towns and villages. If you want to travel within the city limits of Las Palmas, you need to take one of the yellow buses by Guaguas as explained in the chapter below.
By the way, locals call all buses la guagua, not only those of the eponymous regional bus company.
I'm not driving, but if you want to rent a car, you can do so right at the arrival hall. There are different car rental companies to choose from.
Immigration and Customs
The Canary Islands are part of the Schengen Area and the customs area of ​​the European Union. Since they are not part of the tax area for excise duties and VAT, certain products are way cheaper than on the mainland. Looking at the gas prices, for instance, will probably make you cry. Also, cigarettes and liquor are much cheaper and, most importantly, cosmetics and perfumes.
While there are hardly ever personal border controls within the Schengen Area, customs controls when coming from the Canary Islands are still possible. Therefore, make sure to keep your shopping within the allowed limits.
How to Get Around
Las Palmas is the island's largest city and it shows. Will say, I'm an avid walker, and yet, we opted for taking the bus quite often. The distances between beaches, landmarks, and other points of interest can be unexpectedly long.
Fortunately, Las Palmas has a comprehensive and well-functioning bus system. The bright yellow buses are called guaguas, and Guaguas is also the name of the bus company.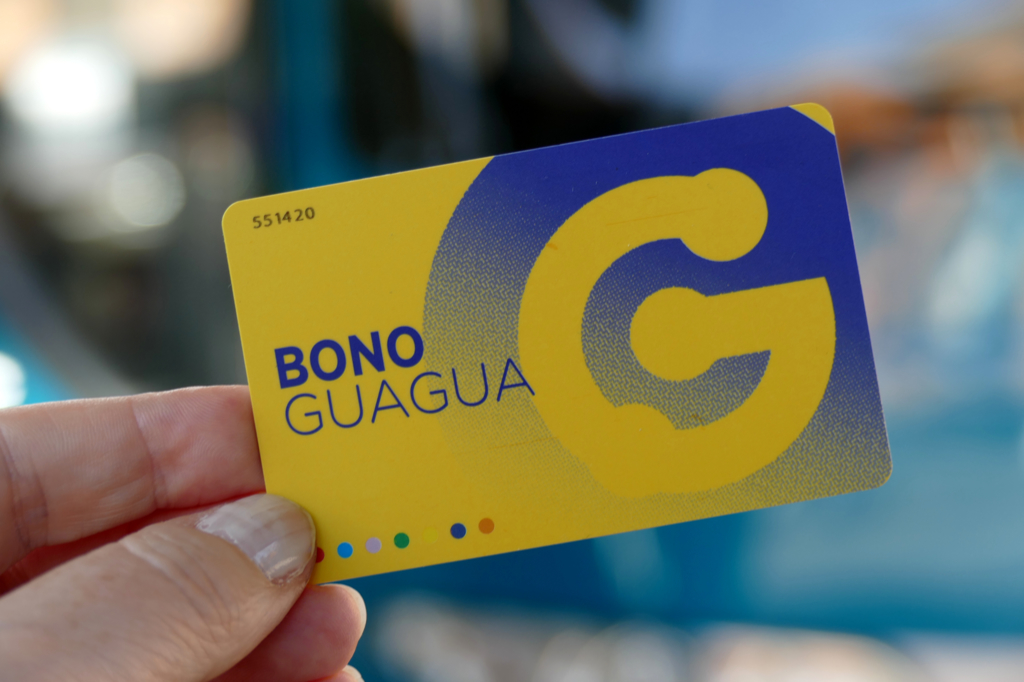 A single ticket costs 1.40 €uros. You can buy it from the driver either by paying cash or with your credit card if it's equipped with NFC. If you stay longer, you might wanna opt for a travel pass. This bono guagua cost 8.50 €uros for ten rides, however, you need to buy the card for another 2 €uros. You get it at most convenience stores. As you are checking fares on Guaguas' very informative website, beware that many discount options are only for residents. Your options are exclusively the ones I'm explaining above.
To check your next connection, you can simply go on google maps and type in your starting point and your final destination. This also work like a charm for interurban rides.
My Tip:
The bono guagua is not personalized so that various people can travel together using one card. Since you have to pay a deposit of 2 €uros per card, it's recommendable to use one single bono for your entire party instead of getting an individual card for everyone.
The yellow urban guaguas will take you anywhere within the city. To travel outside of Las Palmas, you'll have to take one of the blue Global buses as explained in the chapter above. They all depart either from Santa Catalina Bus Station or San Telmo Bus Station. Fares depend on how far you go.
Cycling
Since 2018, Las Palmas installed the bike-service Sítycleta. First, you have to register online or using their App. As you supply your payment method, you will be charged 1 €uro which you can then use for your first ride.
The basic rate is 1,50 €uros for 30 minutes. For a weekly rate of 15 €uros, you get some perks like for instance a free 30 minutes per rental. Also, every additional 30 minutes up to two hours are only 50 cents and after that 75 cents. The same prices apply if you sign up for a month, however, you pay only as little as 20 €uros. So if you do the maths, this pays out even if you stay in Las Palmas only for two weeks.
Sítycleta has an excellent website where you get all the details and can also register.
Where to Stay
Gran Canaria has been a popular tourist destination for decades. Although Las Palmas is not as overrun by visitors as the beaches on the south coast, it still is a touristy place so you'll find a wide choice of hotels and apartments there, too.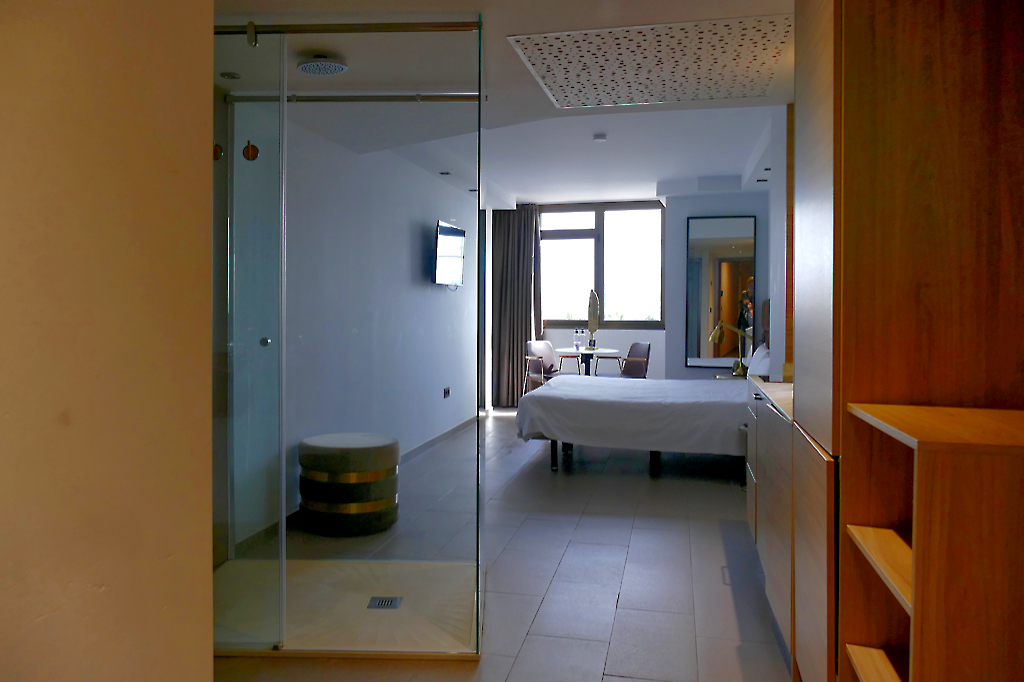 On this stay, we opted for maximum independence. We wanted to have the opportunity to prepare our own breakfasts and enjoy a cup of tea in bed at night. Therefore, we rented a small studio in the apartment building Poem Suites*. They have accommodations of different sizes, hence, rates differ accordingly. However, they are all very reasonably priced.
Nevertheless, if they are booked out or if you prefer to stay in another area, you can check out the availability and prices of other great lodging options on this map*:
What to Eat
As I repeatedly pointed out above, the heritage in the Canary Islands doesn't necessarily stem from the Spanish peninsula. As much as you won't find Canarians dancing Flamenco, for instance, Paella is a dish imported from the mainland, namely Valencia.
What the Hispanic peninsula and the Canary Islands do have in common are Tapas. Tapas are varied snacks such as sliced ham, diced or grilled cheese, boquerones en vinagre, marinated anchovies, papas bravas, tiny potatoes with a spicy dip, albondigas, small meatballs, to name just very few. A selection of two or three tapas can actually replace a meal. However, you can also order a ración, hence, a whole serving, or a media ración, a half-sized serving.
When you are really hungry, the menú del día might do. It's usually a three-course meal. You can combine it to your liking from different starters, main courses, and dessert options. Often, the price of around 10 €uros includes water or even wine. However, the menú del día is most of the time just a lunch option.
As in most other European countries, tipping is rather optional in Spain. It is not compulsory, but an appreciative gesture. Also, you don't need to calculate a certain percentage. Rounding up to the next full €uro might be a bit chintzy. However, adding one or two €uros will normally do.
Where to Eat
If you are a regular reader of my blog, you know that I hardly ever recommend eateries. Not because I don't like to eat, I like eating far too much. No, the reason I'm not exploring the culinary side of my destinations is that eating by yourself is one of the few downsides of solo travel. Eating solo is appeasing hunger, not a social event. Therefore, I often grab some take-out and eat it in my hotel bed watching Netflix.
My trip to Gran Canaria, however, was different since I wasn't alone but in the company of my daughter Mimi. Also, during my extremely brief yet exceptionally eventful first stay on the island, I managed to make some friends. Therefore, I can actually recommend some pleasant eateries.
Mercado del Puerto
On the northern tip of Playa las Canteras at the foot of the La Isleta neighborhood is the Mercado del Puerto. It is a wrought-iron structure, built in 1891. Builders of the French company Eiffel erected it two years after they completed the famous Eiffel Tower in Paris.
The Mercado del Puerto was the first farmers' market in the Canary Islands that added some food stalls. Today, it is actually rather a gastro market where you can enjoy some tapas and a drink.
It is a nice place, however, don't fall for the hype as there are more congenial gathering spots – for instance, around the Parque Santa Catalina – see below.
La Oliva Restaurante
At Playa las Canteras' northernmost point is La Oliva, a restaurant serving some original and delicious tapas.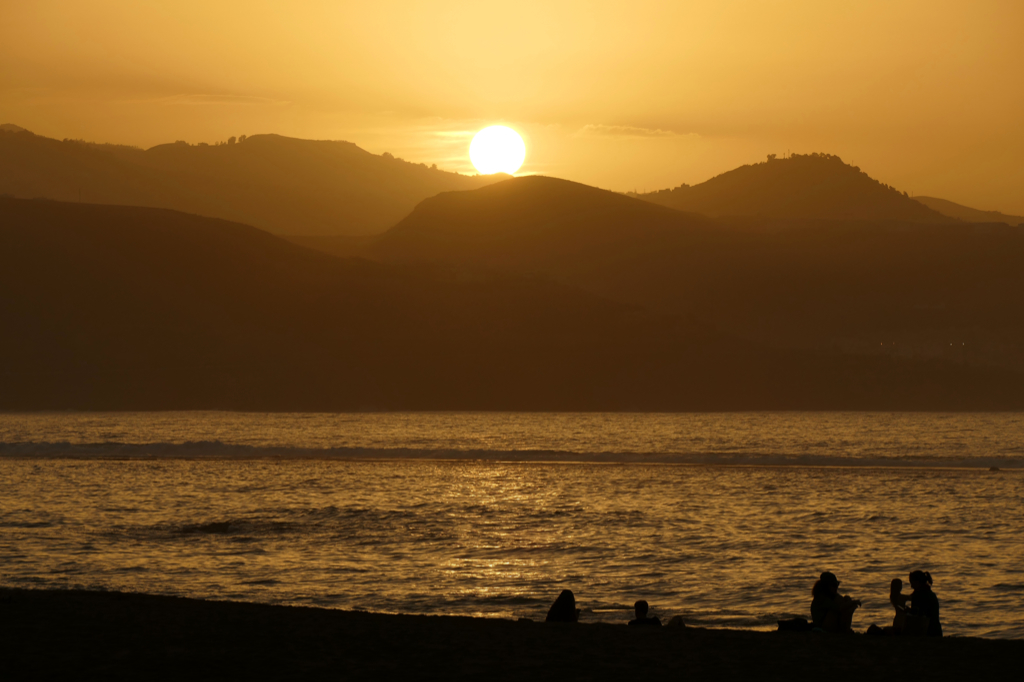 They have a very pleasant outdoor seating so that you enjoy your food while watching the waves rolling in and the sun go down over the Atlantic. Only some of the staff could be a bit friendlier.
La Oliva Restaurante
Calle Prudencio Morales 15
35009 Las Palmas de Gran Canaria
The restaurant is open every day from 8.30 a. m. till midnight.
Aji Limón y Canela
As you might have guessed from the name, this restaurant is not Spanish, but Peruvian. Ever since Mimi studied in Lima, we have had a soft spot for everything stemming from Peru. And as experts on Peruvian cuisine, we can assert that the ceviche, marinated seafood, anticuchos, marinated beef hearts, and their pisco sour are de Primera.
Since we were a bit cold, we enjoyed our Peruvian feast inside, however, they have also a couple of tables next to the beach.
Aji Limón y Canela
Calle Sagasta 68
35008 Las Palmas de Gran Canaria
The restaurant is open every day from 12 p. m. till 11 p. m., Fridays and Saturdays till midnight.
El Típico Español
Well, technically El Típico Español is not really Canarian – as I explained above. But their seafood is as good as their Paellas and other national rice dishes so who cares about technicalities?
Since their restaurant is very open with most seating outside, you might not wanna go there when it's raining. Also, during the winter season, make sure to have a jacket on you in case there's a nip in the air.
The food is good and in comparison to other restaurants on the strip reasonably priced. Also, we got to sample some local honey rum after dinner which was a lovely gesture.
El Típico Español
Passeo las Canteras 19
35008 Las Palmas de Gran Canaria
The restaurant is open every day from 11.30 a. m. till 11 p. m.
Nuevo Rio las Palmas
I've mentioned the Parque Santa Catalina, one of Las Palmas' most important squares, above. Although it's one of the central locations for day-trippers due to its proximity to the cruise terminal, the bars and restaurants are actually rather frequented by locals. Therefore, you often pay a fraction of what you have to fork over at the joints alongside the beach.
My favorite place is Nuevo Rio las Palmas. While inside, space is quite limited, they have a huge terrace facing the park. Here you can enjoy one of their supersized sandwiches or grilled croissants – they come supersized whether you order it that way or not. As you drink your morning coffee, the elderly Spaniards at the next table might already add a traguito, a shot, to their café cortado. That reminds me of how much looking forward to my retirement.
For lunch and dinner, the Nuevo Rio serves all the Canarian classics, hence, nothing too fancy, yet at very competitive prices.
Nuevo Rio las Palmas
Calle General Vives 74
35007 Las Palmas de Gran Canaria
The Nuevo Rio las Palmas is open every day from 8 a. m. till midnight.
When to Eat
Now, Spanish mealtimes can be challenging.
Years ago, I visited the Costa de la Luz together with my then 7 years old daughter. We were used to northern European mealtimes and had to find tricks to avoid going hungry. Not only are classic mealtimes much later than expected. In addition, many restaurants close their kitchens'n'doors in-between. For instance, our favorite pizzeria in Conil de la Frontera re-opened only at 10 p. m. By then, we were starved.
To survive, we developed a distinct schedule by making Spanish lunch hours our dinner time. I kid you not. Around 4.30 p. m., shortly before restaurants closed to re-open only late at night, we went for dinners. Admittedly extremely early dinners.
By the way, I've written an entire post about travelling in the company of kids – especially as a solo parent.
Standard Meal Times
So what are the average mealtimes in Spain? Well, as a rule of thumb, breakfast is between 7 a. m. and 9 a. m. However, it often is just some coffee with or without milk. The second breakfast is then eaten between 10 a. m. and 11 a. m. This can be another coffee, but now accompanied by a pastry or a sandwich.
Lunch is served relatively late between 2 p. m. and 4 p. m. In the mid-afternoon, there is a merienda, another sweet or hearty snack. Finally, dinner is served between 9 p. m. and 11 p. m. to those who are still up by then.
Note that although many restaurants are open for the evening shift around 7 p. m., their kitchen might open one or two hours later. Until then, they only serve drinks and cold tapas.
Best Day Trips
Since Las Palmas is a great gateway for visiting other places on the island, you'll find the guides I've put together for each of those villages and towns below. As a matter of fact, if you don't get to know the beaches, the lava pools, the mountains, and the historic old settlements, you miss out on Gran Canaria's strongest suit.
Here I give you an overview of which bus to take to which place and where to take it. Since the departure times might change over the months, I recommend checking your connection one day before your trip on google maps.
Destination
Bus #
Bus Stop in Las Palmas
Agüimes
11
Estación San Telmo
Artenara
216 and 220
Estación San Telmo via Teror
Arucas
234
Estación San Telmo** – direct
Gáldar
105
Estación San Telmo
Maspalomas
30
Estación San Telmo** – direct
Puerto de las Nieves
103
Estación San Telmo* – direct
Puerto de Mogán
91
Estación San Telmo** – direct
Santa Brigida
310
302 or 303
Santa Catalina
Estación San Telmo
Tejeda
303 and 305
Estación San Telmo via San Mateo
Teror
216 or 229
Estación San Telmo***
*There are more connections via Galdár. **This is the best connection. There are more connections which are slower or where you have to change buses. ***There are other connections, but these are the best ones, especially on Sundays when buses tend to be very full.
Visiting Organized
I'm an avid solo-travelling woman, but sometimes I like to join organized tours. Especially since they tend to be a valid option to go to remote places since I'm not driving. Then, they are the only way to take a boat tour most of the time.
Therefore, here are some great ideas of what to do when visiting Gran Canaria. Especially during the high season, pre-booking online will guarantee your place at the activity of your choice*:
Cash And Cards
Until now, 20 European countries replaced their former local currency with the €uro starting in 2002. Obviously, Spain is one of them. The exchange rate is 1 US$ = 0.94 EUR as of January 2023. However, you can check today's conversion rate on this page.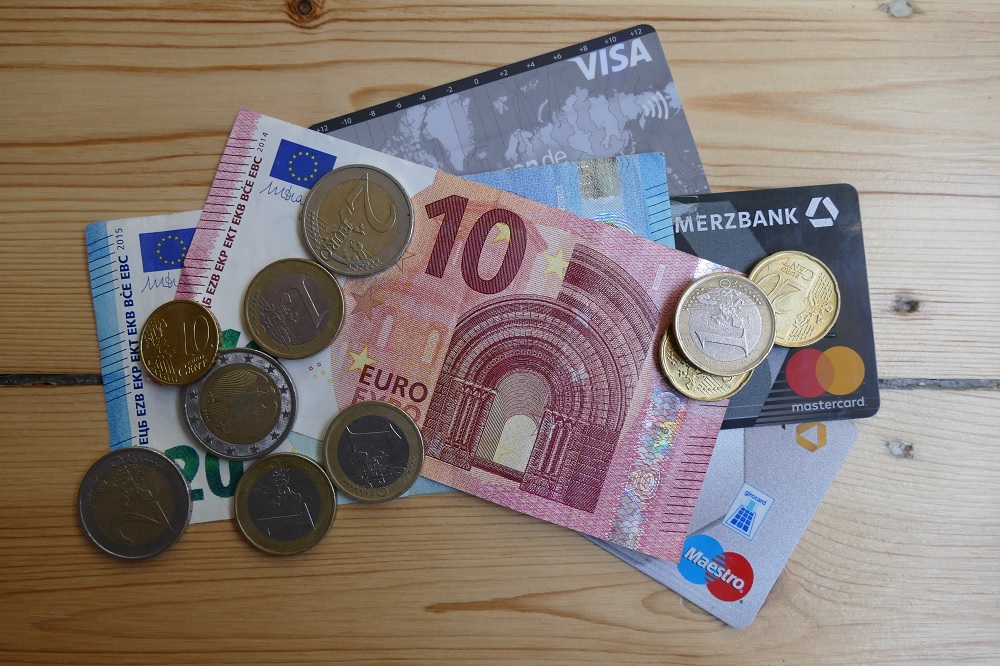 Especially due to the Covid pandemic, even small businesses prefer that you pay by credit card, and preferably contactless. I could have spent my entire trip to Gran Canaria without spending basically any cash at all.
Language
Before the Spanish conquest, each Canary Island spoke its own type of the Guanche language. Due to the systematic pushback of the local culture by the Catholic conquerors, only fragments of the language exist to this date. You mostly find those traces in the names of places.
Today, the official language is Spanish, obviously. If you want to learn some basic Spanish or just brush up on your knowledge, there are various apps and online tools. I personally like to practice with babbel. However, due to international tourism, most people working in tourism and gastronomy speak at least some rudimentary English and very often also German.
Nevertheless, here are some ground rules for Spanish pronunciation since saying for instance city names wrong can cause some problems. If people don't understand where you want to go, they won't be able to give you directions.
Say It Right
The good news is, that in general, you read Spanish the way it's written. Although, the letter C is a bit tricky for foreigners. Placed before an A, O, or U, it's hard and pronounced as K. Followed by E or I, it is pronounced like an English the. Now, if you want that th-sound in combination with A, O, or U, the letter Z comes into the picture. So you have to pronounce Canaria Kanaria, and Plaza Platha.
On the other hand, if you want C to sound hard in combination with E or I, you make it a QU – but you don't hear the U. Fine example: Tequila, that you pronounce like Tekkila.
This applies also to the letter G. If it's followed by A, O, U, or a consonant, it's pronounced like the G in guitar or Gran. To make a G sound hard before an E or an I, they squeeze in a mute U – like in guilt. If G stands before an E or an I, it is rather breathed than pronounced – a bit like the H in house.
The same applies to the letter J. You always pronounce it like the H in house.
The last trap is double L which is not pronounced like an L but like a Y in yellow. So it's not Malorca, but Mayorca. When a word is written with just one L like Tequila, it's a simple and innocent L.
Connection and Communication
Since June 2017, no roaming charges apply within the EU with a European mobile phone contract. This applies to all 27 countries of the European Union as well as Iceland, Liechtenstein, and Norway. It pertains to all contracts.
When roaming is not available, you can connect to the internet at basically every museum, eatery, and, of course, hotel.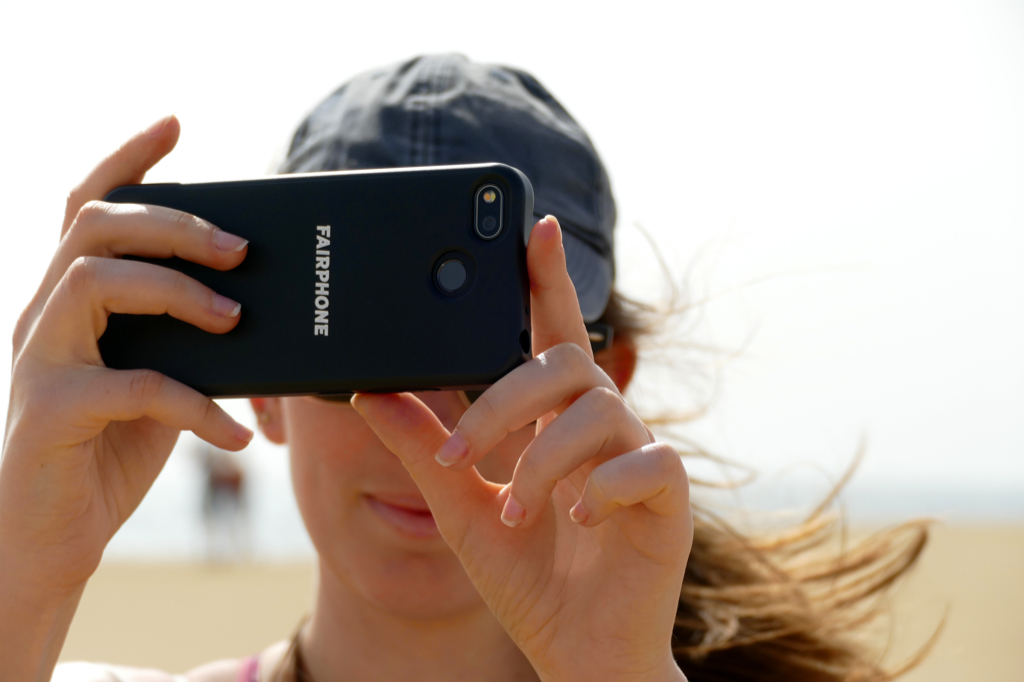 If you insist on being online 24/7, you can get a SIM card. The cheapest one would be Lycamobile while Orange Tu Mundo has the widest coverage.
In Spain, they use plug types C and F. Their voltage is 230 V and the frequency 50 Hz. Whereby, as nowadays all these chargers have integrated adapters, in general, the voltage and frequency don't really matter.
By the way, you'll find comprehensive travel info in my post World's Most Complete Travel Information – an indispensable globetrotter-classic.
Las Palmas was our base and actually only one of many amazing places we visited during our stay on the island. To read about the others, go to this post and take your pick!
For general information on Spain, go to the main post. There, you'll find information and tips that will make your trip much smoother and more enjoyable.
Map
On this map, you can see where all the wonderful places I'm introducing in this post are located. This way, you can plan your itinerary accordingly.
Clicking on the slider symbol at the top left or the full-screen icon at the top right will display the whole map including the legend.
Pinnable Pictures
If you choose to pin this post for later, please use one of these pictures:
Note: I'm completing, editing, and updating this post regularly – last in January 2023.
Did You Enjoy This Post? Then You Might Like Also These:
* This is an affiliate link. If you book through this page, not only do you get the best deal. I also get a small commission that helps me run this blog. Thank you so much for supporting me!