Takayama and Shirakawago are the perfect places if you are ready for a trip back in time. Nestled between the mountains of the Gifu prefecture, they invite you to walk narrow alleys lined with old wooden merchants' houses dating to the Edo Period. You can visit a dozen of fascinating museums. And last not least, you absolutely need to sample Hida Beef that just melts in your mouth.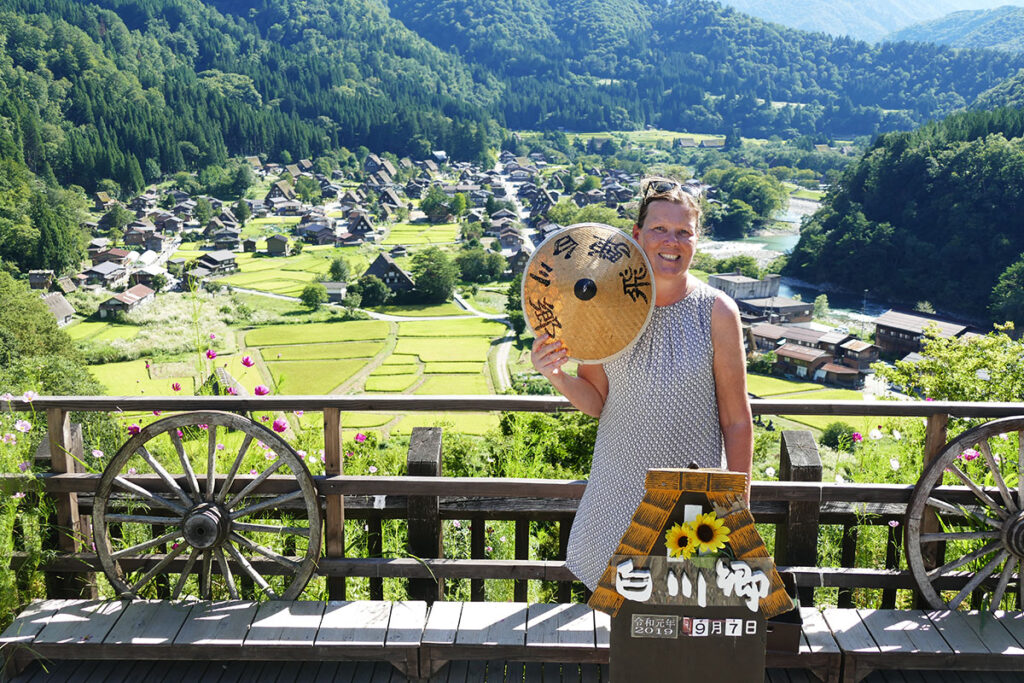 It might be already challenging enough to fit all the landmarks in downtown Takayama into your itinerary. Nevertheless, you should by no means miss a little side trip to Shirakawago village. This hamlet made it to the World Heritage Site list in 1995, after all.
Not Lost in Translation: English in Japan
Before visiting Japan, I heard so often that it was really difficult to communicate in English in Japan. Supposedly, with only English, you're practically lost.
That's not true. At all.
Every important piece of information – and that includes the bazillions of rules and regulations – is translated into English. Every train station, every subway announcement, every more or less important sign – in English. So you're good.
What's true, on the other hand, is that most Japanese people have a rudimentary to non-existent knowledge of the English language. And even that usually is not a real problem: You ask a very simple question – like Can I take this train with my JR pass? – and people will grasp what you mean and answer accordingly. However, your questions should not be more complex than this. Simple question, simple answer – works like a charm.
If you ask something people don't know how to answer, they don't leave you standing. They point, they explain – in Japanese, but anyway, they show. And they accompany.
Take Me to the River
So as I asked this young lady at the station of Takayama if the river was on that side – pointing in the direction I expected the river to be – she first looked puzzled. I had arrived in Takayama after dark – something I rather try to avoid, but in this case, I didn't have another chance.
So, I pointed at the river on the google maps screenshot on my phone. She took my cell, trying to enlarge the picture. It's just a screenshot, not an app, I explained, taking my phone back, feeling like an idiot.
Come, she waved, come, come.
In the direction I expected the river to be, we walked down the pitch-dark street. We walked next to each other without saying one single word. We walked in awkward silence until we got to a streetlight.
There, the lady pointed in the direction I expected the river to be and said "River".
Then she smiled, turned, and walked back in the opposite direction.
She only escorted me to make sure I wouldn't get lost.
Arigato gozaimasu – thank you very much.
Ryokan and Onsen: A Japanese Accommodation
Konbanwa. I greeted good evening as I entered the old, very Japanese building – greeted out of politeness, but also to make myself noticed.
At the entrance room – the so-called Genkan – was a sideboard with small piles of different leaflets and a chair. The floor was filled with neatly arranged pairs of shoes in different sizes.
Konbanwa! I greeted a bit louder – it was 9.30 p. m., I was tired, I wanted to take a shower and crash.
Konbanwa, answered an old man, stepping out of a room divided from the Genkan by two pieces of beautifully decorated fabric.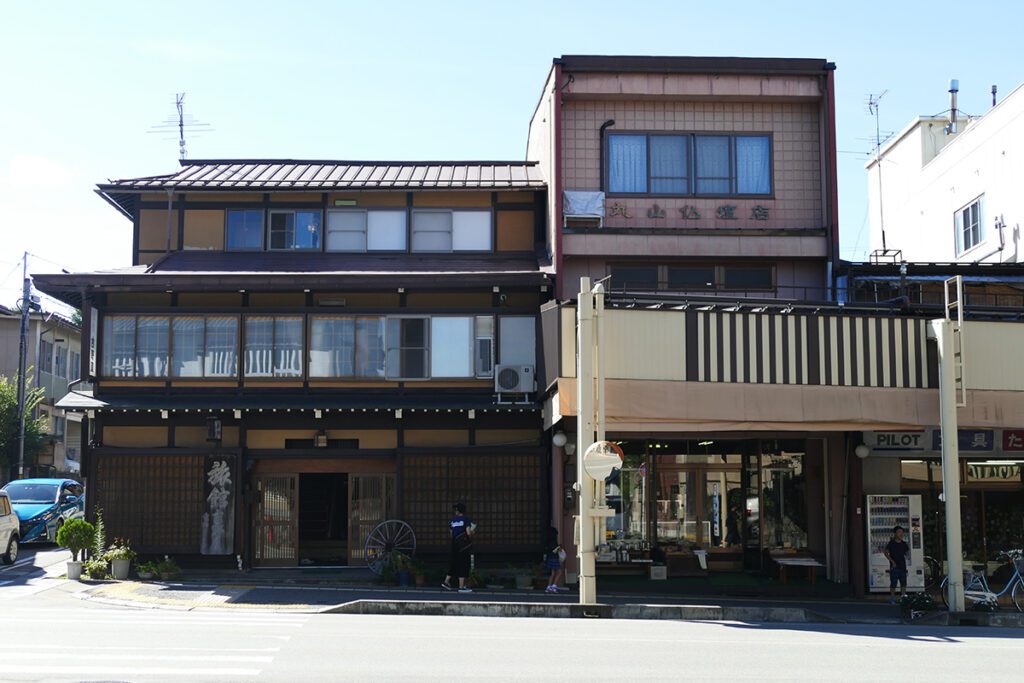 I explained who I was, he nodded, welcomed me, and started to explain many different house rules including the shower curfew that finished at 10 p. m. and the regular curfew at 11 p. m.
For security, he explained.
I was too tired to investigate how many incidents happened in this small Japanese town that made a curfew at 11 p. m. necessary.
I wanted to go to sleep. After a shower. Which was possible for another 25 minutes, so wrap it up, my good man.
But no, he kept on explaining and showing me around, emphasizing that I could use the shower only till 10 p. m.
With a desperate smile, I showed him on the clock that in this case, I needed to hurry. He smiled back. I grabbed my suitcase. He took it out of my hand.
Ryokan
He turned the suitcase on its back so that it looked like a humongous bug – and then he started to thoroughly clean the wheels with a big rag.
I stood beside this little old man who was cleaning the wheels of my suitcase, desperately looking at the clock – hearing it ticking.
As he finished his cleaning, he turned my suitcase up, pointed at it, pointed at me, and climbed the narrow wooden stairs to the second floor. I climbed behind him, schlepping my freshly cleaned suitcase.
He clearly was more into cleanness than into chivalry.
Upstairs, in my room, I actually understood the whole cleaning thing. The room was lined with Tatamis, the typical Japanese straw mats and it's totally understandable that the old gentleman didn't want my suitcase messing up this squeaky clean room.
As the room was a classic Japanese Ryokan room, the bathroom was a classic Onsen – a Japanese bath. Whereby the Onsen is a bath that you take after you cleaned yourself. Yes, it's a bit like cleaning the house for the cleaning lady to come. I quickly grabbed the robe they had prepared, slipped on the slippers, and paced down to the bathroom – I had less than 15 minutes left.
Onsen
An Onsen is a bathtub – huge in a communal place, for one up to four people in a private home or a Ryokan. It is filled with very hot water – preferably from a mineralized spring.
Since this water is not being changed and is being used by every guest, it's crucial that you enter squeaky clean and after a good scrub.
For this,  there are showers – or at least basins – next to the tub.
Eventually, you get into the hot tub butt-naked. You're not supposed to take any kind of rag or towel with you nor should you have soap or shampoo on you.
At the communal Onsen, you actually share your tub with other people – orderly divided by gender.
At the private Onsen of a Ryokan, you get into the bathroom by family or party. Well, I was a party of one, so I just locked the door behind me.
Morning Has Broken
The next morning, I was half asleep when I heard someone knocking at the frame of my straw sliding door. I must have been dreaming, why should someone be knocking this early?
I turned towards the wall and pulled the blanket over my head. No, still knocking.
Bloody hell, what's that again?
Pretty annoyed, I slid the door open and – Ohayo gozaimasu! With a friendly good morning and a big smile, the old man handed me a tray. There was a small, fine porcelain cup with coffee and a cookie in a cellophane wrapper. Ohayo gozaimasu.
Man, I hope he hadn't heard me growling bloody hell through the thin straw door before.
Privacy
But here's the thing:
Is it a really sweet gesture to bring your guests a cup of coffee in the morning? It surely is.
Is it uncalled for to wake your guests up at 7.15 a. m. if they didn't specifically ask for it? I think so.
Maybe this whole homestay thing is not for me. As soon as I close the door behind me, I like privacy. Undisturbed privacy.
I think that every visitor to Japan should experience the flair of a room at a Ryokan, but at the end of the day – pun intended – I personally do prefer the anonymity of hotel rooms.
Also, this whole living on the floor is not for me. From the moment I entered my Ryokan room, I was living on my knees: The suitcase was on the floor, the table didn't reach higher than my shins, the only sitting accommodation was an extremely flat cushion on the Tatami, I was sleeping on a mattress on the floor. It was all sliding on my knees, bending, and crawling on all fours.
I'm quite tall for a woman and I'm not a teenager anymore – living on the floor is a young woman's game.
But again, staying at a Ryokan is an indispensable experience with lots of ethnic charm.
Escaping the Crowds
After coffee had been served at the wee hours of the day, I was one of the first people in the old alleys of downtown Takayama and had the entire day ahead of me. Carpe diem.
Takayama is located in the heart of the Japanese Alps and was established mainly in the 16th and 17th centuries. Since many characteristic buildings from the Edo period are still well-preserved, Takayama is nicknamed Little Kyoto. Albeit the city is by far not as famous as Japan's former capital, it's not a hidden gem anymore and every day, many day-trippers are flooding the streets of Sanmachi Suji, the historic old town.
Actually, that's one of the reasons to spend at least one night at Takayama: The tour busses are coming in the late morning and leave in the early afternoon latest. Before and after that, you have the chance to stroll through almost empty streets, taking the beauty and glory of the old times in.
But where to go while the masses are in town?
Well, the good news is that some of the most alluring parts of Takayama seem to be completely under the tourists' radar.
Teramachi Temple Town
Actually south of downtown is the recreational Shiroyama park on a hill that you can hike all the way up to where the ruins of the Takayama-jo castle are to be found.
Or you just cross the small mountain so you get to the eastern part of town called Teramachi.
Here, threaded like beads on a necklace, you'll find over a dozen shrines and temples on the hillside.
Although it's an easy walk – you only have to go uphill from time to time to a temple or an old cemetery, in the late summer heat, it can be tiring. Make sure to wear sensible shoes and have enough water on you. If you carry a water bottle, you can refill it at almost each of the temples.
Most people walk the Temple Trail from north to south. I, however, did it the other way around, beginning at Shiroyama Park. This way, I saw the most important temples and shrines in the following order:
Soyuji Temple
Soyuji Temple, built in 1632, in the southernmost area of Teramachi is a temple of the Rinzai sect and a Buddhist monastery.
Zennouji Temple
Zennouji Temple was a family temple of the Matsukura castle. Later moved to Takayama, it had to be rebuilt after being burned down in a battle.
At this temple, you can experience a Zazen meditation, however, you need to make a reservation.
Hokkeji Temple
Hokkeji was built in 1558 and is Takayama's only temple of the Nichiren sect. The main hall was transferred here from the Takayama castle.
Next to the main hall is a Buddha statue.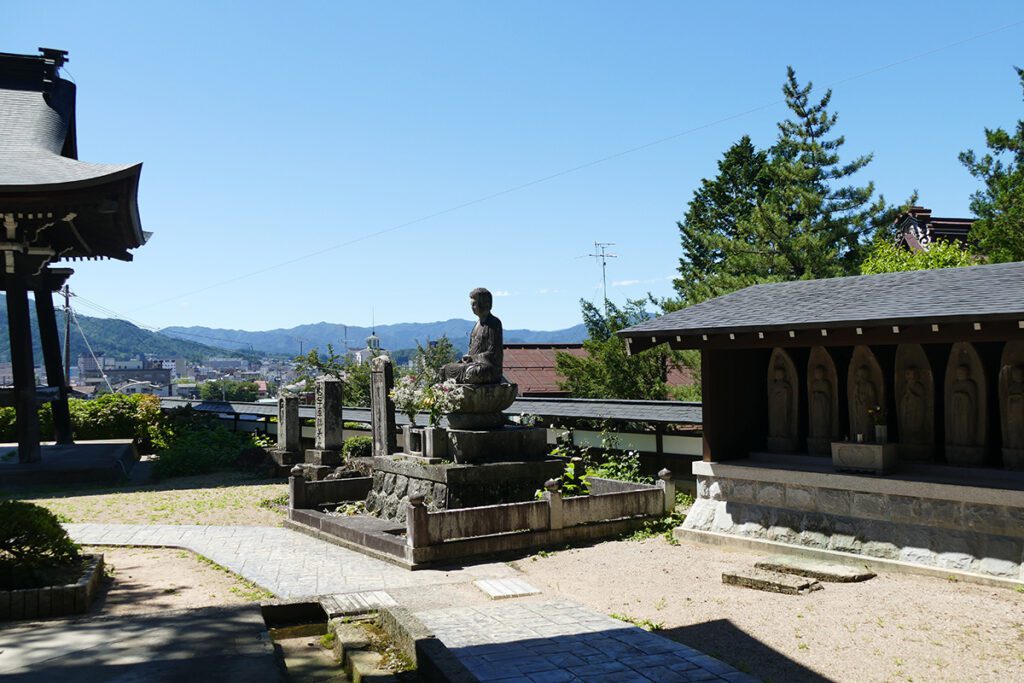 He serves like some kind of Voodoo doll. If you scrub the part of the Buddha that is giving you trouble with a brush, you will miraculously recover from your illness and pain.
Sogenji Temple
Sogenji Temple is located across from Daiouji Temple on highway 158.
It is a house of worship of the Soto sect with Buddhist monasteries and was built as the family temple of Nagachika Kanamori. To this date, you can find the family grave in the cemetery farther uphill.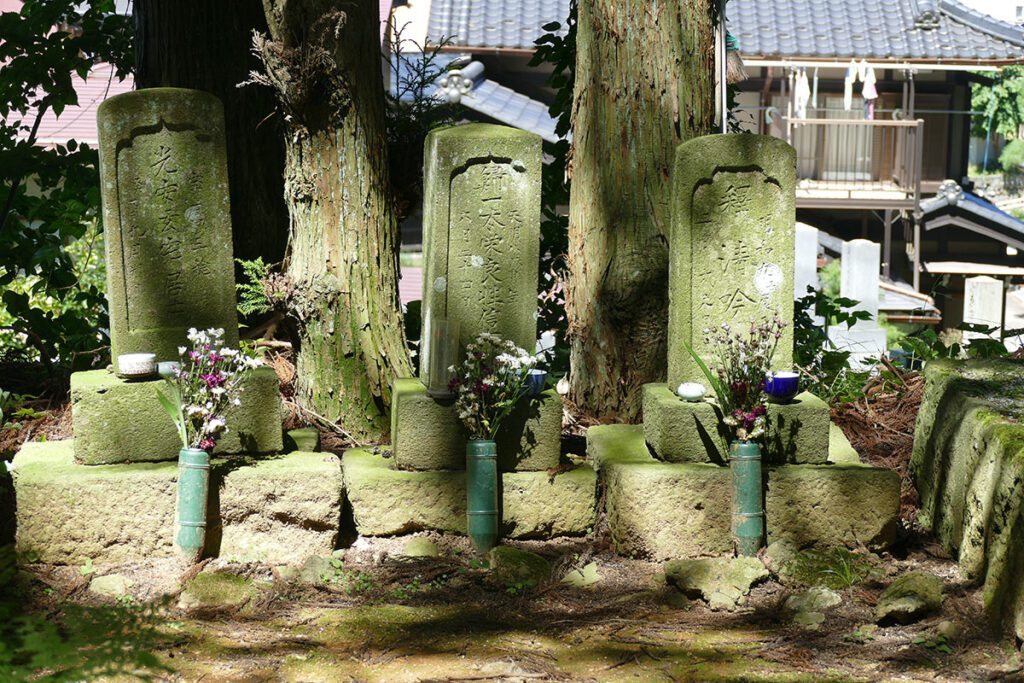 Dounin Temple
This is a temple of the Jodo sect located in front of Yasukawa Street.
Although it used to be a large temple complex with five sub-temples, there is currently only one sub-temple by the name of Dounin.
Higashiyama Hakusan Shrine
This so-called White Mountain Shrine, built in 720, is the oldest shrine in Takayama.
Unryuji Temple
Unryuji – or more dramatically Cloud Dragon Temple – is located at the endpoint of my walk – and the starting point of most other pilgrims.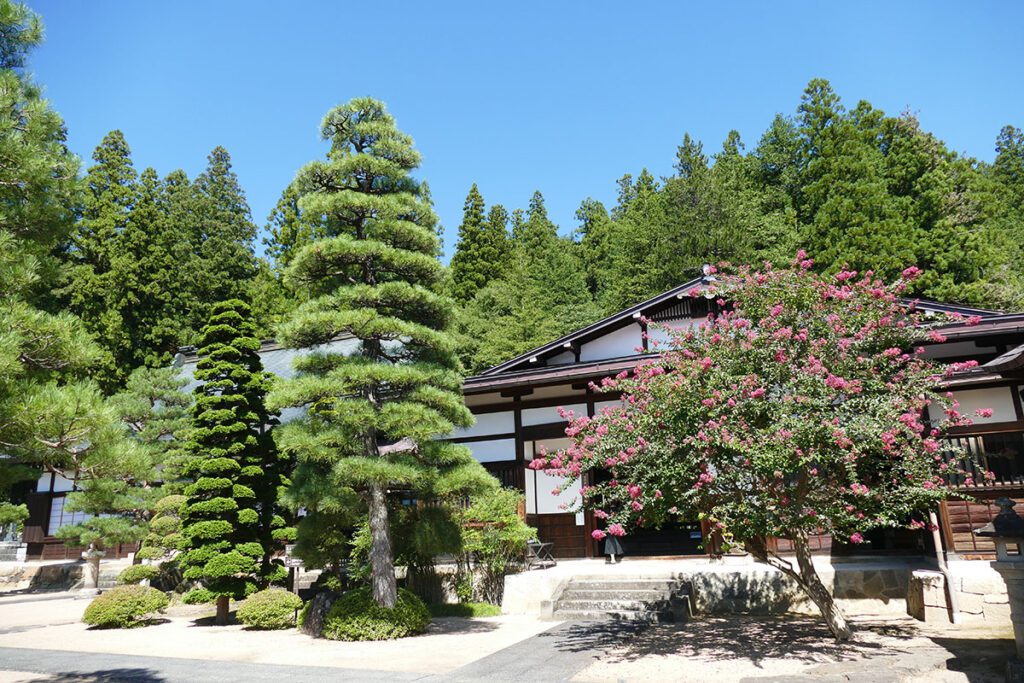 Supposedly, its gate tower was moved from the Kouun Pavilion of Takayama Castle. Just like the above-shown Sogenji Temple, it is the temple of the Kanamori family, in this case, commissioned by the eldest son of Nagachika Kanamori.
Historic Center of Takayama
If your schedule allows visiting the historic center in the very early morning or late afternoon, you'll find the place much more tranquil since the day tripper will be gone. Now you can explore the treasures of Takayama without the noisy and pushy crowds.
Sanmachi Suji
Walking northbound towards the old town, my walk ended just a couple of minutes from the Shinshuotaniha Shoren Temple, a large Buddhist house of worship built about 500 years ago.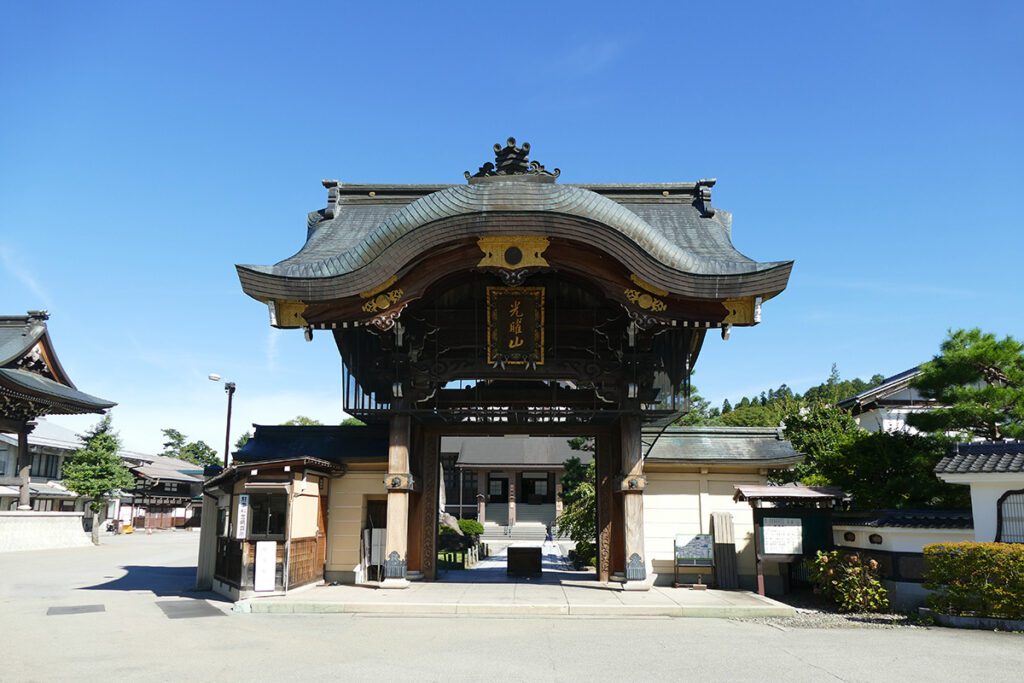 By now, the major day-tripper crowds were gone so walking the old streets was a real pleasure.
Mansions and Museums
Besides those streets lined with those old buildings that today are housing mostly shops and cafés and restaurants, there are a couple of shrines – and an incredible amount of museums – many of those dealing with the rural Hida culture such as the Museum of History and Art, the Fujii Folkcraft Museum, or the Takayama Museum of Local History.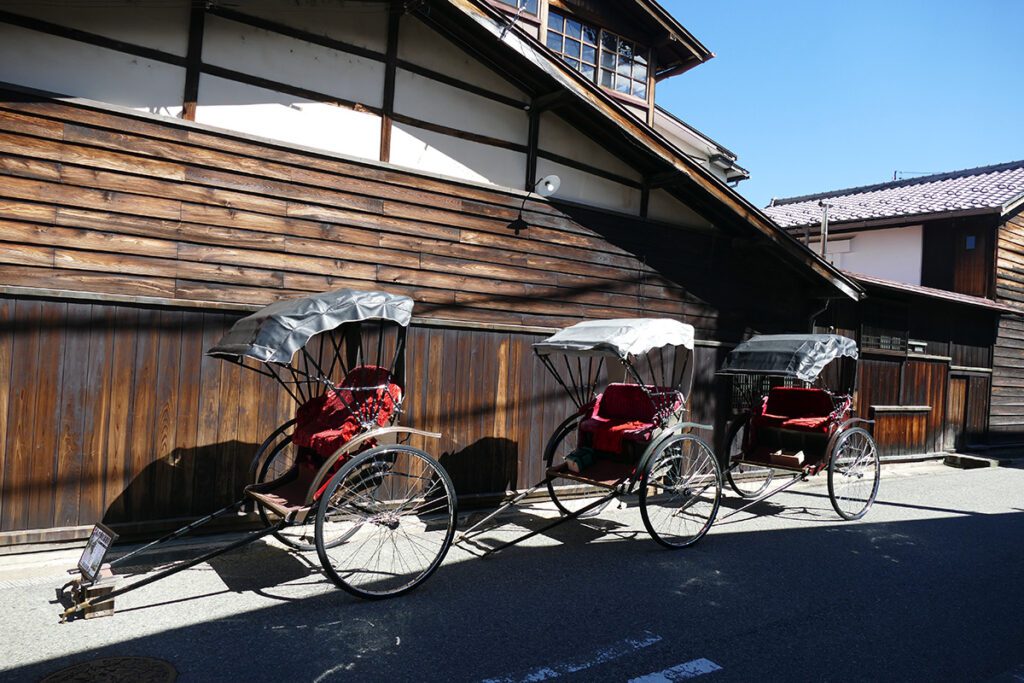 Very alluring are the rather intimate venues like the Matsumoto Heritage House, an ancient merchant residence that you can visit free of charge, however only on weekends and national holidays.
Then, the Hirata Folk Art Museum is another preserved merchant's house presenting local arts and crafts.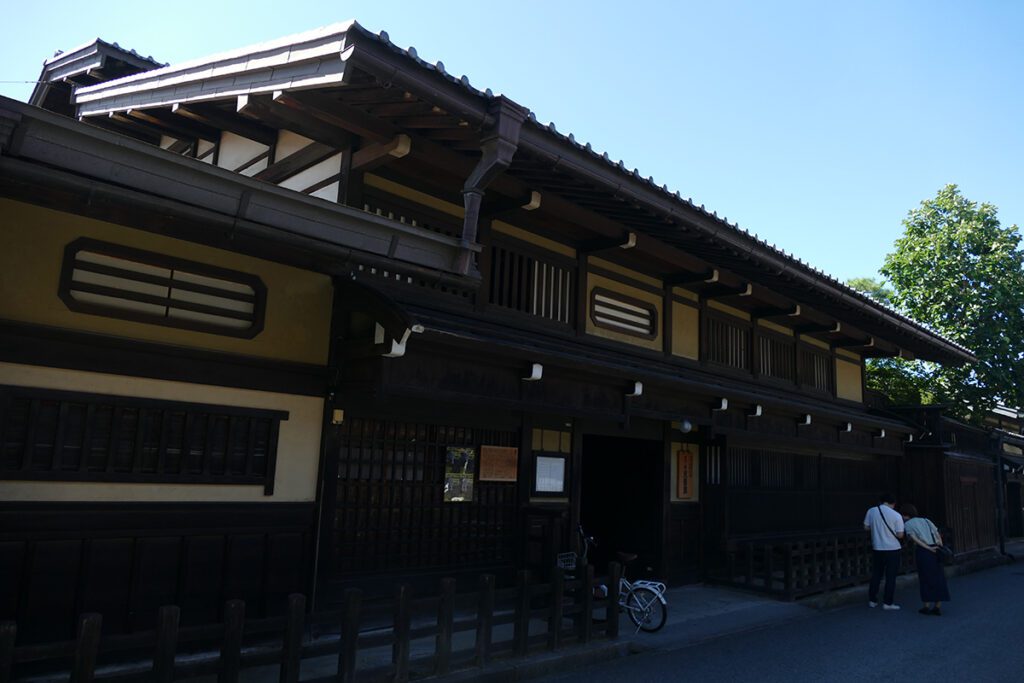 If you need to refresh your eyes with something different, there is an impressive collection of European furniture, glass, and decoration waiting for you at the Hida Takayama Museum of Art. Also, this modern museum is located on a hill so that you have a great view of the surrounding Alps.
Sakurayama Hachimangu Shrine
Besides the Shinshuotaniha Shoren Temple there is the impressive Sakurayama Hachimangu Shrine north of the Enako River.
Next to it is und Takayama Yatai Kaikan Museum. Here, 4 of the 11 floats used in the October festival are exhibited in rotation. These floats are artistically elaborated: detailed and colorful carvings, lacquer- and metalwork. They are waiting for being presented during Takayama's famous festivals, the Takayama Matsuris, taking place twice a year, in Spring and in Autumn.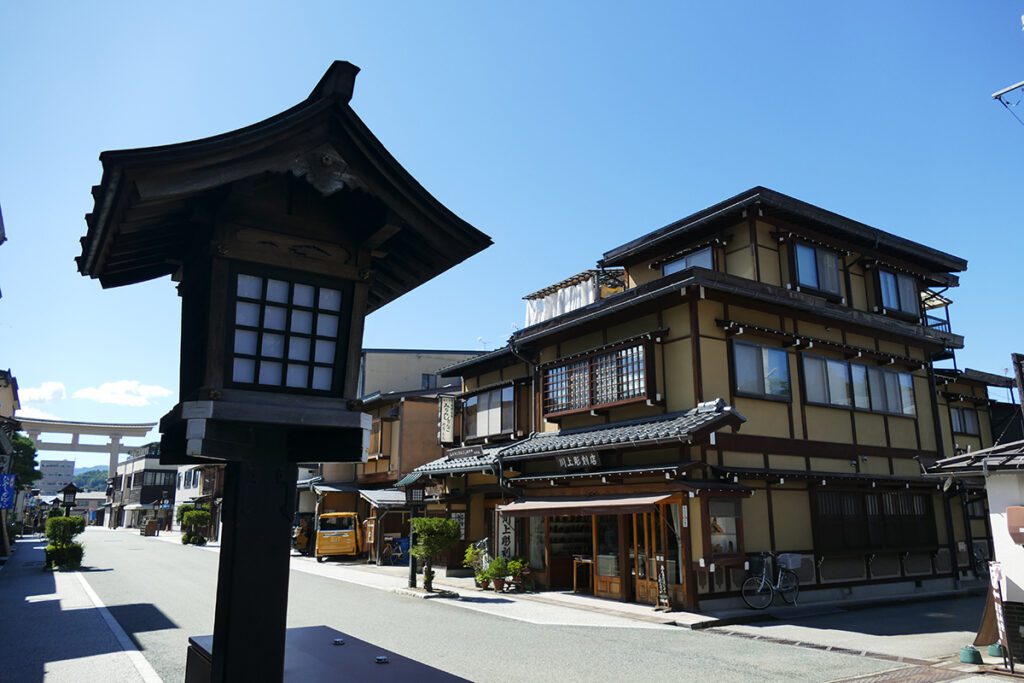 Hida Folk Village
Another great site at Takayama that's not that much frequented by day-trippers is the Hida Folk Village where about 30 buildings like farmhouses, barns, and storehouses are presented at an open-air museum.
These buildings were originally located elsewhere in the region and have been re-assembled here in 1971.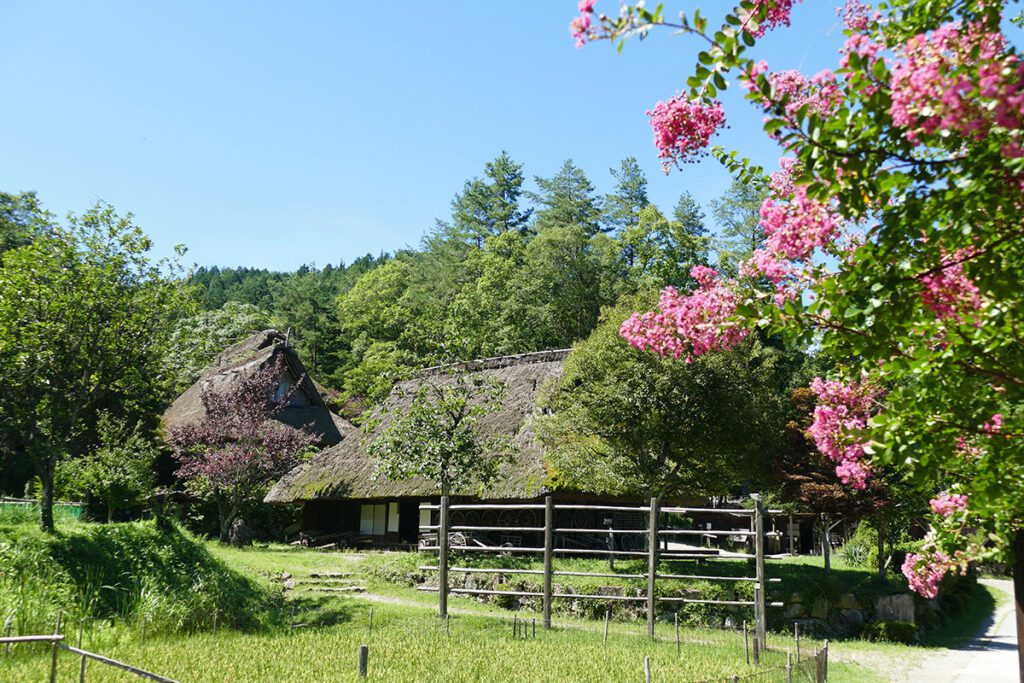 There are interesting demonstrations of local art and craft production, and around the central lake are some props like umbrellas and hats to use in your pictures.
There were also a couple of gassho-zukuri farmhouses brought here from Shirakawago. So even if you cannot make it all the way there, you'll always have a chance to take a glimpse of these truly unique structures.
Day Trip to Shirakawago
Honestly, although the Hida Folk Village is really great to visit, you can skip it if you are planning on visiting the village of Shirakawago.
Taking a day trip there is easy, albeit not exactly cheap: A round trip by bus takes you back almost 50 bucks. However, it's a UNESCO World Heritage Site and only about 50 minutes from Takayama – so, come on, get on board.
Shirakawago – as well as neighboring Gokayama – are villages built along the Shogawa River Valley in the remote mountains north of Takayama.
In 1995, UNESCO declared it a world heritage site, mainly for the unique and famous traditional gassho-zukuri farmhouses.
Some of those were transformed into small intimate museums and give you an idea of how people used to live – and still do.
However, it seems to be necessary to remind visitors again and again that Shirakawago is still a village where people actually live so you're not supposed to barge into each and every yard or settlement as you please.
Some of the 114 gassho-zukuris are more than 250 years old.
Their name means constructed like hands in prayer, which makes total sense considering their steep thatched roofs that look like folded hands. However, they were built in this style to withstand the heavy snow coming down in the wintertime.
Under those roofs is a large attic where the farmers used to cultivate silkworms.
The place is very alluring and makes also a great stopover between Takayama and Kanazawa.
Being Far Too Popular
I apologize for getting to this glory's downside for a moment. Shirakawago has a population of about 1,600 – and especially during the special events in wintertime, this small village is receiving up to 10,000 visitors per day!
Yes, because of these people, the financial condition of the village improved greatly.
But it reminds me of Oscar Wilde who once said Yet each man kills the thing he loves. Not only is the village totally overrun by tourist groups from late morning till early afternoon. The increasing number of visitors has resulted in damage to the area from pollution, and in local inhabitants turning their homes into hostels, gift shops, and parking lots, which in turn has endangered its World Heritage status.
As a matter of fact, while during the busy day time the shops and cafés were packed with people, around 4.30 p. m. as the day-tripper started to leave, the first stores began to pack up their merchandise for closing. Around 5 p. m., the village was pretty much dead.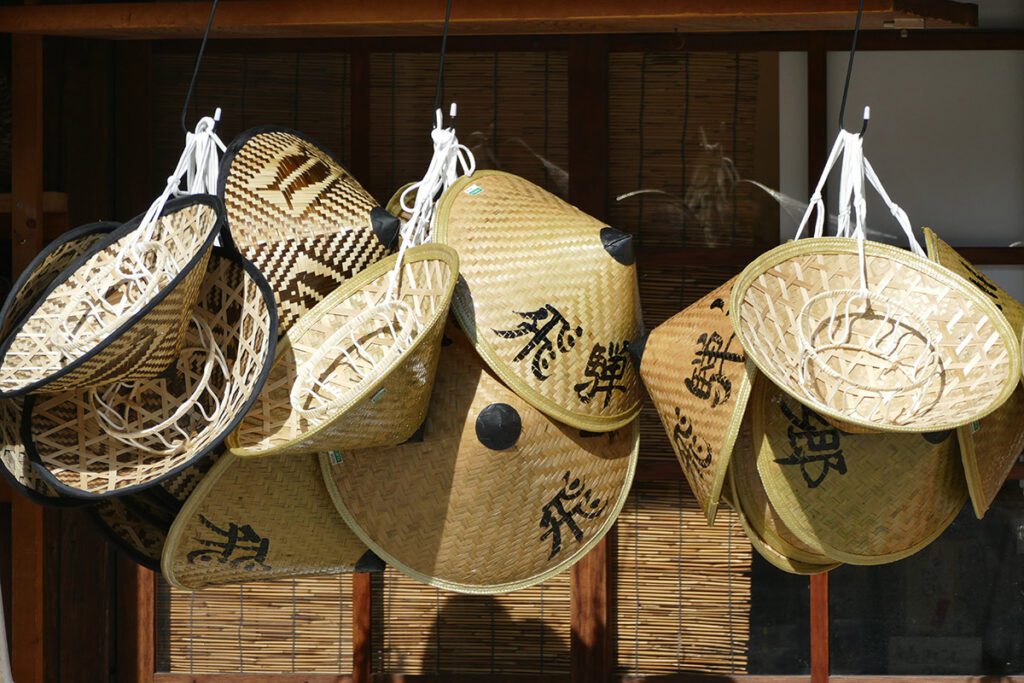 It seems that Shirakawago slowly deteriorates into a theme park.
I'm afraid Oscar is right.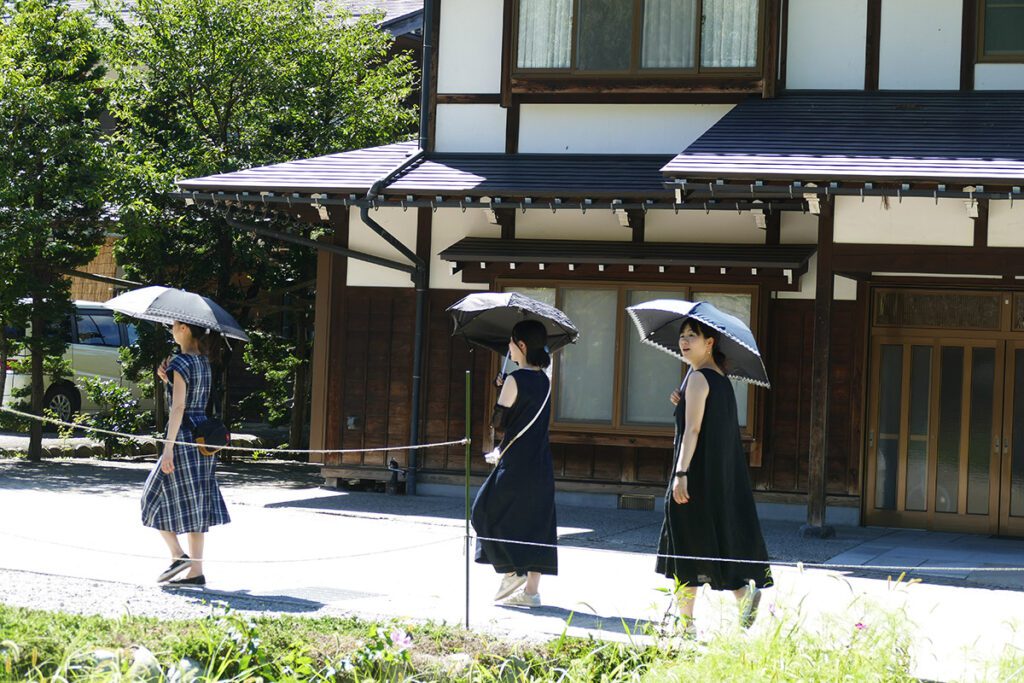 50 bucks – 50 minutes – the Nohi bus takes 16 round trips per day. Some bus seats have to be reserved beforehand, while others don't.
Practical Information
How to Get There
Takayama is very touristy and many visitors come on an organized day trip by bus. Since the historic center is more crowded in the morning when the tour groups are in town, I'd recommend staying at least one night.
Obviously, there are long-distance buses
Takayama also has a train station, mind you that all the trains are going via Nagoya. That route is very scenic so you won't regret the three hours you have to spend on the train. While the trains between Nagoya and Takayama are so-called Express-Trains, from Nagoya you can continue by Shinkansen for instance east to Tokyo or west to Kyoto.
How to Get Around
Walking.
Takayama is all about scenic alleys, of course, you are strolling. Many of the most idyllic streets are pedestrian zones, anyways.
Shiroyama Park and the Teramachi Temple Trail are a nice hike – albeit, in summer, this can be really hard. I was there in September and broke a major sweat. However, totally worth it – just make sure to have a large bottle of water on you. Downtown, there are enough shops and vending machines where you can stock up on liquids – on the Temple Trail not so much.
However, there is the Machinami Bus running frequently past the train stations, tourist places of interest, and shopping areas. It's only 100 Yen per ride.
To get to the Hida Folk Village, you can take the Sarubobo Bus at the Takayama bus station. Albeit, it is possible to walk there – that's what I did – it is not a very alluring trail so you don't miss out on anything if you go by bus – and you save a bit of energy for more interesting hikes. The fare is 210 Yen per ride.
Obviously, there is the so-called Nohi Bus going to Shirakawago once or twice every hour – sixteen round trips in total. For a 4,800 Yen round trip, however, it's not exactly cheap. You can find the schedule on this site.
You can buy your tickets at the Takayama bus terminal. Check which bus you intend to take since for some of them you need a reservation – for others, you don't.
Best Place to Stay
Yes, my description of the Ryokan is not exactly enthusiastic. However, I can recommend a stay from the bottom of my heart since it's such a unique and original experience.
I personally would not like to stay for three weeks at Ryokans, that's all. I've stayed at these traditional Japanese guest houses in two places, Takayama and Hiroshima, and that was just fine.
This being said, the Oyado Yamakyu guest house was definitely a jewel: Squeaky clean, extremely well maintained, two individual Onsens, perfectly located – you couldn't ask for more.
Ryokan stays often include one or two meals. Not here, but also the price was rather low for this type of accommodation, so that's totally fine.
Here you can check Oyado Yamakyu's rates and availability.*
Best Place to Eat
Let's face it, Takayama is a very touristy place so eateries of all kinds are plenty.
If you want to splurge, you can get a Hida Beef platter for about 70 bucks – certainly worth the money, but I'm cheap, so for me, this delicacy is only as a skewer or a hearty soup to go, please.
Although it's not a Takayama special, I opted for a Gyoza dinner. Gyoza is a half-moon-shaped dumpling, stuffed with all you can think of. You can choose from beef, pork, seafood, and, of course, all kinds of vegetables. Whether steamed or fried – Gyoza are just so yummy.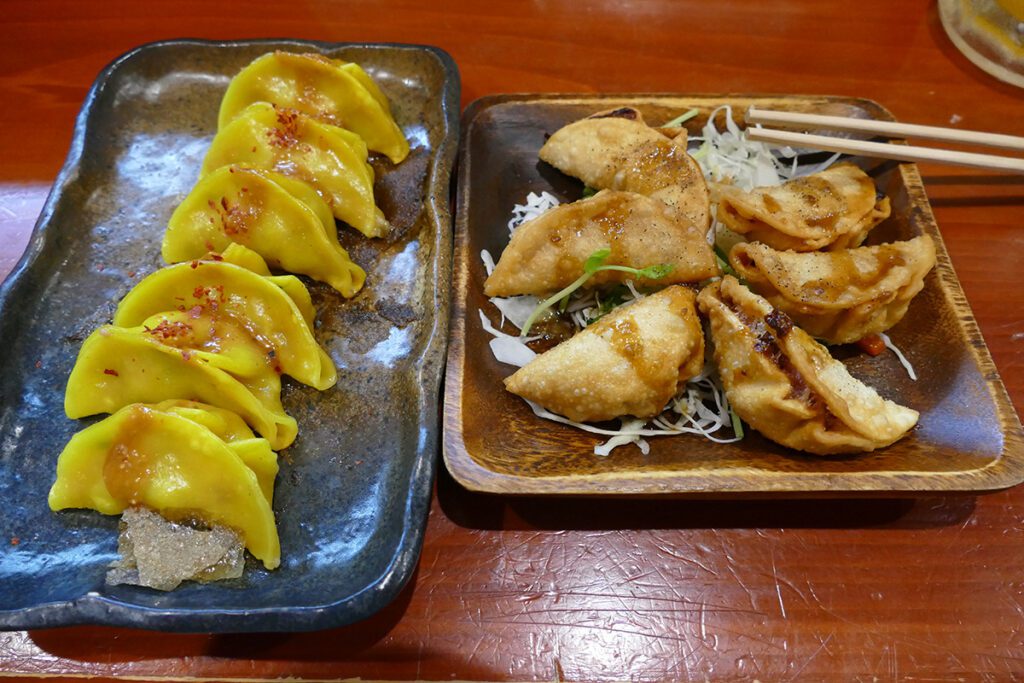 Takayama's best Gyoza place is Hida Takayama Gyoza Sohonzan – you'll find it on the map below.
What to Buy
All the gift shops around Takayama, as well as Shirakawago, hold a wide variety of wooden and straw utensils and accessories – very cute.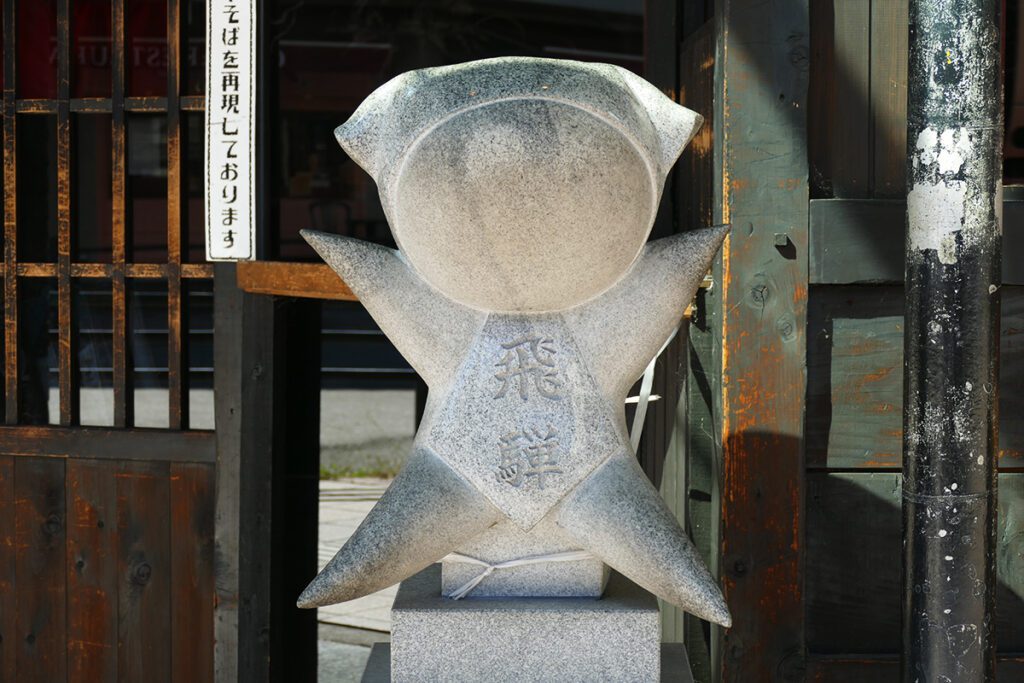 However, the most typical piece you can possibly get is a Sarubobo doll. These faceless dolls come in all imaginable sizes and countless designs, made from different materials such as fabric, wood, straw….you name it. They are amulets that mothers and grandmothers make for their daughters and granddaughters as a token for a happy marriage and healthy children.
Other popular souvenirs from Takayama are foods. Whether you like sweet, salty, or spicy. If you opt for dried or pickled – the amount of ready-packed delicacies is just overwhelming. Obviously, you can also sample them right on the spot.
One of the best areas to try'n'buy all these treats should be Kamiichinomachi, a neighborhood southeast of Sanmachi Suji.
Places to Visit
I'm an avid solo-travelling woman. Most of the time, solo travel doesn't equal solitude, however, Japan is one of the destinations where you don't get in touch with either fellow travellers or locals as easily as in other spots. Therefore – and quite honestly, also in order to save time, joining an organized tour might be a valid option to see what these mesmerizing towns have to offer*:
Map
Here you find all the spots of interest mentioned in this post
Do you want to read about all the other beautiful places I've visited in Japan? Then go to the main post and take your pick!
Before you go, you might want to check out my post on What (not) to pack for JAPAN which will make your packing – and consequently your luggage – so much easier.
Also, there is a post on How (not) to behave in JAPAN that deals with some of the most important rules so you won't stand out like an ignorant tourist.
Pinnable Pictures
If you choose to pin this post for later, please use one of these pictures
Note: I'm completing, editing, and updating this post regularly – last in November 2022.
Did You Enjoy This Post? Then You Might Like Also These:
* This is an affiliate link. If you book through this page, not only do you get the best deal, I also get a small commission that helps me run this blog. Thank you so much for supporting me!