Let me guide you to Dusseldorf, a city with about 260 bars and restaurants in its old town alone – hence, it's not surprising that it's the self-proclaimed longest bar in the world.
But this jovial city is far more than a bender- and stag party location. In this guide, I'm introducing you to Dusseldorf's great art scene, outstanding contemporary architecture, and local gastronomy.
Welcome to Düsseldorf
The city of Düsseldorf is a fascinating mix: On the one hand, the over 630 thousand inhabitants cling stoically to quirky traditions like the yearly carnival or the marksmen's festival. On the other hand, the capital of the Federal State North Rhine-Westphalia is one of Germany's most influential economic, transport, and cultural hubs. A large number of corporations have their headquarters in the city. Düsseldorf is also the country's advertising and fashion center. As you stroll down the posh shopping boulevard Königsallee or if you admire the exquisite architecture of the MedienHafen, a gentrified industrial area, you'll be blinded by Düsseldorf's glitz'n'glamour.
And then you turn around the corner and suddenly you find yourself in a totally different world, namely Düsseldorf's historic old town. Due to its countless pubs, breweries, bars, restaurants, and clubs, it's called the longest bar in the world. Also, there are still five traditional breweries right in the heart of the old town. Obviously, they are connected to large pubs where many thirsty visitors can enjoy the famous Altbier, a top-fermented beer. Since the city is located in the Rhineland, a region famous for its hospitality and joy of life, it won't be difficult to make local friends.
So there is the glamourous side, the quirky traditional – and there is the cultural side. If you've followed my blog for some time now, it won't come as a surprise that arts'n'culture is what brought me to Düsseldorf.
Dusseldorf's Art Scene
As I said above, Düsseldorf is by far not only a barter and stag party location but has actually many facets. The traditional Rhenish cheerful nature, the snobbish pretentious glamour boulevards and malls, but also a very vivid art scene – whether in galleries or right on the street.
Actually, the art scene plays a major role in Düsseldorf. The city ranks among the 15 most important art markets worldwide. There is an impressive number of art museums, there are well over 100 galleries, and branches of well-known auction houses such as Dorotheum and Christie's.
That's all very nice and impressive, but I'm into Urban Art. And since there isn't much that you won't find in the jamboree bag named Düsseldorf, I'd like to introduce you to one of my favorite urban art projects.
The Stylites of Dusseldorf
Säulenheilige, which translates to Stylites in English, are a lovely street art project. Actually, in German, the name has a double meaning because Säule is a pillar and Heilige are Saints and in this case, the characters are actually standing on pillars.
And yes, I'm well aware that a pun does not get any funnier if it has to be explained.
So while there are these sculptures standing on advertising columns at very different spots around town, most people spot them by pure incident and don't even know what they are.
But since you are my readers and I'm a bit of a know-it-all, I let you know that these sculptures are by Christoph Pöggeler who was born in the city of Münster in Germany's Westphalia region in 1958. He is painting, sculpting, and teaching mainly around the North Rhine Westphalia area.
In Düsseldorf, his first art project Säulenheilige lasted from 2001 to 2007. The current Stylites project began in 2016.
Supposedly, there are ten sculptures around town, but I wasn't able to find all of them, especially since some are really far from the city center.
But those that I found should happily guide you through Düsseldorf and show you how varied this city on the river Rhine can be.
The Photographer. From the Main Station to the Königsallee
"Welcome to Düsseldorf, please smile into the camera!" A Photographer stands right in front of Düsseldorf's main station to greet the arriving passengers.
He reminds me of these photographers taking welcome pics at events or when you're about to board a cruise liner.
However, he sort of guides the way in the right direction. Just pass him and walk down the Bismarckstraße all the way to the end. Turn left into the Steinstraße and you'll arrive at the Königsalle, Düsseldorf's most famous and notably most expensive shopping mile.
However, if you don't want to walk, take one of the subways (U74, U75, U76, or U79) going from Hauptbahnhof to Steinstraße/Königsallee; it's only two stops.
You can do some shopping – or just window shopping. Alternatively, hanging out at one of the many cafés and watching the rich and the wannabes passing by can be great fun, too.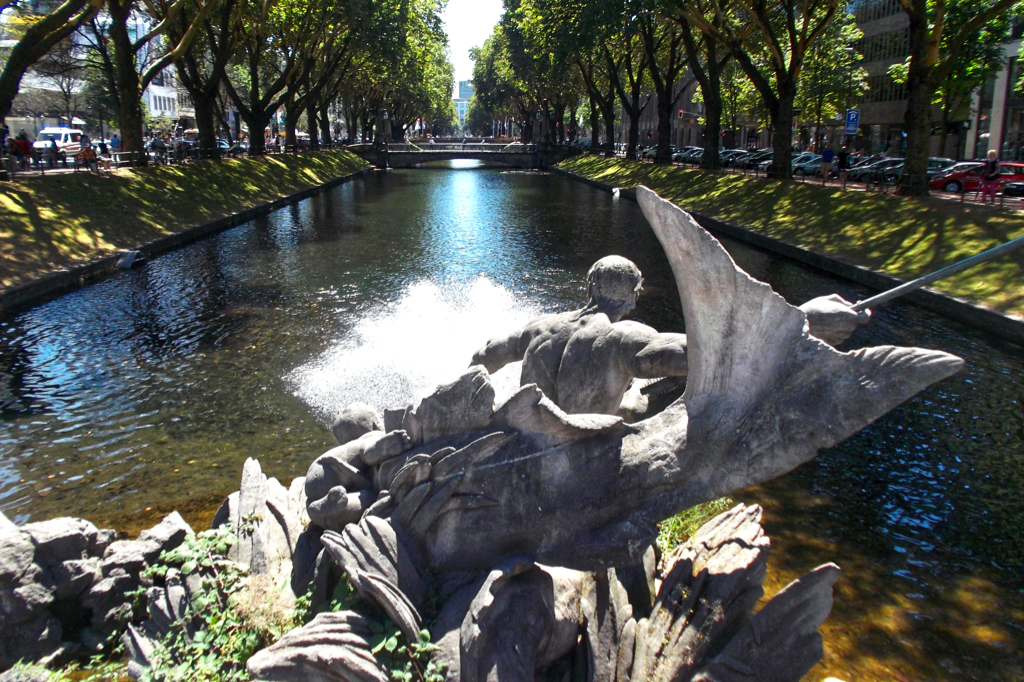 But maybe it's even nicer just strolling along the canal that divides this classicist esplanade and adds to its majestic appearance.
Since 2014, at the northern end of the Kö, as the Düsseldorfers call this prestigious mile, a huge office and retail complex was added. This so-called Kö-Bogen was designed by star architect Daniel Liebeskind who also constructed for instance the Jewish Museum in Berlin and the Felix Nussbaum Museum in Osnabrück.
Frankly, I find the Kö-Bogen is not his most impressive work and you can mean a happy, fulfilled life if you haven't seen it.
Düsseldorf's Rascals
Funny story: In the past, today's pomp boulevard Kö was called Kastanienallee, chestnut avenue, because it's lined by…right: chestnut trees.
In 1848, King Friedrich Wilhelm IV. of Prussia visited his cousin Prince Friedrich of Prussia in Düsseldorf. It was the year of the March Revolution, the people demanded unification of the various principalities based on a democratic constitution. When they spot the King passing by in his elegant chariot, the mob started flinging horse turds at his majesty. Oops.
To make up for this slightly unpleasant incident, eventually, the boulevard was renamed into Königsallee, King's Boulevard.
And this is how an early terrorist attack created a name.
Marlis. From the Königsallee to the Media Harbor
As a matter of fact, this sculpture was one of the very first Stylites Plögger created. She is awaiting you at the relatively newly remodeled neighborhood Medienhafen, south of the city center.
Standing on a pillar in front of the building that houses the regional broadcasting station WDR, she stretches her nose in the air, hence, you cannot be sure if she's enjoying the sun – or alternatively the refreshing rain – or if she's just being difficult.
Although you could walk down here, I recommend taking tram 706 or 709 at Steinstraße/Königsallee. Get off at Stadttor and walk down Ernst-Gnoß-Straße to the MedienHafen.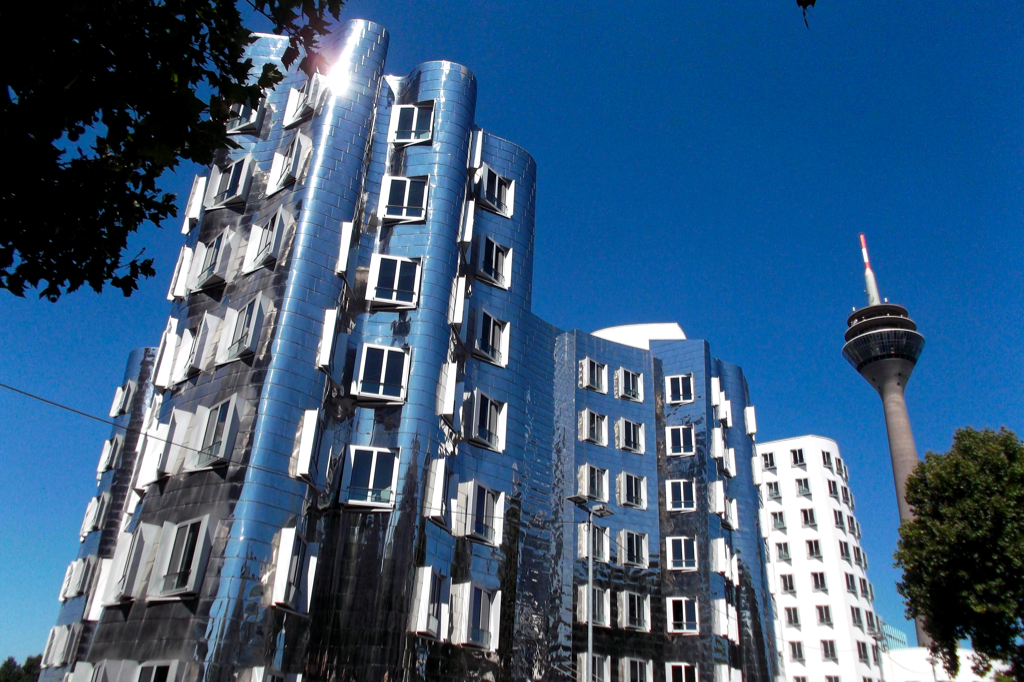 The hyper-modern MedienHafen has been erected on the former docklands that consisted mainly of warehouses. As in many other cities all over the world, the area slowly deteriorated, something had to be done, obviously.
And Düsseldorf did the best they possibly could. They let the job to internationally famous architects such as Frank O. Gehry, David Chipperfield, Joe Coenen, Steven Holl, and Claude Vasconi. As expected, the league of these fine gentlemen did an incredible job – the area is just fantastic.
These outstanding structures are housing media companies, advertising and PR agencies, first-class restaurants and lounge bars, and on the tip of a peninsula also a very exclusive Hyatt Regency Hotel.
Three Tips
Tip 1: To give your feet and your eyes a break, cross the Stromstraße where Marlis is standing and you'll get to the Bürgerpark, a pleasant green spot. Here you can sit on a bench or right on the grass and think about life – or maybe architecture.
Tip 2: If you cannot get enough of architecture and larger-than-life buildings, make sure to go up the Rheinturm, the Rhine Tower. Actually, I do not need to describe how to get there since you definitely cannot overlook it.
There is not only an observation deck. At the height of 172 meters is also a revolving restaurant.
Rheinturm Düsseldorf
Stromstraße 20
40221 Düsseldorf
Open daily from 10 a. m. till midnight (Friday and Saturday till 1 a. m.)
If your bill at the restaurant is over 30 €uro, you get a 50% discount on the entrance ticket for the observation deck.
Tip 3: If just strolling around on your own is not good enough for you, I suggest you join a guided tour through the MedienHafen*.
The Bride. From the Media Harbor to the Old Town
Of course, you can take the tram going back to the center. But taking the tram 706 or 709 will only take you to the Graf-Adolf-Platz. This is the closest you can get by public transportation to the old town since there are mainly pedestrian streets and small alleys.
Walking – without any stops or detours – takes about ten to fifteen minutes, and strolling along the river Rhine is very pleasant.
Art Venues
However, if you are an art lover just like me, you can combine this walk with a visit to the KIT – Kunst im Tunnel. It's an art gallery located in an empty space between two tunnel tubes. Opened in 2007, it is a spectacular venue for contemporary art.
KIT – Kunst im Tunnel
Mannesmannufer 1b
40213 Düsseldorf
Open Tuesday to Sunday from 11 a. m. to 6 p. m.
My favorite art museum in Düsseldorf, however, is the K21, one part of the Kunstsammlung Nordrhein-Westfalen, the Art Collection North Rhine-Westphalia.
You can walk there from the KIT in only ten minutes. Walking away from the river Rhine, you'll reach a park with large lakes which are actually the Düssel, the waters the city was named after.
Anyway, on the south bank, you will see a majestic building. That's the Ständehaus, the former parliament, that now houses the wonders of K21.
The K21 has a small but exquisite permanent collection. However, their changing temporary exhibitions of contemporary art are mind-blowing!
The other part, the K20, is located at the Grabbeplatz – and these good people are generous enough to offer a free shuttle van that goes about every twenty minutes.
It's totally worth buying a combi-ticket for both venues since the K20 has a good permanent collection of classic modernism and modern art.
Ständehausstraße 1
40217 Düsseldorf
Open Tuesday to Sunday from 10 a. m. to 6 p. m., Saturdays and Sundays from 11 a. m.
The Old Town
To continue to the Old Town, you can either go back to the Rhine promenade or walk up Poststraße which starts at the northwest corner of the park.
If you like, you can turn left into the Orangeriestraße and pay the Stadtmuseum a visit. It's a museum where Düsseldorf's local history is presented through art, photographs, and displays in a very modern fashion.
Stadtmuseum
Berger Allee 2
40213 Düsseldorf
Open Tuesday to Sunday from 11 a. m. to 6 p. m.
To continue towards the historic city center – where the bride is still waiting – go back along the Orangeriestraße to the Maxplatz. Here you have the chance to take a good look at the glorious Catholic church Saint Maximilian, built in 1737 in Baroque style.
Carlsplatz Markt
Hungry from walking? One block east of Maxplatz is the Carlsplatz which actually is a huge farmers market six days a week. Düsseldorf is pretty Catholic so not much is shaking here on Sundays.
Let me tell you that the quality of the produce sold here will just make you drool. Albeit, the prices will make your head spin.
But a visit to this Cockaigne is a must for every foodie.
After you've stuffed face and emptied your wallet, walk back to the Maximilian's church and keep on walking on Schulstraße so that you practically bump into the bride, swirling on top of an advertising pillar. I love this sculpture since it has the air of a runaway bride: She seems so light and liberated, smiling and swirling all by herself.
She's smiling and swirling in front of the Hetjens Museum/Deutsches Keramikmuseum. Founded in 1909, this not so very known museum houses an exquisite collection of ceramics and pottery from around the world and organizes also special-themed exhibitions.
If you don't care about the exhibitions, at least take a look at the building: It's the Palais Nesselrode, one of Düsseldorf's most beautiful historic structures.
Hetjens Museum/Deutsches Keramikmuseum
Schulstraße 4
40213 Düsseldorf
Open Tuesday to Sunday from 11 a. m. to 5 p. m. (Wednesday to 9 p. m.)
The modern complex next to the Hetjens museum houses not only an art-house cinema but also Düsseldorf's film museum.
The Couple. From the Old Town to the Burgplatz
By now you might ask what makes Düsseldorf the proverbial 'longest bar of the world'.
It's the city's legendary old town. Almost completely destroyed in the war, it was rebuilt according to old plans'n'blueprints. Today, there are more than 260 bars, pubs, and traditional breweries in just one square kilometer.
The City of Beer
Beer – or, to be precise, top-fermented Altbier – is Düsseldorf's legend'n'pride. In order to enjoy your pub visit or tour to the max, I'd like to briefly explain a few basics. This way, you don't trudge from one blunder to the next.
It all starts with the so-called Köbes. Although technically, he's your waiter, he won't appear too servile. He'll grumpily place a beer before you and might accompany it with a snarky comment. Don't take it personally, being apparently disrespectful is his job'n'legacy.
Surprise Me
Mind you that the Köbes is carrying many glasses of beer on his tray and puts them before everyone who appears thirsty. Without being asked to do so. Hence, be prepared that even if you've just arrived and didn't get to order, you'll automatically get something from the tray. With your first drink, you get a paper coaster on which your drinks are noted. At the end of the evening, this will be your check.
As your glass gets empty, the Köbes will automatically refill it. Obviously, this refill is by no means for free. If you want to stop this auto-flow of beer, put your coaster on top of the glass.
If you want to drink something other than Altbier, just inform the Köbes accordingly.
By the way, a Köbes is a waiter who serves beer in breweries in the Rhine region. Don't even think about using this term outside of this area – nobody will understand what you're talking about.
My favorite brewery is the Uerige Obergärige Hausbrauerei, short Uerige. Located right in the heart of the old town on Berger Straße 1, it's open every day from 10 a. m. until midnight.
The City of Mustard
Besides many local as well as international restaurants and eateries, there are also all these small shops on Berger Straße selling delicacies that also make nice souvenirs. My favorite is the Düsseldorfer Senfladen, a mustard store.
Mustard? Well, before you turn up your nose at something as trivial as mustard: Düsseldorf's mustard is famous, and here it comes in a large variety of different flavors. There are, for instance, orange, plum, cherry, coconut and curry, and chili, to name just a few. Obviously, you can sample all of these hot delicacies right on the spot.
If you choose to take some mustard back home, they also have a range of old-fashioned pottery jars and gift baskets. They even have mustard candy!
Düsseldorfer Senfladen
Berger Straße 29
40213 Düsseldorf
Phone: + 49 – 211 – 836 80 49
Open Monday to Thursday from 10 a. m. to 2 p. m. and 3 p. m. to 7 p. m., on Friday and Saturday from 10 a. m. to 7 p. m.
The City of Schnaps
Another popular traditional specialty is Killepitsch, a liquor made of herbs – of course following a secret recipe. But where the original Killepitsch store is located is not secret at all: Just walk down all the Bergerstraße – which, by the way, is a pedestrian street – to a big crossing.
To your right on Flinger Straße is Killepitsch Haus zum Helm. Even if you're not a drunk, you should enter and take a look at the beautiful antique interior. This also applies to the quirky bar Et Kabüffke next door. Here, the Killepitsch is sold right through the colorful windows.
Killepitsch Haus zum Helm
Flinger Straße 1
40213 Düsseldorf
Open Monday to Saturday from 10 a. m. to 7 p. m.
Et Kabüffke
Flinger Straße 1
40213 Düsseldorf
Phone: +49 – 211 – 13 32 69
Open Monday to Saturday from 11 a. m. to 11 p. m., Sunday from 2 p. m. to 10 p. m.
Around the Marktplatz
Oops, with all this sampling'n'shopping, we almost lost our way to the Burgplatz, the Castle Square, where a young couple is waiting.
On the way there, you cross the Marktplatz with the historic town hall. It consists of three buildings and dates back to the 16th century. Since then, it has been the seat of the city council. Every Wednesday at 3 p. m., there is a free guided tour of the council chamber, the Jan-Wellem hall, and the reception halls. You also get to see the silver treasure of the city.
In front of the town hall stands the equestrian statue of Elector Johann Wilhelm II aka Jan Wellem. Based on various family ties to the European courts, Jan Wellem was one of the most influential noblemen of his time. He embodied the prototype of a magnificent baroque prince. In 1691, he married Anna Maria Luisa de' Medici, the last member of the powerful family from Florence. Jan Wellem did a lot to promote the city, which is why he is very much admired by the locals to this date. After he died in 1716, he was buried in St. Andrew's Church.
In 1711, Jan Wellem commissioned sculptor Gabriel Grupello with the equestrian statue which is considered to be one of the most important of this style north of the Alps.
While you are in the old town area, mind the street lamps. Düsseldorf has 17,000 gas lanterns, many of which still have a historical design. This makes Düsseldorf the city with the most gas lanterns in Germany after Berlin.
Around the Burgplatz
As you get to the Burgplatz, the Castle Square, you'll spot a hesitant young couple standing on an advertising pillar on the opposite side of the river Rhine. They are overlooking this square where a mighty castle complex of the Counts of Berg and later Dukes of Jülich-Kleve-Berg was located on the edge of the old town. Today, there's only one of the castle's flanking towers standing tall since the castle burned down in 1872 and was completely demolished in 1888.
The Old Castle Tower now houses the Maritime Museum. On the top floor is a café from where you can watch ships passing on the mighty river Rhine.
The Burgplatz was awarded as one of the most beautiful post-war German squares.
Take Me to the River
On the edge of the old town is the spacious Rhine promenade. From midday, the sun showers this bank of the Rhine with golden sunlight.
At the height of the Burgplatz, between the castle tower and the water gauge, are several piers. Here you can hop on a river cruise on the Rhine.
The Weiße Flotte, which translates to White Fleet in English, as well as the Köln-Düsseldorfer Schifffahrtsgesellschaft KD offer panoramic tours along the Rhine promenade. In summer, the Weiße Flotte also offers trips from Düsseldorf to Cologne.
By the way, the port of Düsseldorf is about 4 kilometers south from the city center and is used exclusively for freight shipping.
The Fremde. From the Castle Square to the Ehrenhof
As we are leaving the Castle Square and the insecure couple behind us, we are walking the Müller-Schlösser-Gasse towards the distinctive Basilica St. Lambertus.
Mentioned for the first time in 1159, the Basilica is probably the oldest building in the old city center of Düsseldorf. It's constructed in the style of the Lower Rhine brick Gothic is one of the city's most recognizable features due to its leaning tower.
According to legend, 100 years ago, a bride in a white dress stepped in front of the altar and claimed she was a virgin without really being one. The tower turned to the side in shame. And, as the saying goes, he would straighten himself out if one day a real virgin walked down the aisle.
As you can see, it's still crooked.
Others, however, claim this malfunction was caused by the use of fresh wood when the tower was renovated in 1815 after a fire.
Between the Basilica and the Josephskapelle, St. Joseph's chapel, glaring on the river Rhine, stands a single woman, holding her child tight to her chest. Christoph Pöggeler called her Die Fremde which is a bit ambiguous in the German language since it can translate to Stranger as well as to Foreigner. However, I can only assume that Pöggeler left the true meaning open on purpose.
The Kissing Couple. From the Ehrenhof to the Burggarten
After this single lady, there's again a couple waiting for us at the corner between the Hofgarten, the court garden, and the Ehrenhof.
But since these two seem to be pretty occupied, let's just take a look at what the majestic Ehrenhof is all about.
The Ehrenhof
The Ehrenhof, hence, the court of honor, is an expressionist architectural and garden complex. In 1926, the entire complex was built on the occasion of the GeSoLei, an exhibition on healthcare, social security, and physical exercise. About 7.5 million visitors attended this convention spread over 400,000 square meters. It was the biggest fair during the era of the Weimar Republic in Germany.
On the southern end closest to the city center, is a round building, the so-called Tonhalle. It was initially designed as a planetarium, but today, it is actually a concert hall. From the Tonhalle stretches a manicured garden, adorned with sculptures by expressionist artists such as Wilhelm Lehmbruck.
The NRW-Forum
On the left side towards the river Rhine is a long, flat building housing the NRW-Forum. It's a modern gallery and cultural center organizing changing exhibitions of contemporary art – often film, photography, and new media. When in Düsseldorf, you should definitely check out what's on.
NRW-Forum Düsseldorf
Ehrenhof 2
40479 Düsseldorf
Open Tuesday to Thursday 11 to 6, Friday 11 to 9, Saturday 10 to 9, and Sunday 10 to 6.
The Kunstpalast
The Ehrenhof complex ends in a large square. The buildings around this court are housing the art museum Kunstpalast and in the opposite wing the Glas Museum Hentrich.
The Kunstpalast has a permanent collection of paintings, but also antiques, furniture, and decoration on display.
In addition, they curate themed temporary exhibitions of very high quality.
The glass museum is actually part of the Kunstpalast and the visit is included in your ticket.
Museum Kunstpalast
Ehrenhof 4-5
40479 Düsseldorf
Open Tuesday to Sunday 11 a. m. to 6 p. m. (Thursday to 9 p. m.)
If the weather is good, obviously, you can walk back towards the city center. On your way, you'll cross the park adjacent to the Ehrenhof. The southern part of the garden issues the river Düssel, rather a creek than a mighty river, nevertheless, it gave the city its name.
It's getting late, hence, your guides, the Stylites, are getting tired. Let's call it a day. A great day, I hope.
Thanks for your visit, looking forward to seeing you next time.
Auf Wiedersehen!
Practical Information
How To Get There
Flight
After Frankfurt, Munich, and Berlin, Düsseldorf's airport is the third largest one in Germany.
It's located only about 7 km from the city center so it can be easily reached by public transport. For the passengers' convenience, there are two train station: Bahnhof Düsseldorf Flughafen and Bahnhof Düsseldorf Flughafen Terminal. The latter is right in the airport while the other one is connected by Sky Train. Consequently, it's a short ten-minute ride by the regional train S11 from the Airport to the city center.
Cab rides to the city center set you back around 30 €uros. But with such an excellent connection by public transport – who needs to take a cab?!
Note that around 100 kilometers northwest of Düsseldorf is the so-called Weeze Airport. However, it primarily caters to low-cost airlines. The Weeze train station is only a 5-minute drive away, and the Kevelaer train station only 10 minutes. The regional express RE10 stops every 30 minutes in Kevelaer and Weeze during general traffic times. From there, you can continue by an airport shuttle bus which runs at quite short intervals.
Train
Because of its location in the middle of Germany – and in all of Europe, for that matter, you can get to Düsseldorf quickly and easily by train, too. The central train station is a couple of minutes east of the city center. Train connections to many cities in Germany as well as in neighboring countries such as the Netherland, Belgium, and France are frequent. You can check timetables and prices on the website of the Deutsche Bahn, Germany's national rail company. It's available in eight languages.
Düsseldorf is the capital of the Federal State of North-Rhine Westphalia. If you'd like to explore other places around the area, the so-called SchönerTagTicket is a great deal. It translates to beautiful day ticket, and you'll certainly have a great day of unlimited travel for only 30,30 €uros. Nevertheless, the only catch is that you are only allowed to take the regional trains. Those train numbers begin with RE, MET, etc. However, you cannot take the interregional trains such as the Intercity (IC) or Intercity-Express (ICE).
If you are a party of at least two people, there is a version called SchönerTagTicket 5 Personen which costs 45,20 €uros and is good for up to five people. I think that's pretty amazing. Alternatively, a parent or grandparent can be accompanied by an unlimited number of their own kids or grandkids under the age of 15.
Bus
Flixbus is conquering the world – at least the world's European part, hence it's also serving Düsseldorf. It might not be the fastest way to travel, but it's quite comfortable and definitely the cheapest. For instance from Munich, a one-way trip sets you back around 25 €uros, but it takes 9 to 10 hours. International tickets from Amsterdam are around 14 €uros and the trip takes only 3 hours, from Brussels, it's about 2 to 3 hours and tickets start at around 15 €uros.
From some German cities like for instance Hamburg and Berlin, Flixbus also offers a very cheap train connection. The Flixtrain takes you from Hamburg to Düsseldorf in 3.5 short hours for under 10 €uros and from Berlin in 5 hours for under 20 €uros.
The Flixbus stop in Düsseldorf is on Worringer Straße 140, a couple of steps north of the main train station.
To check schedules and prices, visit their website.
How to Get Around
Public Transport
Like in every German city, local public transport in Düsseldorf is comprehensive and reliable. There are buses, trams, subways, local and regional trains.
In general, one trip within the city limits costs 2.90 €uros. Short distance trips that included three consecutive stops in total cost only 1.80 €uros. Kids between 6 and 14 years of age pay 1.70 €uros. Under 6, they travel for free.
There are also 4-journey tickets, day tickets, and group tickets. However, on a touristy visit, the DüsseldorfCard is your best option.
Nevertheless, keep in mind that tickets are only valid if they have been stamped before departure. Even if you have a ticket, if it's not validated, you might be fined.
The orange validator machines are located at tram, subway, and train stations as well as on buses. Once stamped, the ticket remains valid for a certain period of time, between 20 minutes and 5 hours, depending on the type of ticket you purchased. Except for short trips, you can change means of transportation as you like as long as you travel in the same direction. Hence, no round trips and return trips – except with day tickets, obviously.
For your convenience, find here a downloadable network plan
Cycling
Another convenient way to explore the center of Düsseldorf is by bicycle. I wonder if there is a city in Europe that does not offer rental bikes. In Düsseldorf, this company is called nextbike and you find their website here.
Registration is free, however, you need to create an account with a starting credit of 1€uro. Then, you can pay by credit card, debit, your mobile phone account, or PayPal. For a monthly fee of 10 €uros, you get 30 minutes per rental free. Since Düsseldorf is not that big and you can leave your rental bike at many different stations around town, you probably won't pay more than your monthly fee.
However, if you do not want to pay a monthly fee, the rate is 1 €uro for 15 minutes. Therefore, I presume that even if you'll explore Düsseldorf cycling for only one day, paying the monthly fee is far better.
Where to Stay
Since Düsseldorf is an important convention and congress place, there are many medium-priced accommodations, but, of course, also some luxury places. After all, the Königsallee aka 'Kö', on of Düsseldorf's landmarks, is one of the most prestigious and expensive shopping boulevards in the world. Also, when planning your trip, check first whether there's a major fair taking place. During those events, hotel prices can get four to five times higher.
A convenient option with an excellent price service ratio is the Mercure Hotel Düsseldorf City Center*, located a few steps from the central station and at the same time maybe ten minutes walking to the city center.
However, if they should be booked out or if you prefer to stay in a different neighborhood, in this map, you'll find some great lodging options*:
Where to Eat
Typical Rhenish specialties such as mustard roast, Rhenish sauerbraten, Halve Hahn or Ähzezupp can be enjoyed extremely well in many places around Düsseldorf.
A great way to get an overview of local specialties is by joining a Culinary Tour. This way, you sample some original Düsseldorf delicacies and get extended explanations and some witty background stories.
On this tour, a local guide leads you to some breweries and specialty food stores and the farmers market on Carlsplatz, and more. It's highly recommended since you get a good feel for the local culture, a couple of samples to take home…and in the end a full stomach.
The tour is organized by the Düsseldorf Tourismus and takes place every Saturday from 10 a. m. for approximately three hours. You can take it either in German or in English.
Should you be rather thirsty than hungry, there are also beer tours like the Altbier-Safari where you visit up to five breweries and check out if they are really that good.
Spoiler alert: they are!
With the DüsseldorfCard, these and many more themed tours are 10 to 20% cheaper.
Visiting Organized
I'm an avid solo-travelling woman. Since solo travel doesn't equal solitude, I love to join organized tours here and there. They allow me to meet fellow travellers – for just a short moment or a lifelong friendship.
Therefore, here are some great ideas of what to do during your stay in Düsseldorf. Especially if you have only a short amount of time, they'll enable you to leave the planning and organizing to others and just enjoy the city to the max*:
Cash, Cards, And Discounts
Until now, 20 European countries replaced their former local currency with the €uro starting in 2002. Obviously, Germany is one of them. The exchange rate is 1 US$ = 0.94 EUR as of January 2023. However, you can check today's conversion rate on this page.
Although the jolly Düsseldorfers love to maintain their traditions, it's a very open and internationally oriented city, so credit cards are accepted and otherwise, ATMs can be found everywhere.
While there are many foreign ex-pats mainly for work in Düsseldorf, international tourism isn't as big as for instance in Berlin. However, you can get all the tourist information and material such as brochures in English – also because Düsseldorf is one of Germany's most important places for fairs and conventions.
They have a very elaborated and detailed website and a bureau in the old town where a very knowledgeable and friendly staff will assist you:
Tourist-Information Altstadt (Old Town)
Marktstraße/Ecke Rheinstraße
40213 Düsseldorf
Phone: + 49 – 211 – 17 20 2-840
Email: info@duesseldorf-tourismus.de
Open Monday to Sunday 10 a. m. to 6 p. m.
The DüsseldorfCard
Depending on what your plans are, you might wanna get a DüsseldorfCard. With this card, you travel free of charge on buses and trains in the city area. Of course, you also get discounted or even free entrance to museums. Also, you get a great discount on guided tours like those mentioned below. Even the hop on hop off bus and river cruises are included.
There are four options for solo travellers and also for families respectively groups:
| | 24 hours | 48 hours | 72 hours | 96 hours |
| --- | --- | --- | --- | --- |
| Single | € 11,90 | € 17,90 | € 23,90 | € 29,90 |
| Family/Group | € 19,90 | € 29,90 | € 39,90 | € 49,90 |
* A family is two adults and two children under 15, a group is three adults.
Düsseldorf is probably the only German city where I do not recommend an alternative like a day pass for public transportation. Due to the connections to other towns around Düsseldorf, there is such a variety of prices and options, it just makes my head spin – and yours will spin, too. Therefore, the DüsseldorfCard should do: The 11,90 €uros you are paying are already almost the equivalent of three rides, hence, it's easy to do the math.
Communication And Connection
Since June 2017, no roaming charges apply within the EU if you have a European mobile phone contract. This involves all 27 countries of the European Union as well as Iceland, Liechtenstein, and Norway.
The EU roaming regulation applies to all contracts.
In case European roaming is not available, you can connect to the internet at museums, eateries or cafés, and, of course, hotels. This being said, in comparison to many other lands, Germany is a developing country when it comes to the internet. There are annoyingly many dead zones and many places do not offer free Wifi connection.
So if you depend on a reliable online connection, you should opt for a SIM card. Whether phone companies such as O2 or Vodaphone or supermarkets like Lidl and Aldi – there is a wide choice of providers of prepaid cards.
The standard voltage in Europe is 220 V and the frequency is 50 Hz. In Germany, they use the plug types C and F.
Whereby, nowadays, all these chargers have integrated adapters, in general, the voltage and frequency don't really matter.
By the way, you'll find comprehensive travel info in my post World's Most Complete Travel Information – an indispensable globetrotter-classic.
Say It Right
In Germany, most people speak pretty decent English. Nevertheless, for some useful words and phrases, you might want to practice a little with the help of e. g. Babbel. Also, the first lesson is free and already supplies you with a useful basic vocabulary.
In this post, I'm writing out some of the German names of brands and places. Obviously, you will notice that there are letters that might not exist in other languages.
Firstly, there is the letter ß which exists only in the German alphabet. It's by no means a B – it's a so-called sharp S. You pronounce it like the double S in kiss. So although the German word for street, Straße, looks quite exotic, it is simply pronounced Shtrasse. Mind you, when an S stands before a T, it becomes sh instead of s.
Then, there are three more vowels, ä being the easiest one since it's pronounced like an open e as in head.
For some foreigners, ö and ü might be a bit tougher. Ö is pronounced more or less like the e in her. Finally, Ü sounds a bit like the u in huge.
Map
Here you can trace the tour on a responsive street map. Clicking on the slider symbol at the top left or the full-screen icon at the top right will display the whole map including the legend.
Pinnable Pictures
If you choose to pin this post for later, please use one of these pictures:
Note: I am completing, editing, and updating this post regularly – last in January 2023.
Did You Enjoy This Post? Then You Might Like Also These:
Disclaimer:
This article contains affiliate links.
By purchasing items or making a reservation through those links on my site, not only do you get the best rate. I will receive a small commission that helps to run this site.
I was very lucky that the Mercure Hotel Düsseldorf City Center* invited me to stay with them.
The Düsseldorf Tourismus GmbH supported my blogger trip by supplying me with information and some free tickets.
However, all opinions on these services are mine and weren't by any means influenced by my cooperation partners.