No matter if you stay two days in Seoul or two weeks: This exciting city has so much to offer that basically any stay will be far too short. However, to ensure that you get to see not only the most significant must-dos but also some of the countless hidden gems in Seoul, I clustered this guide according to eight very different neighborhoods. This way, you save on commuting and can invest all your precious time in the best things to do in Seoul.
Seoul
Seoul's importance rose in the era of the unified Korean Empire of Goryeo: In 1068, King Munjong had a summer palace built in Seoul, and the city was called Namgyeong which translates to the southern capital. The actual capital was then the city Kaesong. As it is located about 60 kilometers northwest of Seoul and consequently, part of today's North Korea, I assume that no further explanation is needed as to why it doesn't stand a chance to maintain its former glory.
In 1392, Yi Seong-gye ended Goryeo's rule, founded the Joseon Dynasty, and made Hanyang, which is Seoul's former name, the capital. Two years later, a construction boom began with the Gyeongbokgung Palace and various temples. Also, an 18-kilometer-long city wall connected the four mountains of Bugaksan, Inwangsan, Namsan, as well as Naksan. Part of this once-massive structure can still be admired. Also, the most important city gates Sungnyemun and Dongdaemun have been preserved.
However, more Royal buildings followed. Changdeokgung Palace was completed in 1412, and the Gyeonghuigung Palace in 1616.
Although the city was thoroughly fended by its location and the protective walls, the Japanese troops conquered it in the Imjin War in 1592. Later, it was taken by the Manchurians in 1635.
Only in the 18th century, the 21st monarch of the Korean Joseon dynasty King Yeongjo brought the city's former glory back to life. From then on, it grew into the most important trading center.
In 1872, the penultimate Korean monarch Gojong moved back to Gyeongbokgung Palace which had been destroyed in the Imjin War and was only rebuilt in 1865. In the meantime, Changdeokgung Palace had served the Emperor as the seat of government.
The Long Way to Freedom
In 1905, Korea first became a protectorate of the Japanese Empire and eventually a colony in 1910. Korea was then liberated at the end of WWII. In 1945, the city was officially named Seoul.
During the Korean War, Seoul changed hands between North Korean and South Korean forces an incredible four times. Obviously, the merciless fights left the city heavily damaged: At the end of the war, around 200,000 buildings were in ruins. In addition, impoverished and homeless refugees had fled to Seoul.
Right after the war, reconstruction and modernization began. South Korea's rapidly growing economy attracted workers to the developing city. Also, from the 1970s, Seoul's area greatly expanded as it annexed a number of adjacent towns and villages.
The Problem With Seoul
Seoul is located only about 60 kilometers from the inter-Korean border at the 38th parallel. Although the city feels humongous, its area is just a bit over 600 square kilometers which makes it roughly just two-thirds of the size of London. Howsoever, there are over 10 million people living there, and the Sudogwon metropolitan region is home to around 26 million people.
Seoul is divided into 25 districts which are then diverged into 522 neighborhoods, the so-called dongs. Obviously, the city is the financial, cultural, and educational center of South Korea. 15 of the Fortune Global 500 companies have their headquarters in the city. In addition, with about 10 million visitors per year, Seoul has become the tenth most visited city in the world over the past years.
Fun Fact
After WWII, Seoul became the capital of the Republic of Korea in 1945, obviously. However, North Korea's constitution also specified the city as its capital. Only in 1972, a constitutional amendment defined Pyongyang as the capital of North Korea.
Small Rounds Instead of a Big Tour
Just like for most foreign visitors, Seoul was my entrance to Korea. In total, I spent five days in the city. I stayed in hotels in two different neighborhoods and visited many more. Therefore, I can confirm: Seoul deems huge! No matter where I went, I always had to spend at least 30 to 45 minutes on public transport, even if the neighborhoods were right next to each other. When I left the city center for farther districts, an hour to an hour and a half was no exception. Will say, while you cannot avoid spending ridiculously large amounts of time commuting back and forth, you can at least minimize it by clustering your visit.
Choose visiting attractions and landmarks located in one specific neighborhood in the morning and move to the next district for the afternoon. Don't pick individual attractions that are far from each other, otherwise, you'll spend the major part of your visit in buses and subways.
To make planning your itinerary easier for you, I've listed the places I recommend you visit according to neighborhoods. This way, you can explore the city in small rounds instead of one big tour. And don't worry if one specific landmark is far from the other spots you'd like to see: Seoul has such a fantastic number of amazing places that you can actually 'replace' an attraction with a similar one quite often.
Same Same But Different
What do I mean by that?
Well, if you are really into books but cannot make it all the way to the Starfield Library or the Book Bogo on the southern bank of Han River, I'm sure you'll love the Book Park Lounge just as much. There, the shelves are at least as high as at Starfield – and it's still a rather hidden gem.
Or if you cannot make it up the N Seoul Tower, you can always get amazing views of the city from the beautiful golden skyscraper 63 building or the Lotte Tower which is the third highest tower in the entire world.
Then, most visitors to Seoul explore only the Bukchon Hanok Village whereas I'd argue that the Ihwa Village is at least as picturesque. Or you explore the culinary wonderland of the Ikseondong Hanok Village.
Let's get a bit more Confucian, put your FOMO aside, go with the flow, and check out my favorite activities in wonderful Seoul.
Jongno
Jongno-gu translates literally to Bell Way District and is the historical center of Seoul. It's the perfect place to start your visit to the city as it combines the tranquility of the palaces and shrines with quick access to the modern part of the city around city hall. Also, if the weather is not that great, you'll find many interesting museums here as well as great bookstores.
Why I'm mentioning bookstores? Actually, I was surprised and very impressed by how much Koreans seem to cherish tangible bookstores in the times of Amazon and Kindle. As a matter of fact, they seem to love books so much that they sell and lend them in what seems to be literally book shrines. In my post on Best And Most Beautiful Bookstores in Seoul, I'm introducing exactly that: The city's most amazing book temples.
But now let's explore the district around Gwanghwamun, Seoul's most iconic and indispensable area.
Gwanghwamun Square
Gwanghwamun Square in its current appearance was opened only in 2009. However, it has been historically significant as the location of royal administrative buildings, known as the so-called Street of Six Ministries for ages. If I should define the navel of Seoul, it would be Gwanghwamun Square as it is in the very center of a couple of must-sees.
Actually, it is a long-ish square with sculptures and different fountains, lined by shops and cafés. As you get off at the Gwanghwamun subway station, you are greeted by Admiral Yi Sun-shin. He gained honor and fame when he led the Korean naval forces during the Imjin War in the 16th century and significantly contributed to repelling the Japanese invasion. Today, he's enjoying his retirement and visitors' admiration standing behind a refreshing fountain.
In the wake of the Plaza's opening in 2009, the statue of King Sejong the Great was added. I've introduced him in my short summary of Korea's history above. The bronze statue is over six meters high and the pedestal is actually accessible. It leads to a small exhibition hall celebrating the glories of the two historical figures.
Royal Visit
Walking along the Gwanghwamun Plaza towards the north, you'll step right into Korea's glorious past. Here you can visit some of the poshest cribs the Imperial Dynasties left behind. Gyeongbokgung, Changdeokgung, Changgyeonggung, Gyeonghuigung, and Deoksugung are the complicated and confusing names of Seoul's five Royal Palaces from the Joseon Dynasty. Now, call me a philistine, but I would argue that you don't need to see all five of them, especially if you don't have much time to spend in Seoul.
Since I'm not a big Royalist, I limited myself to the first and the last-mentioned one, mainly because of the colorful changing of the guard.
Gyeongbokgung Palace was built by King Taejo, the founder of the Joseon Dynasty, and completed in 1395. With the completion of the palace three years after the founding of the Dynasty, the Empire's capital moved from Gaegyeong to Hanyang, which was the former name of Seoul. After the palace had been destroyed by fire during the Imjin War, it was not rebuilt for almost 300 years. Only King Gojong had it rebuilt in 1865.
During the Japanese hegemony from 1910 to 1945, buildings were demolished and the structure was greatly modified. Among the buildings the Japanese spared were the Gyeonghoeru Pavilion and Geunjeongjeon. During this time, Japanese was the official language, hence, the palace was named Keifukukyū. As a matter of fact, the Japanese oppressors banned the Korean language from schools and public offices in 1938. Also, in the course of their policy of cultural extermination, they excluded Korean courses from elementary education in 1941.
However, reconstruction of the original appearance of the Gyeongbokgung Palace began only in 1990.
Let the Music Play
I won't lie to you, the main reason why I made Gyeongbokgung Palace the first place to visit was the colorful change of the guard. Although there isn't an Emperor to protect anymore, every day at 10 a.m. and then again at 2 p.m. there is a ceremony with lots of pomp and circumstance going on. In front of the main entrance Gwanghwamun Gate, the ceremony reenacts the custom of the royal court during the Joseon Dynasty to ensure the security of the King and his court. The guards wear amazing attire, carry traditional weapons, and play classic Korean instruments. It is absolutely beautiful and was definitely one of the highlights of my first day.
Gyeongbokgung Palace is open from Wednesday to Monday. The opening hours vary by season, but generally, it's open from 9 a.m. to 6 p.m. The general admission is KR₩ 3,000. The entrance to the Palace is also included in the Discover Seoul Pass*.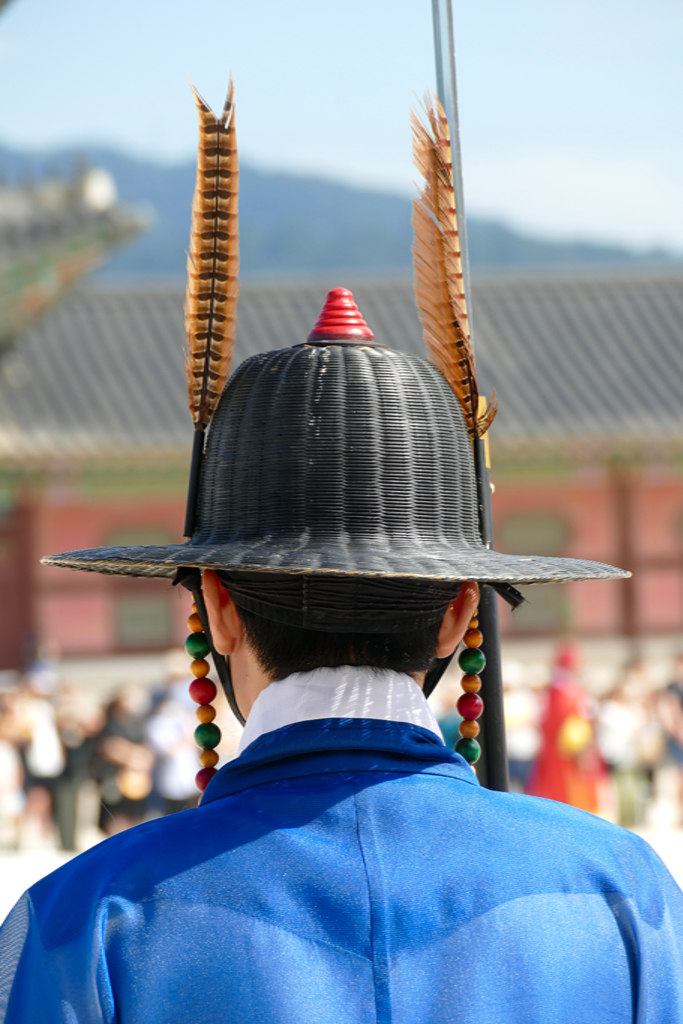 If you don't want to obtain the Discover Seoul Pass*, you can still get a small discount if you purchase the so-called Integrated Ticket of Palaces. With this pass, you can visit all five palaces as well as Jongmyo Shrine for only KR₩ 10,000 over the course of a month. Yes, this way, you save KR₩ 4,000 – or less than 3 US$ or €uros.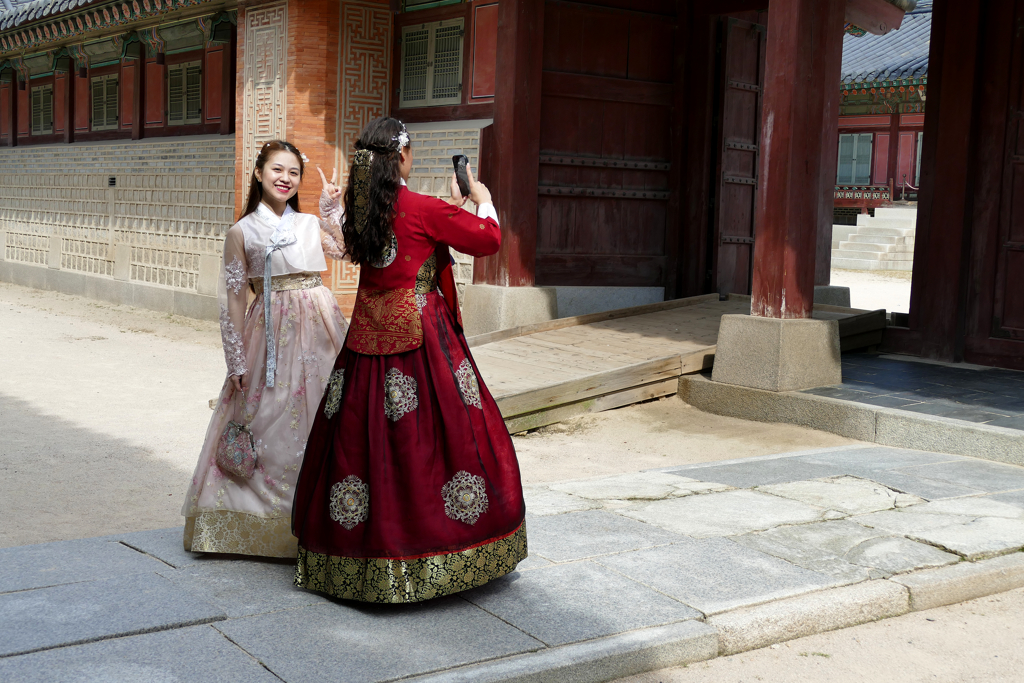 However, if you are wearing a Hanbok, the traditional Korean attire, you can visit for free**. But keep in mind, that you have to pay for renting those many layers of plastic fabric, hence, it's quite a naive fallacy.
Deoksugung Palace
And because the change of guards at Gyeongbokgung Palace was so impressive, I was ready for an encore and rushed like a crazy woman down Gwanghwamun Square to catch the ceremony at Deoksugung Palace. There, it is conveniently scheduled at 11 a.m., 14:00, and 15:30 p.m.
So I got there just in time to look around a bit and then join the fun at the entrance gate. By the way, you don't need to visit the castle to see the spectacle as it takes place outside the entrance gate. On the other hand, the entrance fee is just as little as KR₩ 1,000 which equals 70 cents.
Initially, Deoksugung was not a palace, but a prince's villa. In 1598, however, as all the palaces were destroyed during the Imjin War, the royal family used the same villa as a temporary home and stayed even after the completion of the renovation.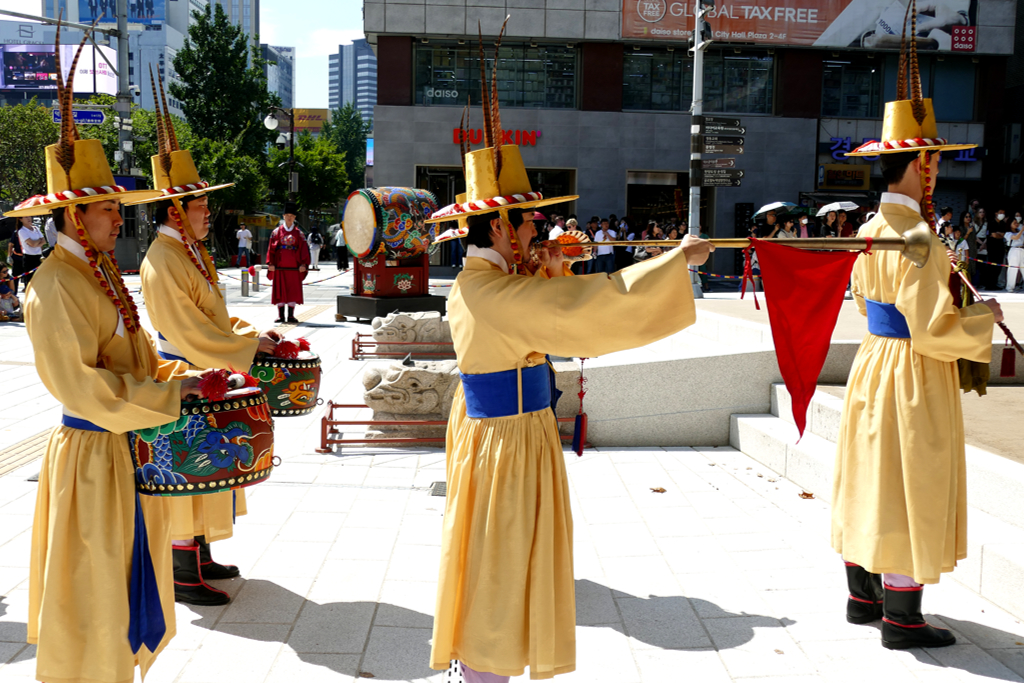 Deoksugung Palace is open from Tuesday to Sunday from 9 a.m. to 9 p.m. The general admission is KR₩ 1,000. The entrance to the Palace is also included in the so-called Integrated Ticket of Palaces as well as the Discover Seoul Pass*.
Jongmyo Shrine
Jongmyo is a Confucian shrine that serves as ancestral veneration for the rulers of the Joseon Dynasty. In 1995, UNESCO put it on the list of World Heritage Sites. Also, the ritual of ancestor veneration and the connected music performance were inscribed in the List of the Intangible Cultural Heritage of Humanity in 2008.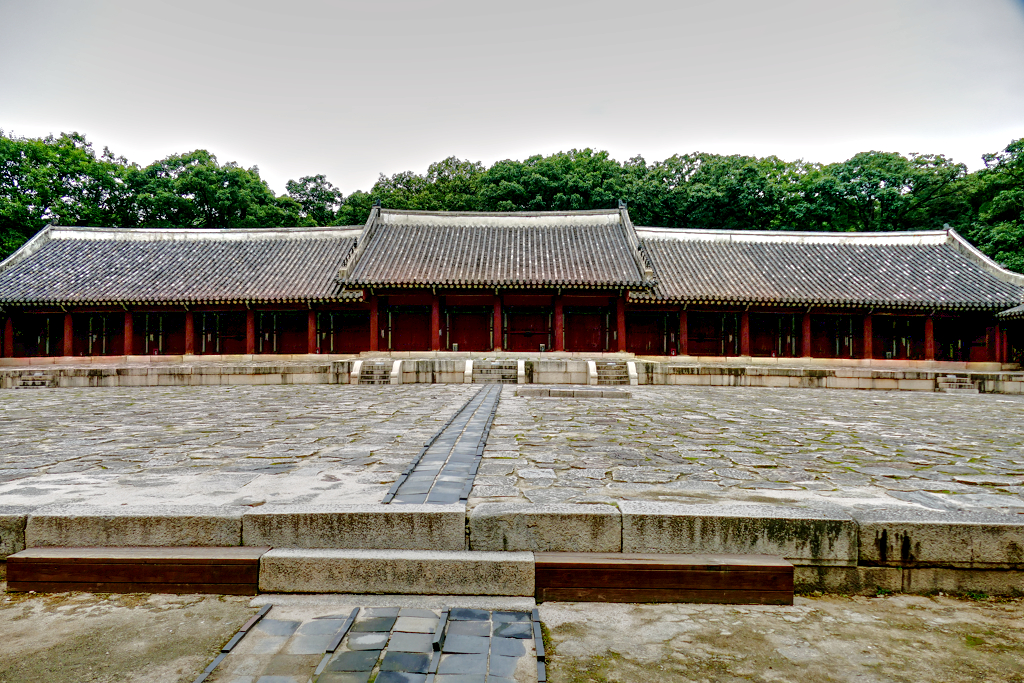 All this made me think that I simply couldn't skip such an important landmark so I squeezed it in the last hours I spent in wonderful Seoul. And to be honest, I regretted it a bit.
Call me a peasant – again – but the amazing history aside, there isn't really much to see. But what's really annoying is the fact that on weekdays and Sundays, you can only visit the premises on a guided tour that lasts one long hour. As there aren't that many tours in English and I was a bit in a rush, I boldly joined the Korean tour. Since apart from five words, I don't speak any Korean, I wasted spent far too much time standing in front of closed structures, listening to the sound of a lovely Korean guide holding long monologues in her mother tongue. Sadly, as our group was guarded by some guy who suspiciously observed that no sheep left the herd, there was no chance of escaping. As a matter of fact, the whole situation had a bit of a North Korean vibe to it.
While it's absolutely my fault that I joined a tour in a language I don't understand, it's totally on them that they are offering only a few tours in English. I simply didn't want to waste a perfectly fine hour by waiting around for a tour.
Forget Me Not
After moving the capital to modern-day Seoul in 1394, King Taejo had the ancestral Jongmyo Shrine completed by 1395. The main Jeongjeon Hall had seven chambers to house wooden memorial plaques of the King and his wife.
In 1421, King Sejong built a second hall with six chambers called Yeongnyeongjeon. As the Japanese troops burned everything down during the Imjin War, the shrine was reconstructed in the early 17th century. The memorial plaques had been saved in a citizen's home and eventually placed in the newly built halls. Today, Jeongjeon consists of 19 spirit chambers that contain 49 spirit tablets while Yeongnyeongjeon has 16 spirit chambers housing 34 spirit tablets.
Every year on the first Sunday in May, a ritual of ancestor veneration is held at Jongmyo Shrine. It is accompanied by a procession with traditional songs and dances. Many of the ceremony's elements stem actually from the 15th century. As a matter of fact, it's the descendants of the royal family who are organizing this event.
Jongmyo Shrine is open from Wednesday to Monday from 9 a.m. to 6 p.m. The general admission is KR₩ 1,000. The entrance to the Palace is also included in the so-called Integrated Ticket of Palaces as well as the Discover Seoul Pass*. As I mentioned above, it can only be visited at your own pace on Saturdays. On all other days, you have to join a guided tour that lasts about one hour.
Changdeokgung
The main reason why I didn't wait for the English tour was that I wanted to visit also the Changdeokgung Palace on my last day. Well, when it rains, it pours: Not only was I already quite late after my uninspirational visit to the Jongmyo Shrine. I had also lost my way and couldn't find the entrance to the palace. Finally, I got there about ten minutes before the ticket booth was closed. By the time I made it to the entrance of the so-called Secret Garden, however, it was too late as they were closing an hour earlier. Since that was the part I wanted to see the most, I guess I must come back to Seoul one of these days to unveil Changdeokgung's botanic secret.
King Taejong commissioned Changdeokgung as the second palace in 1412. In 1592, it was burned down by the Japanese troops during the Hideyoshi invasion. 19 years later, the 15th king of the Joseon Dynasty had it rebuilt. It then served as a royal residence and seat of government.
A Special Place
From 1907 on, Korea's last Emperor King Sunjong resided in Changdeokgung even after his resignation in 1910 until his death in 1926. As a matter of fact, the last members of the royal family lived there until 1989.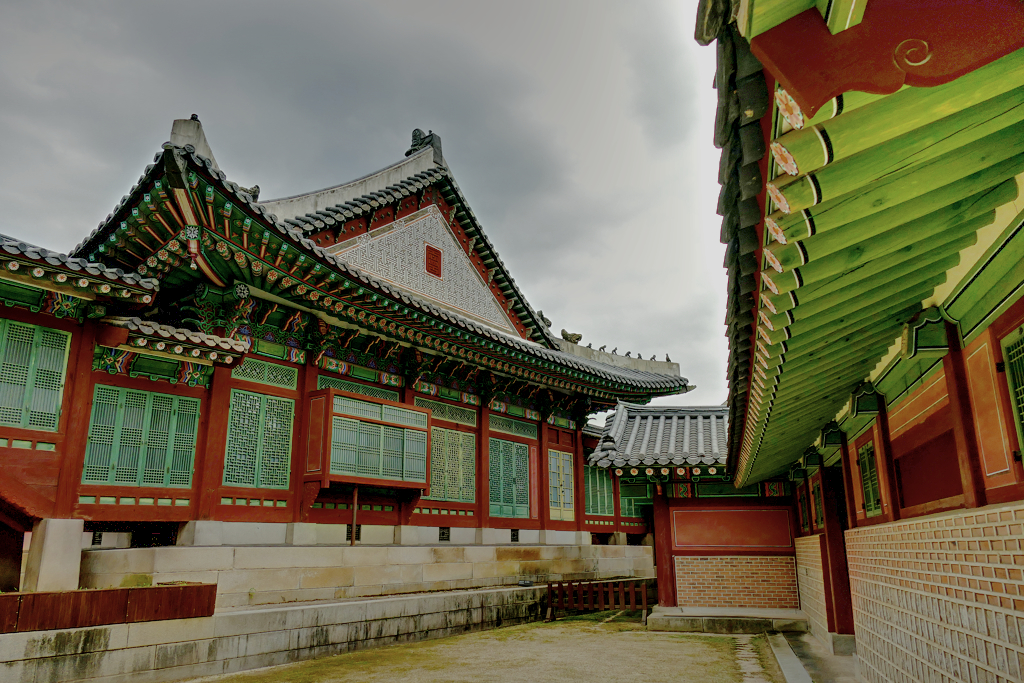 Changdeokgung consists of three areas: the administrative part, the living spaces, and the rear garden. Initially, only the King and members of the Royal family were allowed to pass through the gate and set foot in the so-called Secret Garden. It is approximately 32 hectares in size and consists of numerous pavilions, lotus ponds, and countless trees, some of which are now over 300 years old.
In 1997, the Changdeokgung complex was listed as a UNESCO World Heritage Site.
Changdeokgung Palace is open from Tuesday to Sunday from 9 a.m. to 6 p.m. The general admission is KR₩ 3,000, and a visit to the garden costs an additional KR₩ 5,000. The entrance to the Palace alone is also included in the so-called Integrated Ticket of Palaces as well as the Discover Seoul Pass*.
Bukchon Hanok Village
The mix of hyper-modern skyscrapers and traditional Korean neighborhoods is absolutely amazing, and the Bukchon Hanok Village is probably the most famous example. Its location at the southern foot of a mountain range makes it an auspicious place according to Feng Shui.
The structure of the Bukchon area changed during the 1970s and 1980s when many of the old inhabitants moved to the newly developed Gangnam. The local government then implemented a policy of conservation of the Hanoks, the traditional Korean houses as many houses had been demolished to widen roads.
In 1991, the Seoul Metropolitan Government changed construction laws to encourage the construction of condominiums. This resulted in the demolition of around 600 traditional houses in the Bukchon area. This destruction continued over the following years. Initiated by a residents' association, a policy to preserve the remaining Hanoks was implemented in 2001. It supports residents in maintaining and renovating the beautiful old structures.
There are around 3,500 locals living in the village. Hence, tourists greatly outnumber the villagers, which causes big problems as some visitors view this residential area as some kind of theme park. Desperate residents are handing out flyers asking tourists to keep their voices down, to avoid littering, and not to pee in the alleys. Also, some inhabitants needed to put up signs to discourage tourists from loitering around their homes.
O'Sulloc Bukchon Tea House
One of the highlights of my visit to the Bukchon Hanok Village was a break at the O'Sulloc Bukchon Tea House. While everyone knows about the traditional tearooms in Insadong, a neighborhood that I'm introducing in the chapter below, my personal favorite is a truly hidden gem, at least when it comes to foreign visitors: It is the O'Sulloc Bukchon Tea House which was opened only in November 2021.
In a nondescript three-storey building are a store on the first floor and beautifully arranged tea rooms on the upper floors. Here, you can sample the finest teas and incredibly aesthetically pleasing snacks such as the finest cream-filled spongecakes. I was just blown away by the appearance of their rice cake platter with four different dips from spicy to fruity to sweet.
Only four tea plantations in Korea are producing O'Sulloc tea. Three of them are located on Jeju Island and one is on the mainland.
O'Sulloc Bukchon Tea House is located at 45 Bukchon-ro and is open every day from 11 a.m. to 9 p.m.
By the way, if you are interested in unwinding in serene surroundings, I highly recommend at least a short stay at one of the tea plantations on the outskirts of Boseong. Get all the info in my post Green Tea Plantations Around BOSEONG: Totally My Cup Of Tea!
When It Rains It Pours
During the first part of my visit to Seoul, I was very lucky – if you can call a temperature of 36° Celsius bliss. Nevertheless, it wasn't raining and the skies were blue. Yet, I had heard of those torrential rains that are not seldom and I've seen many pictures of the city under dull, grey skies. You see that in some of my pictures, too, as the second half of my visit with rather rainy.
Nevertheless, Seoul is a big city with many fantastic indoor activities to enjoy. I'll introduce some of the venues in this post. The best way to spend a rainy day is by visiting some of Seoul's over 100 museums many of which are free.
Most of the art museums are actually located in the area around the Royal Palaces. There, you'll find the Seoul Museum of Art, the National Museum of Modern and Contemporary Art, the Ilmin Museum of Art, the National Folk Museum of Korea, and many more. Further south towards the river is the National Museum of Korea at the Yongsan Park. Obviously, this is just a fraction of the amazing places where you'll find shelter from the rain.
Kyobo Book Centre
Another fantastic option to hide from nasty weather are Seoul's wonderful libraries and bookstores. In ye olden days, I used to spend hours at bookstores in London, Paris, and New York. But with Amazon and the associated extinction of bookstores, I had completely forgotten about that. When I saw all these beautifully furnished and arranged book places in Korea, I got all sentimental. They really cherish literature on paper and printer's ink. I was so impressed that I wrote a separate post about the Best And Most Beautiful Bookstores in Seoul.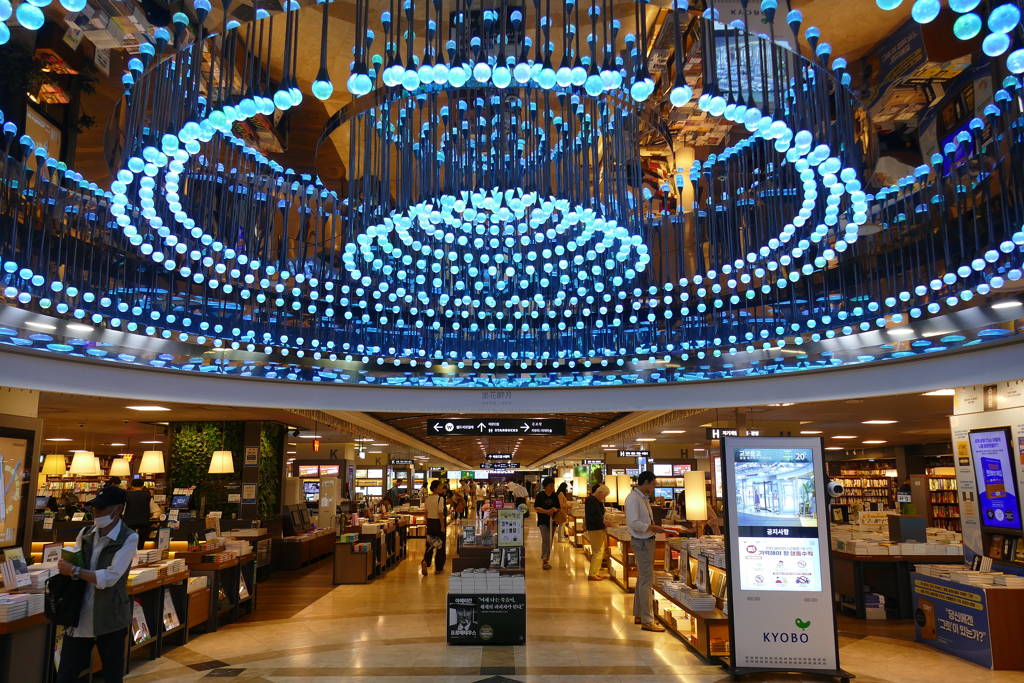 There, I'm also introducing the Kyobo Book Centre. With ten stores in seven cities, it is Korea's largest bookstore chain. Its flagship store is located just off the Gwanghwamun Plaza at 1 Jong-ro in the basement of the Kyobo Building.
Here, you can search for around 2.3 million books that are categorized electronically so you can find them in the blink of an eye. Don't worry, they have a large section with titles in foreign languages. They have a spacious reading section, and there is a large Starbucks coffee shop. The store also houses a large video and music section, and they sell beautiful stationery.
However, if you are into K-Dramas, you might want to check out the branch in Gangnam as one of the protagonists of the show Alone In Love works there.
The Kyobo Book Centre is open every day from 9.30 a.m. to 10 p.m.
Insadong
Insadong is a neighborhood within the Jongno district. A warren of narrow alleys branches off from its arterial street Insadong-gil. They are lined with galleries and specialty shops and make Insadong a favorite among locals and visitors alike. Especially on Sundays, families promenade through the streets and alleys in their finest outfits and admire the high-quality handicraft products. Historically, it was the largest market for antiques and artwork in Korea, and dignitaries such as Queen Elizabeth II as well as the Spanish and Dutch Royals paid the neighborhood a visit in the past; hence, you better dress to impress as you never know if you don't run into some modern-day Emperess.
However, Insadong is also famous for its traditional tearooms where you can unwind while enjoying freshly brewed artisan tea with some local delicacies.
For Kids'n'Instagrammers
Many venues in Seoul like for instance the Royal Palaces are of surreal beauty and seem to catapult the visitor back into a bygone time full of pomp and circumstance. Hence, aesthetes and photographers will have no shortage of beautiful and unusual motifs. Yet, there are two venues in Insadong that take photo fun even up a notch: At the southern entrance into Insadong-gil is the Alive Museum.
It is Korea's largest 4D venue, featuring tons of fun rooms and scenarios where you can immerse into quirky scenes, create optical illusions and, obviously, take pictures.
The Alive Museum is located at #12 of Insadong-gil and is open every day from 11 a.m. to 6 p.m. and the general entrance fee is about KR₩ 12,000.
At the northern end of Insadong-gil located on the 6th floor of #49 is the Color Pool Museum. It is divided into nine different themed zones. These zones follow a clear concept and are designed in bold colors – a dorado for Instagrammers and other lovers of fun pictures. Not all but most of the scenarios consist of at least one pool filled with colorful balls.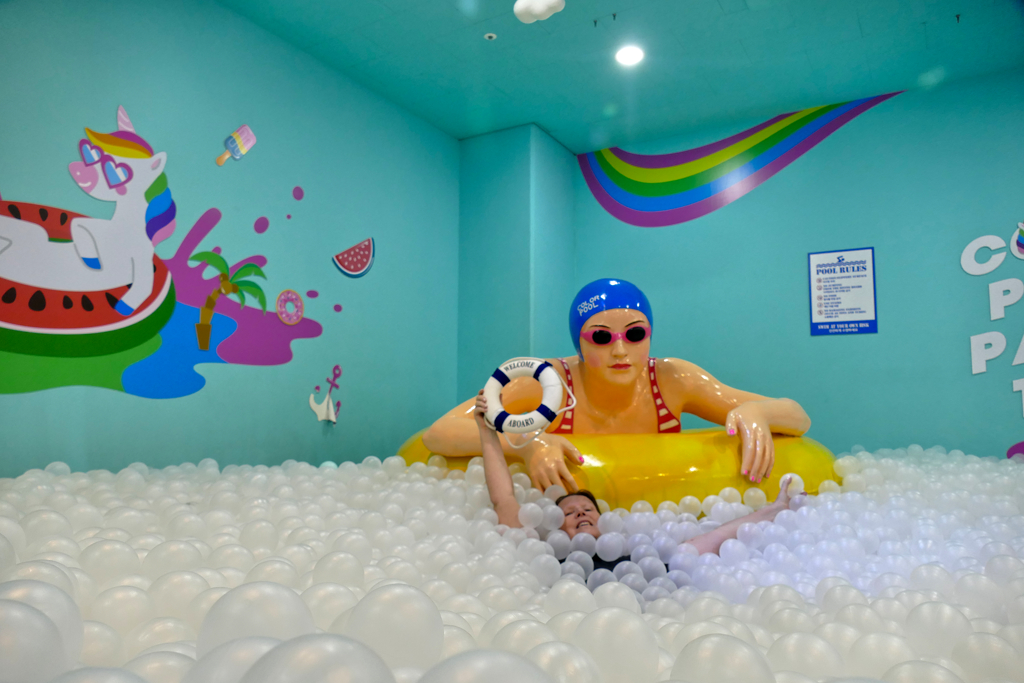 The Color Pool Museum is open every day from 10 a.m. to 8 p.m. and the general entrance fee is about KR₩ 15,000.
My Tip
While the entrance fee to museums and most landmarks in Korea is either very cheap or even free of charge most of the time, access to those two venues is relatively expensive. Therefore, if you are planning on visiting, you might consider getting a Discover Seoul Pass**. It allows you to visit tons of tourist attractions in the city as well as on the outskirts for free – and both venues are included.
Insadong SPA And Sauna
Obviously, museums and galleries are great places where to spend a rainy day. For me, it was the perfect opportunity for yet another visit to a Korean SPA. My initiation rite had taken place in Andong: On a rainy day, I had hit a local SPA and I'm still pretty sure that I was the first foreigner who has invaded this local refuge ever.
While the traditional bathhouse was the clear focus of the SPA in Andong, the Insadong SPA And Sauna corresponds more to what I had seen and read in advance about Korean SPAs: The wet areas, hence, the thermal pools, are in separate areas for women and men and are visited completely naked. By the way, this is nothing unusual for someone who goes to the sauna in Germany: In Germany, a sauna visit is absolutely textile-free and usually mixed; yap, men and women together. Shocking for foreigners, but totally normal for Germans.
Dress to Impress Sweat
So I had no trouble jumping around naked in the thermal area. To be honest, I had more problems with the fact that you could visit the common area, i.e. the relaxation area and the two dry saunas, in a sports outfit consisting of a T-shirt and shorts. By the way, this outfit is provided by the sauna, along with small towels.
So you go to these Korean saunas actually fully clothed. It's up to 90 degrees Celsius there and the sweat runs into your clothes. This is gross, not nudity. While in Germany you come out of the heat naked – in the sauna, you sit on a towel, not right on the wood, obviously – you can immediately jump into the ice-cold shower. In Korea, you first have to peel off your scorching hot and sweaty clothes. Yikes.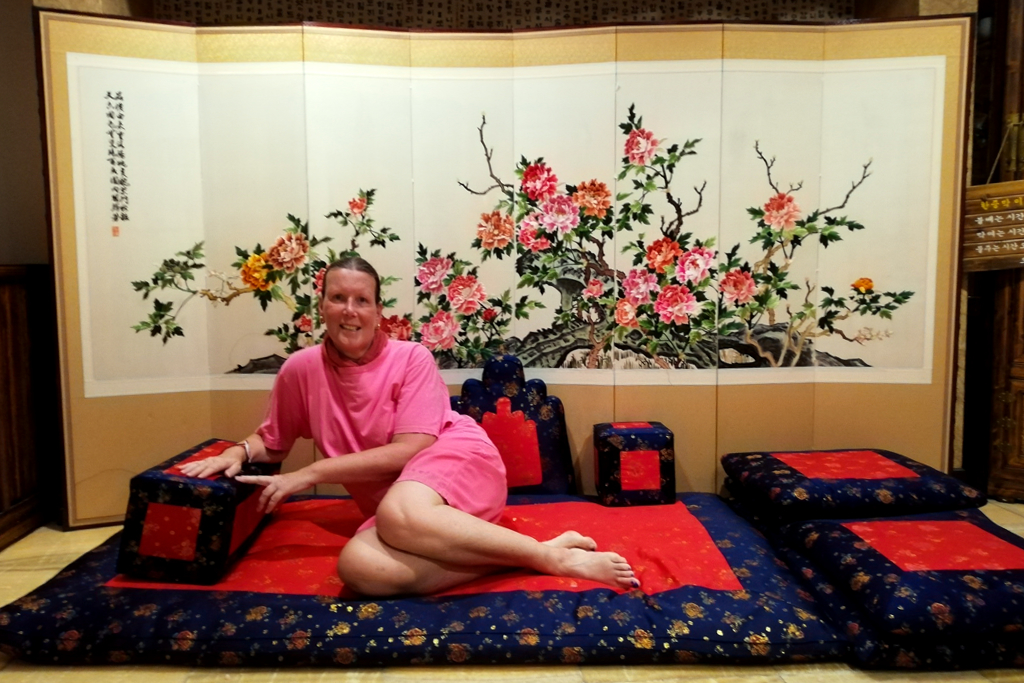 Long story short: As much as I love the wet area with the thermal pools, I find the dry area challenging to get used to. But hey, when in Rome Korea…and I got my authentic experience, after all.
Plan Your Visit
The Insadong SPA And Sauna is located at 65-1 Unni-don just south of the Changdeoggung Palace. They are open every day from 5 a.m. to 9 p.m. The basic entrance fee is KR₩ 13,000, however, they offer many treatments like scrubs and massages at an additional fee, obviously.
In order to enable you to have an embarrassment-free visit without any rookie mistakes, I have summarized everything you need to know for a relaxed and pleasant visit to a Korean SPA in my post All You Need to Know Before Visiting a Korean Spa.
Once you're all relaxed from your SPA experience, you might feel hungry and thirsty. Just down the street from the Insadong SPA And Sauna is the Ikseondong Hanok Village which is mostly famous for its uncountable eateries so that's the perfect way to indulge and then, call it a day.
Namsan
I'm quite surprised that Seoul suffers from bad air quality as there are around 40 parks in the city. One of the most famous ones is certainly Namsan Park. It covers the eponymous hill that reaches a height of 265 meters. Maybe it's because it was the first neighborhood from where I explored Seoul, but I do have a soft spot for the neighborhoods surrounding Namsan Hill.
It's a great place to unwind and go for a hike. The summit can be reached on foot, obviously, but there are also buses and the famous cable car. This being said, I'd like to point out that the 11,000 ₩on that I paid for the one-way ticket up was one of my worst investments in Korea. It's a relatively short trip with some great views, yes, but it's taking you to a spot from where the views are even better, so what's the point? I leave it up to you, obviously, but I would just take the bus uphill.
N Seoul Tower
The N Seoul Tower was built in 1969 as South Korea's first communication tower. With a height of 236 meters, it is the city's second-highest point and its most prominent landmark. It has two internal viewing galleries and an open terrace. At a height of 133 meters is a revolving restaurant. On the plaza around the tower are banisters with uncountable love locks.
At night, the tower is illuminated in bright colors and is a vital part of Seoul's cityscape. Interestingly, the color scheme reflects the fine dust pollution in the city with blue being good, green still okay, yellow poor, and red – you probably guessed so – very bad.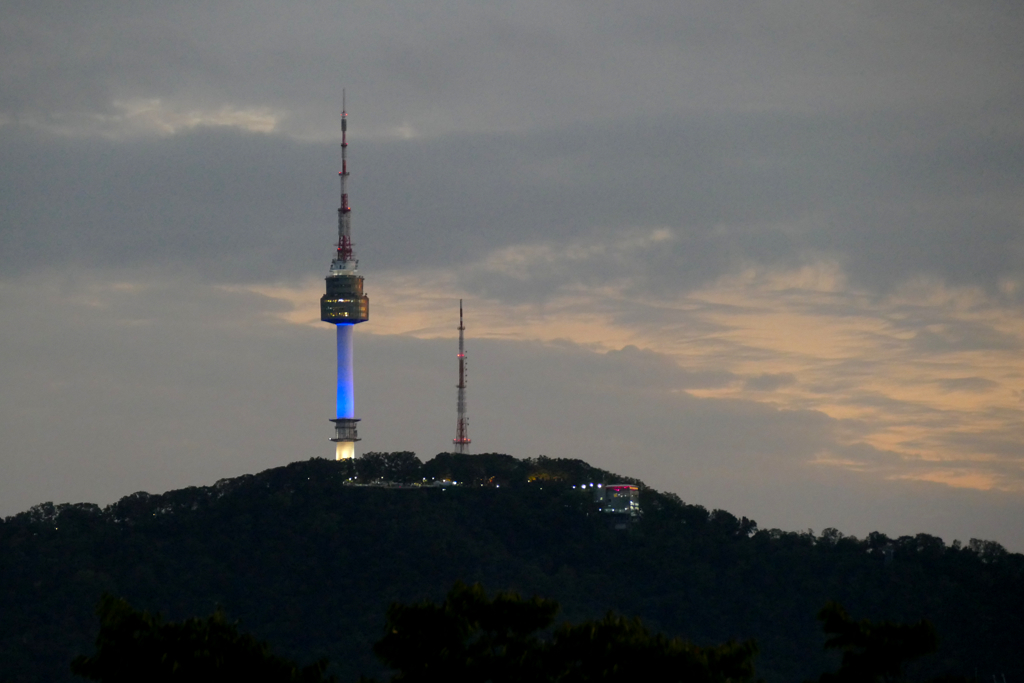 The observation platform of N Seoul Tower can be accessed every day from 10 a.m. to 11 p.m. for KR₩ 21,000. It's one of the attractions that make the purchase of a Discover Seoul Pass* absolutely worth your money.
Sungnyemun Gate
Northwest of the Namsan Park is Sungnyemun Gate. It is one of the eight gates that were part of the city's fortress wall. King Taejo commissioned it in 1395 as the largest wooden building in Seoul. However, it was largely redesigned during the reign of King Sejong in 1447.
The city wall was initially built to protect the city from tigers! In 1907, it was largely demolished and remnants stand on hills in the north and south of the city.
Leeum Museum of Art
On the southern side of the Namsan is the Itaewon neighborhood which is arguably one of the most westernized parts of Seoul with tons of international eateries and a vivid nightlife. It's also the center of the LGBTQ community and home of some of the hippest cultural venues.
One of them is the Leeum Samsung Museum of Art. The museum is divided into two parts. The main part was designed by Swiss architect Mario Botta and houses traditional Korean art of which 36 artifacts are assigned national treasures. The collection contains paintings and sculptures, stoneware and porcelain, crowns and jewelry, as well as Buddhist art.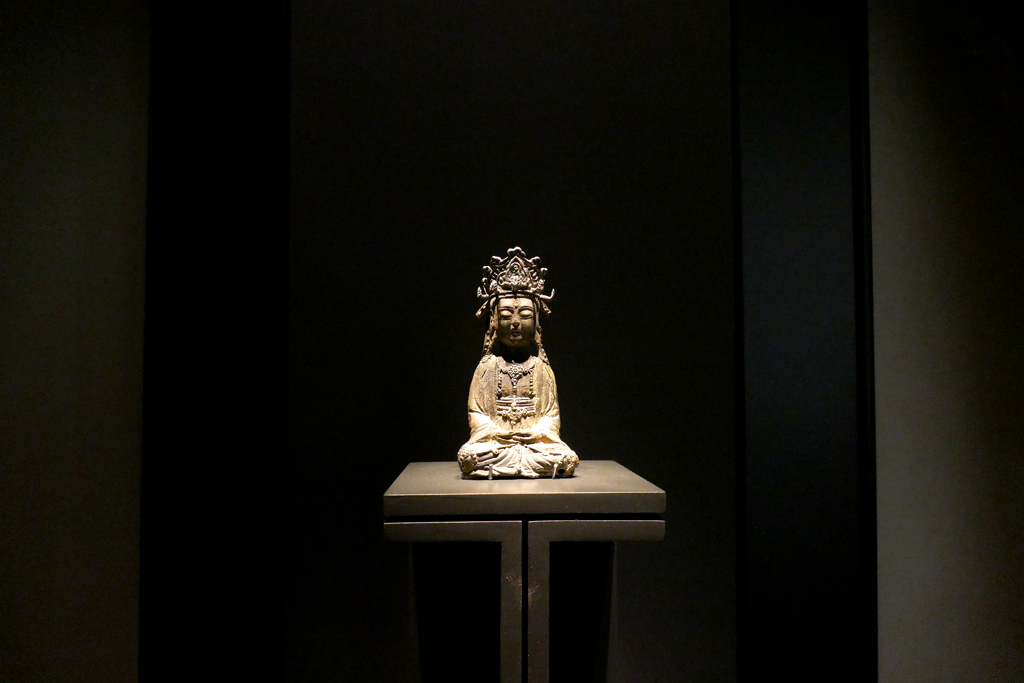 French architect Jean Nouvel and his Dutch colleague Rem Koolhaas designed the other section where temporary exhibitions of contemporary art are shown.
The museum is open from Tuesday to Sunday between 10 a.m. and 6 p.m. A visit to the permanent collection is free, the price for temporary exhibitions is usually KR₩ 12,000 and included in the Discover Seoul Pass*.
Book Park Lounge
One of my absolute favorite hideouts in Seoul's urban jungle is the Book Park Lounge located just a stone's throw from the Leeum Museum of Art. It is a café-bookstore spreading over two levels of the culture complex Blue Square. It houses a collection of over 3,000 books ranging from fiction to technical texts. Those books are available in Korean, obviously, but also in English and you find them in a bookshelf that passes through five floors! However, the books at Book Park are not for sale nor can they be borrowed.
So what's the point, how can you enjoy literature at the Book Park Lounge? Well, there are nooks and two cafés where you can unwind and read as many oeuvres as you like. There you can enjoy a snack and a beverage with your book.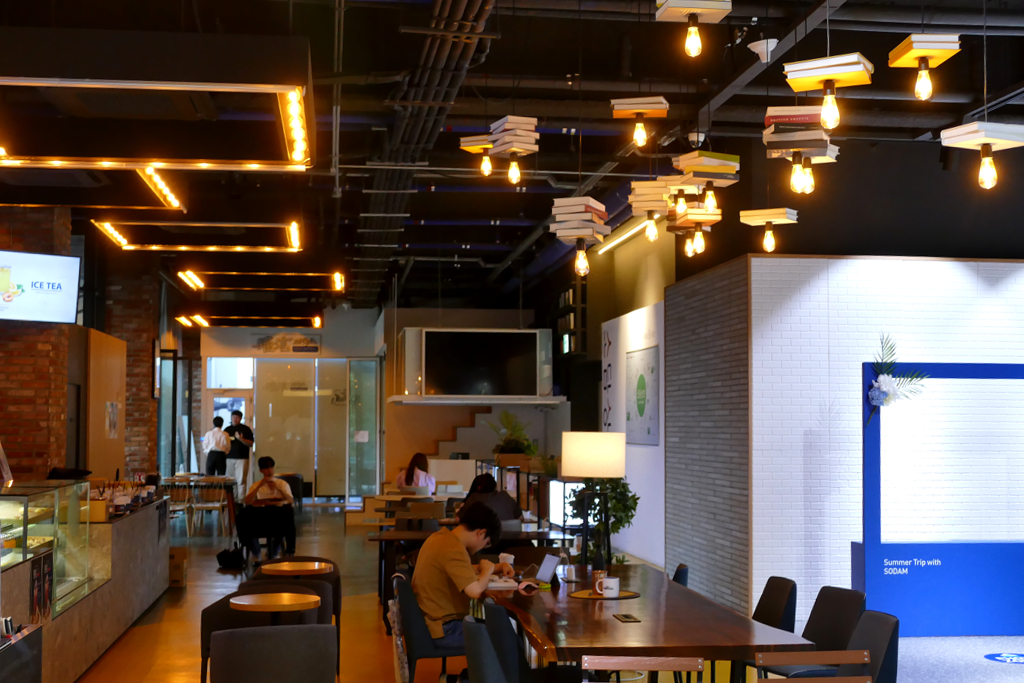 While the café on the second floor is freely accessible, you have to pay an entrance fee to hang out at the premium lounge on the third floor. For KR₩ 9,900, you can obtain a day pass that even includes a beverage.
They also organize cultural events such as lectures. Also, you'll find a small shop selling beautiful stationery and small toys on the second floor.
As a matter of fact, the Book Park Lounge became a popular filming location and can be seen in Rich Man, Romance is a Bonus Book, Psychopath Diary, Must You Go, The Witch's Diner, and Nevertheless.
The Book Park Lounge is open from Tuesday to Sunday between 11 a.m. and 10 p.m.
Dongdaemun
After the grand tour of South Korea, I spent the second half of my stay in Seoul in the Dongdaemun area and actually loved it as much as my temporary home below the Namsan. As a matter of fact for the same reason: It was conveniently located but most importantly, it had such an authentic, homey vibe to it. I enjoyed all those street vendors, the Jummahs in colorful slacks pulling their shopping carts behind. The simple, cheap, yet absolutely delicious eateries where old gentlemen sheepishly observed me ordering crispy Korean chicken – yap, with a dash of hot sauce, please, I might be a Westerner, but I'm not a wimp.
In the olden days, today's district was of the Dongdaemun city gate, hence, outside Seoul's city walls. At that time, it was a rural region. However, as Taejo, the founder of the Joseon Dynasty, was buried there, the place gained spiritual significance.
The modernization of the previously agricultural area began at the end of the 19th century. From 1899 on, Korea's first tram ran to Cheongnyangni across Dongdaemun. Yet, the current city district was only founded in 1943. During the 1960s and 1970s, the increase in population and the associated construction boom were overwhelming, even by Seoul's standards.
Today, Dongdaemun is an extraordinary mixture of a hyper-modern boomtown and traditional village-like quarters where time seems to stand still and traditions live on. I'm happy to introduce both sides, and I begin with one of the most impressive buildings of all of Seoul.
DDP │ Dongdaemun Design Plaza
I'd argue that the Design Plaza, although inaugurated only in 2014, is the belly of Dongdaemun as all the other attractions – and there are quite a few – seem somehow being arranged around it.
Since the beginning of the Joseon Dynasty, the site where the plaza stands now has been home to a fortress as part of Seoul's city wall. It was demolished by the Japanese colonial power in 1925. Eventually, the multi-purpose Gyeongseong Stadium was opened there in 1926 to celebrate the wedding of the Japanese crown prince.
On August 16, 1945, a quarter of a million people gathered in the stadium to celebrate liberation from the Japanese hegemony. Until the construction of the Jamsil Stadium in 1980, it hosted many important sporting events.
Finally, the stadium was demolished in 2007 and the Dongdaemun History And Culture Park opened two years later in the same spot. Iraqi-British star architect Zaha Hadid designed the Dongdaemun Design Plaza along with Samoo Architects & Engineers. The venue opened in 2014.
The building complex is divided into sections and hosts various events lik fashion shows, forums, conferences, and exhibitions ranging from BTS's Dynamite Looks to an immersive show of Alphonse Mucha's art nouveau paintings. The entrance fee depends on the exhibition you want to see and is often free of charge.
The DDP │ Dongdaemun Design Plaza is open every day from 10 a.m. until 8 p.m.
Ihwa Village
I told you above not to stress about not getting to see all the alleged must-sees since you'll certainly find many alternatives. A perfect example is the Ihwa Village. While each guidebook and every YouTuber is raving about the Bukchon Hanok Village, Ihwa Village remains far less popular.
It is one of Seoul's oldest neighborhoods and is located just below Naksan Park. In the past, it was one of Korea's so-called moon villages, poor working-class neighborhoods built on the steep slopes of hills. The small houses of the Ihva Village are stuck to the old city walls. Here, refugees squatted after the end of the Korean War.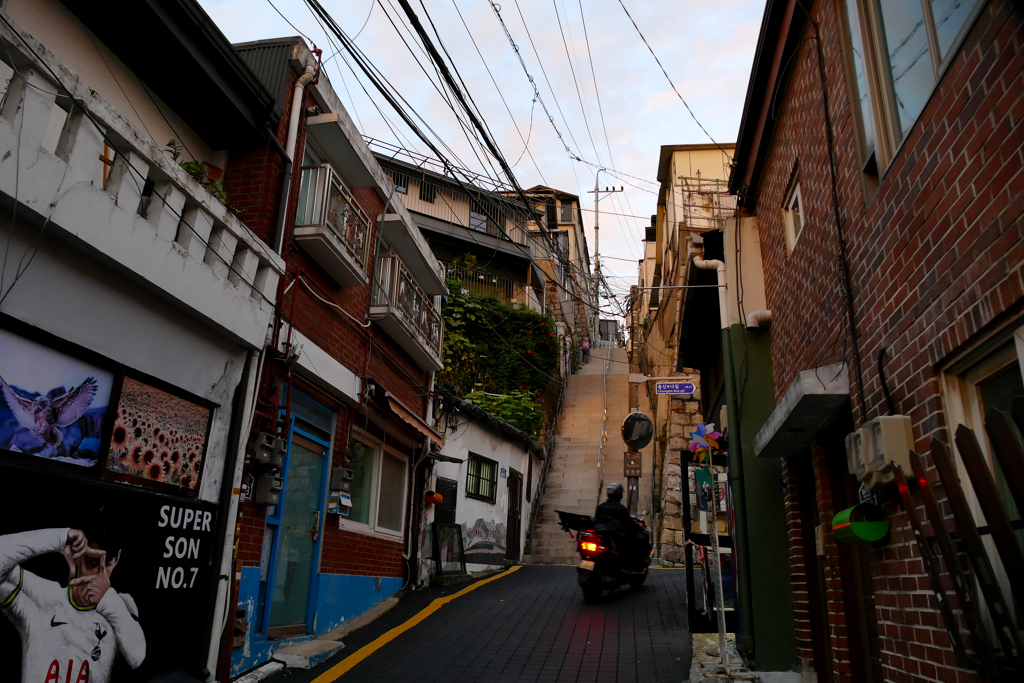 By 2006, the Ihwa Village was decaying and designated for demolition. But then, the local government came up with their Art in the City campaign which was designed to improve conditions in some impoverished areas through art. About 70 artists contributed murals and installations.
But this alleged improvement didn't make the villagers happy for long. Over the years, the artwork on the facades – and probably also the picturesque alleys – had attracted large tourist crowds. Taking pictures without respecting the residents' privacy, they are loitering, littering, and laughing until late.
Therefore, in April of 2023, five residents had enough: Unwilling to bear the noise and disturbance any longer, they covered up some of the murals with gray paint.
So please, don't be that ugly tourist. Be respectful and keep it down.
By the way, if you are interested in learning more about Korea's improvement of so-called Culture Villages in different parts of the country, I highly recommend my post Culture Villages in Korea: Real People, Real Art
Naksan Park
I actually passed through the Ihwa Village on my way to the Naksan Park. It is on a 125-meter-high mountain of the same name and is highly recommended for its views. You should go there for the romantic panoramic view of the city especially after dark.
What? Aren't you a solo travelling woman? I hear you asking.
Have you lost your mind sending solo travellers – or any other person, for that matter – into a park after dark? I hear you screaming.
Now look, although I had my problems with some aspects of Korea, I really enjoyed the general safety. This being said, I don't recommend climbing the Naksan by yourself at midnight. Although Korea is a very safe country, you never know. But if you go uphill anywhen between let's say 7 and 10 p.m. and don't crawl through the undergrowth but stay on the trails, you won't be alone. There are tons of romantics hanging out on the Naksan, mesmerized by the illuminated cityscape.
I've mentioned a couple of times that parts of Seoul are very hilly. However, I'd argue that no other part is as steep as the streets up in this part. Hence, you should be particularly careful when going back down especially if it's already dark – those streets are crazily precipitous.
However, if you want to save money and still enjoy amazing panoramic views of Seoul, Naksan is your best choice.
Gangnam
When you stroll through Gangnam today, it's unimaginable that until the early 1980s, it was Seoul's least developed neighborhood. Then, prodigious development measures transformed it into one of the most affluent and influential neighborhoods in the entire country. It's actually nicknamed the Beverly Hills of Korea.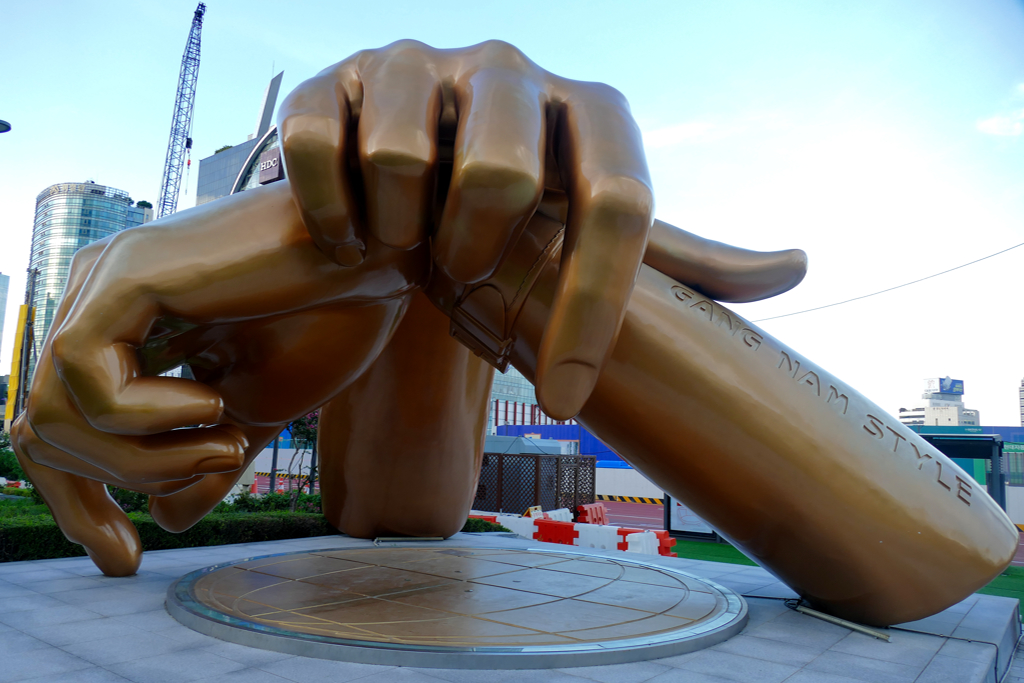 Yet, Gangnam gained international fame only in 2012 when a certain Park Jae-Sang, the son of a wealthy family in that very neighborhood and better known as PSY, exceeded an incredible one billion views on YouTube with his smash hit Gangnam Style. Definitely a first in the platform's history. To this day, Gangnam is considered the center of K-pop.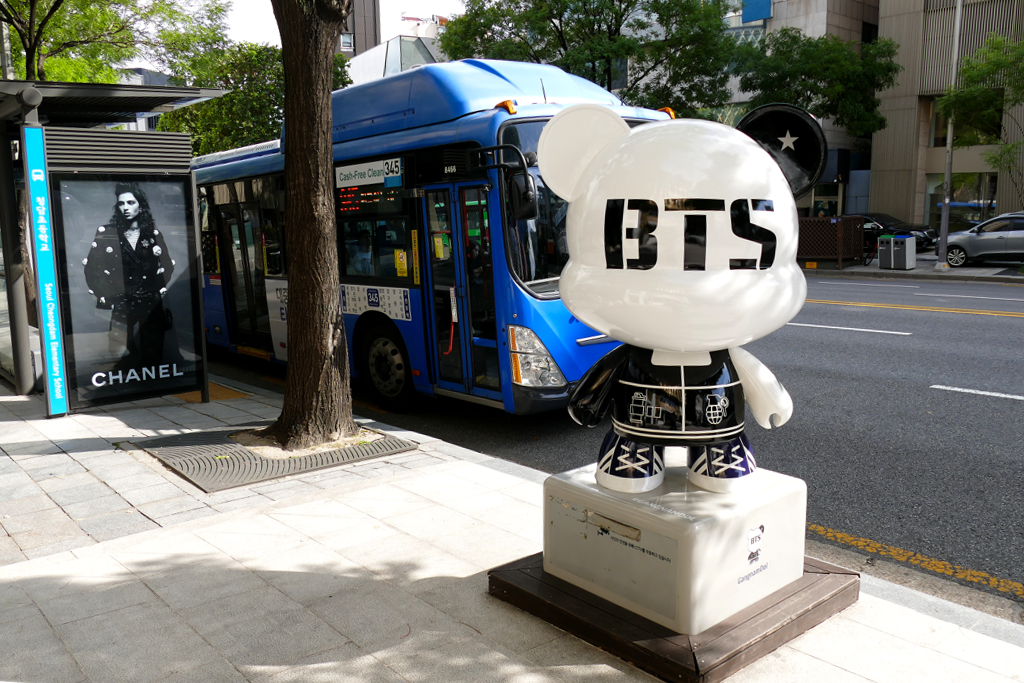 But Gangnam is also home to numerous IT and Internet companies. And people don't only make money in Gangnam, they also spend it there: Apart from the Starfield Coex Mall, there are also the Parnas and the GFC Mall. In front of the Galleria Department Store, is a 3-meter-tall PSY Gangnam statue, and seventeen other bears are leading you down the so-called K-Star road which is lined with the most luxurious brands.
Bongeunsa
Nevertheless, apart from Gangnam's temples to consumerism, there are more traditional places of worship, and one of them is the Bongeunsa Temple located across the street from the COEX mall.
It was founded in 794 by Yeon-hoe, the highest-ranking monk of the Silla period. During the subsequent Goryeo period, the temple fell into disrepair. However, it was rebuilt by Queen Jeonghyeon in 1498.
During the Joseon Dynasty, Confucianism was the state religion. Buddhism was repressed and Buddhist monks were on the lowest social level and even not allowed to walk through the city gates. In the 16th century, King Myeongjong improved the status of Buddhism. In 1551, Bongeunsa became the main temple of the Jogye Seon order.
Since the temple burned a couple of times and was severely damaged during the Korean War, what you see today stems from far more recent times.
This temple is open every day from 5 a.m. to 9 p.m.
Starfield Coex Mall
COEX Mall is a shopping and entertainment center. It is part of Seoul's enormous World Trade Center. As a matter of fact, the COEX Mall is the world's largest underground shopping center. Not only does it house 204 shops, a multiplex cinema and an aquarium. There are also 91 restaurants catering to all tastes and budgets.
I must admit, I love to eat an early dinner in food courts when travelling. Usually, they have a wide choice of stands and eateries to choose from, prices are reasonable, and the self-service is fast so that I don't have to sacrifice too much of my precious exploration time. It's certainly not for gourmet travellers, but for me, nice food courts are bliss.
The COEX Mall is open every day between 10.30 a.m. and 10 p.m.
Starfield Library
Located in the very center of the COEX Mall and arguably its most Instagrammed famous feature is the Starfield Library. It is a public space where anyone can just grab a book, sit down, and take a break at one of the affiliated cafés. No, you don't have to learn Korean as wide sections of the library consist of foreign books. After all, the 13-meter-tall bookshelves hold a little something of 50,000 volumes. However, if you prefer screen over paper, there are iPads you can use to read e-books. In addition, you can browse about 600 Korean and international magazines!
As the iconic shelves stretch over two floors, you really have to be careful when going up the escalator as the particular beauty of those bookcases and the enchanting atmosphere of the place can be quite distracting.
On a regular basis, there are various events taking place such as meetings with authors, discussions about literature, poetry readings, lectures, and more.
All of this sets Starfield Library apart from any other library and although it's really not an insider tip anymore, it definitely is one of Seoul's most iconic must-see places.
The library is open every day from 10.30 a.m. to 10 p.m. and admission is free.
Seolleung and Jeongneung
Before coming back to Seoul, I had spent a couple of days at Gyeongju, Korea's former Imperial city famous not only for many varieties of amazing food but also for its over 200 tumuli, hence burial mounds. If you have the time to visit Gyeongju, do it as it is really a marvelous place.
However, if for whatever reason you cannot make it there, you can still see how Royalties were put to rest in ye olden days by visiting Seonjeongneung, a burial ground from the Joseon dynasty located right in the heart of Gangnam.
It is quite amazing to stroll around burial grounds of such magnitude in the very center of a busy'n'bustling district like Gangnam. Between all those broad roads and skyscrapers, Seonjeongneung is definitely a great place to rest – pun intended. Obviously, it doesn't have to be the final one for all of us.
Three members of the Joseon dynasty are buried here: In the Seolleung burial ground, King Seongjong, the 9th monarch of Joseon, is resting in the westernmost tomb. Not far from him lies his third wife, Queen Jeonghyeon. She outlived her husband by 35 years. Statues of civilian and military officials and their horses guard their graves. South of the tombs is a single T-shaped shrine.
The other tomb is Jeongneung, located at the easternmost part of the site. This is the burial ground of King Jungjong, the 11th monarch of Joseon. He was the second son of Seongjong.
The premises are open from Tuesday to Sunday between 6 a.m. and 9 p.m. The entrance fee is only KR₩ 1,000, yet, it is included in the Discover Seoul Pass*.
Sincheondong
Before we explore this inspiring neighborhood in Seoul's southeast, let's talk about Lotte.
Lotte Corporation is a South Korean multinational conglomerate enterprise that has evolved from selling chewing gum to children in post-war Japan. As soon as you land in Korea, you run into Lotte everywhere: There are Lotte department stores, Lotte hotels, there's a Lotte theme park – it would be easier to rename the country. Since in Germany, Lotte is a not uncommon female name, I was a bit surprised. Until I read the company's history.
In 1948, a member of the Korean community in Japan by the name of Shin Kyuk-Ho founded a small business in Tokyo. Shin Kyuk-Ho was a big fan of Germany's greatest prince of poets of all times, the one and only Johann Wolfgang von Goethe. In 1941 at the age of 19, he had enthusiastically read Goethe's novel The Sorrows of Young Werther. Eventually, he named his newly founded company after the novel's main character Charlotte, abbreviated to Lotte. Charlotte, however, is the name of premium auditoriums in movie theatres run by the Lotte company.
In 1967, Shin expanded the Lotte imperium to his ancestral country South Korea. Today, the corporation consists of over 90 business units and has about 60,000 employees.
If Goethe only knew.
Lotte World Tower
One of the most impressive features of the Lotte brand is the Lotte World Tower. It is the fifth largest building in the world and was designed by the American architects Kohn Pedersen Fox.
The Lotte World Tower has 123 floors, rises 555 meters, and is used as a residential, office, and shopping complex. Traditional Korean ceramics inspired the architects to design the tower tapering towards the top and clad in silver insulating glass.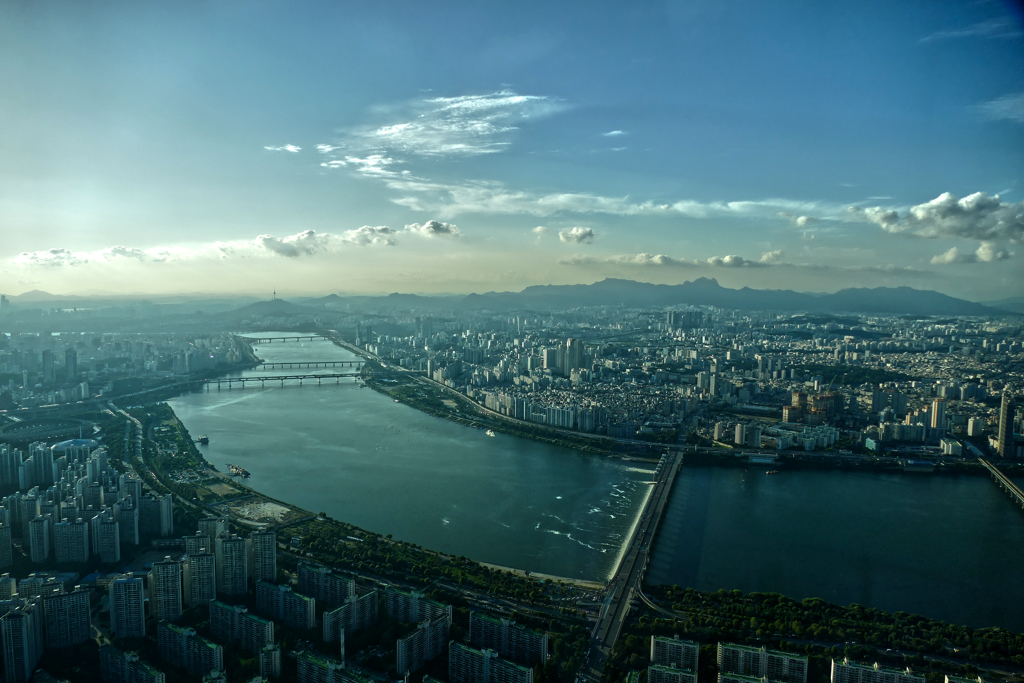 The eleven-meter-long sky bridge connecting the upper two towers opened in 2020 and can actually be visited on a guided tour.
I am not crazy a daredevil, therefore I visited the viewing platforms called Seoul Sky. They are located on floors 117 to 123. An elevator called the Sky Shuttle takes you up there at a speed of 600 meters per minute. Seoul Sky consists of an exhibition zone, an observation deck, a so-called sky deck, an open terrace, a café, and a lounge. The Sky Deck, located at 478 meters, holds the Guinness World Record as the highest glass-floored observatory in the world. Nevertheless, all levels offer incredible panoramic views of the entire city. My tip: Get there about one hour before sunset. This way, you'll get amazing views of the scenery by day, during the golden hour, and after dark.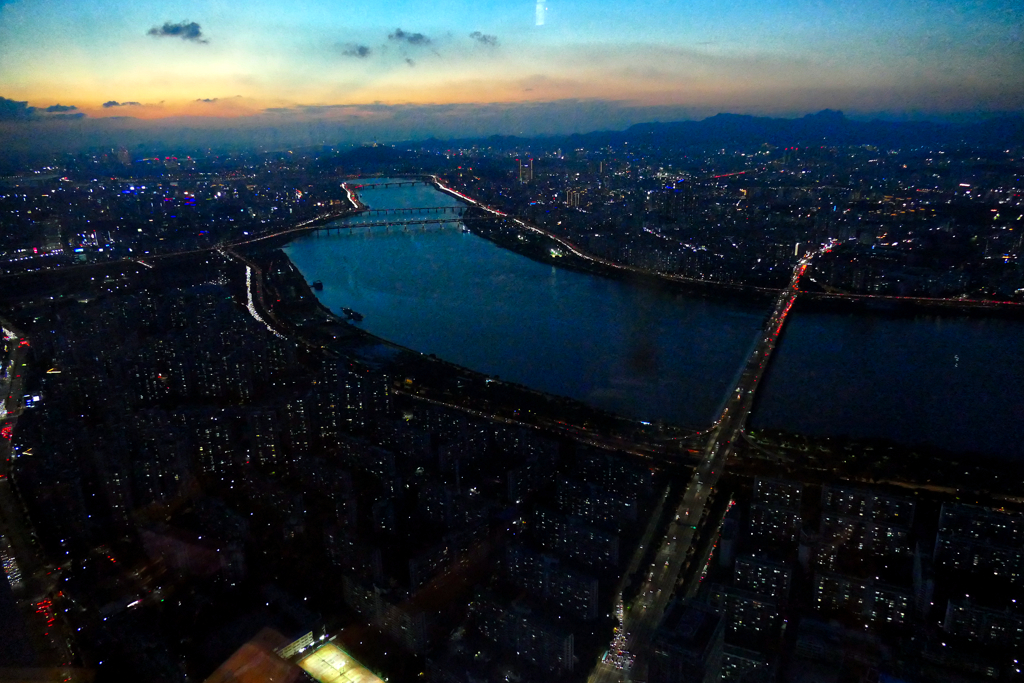 Seoul Sky can be accessed every day from 10.30 a.m. to 10 p.m., Fridays and Saturdays even until 11 p.m. There are two types of observatory tickets available: A regular ticket costs KR₩ 29,000 and is valid on a designated date and time. A Fast Pass costs a whopping KR₩ 50,000 but grants immediate admission.
How the Other Half Lives
While the Sky Shuttle rushes plebs like you and me to the sky decks, it passes the Lotte Signiel Residences. Those are apartments located on the 42nd to 71st floors. Here, the price per square meter of around 23 million ₩on. And while the equivalent of 17,000 US$ sounds much less hurtful, they are the most expensive real estate prices in all of Korea.
Above the Signiel Residences is the luxury hotel Signiel Seoul on the 76th to 100th floors. It is the country's first six-star hotel. The rate for the 235 rooms ranges from 650,000 ₩on or 480 US$ to 24 million ₩on or almost 18,000 US$. Yap, per night that is. Three-time Michelin star holder Yannick Alléno cooks for foodies in the hotel restaurant on the 81st floor.
Lotte World Mall
Apart from the tower, the Lotte World Mall Complex consists of several other buildings including the Lotte World Mall and Avenue L, which houses the Avenue L department store and a Lotte Duty Free Shop. The Lotte World Mall complex not only contains large department stores, but also the Lotte Concert Hall, Lotte Cinema, and Lotte World Aquarium. In its vicinity is Lotte World, the largest indoor theme park in the world according to Guinness World Records.
Man, Shin really got what could be gotten out of the name!
Not only is Lotte Cinema the largest cinema in all of Asia. Its Supreplex G screen is also the largest screen with a width of 34.6 meters and a height of 26.8 meters.
While the Aqua Planet Aquarium on Jeju Island is Korea's largest aquarium, Lotte World Aquarium is the longest one. It consists of thirteen themed zones that represent different ecosystems. I'm actually not a big fan of aquariums. Just like zoos, they give the me creeps.
But if you want to visit, note that it's open every day from 10 a.m. to 10 p.m. and the general entrance fee is KR₩ 35,000. There is also a package including the Aquarium and the Seoul Sky for KR₩ 56,000.
Is it just me or does anyone else also get exhausted by all these superlatives?
Seoul Book Bogo
The highest this, the largest that – soon, there comes a moment when I think, gimme a break. And this break I took at the Seoul Book Bogo just a short walk from the Lotte madness. Visiting this book repository has a feel like travelling back in time into a safe space where higher faster further was no virtue. A place where you are surrounded by silence and contemplation – and 120,000 old books that can tell tales from a tranquil era before our times.
The Book Bogo used to be a warehouse and was then converted into a humongous bookstore in 2019. Actually, it consists of 25 secondhand bookstores. It also contains a library, and they organize cultural programs from time to time.
The Book Bogo is open every day from 10.30 a.m. to 8.30 p.m. On weekends, they are closing only at 9 p.m.
Hongdae
Hongdae lies west and is a bit off Seoul's very city center. It is a trendy district, artsy and stylish, and in the immediate vicinity of Hongik University. It was the art students that formed the district's uniqueness as a space for art and culture. Also, graduates often stayed in the neighborhood as it offered inexpensive housing and space to work as artists. Over time, the neighborhood developed into Seoul's most popular district for nightclubbing.
While the Hongdae used to be mainly busy in the evenings, for a couple of years now, there's been a lot going on in the district's numerous streets also during the day. You'll see street artists perform basically around the clock, and you can shop till you drop 24/7.
Coconut Box
One of Hondae's newest hip venues is the Coconut Box. It is a subterranean lounge where you chill and play at seven experience and exhibition spaces.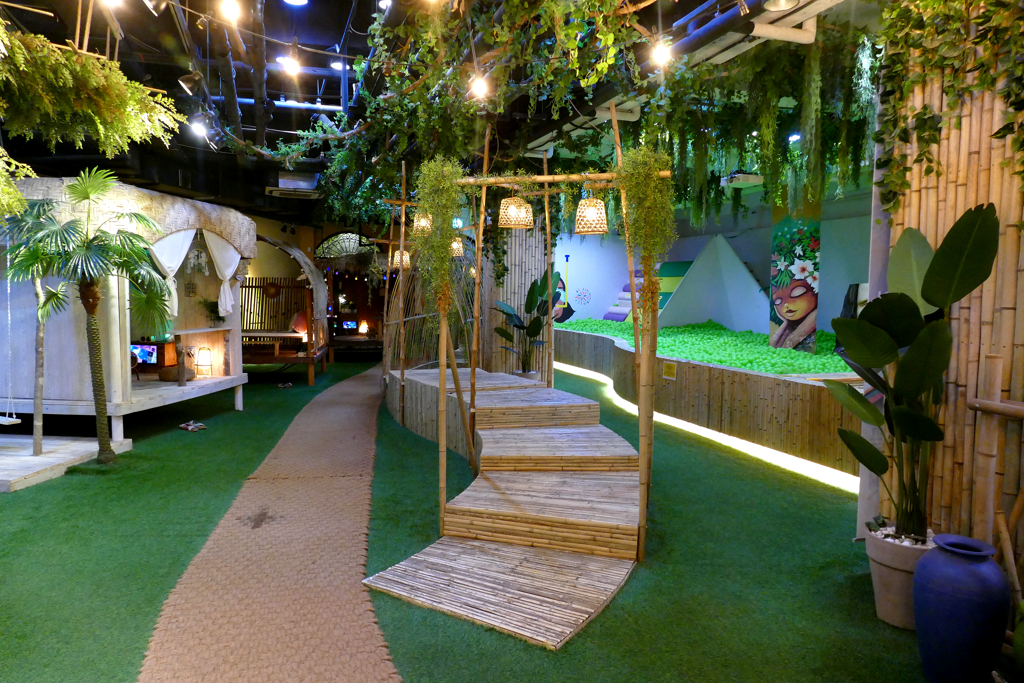 Listen to music, explore NFTs, and immerse yourself in media exhibitions. You can also take a dive into one of their ball pools or a breather in one of their 32 differently-themed bungalows. Obviously, they are also serving snacks and tropical drinks.
The Coconut Box opens every day from 11 a.m. to 9 p.m. and the general entrance fee is KR₩ 25,000. This admission is included in the Discover Seoul Pass*. However, you have to pay extra if you want to use one of the bungalows as well as for food and drinks.
Yeouido
Back in the day, Yeouido which is located on the southern bank of the Han River, was a juicy pasture for sheep and goats. It actually remained mostly uninhabited until the construction of Korea's first airport in 1924. However, as the area was prone to flooding, the airport could not be used during the summer rainy season. Therefore, in 1958, Gimpo International Airport was constructed and catered to commercial flights. To this date, it is one of Seoul's airports, albeit, by far not as significant as Incheon.
Starting in the late 1960s, major housing developments were erected in the area, and Yeouido also became Seoul's main finance and banking district. It is home to the National Assembly Building, Korea's Financial Investment Association, the posh 63 Building, the Parc1 Tower as well as the headquarters of LG.
63 Building
When it was completed in 1985, the so-called 63 Building was the tallest building outside the USA. On the occasion of the 1988 Olympic Games, it was intended to be a striking landmark in the city. Yet, only one year later, it was surpassed by the 2 meters by the Rialto Towers in Melbourne. At 249 meters, the skyscraper doesn't even make it into the top 100 nowadays.
Although the 63 building quickly lost its pole position when it comes to height, there are still a couple of other superlatives the designers can be proud of. The building's façade consists of 14,000 glass panels and is completely gold-plated. This makes it the world's tallest gold-covered structure. A total of around 5 kilos of 24-carat gold was used for the façade.
On the top floor is an observatory as well as an art gallery. Actually, these are the highest exhibition rooms in the world, so there you have it.
On the ground floor of the 63 building are an aquarium, a wax museum, and a cinema.
The 63 building is open every day from 10 a.m. to 10 p.m. The general entrance fees are 11,000 KR₩ for the observatory and art gallery, 15,000 KR₩ for the aquarium, 13,000 KR₩ for the wax museum, and 27,000 KR₩ for the IMAX cinema. You can combine the attractions into cheaper packages. Also, the observatory and the aquarium are included in the Discover Seoul Pass*.
On the Banks of the Han River
Below the 63 building is the Hangang Park. It stretches alongside the Han River and actually consists of twelve individual parks. Built in the 1980s, it was created as an environmentally friendly space for Seoul's citizens. And as I hurried to the Eland jetty on a Saturday, the greeneries were packed with families and couples picnicking and enjoying the beautiful day.
I did so too, however, not by but on the waters as I joined a ferry cruise on the Han River. As you go on a cruise, you can choose from various options during the day, during sunset, or at night, with or without lunch or dinner.
I opted for what I would call a regular cruise that took us from the jetty to the Dongjak Bridge and back. We passed the National Assembly building, Bamseom Islets, and other places of interest. Yet, most of the Korean families on board were rather enthusiastic about feeding the seagulls which I hate since I'm always afraid they might drop something off, if you know what I mean.
Anyway, it was fun and most importantly relaxing to just sit and relax for about 40 minutes.
This regular cruise is scheduled from Tuesday to Friday at 11.30 a.m., 1 p.m., 3 p.m., and 4 p.m. and it costs 16,900 KR₩. On the weekends, they call this cruise the OST Music Cruise as there is a lady singing and playing an electric piano. Then, the ferry departs in addition to the above-mentioned hours also at 2 p.m. and it costs 17,900 KR₩. However, the cruise is included in the Discover Seoul Pass*.
What's Missing
No, this guide is by far not complete. I actually wonder if someone who has not spent at least three months in Seoul even could write a complete guide. Probably not since the city is so dynamic and everchanging that you had to start from scratch as soon as you finish. So please take my recommendations of what to see and to do in Seoul as an inspiring snapshot. It is a basis with a little bit of everything, now you can add and remove activities to your liking. I'd be very happy if you shared your own ideas in the comment section below so that we all can profit from each other's travels.
I will certainly visit Seoul again in the near future and I'm already very curious about what will have changed by then.
Don't forget: Especially when traveling, the way should be the goal.
Practical Information
How to Get There
Plane
The vast majority of visitors enter South Korea through the Incheon Airport about 55 kilometers west of Seoul. After arrival, immigration is normally a piece of cake. Until the end of 2024, citizens of 22 countries don't even need a K-ETA anymore. You can get all the information on touristy visits on K-ETA's website.
In the arrival hall, everything is written also in English, you can get your first ₩on from the so-called global ATMs, obtain a local SIM Card*, pick up a pre-booked Discover Seoul Pass*, and head downtown.
While everybody is raving about the quick shuttle by train to Seoul station, nobody tells you about the far more convenient option which is taking the Airport bus. At KR₩ 17,000, it's more expensive, though, but so much more comfortable.
There are three bus lines serving Incheon Airport: #6001 goes to Dongdaemun, 6002 to Cheongnyangni Station via Dongdaemun, #6005 goes to City Hall, #6011 to Hongdae, and #6015 to Myeongdong Station. Since those buses stop at various other locations on their way from the airport to the final destinations, they are practically covering the entire city. Obviously, you can check out where to go and which bus to take on Naver – I'm introducing this indispensable App below.
Although they take longer than the train, I'd argue that they are still the faster and far more comfortable option as depending on where you're staying, they are almost a door-to-door service. They take about 30 minutes longer than the train, but then you have actually arrived. You don't need to log your luggage from the airport train to the subway or a local bus to continue straight to your final destination. So yes, unless your accommodation is right next to Seoul station, I'd always recommend taking one of the airport buses.
Train
There are four train stations in Seoul: Seoul Station, Yongsan Station, Cheongnyangni Station, and Yoeungdongpo Station. Hence, double-check from which station your train is leaving as they are pretty far from each other.
You can buy tickets at the railway station from vending machines as well as real people and supposedly on the internet. Nevertheless, some fellow travellers told me that they couldn't pay with their international credit cards. I don't know since I always bought my tickets before departure at the station.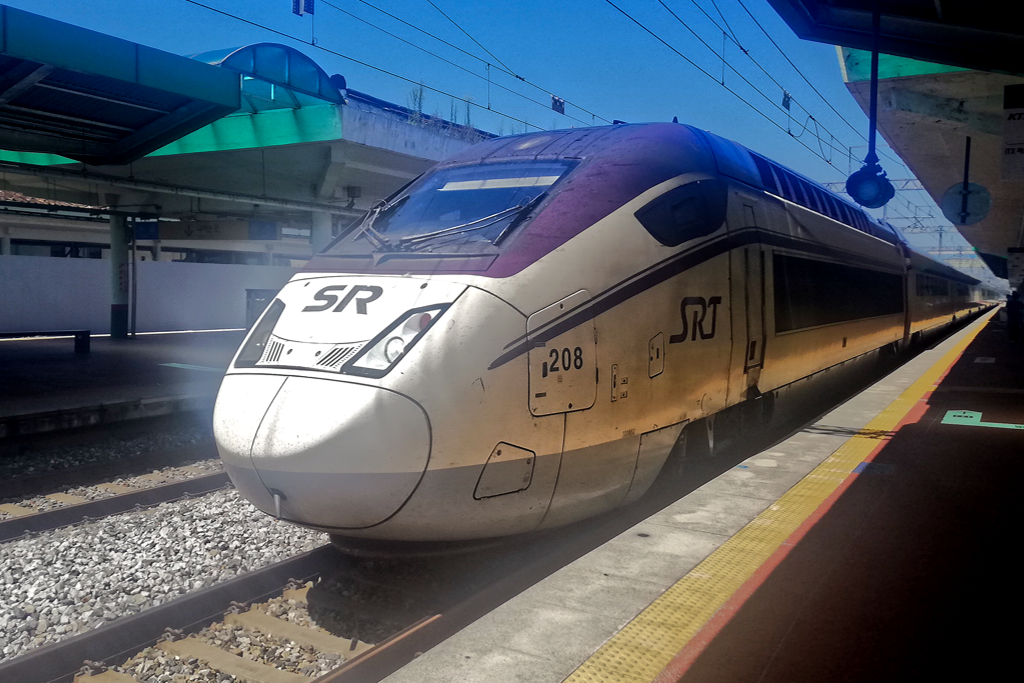 Obviously, train tickets – even those for the KTX bullet train – cost just a fraction of airfare, yet trains like the KTX or SRT take you to some destinations in the same amount of time. Then, there is also the KORAIL Pass for tourists. However, I don't know how much time you have to spend on those trains to get your money's worth out of them as the cheapest pass costs KR₩ 121,000 for two consecutive days. In comparison, I paid KR₩ 21,000 for a KTX ticket from Andong to Seoul.
Yes, the good news is that my KTX ticket cost only KR₩ 21,000 and I bought it 48 hours before departure. The bad news is that 48 hours is a very short timeframe especially if you intend to travel on a Monday morning. I got my ticket and I got it cheap, but I got no seat.
Does this mean I had to stand for two and a half hours?
Well, as I played it smart, I didn't. Yet other passengers actually did.
Get Up, Stand Up – How to Survive a Standing Ticket on a KTX Train
So, what did I do to secure a seat?
First of all, I boarded the train very early, about twenty minutes before the departure. Obviously, this option only applies if you are boarding at the starting station. In between the train carriages where the doors are, there are foldable seats that early birds like myself can grab on time.
You can also just grab one of the seats that remain vacant for a period of time as the passengers may only board the train at the following stations. However, you'll have to give those seats up as the rightful seat owner boards the train.
Obviously, the standard seats are much more comfortable than the folding ones. However, there is a high risk of having to give them up again very soon.
When my train left Andong half-empty, I was tempted to sit down in one of those comfortable seats. But then I saw that the train would stop at seven stations before it reached Seoul. If I were evicted from my seat, my slightly more uncomfortable folding seat would certainly be taken and I would have to stand for the rest of the journey. Two and a half hours in an upright position is a long time.
Bus
As a matter of fact, I took the train only twice during my entire three weeks in Korea as the bus stations were often more conveniently located. Also, I went to places where there were no train stations.
For travel between cities, towns, and villages, so-called Express and Intercity buses are a great option. They are fast, clean, and comfortable. Fares vary a bit depending on the bus type and the time of the day. However, in comparison with other countries, they are always rather cheap. I always paid KR₩ 10,000 to KR₩ 15,000 for four-hour trips.
You can buy tickets right at the bus terminals from vending machines or very helpful clerks. A shoutout to all the lovely ladies who recommended connections and explained to me what to do despite their lack of English.
There are several express bus terminals in Seoul: the Seoul Express Bus Terminal, the Central City Terminal, the Nambu Terminal, the Dong Seoul Terminal, and the Sangbong Intercity Bus Terminal. Hence, you need to make sure to go to the right termin. Also, Express buses and Intercity buses are oftentimes at different terminals. Yet, for instance, at the bus terminal in Gangnam, they are right next to each other. Howsoever, if you search for the best route on Naver, the App will lead you to the correct hub.
How to Get Around
Public Transport
Now, inner-city transport in Seoul is bliss! There is a reliable bus service and a comprehensive subway net. A single trip costs as little as KR₩ 1,200 when you pay with your T-Money card.
For foreign visitors, there are also day passes that you can buy at the so-called Tmoney Town located within Seoul Station. Mind you, they are only open on weekdays from 9 a.m. to 6 p.m.
| | |
| --- | --- |
| Day | Price |
| 1 | KR₩ 15,000 |
| 2 | KR₩ 23,000 |
| 3 | KR₩ 30,500 |
| 4 | KR₩ 47,500 |
| 5 | KR₩ 64,500 |
I travelled a lot criss-cross town and I'd argue that you only save money with this so-called Metropolitan Mpass when you use it for at least five days. With the one-day version, you'll probably lose money unless you spend the entire day on the subway, with the two- and three-day versions, you might break even at best.
However, don't underestimate the size of the city and the time you'll spend on public transport. No matter where I went, it always took me at least 30 to 45 minutes to get there. If I went to a place on the outskirts, I spent easily up to one and a half hours on a bus or subway.
Also, during rush hour in the morning and in the late afternoon, the means of public transportation tend to get extremely crowded. You might want to consider this when planning your itineraries for the day.
Walking And Cycling
Seoul is a very safe city, you can explore neighborhoods by walking without any trouble. However, as I mentioned above, it's huge and distances much longer than they appear on Google or Naver maps. Don't even think about exploring Seoul's city center exclusively by walking; take this from a traveller who easily walks around 20 kilometers per day when on the road.
Also, keep in mind that alluring parts of the city can be hilly with extremely steep slopes. Make sure to wear sensible shoes like Birkenstocks, trainers, or even light hiking boots.
Seoul is also a great city for cycling. In 2015, the local government introduced a public bike-sharing service that can be used by anyone. There are 2,600 rental stations around Seoul. First, you need to download the Ddareungi App. Mind you it's sometimes spelled Ttareungi.
There, you select Foreigner and the kind of pass you want: Choose either a one-day pass for one hour for KR₩ 1,000, a one-day pass for two hours for KR₩ 2,000, or an all-day pass for 24 hours for KR₩ 5,000. Then you pay either by credit card or with your Discover Seoul Pass*.
The App will show you the rental stations where you select a bike and click the Rental button.
At the station, scan the QR code below the bike saddle or enter the 5-digit bike number.
The lock lever opens automatically, and this is when the clock starts ticking.
To return the bike to the station, lower the lock lever all the way down. The return is completed once you hear a voice confirmation and receive a message on your phone.
Visiting Organized
Although I'm an avid solo-travelling woman, I sometimes like to join organized tours. Not only are they a valid option to go to remote places since I'm not driving. They also allow me to meet fellow travellers.
Therefore, here are some great ideas of which tours to join when in Seoul. Especially during high season, pre-booking online will guarantee your place at the activity of your choice*:
Where to Stay
Apart from planning according to your budget, you should give the location some thorough thought: As I mentioned many times, Seoul is huge and you shouldn't underestimate the time you'll spend travelling between individual places even in one single part of the city. Therefore, check beforehand which landmarks and attractions you want to see and choose your accommodation accordingly.
When I first got to Seoul, I didn't know about the airport buses that are going to basically every part of the city. I only knew about the airport train and therefore, I picked a hotel within walking distance to Seoul Station. That was fine and dandy and I can absolutely recommend the Namsan Hill Hotel** as a convenient and solid lodging option in a pleasant neighborhood.
However, if it's booked out or you are looking for something more upscale, many other spots around the city might be as suitable. For instance, after I came back from the Grand Tour of Korea, I picked the DM Hotel** in the Dongdaemun District. It's just minutes from the Dongmyo subway station and a bus stop frequented by a dozen buses. Also, the airport bus #6002 stops at Dongmyo Station which was super convenient on my last day.
This being said, you can choose a lodging option according to your preferences on this map:
What to Eat
Apart from Korean music'n'movies, the country's cuisine seems to be taking the world by storm: In many areas of the world, Korean restaurants are springing up like mushrooms. And in Korea, tasty food can be found virtually everywhere: From vendors in the streets and in local markets to refined versions in posh restaurants. Many of these delicacies were invented over 2,000 years ago. However, some were only enjoyed by the royal families.
Due to its size and international influence, Seoul has a large selection not only of Korean but also international cuisines. Sadly, there are also many of the internationally infamous fast food chains.
Korean food comes in many varieties as savory, spicy, hearty, and nutritious delights. Barbecue restaurants are very popular. There, various meat dishes are prepared right at the table.
In all modesty, I'm just listing the five dishes that you should definitely try – but there are many, many more waiting for you as Korea's cuisine is so rich and varied. I'm introducing regional specialties in my posts on the individual destinations – like for instance Gyeongju Ssambap or Gangodeungeo, which is salted mackerel, from Andong.
Bibimbap
Bibimbap is arguably Korea's most popular dish. It's made with rice and various vegetables like carrots, spinach, bean sprouts, and mushrooms. It can then be topped with beef, tofu, or fried eggs. Indispensable is a generous dash of Gochujang, a slightly spicy chili paste.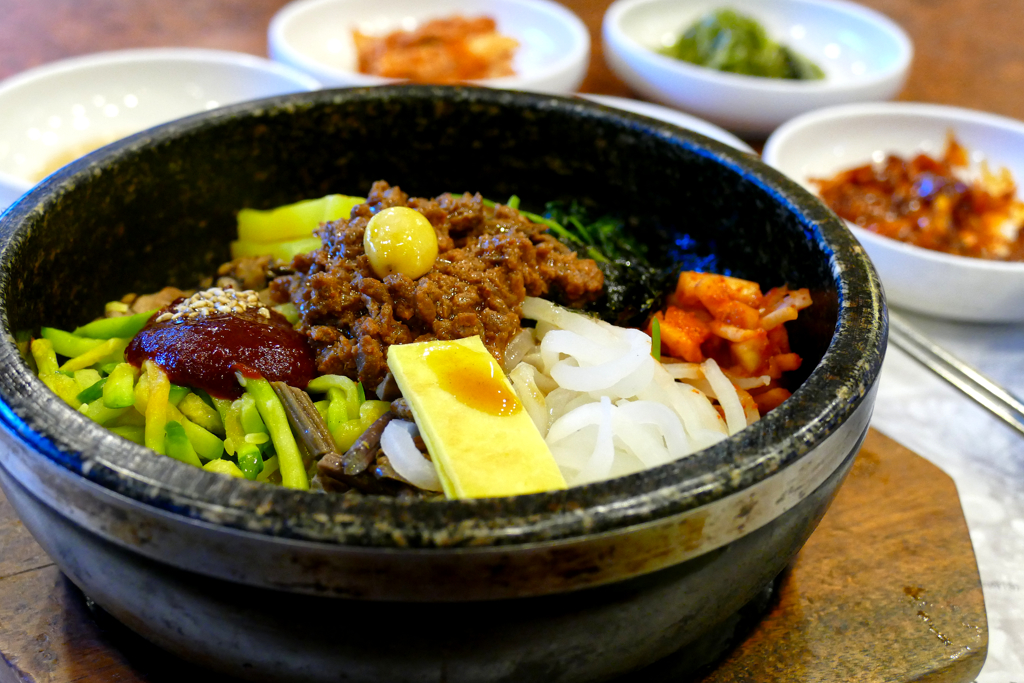 As the name derives from bibida, which translates to mix or stir, all the components have to be stirred together before eating although they are served unmixed. Bibimbap is served with a light bean sprout soup and comfortably eaten with a spoon.
Oh, this brings me to a crucial tip: If you wonder how to eat your food as the waiter didn't bring you any utensils, just look in the drawer underneath your table. There you'll find chopsticks, spoons, and serviettes.
Tteokbokki
Tteokbokki is a popular snack dish made from cylindrical rice cakes. They are usually seasoned with Gochujang, but often also with garlic and soy sauce.
The snack is pleasantly chewy yet very spicy.
Gimbap
Gimbap is very similar to Sushi, albeit you don't dip it in Soy Sauce and sadly, you don't eat pickled ginger with it. In Korea, it is a popular snack mostly eaten for lunch.
It always consists of Gim, dried purple seaweed, and Bap, hence cooked rice. Then, other ingredients in various combinations such as omelet, carrots, spinach, pickled radish, surimi, meat, or crab meat are added before the whole thing is wrapped in the shape of a log and cut into bite-sized pieces. These are eaten with chopsticks, obviously.
Bibim Nengmyun
Bibim Nengmyun is cold noodles served in a stainless steel bowl in a cold broth. Then, julienned cucumbers, slices of Korean pear, cold steamed beef, and a boiled egg are added.
The long and thin noodles are normally made from flour and buckwheat or sweet potatoes. However, there are variations of pasta made from seaweed and even green tea.
Chimaek
Yes, you can eat fried chicken basically anywhere around the globe. However, Korean fried chicken takes it to a whole different level. The chicken is coated with a sweet and spicy sauce before double frying it in vegetable oil.
Therefore, the meat remains very juicy while the lightly battered skin is crunchy without being too greasy.
It is mostly a popular late-night snack and is typically washed down with ice-cold beer.
Banchan
Banchan are the most important staple of Korean cuisine. They are a variety of different vegetable dishes served in small bowls. Those are placed in the middle of the table for everyone to enjoy. In some restaurants, you can choose the Banchan you like from an open buffet.
The most famous Banchan is probably Kimchi. Kimchi is fermented vegetables – traditionally Chinese cabbage and Korean radish. Together with rice and a light soup, Kimchi is an essential part of practically every meal in Korea.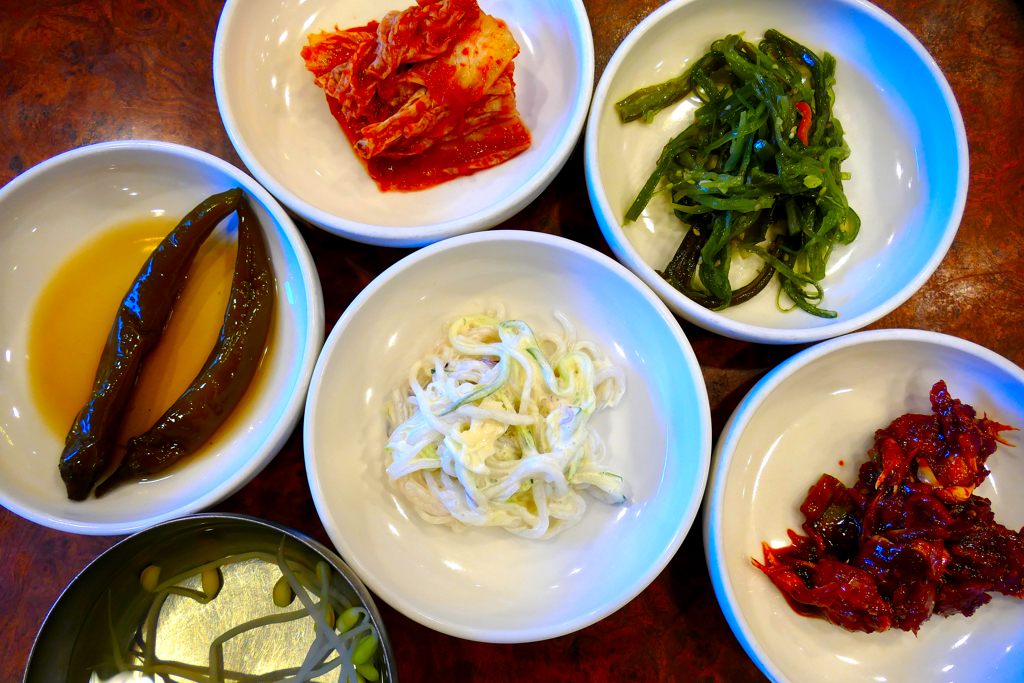 As basically all types of vegetables can be fermented, additional types of kimchi have emerged. Apart from cabbage and radish, you'll be served also cucumbers, leeks, and some local roots. In 2013, Gimjang, the traditional process of preparation and preservation of Kimchi, was added to the UNESCO list of Intangible Cultural Heritage.
Fun Fact:
12 different kinds of Banchan were the standard at the Royal court
Cash And Cards
The currency in Korea is called ₩on and abbreviated KR₩. There are bills of 1,000, 5,000, 10,000, and 50,000 and coins of 10, 100, and 500 ₩on.
As of November 2023, the exchange rate is 1,000 KR₩ = 0.75 US $ (current rate) respectively 1,000 KR₩ = 0.70 €uro (current rate).
Most of the time, you can pay with either cash or card in Korea. However, some businesses accept only cash while others take only cards. Although payment goes smoothly most of the time, you might encounter some hurdles here and there.
In Korea, they draw a not-so-fine line between local cards and international cards.
Therefore, it can happen that certain readers are only suitable for cards issued in Korea. More importantly, you can get only money from ATMs that are suitable for so-called global credit cards.
Either way, it's recommended to have always at least a small amount of cash on you as international cards may decline for no apparent reason.
T-Money Card
A very Korean means of payment is the so-called T-Money Card. It's basically a debit card that you have to purchase for an initial price of KR₩ 2,500. You can get the basic T-Money Card at any subway- and train station as well as at convenience stores around the country. However, you can get a free card for instance when buying a SIM Card* or obtaining a Discover Seoul Pass*.
Eventually, you have to charge it with the amount of your choice either at a ticket vending machine or a convenience store. You can top-up the card in units of KR₩ 1,000 up to KR₩ 90,000 at a time. The total deposit cannot exceed KR₩ 500,000. It's important to know that you cannot top-up by credit card, you have to use cash. Also, I'd recommend topping it up with smaller amounts in case you lose it.
If you don't use up the credit on your card by the end of your trip, you get a refund at all retail locations. However, they won't refund the initial price as well as an additional service fee of KR₩ 500.
As I needed both, a SIM card and T-money, I obtained a combined card through GetYourGuide* and picked it up at Incheon International Airport on arrival. Obviously, you can use the T-Money card even after the SIM card expires.
Discover Seoul Pass
The so-called Discover Seoul Pass** allows you to visit tons of tourist attractions in the city as well as on the outskirts for free or at least discounted. Palaces, Royal burial sites, museums, and more are included. However, keep in mind that entrance to the palaces is very cheap. The pass is only worth your money if you plan to visit also some of the pricier attractions such as the Leeum Samsung Museum of Art, the 63 Building, or the Namsan Tower. In addition, you'll get a discount of up to 15 percent at many sites that are not included for free.
There are passes for 24, 48, and 72 hours that cost KR₩ 50,000, KR₩ 70,000 and KR₩ 90,000 respectively. Since I divided my stay in Seoul into two parts at the beginning and at the end of my trip, I opted for the 48-hour pass* for my first days in the city. Just like my SIM- and T-money card*, I ordered it online before I left for Korea. Once I landed at Incheon International Airport, I conveniently picked it up and was ready to start my sightseeing tour the very next morning.
Language
With over 78 million native speakers, Korean is one of the 25 most spoken languages ​​in the world. And let me tell you, it's basically all Koreans do speak. I was told only the older generation wouldn't speak any English, young people would. According to my experience in roughly a dozen places in Korea – from big cities to hidden beach destinations – this is not the case. Contrary to older people, young Koreans know some English words. That doesn't make them English speakers even of a rudimentary kind.
But fear you not, streets, stations, and many signs are written in English, so you won't get lost. In Seoul's subway and in many buses the stops are also announced in English. Some restaurants do have English menus, however, when you order the dish, the waiting person might not understand what you want unless you point at the Korean version. Happened to me on various occasions.
All this makes travelling through Korea possible even if you don't speak the language and you're not familiar with Hangul, the Korean alphabet. However, your interaction with locals will remain extremely limited, to say the least.
Howsoever, I recommend memorizing at least this short list of some of the most common courtesy expressions:
| | | |
| --- | --- | --- |
| English | Korean | Pronunciation |
| Hello | annyeonghaseyo | anyonghaseo |
| Bye bye | annyonggiseo | anyonggiso |
| Thank you | gamsahamnida | kamsamida |
| You're welcome | cheonmaneyo | chonmaneo |
| Please | juseyo | djuso |
| Excuse me | jeogiyo | djokiyo |
| Sorry | joesonghamnida | djusohamida |
| Yes | ne or ye | ne resp. ye |
| No | aniyo | anyo |
My tip regarding pronunciation
Korean is pronounced rather softly. That means that G is pronounced like K, D like T, and B like P. Also, S before I is pronounced Sh.
I'm telling you this so you avoid mispronunciation of cities and places and get what people are talking about when they say Kyongju instead of Gyeongju, Teagu instead of Deagu, and Pusan instead of Busan.
If you actually want to learn some more, I can highly recommend the website 90 Day Korean.
Connection and Communication
You can connect to the internet without any issue at basically every museum, eatery, café, and hotel, obviously, as well as to open Wi-Fi in many public areas.
As I depended so much on a reliable internet connection during my trip through Korea, I highly recommend getting your personal data either by a mobile router or a local SIM card. I kid you not, the few moments I for some reason didn't have an internet connection, I felt like travelling blindfolded.
There are prepaid SIM cards by various companies such as KT Corporation, SK Telecom, and LG U+. I got my card from the latter and loved it. LG U+ offers SIM cards, eSIM, as well as portable Wi-Fi. My card came with a T-money card. I obtained it through GetYourGuide* and picked it up at Incheon International Airport on arrival. For unlimited data, they charge between KR₩ 27,500 for 5 days and KR₩ 99,000 for 40 days. I had the 20 days-version for 60,500 ₩on*.
In South Korea, they use plug types C and F. Their voltage is 220 V, and the frequency is 60 Hz. Whereby, nowadays, in general, all these chargers have integrated adapters so that the voltage and frequency don't really matter.
By the way, you'll find this information and many more comprehensive travel tips in my post World's Most Complete Travel Information – an indispensable globetrotter-classic.
Useful Apps
So now that you have internet, you might want to check out these helpful apps. Well, let me rephrase it: At least a smoothly working map and a translation app are not just helpful, they are actually indispensable!
Naver Map
It's not correct that Google Maps doesn't work in Korea at all. You can open the App and see where places are. However, it doesn't give you useful information on public transport and it doesn't suggest routes. Yet, it recognizes who you are: The blue dot. So while you can check where you are, you cannot plan out routes.
Fortunately, there are two other Apps in Korea, namely Kakao Map and Naver Map. Since I had tried out the latter and was happy with it, I stuck with it without giving Kakao Map a try.
How to Use It
As you can see in the pictures below, Naver works basically just like Google Maps: You type in from where to where you want to go, specify the date and hour, and choose the means of transportation. Then, Naver does the magic and suggests various options.
However, Naver tends to be patriotic and sometimes transcribes destinations into Hangul so you cannot check that it actually found the place you were looking for. I solved this problem by verifying Naver's suggestion on Google Maps.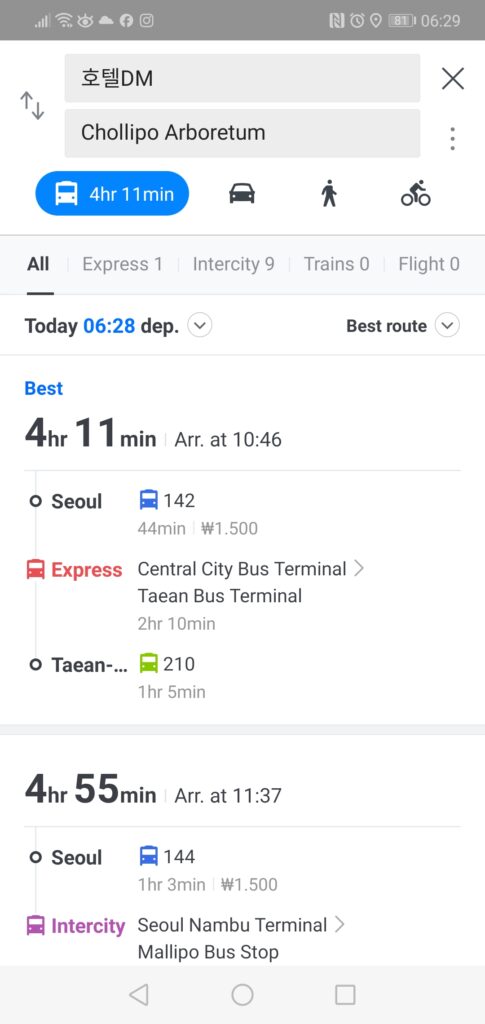 Also, Naver sometimes didn't show any search results. For instance, if I wrote XYZ restaurant instead of restaurant XYZ. In these situations, I first looked it up on Google Maps, because like I said, it does work insofar as it finds places. Then, I searched for the spot right on Naver's map. As I found it, I tapped on it on the screen and saved the result for future reference.
I set up a free account to save search results. I organized them in folders, you can see them in the second picture.
When Naver showed the result in Hangul, I wrote the Latin equivalent in the field for notes before saving. This way, I had the places once and for all in Roman letters, and they also appeared on the map. Eventually, I planned my routes by simply tapping on two marked spots on the map.
You can download the Naver App for Android and for iOS
Microsoft Translator or Naver Papago
Just like it's a personal preference if you search your way with the help of Naver Map or Kakao Map, it's totally up to you which translation App you're using. And even if you don't choose any of these, most Koreans do have a translator on their phone when they have to deal with foreigners on a regular basis.
For the same reason I chose Naver Map over Kakao Map, I stuck with the Microsoft Translator: I downloaded it first and was happy with it – hence, never change a winning team.
However, both translation Apps offer the same kind of assistance: You can speak, write, or take a picture of a script and the App will translate it.
You can download the Microsoft Translator for Android and iOS.
Xe Currency Exchange
Because of its user-friendly operation and quick and easy access to all national currencies, Xe is my favorite currency converter app. You can download it for Android.
Ddareungi App
I've introduced Seoul's public bike-sharing service above – this is just a reminder that you need the Ddareungi App to use it. You can download it for Android and iOS.
Map
This map should help you to find all the wonderful places I'm introducing in this post. This way, you can plan your itinerary accordingly. Clicking on the slider symbol at the top left or the full-screen icon at the top right will display the whole map including the legend.
Pinnable Pictures
If you choose to pin this post for later, please use one of these pictures:
Did You Enjoy This Post? Then You Might Like Also These:
* I received this service free of charge as part of my affiliate cooperation with GetYourGuide for participating in a special promotion. The recommendation of this service is based on my own experience and was in no way influenced by my cooperation partner.
** This is an affiliate link. Hence, If you book through this page, not only do you get the best deal. I also get a small commission that helps me run this blog. Thank you so much for supporting me! All other links are a free service to my readers and were in no way remunerated.