A trip from Hồ Chí Minh City to the bustling city Can Tho amidst the rural Mekong Delta is one of the touristy standard tours.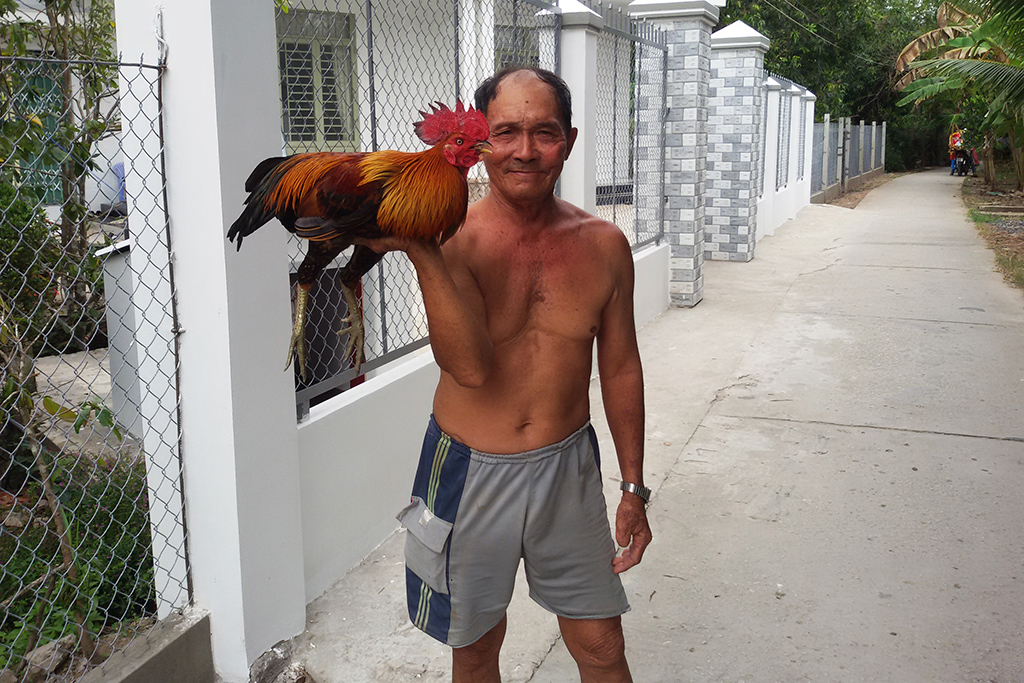 Actually, you can take the trip on your own since there are public buses going to the Delta on a regular schedule. This way, you can put together your individual program.
However, on an individually organized tour, you'll need much more time. And since you'll probably have to haggle for each and every little thing, you can as well pay a bit more, save yourself the hassle and go on an organized trip.
For solo travellers like myself, this also bears the advantage of a temporary company.
Hence, I did an organized two-day tour, but if I had more time, I would have stayed at least one or two days longer and just enjoyed the rural life and serenity.
Mekong Delta
The Mekong river shapes the rural region southwest of Hồ Chí Minh City into a delta. Here, the Mekong flows into the South China Sea in a network of river arms. The river delta emerged from sedimentation instead of a sea bay and is still growing annually by about 80 meters.
In the delta's water landscape, most of the inhabitants work and even live basically on the water. Every hut, no matter how small, has access to a waterway. On the flip side, there are only a few connections to drivable roads.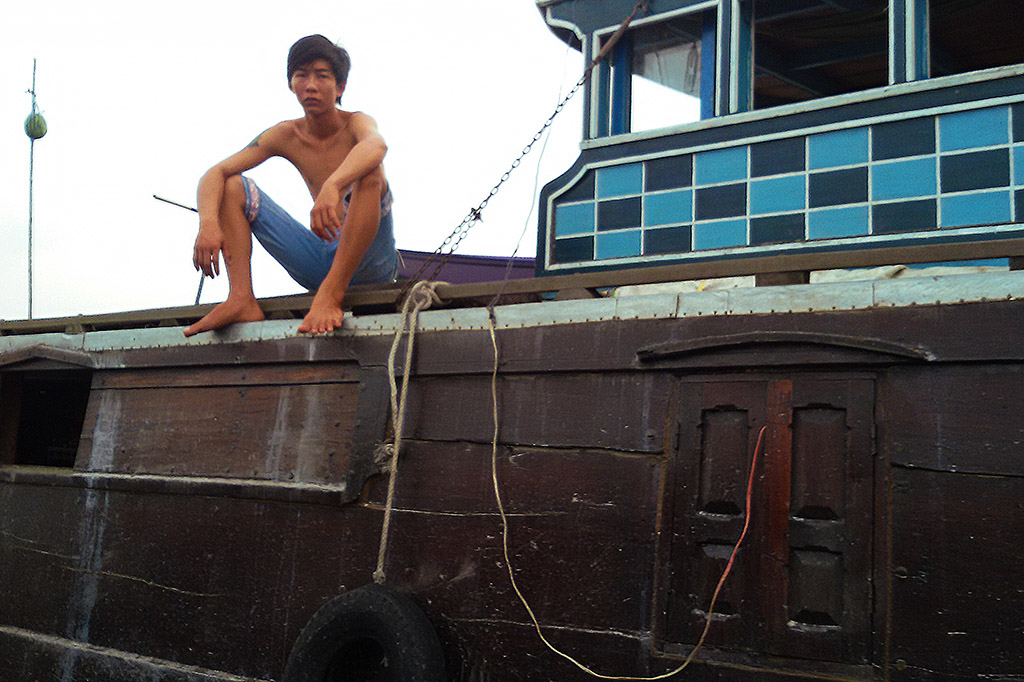 The fertile alluvial soil makes intensive agriculture easy. This region is called the southern rice chamber of Vietnam for a reason: In three annual harvests, there is a production of 16 million tons of rice. But also fruits, vegetables, sugarcane, and coconuts are making the Mekong Delta a fertile garden Eden.
Disputes
In the 18th and 19th centuries, the delta was only sparsely populated, mainly due to epidemics. The region initially belonged to the Khmer Kingdom and was later annexed by the Vietnamese Lê and Nguyễn dynasties.
However, to this date, Cambodians call it Lower Cambodia. Consequently, the Khmer Rouge claimed the Mekong Delta and repeatedly attacked the Vietnamese border area. Also, they often murdered Vietnamese at the notorious Tuol Sleng prison in Phnom Penh. This finally led to the Vietnamese invasion of Cambodia and the defeat of the Khmer Rouge in 1978. Yes, many people aren't aware of the fact that it was the Vietnamese troops who liberated Cambodia from the Khmer Rouge's reign of terror.
During the Vietnam War, some of the major combats between the guerrillas and the US troops took place in the Mekong Delta.
Cần Thơ
With around 250,000 inhabitants, Cần Thơ is the largest city in the Mekong Delta region and the fourth largest city in Vietnam.
Various stores, hotels, and restaurants are lining the Hai Bà Trưng promenade. Restaurant boats are alongside the Ninh Kiều-Quay. Here, you can also charter boats to the Cái Khế Canal and the floating markets.
Touring the Mekong Delta
Those markets are actually the main reason for most of the touristy visits to the region. Yet, if you book an organized tour from Hồ Chí Minh City, you get to see much more than this. The way they rush you from one spot to the other can be a bit stressful and unsatisfactory at the very moment. Nevertheless, getting to know all those different aspects of life in the delta leaves you with a comprehensive image and wonderful memories.
You can visit all those places on your own. However, this will take much longer and moneywise, it probably won't make such a big difference. Also, you'll have to haggle with each and every driver and boatman individually. Phew!
From My Tho to the Mekong Islands
On an organized tour, the coach leaves Hồ Chí Minh City in the early morning. As you get to the town of My Tho, you'll board a boat that tours through the delta to the different islands.
On a stop at the so-called Unicorn Island, you'll get to see some of the orchards. During a tea break at a honey farm, you get to listen to traditional Vietnamese music played on quite unique instruments.
Rowing on the Thoi Son Canal
Eventually, some local ladies rowed us down the Thoi Son Canal crossing a lush jungle.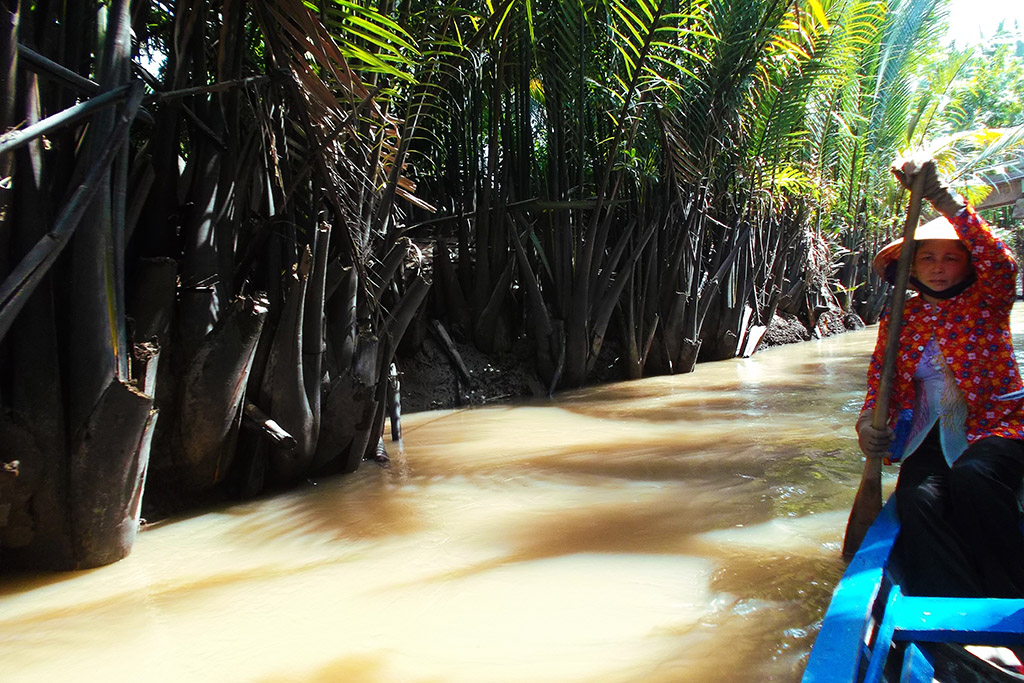 Coming back ashore, we visited some coconut manufactories – of course, including the obligatory shopping opportunities.
Can Tho Morning Fish Market
Apart from the cycling in the afternoon of the second day, the visit to this fish market in the wee hours was probably the most authentic activity of my trip to the Mekong Delta.
The market opens at about 4 a. m. and sells, obviously, mainly fish, but also meats and some veggies. Nevertheless, for our wimpy westerners' eyes, there is a lot of animal cruelty going on.
If you want to see beauty, stay in bed until you can go to the floating market. If you want to have a truly Vietnamese shopping experience, get up on time to wade in fish'n'frog blood.
This visit, by the way, was not officially on the agenda. A walk across this fish market was a facultative offer by our guide.
This was actually one of the few nice things he did. I've described in my post on Ho Chi Minh City how he scolded me in front of the entire group for not calling the city by its former name Saigon. Obviously, a political statement.
Cai Rang Floating Market
Cai Rang is the largest floating marketing in Can Tho. The market is about 8 kilometers south of the city. Business starts at around 4 a. m., and usually, by 10 a. m., the show is over. Therefore, it's really worth it to make it there at the break of dawn, hence around 6 a. m.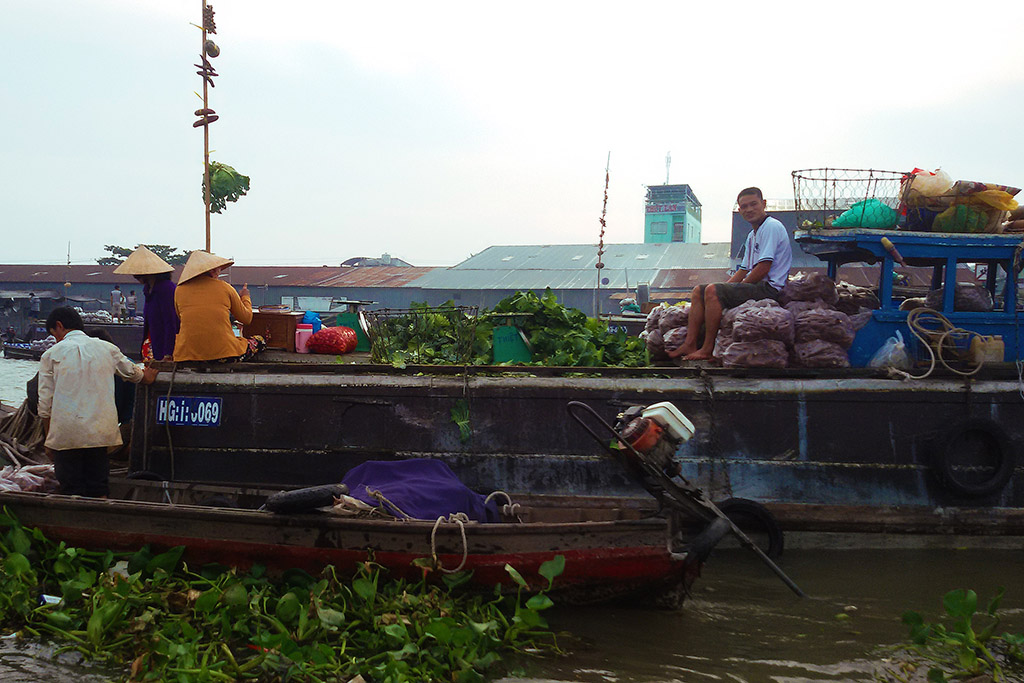 Although the market is a major tourist magnet, it still is a place for agricultural goods.
The Cai Rang bridge over the Can Tho rivers offers great views of the spectacle below. Still, exploring the market by boat is a far more authentic experience.
Cycling the Village of Tan Thach
Before we swapped paddling for pedaling, a visit to another manufacturer was due – we visited a typical noodle factory.
The main reason why I kinda hate visiting those manufacturies is that I don't trust them to be real. After I've visited dozens of those places around the globe – as well as a couple of 'traditional' villages – that were clearly set up for touristy visits, to me, it's like visiting some kind of open-air museum. Not my trips' favorite parts.
This being said, it won't surprise you that the next activity was one of my favorite. We just cycled through the lush sceneries of the canals and rice paddies and through the village of Tan Thach.
If I ever go back on my own, this is what I'll do for an entire day.
Vĩnh Tràng Chùa
Our last stop before heading back to Hồ Chí Minh City took us to the town of Mỹ Phong.
Vĩnh Tràng Chùa is one of the region's best-known Buddhist temples on the banks of the Bảo Định canal.
Between 1859 and 1862, French colonial forces battled the Nguyễn Dynasty. Emperor Tự Đức ceded three southern provinces. They became part of the French colony of Cochinchina. In the combat, Vĩnh Tràng was seriously damaged.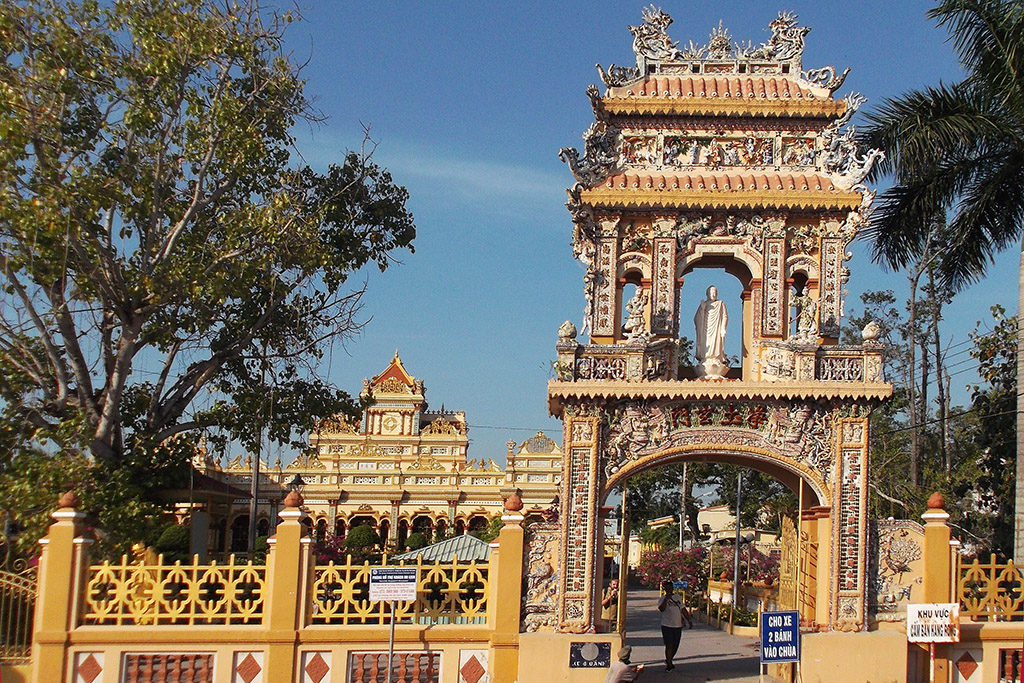 Actually, visiting Vĩnh Tràng Chùa gave me second thoughts about this organized trip. We had spent so much time at the rather pointless manufactories and then had so little time for this historic treasure. Well. since I had only three weeks for the entire trip to Vietnam and therefore only two days for the Mekong Delta, there wasn't any real alternative.
Practical Information
How to Get There
There are buses going from Hồ Chí Minh City to Can Tho. Normally, the trip takes about between 3.5 and 5 hours, depending on the traffic. While you can buy a bus ticket for about 145,000 VND one way, a private car will charge at least 90 US$ for a day.
Organized tours from Hồ Chí Minh City can be booked for one to three days. Usually, a visit to all attractions as well as lodging is included.
How to Get Around
The center of Can Tho is not teeny tiny, however, still walkable. Obviously, you can also rent a bike. Since especially the surroundings are really alluring, this actually makes sense.
To visit the market, you need to go from the Can Tho bus terminal to the Ninh Kiều-Quay by cab. This should cost about 80,000 VND. You can also wait for the free Futa transfer service to the quay. However, don't forget that especially when you are travelling, time is also of great value. Sometimes it's not worth it to save on the wrong things.
Anyway, to explore the market, you will rent a sampan, one of the narrow Vietnamese boats for about 250,000 VND – for up to three people. An alternative is a boat with a roof and life jackets that normally seats up to 7 people and costs 660,000 VND.
Where to Stay
Initially, I had planned to do the tour on my own. Therefore, I had booked a room at the West Hotel* in Can Tho. As I mentioned a couple of times, accommodation in Vietnam is very reasonably priced. So I took the opportunity to splurge a bit.
Later, I made my mind up and did go with a group. Still, I kept my reservation and got a teeny discount on the tour since there was lodging included which I didn't use. Still, I lost some money, but I didn't regret my decision one second: The West Hotel* is a 4* hotel with a swimming pool on the roof overlooking the mighty Mekong river. Also, I had a fantastic breakfast buffet, and the hotel was located across the street from the famous morning market.
Yet, if you want to check out other convenient lodging options, you can do so on this map*:
By the way, some people from our group had chosen the homestays that sounded fine and very Vietnamese. However, nobody really liked it and the big disadvantage was that they stayed far out somewhere in the countryside so they couldn't join the visit to the morning market. So if you prefer to be independent and flexible, you better stay in the town center, obviously.
What to Eat
There was lunch included in the tour I had booked.
As we got to the restaurant, we were divided into two groups. Most of us were seated outside at a long wooden table and served some rice and curry.
A small group, however, was led into a dining room. We were seated at a big table, covered with a white table cloth. Then we were served a starter, crayfish, Vietnam's famous elephant ear fish, and many kinds of side dishes. It was a feast and if you get the chance to enjoy these local delicacies, go for it.
Funny enough, nobody ever addressed this curious class distinction. Judging from the fact that the Japanese family was dropped off at a fancy hotel and I had booked my hotel myself, I think that those who were eating at that master table had paid far more for the trip than the curry people. It's like they say, you get what you pay for. Still, they could have handled this distinction a bit more discretely.
What to See
I'm an avid solo-travelling woman. Since solo-travel doesn't equal solitude, I love to join organized tours here and there. They allow me to meet fellow travellers – for just a short moment or a lifelong friendship.
Especially if you have only a short time for exploring the Delta, an organized trip will enable you to make the best of it*:
Cash And Cards
Can Tho is not the Mekong Delta's tourist hotspot, but a bustling middle-sized city. Therefore, there are banks and you can get cash from ATMs.
One US-Dollar equals 22,87 Dong (VND) and one €uro 24,5 Dong (VND) as of April 2022. However, here you can check the current rate.
Can Tho and the Mekong Delta were just two of the amazing stops of my exciting visit to Vietnam. Go to the main post to check out all the other destinations.
Pinnable Pictures
If you choose to pin this post for later, please use one of these pictures: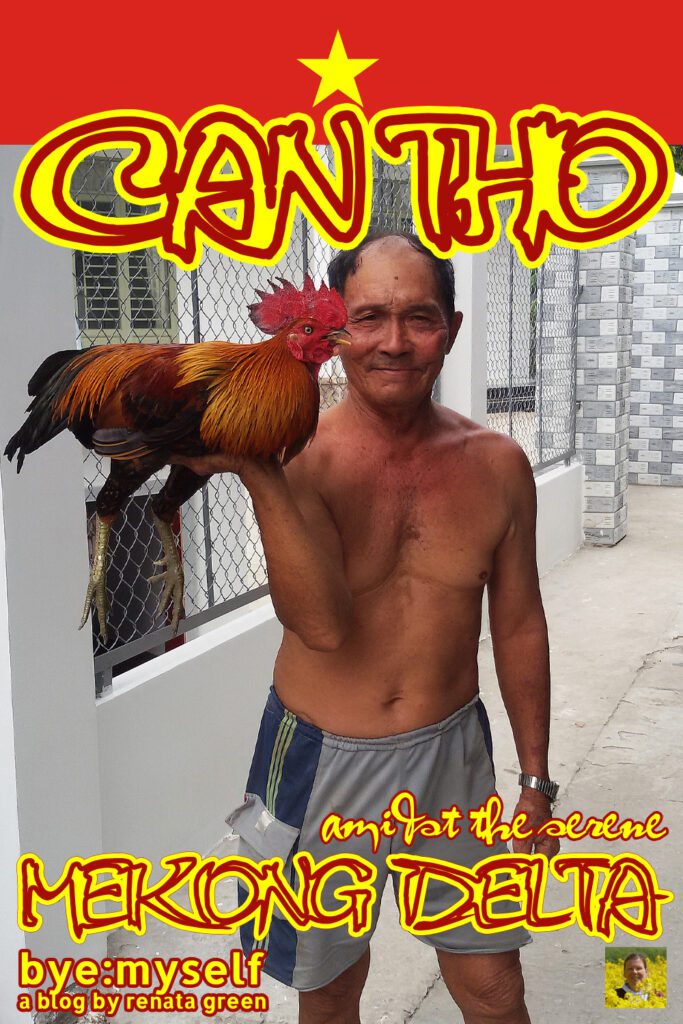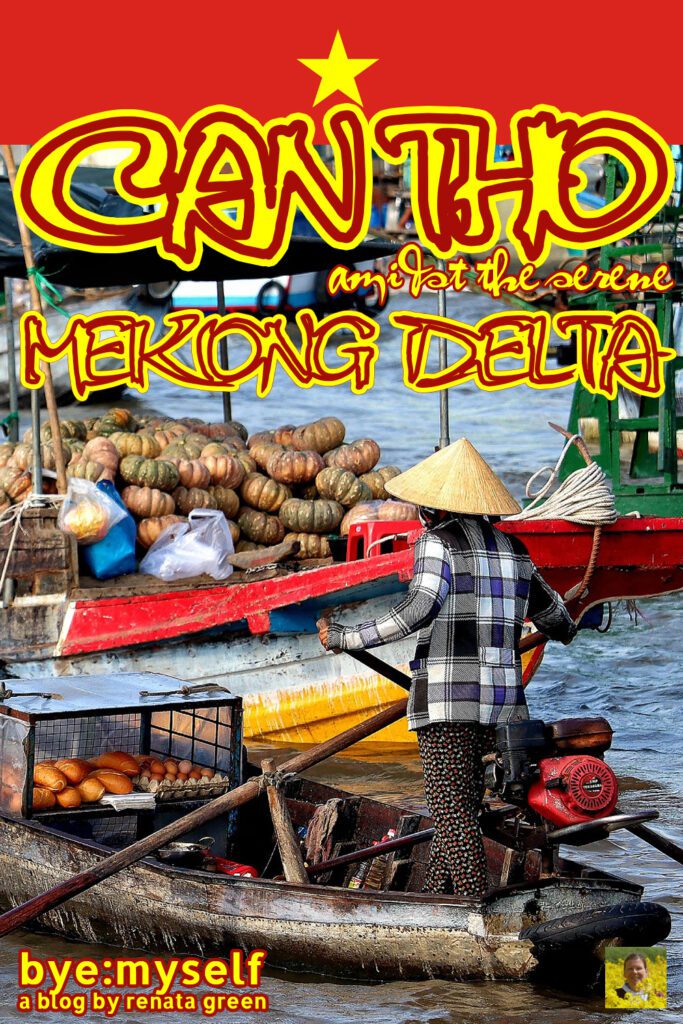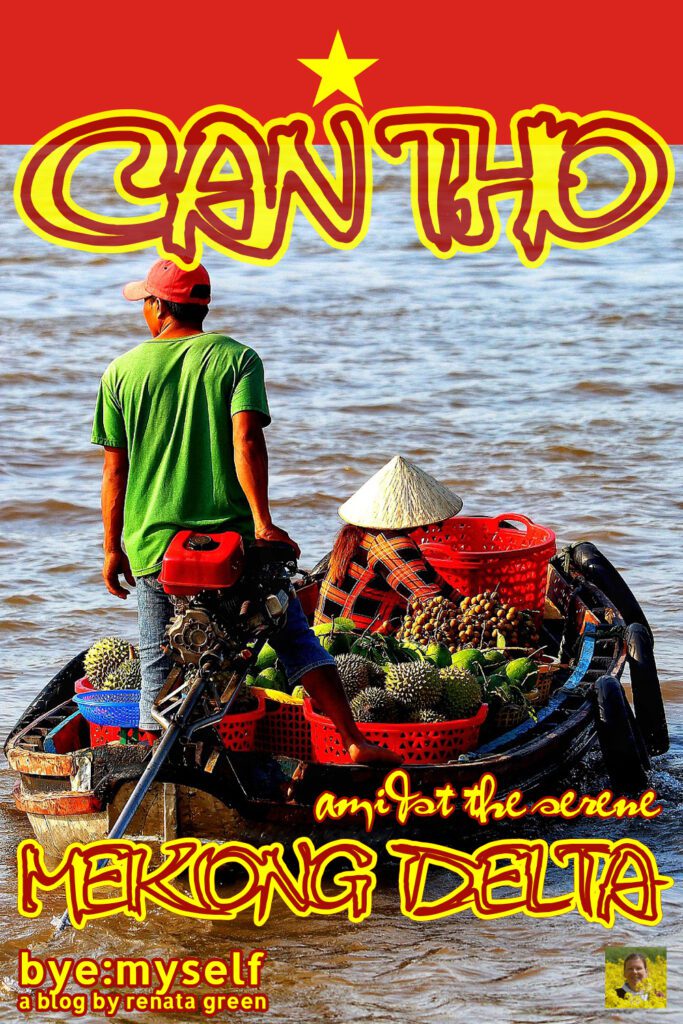 Did You Enjoy This Post? Then You Might Like Also These:
* This is an affiliate link. If you book through this page, not only do you get the best deal. I also get a small commission that helps me run this blog. Thank you so much for supporting me!
Note: I'm completing, editing, and updating his post regularly – last in April 2022.