To this day, Da Lat, a former colonial town in Vietnam's cool highlands, is a popular weekend and even honeymoon destination for locals.
International visitors join the Vietnamese honeymooners to enjoy the region's rolling hills covered by lush vegetation.
Đà Lạt – The City of Eternal Spring
Đà Lạt has a university and several research institutes. Vegetable growing, floriculture and tourism are the most important economic sectors.
The city is surrounded by lakes, waterfalls, and forests. Due to the comparatively mild climate, the park-like environment, and the evergreen forests, it is a popular holiday destination for international and local tourists alike.
The first European to travel to the city in 1893 was the doctor Alexandre Yersin, who worked for the doctor Louis Pasteurs. I'm introducing him in detail in my post on Nha Trang where he used to live and work. Also, there is a museum on him and his amazing work in Nha Trang.
Nevertheless, the French colonial rulers founded Đà Lạt officially only in 1912. The French loved the city and its surroundings because of the mild climate. Above all, the upper class of Saigon, today's Ho Chi Minh City, built their weekend villas and retirement homes here.
To this date, they still make up the charm of Đà Lạt.
Tea Or Coffee?
Many people are very surprised when they learn that Vietnam is the second-largest producer of coffee in the world after Brazil.
Actually, they're not wrong since Vietnamese are traditionally tea drinkers. In fact, some of the world's oldest tea trees grow in Vietnam.
It was the French colonialists who introduced coffee. Then, the K'Ho tribespeople kept growing it since the 19th century.
Vietnam's coffee export improved the people's living conditions dramatically: In 1994, 60 percent of the population lived under the poverty line. Today, this number decreased to less than 10 percent.
While the coffee production has been good for Vietnam economically, they need to be aware of some significant problems: Deforestation, soil exhaustion, and exploitation of farmers demand alternatives and improvement.
A City Tour
While Đà Lạt is certainly a lovely town where you can go for pleasant strolls, it's not exactly a buzzing metropolis.
In the downtown area are the Xuan Huong lake, a bustling farmers' market, and the colonial railway station to visit. Also, there is the summer palace Vietnam's last Emperor Bảo Đại's left behind. It was completed in 1938, and today, you can visit the building and the gardens on a tour.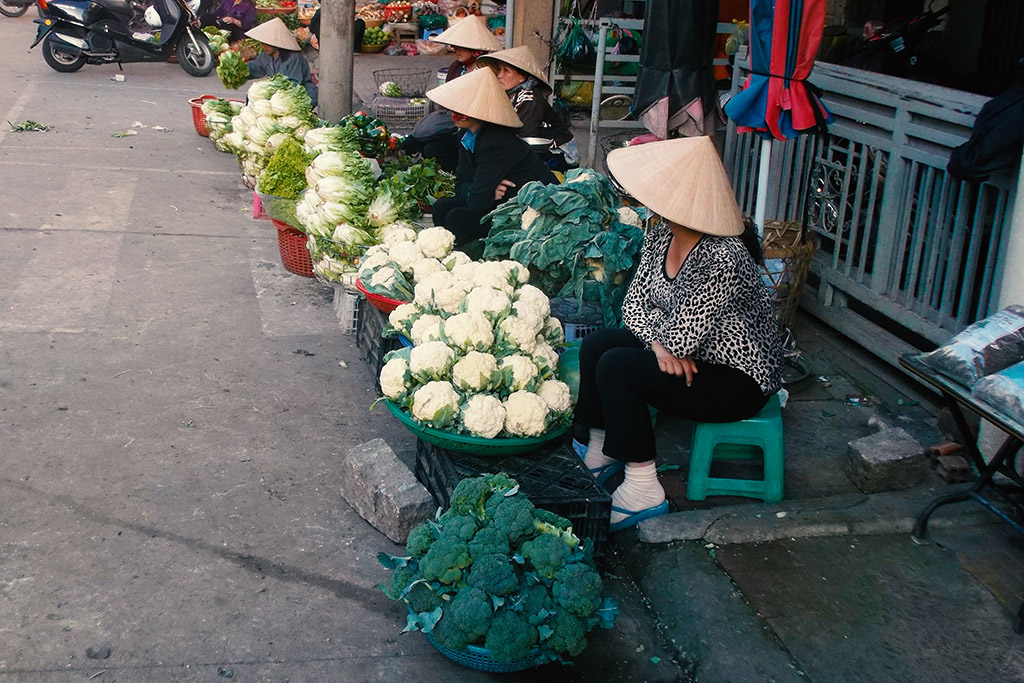 Other than that, you can just walk around and enjoy the pleasant town life and the grand views. I even took my chances and went to a hair salon.
Within the city limits is also the Hang Nga House, the so-called Crazy House. This complex consists of several buildings that today serve as a guest house, café, and art gallery. It was built in 1990.
Crazy
The buildings' interior consists of caves, winding passages, winding stairs, whimsical furniture, and life-size animal statues. Neither on the inside nor on the exterior are straight lines or precise angles. Gnarled concrete trees and gigantic spider webs connect the individual buildings.
In all honesty, if you are familiar with the work and artistic philosophy of Antoni Gaudí i Cornet or Friedensreich Hundertwasser, you won't be impressed. The idea is a bit similar, however the implementation is a bit tacky.
However, if a short visit isn't enough for you, you can book yourself in one of the rooms* as the building is also a hotel.
The designer of Hang Nga is Dang Viet Nga. She is the daughter of Vietnam's second president Trường Chinh. Born in Hanoi, she spent 14 years in Moscow. Apart from Hang Nga, she designed other buildings in the vicinity of Đà Lạt like for instance the Palace of Culture for Children and the Catholic Church in Lien Khuong.
A Pricecheck Tour
While all this is fine and dandy, Đà Lạt's strongest suits lie on the outskirts. It's the rolling hills, the lush greeneries, the coffee bushes, and the lakes that you have to see. And the waterfalls. Actually, there are at least eight truly amazing waterfalls to choose from.
All those nature glories can be best enjoyed on a guided tour. Obviously, you can rent bicycles or scooters and go on your own. However, I would not like to ride either bike outside the citylimits – Vietnamese drivers can be quite hazardous.
So a guided tour. Actually, there are different tours to choose from. I opted for the Country Tour. However, before booking, I went on yet another market check. Because if you don't want to pay far too much, you need to ask at a couple of different places and compare and bargain and wander back and forth. It's unnerving, I hate it. But I also hate being duped.
A Country Tour
In the Morning
As you book a guided tour, they obviously pick you up at your accommodation and then the day starts at a flower farm in the Van Thanh Flower village.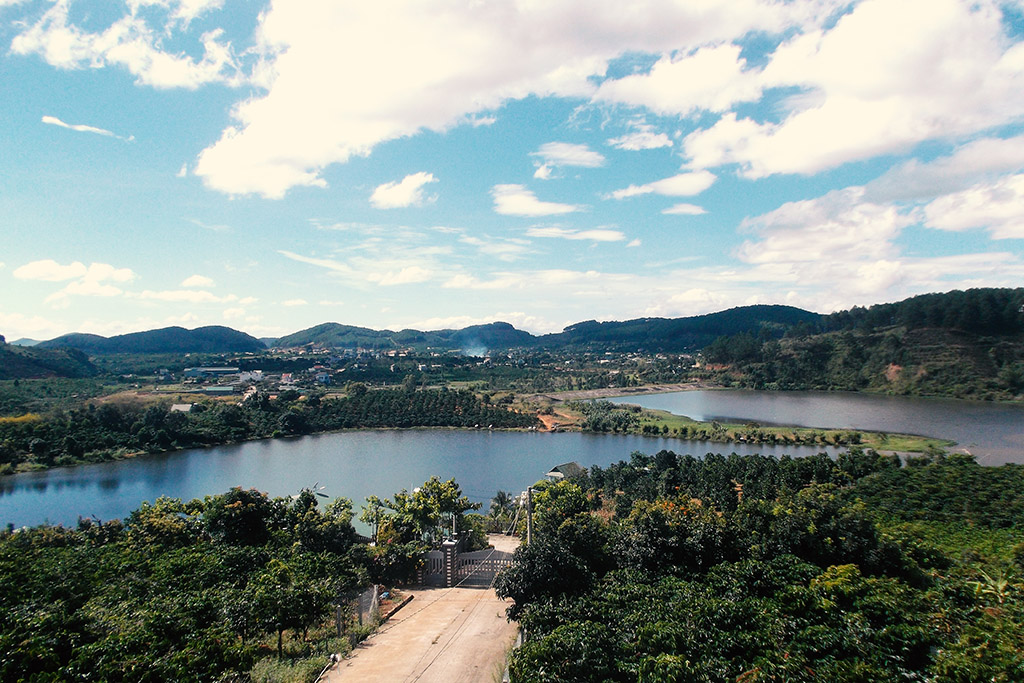 You then cross the Ta Nung pass where you enjoy the view of the Nam Ban town and the forests. The next stop is at a coffee plantation in the highlands where you can sample coffee and bugs.
Nope, this is not an error, we actually got to eat complementary bugs.
Come on, it's the country tour, after all.
In case you hadn't had your share of creepy yet, at the next stop, a silk factory was awaiting the visitors from foreign. Yes, it is very interesting, however also a bit disturbing since there is still life in the cocoons they dump in boiling water. Also, we got to sample some silkworms. Lesson for life: I prefer crunchy bugs over mushy silkworms.
While I was exploring foreign cuisines, my fellow day-trippers shopped for silk. While the fabric was nice, I didn't find it particularly cheap. I think you get better deals at stores in Hanoi or Ho Chi Minh City. But you know how it is with souvenirs – it's often the idea that counts.
Talking 'bout food: Next was a lunch break. And no, it was not all critters
In the Afternoon
After lunch, we headed for the famous That Voi waterfall. This Elephant Waterfall is a cataract about 25 kilometers southwest of Đà Lạt on the Cam Ly River.
The fall is apparently one of the most beautiful ones of the Central Highlands. You reach the foot of the fall over steps that were carved into the slippery rocks.
Right next to the waterfall, going up the hill is the solemn Linh An Pagoda. Supposedly, the pagoda looks like the head of a dragon when you look at it from the road. I don't know about that – or I didn't pay attention.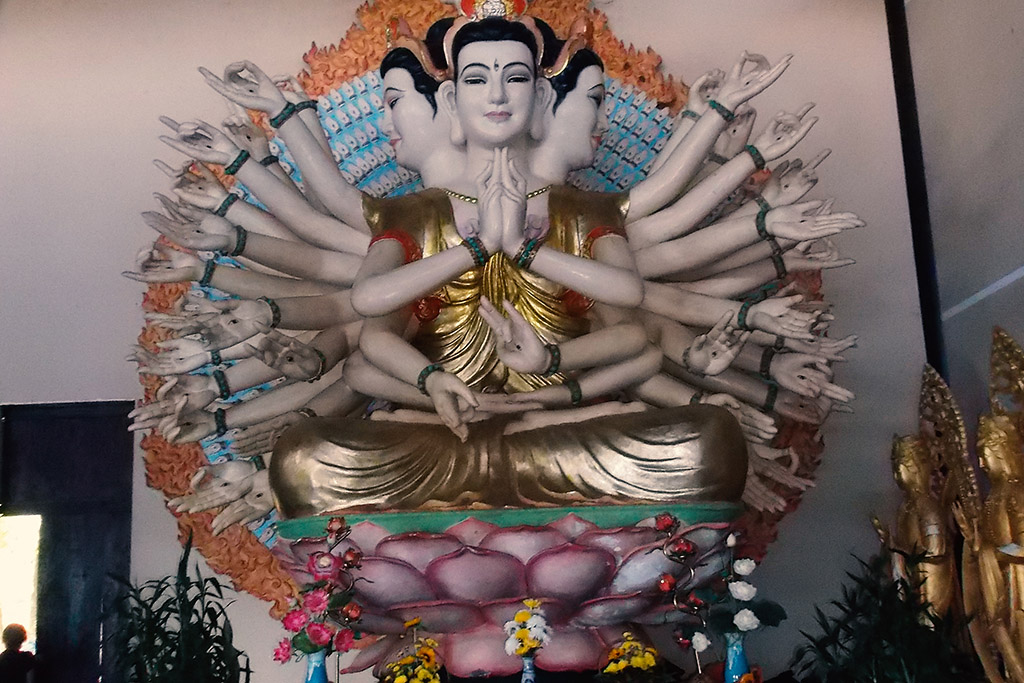 Nevertheless, it is an impressive structure with some amazing statues and a beautiful garden.
The tour's last stop was the colonial railway station in Đà Lạt, the oldest one in Vietnam. It was built in 1932.
Although the old cog railway isn't used for regular transportation anymore, the train shuttles tourists on 7 kilometers between Đà Lạt and Trai Mat. It's a scenic way to visit the beautiful Linh Phuoc Pagoda.
Practical Information
How to Get There
There are buses going from Ho Chi Minh City and other cities to Đà Lạt. From Ho Chi Minh City, the ride takes up to ten hours. If you don't want to waste precious daytime, you can travel by sleeper bus. On that bus, you basically lay down on your seat in a quite weird position. Also, you have to put your legs into a metal box – it's really not that comfortable, especially not for us big and tall Europeans.
Still, if you have to travel in those exotic vehicles, I have two tips for you: If possible, choose the lower bunk. There's more space, and the ride will be smoother. Also, you might want to bring earplugs. Plugs are on my list of indispensable tools and gadgets, anyway. Let my list of what makes my travel more comfortable inspire you.
Beware of False Economies
I came to Đà Lạt from Mui Ne which took much longer than planned – and was also far more adventurous than expected.
While in Mui Ne, I didn't feel like searching for the best fare to Đà Lạt. Therefore, I was very happy that my landlady arranged a ticket for me at an acceptable price.
About 5.30 a. m. a…let's call it vehicle honked the horn in front of the guesthouse – bye, thanks for everything, see you…actually, never again.
Munching on my breakfast sandwich I eyed the passengers that joined me one after another. There was a couple of Scandinavian guys, two bitchy German girls, an American jock who to my delight asked if this bus would take us to the coach to Đà Lạt. Nope, my American optimist, this is your coach to Đà Lạt. At the final guesthouse, the vehicle filled up to the top with an Indian family of nine. Turns out, they were tourists from Ipoh in western Malaysia.
Off we went – quite jolly.
After an hour, there was a short stop at a motorway roadhouse. I noticed that our bus was the rattliest and most funkiest one.
Who cares, we'll get there just the same.
Way Up We Go
Geez, was I wrong! Twenty minutes after leaving the roadhouse and beginning our ascent uphill, the vehicle started to make a very loud, very hoarse, very disturbing noise. As the noise rose, the speed sank.
Finally both – noise and speed – stopped at once.
Here we were, in the middle of nowhere. It was almost noon, there was no shade, just the black tar below our feet. The driver shooed us off the bus – it was too dangerous to stay there. Only the American guy insisted on staying on the bus – for whatever reason. The rest of us was hanging around in the frying heat.
The driver was laying under the vehicle and while he was…checking, parts kept dropping from the engine. I was just hoping that he wouldn't achieve to get the bloody thing going. I really didn't want to go up the mountains in a provisionally 'repaired' vehicle. But we weren't even close to this scenario: the driver laid under the vehicle that kept losing parts.
After two hours – and during this time not one other car had passed us by – finally came another bus. The driver had finally called one between smoking cigarettes and dropping parts.
We shifted our luggage over. Now, even the American guy gave up his seat in the vehicle without parts and moved to the new bus.
An hour later we arrived in Đà Lạt.
Although we finally arrived safely, this unexpected break robbed me of about three hours and that's a shame.
This little story should warn you: It was not the only time that a surprisingly cheap ticket price turned out to be no bargain, after all. A similar thing happened to me in Cambodia on my trip from Phnom Penh to Sihanoukville.
By Plane
It might be much less adventurous going to Đà Lạt by air.
However, the Lien Khuong Airport is an international airport is located about 30 kilometers south of Đà Lạt. It is actually the largest of the four airports in the Central Highlands.
To go from the airport to the city center, there are basically two options.
Firstly, you can take a bus or a cab. While the bus tickets cost less than 2 US$, the cab will set you back around 11 US$. In both cases, you should have your hotel's address ready. This way, you can tell the bus driver to drop you off at the nearest bus stop.
The shuttle bus back to the airport does not have a fixed schedule, but leaves 2 hours before every flight.
How to Get Around
The center of Đà Lạt is not teeny tiny, however, still walkable. Obviously, you can also rent a bike. Since especially the surroundings are really alluring, this actually makes sense.
To book a day trip, you have to inquire and haggle like crazy. If you don't, they will probably dupe you. Actually, they will you'll presumably cheat you here and there, anyway, but inquiring and haggling reduces your personal fool-score.
Where to Stay
Đà Lạt is a very popular retreat. Therefore, you'll find all kinds of accommodation here – from cozy homestays to comfortable hotels.
On this map, you can check out various convenient lodging options*:
What to Eat
There are many truly great restaurants on Lê Hồng Phong and Nguyễn Viết Xuâ. You'll find them in the map below.
What to See
I'm an avid solo-travelling woman. Since solo-travel doesn't equal solitude, I love to join organized tours here and there. They allow me to meet fellow travellers – for just a short moment or a lifelong friendship.
Therefore, here are some great ideas of what to do during your stay in Mui Ne. Especially if you have only a short time to stay, they'll enable you to make the best of it*:
Cash And Cards
Vietnam is getting more and more touristy, hence, credit cards are widely accepted. Đà Lạt is not only touristy, but a bustling middle-sized city. Therefore, there are banks and you can get cash from ATMs.
One US-Dollar equals 24 Dong (VND) and one €uro 25 Dong (VND) as per March 2023. However, here you can check the current rate.
Map
Da Lat was just one stop on my exciting visit to Vietnam. Go to the main post to check out all the other destinations.
Pinnable Pictures
If you choose to pin this post for later, please use one of these pictures:
Note: I'm completing, editing, and updating this post regularly – last in March 2023.
Did You Enjoy This Post? Then You Might Like Also These:
* This is an affiliate link. If you book through this page, not only do you get the best deal. I also get a small commission that helps me run this blog. Thank you so much for supporting me!
Note: I'm completing, editing, and updating his post regularly – last in January 2021.