The mountains and glaciers around El Calafate and El Chalten are an eternal winter wonderland and therefore an unmissable highlight of a trip through Patagonia.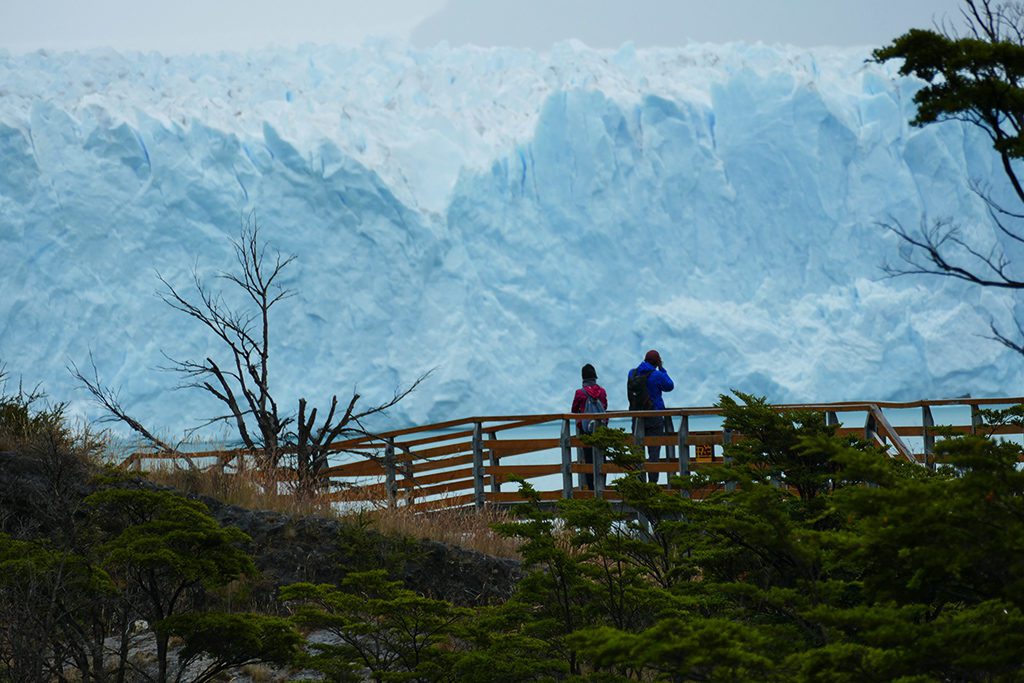 A couple of months ago, a friend of mine posted a photo on her facebook-timeline: A small boat floating on a light turquoise lake in front of a high wall of ice.
What a mesmerizing sight!
It just sucked me in.
Just looking at this picture, I felt the cold crawling up my spine. I was sure I could see my breath if I exhaled.
This place must be a mysterious place, a world of its own, governed by some beautiful, chilled ice-queen.
It was the National Park Los Glaciares in southern Patagonia.
I had to see this place for myself. As soon as possible.
Like every passionate traveller, I'm keen to see as many places as possible, and somewhere on this very long travel bucket list was also Argentina. Somewhere – not too up high.
However, my visit to the Iguacu Falls during my trip to Brazil had already brought me to the Argentine border in the north. And then this picture on facebook – somehow it was meant to be. And, of course, my trip would include a visit to the Perito Moreno glacier. After all, this gigantic piece of ice had been my inspiration.
Finally, I organized my entire itinerary around this milky-turquoise ice cube.
El Calafate
El Calafate is a small town located near the National Park Los Glaciares in South Patagonia. Here, various ice fields can be found.
If the few inhabitants have had something in abundance, it was space. There have been far more sheep than people and therefore, in the first decades of the 20th century, the main source of income was wool.
Only in 1927, the settlement had officially become a city. At that time, the place had about 100 inhabitants.
However, it was only in the 1940s with the installation of the National Park Los Glaciares that El Calafate started to transform into an administrative city.
Roads were built, hotels were constructed, and businesses opened. Slowly but surely, the region became one of Argentina's strongest tourist magnets and today, this economic sector is providing Calafate's 20,000 inhabitants with a high season from October to May.
And the sheep? Well, they are still there, however, in decreasing numbers. Slowly, the guanacos, ungulates from the llama family, are taking over the vast territory of Patagonia. While the llamas are mostly domesticated, the guanacos live wild and free.
Los Glaciares National Park
The National Park, which was founded in 1937, covers an area of more than 7,000 square kilometers. It is the largest of Argentina's 33 national parks and a UNESCO World Heritage Site since 1981.
Besides the iconic pampa with dry shrubs and some subpolar forests, the park's most fascinating parts are the 48 glaciers. Apart from some smaller ice fields, the glaciers Upsala, Viedma, and Perito Moreno are the three largest ones.
They flow into the lakes Lago Argentino and Lago Viedma.
Mind you, the National Park's ice cap is the world's third-largest freshwater reserve!
Perito Moreno – The Glacier
Of the National Park's 48 glaciers, Perito Moreno is not only one of the largest, but definitely the most famous and best accessible one. Located about 80 kilometers west of El Calafate, it is one of the country's tourist highlights. And as I said, the main reason for my trip to Argentina.
While most glaciers worldwide are affected by global warming and therefore retreating, brave Perito Moreno is fighting its right to party. The loss and gain of mass are amazingly balanced.
If you don't have your own vehicle, you can take a shuttle bus to the Perito Moreno visitor center. It costs about 1,000 pesos round trip.
However, the entrance fee of 800 pesos for foreigners and much less for Argentinians is not included and has to be paid in cash at the entrance.
Walking on Thin Ice – Metaphorically
Once there, you can walk on a wooden trail and enjoy amazing views of the glacier's terminus.
You get an even closer look by taking a boat for another 1,200 pesos that takes you close to the ice wall. This ice-blue wall facing the Lago Argentino is over 70 meters high and about 5 kilometers wide.
Do you think watching an ice-blue wall is boring? You are so wrong! While you are looking at this huge ice block, you constantly hear some cracking noises – and then humongous pieces of ice break loose and fall into the water with an amazing splash. It's as if this gigantic ice creature is alive.
Apart from just observing the ice landscape from the safe distance of the wooden trails or the boat, there are also guided hikes. They take about eight hours and you have to be in perfect health condition, not pregnant, and under 65 years old. Unfortunately, I hadn't known about this option. On the other hand, the day I visited the Perito Moreno, I had arrived by night bus from Los Antiguos so I was quite exhausted.
Had I stayed one more day, I would have taken that hike for sure.
However, the so-called mini-trekking excursion costs about 100 US$ per person.
For those who want more than just awing at this icy wonderland but are keen to learn more, there is the information center and ice museum Glaciarium located about 8 kilometers west of El Calafate.
Perito Moreno – The Man
Perito Moreno – a name that I came across on various occasions. As a matter of fact, I almost mistook the dull, forlorn town between Bariloche and Los Antiguos for the famous glacier.
It's really tricky: The town is called Perito Moreno and is located close to a National Park. And then there is the glacier Perito Moreno at another National Park. Good that I had sorted that out before planning my trip.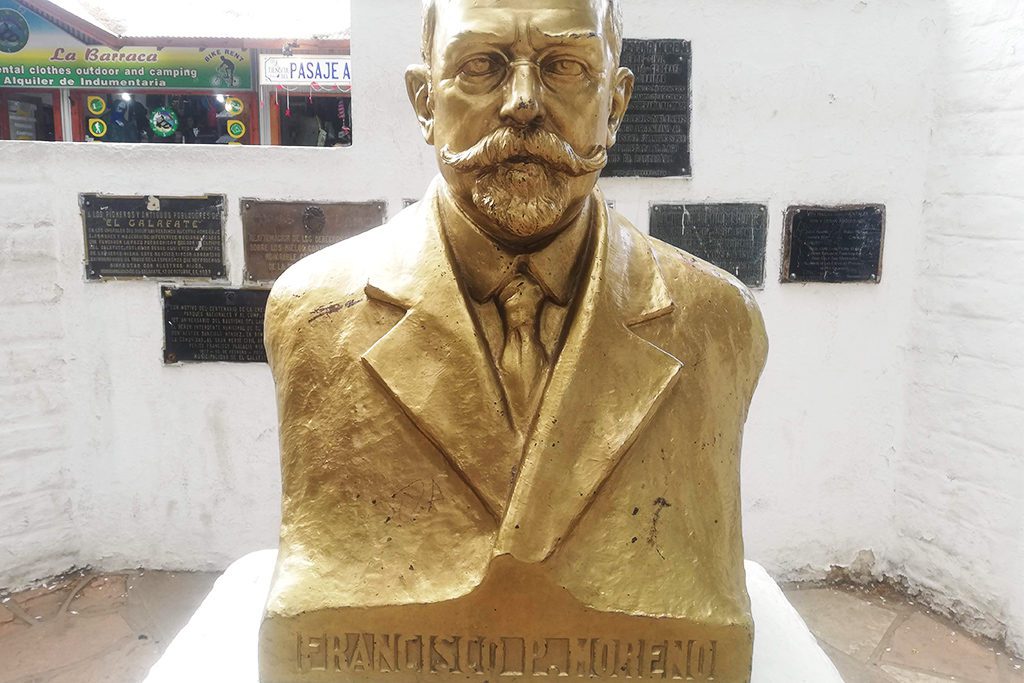 So who was this popular namegiver? Francisco Pascasio Moreno was born in 1852 in Buenos Aires. He was a prominent scientist and explorer. Already at the age of 14, he was fascinated by nature and science. With all due respect, I'd say he was a nerd.

Perito, however, translates to professional or expert. But be careful since if you don't pronounce it correctly but like perrito, it translates to small dog or puppy.
El Chaltén
Coming from the north, you first get to the town of El Chaltén before you continue another three hours to El Calafate.
El Calafate, founded in the 1940s, is a young city, nonetheless, a grandma compared to El Chaltén: It was founded in 1985 for the sole reason to cater to tourism.
There are only about 350 permanent inhabitants and many seasonal workers during tourist season. Most tourists come here just on a day trip – and so did I. However, those who chose to stay for a couple of days are mostly backpackers, hikers, and climbers. A cool, laid-back crowd who still has to break the bank since El Chaltén is quite expensive, even more expensive than El Calafate.
The town is located at the edge of the Southern Patagonian Ice Field and at the foot of the iconic mountain Fitz Roy.
Parador La Leona
I like stories. I love finding myself kinda pulled back into history. Therefore, I enjoyed the two little snack'n'bathroom breaks at the Parador La Leona, a roadhouse called the lioness.
And guess what, even this name was after all inspired by the everpresent Perito Moreno. Since in 1877 he was attacked by a cougar in this spot, they called the river flowing from here into Lago Viedma La Leona.
Anyway, 17 years later, the Danish immigrant family Jensen built this roadhouse here in 1894.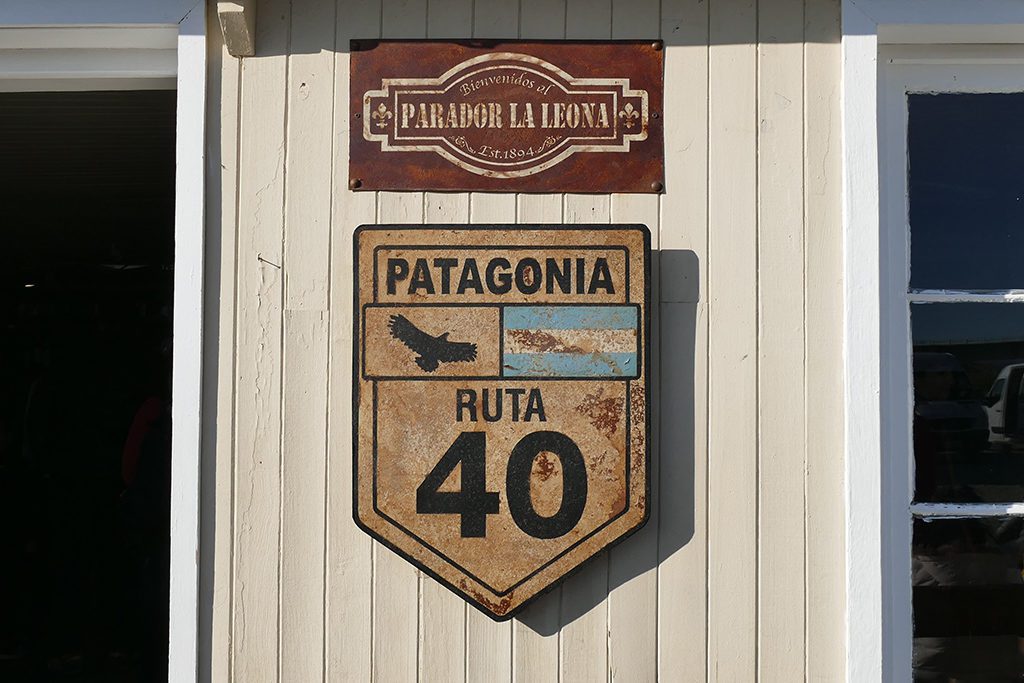 In 1905, the Jensens hosted Mr. Robert LeRoy Parker, Mr. Harry Alonzo Longabaugh, and Ms Etta Place for almost one month. Huh? Ah, sorry, you might rather know these fine gentlemen under the names of Butch Cassidy and the Sundance Kid. They were hiding here on their escape to Chile.
Isn't that amazing? And in 2020, I used their bathroom on my way to El Chaltén.
Viedma Glacier
The Viedma Glacier is just a couple of kilometers west of El Chaltén. Its terminus is only 2 kilometers wide, hence much smaller than the one of the Perito Moreno.
Just like its 'big brother', it is kind of a living object, permanently losing huge pieces into the waters of Lake Viedma.
There are also trekking tours to the Viedma Glacier which are, however, even more expensive than those on Perito Moreno.
Fitz Roy
The main attractions of otherwise quite pointless El Chaltén is the grand view of the granite mountains Cerro Torre and most of all Cerro Fitz Roy.
And here we go again – with another Perito Moreno reference. In 1877, the same year he was attacked by the cougar, our friend Moreno named the impressive mountain Fitz Roy in honor of Robert FitzRoy, the captain who was paddling Charles Darwin around on the HMS Beagle in the 1830s.
For an even better view of those majestic mountains, we hiked up about one ridiculous kilometer to the Mirador De Los Condores where we did not see one single condor but enjoyed the grand sceneries around.
Practical Information
How to Get There
By Plane
Since the year 2000, there is actually the Aeropuerto Internacional Comandante Armando Tola 21 kilometers east of El Calafate. However, there are no low-cost airlines going there and the regular flights are crazy expensive.
By Bus
Therefore, long-distance buses are the preferred mean of transportation.
Coming from the South like Ushuaia, you'll take a bus in Rio Gallegos that takes you to El Calafate in four hours – and, of course, vice versa. Rio Gallegos is quite dull, but a major hub for all the transportation up or down the coast.
Getting to El Chaltén and eventually, El Calafate from the north as I did, you'll probably pass the town of Perito Moreno and Los Antiguos. The ride from touristy hotspot Bariloche in northern Patagonia all the way to El Calafate takes about 27 hours. You change buses in Los Antiguos and El Chaltén.
However, you can do it in two legs, spending one night in Los Antiguos and continuing by night bus the next evening. Get inspiration and information in this post.
A very recommendable bus company to do this trip is Chalten Travel. They have daily service between Los Antiguos and El Calafate. However, they are travelling the route to and from Bariloche only every other day.
Check Chalten Travel's website. They have this great service on Ruta 40 – and they offer also the standard excursions in El Calafate like a trip to the Glacier Perito Moreno and a day trip to El Chaltén at really competitive prices.
If for some reason you cannot go by Chalten Travel, there is also the Marga Taqsa bus company, albeit, I haven't heard such great things about their buses. However, if you travel with them, you have to take the bus at Bariloche's Terminal de Omnibus station and not at the Club Andino downtown.
How to Get Around
Both places. El Calafate as well as El Chaltén, are so small that you can explore them walking. However, there isn't much to explore. These towns are hubs for tours to the mesmerizing surroundings.
Therefore, if you don't have your own vehicle, you'll probably mostly move around in coaches.
There is a large number of companies shuffling groups of people between their accommodations and the Glaciers. Also, there is the day trip to El Chaltén and more.
I booked the shuttle service to the Perito Moreno with them and also the Full Day Chaltén Tour and was very happy with their service as well as their guides.
I, therefore, recommend you check Chalten Travel's website for information and booking.
What to See
I'm an avid solo-travelling woman. Since solo travel doesn't equal solitude, I love to join organized tours here and there. They allow me to meet fellow travellers – for just a short moment or a lifelong friendship.
Therefore, here are some great ideas of what to do during your stay in El Chaltén and El Calafate. Especially if you travel solo and would like to visit some of the more remote spots, they'll enable you to see them in a comfortable and most of all safe way*:
Where to Stay
Rule of thumb: The further you get South, the more you pay for basically everything. It's not surprising: Routes are long and the costs of transportation are high.
However, also accommodation is far more expensive in El Calafate than in other places. Actually, El Chalten is even worse.
As always, I knew I would spend the entire day outdoors and only come back to my room to sleep. Therefore, I booked an individual room at the hostel-like Del Glaciar Libertador Hotel.*
The room was squeaky clean, however, furnished in a rather spartan way. Besides the bed, there was basically nothing there. The price, however, was about double what I had paid in Buenos Aires for some sort of apartment.
Nevertheless, if you don't want to splurge, I can recommend the Libertador – also for its location and the good, complimentary breakfast.
It's also great for larger parties or families since they have also rooms with bunk beds for up to four people.
Check all lodging options in El Calafate on this map…..*
…..and those of El Chaltén here*:
Where to Eat
As I said, travellers find everything they need in abundance. That goes, obviously, also for food.
There are so many restaurants that are catering to everyone's taste. I really liked the food, the enormous portions, and also the very attentive service at Pietro's Cafe.
Pietro's Cafe
Avenida del Libertador 1002
Z9405 El Calafate
Phone: + 54 – 29 02 49-23 34
They are open every day from 9 a. m. till midnight, Sundays from 10 a. m.
Cash And Cards
Although El Calafate and most of all El Chalten are really small places, they are ready for every traveller's need. There are shops and restaurants and tour agents and all those businesses want money. Therefore, in both places, credit cards are widely accepted and you can get cash at some ATMs.
Although normally, credit cards work fine at ATMs, you might encounter a significant problem: Sometimes, there is no cash in that stupid thing.
Yes, it is definitely frustrating having waited for 15 minutes in line just to find out that the person before you got the last bills.
I'd really recommend bringing some cash – at least if you are staying in El Chaltén where there is only one ATM.
Language
Yes, Argentina is a South American country once conquered by the Spanish. Hence, to this date, they speak Castellano.
However, even if you have a great command of Spanish, the first days, you might have trouble understanding everything: Argentinians pronounce everything that sounds like ya, ye, yi, yo, etc. sha, she, shi, sho. Yo llego becomes sho shego. A servilleta becomes a servishetta – by the way, one of my favorites.
Most people in El Calafate and El Chaltén are in some way working in the service and tourism sectors. Therefore, they have at least a basic knowledge of the English language. Nevertheless, you might want to brush up on your Spanish on babbel since it's a nice gesture to at least address locals in their language.
Connection and Communication
Like during most of my trips where European roaming is not available, I did not get a national SIM card but did rely on WiFi which usually worked like a charm.
Only at my hotel in El Calafate, WiFi access was limited and also a bit slow. After 30 minutes I got disconnected and could reconnect only after half an hour. Since I stayed only for two nights and spent most of the time on tours, I didn't really mind. However, this might be a bit annoying if you need to work or send loads of data.
El Calafate and El Chalten were only two stops on my exciting Argentinian road trip. Go to the main post to check out all the other destinations.
Pinnable Pictures
If you choose to pin this post for later, please use one of these pictures:
Note: I'm completing, editing, and updating this post regularly – last in November 2022.
Did You Enjoy This Post? Then You Might Like Also These:
* This is an affiliate link. If you book through this page, not only do you get the best deal. I also get a small commission that helps me run this blog. Thank you so much for supporting me!