Guide to Pulau Langkawi, Malaysia's northernmost island and actually geographically closer to its neighbor Thailand. Hence, it's the same turquoise waters, white sands, swaying palms, and enchanting long tail boats as in Krabi and on the Andaman islands.
But there are so much fewer tourists that you can actually enjoy it.
Langkawi is not just an island, it is an archipelago of 99 isles. Still, only four of them are inhabited. Besides the main island Pulau Langkawi, there are also Tuba, Rebak, and Dayang Bunting.
There are ferries going to Pulau Langkawi from Kuala Kedah, Kuala Perlis, and George Town. If you prefer to fly, there are domestic flights from Kuala Lumpur and international connections to Singapore and Guangzhou.
On the island, there is no public transportation, so that you either have to take a cab. Don't worry, there is a standard fixed price system. Or you rent a car or a motorbike.
Beach Life
The island's major part consists of forest-covered hills and dense vegetation. But what brings most of the visitors to Langkawi are the beaches. Pantai Cenang, a long stretches of fine white sand, being certainly one of the most beautiful ones.
While the beach area is still more or less undisturbed, though along the parallel running road you'll find restaurants, bars, shops and stores, malls, and tour operators. Because once you get tired of just laying on the beach and swimming in the Andaman Sea, they can arrange for you to explore other parts of the island and the waters around.
For Malaysian people, shopping is really a big thing on Langkawi since there is an incredible number of duty-free outlets. One of the great deals is on liquor – which is quite ironic in an Islamic country. As a matter of fact, in this part of Malaysia with a population of 90% Malay, they tend to be pretty strict about it.
Mount With a View
Another popular activity is a visit to the peak of the Gunung Mat Chinchang mountain. You can go up from Oriental Village by a Cable Car. Then, cross the Sky Bridge for fun – and breathtaking views.
Island Tours
There are various boat tours – day or half-day – to deserted islands or to Langkawi's coastal mangrove forest, a monkeys' refuge.
Another very interesting stop is at a bat cave. There, an amazing number of bats were sleeping hanging upside down on the ceilings.
Unfortunately, they also include a visit to a fish farm as well as eagles being fed. I wonder what these poor birds feasted on before their lunchtime was considered instagramable. Lunch for humans is also included. Nevertheless, it turned out to be…..neglectable.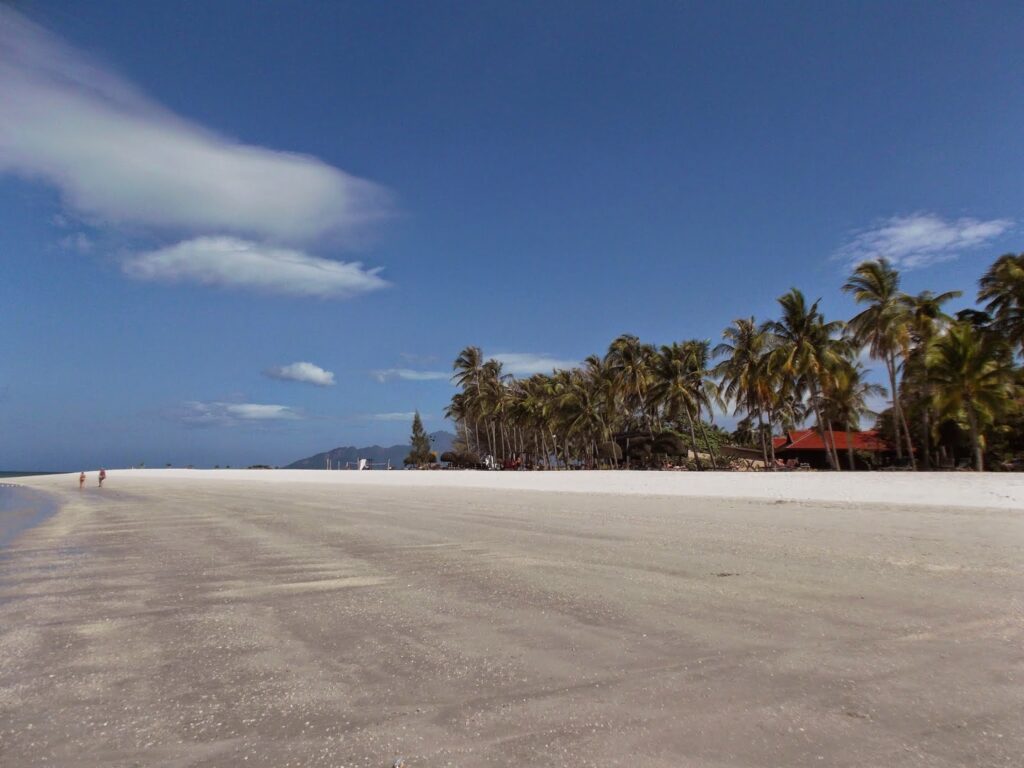 All in all, although Pulau Langkawi is relatively touristy – obviously especially around the beach areas – in comparison to Thai beaches, it's still pretty calm. You can even find secluded spots.
Practical Information
How to Get There
Pulau Langkawi actually has an international airport – whereby, international flights are going mostly to Malaysia's Asian neighbors.
But once you're in Malaysia, it's actually pretty fast and comfortable to go to the island by ferry.
There are two main harbors. You can either take the ferry from the port of George Town. Or you can cross over from Kuala Perlis on the mainland close to the Thai border.
For longer trips on Pulau Langkawi you can either hire a cab or join an organized tour.
Best Place to Sleep
Since there is international as well as national tourism, you'll find accommodations for any taste and budget.
A good option for those who want a bit of comfort combined with a relaxed atmosphere might be the beachfront Meritus Pelangi Resort*.
Nevertheless, you can check out other great lodging options on this map*:
Places to Eat
There are all sorts of restaurants along the main road Jalan Pantai Chenang. I particularly enjoyed the family styles restaurants at the corner of Jalan Pantai Chenang and Jalan Bohor Tempoyak. There you can help yourself to some Thai-inspired dishes on a generous buffet. Chenang Thai Food Corner and Siti Thai Food – the geographical proximity to Thailand takes its toll.
What to See
I'm an avid solo-travelling woman. Since solo-travel doesn't equal solitude, I love to join organized tours here and there. They allow me to meet fellow travellers – for just a short moment or a lifelong friendship.
Therefore, here are some great ideas of what to do during your stay in Pulau Langkawi in a comfortable and most importantly safe way*:
Do you want to read about all the other beautiful places I've visited in Malaysia? Then go to the main post and take your pick! There you'll also find valuable general information that will make your trip smoother.
Pinnable Pictures
If you choose to pin this post for later, please use one of these pictures:
Note: This post is being regularly completed, edited, and updated – last in March 2023.
Did You Enjoy This Post? Then You Might Like Also These:
*This is an affiliate link. If you book through this page, not only do you get the best deal. I also get a small commission that helps me run this blog. Thank you so much for supporting me!