Kep – probably the most underestimated town in Cambodia – has it all. The rice fields in the backdrop of grand mountains, a crab market with all the exotic treats, and a nice little beach where Cambodian families are enjoying food, drinks, and each other's company right on the sidewalks or in one of the simple cabanas.
After having been in distress when visiting Koh Rong Samloem in unfavorable weather conditions, I sought shelter for one night in Sihanoukville. The next morning, I took off to explore some of Cambodia's countryside where everything feels just so settling.
Leaving my big luggage with him, I bid the host of my guesthouse in Sihanoukville farewell for the next three days. Then, with only a small day pack in tow, I hopped on the bus to Kep.
Cambodia's Driver of the Year
Besides the fact that the trip was stunning – beautiful landscapes, rice paddies, buffaloes, just grand, we had the sweetest bus driver ever.
He was eating and drinking and talking on the phone while driving just like any chauffeur, yes. He was Cambodian, after all.
However, he still didn't feel the urge to kill us in some hazardous maneuvers. Neither did he unnecessarily speed nor take over like a madman.
He was very mature although he looked like he was maybe 14 and filling in for his father.
But he definitely won my heart forever when he chucked his empty coffee cup in…a trash bin! Not the sidewalk, not a pond. A real trash bin! I was delighted.
Unfortunately, my cheering rather confused than flattered him, but yes, this young man is Cambodia's brilliant future!
Pleased to Meet You
On this three-day-detour, it also came back to me why I love travelling so much.
It's the encounters.
Also, the landscapes, the cultural assets, the suspense, the personal growth et cetera et cetera. Seems like there is hardly a reason not to travel.
However, it's mainly the fascinating encounters.
Besides the bus driver of the year, there were two more passengers in the van. A friendly gentleman from Izmir who hardly speaks any English. I really wonder how he's going on. Whereby, the Cambodians' English is so bad that it probably doesn't make a big difference if he's speaking English well or not.
I dug out what was left from my Turkish class in Izmir which, of course, immediately opened his heart.
By the way, this is the reason for learning foreign tongues. The heart opening. Languages are my superpower.
At this point, the third traveller jumped in. A middle-aged, cheery lady who threw an even more interesting country into the mix: Kyrgyzstan!
Sounds exotic, but come to think of it, of the three of us, she has the shortest trip.
Nevertheless, I find a tourist from Kyrgyzstan in Cambodia unique. Especially a female solo traveller.
And if you ask me why I find a female solo traveller from Kyrgyzstan more unique than a male solo traveller from Switzerland – whom I met the day before on the hellish boat ride back from Koh Rong Samloem, then I can only give you one answer.
Because, obviously, I'm a narrow-minded schmock.
Both of them, the gentlemen from Türkiye and the lady from Kyrgyzstan are travelling by themselves.
It seems we are coming more and more in fashion.
Untapped Potential
Kep is located only about 20 kilometers from the Vietnamese border. I wonder if that's the reason why it isn't as popular as it could be.
Because Kep has much more to offer than most travellers think. The major part just passes through. Or they come for a short break to enjoy some food at the famous crab market.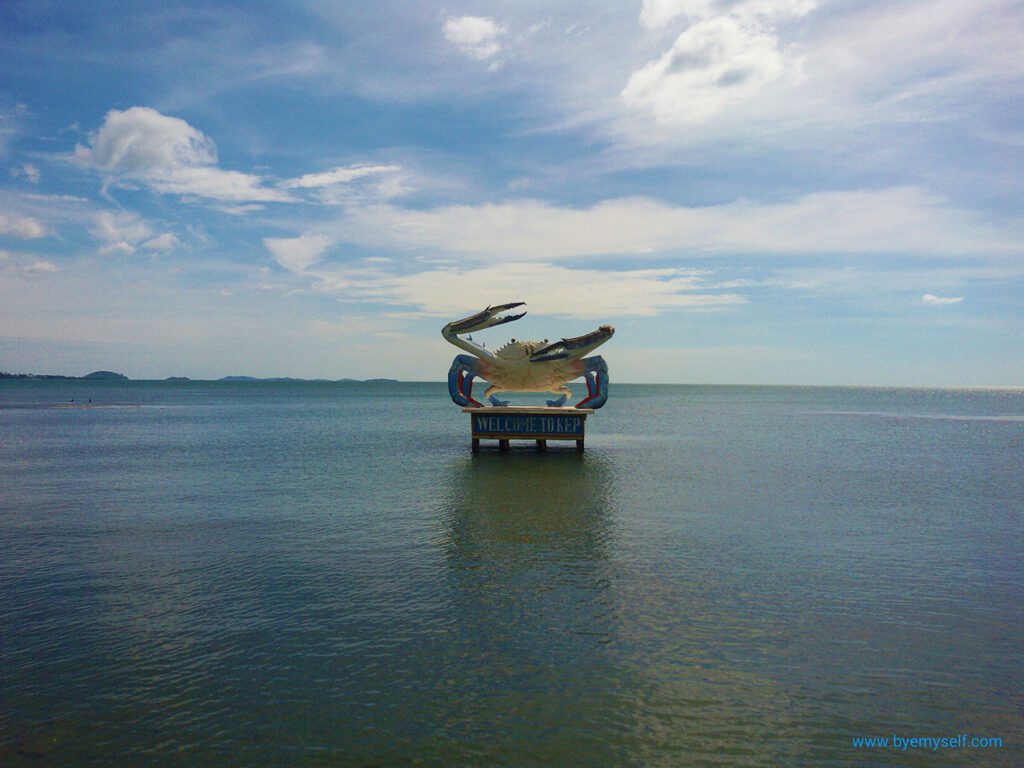 I also spent only one day there, but that was only because I didn't have more time.
Kep is absolutely worth a visit of three to four days, especially if you also go to the secluded Rabbit island.
There is some touristy infrastructure around the bus station where everybody arrives. Small stores, some eateries, and a small pharmacy.
There is a small beach, artificially raised, but nice and pretty clean. Still, Kep as a beach tourist destination seems to cater more to the local crowd than to us Barangs.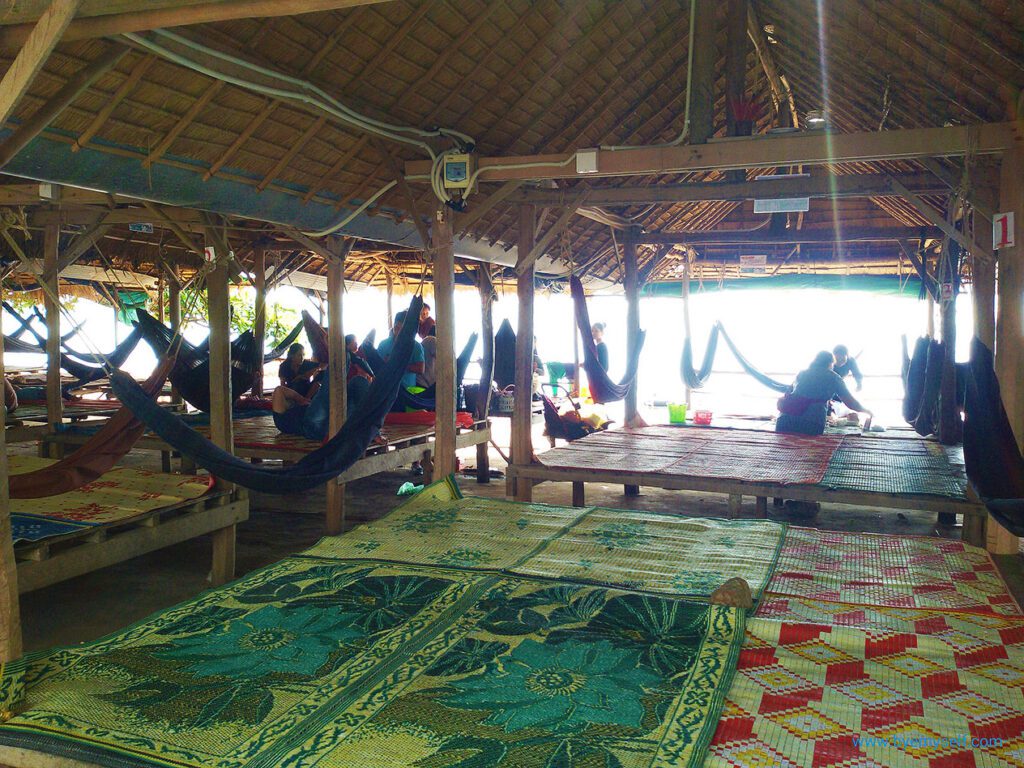 This is quite interesting and charming to see. Other than me and my fellow travellers, Cambodians travel in large groups and families. They love to picnic which they in case of doubt spread right on a sidewalk next to the beach. For those who prefer a more sophisticated base, there are rows and rows of simple, but useful wooden pagodas to rent.
School's Out
Especially the kids are super nice and loved to wave and shout hello as I passed them on my rattletrap bicycle.
At one moment I even had to use both hands to wave back because it was a whole tuk-tuk full of school kids waving and cheering at me.
I simply had to give it all.
Then they tried out their English which went from hello to what's your name? and how old are you? Sentences they've obviously practiced in class. When I told them my age I only hoped that they'd already learned such high numbers…
Down-Cycling
So one can hang out on the beach, but more fun is to cycle around and check out the charming town.
You can leave your bike wherever you please, Unlocked, since Kep no steal as the manager of my guest house informed me when I asked for a lock. I don't know if this is a ground rule everybody should rely on in any situation, but for me and the guest house's bike, it worked fine.
Kep's most popular tourist magnet is the crab market on the western shore. Although especially the snack stands seem to cater almost exclusively to tourists, it's a great place for a quick lunch before keeping on exploring.
Going east along the seaside road, there are the Provincial Hall, the Independence Monument, and some beautiful Buddhist structures like Wat Samot Raingsey.
Up-Cycling
If you cycle the road up north towards Kampot, you pass rice paddies and palm trees and get a glimpse of serene, rural Cambodia.
All the way across those fields, you'll spot the outskirts of Kampot against the backdrop of the mountain range.
It's just so peaceful and beautiful and still very unspoiled.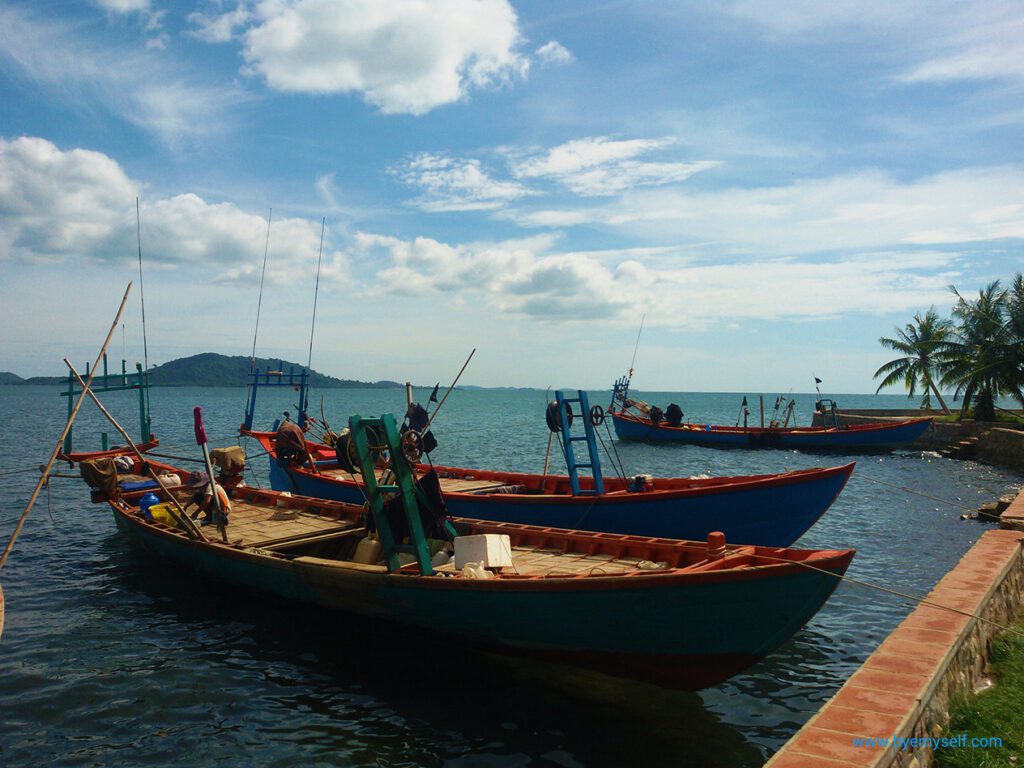 If after all your cycling you still need more exercise, you can hike the Kep National Park.
Or you take a 25 minutes boat ride to secluded Koh Tonsay, also known as Rabbit Island. You can do that as a day trip or spend the night.
By the way, there is also the possibility to travel between Kep and Kampot by boat, which might be a bit more original than taking the bus.
Practical Information
How to Get There
If you leave Sihanoukville in the morning, you get to Kampot before noon. From there it should be less than an hour to Kep. As I said, many visitors to Kampot come to Kep on a short day trip.
Visiting Kampot and Kep, I chose the bus company Anny Tours and was quite pleased.
How to Get Around
Although Kep is a bit hilly, it's a perfect place to explore on a bicycle. Normally, you can borrow one for free from your guesthouse.
Where to Stay
I stayed at the Tara Lodge located on a side street towards the National Park. The location was good, they had a pool, and I got to use one of their bikes free of charge.
It's actually on a very bumpy dust road with close to no illumination at night. Make sure to always have a torch on you because you don't want to stumble or step in all that you could step in even on this short stretch. Cambodia is really very dirty.
What I didn't like about the lodge was that they had booked me into some shack all the way back on the premises while there were far nicer rooms available. Here, I had a strong impression of being a bit discriminated against as a solo-travelling woman.
You can check out availability and rates of accommodation in Kep here*
What to Eat
Lunch
When you're hungry, you just grab a crab. This is not just a funny rhyme, this is where the crab market got its name. Crabs – fresh from the sea.
You buy them from one lady that just got them out of the water and another lady prepares them for you. Or you enjoy a couple of the skewers that come in all sizes and variations.
Don't kid yourself, with a Dollar for a skewer it is over-priced, but it is so much fun and tasty, and original. A visit to Kep without a snack at the crab market simply wouldn't be complete.
Dinner
Around five o'clock, you go to the elegant Sailing Club with their nicely set up tables along the pier. From here you have an undisturbed million-dollar view of the sunset over your drink and dinner.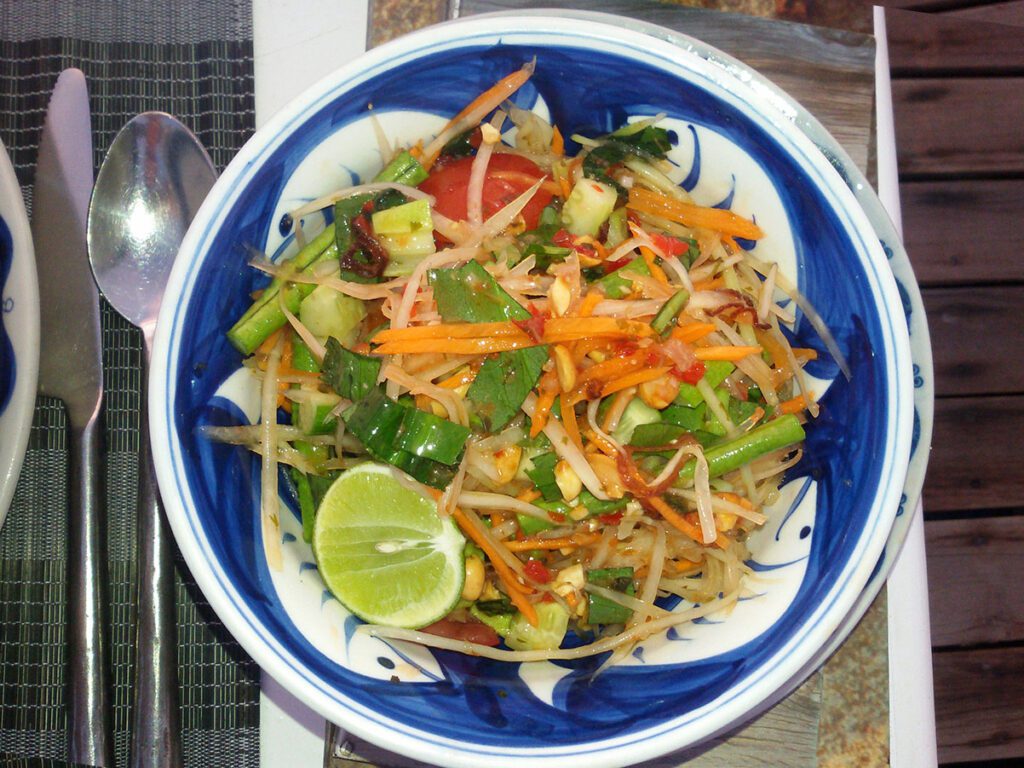 Don't drink too much, though, since the way back will be pitch dark – actually, you should always carry a flashlight or have an App on your phone.
Knai Bang Chatt / Sailing Club
Phone: + 855 – 78 – 333 686
Email: info@knaibangchatt.com
At night only the beach strip downtown is fully illuminated. As a matter of fact, that's not for the good of the people, nope, that's to attract the…crabs!
Do you want to read about all the other exciting places I've visited in Cambodia? Then go to the main post and take your pick! There you'll also find valuable general information that will make your trip smoother.
Pinnable Pictures
If you choose to pin this post, please use one of these pictures: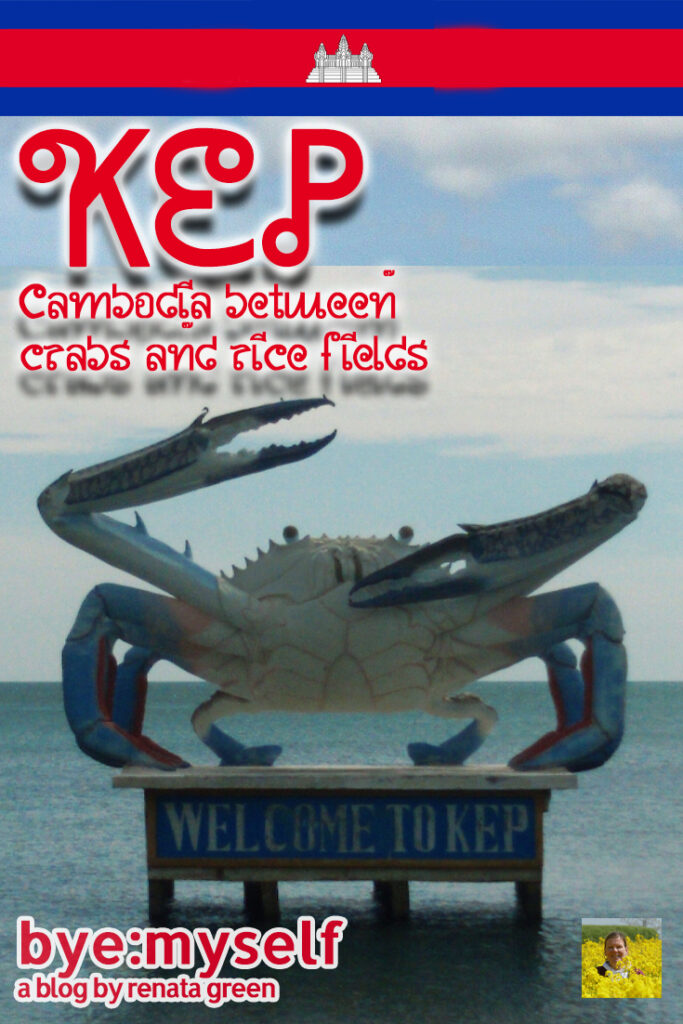 Note: I'm completing, editing, and updating this post regularly – last in November 2022.
Did You Enjoy This Post? Then You Might Like Also These:
* This is an affiliate link. If you book through this page, not only do you get the best deal, I also get a small commission that helps me run this blog. Thank you so much for supporting me!