Here comes a guide to Paracas which is actually only a short promenade along the shore. However, it's a great gateway to natural treasures like the Islas Ballestas, Peru's Galapagos Islands.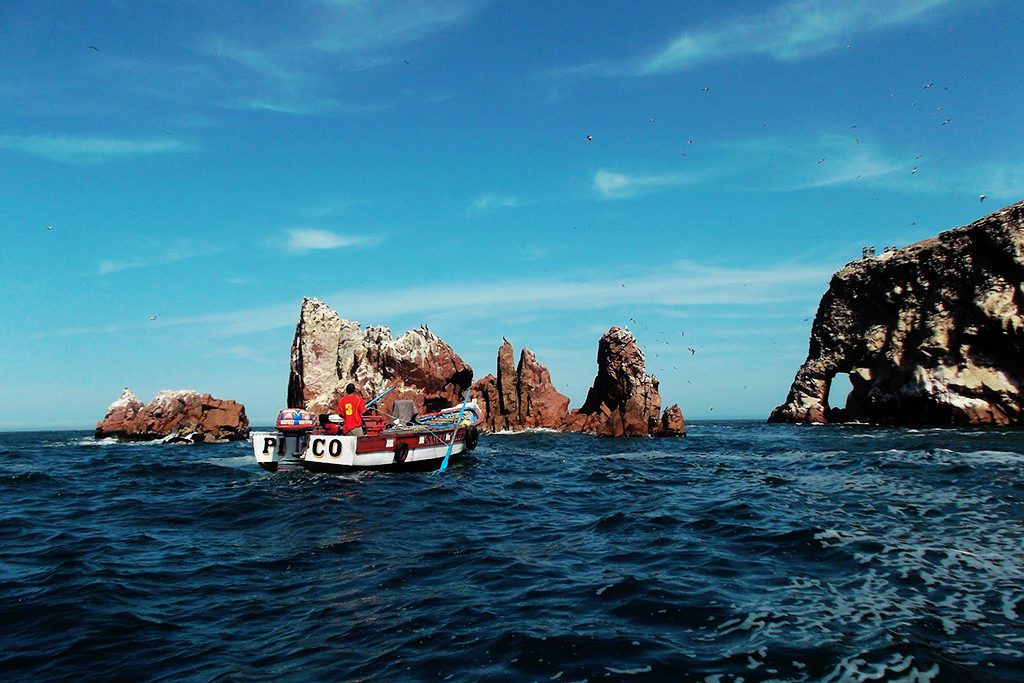 Every morning, the tour boats leave the village and show the visitors the undisturbed wildlife on these rocks. Sea lions, flocks of different birds, and even groups of penguins are greeting from the shores.
About 250 kilometers south of Lima is the Paracas Peninsula. As you leave Perú's capital, it's basically the first stop on what is called offhand the Ruta del Gringo.
The Paracas National Reserve
Located just south of the Paracas Bay, together with the Islas Ballestas, it forms the Paracas National Reserve. This protected area became a protected national park in 1975. It actually covers a total area of ​​335,000 hectares and stretches all the way down to Chile.
Also, there are many important archaeological sites inside the reserve. To be honest, I've heard about the Paracas Necropolis long before I knew I could see penguins there. I always loved that beautifully woven fabric.
However, most travellers visit the bay and the offshore islands for the rich occurrence of pelicans and birds, seals and penguins, and other wildlife.
Some of them, you meet right on Paracas' promenade, others on the adjacent beaches. And many on the offshore islands.
Although Paracas has also beaches, obviously, they are a bit less attractive to humans.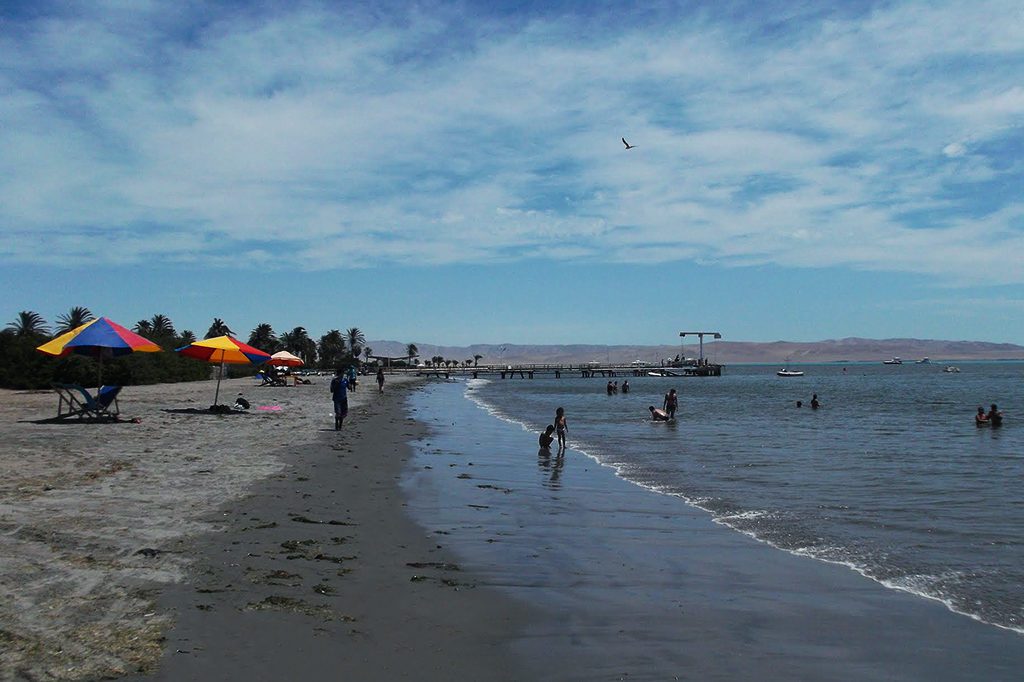 Due to the mild climate, the water here is a bit warmer which leads to a large increase in seaweed. While it doesn't look pretty on pristine beaches, it is a feast for all those cute critters. You can't have one without the other.
Islas Ballestas
The Islas Ballestas are an archipelago off Paracas' shores. As a matter of fact, the archipelago consists of three islands which are Ballestas Norte, Ballestas Centro, and Ballestas Sur as well as a couple of smaller rocks.
On these rocks, in the surrounding waters, and on top of you, you can take a closer look at the abundance of marine and bird species that are in small groups on these islands.
Penguins, sea lions, and guano boobies are the dearest highlights, just to name a few.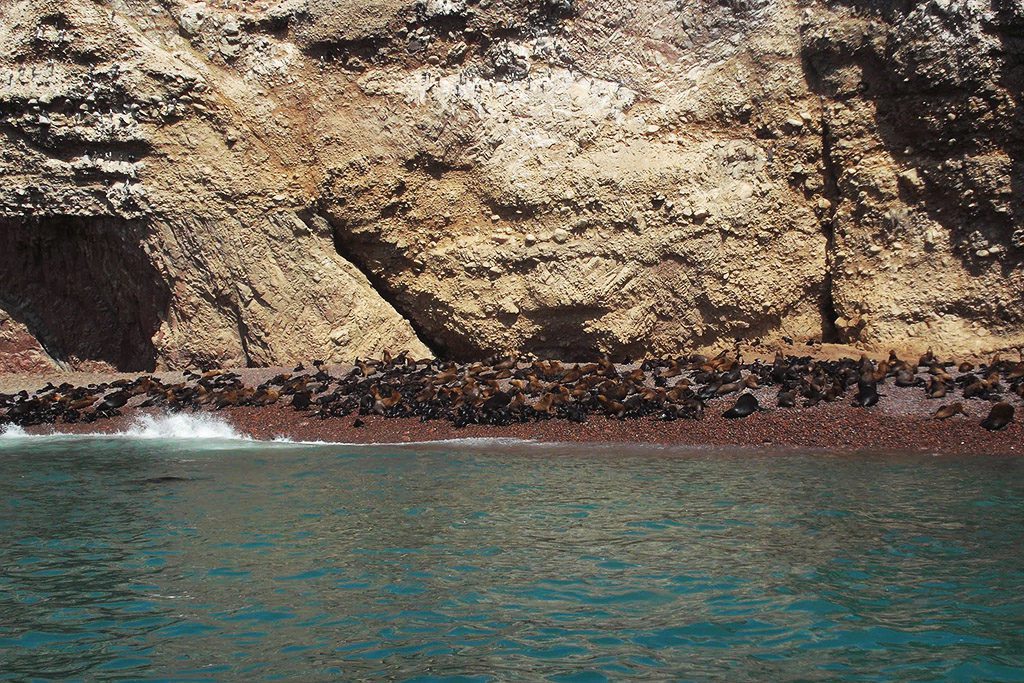 However, there is another attraction between the mainland and the islands. Basically leaning on a hill, there is a huge rock painting. Based on its shape, it's called El Candelabro de Paracas.
The candelabra's design resembles the famous Nazca lines. Although this decor is located about 200 kilometers north of Nazca, it might be related. After all, according to the latest findings, half of those designs were created by members of the Paracas culture.
Nonetheless, the meaning of the candlestick is mysterious. It might have served as a navigational landmark.
The Desert Coast
So the natural reserve consists of 65 percent of water and, consequently, 36 percent are land. More precisely, sand.
Amazingly, not less than 74 plant species grow in this extremely dry area.
Legend has it that freedom hero General José de San Martín – I mentioned him in the chapter on Perú's history in the main post – landed on the coast of Paracas during his expedition in 1820.
After he woke up from a nap on the beach, he was amazed by the beauty of flamingos flying by. They say that this sight inspired him to the first red and white Peruvian flag.
We, on the contrary, did not nap and maybe, therefore, did not get really close to the flock of flamingos. We basically guessed them miles away.
Never mind, the tour we took into the desert to see one of the world's most important ecosystems was still amazing.
Practical Information
How to Get There
Getting to Paracas is as easy as ABC. There are various public buses leaving every day from Lima.
If you leave Lima early enough and organize the trip to the desert privately, you can do both in one day. To avoid too much of a rush, we arrived at noon, did go into the desert in the afternoon, and to the island the next morning. After lunch, we took a coach to Huacachina.
If you are coming from the south, you can catch a bus at Ica. There are public buses as well as privately operated coaches.
Also, Paracas is on the PeruHop-tour. If you book through them, the trip to the desert is even included.
Since Ica is only about one hour away, you can also include just a day trip to Paracas in your itinerary.
How to Get Around
The town of Paracas is really tiny, you can walk everywhere. To explore the surroundings, you can rent a bicycle.
For an extensive visit to the desert, you have to go by a 4×4 jeep. Your accommodation will surely arrange something for you.
Going to the Islas Ballestas, just be at the Marina Touristica on time. Normally, there are two tours per day, at 8 a. m. and at 10 a. m. During high season, there is a third one at noon. Therefore, it should be okay to book on the same day or maybe one day ahead.
I would totally refrain from pre-booking anything online – anything but Machu Picchu, that is. All the other activities can be much better booked spontaneously and far cheaper on the spot.
Where to Stay
Amazingly, one of the cheapest lodging options in Paracas, the Kokopelli Hostel*, is practically right on the beach.
They have kind of capsules and also private rooms. Our room, however, was really not nice – a bit of the charm of a jail cell.
However, they were quite helpful with our tours to the Islas Ballestas as well as the trip into the desert.
Since the beach is not that great in Paracas, anyway, and there are other options at almost the same price a bit further from the shoreline, I would not stay there again. However, if you are backpacking and don't mind sleeping in a dorm, it's an okay option.
Nevertheless, here are other options for where to stay in Paracas*:
Where to Eat
There are many restaurants along Paracas' ocean promenade – all of them serving, obviously, seafood.
If you haven't done it yet, now is definitely the time to try some Ceviche, Perú's legendary dish made of chunks of raw fish, sauteed in lemon juice.
If you don't want to eat your fish raw, try some Jalea. It's small battered fish chunks – crispy outside, juicy inside – just fantastic.
What to See
I'm an avid solo-travelling woman. Since solo travel doesn't equal solitude, I love to join organized tours here and there. They allow me to meet fellow travellers – for just a short moment or a lifelong friendship.
Therefore, here are some great ideas of how to visit Paracas and the Islands in a safe and fun way*:
Cash And Cards
Paracas is a very touristy place, hence, cash and also cards are accepted basically everywhere. Also, there are several ATMs, one for instance right at the Marina Touristica where you buy your tour to the Islas Ballestas.
The exchange rate is 1 US$ = 3.91 PEN current rate resp. 1 €UR = 3.92 PEN current rate as of November 2022. Credit cards are widely accepted.
Language
Yes, Perú is a South American country once conquered by the Spanish, and Castellano is spoken to this date.
Since Paracas is one of Perú's natural paradises, most people have a quite good knowledge of the English language. Nevertheless, you might want to brush up your Spanish on babbel – and be it just as a courteous gesture.
Paracas was only one of the truly amazing places I've visited in Perú. To read about the others, go to the main post and take your pick! There, you'll also find further relevant information on money, communication, and more.
Pinnable Pictures
If you choose to pin this post for later, please use one of these pictures:
Note: This post is being regularly completed, edited, and updated – last in November 2022.
Did You Enjoy This Post? Then You Might Like Also These:
* This is an affiliate link. If you book through this page, not only do you get the best deal. I also get a small commission that helps me run this blog. Thank you so much for supporting me!