I've put together a complete travel guide to Cambodia since, over the past years, the country is more and more becoming a popular holiday destination. Not an easy task after having been synonymous with murder and destruction for the longest time.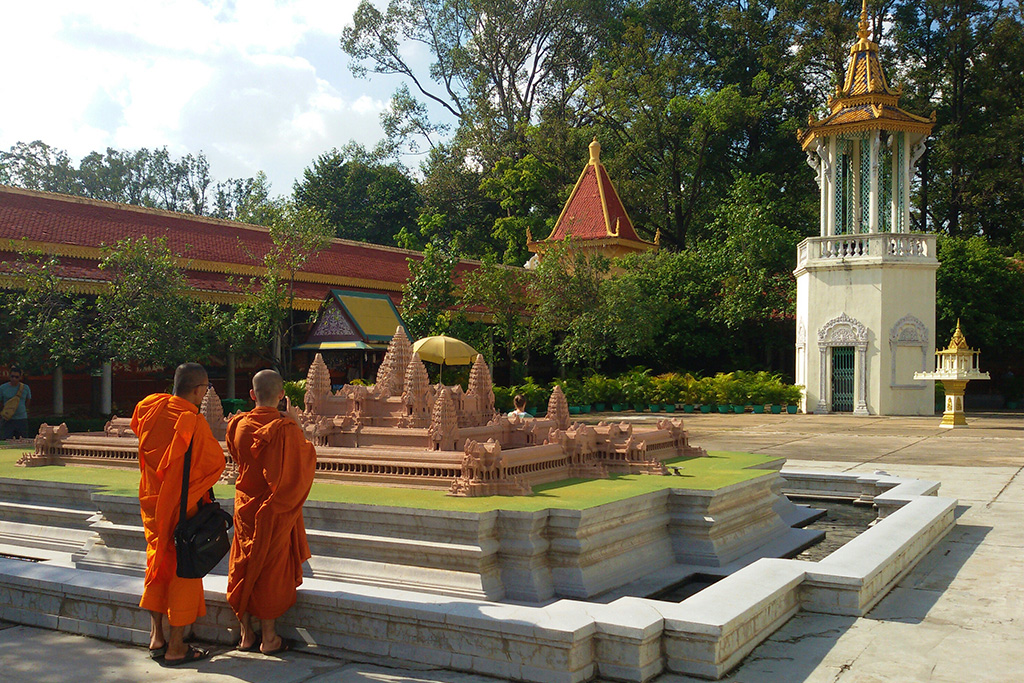 "…now you can go where people are one
Now you can go where they get things done
What you need my son:
Is a holiday in Cambodia
Where people dress in black
A holiday in Cambodia
Where you'll kiss ass or crack…"
This is an excerpt from the song "Holiday in Cambodia" by the US band "The Dead Kennedys". They were a punk band, hence the lyrics are meant to grate on you in their very cynical way.
And as a matter of fact, Cambodia has always been a synonym for murder and destruction and by no means a holiday destination; apart from Angkor, Asia's most important sanctuary, which has been a World Heritage Cultural site since 1992.
Only when my friend Philippe told me about his plans of travelling to Cambodia, I took into consideration that it might be an interesting destination and a country worth exploring. I decided to follow his example.
Cambodia's Colonial Past
Cambodia has a population of about 16 million people and a size of 181.000 square kilometers. In general, Cambodia has a Monsoon climate with December being the coolest month.
Until 1953, the country was – together with Laos and Vietnam – part of the French colony Indochina. This certainly triggered political development in the 20th century and lead to the seizure of power by the Khmer Rouge in 1975.
In 1953, Cambodia became a constitutional monarchy under King Norodom Sihanouk. During the Vietnam war, Sihanouk adopted an official policy of neutrality. However, over the Ho-Chi-Minh-Trail and the eastern support bases, the war finally spread into Cambodia. First, the US army bombed only the eastern region. Since according to the US government, Sihanouk did not oppose enough the Việt cộng, in 1970, they disempowered Cambodia's government and replaced it with General Lon Nol.
He became president in 1972, supported by South Vietnamese and American troops. This led to a civil war – comparable to the one in Vietnam.
Four Years for Total Destruction
Initially, many people were even relieved. When the Red Khmer conquered Phnom Penh in 1975, they were hoping for a peaceful tomorrow with no foreign hegemony.
Well, this relief didn't last since the Red Khmer under the guidance of Pol Pot immediately started their reign of horror. His thugs chased people from the cities to the countryside where they had to do forced labor in the fields. Howbeit, they had next to nothing to eat since the Red Khmer shipped the major part of the crop to China in exchange for weapons and ammunition.
They killed everybody who they considered to be middle or upper class or educated in whatever sense. The Red Khmer executed people for crimes such as speaking a foreign language or for wearing glasses.
Over time, Pol Pot became more and more paranoid which more and more people paid with their life. During the four years of the Red Khmer terror, almost one-third of Cambodia's population was murdered or starved.
Finally, in 1979, the Vietnamese army liberated Cambodia from that reign of terror.
Today Cambodia is a Constitutional Monarchy, King is Norodom Sihamoni, and Prime Minister Hun Sen, the world's longest-serving prime minister; not judging, just sayin'.
Preparation
How to Get There
Only if you are coming from one of Cambodia's neighboring countries such as Thailand or Vietnam, you'll enter the country by bus. The border posts are at Poi Pet on the Cambodian side respectively Aranyaprathet in Thailand and Bavet in Cambodia when crossing to Moc Bai in Vietnam. You read many nerve-wracking stories about crossing these borders, scams included. I believe them all. To be at least a bit prepared, check on my World's Most Complete Travel Info-Page which visa regulations apply for your nationality.
However, coming from other countries, you'll probably fly into Cambodia. International airports are in Siem Reap, Sihanoukville, and, of course, the capital Phnom Penh.
The Phnom Penh International Airport has a really good website. There, you find all the options on how to get downtown – from the public bus to a fancy rental car.
I try to be very reasonable or even cheap when travelling. Having said that, after a long, exhausting flight, I avoided venturing around and had my hotel send a driver. I probably paid far too much – as very often in Cambodia, though – but got to my room safely and securely.
How to Get Around
Like in most poor countries – and Cambodia seemed to be one of the poorest countries I've ever visited – the public transportation is excellent, however, not fancy.
Obviously, you can fly between the three above-mentioned airports which is not exactly cheap.
Certain routes can be travelled by ferries – not only serving the islands such as Koh Rong and Koh Rong Sanloem. You can also go up and down the mighty Mekong.
The most popular means of transportation, however, are buses. Mind you, they come in extremely different qualities. You can join Cambodians taking the regular buses, although I wouldn't recommend that. Why not? Well, read about my experience how I got from Phnom Penh to Sihanoukville and you'll understand.
But don't you worry, there are enough companies who cater to us spoilt Westerners offering reliable service with clean and comfortable buses.
Where to Stay
There is a wide range of good, clean hotels all over Cambodia. However, accommodation is more expensive than in Thailand or Vietnam. According to my experience, it doesn't make a big difference if you book through a portal or just walk in.
Here you can have a look at what booking has in store – they mostly have the best prices*
Where to Eat
Easy answer: At one of the many good, relatively reasonably priced restaurants. Especially in more touristy places such as Sihanoukville and Siem Reap, there are also options to take a break from Asian cuisine and have some Western food at one of an ex-pat's restaurants.
Anyway, I'd love to recommend some places where, by eating some of the most amazing, inventive dishes, you are also charitable. The TREE Alliance restaurants are places where students – often from underprivileged families – do their professional training in gastronomy and hospitality.
At the affiliated restaurants, they serve you excellent, artistic cuisine. Also, they treat you like a Royal since they have to learn perfect hospitality, after all. So you are a – very privileged – guinea pig for the cooks'n'waiters. And your money is reinvested into the training as well as partner NGOs. Feasting for a good cause – what's not to like?!
There are seven restaurants, four of them in Cambodia. You can dine at Friends the Restaurant and Romdeng in Phnom Penh, Marum in Siem Reap, and Sandan in Sihanoukville.
Do yourself and those kids a favor and have at least one meal there.
Cash And Cards
Although there is a national currency, the Riel (KHR), most prices are quoted in US Dollars. At the ATMs, one can choose between Dollars and Riel, but actually, it doesn't make really sense to get Riel since everything is priced in US Dollars. Only if you pay let's say 4.50, they give you change for the 50 cents in Riel – which would be an incredible 2000 KHR.
The current rate – as of November 2022 – is 1 USD = 4.15 KHR, but everybody converts 1:4. You can check the current rate on this page.
Language
Cambodian people speak Khmer, many pretty basic English. All relevant signs are written in Latin letters.
Communication and Connection
There is a decent internet connection in most places.
The voltage is 230 V at a frequency of 50 Hz and they use sockets A, C, and G.
In the respective section of my World's Most Complete Travel Information, you'll find this and much more information for every country around the planet.
Places to See
Map
of the route I travelled
Pinnable Pictures
If you choose to pin this post for later, please use one of these pictures:
Note: I'm completing, editing, and updating this post regularly – last in November 2022.
Did You Enjoy This Post? Then You Might Like Also These:
* This is an affiliate link. If you book through this page, not only do you get the best deal, I also get a small commission that helps me run this blog. Thank you so much for supporting me!