I included Puerto Madryn in my itinerary because it's famous for its wildlife – however, apart from whales, it's also known for Wales.
Apart from its interesting history and amazing encounters with various species, it grants some beachfront relaxation; exactly what I needed at the end of my trip.
As much as I enjoy road trips, getting off the bus at yet another terminal, looking for accommodation, and exploring new surroundings – it gets tiresome. Therefore, towards the end of a road trip, I'm looking forward to spending a couple of days at a beach destination. Somewhere I can lay on the beach, read a nice book – or just nap.
In Argentina, I chose Puerto Madryn for this purpose. It's a beach town on the northern coast of Patagonia, famous for whales in the waters and migrants from Wales on the shores.
Puerto Madryn
Located in northern Patagonia's Chebut Province, Puerto Madryn is a classic beach town on the Atlantic shores. It caters rather to national tourists who are enjoying the city beach right in front of a long promenade.
The further south you walk away from the city center, the more secluded and beautiful the beach gets. Nonetheless, the Atlantic can be very cold and at times, the strong wind makes relaxed sunbathing impossible.
No problem, you can always take long walks on the beaches.
Interestingly, the town was founded by 162 Welsh immigrants in 1865. In honor of Welsh pioneer Sir Love Jones-Parry's estate back in Wales, they called the newly installed settlement Porth Madryn.
To this date, the Welsh heritage is perceptible, be it in the city names like Trelew, the street names such as Abraham Matthews – who was a migrant from Llanidloes – or the bumper stickers with the Welsh flag.
Friends and Foes
In 1995, Lady Di came to visit – which makes total sense since she was the Princess of….correct: Wales. Since then, the tea room in Patagonia's Welsh town of Gaiman keeps the dishes used by the Princess having tea in a showcase.
But don't you think that HRH was able to reconcile the Argentines with the British after the Falkland war in 1982. This conflict is by no means forgotten and every small town has its own memorial.
Today, Puerto Madryn has a population of about 80,000 inhabitants. Many of them find jobs in the growing tourist industry. However, in the northern outskirts of town is also the important aluminum refinery Aluar Saic.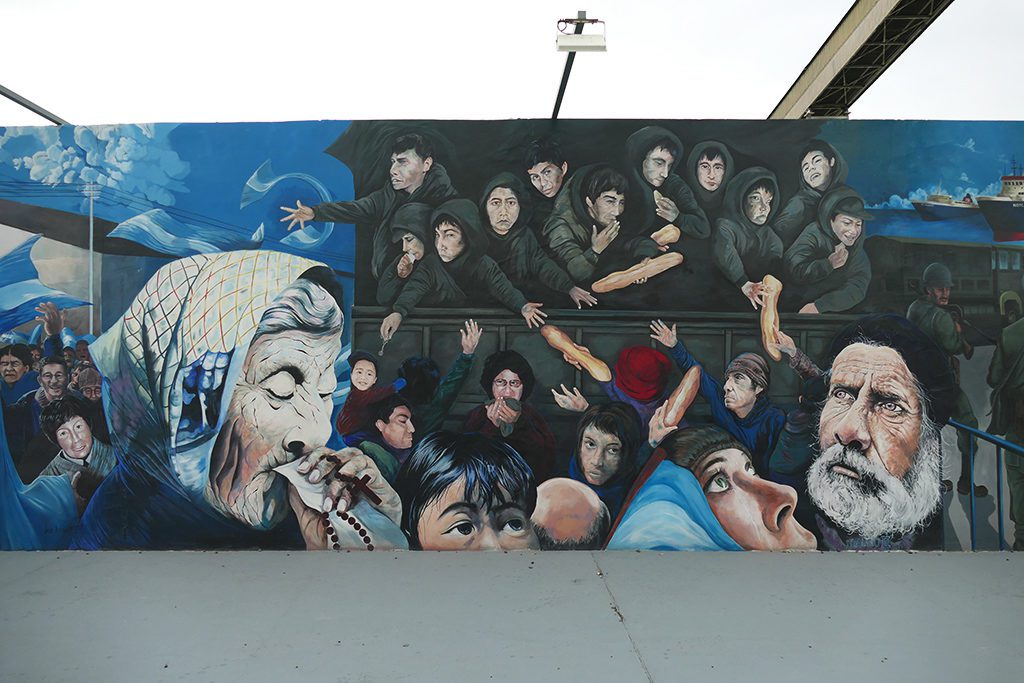 As a matter of fact, Puerto Madryn's tourist sector is growing mainly because of its proximity to the natural paradise Península Valdés.
Península Valdés
Península Valdés is a half-island about 120 kilometers north of Puerto Madryn.
The isle's coastline is home to marine mammals such as Magellan penguins and Patagonian sea lions. Off the coast, you can spot Orcas and from May to December, baleen whales come to the waters around Península Valdés to mate and give birth. Here, in the protected gulf, the water is quieter and warmer than in the open sea.
Obviously, this more than 3,600 square kilometers large peninsula is a paradisic nature reserve which, to no surprise, has been listed as a UNESCO World Heritage Site since 1999.
How to get there
Visiting the Valdes Peninsula is the most popular day trip from Puerto Madryn. Consequently, there are guided tours going to the park every day. For about 3,000 pesos, they pick you up around 7:30 a. m. and drop you off in the late afternoon.
To get to the peninsula, international visitors have to pay an entrance fee of around 400 pesos at the Visitor Center Istmo Ameghino. Here, you can also buy some refreshments, use the bathroom, and get some basic information.
Puerto Pirámides
The next stop after the visitor center is Puerto Pirámides, a small village with about 400 inhabitants. However, there are some accommodations for those who'd like to spend the night in this natural paradise. Of course, there are also a couple of eateries and small shops. You'll even find an ATM and an internet and call center. Other than that, there is hardly any internet connection on the peninsula.
For an extra fee, you can book boat tours from Puerto Pirámides that take you even closer to the wildlife. Those tours are taking place during the Argentinian winter between May and December.
Punta Norte
Travelling another 80 kilometers from Puerto Pirámides – distances in Argentina are crazy; everywhere – we got to the Punta Norte reserve.
The reserve is known for Orca watching, but in this respect, we were not the lucky ones.
However, it was the nicest stop on this tour since below the cliffs was a huge colony of Patagonian sea lions. There was the harsh'n'heavy sea lion bull, surrounded by his numerous harem. But the cutest sight was the babies. There were so many of them – everywhere: Frolicking in the shallow waters, lazing and cuddling on the sand, being nursed by their mothers.
So beautiful!
Along the path on the cliffs were informative signs – for those who could take their eyes off those adorable families for just a moment.
Also, at this stop, there are public restrooms and a tiny café where I had a cup of hot tea since it was terribly freezing. Although I visited during the Argentinian summer, some days in Patagonia were just incredibly cold – especially close to the coast with the strong winds.
When travelling through Patagonia, you should always have some long pants and hoodies or windbreakers on you – it's a rough region.
Caleta Valdés
In the middle of the eastern coastline is Caleta Valdés where you can walk along the cliffs, enjoying a majestic view of the open sea.
Here, the Magellan penguins gather between September and April to mate and breed.
At Caleta Valdés is also a ranger post and a restaurant. However, the choice is limited and the lady in charge is very unpleasant. I suggest you rather stock up on snacks and drinks at the bakery in Puerto Pirámides.
Crossing the peninsula, you'll spot different kinds of mammals like the Argentine llama-like guanacos or some mid-sized rodents called mara as well as a wide range of bird species.
About visiting penguins
Since I had been to Puerto Santa Cruz and visited the penguin colony there, the tour to the Península Valdés was my only day trip from Puerto Madryn. However, many tourists also visit Punta Tombo past Trelew to see the penguin colonies there.
One thing that I noticed and didn't like about the Península Valdés was the behavior of the penguins. When I visited the colony at Puerto Santa Cruz, the animals were super cautious and shy. Although I was very quiet and moved slowly, the penguins were obviously aware of the intruder and pretty much on alert. As soon as I moved closer than around twelve meters, they paced away.
On the Península, however, the penguins stood about two meters from us and didn't care although we were a small group of people. I had the impression that they were far more used to visitors – which I find a bad thing. Especially since later, I read that newly hatched chicks when visited by humans show a stress response with elevated levels of corticosterone in their blood. This might impair the development of muscle strength, growth, and immune function.
Makes me think if visiting the Péninsula was really such a great idea.
Practical Information
How to Get There
I came from southern Patagonia and had travelled for more than an entire day. Therefore, once in Puerto Madryn, I had the feeling of being already almost back in Buenos Aires.
Well, actually the little something of 1,300 kilometers lay still ahead. As a matter of fact, Puerto Madryn is on the northern coast of Patagonia, approximately the height of El Bolson in the west.
Therefore, it's convenient that the small city has an airport. Tehuelche Airport is located about 10 kilometers northwest of the city. There are domestic flights to Buenos Aires, Ushuaia, and other cities. However, flights into Puerto Madryn are restricted for environmental reasons.
Therefore, most visitors fly into Trelew, a mid-sized city between the Welsh settlements of Gaiman in the west and Rawson on the coast in the east. This airport is about one hour from Puerto Madryn and there are shuttle buses granting a door-to-door service. You can book at least 24 hours ahead by phone at +54 – 280 – 487 30 00 or online. One way is between 700 and 900 pesos depending on the season. You can pay either cash or by credit card. For further questions, you can contact them by email at info@transferpmy.com.
How to Get Around
Like almost everywhere else in Argentina, there are public buses in Puerto Madryn. However, the city is not that large and all the points of interest are concentrated around the beach promenade, and the next two to three blocks land inwards. Will say, unless you are gimpy, it's totally walkable. However, there are cabs available.
Visiting the natural reserves around Puerto Madryn, you can join one of the numerous day tours by coach or rent a car.
Unlike other touristy places, you don't need to search the town for the cheapest agency: According to the tourist bureau, they all charge the same price. However, I got a small discount for paying cash for the tour to the Península Valdés.
What to See
I'm an avid solo-travelling woman. Since solo travel doesn't equal solitude, I love to join organized tours here and there. They allow me to meet fellow travellers – for just a short moment or a lifelong friendship.
Therefore, here are some great ideas of what to do during your stay in Puerto Madryn. Especially if you travel solo, they'll enable you to see many great sites in a comfortable and most of all safe way*:
Where to Stay
Almost all the bigger hotels are located on the Avenida Julio Argentino Roca and Bulevar Almte Brown so many rooms have a sea view. Nevertheless, some accommodations advertise online as if the beachfront was a big deal. It's not – not in Puerto Madryn.
I'm famously cheap when it comes to accommodations, however, I refrained from taking the cheapest offers. My medium-priced room was actually bad enough.
Since, obviously, I only spent my nights there, I didn't really mind. On the other hand, I skipped the hotel breakfast and treated myself to a freshly brewed coffee, two tasty pieces of Danish, and some freshly squeezed OJ at the café on the corner.
On this map, you can check the availability and rates of accommodations around Puerto Madryn*:
Where to Eat
Puerto – it's a harbor. Expectedly, fish cuisine is big in Puerto Madryn, and the Mariscos del Atlántico is specialized in delicious seafood that anywhere else would cost a fortune. Prawns, scallops…you name it.
Since the restaurant is not on one of the main streets but a bit hidden at the northern end of the promenades, prices are actually very reasonable.
Mariscos del Atlántico Pesca Artesanal
Ing Fennen 43
Puerto Madryn
Phone: +54 – 280 – 447 31 56
Mariscos del Atlántico is open every day from 8 p. m. till midnight. On weekends, they are also open from noon to 3 p. m.
Particularly in a beach destination, daily ice cream treats are crucial, do you agree?
Well, in Puerto Madryn, there is one of the nicest ice cream parlors in all of Argentina. Bomke – which according to my tour guide is a reversed que bom – how nice.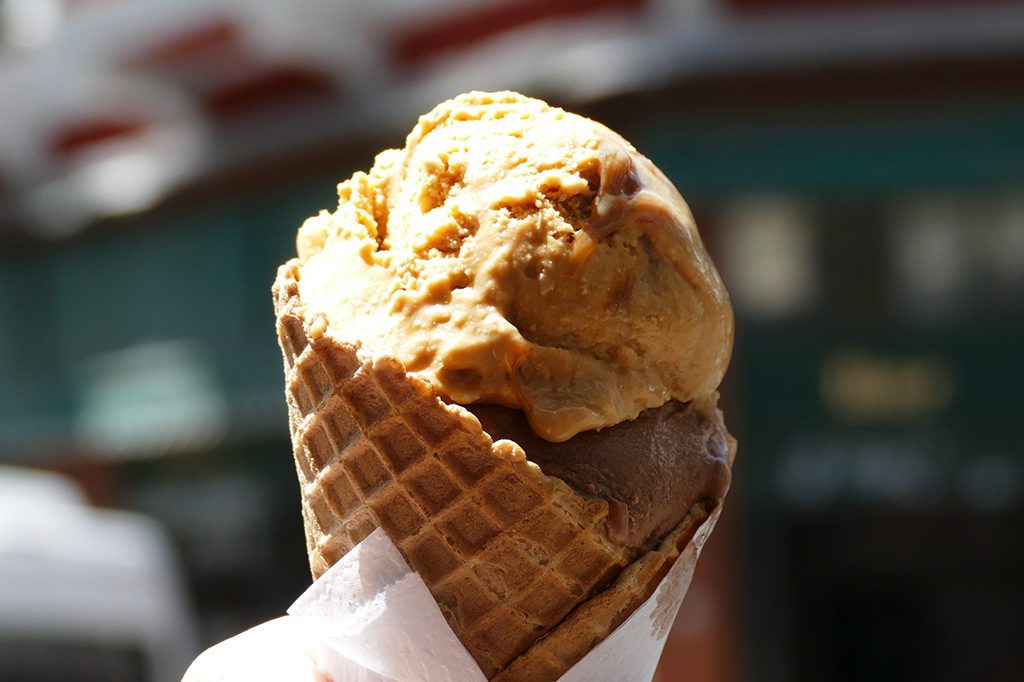 Well, I don't know if that's really true. But if it is, it's definitely deserved. Their ice cream is just so good and comes in all those fantastic flavors. They don't have just chocolate, no, they have chocolate from Bariloche and a Bomke special, and those come plain or with almonds and….it's just overwhelming.
Besides their out-of-this-world ice cream, they also sell excellent coffee and some hearty snacks.
Bomke Artesanal
Avenida Julio Argentino Roca 540
Puerto Madryn
Phone: + 54 – 280 – 447 40 94
Bomke is open every day from 9 a. m. to 2 a. m.
Cash And Cards
Puerto Madryn is a tourist destination, therefore besides cash, credit cards are accepted practically everywhere.
However, it was in Puerto Madryn where I encountered a pretty Argentine problem. In the early evening, ATMs ran out of cash.
Yes, it was definitely frustrating having waited for 15 minutes in line just to find out that the person before me got the last bills.
Also, some of the ATMs were limited to certain – quite low – amounts like e. g. 3,000 Pesos. That's 50 bucks. Practically nothing. And no matter how much cash you get, you always pay the same, a quite high fee.
Although businesses accept cash as well as cards, some obviously prefer cash. For my tour of the Península Valdés, I got a small discount for paying cash.
Language
Yes, Argentina is a South American country once conquered by the Spanish, and Castellano is spoken to this date.
However, even if you have a great command of Spanish, the first days, you might have trouble understanding everything: Argentinians pronounce everything that sounds like ya, ye, yi, yo, etc. sha, she, shi, sho. Yo llego becomes sho shego. A servilleta becomes a servishetta – by the way, one of my favorites.
Also, they mostly use vos instead of tu or Usted. And they don't use the – correct – imperative ven, but they say veni.
Most people – especially when they are working in the service and tourism sector – have at least a basic knowledge of the English language, however, you might want to brush up your Spanish on babbel since they still cater mainly to national tourism.
On my tour of the Península Valdés, there were two people who did not speak the language very well, and still, the tour was completely in Spanish. Four organized tours, it is certainly good knowing a bit of Castellano.
Connection and Communication
Like during most of my trips where European roaming is not available, I did not get a national SIM card but did rely on WiFi – worked like a charm.
Puerto Madryn was the final stop on my exciting Argentinian road trip. Go to the main post to check out all the other destinations.
Pinnable Pictures
If you choose to pin this post for later, please use one of these pictures:
Note: I'm completing, editing, and updating this post regularly – last in November 2022.
Did You Enjoy This Post? Then You Might Like Also These:
* This is an affiliate link. If you book through this page, not only do you get the best deal. I also get a small commission that helps me run this blog. Thank you so much for supporting me!