Overshadowed by the world-famous Cinque Terre, the beautiful coastal town of La Spezia and the nearby village of Porto Venere tend to be strongly underrated.
Yet these precious gems on the Ligurian coast are definitely worth the visit.
As a matter of fact, even I discovered La Spezia more or less only by incident. Years ago, I visited the Cinque Terre for the first time. For two weeks, we were travelling by local train between the villages. We were sunbathing and hesitantly taking dips in the ice-cold waves of the Ligurian sea. While hiking, we admired the jaw-dropping beauty of the sceneries.
A Momentous Day Trip
Two weeks is a long time. Therefore, one day, we adjusted our jaws and took the train from our basecamp in Riomaggiore in the opposite direction. Instead of heading for the other four villages, we went on a day trip to La Spezia.
After eight minutes, we were done travelling. Nope, the train didn't break down. It actually takes only eight minutes from the southernmost of the Cinque Terre to get to La Spezia.
After days in the paradisaic retreat of the then still less touristy villages, La Spezia felt like a bustling metropolis. There were smaller – and even larger – stores. We shopped for a light summer outfit my daughter never wore again after the vacation was over. She claimed it made her look like Aladdin.
At a pharmacy, I purchased some artificial tears for my eyes that were irritated by the sand and the sea salt. Finally, we got to a fantastic Mediterranean farmers market. Here, the fishes seemed to be still jumping and peaches were as big as pumpkins. A Garden Eden!
Ever since, I've regretted that eventually, we had taken the bus to Porto Venere. Not because I didn't like it there. Actually, I liked it a lot. No, the fact that we didn't go straight back to our home'n'fridge had made it impossible to stock up on loads of veggies and various fishes, shrimps, and squids.
Consequently, I had to come back one day. This day was just a couple of months ago.
La Spezia
With almost 100,000 inhabitants, La Spezia is the second-largest municipality in Liguria after Genoa.
The city lies at the eastern end of the Riviera di Levante in a deep gulf, also known as Golfo dei Poeti, hence, the poets' gulf.
The highest point of the surrounding hills is Monte Parodi west of the city center.
Interestingly, the area of ​​today's port consisted largely of marshland. A breakwater separates the Gulf of La Spezia from the Ligurian Sea on two kilometers. Only two relatively narrow openings provide access to the shore.
Shelter – Not Only – From the Storm
Hence, protected from storms and attacks, La Spezia was the perfect spot to build the largest naval arsenals and one of the most important trading ports in the Mediterranean. However, there are still fishing trawlers in the harbor and some more or less fancy sailboats.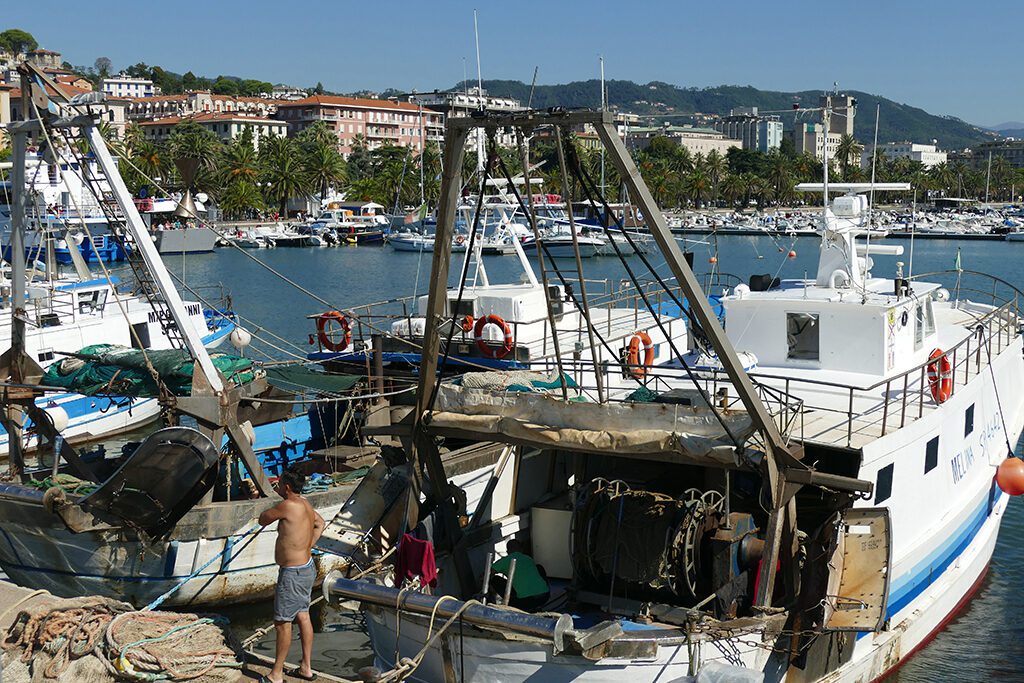 In the post-war years, La Spezia became known as the Citta di Exodus, the city of exodus.
Between the summer of 1945 and the spring of 1948, around 23,000 Jewish refugees and displaced persons left Italy for Palestine. To honor this past, the city awards the Exodus Prize every year with the aim of promoting intercultural relationships.
Leaving La Spezia
To this date, La Spezia's naval base is one of the most important in the Italian navy. Obviously, it transformed the small fishing town into a larger provincial capital with numerous industries.
Nevertheless, in recent years, tourism has become particularly important. The hinterland, especially the Val di Vara and the world-famous Cinque Terre are easily accessible highlights. And, obviously, Porto Venere, we get to that below.
The port of La Spezia is the starting point for excursion traffic to the surrounding towns, especially the Cinque Terre. Nevertheless, also ferries are leaving from here to places as far as Sardinia and Corsica. But unfortunately, also cruise ships are docking in La Spezia's harbor.
Staying in La Spezia
Spending a day in La Spezia means rather leisure than suspense. Although it has some historic buildings as well as museums, it is not the place for an educational tour.
It's definitely a place to experience – and enjoy! – truly Italian life.
You can sit outside the many bars, sipping coffee and snacking on some sweet or hearty pastry while watching people – and time – go by. Then you might want to stroll through the Giardini Pubblici, the public gardens. If you're there on a Friday, don't miss out on the Mercato Settimanale, the weekly market where you can buy everything from clothes, accessories, stationery, appliances, and all kind of nicknacks.
But also just walking criss-cross town, craning your neck in admiration for the beautiful architecture is so much fun.
Make sure to walk at least halfway across the newly built Ponte Thaon di Revel. This pedestrian cable-stayed bridge protrudes from the harbor promenade to the yacht harbor. Finished in 2013, it is the best spot to take pictures of the coastline and of the town of La Spezia.
Sites, Sights, and Signs
If just enjoying Italian everyday life is not sufficient for you, I totally get it. Normally, I'm quite a sucker for designated sights. However, in and around La Spezia, nature is pampering my eyes with so much beauty. Therefore, I'm actually quite satisfied with the dolce vita the city has to offer.
With this being said, of course, I can point out some architectural jewels right in La Spezia.
For instance, located on the urban hill above the old town, is Castello San Giorgio. This former defense fortress of the Republic of Genoa is La Spezia's oldest historical building. The foundation walls date from the 12th century, the extended additions from the 17th century. In 1998, after completion of some major restoration work, the fort has been re-opened to the public.
For a general entrance fee of 5.50 €uros, you can visit the castle from Wednesday to Monday. Since the hours differ according to the seasons, please look it up on their website.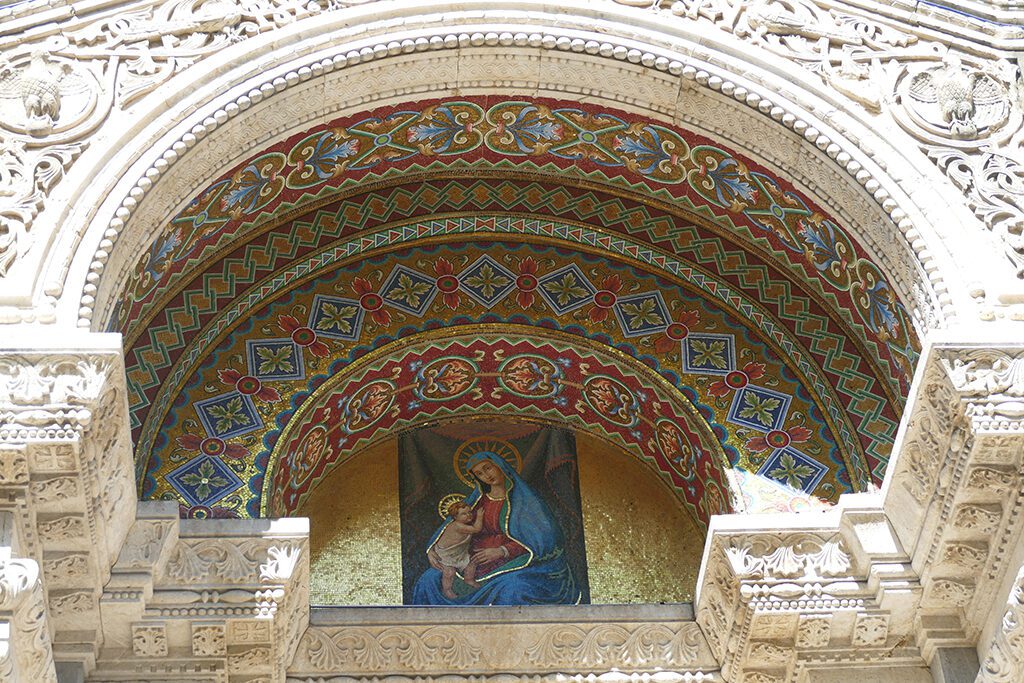 One of the city's most beautiful churches is Chiesa Santa Maria della Neve. This pilgrimage church was consecrated only in 1901. It features elements of the Romanesque and Renaissance styles.
La Spezia Unexpected
You know like in Italy, everything is from the 12th century or maybe from the Renaissance or Baroque? Like there are all those amazing paintings by Caravaggio and Michelangelo's sculptures at each and every tiny house of worship? Well, in La Spezia, you're up for a mistreat. In the eastern part of the Giardini Pubblici on the Piazza Europa is the Cattedrale Cristo Rei.
You would expect this large circular building in a modernist, functional style rather in some former socialist republic. Where, then again, it probably wouldn't be a Catholic house of worship. Anyway, this architectonic post-war monstrosity is the city's central church and worth seeing so that you don't think that basically everything is pleasing in Italy.
I'm Back
Before I forget what I came here for: The farmers market on Piazza Cavour. It is the largest food market in the entire region.
From Monday to Saturday, every morning at 8, the stands are set up with heaps of fresh fruits and vegetables. The meats and sausages are cut and the different kinds of cheese arranged. The most impressive part, however, is the fresh catch from the Ligurian sea: Tuna, Sardines, Squids – you name it, they have it.
Getting hungry? You can, obviously, snack some fruits right on the spot. However, there are also some stands offering some hot food to go or to enjoy on the spot.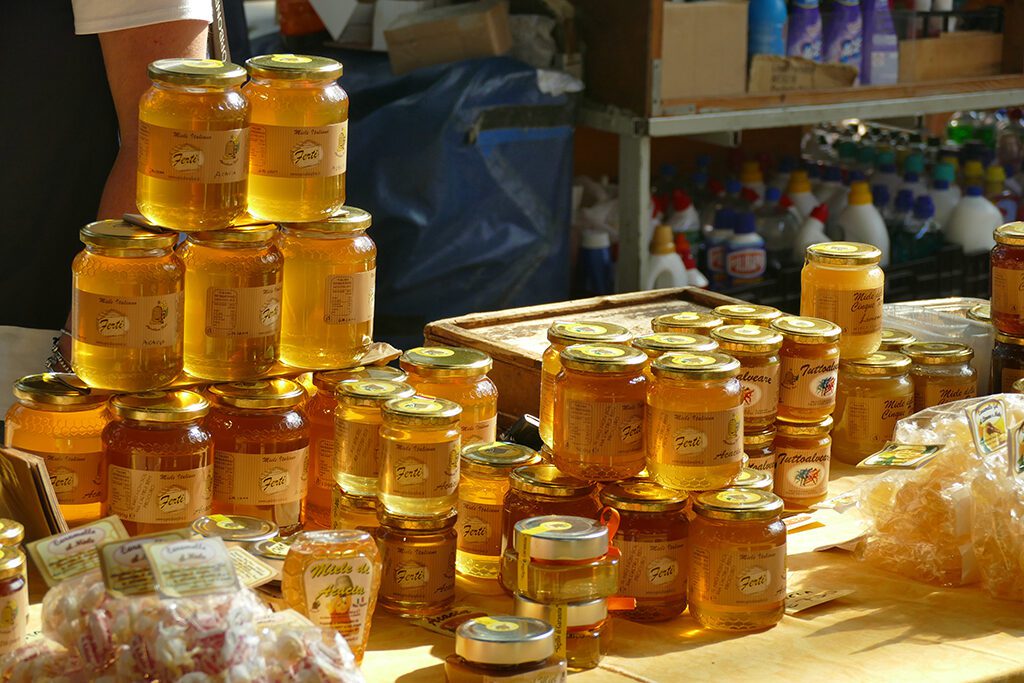 Even after all those years, the market is impressive. I also like that it isn't set up as some tacky tourist attraction. This covered market area is pleasantly kept in a no-frills industrial style. It seduces you exclusively with the produce.
Porto Venere
Ups, I did it again. I did not shop groceries in large quantities, instead, I hopped on the bus and went the twelve kilometers to the close by village of Porto Venere.
Porto Venereis located at the tip of a headland that borders the Gulf of La Spezia in the west. Going there by bus, you better sit on the left side so that you can enjoy the incredibly picturesque views of the waters and hills and villages.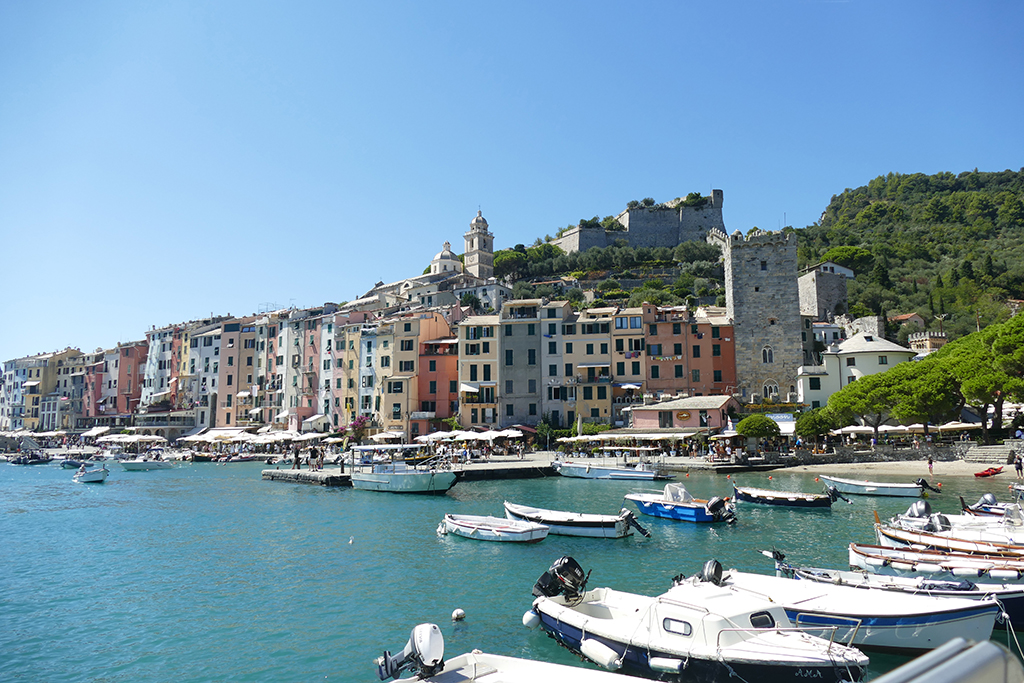 Hence, the trip is worth it all ready for the ride that takes about half an hour. However, the best is yet to come since Porto Venere's beauty is simply mind-blowing.
History in a Nutshell
In 1113, Porto Venere became the property of the Republic of Genoa. A castle was built above the settlement as a bulwark against the warring Republic of Pisa. In the long war that followed between the two city republics in the 12th and 13th centuries, the place played an important strategic role due to its location.
The two churches of San Lorenzo and San Pietro are also stemming from this period.
Between the 15th and the 17th century, the Republic of Genoa expanded the castle into a real fortress.
In 1791, Porto Venere was occupied by Austro-Russian and French troops. Napoleon, who wanted to transform La Spezia into a sea fortress, had a connecting road built in 1812. To this date, it is called Strada Napoleonica.
Admiring
In 1997, Porto Venere made it together with the Cinque Terre and the nearby islands of Palmaria, Tino, and Tinetto to the list of UNESCO World Heritage Sites.
With great appreciation comes dense visitor frequency. Although space and the activities are rather limited at Porto Venere, many local, national, and international tourists are paying the village a visit.
As you arrive at Porto Venere, you enter the historical center through the old city gate. Then, to your right, you see the remains of the city wall. It runs all the way up to the castle.
Walking down the main street Via Giovanni Capellini, you'll admire the beautiful medieval houses and enjoy many small specialty shops.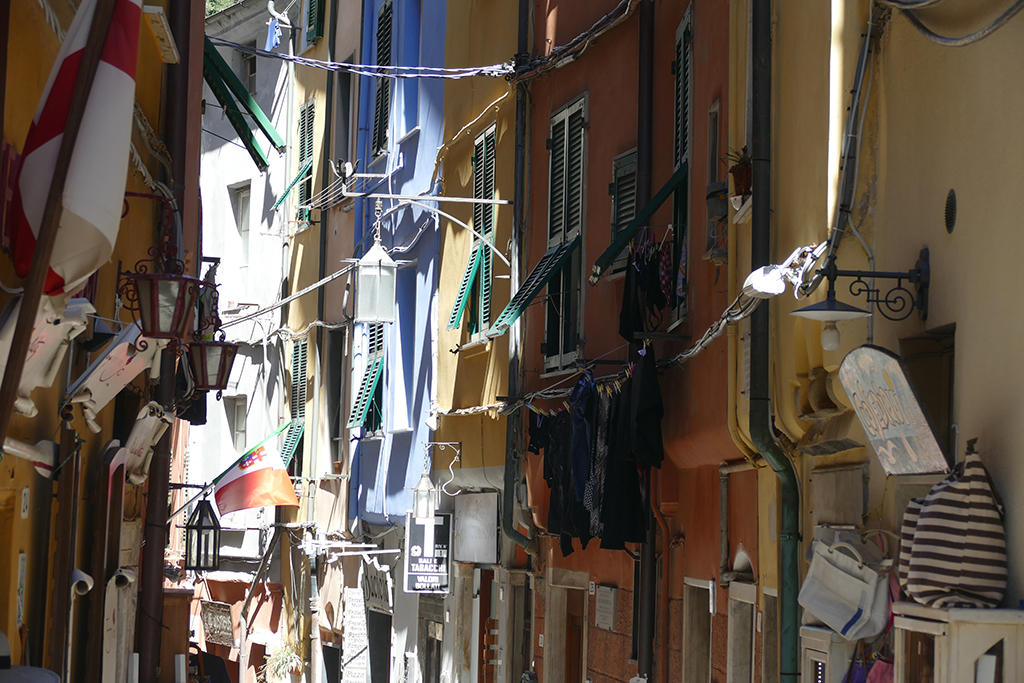 Don't oversee the two arched flights of steps on the left-hand side of the so-called carruggio, which is Genovese for alley.
In the past, these flights were the only access to the rocks that surrounded the fortified houses. Today, however, they lead down to the calata, Porto Venere's port, where you'll find the beach, shops, and many waterfront restaurants.
As you walk down the carruggio all the way to the end, you'll get to the Church of San Pietro. From up there you have an amazing view of the sea and the rugged coastline.
On your way back, just walk up the steps and get to the Church of San Lorenzo. From here, you can climb further up to the castle.
Structures
Church of San Pietro
Interestingly, it's here where Porto Venere's name was created: In 1277, the Church of San Pietro was constructed atop the ruins of another church dedicated to Venus, Venere in Italian. As Porto means harbor, you can easily guess the town's poetic name.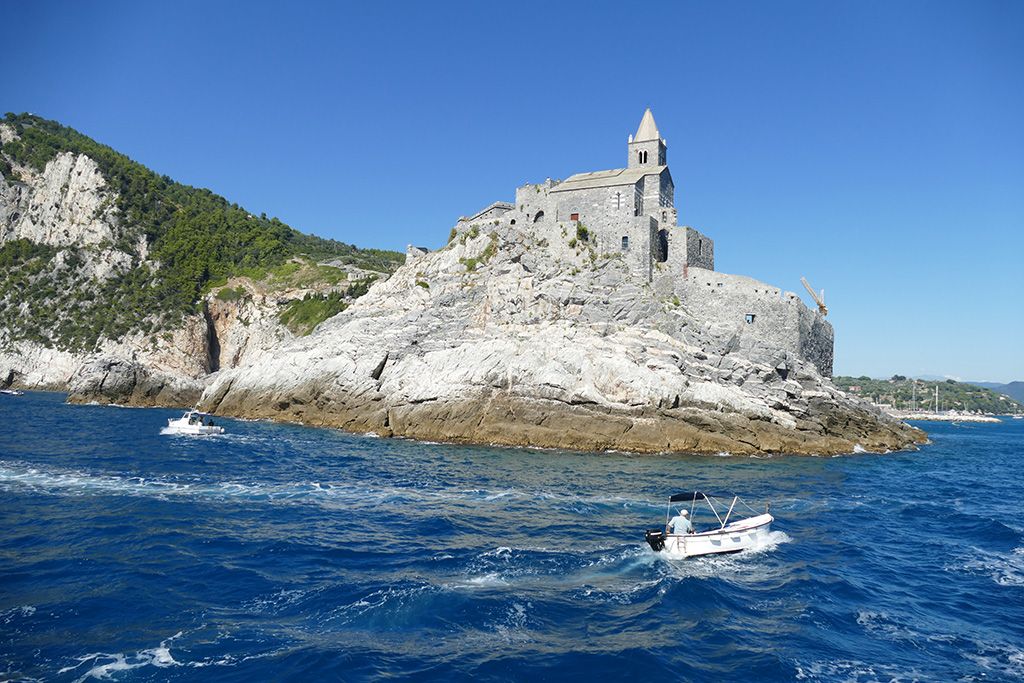 The Gothic structures are beautiful, showing black and white stripes. It is perched on top of a rock protruding into the sea.
Don't miss out on arcades in the Romanesque style next to the church. From here, you can see all the way to the Cinque Terre.
Church of San Lorenzo
Even older than San Pietro is San Lorenzo, stemming from the 12th century. Built in the Romanesque style, it was badly damaged over the centuries, hence rebuilt several times.
Andrea Doria Castle
Above San Lorenzo is Porto Venere's iconic castle. It took the Genoan various centuries to build this castle that's overtowering the town of Porto Venere. In honor of the Genoese admiral and ruler Andrea Doria, the Castello di Porto Venere was also named Castello Doria. To this date, several towers of the ancient defense system are still in good condition. From the castle, you can enjoy a fantastic view over the Church of San Pietro and the sea in the backdrop.
On the Waterfront
As charming as the town is, the best way to enjoy the beauty of Porto Venere is definitely from the sea. That vantage point grants a view of La Palazzata, the rows of houses in vibrant colors. Each one is unique, but together they are forming a picturesque mosaic. These structures actually used to be part of the medieval defense system.
On the street level of these houses are mostly restaurants, snack bars, and specialty shops. Also, there is a narrow, not very alluring beach that gets really packed during high season and on weekends.
Consequently, for a nice'n'lazy beach day, it's recommended to cross the sea to the small island of Palmaria. Several excursion boats are waiting for passengers at Porto Venere's small harbor.
Islands in the Stream
There are three small islands off the shores of Porto Venere. Palmaria, Tino, and Tinetto are part of the UNESCO World Heritage site which consists of Porto Venere together with the Cinque Terre.
Palmaria is the biggest one of these islands and has beautiful beaches. The isle's highlight, however, is the Blue Grotto which you can reach only from the sea. There is also a nice hiking trail around the island, offering phenomenal views of Porto Venere.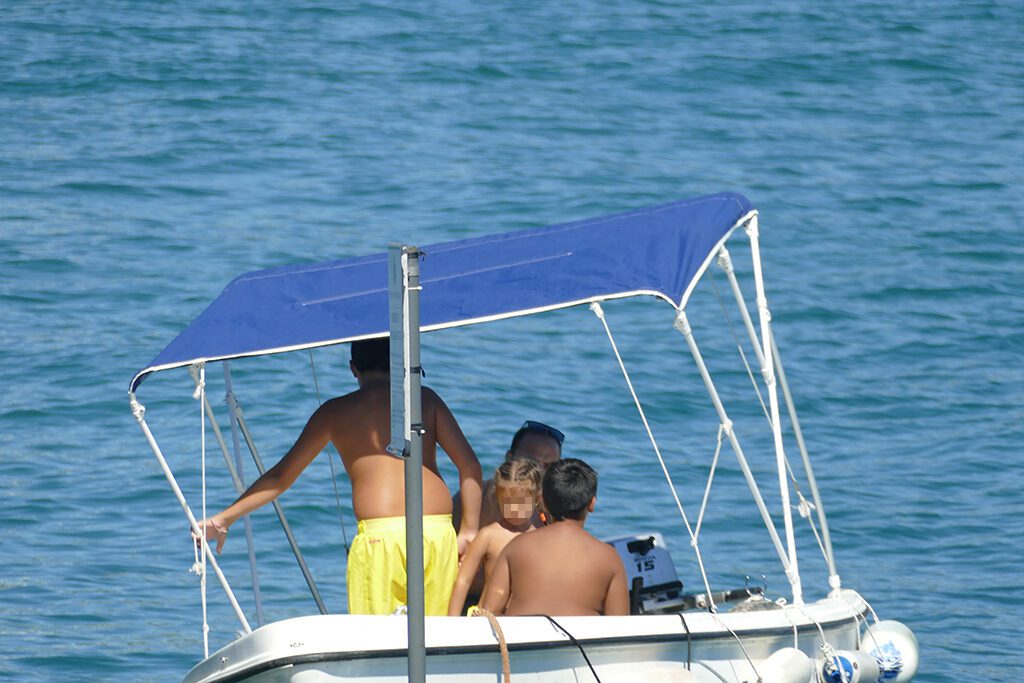 Tino is currently a military zone. Therefore, it is open to the ordinary public only on September 13, hence the day of San Venerio. Spectacular are the ruins of the San Venerio abbey from the 11th century.
Tinetto is basically a huge rock and also a military zone. One of Tinetto's smallest inhabitants is the podarcis muralis tinettoi, hence, the common wall lizard of Tinetto. The estimated population of 200 specimens of this subspecies of the common wall lizard is living mainly on the rock island, however, some of them ventured to Tino and Palmaria.
A small monastic settlement was built on the Tinetto island in the 6th century. On the southern side of the rock, you can still spot some remnants of a small chapel while on the flat part are the remains of a church with two aisles connected to the oratory and the monks' cells.
As the Saracens destroyed the structure, the monastery was moved to the island of Tino.
In front of Tino island is the Stella Maris, a statue of the Virgin Mary. Her main function is to signal to mariners a dangerous dry.
You can take tours around the islands by excursion boats leaving from Porto Venere's harbor.
Practical Information
How to Get There
By Air
La Spezia does not have its own airport. However, there are two large international airports nearby: The Cristoforo Colombo Airport near Genoa and the Galileo Galilei airport near Pisa. At either airport, you can hop on a train and make it to La Spezia in only about 90 minutes.
By Train
I know that Italian trains do not have a great reputation. I cannot subscribe to that. Having taken tons of trains in Italy, I never ever had to face major disruptions or problems.
Compared to other European countries, train travel is very cheap – if you book well ahead, even in first-class coaches.
Also, trenitalia, the national train company, has a very clear, well-functioning website. Here you can make a reservation and, hence, take advantage of great offers.
By Long-Distance Bus
Travelling by bus is getting really popular in Europe. Although it's a bit slower than taking a train, it's often even more reliable and certainly much cheaper.
This FlixBus stop is on Via Giosuè Carducci east of the city center.
By Sea
No question, the most alluring way of visiting La Spezia respectively Porto Venere is from the sea. You can, obviously, choose between a privately chartered vessel and the Cinque Terre ferry line. During high season, there is a scheduled boat service to Porto Venere and La Spezia from four of the five villages.
Depending on your port of departure respectively arrival, one-way tickets vary from 14 €uros to 23 €uros.
To enjoy an entire day taking the ferry as often as you please, you 35 €uro.
Kids under six years of age travel for free, between six and eleven, they pay 12 €uros from La Spezia and 10 €uros from Porto Venere no matter how far they go. For the day passes, however, they pay the same price as adults.
How to Get Around
There is a good net of city buses in La Spezia. Fares start at 1.50 €uros for an inner-urban ride of up to 60 minutes. A single trip to or from Porto Venere sets you back 2 €uros each way. Normally, you can buy the ticket from the driver. Nevertheless, to be sure, I'd still recommend buying it at a tabaccheria, hence, a tobacconist's.
If you want to explore the Cinque Terre from La Spezia, you can do so easily and quickly by train. To the closest village, namely Riomaggiore, it's only eight minutes.
There are various trains per hour. A trip sets you back 4 €uros per ride no matter how far you go. However, if you plan to visit various villages in one day, a Cinque Terre card for 16 €uros quickly pays off. Especially, since it comes with a number of additional perks.
Where to Stay
La Spezia is not as packed with tourists and is quite relaxed – despite the fact that it is a bigger city.
You find more nice, reasonably priced restaurants instead of overcharging tourist traps.
And you'll get to experience the real Italy. There are beautiful streets and nice markets – you rub shoulders with locals and enjoy Italian life.
The Poet Hotel
No matter who you are and what you are up to, you will absolutely love The Poet Hotel*. Because it is for everyone.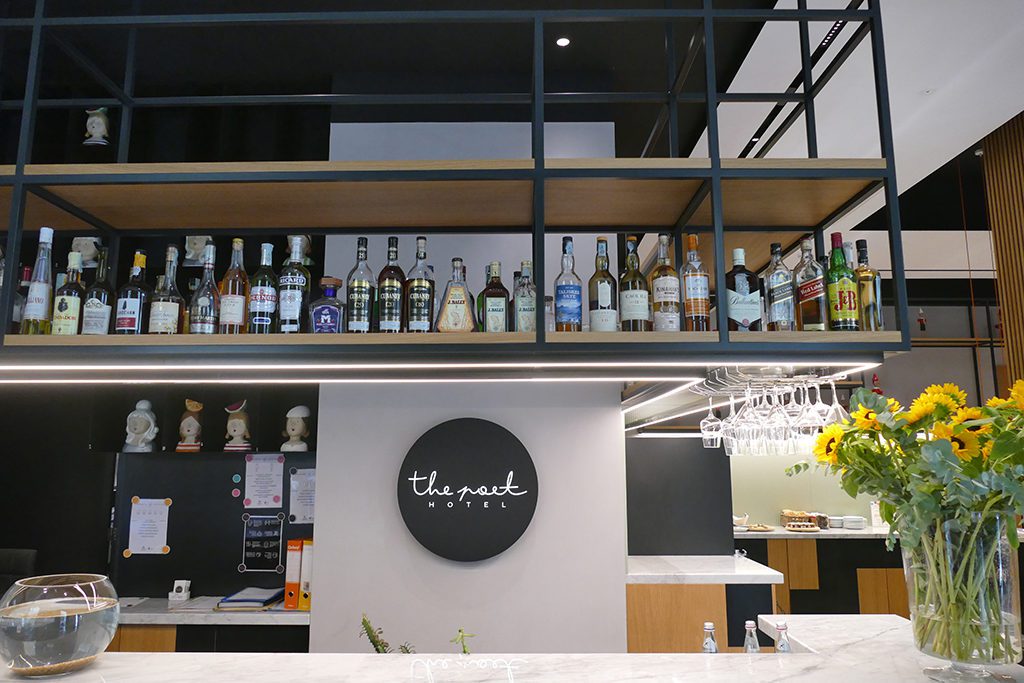 For those who need lots of comforts – but also for those who prefer it plainly stylish.
Romantics and art lovers alike will spot inspiring work.
Those who want to be right where the action is will love The Poet Hotel's* conveniently central location.

And those who need serenity will wake up and spot Liguria's lush mountains.
Cozy Yet Stylish
On three floors, The Poet Hotel* has 57 rooms for different needs'n'budgets. From a standard double room to a junior suite deluxe, you choose what you need and what your funds allow.
No matter what, your stay will be comfortable from the first minute on.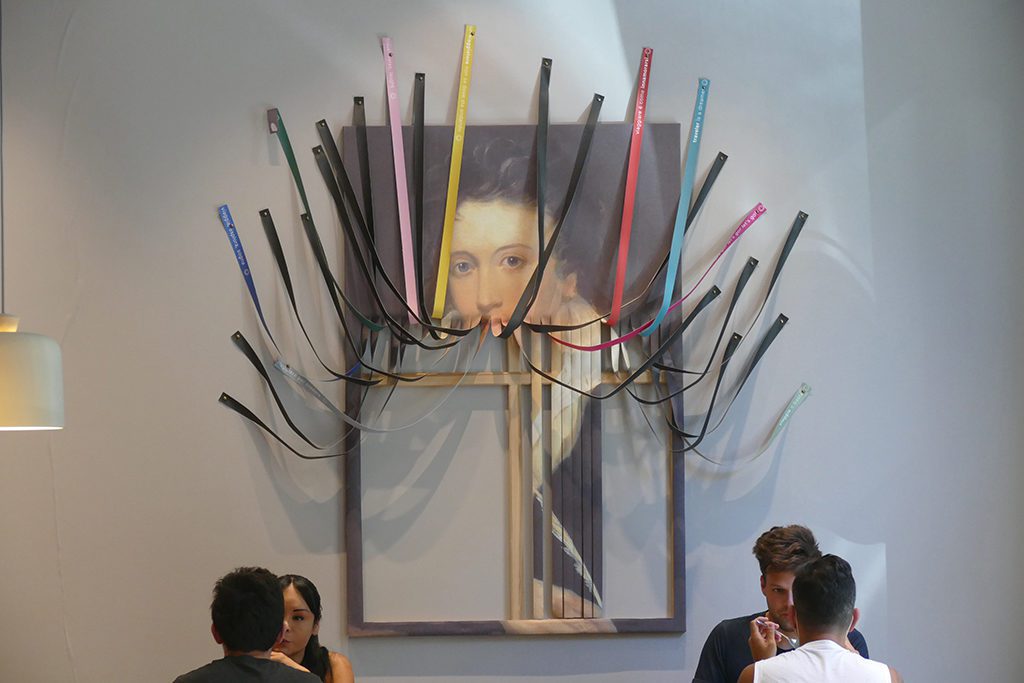 After a good breakfast in their cool dining area, you'll make your way either to the train station which is about five minutes walking from the hotel's door. From there you can easily explore the Cinque Terre and take a late train back. Since the way to your cozy room will be a very short one.
Or you explore the lovely town of La Spezia a bit and then take a ferry first to Porto Venere and then to the Cinque Terre. I've described all those options above.
Let Your Hair Down
As you come back after a long day hiking or from the beach, your hair wet and your skin salty, you'll enjoy thorough sponging under their soft rain shower.
Quick, snuggle up in their thick, soft bathrobe.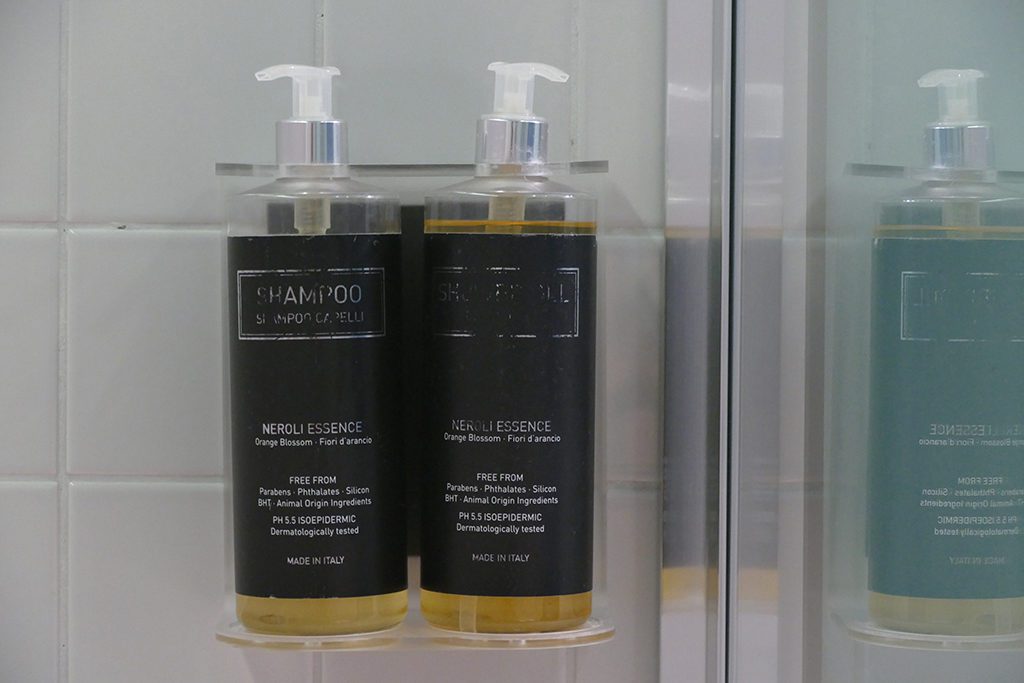 If you're not too tired, you can enjoy an Aperitivo at their bar before heading out to dinner. Or you just stay in, pour yourself a drink, and watch a little TV. Maybe in Italian to practice. Or one of their many international channels in another language.
Whatever tickles your fancy, I promise you that the friendly staff at The Poet Hotel* will do everything to make your visit to La Spezia and, of course, the Cinque Terre a comfortable and unforgettable one.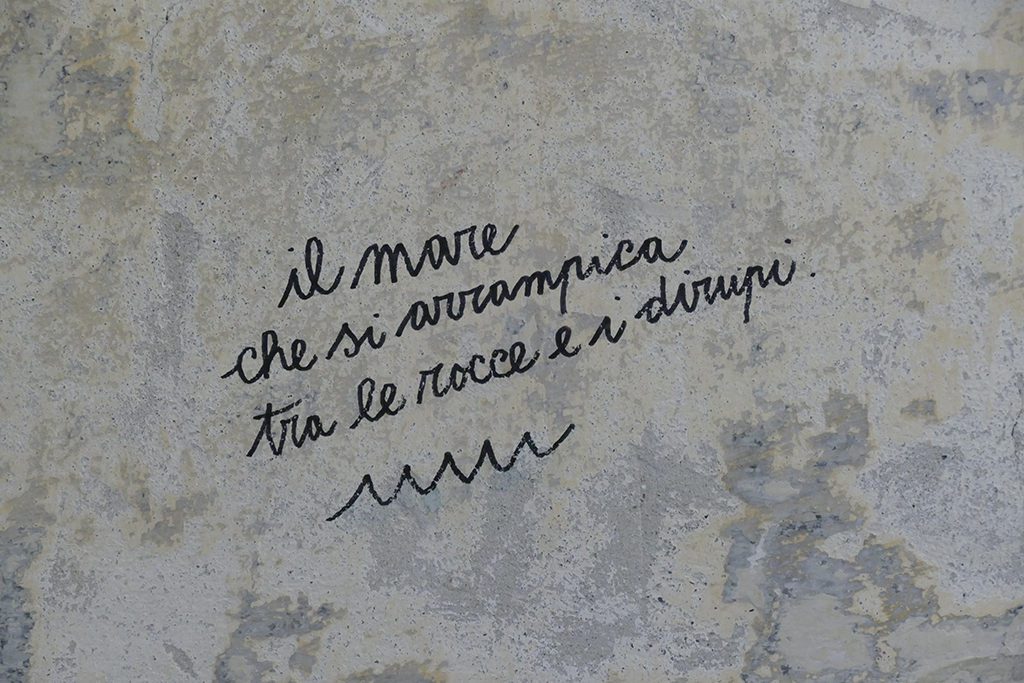 Where to Eat
Where to Eat? La Spezia caters to both national and international tourism, hence restaurants, eateries, and snack bars are plenty everywhere.
Obviously, seafood is on top of the menu. Make sure to sample their stockfish, salted anchovies, and stuffed mussels.
If at noon you just need a quick snack, you can feast on – you've probably guessed so – pizza. Often it's sold al taglio, which means by the slice. You pay according to the weight.
Also, focaccia is a popular Italian snack stemming from Liguria. It's basically a flatbread made from yeast dough just like pizza. However, it's mostly prepared with rosemary, garlic, herbs, or olives. Although it's not as richly garnished as pizza, it's very tasty.
What to See
I'm an avid solo-travelling woman. Since solo travel doesn't equal solitude, I love to join organized tours here and there. They allow me to meet fellow travellers – for just a short moment or a lifelong friendship.
Therefore, here are some great ideas of what to do during your stay in La Spezia and Porto Venere. Especially if you don't have much time, on an organized tour, you get to see as much as possible. Also, pre-booking online will guarantee your place at the activity of your choice*:
Cash And Cards
Until now, 20 European countries replaced their former local currency with the €uro starting in 2002. Obviously, Italy is one of them. The exchange rate is 1 US$ = 0.94 EUR as of January 2023. However, you can check today's conversion rate on this page.
Language
Although La Spezia and Porto Venere are touristy, people don't really speak English – at least not well. And not voluntary. So while they halfheartedly make an effort to understand what you'd like, they'll probably snort and roll their eyes. Don't take it personally.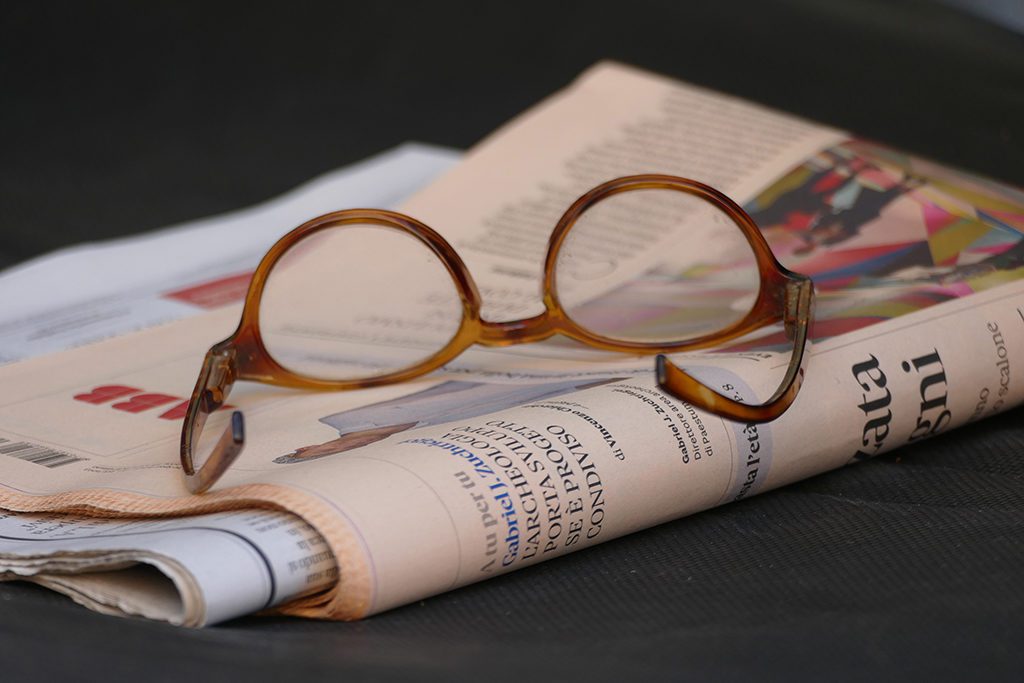 Zushini, Gnotchi, Raditcho – I'm bleeding from my ears since I hear these mispronunciations so often.
Seriously, guys, it's not so hard.
So here are some general rules: As in any other Romance language, C is hard when written before A, O, and U, hence, it's pronounced K.
If followed by E or I, it's tch as in witch.
Now, if a C followed by E or I should be pronounced K, an H is added: Zucchini, Gnocchi, Radicchio – Zukkini, Gnokki, Radikkio.
On the other hand, if C followed by A, O, or U should be pronounced tch, they slip a – silent! – I in: Ciocolata, Ciabatta – Tchocolata, Tchabatta – forget about the I in-between.
Italian Classes in Italy's Most Exciting Cities
As a matter of fact, it might be a great idea to learn some Italian or brush up on what you already know. A great place to do so is the Scuola Leonardo da Vinci. Not only do they have campuses in Milan and Rome, they are also in Siena and Florence, hence not that far from La Spezia.
If you are interested in taking Italian classes, but you're insecure about how to organize your stay, don't worry. The friendly and efficient ladies at the Scuola's office are accommodating and can arrange literally everything for you – starting with an airport pick-up if you wish.
After a placement test, they advise you which class would be your best choice and help you with every little detail including providing housing for the duration of your course.
Connection and Communication
If you have a European mobile phone contract, no roaming charges apply within the EU. This applies to all 27 countries of the European Union as well as Iceland, Liechtenstein, and Norway.
The EU roaming regulation applies to all contracts.
Andorra, San Marino, Monaco, and Switzerland are excluded because they are not EU members. In the three smallest countries, however, you can log into the mobile network of a neighboring EU state. This way, you can still use the EU conditions.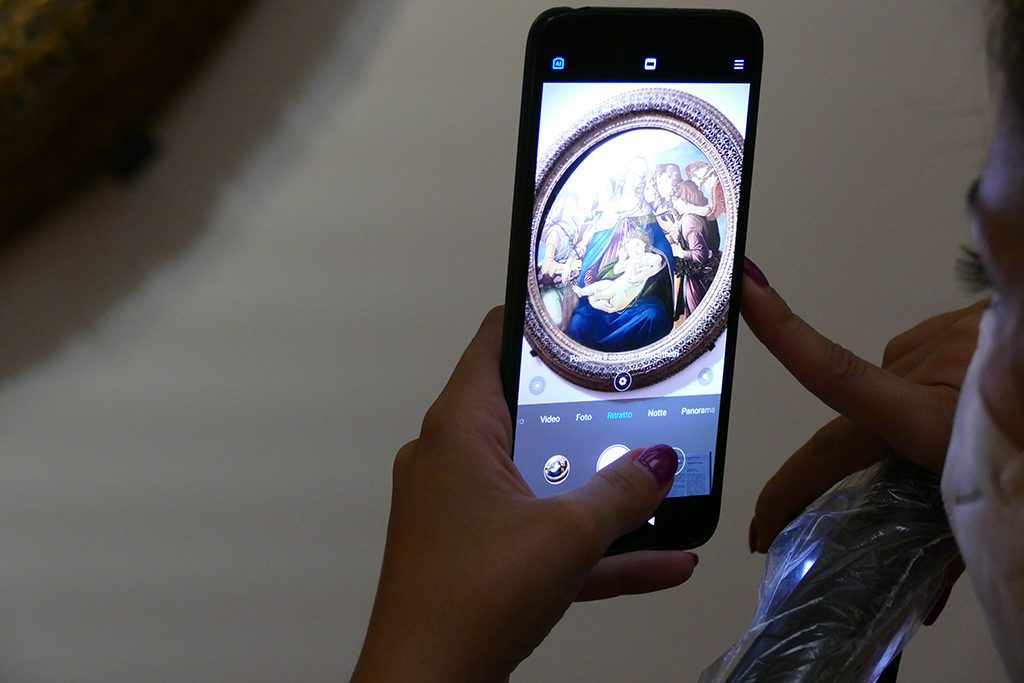 There was free Wifi at basically every business such as hotels and restaurants.
The standard voltage in Europe is 220 V and the frequency 50 Hz. In Italy, they use three plug types, namely C, F, and L.
Whereby, nowadays, all these chargers have integrated adapters, hence, in general, the voltage and frequency don't really matter.
You'll find comprehensive travel info in my post World's Most Complete Travel Information – an indispensable globetrotter-classic.
Pinnable Pictures
If you choose to pin this post for later, please use one of these pictures:
Note: I'm regularly completing, editing, and updating this post – last in January 2023.
Did You Enjoy This Post? Then You Might Like Also These:
* Disclaimer: My stay at The Poet Hotel was complimentary and the Scuola Leonardo da Vinci granted me a small discount on my course. However, all opinions on their service are mine and were by no means influenced by my cooperation partners.
* This is an affiliate link. If you book through this page, not only do you get the best deal. I also get a small commission that helps me run this blog. Thank you so much for supporting me!