In this travel guide to some mesmerizing must-see places, I'm proving that Thailand is extremely easy to travel. This makes this enthralling country the perfect destination even for hesitant first-time solo travellers.
At first, I actually wasn't crazy about going to Thailand. It has been a random holiday destination for everybody who wanted to stew on a beach. But especially the disgusting sex tourism to some spots in Thailand gave the country a repulsive connotation.
But man, was I wrong! It obviously only depends strongly on which route you travel and where you're going. I fell in deep, lasting love with Thailand.
As a matter of fact, I enjoyed the first part of my trip meandering from Bangkok to Chiang Mai much better than the beach part that brought me to the beaches and islands around Krabi in the Andaman Sea.
Don't Know Much About…
Geography
Thailand's territory covers a big part of the South East Asian land area, stretching from the Himalayas' far foothills over more than 1,100 miles all the way South to the Malayan border.
Along this stretch, for many travellers, the most attractive parts are the beaches. There are 1,200 miles on the Gulf of Thailand in the East as well as 620 miles along the Andaman Sea in the West. If you add the 1,430 islands, islets, reefs, and cays, there sure is space. Yet still, the popular beaches are overcrowded due to the concentration of mass tourism in certain areas.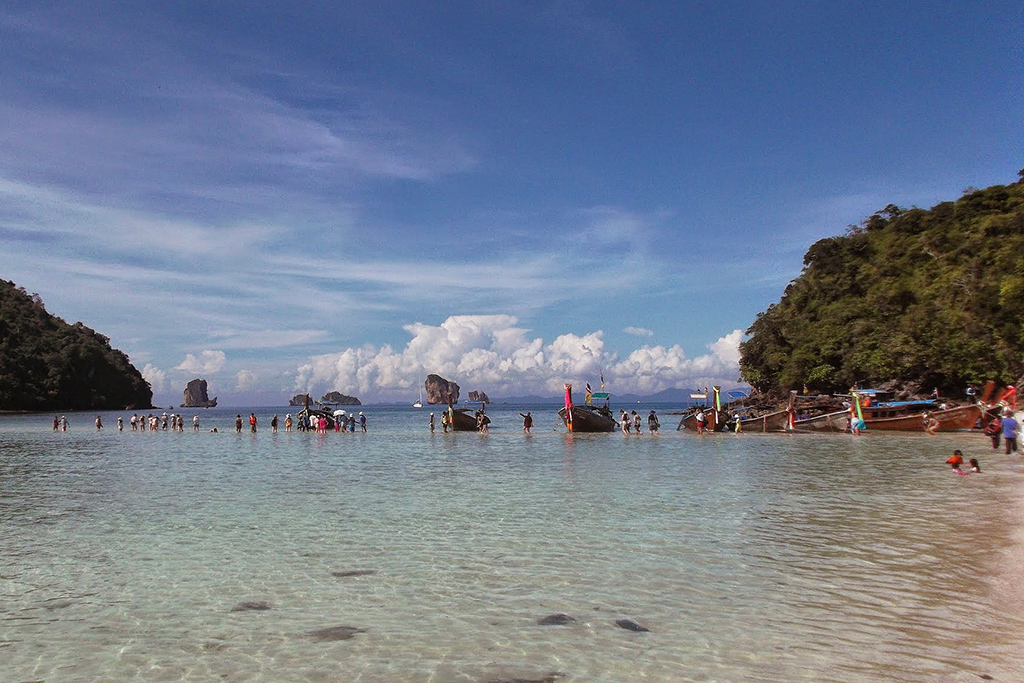 Clearly, this leads to major problems for the country. While there is a population of about 68 million people, in 2016 alone, 34 million tourists visited the country. Obviously, they weren't all Greenpeace activists – hence, mainly the ocean life is endangered.
The land area of more than 500,000 square kilometers has predominantly a tropical monsoon climate. On boxing day in 2004, a tsunami hit Thailand and other countries such as Sri Lanka. It caused over 5,000 confirmed deaths, more than 8,000 injuries, and almost 3,000 missings. The area along the Andaman Sea was hit the hardest. Henceforth, since 2012, Thailand has had the best tsunami warning system in South East Asia.
History
Those who don't go to Thailand to get a suntan mostly go there because they have seen 'The King and I' and are fascinated by Siam's history. The predecessor called Siam never was a national state but a so-called geo-body defined rather by the neighboring French and English colonies. Amazingly, Siam itself never was a colony.
Mon and Tai
The first empires in what is now Thailand were founded by the Mon people. Around the 6th century, a Buddhist network of Mon city-states called Dvaravati was installed. It existed until the 11th century.
This was when the immigration of the Tai people to what is now Thailand began.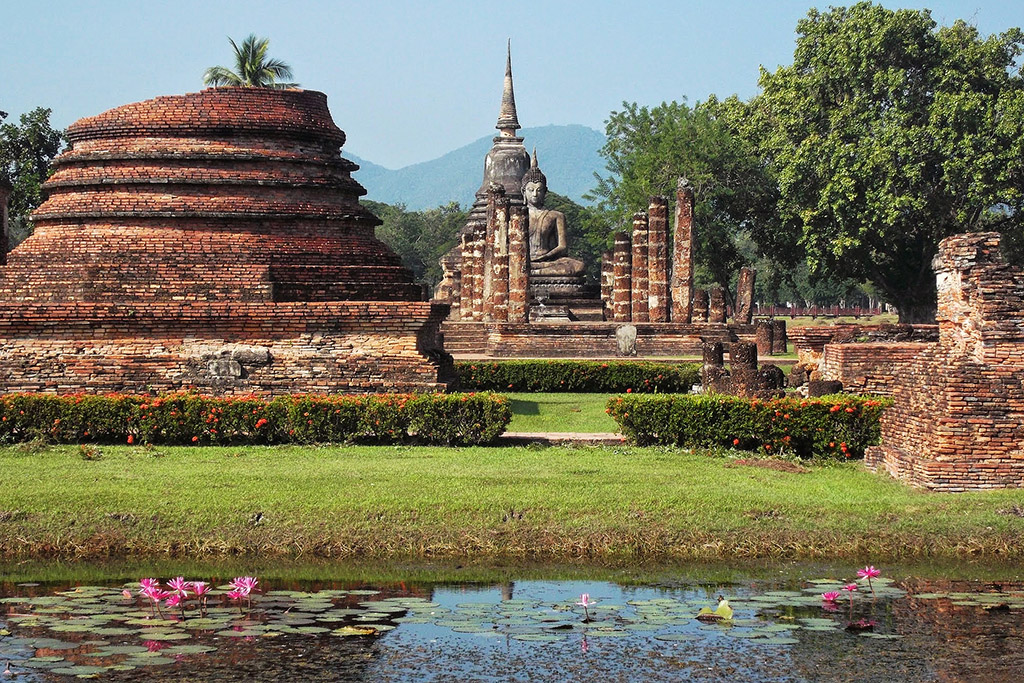 They founded the first states in the 13th century, including Lan Na and Sukhothai. This empire covered areas originally populated by the Khmer. Ramkhamhaeng, the third king of the Phra Ruang Dynasty, ruled Sukhothai during its most prosperous era.
However, the decline of Sukhothai began after Ramkhamhaeng's death. Its successor was Ayutthaya, founded in 1351.
Ayutthaya
After an early establishment by the Khmer, post-Angkorian King Ramathabodi expanded the city and made it the capital of his kingdom in 1351. His reign included besides other areas also large parts of Malaya.
Ayutthaya was a potent power for more than 400 years from the 15th century. A total of 35 kings ruled more or less large areas of Siam and steadily expanded the capital.
Since the 16th century, European merchants visited the city and reported enthusiastically about its splendor.
Ayutthaya reached its heyday in the middle of the 18th century. At that time, it was a cosmopolitan city with three royal palaces, 375 temples, and 94 city gates, protected by 29 defensive forts. The French, Portuguese, British, Dutch, and Japanese lived in their boroughs apart from the capital's roughly 1 million Siamese.
Eventually, internal conflicts weakened the state. Also, it was threatened by neighboring, strengthened Burma. The city was attacked several times and ultimately destroyed in 1767.
20th Century
Since World War II, there have been frequent changes between democratic aspirations and the military seizing power. Even the country's name changed a couple of times between Siam and Thailand, which according to a popular folk etymology means land of the free.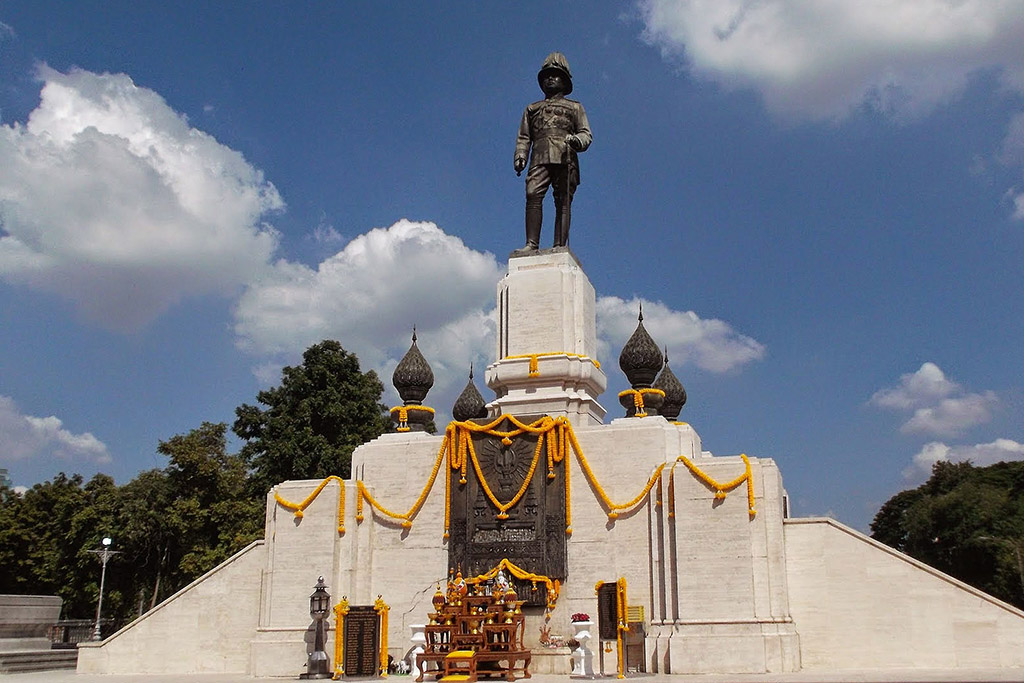 Over the decades, Thailand's people often protested in – sometimes bloody – demonstrations. The last major ones took place in September 2020 as tens of thousands of people protested against the leadership and demanded new elections and democratic reforms in the political system.
Thailand Today
75 percent of Thailand's approximately 69 million residents are ethnic Thai. Most of them follow Theravada Buddhism. Although Buddhism isn't the state religion, according to the constitution, also the King has to be Buddhist.
With 14 percent of the country's population, the Chinese are an important minority. In the three southernmost provinces also live many Malay – which is close to the Malayan border, obviously.
Thailand is a middle-income emerging market. Due to the consumption of a growing middle class and increasing integration into world trade, the country has been able to reduce poverty significantly over recent decades. However, Thailand's main source of income remains tourism. Since 2016, Thailand's capital Bangkok has been the most visited city in the world.
After the beloved King Bhumibol died in 2016 – by then he was the longest-acting head of state. The present king is Maha Vajiralongkorn, Bhumibol's second child. Thailand is a hereditary monarchy.
Note: If you are a history teacher, you might find this outline somewhat simplified. It is. Also, my personal political opinion might shine through. Since this is mainly a travel post, the historical and political info is basic and in places not complete.
Practical Information
How to Get There
Suvarnabhumi International Airport
Most international visitors will arrive at the Suvarnabhumi International Airport 30 kilometers east of Bangkok. By the way, Suvarnabhumi translates to the golden land – what a warm welcome!
Some major hotels offer a free shuttle. But beware that if the shuttle is not complimentary, you'll have to pay much more for transport that they send than if you arrange your transport yourself. This being said, it's wiser to overpay for a safe trip than to risk your well-being on arrival. You'll find more on this important topic in my post Keep Calm and Travel Solo.
There is an official taxi rank is outside the arrivals hall. As at the old airport Don Mueang, drivers are not allowed to pick up passengers in other areas of the airport.
If you're not tired, as it's not after dark, and, most importantly, if you know where you're going, the Suvarnabhumi Airport Rail Link is a great and cheap option as it connects the airport with downtown Bangkok. Express trains run non-stop to Makkasan Station where you can change to the Bangkok Metro. Also, there was a City Air Terminal with in-town check-in for all major airlines in Makkasan.
Don Mueang Airport
Since 2012, Thai AirAsia and Nok Air have had a hub in Don Mueang and fly from there to numerous destinations in Thailand and other Asian countries. Don Mueang is north of the city center.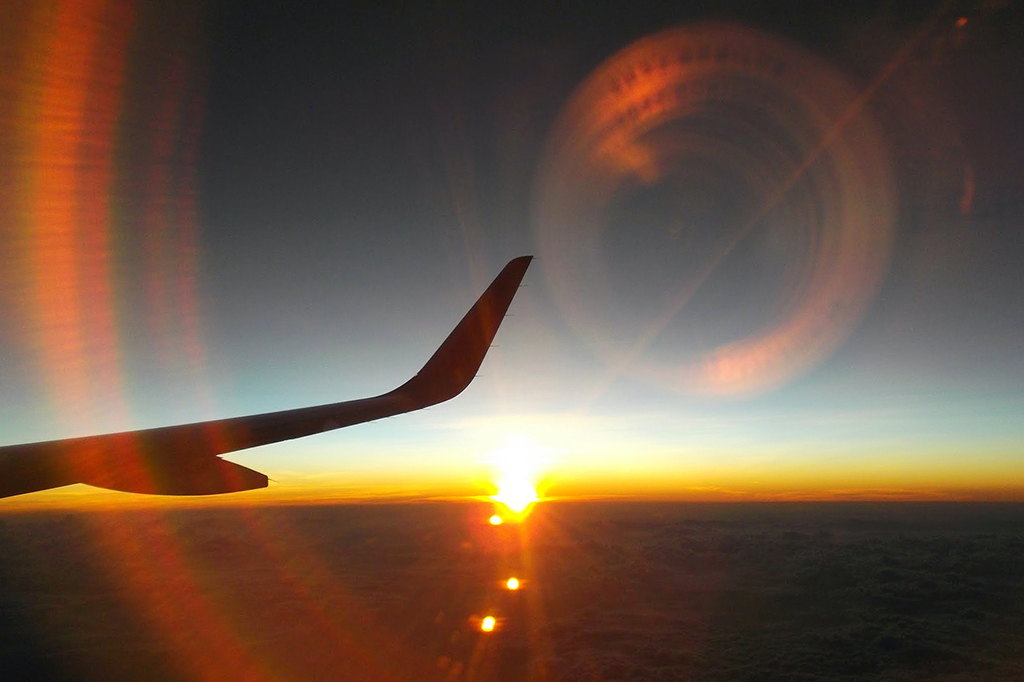 If you want to save on a cab, there are good options to go downtown by public transport. But here, too: Don't be cheap when it comes to your personal safety. If in doubt, rather take a cab.
More on this – and other relevant travel topics – can be found for instance in my post Keep Calm and Travel Solo as well as other articles in the Tips & Hacks section.
Land Travel
If you already are on the Asian continent, you can travel to Thailand by train or by long-distance bus, obviously. Today most passenger trains run from Hua Lamphong, Bangkok's main train station, to the north, northeast, east, and south. If the trains start from the New Station, a free shuttle will take you there in just five minutes.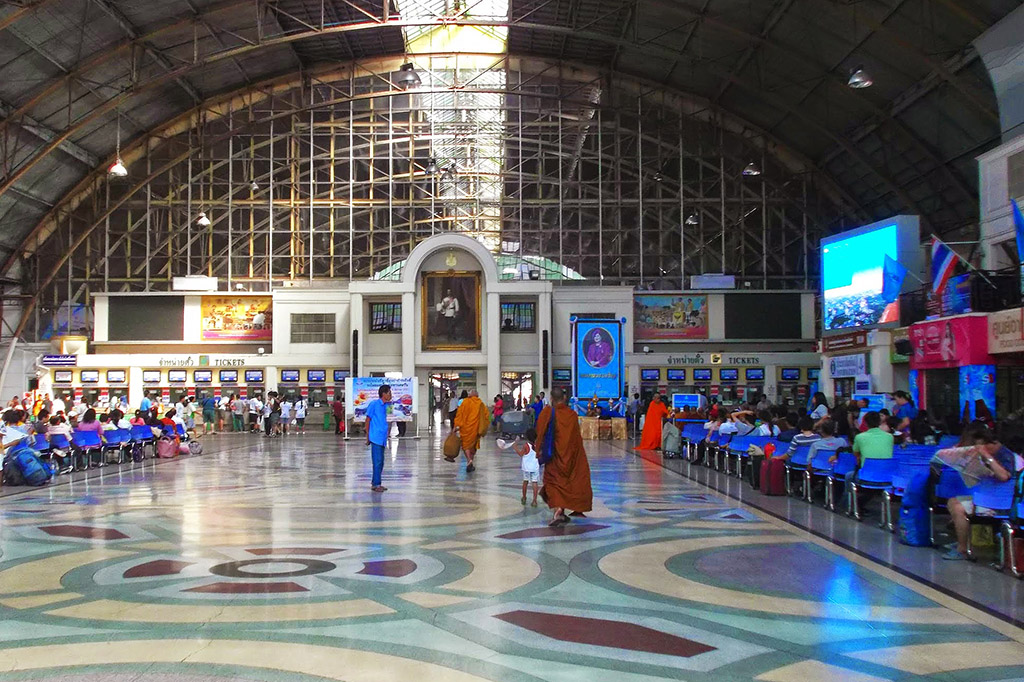 Bangkok has three long-distance bus stations. Buses towards the east coast leaving from the Thanon Sukhumvit station. The very large station Mo Chit is in the north on Thanon Kamphaeng Phet 2 in the Chatuchak district. Finally, the southern bus station Sai ​​Tai is at the driveway of Thanon Borommaratchachonnani.
Sleeper Train from South to North
The net of long-distance buses is far more comprehensive. Coaches take you even to Thailand's most remote corners. Nevertheless, going northwards to Chiang Mai by train is an unmissable travel adventure. To save time – and money for accommodation – you can take the night train. This train leaves Bangkok in the evening and takes various stops before arriving in Chiang Mai around 8 in the next morning.
There is a limited number of single compartments that book out pretty fast. I actually wasn't able to get one anymore. The idea to sleep with about 40 people in one large compartment freaked me out a bit. Finally, it turned out to be super nice. Everyone gets a nice, clean bunkbed and as soon as you close your curtains, you can actually immerse in the privacy of your cot. The rattling of the train will rock you to sleep.
Still, I have two tips for you: If possible, choose the lower bunk. There's more space, and the ride will be smoother. Also, you might want to bring earplugs. Plugs are on my list of indispensable tools and gadgets, anyway. Let my list of what makes my travel more comfortable inspire you.
How to Get Around in Towns And Cities
Apart from Bangkok's MRT subway, public mass transportation is handled by buses. Some of them are a very exotic type – rather wooden crates than air-conditioned coaches. Although they are very cheap, bus travel can be a bit confusing and intimidating. Ask for directions at your hotel's front desk – and then keep asking like a moron until you reach your final destination.
Hey, looking stupid is part of the globetrotter's glory, after all.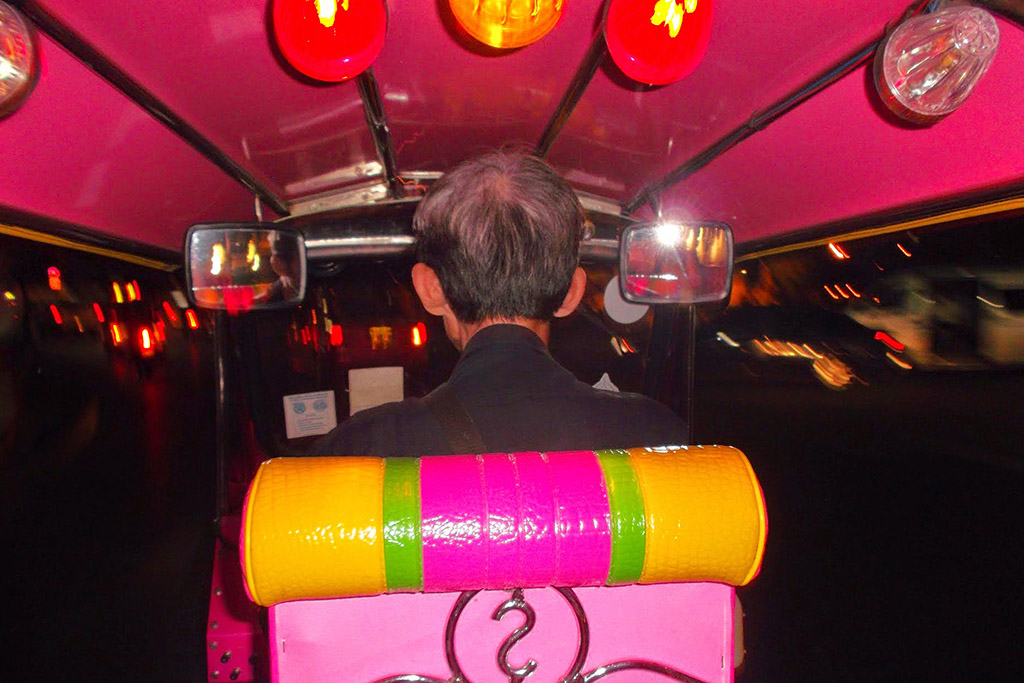 However, individual traffic is mainly handled by the numerous cabs, motorcycle taxis, as well as iconic tuk-tuks. Taking these vehicles, you have to haggle – which can be a bit nerve-wracking.
In Bangkok, cabs are metered. To get a fair price, the meter has to be on, obviously. If the driver refuses to put the meter on, just get out and get another cab.
Where to Stay
In a country that's living mainly on tourism, you'll find at least a small choice of lodging options in every corner of the land.
I recommend accommodations for certain places in the individual posts. However, here is a search box that will help you book places to stay across the country.*
In case you get to Bangkok on a very late flight or you travel outbound really early, it's a good idea to stay close to the airport and take it from there.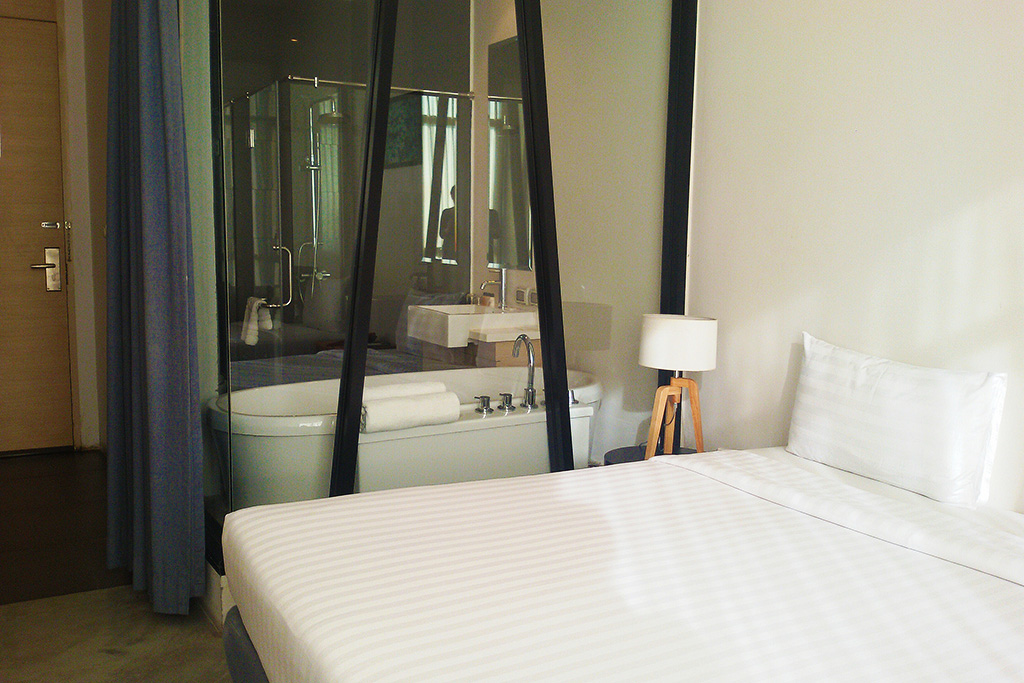 On my last trip, I stayed at the Vismaya Suvarnabhumi Resort just a ten-minute drive from Suvarnabhumi International Airport. They offer free airport pickup for arriving passengers. The trip to the airport is around 200 Baht. There is a restaurant and an outdoor pool at the hotel, and a convenience store is within walking distance.
Vismaya Suvarnabhumi Luxury Resort
98 Moo15 Soi King Kaew 43, King Kaew Rd, Rachateva, Bangpee Samutprakran 10540
Phone: + 66 – 2 – 738 49 88
Email: contact@thevismaya.com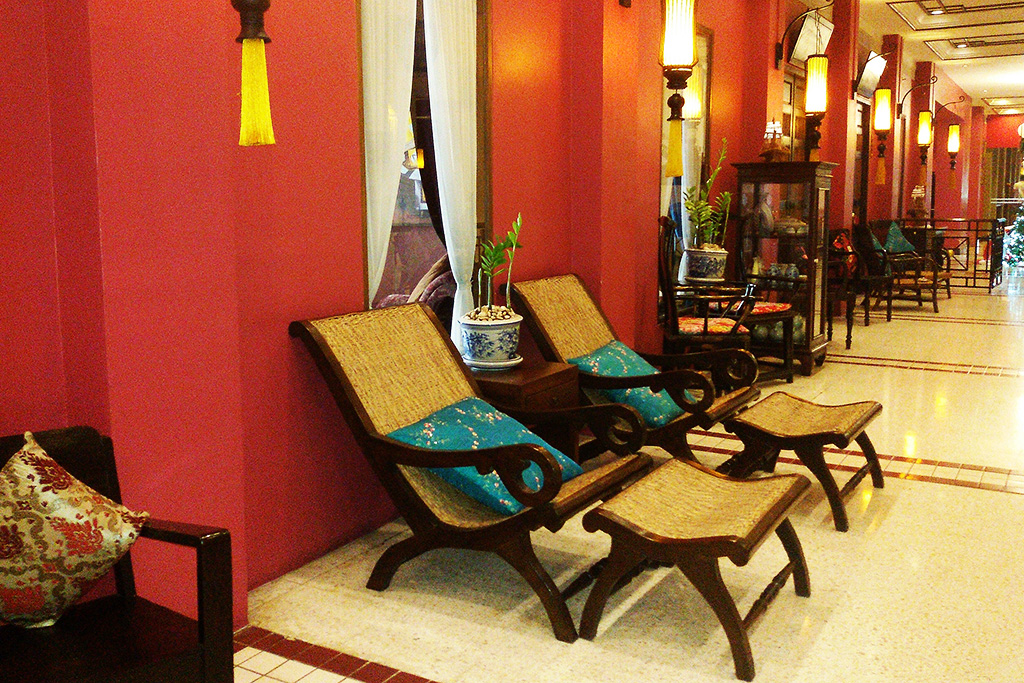 For your first – or last – days in Bangkok, I highly recommend the Shanghai Mansion*. You'll find more info on this mesmerizing place in the Bangkok post.
What to Eat
While you'll find restaurants for every taste in Bangkok and other big, touristy places, in spots that are rather off the beaten tracks, you'll find mostly Thai cuisine, obviously.
Apart from western-style restaurants, you'll see food stalls and market stands all over the place. There, you can eat your fill at unbelievably inexpensive prices. This being said, you might have to compromise on equipment and hygiene standards. However, the food from these open-air kitchens has become an integral part of the daily life of many Thais.
What to See
I'm an avid solo-travelling woman. Since solo travel doesn't equal solitude, I love to join organized tours here and there. So here are some valid options of how to get to see what this magical country has to offer in a safe and easy way*:
Cash And Cards
In Thailand, you pay in Baht. A Baht is divided into 100 Satang. 25 Satang are a Salueng.
Banknotes are 20, 50, 100, 500, and 1000 Baht and coins are 1, 2, 5, and 10 Baht. There are also coins for 25 and 50 Satang, but these are only used in larger supermarkets.
It's a very touristy country, hence, credit cards are widely accepted. Obviously, you can get cash at ATMs. Beware that not every ATM works with every international card. Don't freak out, just try a teller from a different bank.
One US-Dollar equals 38 Baht (THB) as of November 2022, but you can check the current rate on this page.
Language
You probably guessed so, Thai speak Thai. The language is actually mutually intelligible with other Asian languages. The Thai alphabet has 44 consonant symbols and 16 vowel symbols that combine into more than 32 vowel forms. Since the Thai language has a difficult orthography with a system of markers, signs in public places such as airports and stations are written in Latin letters, too. This goes also for signs and street names in major tourist places. However, in rural areas off the beaten tracks, you might find only writings in Thai.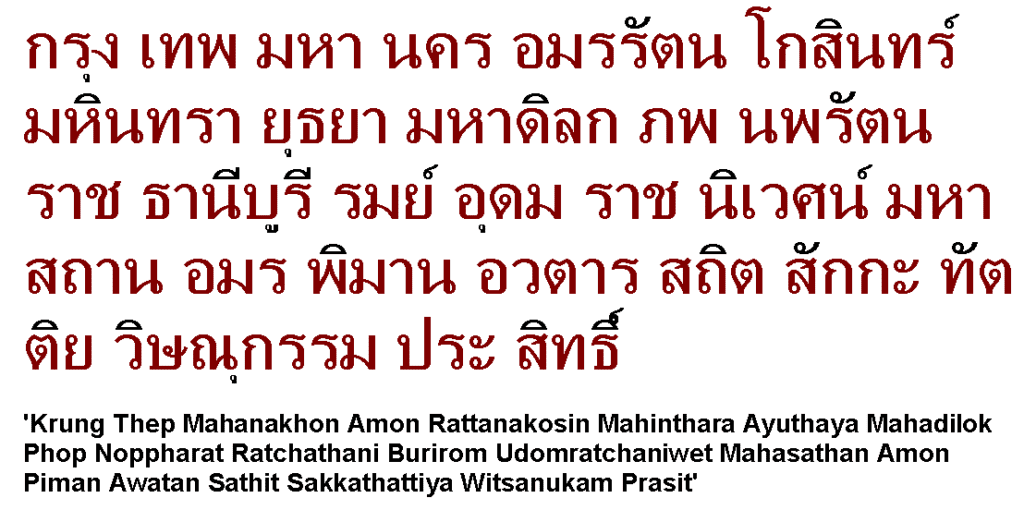 This being said, I don't presume that you'll learn this complex language just to go on a vacation. However, it's a nice gesture to say at least the greeting Sawasdee Kha and Sawasdee Khun as well as Khop Khun Kha respectively Khop Khun Khap. Kha is a suffix used by women, men are using Khap.
Lost Without Translation
Since Thailand is so over-touristy, I thought everyone – at least in the tourist industry – would be more or less fluent in English. Well, while in Bangkok, you'll find many people who have at least a rudimentary command of the language, there are places where people don't speak one word. Or if they do, their accent is so peculiar that you won't understand them. Also, they might not really understand what you are saying but just grasp the supposed meaning from one or two words they got from your sentence. Hence, prepare for some hopeless explaining, quirky conversations – and many bright smiles.
Communication and Connection
Like during most of my trips where European roaming is not available, I did not get a national SIM card. I rather used free WiFi. There was a connection to the internet without any issue at basically every eatery or café and, of course, hotel. Worked like a charm.
But if you insist on being online 24/7, you can get a national SIM card.
In Thailand, plug types C and O are the official standard. However, you'll also find types A and B.
The standard voltage is 230 V and the frequency 50 Hz.
But as you know, nowadays, all these chargers for phones and readers and computers have integrated adapters so that different voltages and frequencies don't really matter.
Gone are the days when you blew your electric appliances since you forgot to switch them from 110 to 220…good times.
By the way, you'll find this kind of practical travel info in my post World's Most Complete Travel Information – an indispensable globetrotter-classic.
This Is the Route I Have Travelled
These Are the Places I Have Visited
Pinnable Pictures
If you choose to pin this post for later, please use one of these pictures:
Note: This post is being regularly completed, edited, and updated – last in November 2022.
Did You Enjoy This Post? Then You Might Like Also These:
* This is an affiliate link. If you book through this page, not only do you get the best deal. I also get a small commission that helps me run this blog. Thank you so much for supporting me!