Let me guide you all the way east where Cuba keeps a hidden gem called Baracoa.
I was very glad that Baracoa was my last stop in Cuba – since it was definitely the highlight. Wrapping me in its relaxed, homey atmosphere, Baracoa would have spoiled me for the rest of Cuba.
Baracoa's History
Baracoa is a city and municipality in eastern Cuba and belongs to the infamous province of Guantánamo.
The Spanish conqueror and first governor of Cuba, Diego Velázquez, founded the city in 1511 on the very spot where Christopher Columbus anchored on his first voyage in 1492. Consequently, Baracoa was Cuba's first Spanish settlement. From 1518 to 1522, it even used to be the country's capital. However, the remote location quickly turned out to be a hindrance for the Spanish conquerors. Therefore, Diego Velázquez moved his residence to Santiago de Cuba, and eventually, Baracoa lost its status.
The city is located on the Bahía de Miel which poetically translates to Honey Bay. Before the Cuban revolution, Baracoa was only accessible by sea. Nevertheless, to this date, it's totally secluded and cut off from the rest of the island by a mountain range with only one road.
Baracoa's historic old town has a mix of styles of classicist buildings with a strong French influence – actually, a bit like Cienfuegos.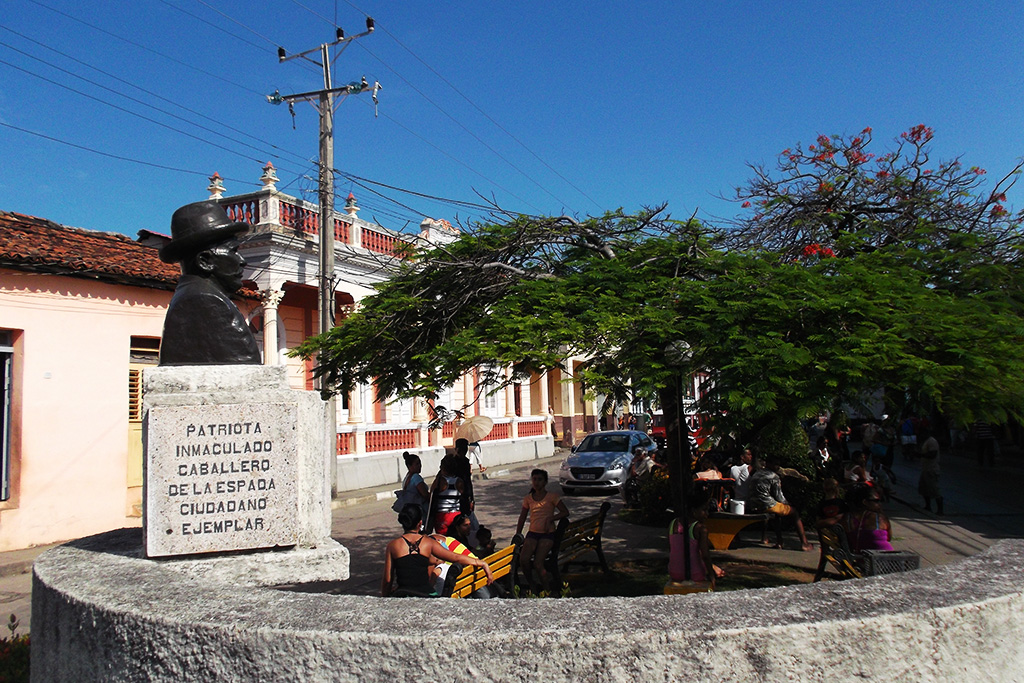 The mountain range around the city is overgrown by lush vegetation and is home to one of the best-preserved ecosystems on the island.
The Anvil
The table mountain El Yunque – which translates to anvil – can be seen from afar. Just like the surrounding area, the 575 m high limestone cliff is covered with rich vegetation. To the indigenous people Taíno, this mountain was actually sacred. In its distinctive formation, it served as a landmark for Spanish sailors.
About 20 km northwest of Baracoa is the Bahía de Taco with the Parque Nacional Alejandro de Humboldt in the backdrop. This national park has been a UNESCO World Heritage Site since 2001. At their visitor center, you can get guided tours through the national park on land and water.
Due to its scenic diversity and a large number of endemic species in flora and fauna, the national park is one of the most important nature reserves in the world. It includes terrestrial and marine areas, mangrove forests, offshore reefs, rainforests, and the summit of the El Toldo mountain.
Downtown Baracoa
Baracoa, home to more than 80,000 inhabitants, is a very pleasant, tranquil town where you can get lost in time. It's this mix of local everyday life, some mildly touristy facilities, and lots of time and space to create your own blissful vacation.
The most important spot is the Parque Independencia, the central square of Baracoa. Here are the city's most important cultural buildings like the Fondo de Bienes Culturales. Here you can admire – and purchase – the works of regional sculptors and craftsmen. Like in every other Cuban city, there is a Casa de la Trova where locals and visitors alike are swaying to Salsa tunes that are performed live.
The Cathedral Nuestra Señora de la Asunción is one of the oldest buildings on the island. It was consecrated on the occasion of the city's foundation. In 1833, the building was completely restored. It houses the Cruz de la Parra, hence, the Cross of the Vine. No less than Christopher Columbus erected this wooden cross during his first voyage of discovery.
For a long time, it was believed lost. Finally, they found it under a vine.
The church is not open. However, visits with the sexton can be arranged.
Not far from the square is the Casa del Chocolate where you can enjoy typically oblivious Cuban service yet delicious hot chocolate made from locally grown cocoa.
Uptown Baracoa
One of the city's most important landmarks is the Castillo de Seboruco. It is located on a hill not far from the center. This fort was initially built as protection against pirates.
The excellent panoramic view of the entire bay was decisive for the construction. Today, the guests of the hotel El Castillo enjoy this amazing view.
Life Is a Beach
So, the town as such is nice, but obviously not very exciting.
However, the surroundings are just exquisite: the ocean, mountains, rivers, and wild beauty of nature.
Baracoa has a city beach which is not very nice. Nevertheless, as you keep walking east, you reach the pretty secluded Playa Blanca.
But first, you have to cross a bridge over a river – which is incomplete. Therefore, there is a boat waiting at one end of the rotten bridge, picking up passengers and taking them to the other side.
Quite fun – and very Cuban.
Although everything is nearby, due to the terrible dust roads with huge potholes it takes a while to get for instance to paradisiac Playa Maguana or the Parque Alejandro de Humboldt.
Days Out
To get to the outskirts of Baracoa, just take a jeep at the Parque Independencia.
However, there are also travel agencies organizing trips – whereby organizing isn't the correct word. These agencies are government-owned. Consequently, the employees are not…let's say overambitious. While in Cienfuegos my day trip with Cubanacan was just great, in Baracoa there either was nobody at the office, or for some reason they were not able to book anything for me.
Finally, I organized my rides and trips with the guys hanging around the main square.
As a matter of fact, the son of my hosts in Baracoa is a biologist and offers tours to the Parque Alejandro de Humboldt. If you want to check with him, please refer to the contact data in the accommodation section below.
Obviously, serious hikers will enjoy a tour of the 575 meters high mountain El Yunque.
Another very nice day trip goes first to a cocoa Finca. Cacao, coconuts, and bananas are the main products in this region. On the Finca, you see how cacao grows and also how they process it.
You can also stock up on cocoa products like beans, powder, cream, and, of course, chocolate.
Unfortunately, I must say that I got to use only the beans that I did grind together with coffee beans which gave the brew a chocolaty taste. The rest rotted pretty fast. Even chocolate stored in the fridge had some sort of parasites in it. But maybe it was just bad luck.
The trip then continued to Río Yumurí where a boat took us to some small islands where we were floating with the current of the clear, ice-cold river.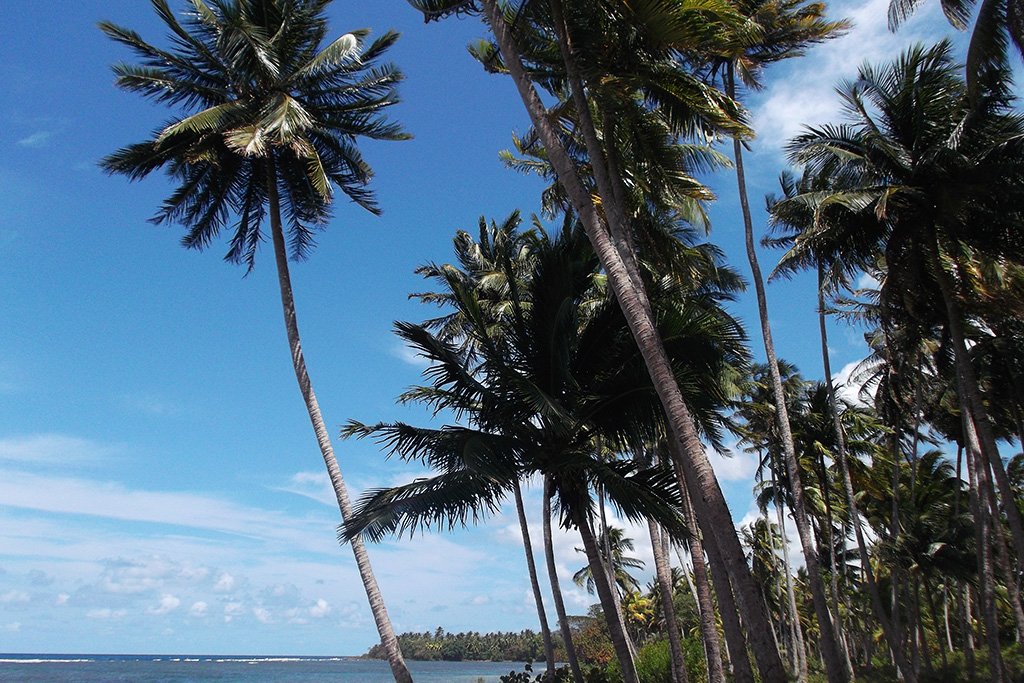 Finally, we got to hang out on a dreamy beach – the epitome of the Caribbean.
Practical Information
How to Get There and Around
By bus, it takes about four hours to get to Baracoa from Santiago de Cuba, and it takes an entire day to get from Baracoa to Havana.
But there are domestic flights from the Gustavo Rizo airport. However, if you have an international flight from Havana, I recommend including a time buffer of at least 24 hours; at least!
Anyway, I recommend buying tickets as early as possible. In any case, at least six weeks in advance and possibly on the website www.cubana.cu. Booking tickets in Cuba at short notice is difficult and usually not possible. However, you can always try to book a flight in Havana or Santiago de Cuba at one of the larger Cubana offices.
I spared two nights before my flight out. I got to Havana in the morning and left my stuff at my Casa Particular. Then, I spent the day at one of Playas del Este, had a nice dinner and a last mojito, and left the next morning.
If for any reason the flight got canceled, I'd had more than 24 hours to make it to Havana by bus or by cab.
Actually, I'm sticking to this time planning anywhere in the world – and definitely in Cuba.
Where to Stay and to Eat
As in all other places I've visited in Cuba, I stayed at a casa particular also in Baracoa. Actually, in two casas since there was this big mixup. As I mentioned before, it does occur that you book with a host who then accepts a walk-in and arranges another casa for you.
Obviously, the most important fact is that they don't leave you stranded in the street. Nevertheless, me and other travellers did feel a bit shuffled around.
Howsoever, finally, I was very happy that the first casa-owners had kicked me out and send me to their relatives. As a matter of fact, the room at casa Ramon y Mima was very comfortable and their food was the best I got to enjoy during my entire trip. Oh, wait, the food at the casa in Vinales was also excellent.
As I mentioned above, their son offers guided tours – this way you spare yourself the hassle of negotiating with the guys around Parque Independencia.
You can get in touch with Ramon and Mima by landline at +53 21 64 50 28 and mobile at +53 53 21 13 41.
For the hotel's excellent location Baracoa might be a place where staying at a government-owned resort shouldn't be ruled out.
At least at sunset, there's no better place to be than on the terrace of the Hotel El Castillo way up high over Baracoa.

Albeit, the food is not good because – sorry to repeat myself – it's a government-owned restaurant. But get a mojito and just enjoy the view – as always for an incredible 3 CUC – the official price…and the upside of government-owned.
Cash and Cards and Connection
There is an Etecsa Office in Baracoa as well as another sales point where you can obtain scratch cards. On this page you'll find ETECSA's complete list of hotspots. To narrow it down, you need to choose Guantanamo from the dropdown menu Provincia and Baracoa from the menu Municipio. Then, you'll see all the places where you can access the internet.
There is an ATM on the west side of the Parque Martí in Baracoa.
Until the end of 2020, there were two official currencies: The CUP – Peso Cubano – and the CUC – Peso Convertible. The socialist island state has had this confusing dual currency system since 1994.
However, since the beginning of 2021, only the Peso Cubano keeps circulating. The exchange rate is 24 CUB to one US$. This unification of the currencies is expected to grant Cuba's citizens equal opportunities and social justice.
Already in July 2020, Cuba had abolished the ten percent tax on US$ purchases that had been in force since 2004. Since then, in some shops, certain products can also be paid for by card in US currency.
Since this novelty is still in progress, obviously, some prices in my posts on Cuba still quote the Peso Convertible CUC – as do many Cuban websites. I hope that they'll correct their sites asap so that I can adjust the information on my blog. However, if you don't want to wait: One CUC equals one US$, so that shouldn't be a big problem, after all.
Map
On this map, you can see all the places worth visiting around Baracoa:
Baracoa was one of the loveliest places I've visited in Cuba. However, to read about the others, go to the main post and take your pick! There you'll also find valuable general information that will make your trip smoother.
Pinnable Pictures
If you choose to pin this post for later, please use one of these pictures:
Note: I'm completing, editing, and updating this post regularly – last in November 2022.
Did You Enjoy This Post? Then You Might Like Also These:
* This is an affiliate link. If you book through this page, not only do you get the best deal. I also get a small commission that helps me run this blog. Thank you so much for supporting me!