Another day, another place, another homestay:
Here comes a guide to Sigiriya, home of the famous Lion Rock, from where you can go on a quick day trip to Dambulla to see the beautiful cave temples.
Sigiriya is probably the most famous and iconic landmark in Sri Lanka, and while it is also a town, it mainly consists of small houses scattered in a jungle-ish area.
I think I unerringly picked the most remote one. However, I was rocking it there – big time!
Bargaining with the driver over the price, coaxing him to take me not to the city's central part, but straight to the guesthouse. I knew the ride would be longer than he thought. And yes, he had to call the host twice who lead him over the phone into the….middle of nowhere.
Staying in the middle of nowhere, between bushes and banana trees, rice paddies, and rhododendron drove me nuts.
I felt trapped.
I couldn't go anywhere without a member – notably the husband – of my host family taking me there.
Remember: bye myself is not a typo…
But since on that trip, I resolved to stick to my blog's title, i. e. saying bye to myself….at least to some of the most annoying parts of me, I sat down and leaned back and breathed in two three four, and out two three four; and hey, why not just sitting on a verandah in a chair and watch the grass and the rice grow for two days?!
Yes, I resolved to be much more patient – with people, the world, and myself.
Not freaking out when things are not working out my way.
Not flipping out when things are taking longer.
Not snapping when people don't get me right away.
Accept delays.
Accept shortages.
Phew, I had a lot on my plate on that trip.
But actually, it was working out quite well.
I wonder if I can say bye to myself
I question if I managed to leave some of my terrible impatience behind. Maybe some Sri Lankan picked it up and used it.
However, there is still plenty left.
Home is Where the Heart is
Besides feeling a bit trapped out there in the wilderness, I really got the hang of this homestay-thing. I mainly travel to experience a place, the average, unspectacular everyday-life.
While I enjoy visiting landmarks and museums or hanging out on the beach, I absolutely love to walk around in supermarkets and drugstores and, of course, farmers' markets and just look at things local people buy.
And I appreciate this intimate glimpse that I get when staying with a local family. Even the smaller guesthouses like e. g. Samith's place in Polonnaruwa are next to the host's private quarters so that you always get a peek into their privacy.
While in Europe or the US I do enjoy staying in a luxurious hotel room, here it would keep me too far from what I came here for: Sri Lanka; pure Sri Lanka.
SIGIRIYA
I didn't come to Sigiriya to stay in the jungle, after all. I came here for the same reason everybody does: Climbing the majestic Lion Rock.
In total, you have to climb about 1,200 stairs.
Others might be intimidated by this figure. I was rather terrified by the fact that the stairs are going up.
Actually, it probably would scare me less to get down to hell on 1,200 stairs than up: I'm very afraid of heights. And just as any other phobia, it's purely psychologic – and there shouldn't be logic in this world: I know that I will not fall down. I see dozens of people going up and nothing happens to them, so why should I die?!
So I started to climb these stairs and after about twelve steps, I turned and went back down. I felt like an idiot. I was about to miss the best part because of some totally illogical fear. Come on, you wimp, you can do it! So I did it…breathing in two three four, and out two three four.
Funny thing is, since I was totally focused on surviving those stupid stairs. Therefore, I actually did breathe very regularly and once on top of the rock, I was far less winded than most of the other people.
So what's next? Skydiving?
King Kasyapa Builds a House
Since the 3rd century BC, the rocky plateau of Sigiriya, formed from the magma of an extinct volcano, served as a monastery. At the end of the 5th century, King Kasyapa built his royal residence here.
After his death, the premises once again became a Buddhist monastery until the 14th century. Eventually, it was abandoned.
Visiting a Legend
There are two entrances, one in the west and another in the south.
Coming from the west side, you first cross the gardens. Those are among the oldest landscaped gardens in the world.
You then begin to climb the rock over carved stairs. There are 1200 steps to the very top, basically divided into three levels.
Getting to the first level is pretty easy.
But eventually, there are spiral stairs – which I hated since I'm afraid of heights. Actually, a pretty sturdy mesh wire surrounds them. They are leading- up to one of the main attractions, the murals of the Maidens of Sigiriya. Originally, around 500 of these beauties were painted in the 5th century on these walls. Today, only eighteen of these damsels are to admire – admired, not photographed.
Mirror, Mirror…
Another truly fascinating feature is the Mirror Wall. In the old days, they polished it so that the King could actually see his reflection in it.
The inscriptions and poems written on the Mirror Wall by visitors are proof that Sigiriya was a tourist destination more than a thousand years ago. Today, of course, painting on the wall is strictly prohibited.
The Lion is Gone
On the next level are the paws of what used to be a huge stone lion. He gave the palace – and the rock – its name. Unfortunately, the upper parts of the body were destroyed. The jaws used to be the entrance to the premises, today, the paws mark the stairs to the last climb.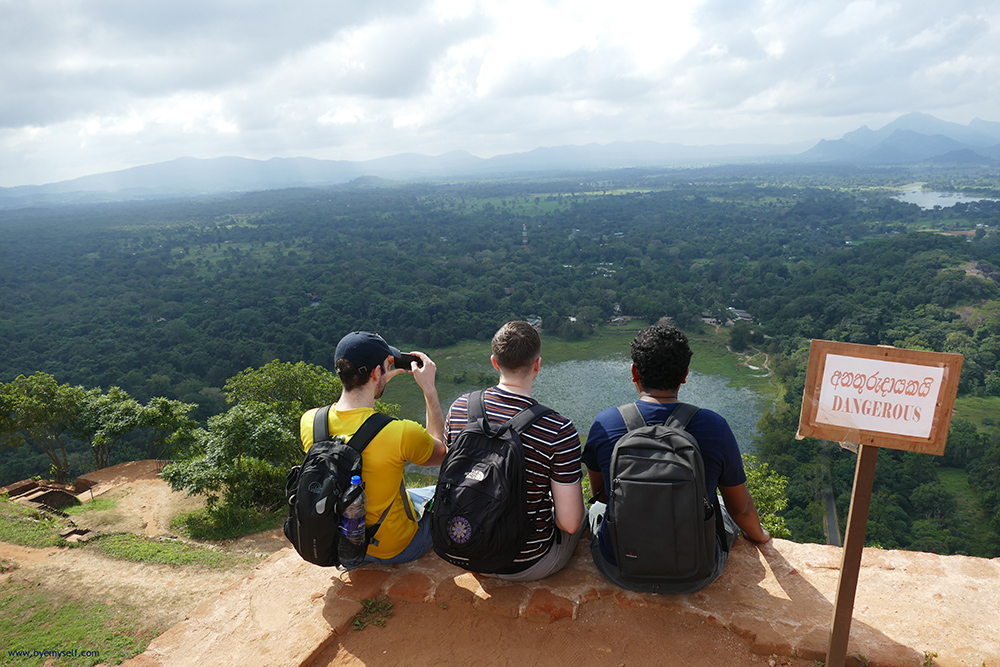 And then you reach the fortress complex that includes remnants of a ruined palace, surrounded by an extensive network of fortifications, vast gardens, ponds, canals, alleys, and fountains.
But honestly, most visitors are simply blown away by the majestic views – and who could blame them?!
To go back down, there is a different staircase from the second plateau that leads to the southern exit.
The entire visit takes approximately 1.5 to 2.5 hours.
On the way to the parking lot, there are stands selling snacks and souvenirs. Behind the parking lot is the main road from where buses are going to the Inamaluwa Junction and further to Dambulla.
Sri Lanka – A Country Full of Wonders
Today, the rock with the remnants of the ancient palace and fortress complex is considered the Eighth Wonder of the World by the locals.
It has been a UNESCO World Heritage Site since 1982.
By the way: This had been the third stop of my trip and the third and fourth UNESCO World Heritage Site I visited.
I guess this tells you a little bit about Sri Lanka; and probably also a little bit about me.
Rocking It
Sigiriya rocks big time and on so many levels: There is the almost 200 meters high Lion Rock. And the rock band – pun intended – shot some of the scenes from the music video Save a Prayer at the top.
I guess this little fun fact makes me the queen of trivia, but don't worry, I won't leave it to that:
The town of Sigiriya is basically a main road with a couple of side alleys leading more or less into a jungle. Along the main road, there are a couple of restaurants and shops and ATMs. Most of the guesthouses and homestays are scattered in the bushes left and right from the main road.
As I mentioned above, mine was pretty far from the others located pretty much centrally between the Lion Rock and Pidurangala Rock – so for one or two nights an ideal and idyllic location. The Pidurangala Rock, by the way, seems to exist only to have a view at the Lion Rock.
Since I wanted to climb the Lion Rock as early as possible, I chose to stay as close as possible. Obviously, you can visit it on a day trip – it is open from 7 a.m. to 4 p.m. But the later you get there, the hotter the climb will be.
The rock is not only one of Sri Lanka's most visited landmarks, but it is also the most expensive one: There is a 30 US$ entrance fee.
Both, Sigiriya and Dambulla can be easily visited in one day. Even if you go by public bus like I did.
DAMBULLA
As I said, Dambulla is a small city. Due to its location at a major junction, it is pretty frequented.
Although the city of Dambulla has a very commercial and almost industrial feel to it, there are two beautiful attractions in the area.
The first one made it, surprise surprise, to the list of UNESCO World Heritage Sites in 1991. It is the Golden Temple of Dambulla.
The Cave Temple
A cave monastery with five sanctuaries, it is the largest and best-preserved cave temple complex in Sri Lanka. It has been a sacred pilgrimage site for 22 centuries.
On an area of over 2000 square meters are Buddhist frescoes and a total of 157 statues.
The whole complex towers 160 m / 520 ft over the surrounding plains which means more climbing.
However, for about 250 to 300 LKR, a tuk-tuk takes you to the main gate. From there, you still have to climb many stairs, though.
Entrance fee to the cave temples is 1500 LKR – a bargain compare to the Lion Rock.
Note: I visited Dambulla on a half-day trip from Sigiriya. Since it is so ideally located, you might want to see the temples when just passing through. That seems to be absolutely possible. At the booth where I paid the entrance fee, there was a storage room for luggage.
Going back downtown, I chose to walk down the – yes: more stairs! next to the Golden Buddha statue. Of course, this would have also been an option coming up. But after my morning climb of the Lion Rock, the inevitable stairs from the entrance to the actual cave temple were more than enough.
The Golden Buddha
The Golden Buddha is in the Dhamma Chakka resp. Wheel of Law pose. He is the world's largest Buddha remaining in this position. Underneath the statue, there is a Buddhist Museum.
A bit further towards the city center is the Museum of Wall Painting – in case you need more than you have admired at the cave temple.
Surprisingly, after climbing down to the main road, I still felt like walking; at ground-level, no more stairs.
I will not lie to you, it was not the most idyllic trail. In fact, it was a very busy, very dusty road. However, there were a couple of really interesting shops selling ceramics and fabric such as sarongs at really good, non-touristy prices.
How to Get There
I came by bus from Polonnaruwa and got off at the Inamaluwa Junction. Here, you can wait for the bus coming from Dambulla. Or you go by tuk-tuk which should cost to the main road resp. bus station of Sigiriya 500 LKR max. Finally, the price depends on where you are staying in Sigiriya. From the bus station to my homestay, it was another 300 to 400 LKR since it was so deep in the jungle.
Good Place to Sleep
As I said, I stayed in the jungle, the mighty jungle, where the lion (rock) sleeps tonight. The Seegiri Close-Up View* is rather a homestay than a guest house since they have only two rooms adjacent to the family house.
The room was very comfortable, the view fantastic, indeed. After two nights, though, it was time to move to a busier place; but I don't see why anybody should spend more than two nights in Sigiriya, anyway.
Not many tuk-tuk drivers have an idea where this accommodation is, so you should tell them it's around the corner from the Roo Mansala Boutique Villas*. That's a very posh and known resort.
Get more details, check out availability and the Seegiri's rates. *
If you are searching for other convenient lodging options, you can do so on this map*:
Good Place to Eat
I was living in the jungle. I had to hunt when I wanted to eat!
Of course, I'm kidding.
There was always the option to go to another place by tuk-tuk. even the guesthouse owner has one and takes you everywhere at a really good price.
Fact is, I was tired. Hence, I did not feel like venturing in the evening. So again, I simply ate what my hosts prepared for me and was more than happy and stuffed with it.
What to See
I'm an avid solo-travelling woman. Since solo-travel doesn't equal solitude, I love to join organized tours here and there. They allow me to meet fellow travellers – for just a short moment or a lifelong friendship.
Therefore, here are some great ideas of what to do and which tours to join during your stay in Sri Lanka*:
Do you want to read about all the other beautiful places I've visited in Sri Lanka? Then go to the main post and take your pick! There you'll also find valuable general information that will make your trip smoother.
Pinnable Pictures
If you choose to pin this post, please use one of these pictures:
Note: I'm completing, editing, and updating this post regularly – last in January 2023.
Did You Enjoy This Post? Then You Might Like Also These:
Disclaimer: I appreciate that Sri Lanka Tourism Promotion Bureau supported my blogger trip by supplying me with tickets to some of the main landmarks like e.g. the Lion Rock. However, all opinions on these services are mine and weren't by any means influenced by my cooperation partner.
* This is an affiliate link. If you book through this page, not only do you get the best deal. I also get a small commission that helps me run this blog. Thank you so much for supporting me!