Ready to step into mystic tales from 1001 night? Planning your trip to Morocco but you aren't sure if a female globetrotter should travel there solo? Relax, in this post, I have you covered. I'm answering all your questions – even those you didn't know you had.
So pour yourself a glass of mint tea and prepare for a wonderful journey.
What's the Best Time to Visit Morocco?
I'd say a Wednesday in May.
This answer might sound silly but there is truth in it: Firstly, I would avoid the summer months between June and September when temperatures are rising into the high 30s – and I'm talking Celsius here. You'll be sweating and suffering. To me, that's simply not enjoyable unless all you want is a beach vacation.
Winter can be an option. While the evenings and especially the mornings tend to be really cold – and most Moroccan houses are simply not equipped for that – the temperatures are rising to a pleasant 20 to 25 degrees Celsius from the late morning into the afternoon. Perfect for exploring cities. Unless, of course, it's grey and raining and that's not that exceptional in Morocco in wintertime.
Therefore, I'd recommend the shoulder season mainly in spring when it's sunny and warm but not unbearably hot.
But what's with the Wednesday? Well, as a matter of fact, I'd recommend any weekday from Monday till Thursday because the old towns and iconic landmarks are much emptier than on weekends. Don't get me wrong, they are not empty, just emptier. There will still be day trippers from the beach resorts around Agadir and other visitors. But since Morocco is just a short flight from the southern European coast, many French and especially Spaniards are coming to on a weekend trip so it gets terribly crowded. Hence, if you can, avoid a visit to Moroccan cities on weekends.
Is Morocco Safe?
I would argue that visitors to Morocco tend to encounter somewhat annoying than dangerous forms of crime. You're rather prone to be charmed into being guided and misguided than to be assaulted and robbed. Self-proclaimed guides will try to take you places, cab drivers will try to take advantage of you, shop owners will sell you merchandise of questionable quality at a ridiculous price, and restaurants will show you menus with prices designed especially for tourists. Many people will try to milk that foreign cow. Hence, in this respect, your safety mostly depends on your instincts, your guts, and your brains.
So while Morocco is rather safe, it's very crowded so pickpockets are a thing. Therefore, you should take standard precautions regarding your valuables. Take as little cash as possible with you and only one credit card in case you need more money than expected. If you don't need your passport, leave it at your accommodation. I even re-activated my old phone that I equipped with a Moroccan SIM card and used my actual smartphone only at the Riad. Unfortunately, it can be very hard to differentiate between genuine friendliness and hospitality and professional scams. Also, sometimes there is just an extremely thin line. I was very friendly to everyone, however, I kept my distance and made it unmistakably clear when I wasn't interested in goods or services.
If someone truly bugs you or even threatens you, raise your voice and confront him. Don't bother to come across as unfriendly or rude. Your safety and wellbeing is all that matters.
Should A Woman Visit Morocco Solo?
After my recent trip, I can say without any hesitation: Yes! Nevertheless, as on my recent trip, I visited Morocco's imperial cities, I don't know how it is once you get to the hinterland, though. But walking the streets of larger cities is definitely no problem. However, it's a Man's Man's Man's World, and women claim far less space – in each and every sense. For instance, it's annoying and also very telling that Moroccan men tend to sit with their legs wide spread, occupying also part of the seat next to them which forces women to make themselves small – also in each and every sense.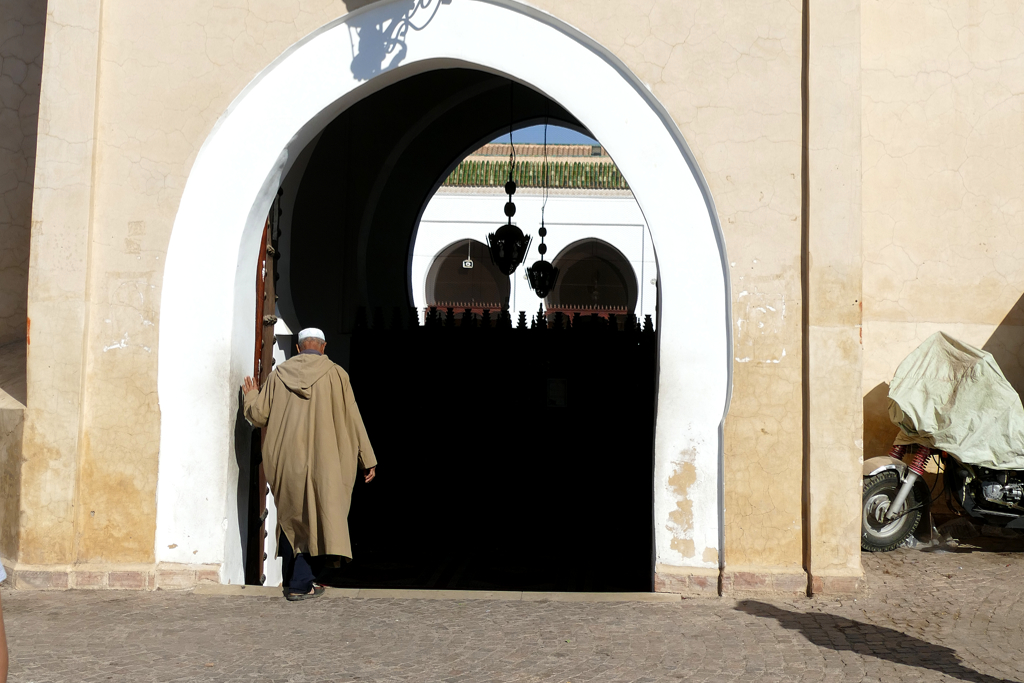 Then, there are many tea houses that are frequented exclusively by men. As a woman, you cannot just barge in and get a refreshment. I don't even think that you'd get openly abused there, but you would most definitely feel very much out of place. Mostly, these men-only places aren't exactly cozy, anyway. There are many truly lovely tea rooms where you can enjoy refreshments also as a woman, hence, why bother? For instance, many museums and galleries have amazing rooftop cafés where you get a complimentary panoramic view with your drink.
So yes, you definitely will notice cultural differences but they probably won't impair your stay. I personally strongly disagree with this gender hierarchy, however, I was a guest in Morocco and not some missionary on a quest for gender equality.
Be Fierce
Yet, as a female solo traveller, you won't be able to avoid attention from men. It mostly lies in your own hands how far this gets. I'd recommend you dress modestly by covering your shoulders, cleavage, and knees. Wearing a headscarf is absolutely not necessary.
Also, I need to point out that I'm not the blond Barbie type. I'm an average mature woman, and that might have sheltered me from unwanted advances.
Therefore, I was totally bewildered when a young guy catcalled me. With great indignation, I yelled at him that I could be his mother; which left him bewildered.
This happened twice within two weeks of my stay, and interestingly, both times in Meknes.
At the end of the day, it depends on your personality and the way how you handle situations. For instance, I was often greeted by random men as they passed me by on the street – bonjour, welcome to Morocco. If it was in a non-lewdly manner, I smiled and answered in a friendly way and kept walking. But if in a situation like this, you decide that you don't want to answer, I think that's fine. As a female solo traveller, you should do everything to feel comfortable and on top of your game.
What to Pack for Morocco?
If you are going to Morocco, you definitely can leave your kitchen sink at home. You simply should travel light which will make your trip smoother and cheaper – at least when you are opting for one of the low-cost airlines that charge extra for basically everything.
Wanna know how to pack light? That's easy: Just read my post on Packing Light – Travelling in Style and you'll be all set.
Also, Morocco is a shoppers' paradise. And I'm not talking exclusively about djellabas and babouches. You'll find all kinds of international brands in the modern parts of Morocco's cities. There are drugstores and pharmacies and supermarkets. Hence, in the unlikely event that you've forgotten something really important, you'll be certainly able to obtain it right on the spot.
Which Airport Is the Most Recommendable One?
Despite the fact that Rabat is Morocco's capital, its airport is far less frequented than for instance those in Casablanca, Marrakech, or Agadir.
And that's exactly the reason why it's recommendable to fly into Rabat-Salé.
The process at emigration in Morocco can get annoyingly long, especially if there are various flights arriving at the same time. This hardly ever happens in Rabat since there aren't that many flights scheduled in the first place. This makes the whole procedure much faster and more relaxed for everyone.
Especially before your flight home, you save yourself a lot of time and hassle if you fly out of Rabat.
In Morocco, things are not like in Europe where you can obtain your boarding pass online and check your luggage at a self-service station and you're good to go. Nope, although you can check in online, you still need to pick up your boarding pass at the counter. Also, they thoroughly check your luggage. If you have Dirham left, you might want to change them. And again: At those big airports, there will be trizillian people needing to do just the same, hence, it will take forever.
Also, I recommend to check if there are forms online you can fill out already before your trip. For instance, at this moment – as of January 2023 – you need the so-called Fiche Sanitaire. I kid you not, on my flight, I seemed to have been the only one who had it filled and printed out. So while all the other normal people who do not suffer from a mild form of OCD wasted time by filling out forms, I had all I needed ready.
What's the Best Way Of Travel Between Cities?
Train
In the northern part of Morocco, travelling by train is reliable, fast, and inexpensive. However, if you want to continue from Marrakech further south, you have to go by bus. I'm explaining all that in this guide.
The north, however, is covered by a great net of trains. For information and schedules, go to the national train company's website. There you can also buy your tickets online.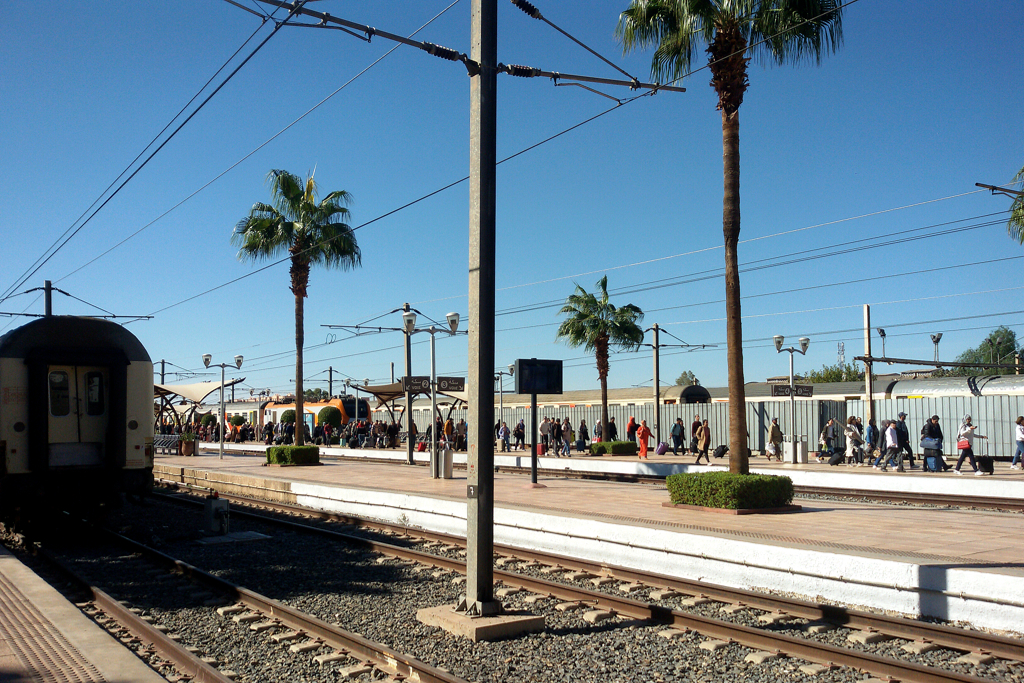 Note that the difference between 1st and 2nd classes is the size of the seats: In 1st class, three people sit in one row and have a bit more space since, in 2nd class, it's four. Also, 1st class is more climatized which for instance in November was not really an advantage. In summer, however, this might make a truly dramatic difference.
I took the train a couple of times during my trip and did not experience even the slightest delay. Although the trains are not squeaky clean, they are okay. There is a guy selling refreshments, and assigned numbered seats in 1st, as well as 2nd class, are another convenience. All in all, travelling by train was very reliable and comfortable.
Bus
Overland buses are very popular in Morocco since they are dirt cheap. There are bus connections between virtually all major cities. However, the standard between the different bus companies can largely differ.
Travellers who can afford a higher fare usually opt for the CTM bus company. It's reliable and the coaches are clean. However, the trips are about double the fare of standard local overland buses. You can check out CTM's itineraries and prices online where you can also book your trip right away.
If you don't obtain your ticket online, you should go to the station in the morning to book your trip for the afternoon or the next day. Don't just show up at the last minute as they might leave you behind.
Shared Cabs
Travelling by so-called Grands Taxis is very popular among Moroccans and a viable alternative to trains and buses also for visitors. Spots in the taxis are sold individually. Mind you they usually carry four passengers in the rear and two in the front. To have more space, you can purchase more than one seat. This being pointed out, I personally find it underlines the economic and social differences, but that's a very subjective view.
Keep in mind that these fares are regulated, hence, it's worth checking the official rates with the tourist board or another reliable source.
Grand Taxi stations are mostly next to the train stations and central bus stations.
What's the Best Way Of Getting Around?
In the narrow and oftentimes very crowded streets and alleys of the old towns, Morocco's so-called Medinas, walking is your only option. Which doesn't hold local guys back from racing through the lanes on bicycles and even motorbikes. Also, a mule pulling a huge cart might suddenly cross your way.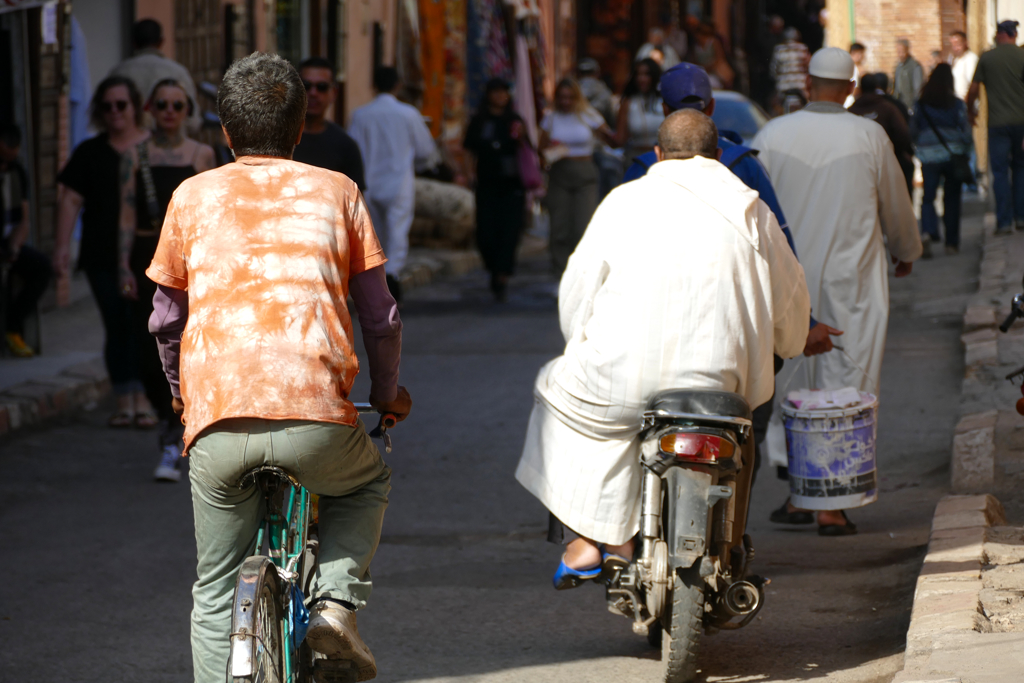 Outside the Medina, the cities have a good system of public buses. Morocco's capital Rabat even has two tram lines. Unfortunately, google shows you bus connections only when searching for routes in Marrakech which is a great tool to get from A to B. On the other side, in Rabat, google maps gives you at least the tram connections, but it doesn't show any bus connection in either the capital or Fez or Meknes.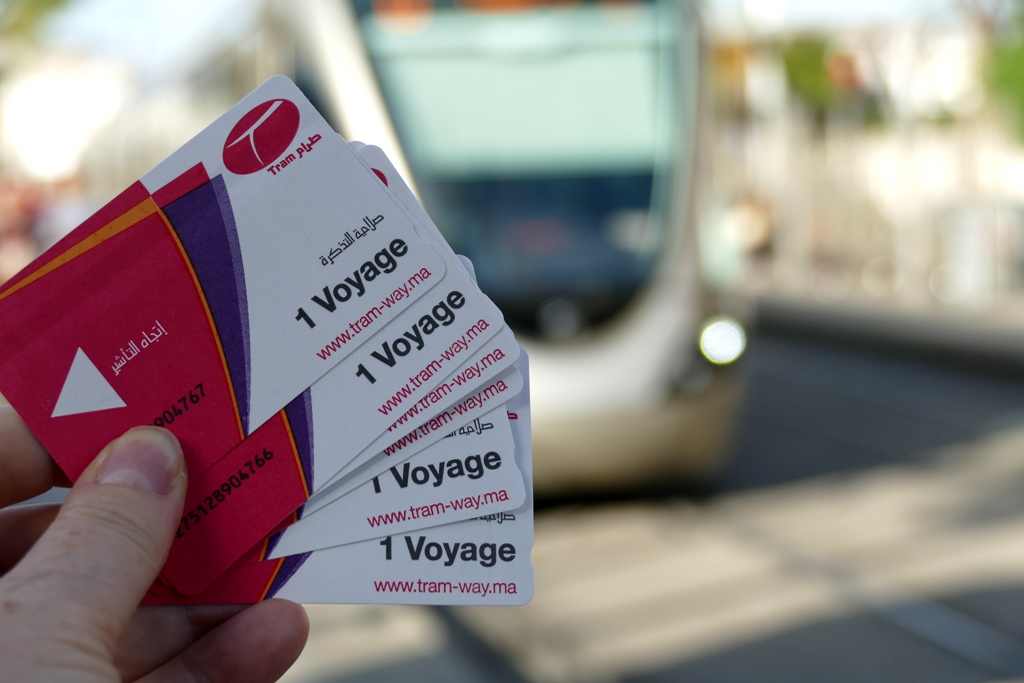 However, I'm embedding Rabat's bus map below since this might help a bit planning your trips.

Casabus, Plan bus rabat salé, CC BY-SA 4.0
Depending on the city, bus fares are between 4 and 5 Dirhams for an unlimited journey as long as you don't get off. A tram ticket in Rabat costs 6 Dirhams. You buy your ticket from the driver with preferably small change.
Petit Taxi – Grand Prix
The local Petits Taxis should be metered, but the drivers tend to forget this handy feature. And if you remind them, they might overtly refuse to turn it on. Hence, you need to negotiate the fare by trying to push the initially quoted price down to about half.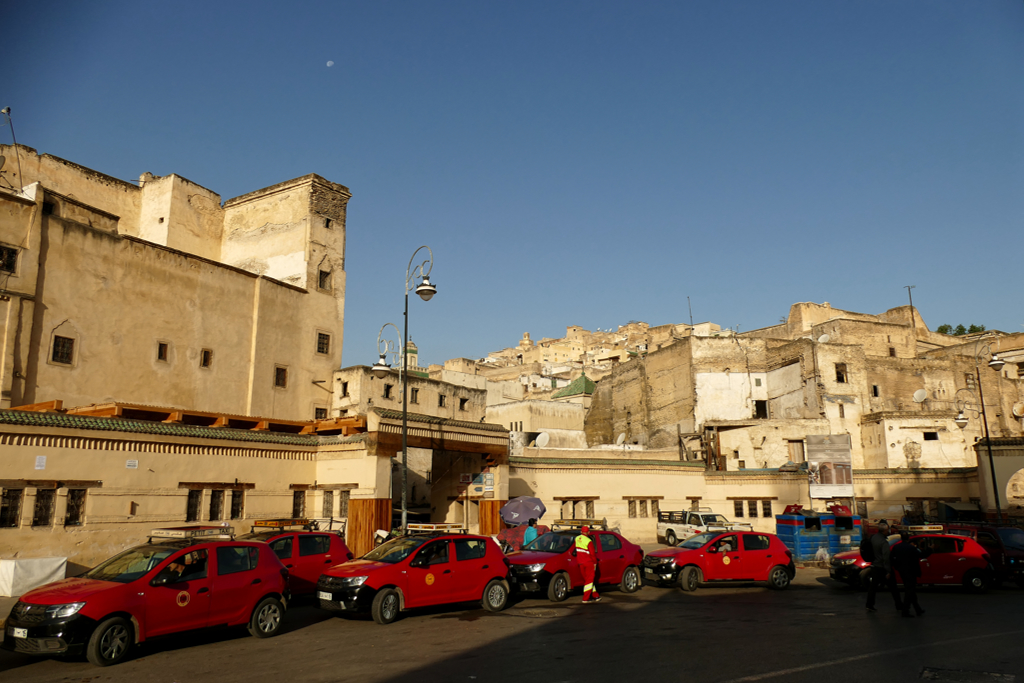 And this, ladies and gentlemen, is the reason why I prefer taking the bus over taxis.
Why Should I Have My Passport On Me?
Landing in Morocco, you get a stamp on your passport and the officer also writes a number down. This is kind of your ID in the country. For instance, accommodations will need your personal number to check you in.
As I stayed with a family in Rabat, they didn't need my number, obviously.
Also, in Marrakech, the hosts at the Riad didn't ask for it – which was good since I had only my ID card with me and not my passport.
At the Riad in Meknes, on the other hand, they insisted on writing down the number. Luckily I had brought my passport with me.
Rule of thumb, you should definitely have your passport on you when you're planning on spending the night. It might also be necessary to have your passport on day trips as at some landmarks like for instance the Dar Al Makhzen in Rabat, they require identification to let you in and will not accept just your ID card or your driver's license. Note that you don't need any kind of ID to purchase train tickets.
Where Should I Stay?
When it comes to accommodation, I recommend considering two aspects: I would always stay right in the Medina or at least on the very outskirts. I stayed at the Riad Ibn Khaldoun* in Fez, the y Riad Menthe et Citron* in Meknes, and Riad Sidi Omar* in Marrakech. Since I took Arabic classes in Rabat, it came with a homestay that I sadly cannot recommend.
Riad – that's the other thing I'd urge you to book: Don't stay at a regular hotel but enjoy the mesmerizing atmosphere and personal service of a so-called Riad.
Yes, Riad is also the capital of the Kingdom of Saudi Arabia. But more importantly, in Morocco, Riad is a traditional house or palace with an inner courtyard. You wouldn't expect the austere, windowless outer walls hiding lavishly decorated rooms around a lovely courtyard with lush trees and a fountain. The internal space is lit and ventilated through the roofless yard. This architecture offers the inhabitants protection and privacy.
Today, many owners transform their Riads into guesthouses, conserving the original style and creating a very personal atmosphere. Staying at a Riad takes you much closer to the Moroccan way of life.
Below, you can check out the availability and prices of some suitable lodging options*:
How Should I Start My Visit?
Before getting to Morocco, I was petrified that I might get lost forever in one of the Medinas. Yet, orientation is not the only reason why at least one tour in the company of a knowledgeable and trustworthy guide is highly recommended at the very beginning of your trip. You'll miss out on so much if you don't have that local person that brings you into the loop of 1001 stories'n'secrets hidden behind those high walls of the Medina.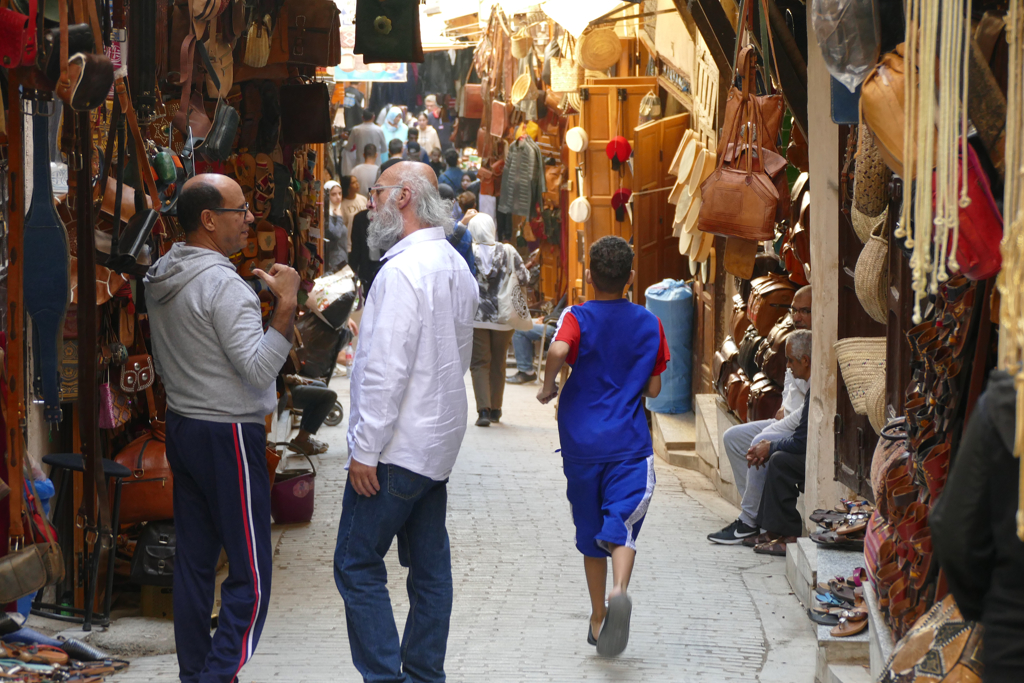 Hence, for me as a slightly nervous solo traveller, a first walk through the Medina in the company of an experienced guide braced me for exploring the city by myself.
Also, especially as a solo traveller, it's sometimes nice to join activities and get to meet other visitors. Therefore, I recommend joining one of these tours preferably at the beginning of your stay – I promise, you won't regret it*:
Why Don't You Introduce Mosques In Your Guides?
In Morocco, non-Muslims are not allowed to enter any of the sacred buildings. The only exception is the Hassan II Mosque in Casablanca.
Many people mistakenly believe this is due to the Koran. But according to Islamic law, non-Muslims are allowed to visit mosques as long as it's not during prayer time. Also, they have to stick to the proper decorum, obviously. Enforcement of this law varies greatly from country to country: While for instance, in Egypt and Turkey, anyone can enter a mosque, it is strictly forbidden in Saudi Arabia.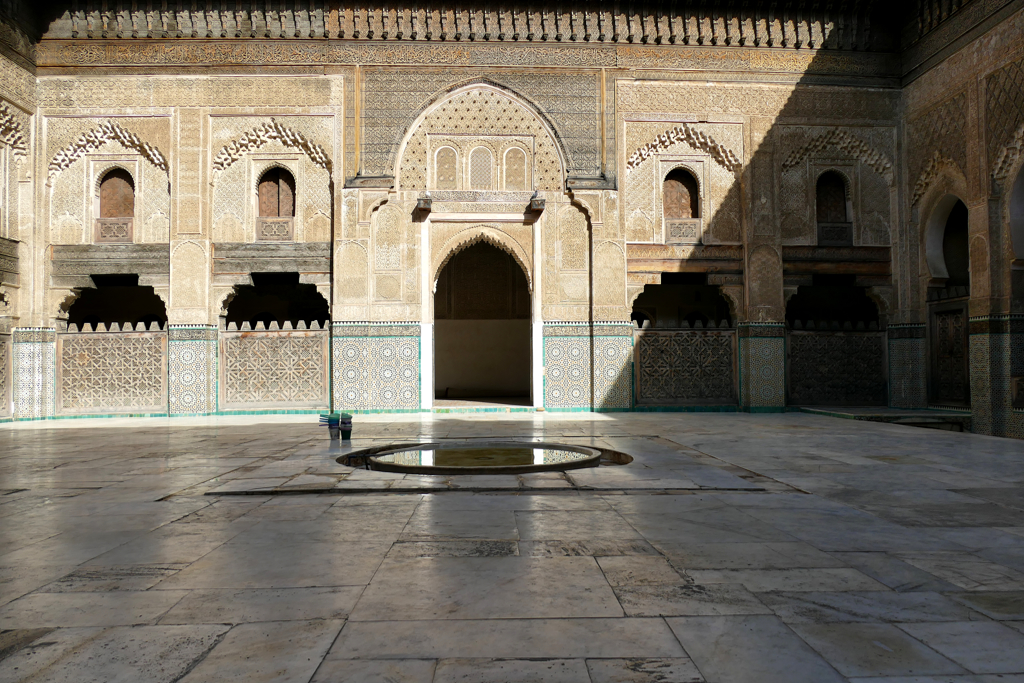 In the special case of Morocco, it was the French occupying forces who prohibited Europeans from entering mosques. They were keen to maintain a strict separation between the native Muslims and the French. Although Morocco is no longer a French colony, this law is still in force.
Theoretically, I could have taken pictures of Mosques from the outside. But many Mosques in Morocco are not freestanding on some square but part of the tight complex of buildings within the Medina. Therefore, it's practically impossible to take a picture from a convenient angle.
What Should I Wear In Morocco?
I'm splitting this question into two parts: Firstly, what's appropriate, and secondly what's functional.
Style
Although Morocco is very touristy and those local eyes have seen it all, I'd recommend dressing modestly. You might attract attention by wearing tight shorts, short skirts, and cropped or halter tops, but you certainly won't gain respect. Dressing like this is simply ignorant in a country where many women don't leave the house without a Djellaba and their hair covered. Also, don't think that men can dress as they please. Look around: In cities, you won't see Moroccan men wearing shorts and tight sleeveless shirts. Men in shorts are always Westerners.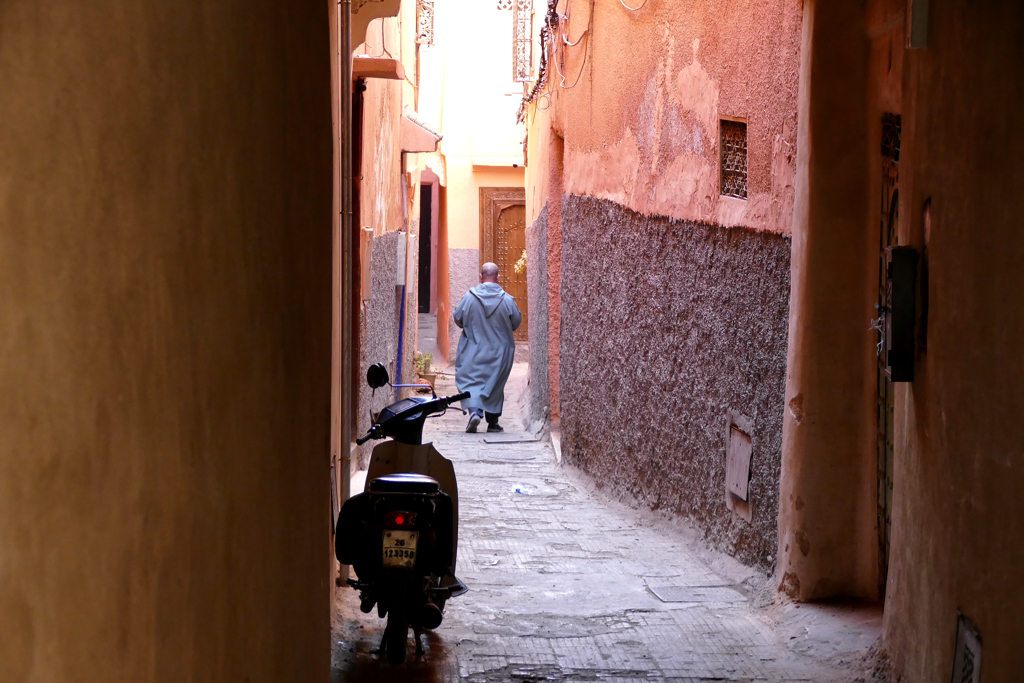 Don't be that ugly tourist.
You don't have to dress like a pious Muslim. Put on a light skirt and a T-shirt or blouse or a long summer dress that covers your knees and shoulders and you're good to go.
Functionality
Regarding functionality, it's easy in summer when it's always hot: Dress light but at the same time modestly. From October to April, it's not that simple. While it's warm during the day, mornings and evenings tend to get really chilly. Although I found it strongly exaggerated seeing women in fur boots in November, you will be more comfortable in sneakers than in sandals. Also, wearing sandals in the souks can be a bit gross, anyway. And don't even think about wearing heals on the uneven streets of the Medina – you will be suffering.
In the morning and in the evening, you will need at least a sweater and sometimes even a warm jacket. Hence, if you're planning on spending the entire day on the town, you might want to opt for a soft sweater that you can wrap around your shoulders or waist once the sun comes out. A good alternative should be a foldable down jacket.
What Should I Consider When Taking Pictures?
First of all, it's very disrespectful taking pictures of people's faces without permission at any time and everywhere on the planet. According to the European GDPR, it's even illegal and can cause lots of trouble. An exception is taking pictures of places. If someone appears incidentally in this pictures, the person is considered an accessory.
Nevertheless, even as I was taking pictures of buildings or streets, people barked at me as they were passing through.
This shows you what a sensitive topic picturetaking is in Morocco.
But where does this aversion to photography come from?
Well, it's a religious and therefore cultural thing. Many religious Moroccans believe that the depiction of beings with a soul is haram, hence forbidden.
Oftentimes you'll spot signs that taking photos is not allowed. I totally get that as tourists tend to photograph everything and everyone especially in private and supposedly authentic settings. Consequently, if people weren't avert to photography, they'd be a picturesque motif by the hour. Do you want random foreigners coming to your workplace taking pictures of you while you are doing your job?
It's a whole different story with self-declared models like the water sellers and snake charmers for instance on the Jemaa Al Fnaa in Marrakech. They make a living from posing for tourists. The tip should be at least 10 Dirhams.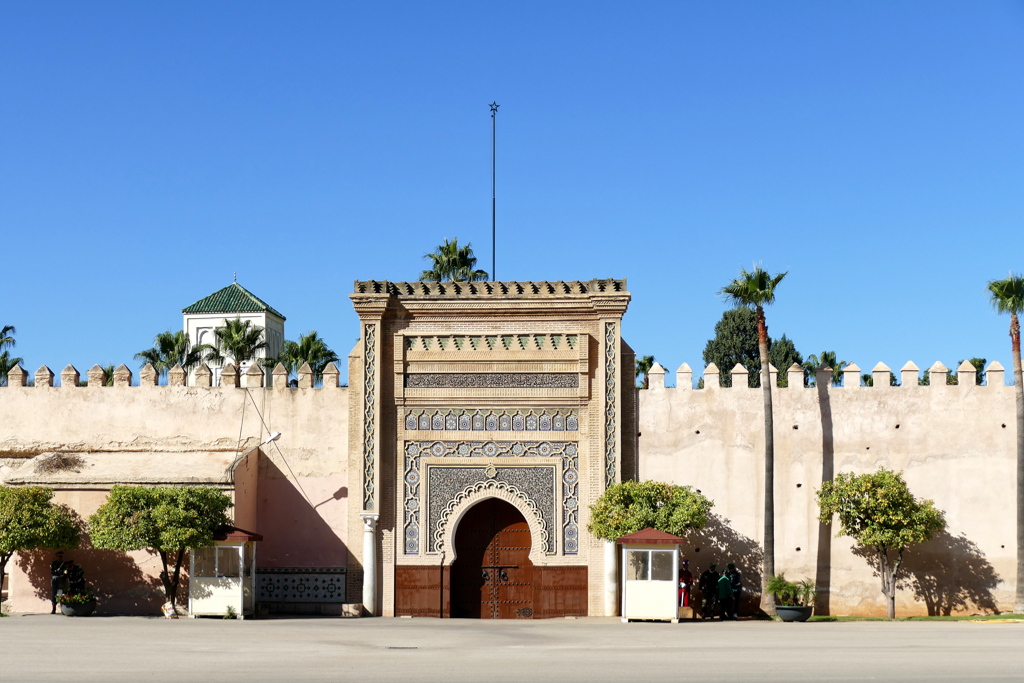 You should definitely refrain from taking pictures of governmental buildings, embassies, and military complexes. Also, don't even thing about taking pictures of police officers, soldiers, and other officials. In Meknes, they even yelled at me for taking a picture of the gate to the royal palace – probably because it's guarded by officials.
But Why Are Neither Humans Nor Animals Depicted in Islamic Ornamentation?
Interestingly, the Koran does not forbid portraits of humans. In fact, the oldest surviving portrait of Mohammed dates from 1250.
Yet, a ban on images especially in Sunni Islam is the result of a controversial discussion in traditional Islamic literature and law. Islamic legal scholars have three partly controversial views on this topic:
1. Depictions are not forbidden as long as they are not worshiped. Depiction of God is taboo, however, his attributes and his nature are not affected by this ban.
2. Representation of objects that cast shadows, hence, sculptures, is forbidden while drawings on paper, walls, in textiles are not forbidden, but objectionable. As long as humans or animals are headless or otherwise incomplete while they cast shadows, they are permitted. The shadow theater that is widespread in the Orient and in North Africa is thus legalized under Islamic law since the puppets are perforated and therefore cannot have a soul.
3. The depiction of living beings, humans and animals alike, is forbidden in every respect.
This controversy is one of the reasons why many pious Moslems do not want to have their picture taken.
The other one might be that the world is not Disney land and locals are no tourist attractions. It should go without saying to ask people before you take their picture and respect it if they deny it.
How Do I Avoid Unwanted Companionship?
Ever since I ran into this trap in Tunesia many years ago, I'm very much on the alert when friendly men are offering to show me around or just guide my way to a specific spot.
In Fez, a young man approached me and engaged in friendly conversation. I conversed for a bit and then I continued my walk.
All of a sudden, the young man walked next to me, conversing and offering to escort me.
I don't need a guide, thank you, I informed him.
His answer: Open your.
I laughed: My heart is wide open, yet, I really don't want a guide.
We parted friendly. Just a couple of minutes later, I had basically the same conversation with another young man.
Honestly, I still don't get what the open-heart thing is all about, but somehow it seems to be a standard part of the sales pitch.
However, both encounters began and ended friendly – no hard feelings on either side.
So, what to do? Well, firstly, you have to realize in time that you are about to get a private guide. Rule of thumb: As long as you talk to a man standing in one spot, you're safe. As soon as you guys are walking, he's your guide – unless you very clearly tell him that you don't want a guide. To do so, stop in your tracks. Don't keep walking while he's explaining things. Tell him you don't need a guide and then walk away. If he follows, stop and insist that you still don't want a guide.
At this point, don't bother too much with sounding friendly.
How Do I Bargain?
To my chagrin, haggling and bargaining are vital parts of the shopping experience in Morocco. Although I'm even not bad at it, I really hate it. But what the heck, when in Rome Morocco….am I right?!
Haggling is a game, and you should play it courageously. The rule of thumb is to negotiate the first quoted price about one-fifth down. At this point, the actual art of bargaining only begins. Your goal should be to pay less than half of the originally quoted price.
If the procedure takes too long, you can just prepare to walk away. In case the trader is then quoting lower prices or doesn't want to let you go, there's still something in for you.
However, in big touristy places like Fez and Marrakech, the traders lost their swag. You actually cannot bargain that much since they are not under pressure to sell their stuff to you. The next tourist is just around the corner, so why bother? Nevertheless, never accept the first price – you should pay at least 20 percent less.
You Get What You Pay For
Obviously, it is advisable to look carefully, to compare qualities, as well as prices especially if you're about to buy something more costly. Also, it makes a lot of sense to ask at the reception of your riad or hotel about the approximate prices before you head out into your shopping spree.
If prices are written on the goods, they are non-negotiable. However, they can be a great reference for your bargaining.
Nevertheless, foreigners always pay more than locals which is kind of okay since they earn about 10 times more than Moroccans.
In general, prices are lower in the souks farther from the tourist hotspots in the more secluded side streets as fewer tourists venture there. Also, you'll probably pay even less in neighborhoods where tourists are fewer, for instance in the Jewish quarters called Mellah.
And the last tip: Beware of touts who will drag you to a certain shop. Oftentimes, those businesses do not necessarily sell the best quality, and at the end of the day purchase, the tout's commission will be discreetly added to the price.
I personally don't enjoy shopping in the first place and I find bargaining in markets just tiring. Also, the oversupply in oriental markets results in buyer's block: I'm probably the only person on earth that comes back from Morocco's markets empty-handed.
Any Tips On Where To Shop?
If you are into shopping and you enjoy digging through garments and pieces of jewelry and trying on sandals and sampling local delicacies – good for you! Go for it, Morocco's souks will be your Dorado.
Nevertheless, if you are like me and want to be sure to get certain goods of better quality, you just hit the local supermarket. For instance, the Moroccan chain Marjane has stores all over the country. Shopping at a supermarket is certainly not the most exotic experience. However, it's very authentic in its own way, since real locals are shopping here, too, after all.
Yet, I'm not going there for the authentic experience. I go there to buy spices, dates, and sweets which they pack in a clean atmosphere in clean containers. They are fresh and of far better quality, no one sneezed on them, and I can store them at home forever. Oh, and most of the time, they are way cheaper than in the souk, too.
I even bought pure argan oil and some argan cosmetic at Marjane. To be honest, I rather trust a soulless supermarket chain to bottle pure argan oil under hygienic conditions than a trader in a colorful souk stall.
As I said, just an idea.
Are Credit Cards Widely Accepted?
Yes, they are. Even some small businesses and stands in the old souks accept credit cards. However, not all of them do and not everyone is happy if you pay with plastic. On the other hand, I've stayed in Riads where I had to pay cash for a three-night stay.
In any case, you should always have also cash on you. On the other hand, there are so many ATMs around that you'll have always access to some cash if necessary.
The country's official currency is the Moroccan Dirham. It is abbreviated MAD and subdivided into 100 santimat.
The exchange rate is 1 US$ = 10.70 MAD and 1 €UR = 11.10 MAD as of January 2023. However, you can check the conversion rate to US$ on this page and to €uros on this page.
Can a Female Traveller Visit Restaurants And Bars by Herself?
In general, yes. Nevertheless, you cannot just barge into any café or tea room as a woman. There are many cafés frequented exclusively by men. I don't think that you'd get openly abused there, but you would most definitely feel very much out of place. This might be annoying when you are thirsty and searching for a place to grab a soda. Howsoever, mostly, these men-only places aren't what we would consider cozy and cushy, anyway. And since there are many truly comfortable tea rooms where you can enjoy a snack and a refreshment even as a solo-travelling woman, why bother?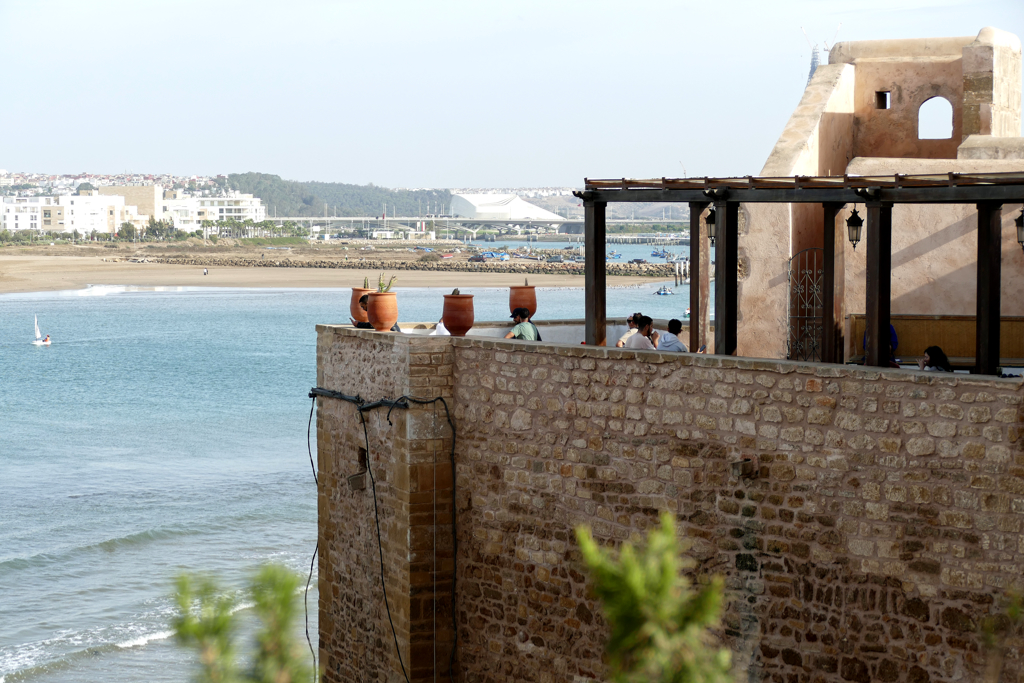 On the other hand, going to restaurants by yourself should be totally fine. A reliable "gauge" is local couples and women: If they are eating and drinking there, you can sit down with confidence, too.
By the way, in contrast to other countries like Spain or Greece, not once did I feel unwelcomed for being a solo traveller eater.
When it comes to alcoholic beverages, basically all places to grab a drink are hotel bars. You must decide for yourself how confident and comfortable you feel going there by yourself.
In any case, Fez and most of all Meknes are much more traditional than Rabat, Casablanca, or even Marrakech.
What Should I Eat?
Moroccan cooking is influenced by various cultures. Most dishes contain at least a little meat, but also different vegetables and rice or couscous.
A big meal starts with a series of hot and cold salads, the so-called Mezze. Also, salads are served with meals in most restaurants. I never had any problems with food whatsoever, still, you might want to refrain from eating raw salad and veggies if you have a sensitive gut.
The main course is often Tagine – whereby Tagine is the name of a clay cooking tool as well as of the dish you prepare in it.
In a clay dish, couscous, potatoes, vegetables, and meat are stewed in their own juices. For the delicious oriental taste, caramelized onions, raisins, plums, almonds, boiled eggs, and pickled lemons are added. Obviously, there are also purely vegetarian tagines.
Another staple is couscous. Couscous is the name of rolled durum wheat as well as a dish based on this semolina topped with various kinds of vegetables and meats.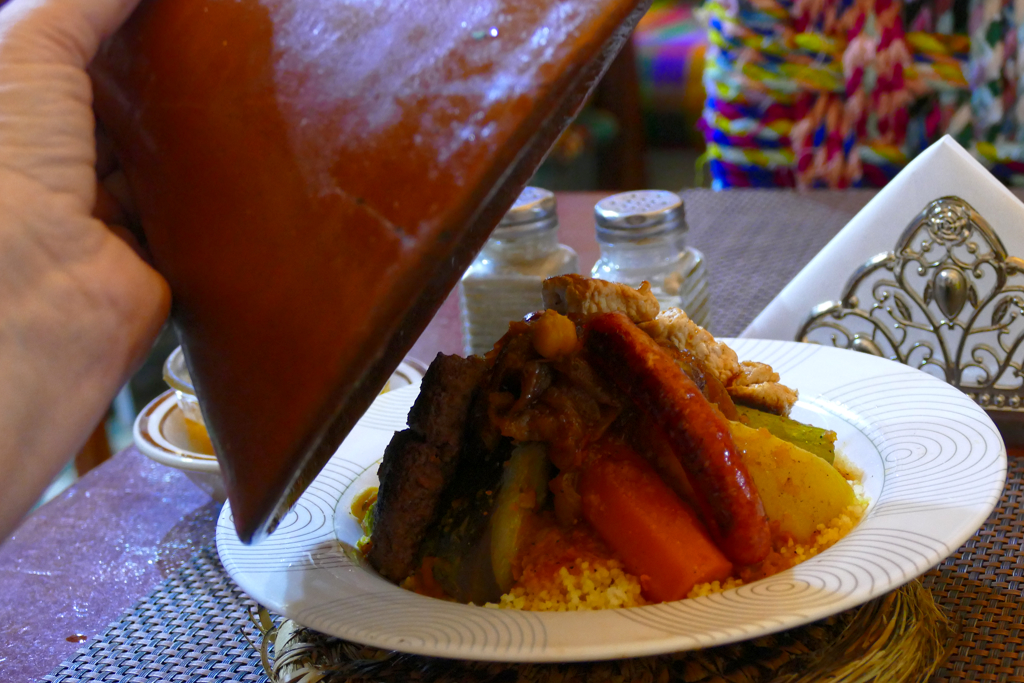 Due to the long cooking times, Tagines and Couscous are safe even for sensitive foodies.
Traditionally, Moroccans eat with their hands and use bread to get the food into their mouth. As a visitor, you'll be challenged to do so, too, only when you're having street food. Otherwise, restaurants automatically supply their guests with cutlery.
Drinks
The most popular drink in Morocco is mint tea. If you don't want it too sweet, you better order it without sugar. You always get the sugar on the side.
Another real treat is the excellent freshly squeezed fruit juices like orange or pomegranate juice. However, don't buy them just anywhere but take a closer look if the shop is clean.
There is Moroccan beer and Moroccan wine which you can mostly enjoy only in certain especially licensed bars and big international hotels. Also, those are quite expensive by international standards as they are heavily taxed.
Which Are Good Table Manners In Morocco?
No matter where you eat or drink, you should avoid using your left hand. Many Muslims actually keep their left hand under the table. This applies particularly if you eat with your hands which can easily be the case in the Medina at some of the smaller eateries. In these places, you'll always find a sink where you should wash your hands before eating – and your greasy fingers after you're done.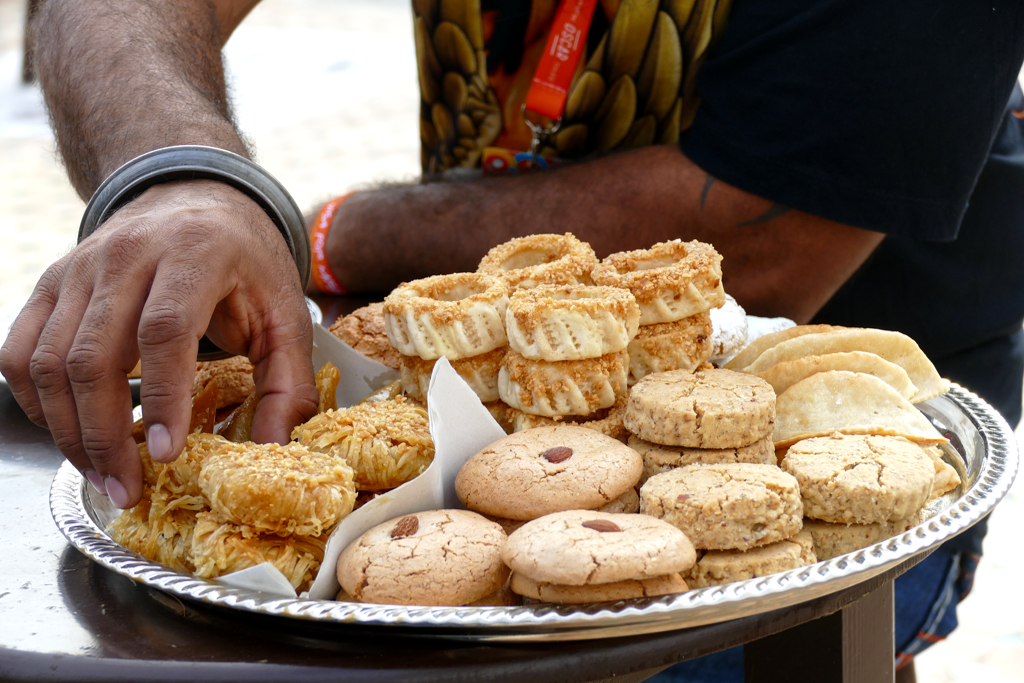 When eating with your right hand, lift the food gently to your mouth using preferably only your thumb, index finger, and middle finger. If there is bread on the table, you tear it into little pieces which you use as an edible spoon.
Howsoever, even if you eat at a restaurant, avoid using your left hand as much as you can. When eating at a table with Moroccans, say Bismillah before starting to eat and Alhamdulillah after you're done.
If you happen to eat at a very low table or even on the floor, make sure that the soles of your feet never point toward anyone. This is easily avoided by sitting cross-legged.
Which Language Do People Speak in Morocco?
Although the two official languages are Arabic and Amazigh, most Moroccans are fluent in French since that's the first foreign language they teach at local schools. Also, it's Morocco's primary language of commerce and economics, culture and sciences.
Spanish is spoken by many Moroccans, particularly in the northern regions.
I came to Morocco to brush up on my rudimentary Arabic skills at a language school in Rabat. If you happen to speak some Arabic, too, beware that Moroccan Arabic, the so-called Darija, is very different from the standard Arabic also referred to as Modern Standard Arabic (MSA) or Al Fusha. Nevertheless, Fusha – which is pronounced Fus-ha and not like Shisha – is used in books, newspapers, TV news, and political talk shows
I've found this really great App to broaden my Arabic vocabulary and practice what I've learned. It's called Lingohut and it offers an amazing choice of more than 45 languages! Hence, if you feel more comfortable communicating in French, you'll find it there, too.
However, due to international tourism, most people working in tourism and gastronomy speak quite decent English and very often also other languages such as Italian or Germ
Why Is It Sometimes Djemaa El Fna And At Times Jemaa Al Fnaa?
Well, obviously, this is a transcript from Arabic. I prefer the spelling with a J because I find it looks better. Honestly, that's the only and very personal reason. The second A at the end of Fnaa – respectively a letter that sounds very similar to A – is actually there, hence I spell it according to the Arabic original.
Regarding El or Al: In Arabic, there is only one vowel for both, the letter A as well as the letter E, hence, it's totally up to you which one you use for your transcription. I personally prefer Al since the actual pronunciation is closer to A than to E.
Howsoever, none of these versions are wrong.
How Do I Stay Connected?
Since international roaming is still terribly expensive, you better get a Moroccan SIM card as soon as possible. You can get one for 20 MAD or 50 MAD from Inwi or one for 30 MAD from Maroc Telecom and Orange. They are sold either in their respective stores, at some Moroccan airports, and in many kiosks and convenience stores nationwide. Normally, you should be asked to show some ID, however, I got mine at the train station in Salé outside of Rabat no questions asked.
Obviously, you can also use free Wifi in many places in Morocco. Basically, every mall, museum, eatery, accommodation, train station, and even the tram in Rabat offers free Wifi.
What's Missing?
Did I cover everything you need to know? Or do you still have questions? No problem, just write them in the comment section below and I'll get back to you as soon as I can.
Thank you for your support!
Pinnable Pictures
If you choose to pin this helpful post for later, please use one of these pictures: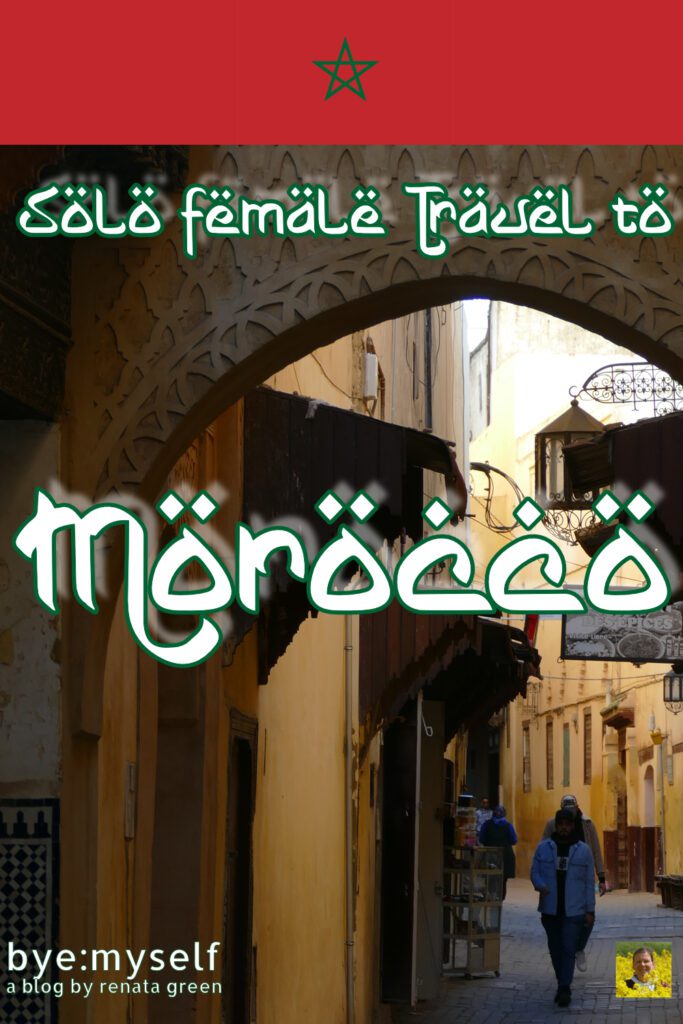 Did You Enjoy This Post? Then You Might Like Also These:
* This is an affiliate link. If you book through this page, not only do you get the best deal. I also get a small commission that helps me run this blog. Thank you so much for supporting me!