Whether Koh Rong or its sister island Samloem – a makeshift beach bar in the middle of nowhere. I'm having a drink, overlooking the fine white sand leading into the turquoise ocean. It's beautiful.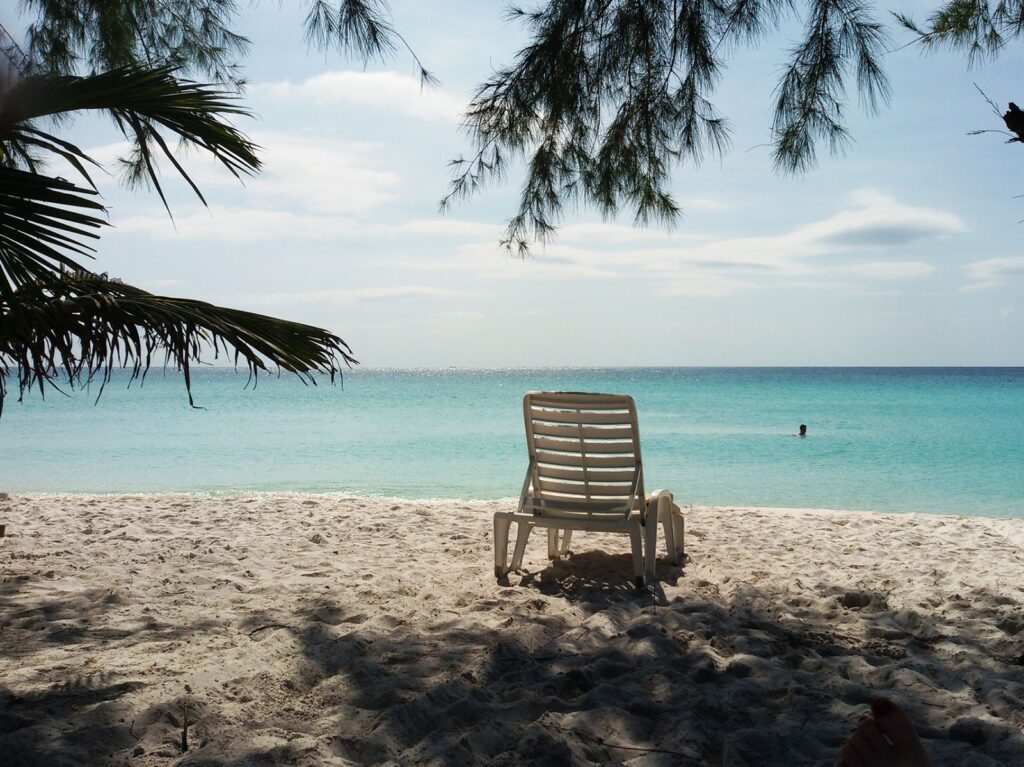 It's Koh Rong.
Serenity
The sand is fine and light eggshell white, the water so clear as if pumped into the Ocean freshly from a giant faucet. That's why it's the color of topaz very far towards the horizon where it then changes into a deeper shade of blue. Its surface crinkles slightly so that the sun has it easy to decorate it with an ever-changing pattern of reflections.
Only the last three feet towards the shore the water gets a bit cocky and finishes its flow with a mild last wave before lazily rolling back.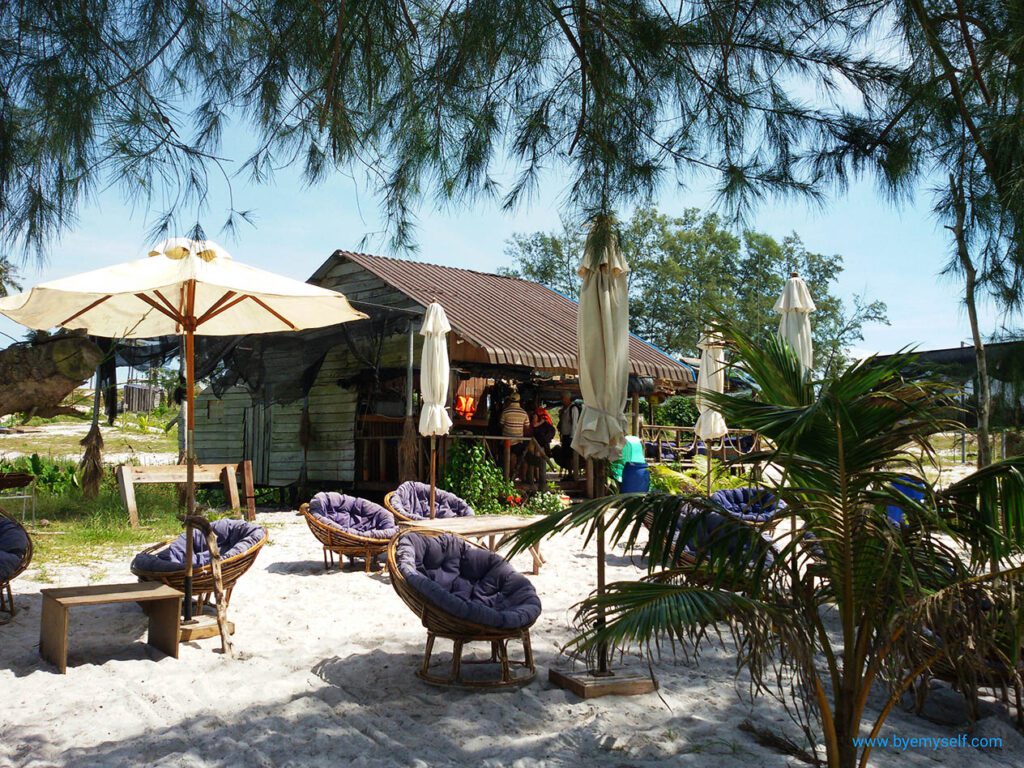 As I'm reading on my beach chair, I have to look up every now and then to convince myself that all this is real and still there.
Good Vibrations
The beach bar's sound system is playing an unusual, very soothing mix of Motown hits from the 70s. Ethnic tunes from Africa and the Middle East and Bossa Novas from Brazil alternate with John Lennon's Imagine and weed-inspired Reggae.
Weed. Yes, as the young French comes back from his snorkeling which is possibly just a couple of feet off the coast, he lights a joint. When I turn my head to look where the smell is coming from, he asks in a very cordial way whether I mind. If so, he could sit somewhere else.
Normally I hate the smell of weed, but in this complaisant atmosphere I don't want to deny anybody anything – hey, after all, I did say 'bye' to myself – living up to my blog's title.
Everybody at this place falls immediately into a collective mode of relaxation and serenity.
There are maybe ten people in total – all more or less middle-aged. No young party crowd or broke backpackers. These folks stay at Kaoh Touch on the other side of the island, in the East. The folks with the big bucks stay about 1.5 miles up the beach at a posh resort close to the village. But that resort is far too much of this world, no magic there.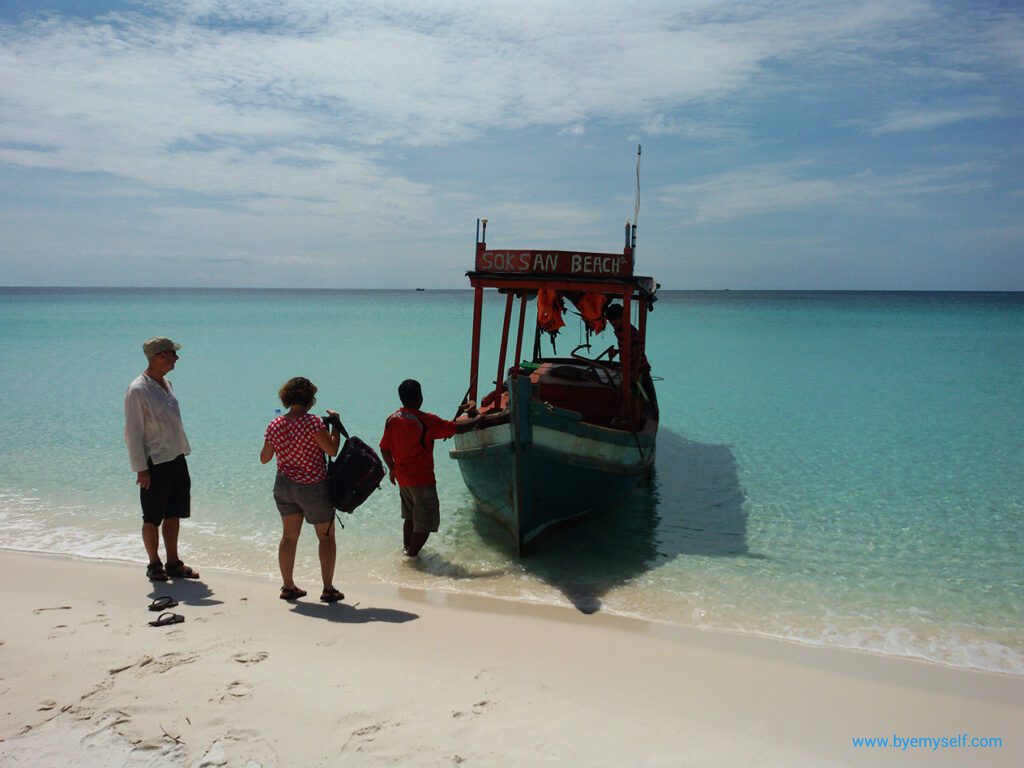 This place is maybe the most mesmerizing spot I've ever been to.
Every day at 1 p. m. they offer a fishing and snorkeling tour for 10 bucks. Sounds great, but I feel like I should cherish every single moment I can be in this very spot that's so perfect to me.
The Limits of Paradise
As I went on a walk along the beach towards the village, I was cruelly reminded of being in Cambodia. The whole way was lined with garbage of different kinds.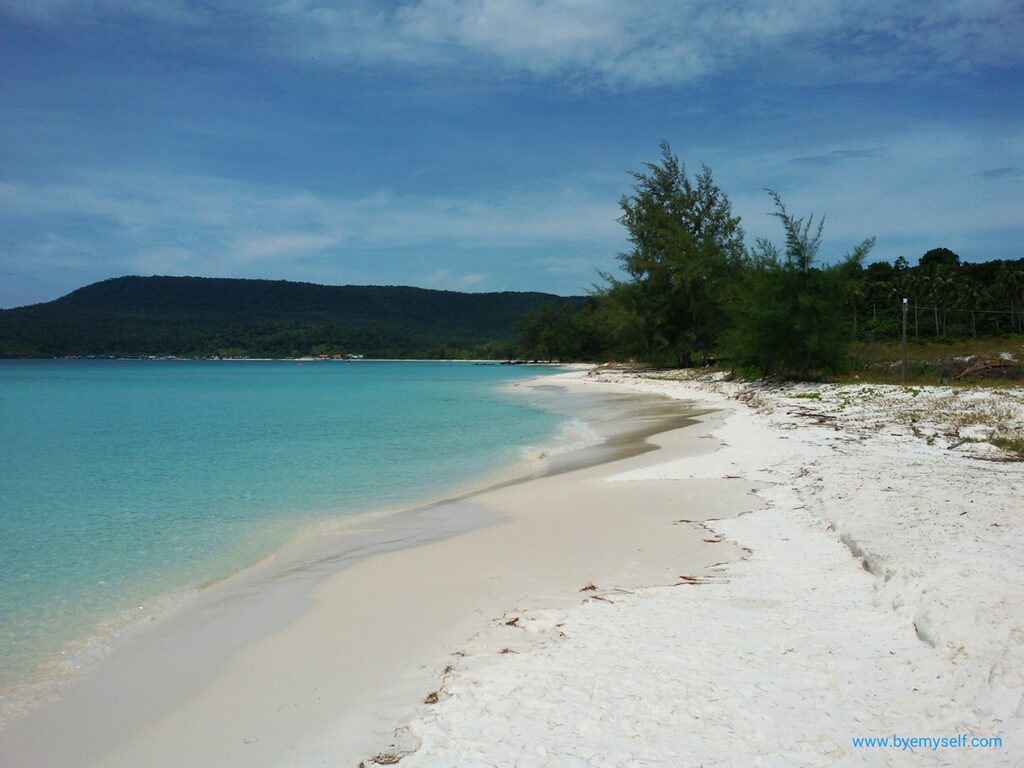 I don't know whether the Ocean washed this trash up to the beach or if the water will take it into the sea one of these days – it's horrible, it's ugly, it's dangerous, it's disastrous.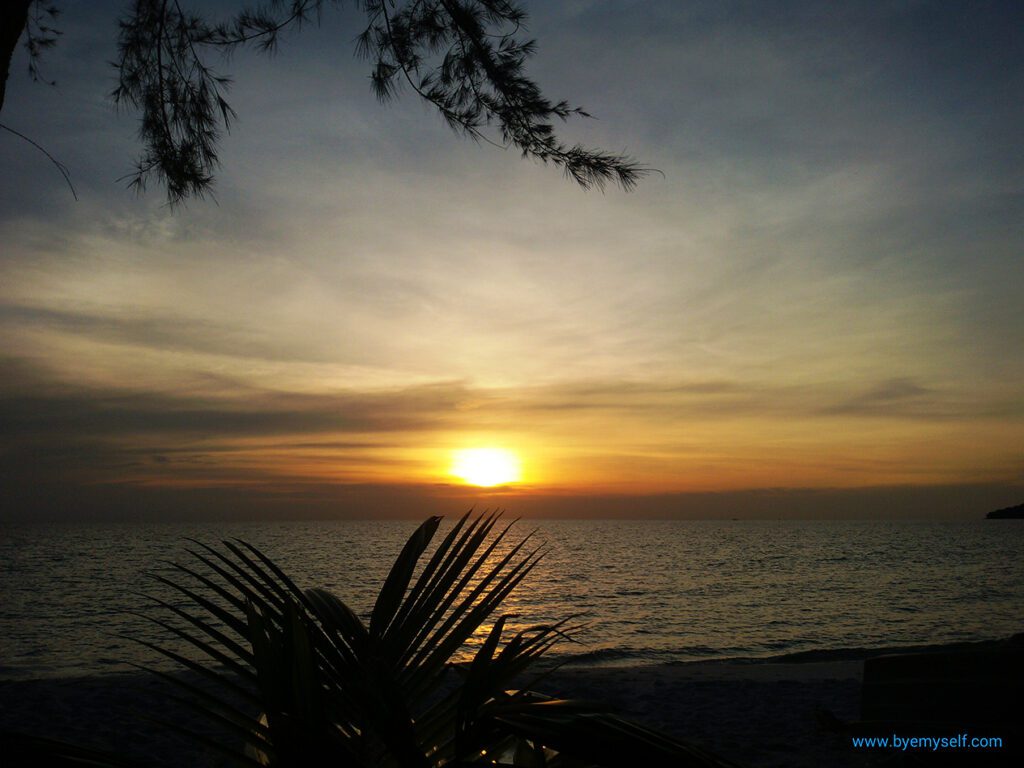 However, this walk of about one hour showed me that I've spent two days in the best spot in Koh Rong. Of Cambodia. Of the world.
Moving On
I've heard that Koh Rong Sanloem is even more secluded and Edenic than Koh Rong. So after three days, it was time to move on to Koh Rong's little sister Koh Rong Samloem; the one that's supposed to be even more secluded and beautiful than the big guy.
Since everything was a little different there, one of the guesthouse guys took me on the back of his bike to the village while my suitcase was riding with another one.
Once at the jetty, we climbed on the waiting fishing boat – we being my bag and me.
The boat took off, slowly gliding over the glistening ocean along the beautiful coast. Gratefully I was thinking back at the relaxing days I had enjoyed there. Soaking in a last glance at the wonderful beach, this time from the water…it was so beautiful.
Then the boat left the Sok San shoreline and turned eastwards into the open sea. Some waves rocked the boat, water splashed inside.
Sort of fun.
Rock the Boat
Bigger waves rocked the boat, crashed against the wood, and shook it from side to side.
More water splashed the maybe eight passengers – apart from me only local people.
Some of the guys changed their seats.
More waves.
Bigger waves.
Much bigger waves.
Forming valleys of water of maybe 25 feet in depth.
And the boat, which all of a sudden seemed to be just a small wooden toy, crashed with a big splash right into the deep blue hollow.
The captain had first turned off the motor and just let the huge waves guide our way. The waves were not guiding. They were playing with this piece of wood with a couple of people in it. We were rocking from side to side, partly bending so much to one side, that I was afraid we'd overbalance.
I wasn't only afraid of that. As a matter of fact, I was afraid the boat might be crashed by the violence of the waves. I was afraid one of the bigger waves might simply drown us.
In short: I was afraid to die.
I thought about the refugees coming to Europe in nutshells like this one.
Still – it got worse and worse and I got more and more scared.
Are We There Yet?
I asked the guy next to me how long was left.
He smiled. That was nice.
I translated my question into Khmer by tapping on my wrist.
He smiled.
That very moment we dashed against another huge wave.
Big splash.
I screamed.
He laughed.
I was too scared to hate him.
With both arms, I was holding on to a post only thinking that I didn't want to die like this.
As a matter of fact, I do not want to die at all, but that's a whole different story.
I didn't want to die all lost somewhere in the ocean nobody being aware of my death.
Only after weeks when my relatives kept searching for me, someone will report that there was this barang with a big red bag that unfortunately didn't make it.
I wished I could pray. I wished I could wake up from this nightmare.
Then I saw some sort of small settlement, hoping so, so much there would be the Koah Touch jetty.
And indeed, it seemed that the captain tried to navigate this floating coffin toward that spot.
I wasn't sure since the boat was still stirring in many directions – but the course seemed more and more obvious. I loosened my grip a little bit and realized only then how firmly I was holding the post.
Docking and getting off the boat was another long and adventurous endeavor. Although they towed the boat, it kept rocking away from the jetty back towards the ocean.
But then I had finally wooden planks under my feet.
To Be Continued
Feeling very shaky, I staggered along the jetty toward the ticket booth. I still had to continue to Koh Rong Somloem.
I could have taken either the slow boat for 5 Dollars at 1.30 p. m. or the speed ferry right away – makes 12 bucks.
After the just undergone adventure, I didn't care about the bucks. Speed ferry it was.
The ocean was still very rough, but the ferry was for one much bigger and steadier on the rocky surface and secondly, it was made of metal and covered. At least psychologically, a very different story.
Not Welcome
Arrival at Koh Rong Samloem, Freedom jetty.
I needed to go to M'Pay Bay, please. Water-taxi 30 Dollars. You ought to be kidding me!?
There was a restaurant with some adjacent bungalows at the end of the jetty, and the people, although very busy serving breakfast, were mighty nice and helpful and called the guest house I've booked at M'Pay Bay.
My hosts told me over the phone they might send a boat, but I have to pay 20 Dollars. Every bargaining from my side was just nipped in the bud. Their last words were that either they will be able to send a boat or they won't.
If they do, I'll have to fork over 20 bucks – take it or leave it.
I must say that Cambodians, in general, are not very zealous. Actually, they are business-minded only insofar as they try to squeeze the highest amount they can get out of you.
There is hardly any policy, or any marketing scheme whatsoever. They quote a ridiculously high price and if you deny they just let you walk away. I'm not sure if the market really regulates itself this way in the long term. They don't seem to get it that they'd be much better off if they wouldn't dupe people so obviously but exchange at least some sort of service for dough.
Can I Stay Or Must I Go?
Anyway, back to my accommodation issue.
After I asked the super nice supervisor at the restaurant to call the M'Pay Bay-jerk again, the jerk confirmed he could not send a boat. Period.
Great: I had a room, but was not able to get there.
After the jerk had been such a jerk, I didn't want to stay with them anymore, anyway.
The only problem was that every accommodation around the jetty seemed to be full. 'I might have a bungalow for you', said the super nice supervisor. We agreed on a price that was surprisingly good, he only urged me not to use the A/C and breakfast would not be included. Fine. Problem solved.
A guy leads me to a quite nice room.
'Yes, I take it. I get my stuff from the restaurant'.
Back at the restaurant, the super nice supervisor told me that I had to wait till 2 p. m. since other people have booked that room.
I stared at him in incomprehension: 'You've said I can have the room!?'
'Yes, you can. But you have to wait till 2 if people confirm.'
'And if the people come, I cannot have the room?'
'Yes, you can. But wait till 2, people confirm.'
'But if these 'people' confirm at 2 p. m., I don't have a place, right?'
This slightly contradictory dialogue goes on for a while until we agree that I am right. If these people show up, I'm homeless. Great, so why did I drag all my stuff up the beach to look at a room that will never be mine? I think he thought, this poor lady looks so sad, let's just show her a room, that will cheer her up. And it actually did…for ten minutes.
Stuck in Paradise
By now I feel a little exhausted and it's only 11.30 a. m.
Some days pack all their challenges in the first couple of hours and then for the rest of the day there's nothing left.
It's only 11.30 a. m. and I've had it, considering briefly going back to Koh Rong, abolished the thought since somehow it wouldn't be the same anymore. But I wanna leave on the next ferry. I want to go to the mainland.
Unfortunately, I wasn't the only one with this wish. The pier was packed with people and their luggage. And they were standing there since I'd arrived a couple of hours ago.
Also, there are two different companies. All these people had been waiting since this morning for the Buva ferry that never came. A fat guy working for GTVC takes advantage of the situation and sells another ticket to the most desperate ones that rather pay another 12$ than get stuck on the island. The only problem with this brilliant plan: The fat guys' ferry doesn't show up, either.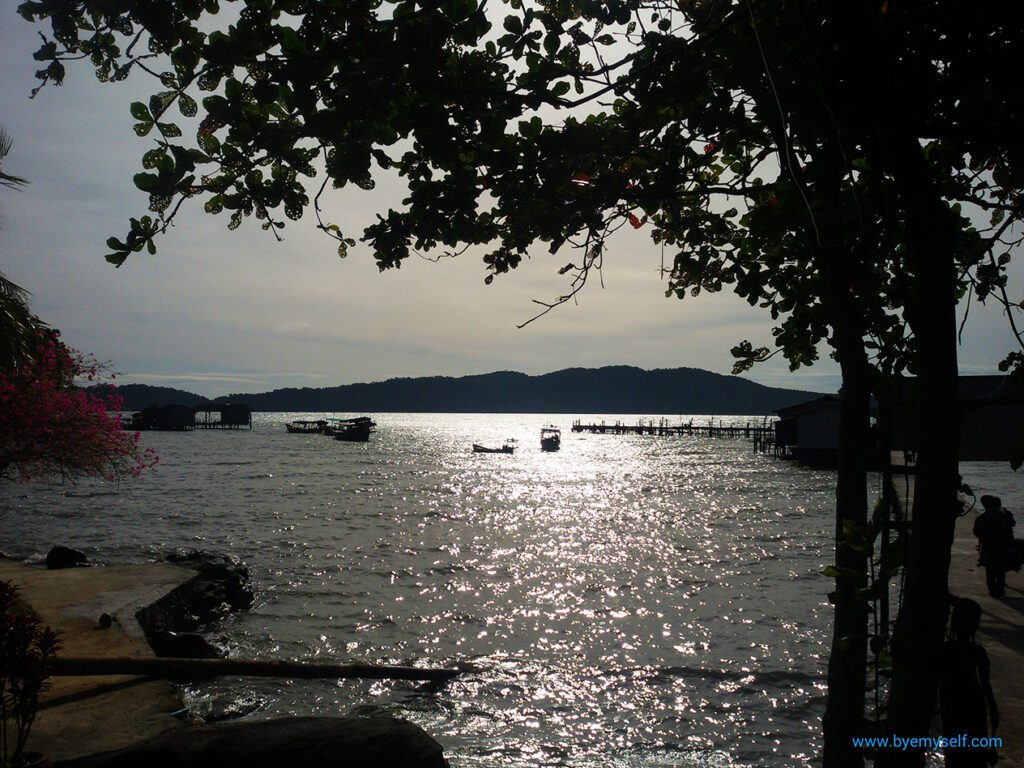 Rumor has it that the police forbid the ferries to go because of the rough ocean.
So now a bunch of people at least has two tickets, but still no ferry to cross the…Lord have mercy; pun intended.
Good Night, John-Boy
There was one more try where the super nice supervisor tried to get me a room next door, but it seemed to be another of his let's-cheer-her-up-actions because the neighbor didn't have anything available.
By then, it was 1.30 p. m., I'd been dealing with this for hours. Finally, I got on the internet, booked a really basic hut for a far too high price, and called it a day.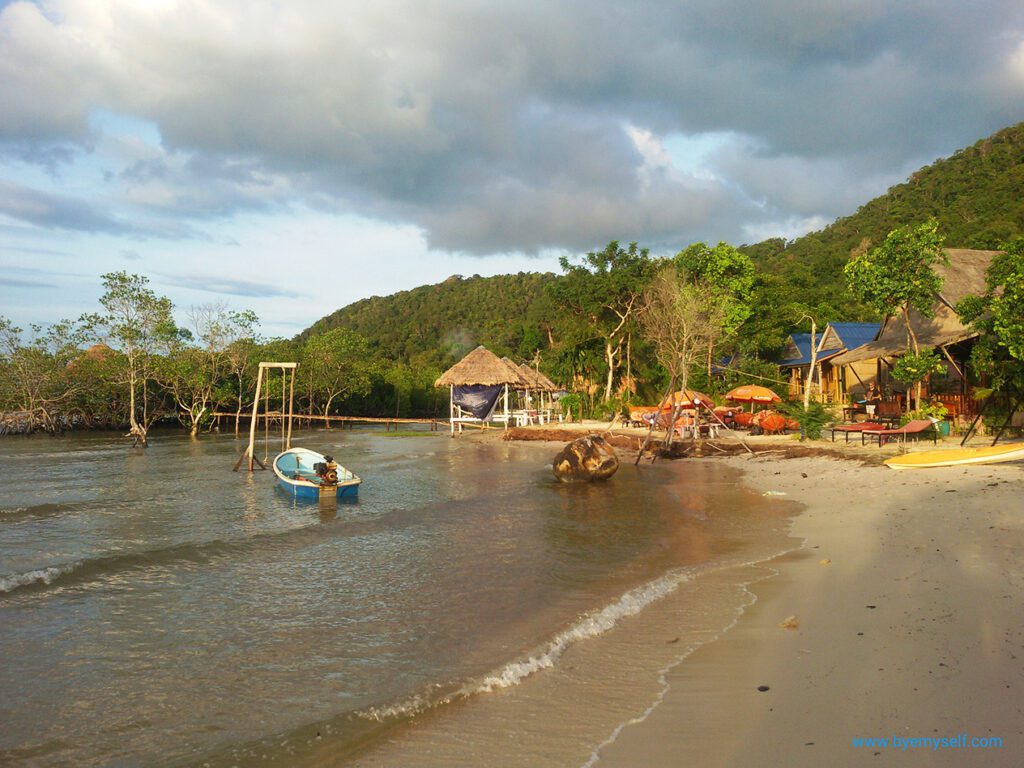 At a quarter to eight, I crawled into my shack – euphemistically called bungalow – turned off the light to not see the critters and all I wanted was to sleep.
It had been a day that used up all my forces – mentally and physically.
Koh Rong versus Koh Rong Samloem
The truth of the matter is that it's irrelevant which island you're on, the right beach is key.
While the area around Koah Touch – Koh Rong's main jetty – and Saracen Beach on Koh Rong Samloem are terrible dumpsters, Sok San Beach on Koh Rong's west side and Lazy Beach on Koh Rong Samloem are dreamy and Edenic.
Practical Information
How To Get There
To get to the islands from Sihanoukville, it's advisable to get a return ticket that should not cost more than 20 $. Unless you're going to Sok San Beach, then it's 25 $.
When you buy your ticket, you should specifically point out where you are going. There are different companies like GTVC, Speed Ferry Cambodia, and Buva Sea which I took.
Since I wanted to go to Sok San Beach, I had to get off at Coconut Beach where a tuk-tuk-bus was waiting for guests going to guest houses on that stretch. If your ride is not included in your ticket, you can pay the additional 5 $ on that bus.
Usually, you can use your 20 $ round trip ticket as you please, i. e. going to Koh Rong and back or going to Koh Rong, buying another ticket (5 $ for the slow boat or 12 $ for the fast ferry) to Ko Rong Samloem and come back from there. Or the other way around: first going to Samloem, crossing with another ticket to Koh Rong, and coming back from there.
These are the prices. If someone tries to tell you something else – like e. g. that the 25 $ ticket does not include the shuttle to Sok San Beach (which they tried with me) or if the shuttle driver on Koh Rong tries to charge 10 $ – don't pay it, insist on the above-quoted prices.
Where to Stay
So since Koah Touch is a dump, Sok San Beach is just beautiful: an endless stretch of white sand, one resort on the southern end, the Sok San Beach Resort* and some individual huts close to the village on the northern end and about three tiny resorts in the middle. That's where I stayed.
Here are more options on where to stay on the islands*
Accommodation on Sok San Beach on Koh Rong:
Accommodation on Koh Rong Samloem:
What to Eat
There aren't even restaurants. If you don't feel like walking for one hour to the village, you have to eat right at the Ryta Beach Bungalow & Resort*. I really appreciate that they are not taking advantage – the prices are just a teeny bit higher than on the mainland which is normal since everything has to be brought here.
They also serve drinks and so does the makeshift bar on the beach. But that's it. If you like seclusion, calmness, and serenity you'll have found paradise. In search of fun and action, don't even think about getting there.
What To Do
I must say that I am old and lazy and love to spend a couple of days just laying on the beach reading, taking a dip when I get too hot, slurping a cool drink, falling asleep, waking up from sweating, tottering into the ocean to cool down, continue reading and call it a day.
That's approximately everything you can do here. If you really get bored, the resort can arrange a fishing and snorkeling trip or you can take a walk to the village – just to find out that your resort is the nicest spot, anyway. But there are no jet skis, no beach parties, and no craziness.
Fun and action can be expected at the main village, Koah Touch, and here is also the island's main pier.
Anyway, you shouldn't have a too tight schedule when you are going to the islands: when the ocean is too rough, they have to leave you stranded. It's never guaranteed that you'll be able to get back to the mainland the day you've planned. Always allow at least 24 hours as a time buffer before flights or already booked buses.
A Nice Day Out
There is a really good website informing on the islands and the ferries. Still, I recommend you consult it when planning your trip. Once you're ready to book, you should wait till you get to Sihanoukville since the tour operators there offer better prices.
I'm an avid solo-travelling woman. Since solo travel doesn't equal solitude, I love to join organized tours here and there. They allow me to meet fellow travellers – for just a short moment or a lifelong friendship.
Therefore, here are some great ideas of what to do and which tours to join to see Koh Rong and beyond in a comfortable and most of all safe way*:
Do you want to read about all the other exciting places I've visited in Cambodia? Then go to the main post and take your pick! There you'll also find valuable general information that will make your trip smoother.
Pinnable Pictures
If you choose to pin this post, please use one of these pictures:
Note: I'm completing, editing, and updating this post regularly – last in November 2022.
Did You Enjoy This Post? Then You Might Like Also These:
* This is an affiliate link. If you book through this page, not only do you get the best deal. I also get a small commission that helps me run this blog. Thank you so much for supporting me!