This is a guide to the white city of Arequipa from where a day trip to the Colca Canyon is indispensable.
After all, it's like they say: El Condor Pasa….
Getting off the night bus in Arequipa in the morning, I felt super dizzy. Was it the unsound sleep? Was it the altitude? Was it a mix of both? Who knows.

Even a little shaken, I fell in instant love with this white, elegant city.
Arequipa
Arequipa lies at more than 2300 meters above sea level. Volcanoes like the Misti and the even higher Chachani further south surround the city.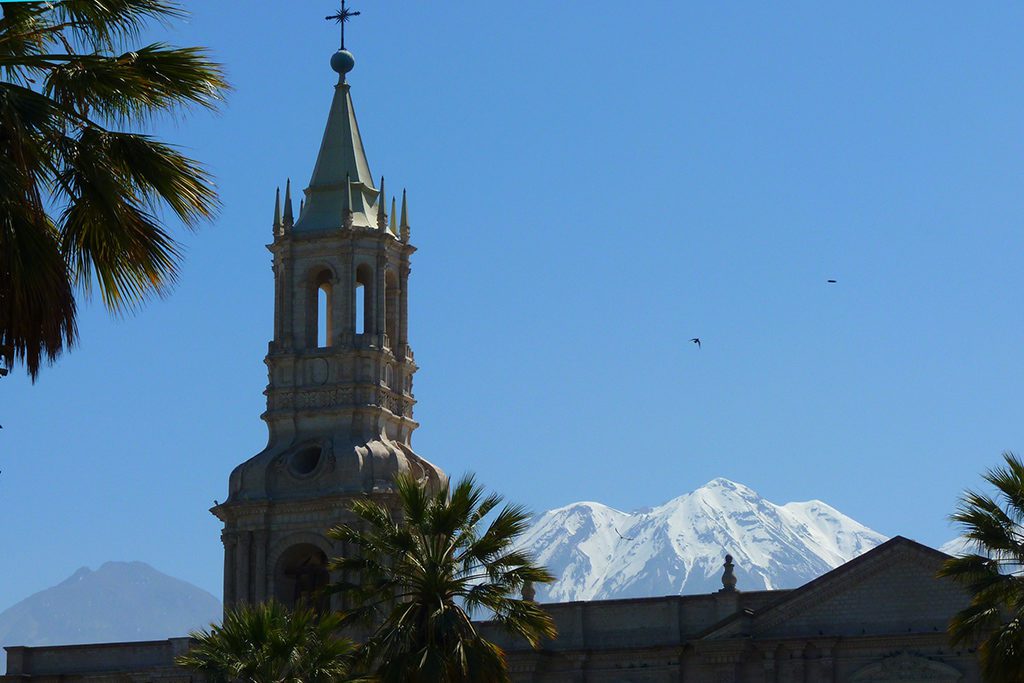 It's not determined where the origin of the epithet White City stems from. Many of the old historical structures are built from white ashlar rock – amazingly, of volcanic origin. Hence, entire streets are of an almost blinding white. Nevertheless, this is the friendly, harmless version. Others claim that the attribute white refers rather to the lighter skin color of the former Spanish-born residents who prohibited the locals from living in the city center.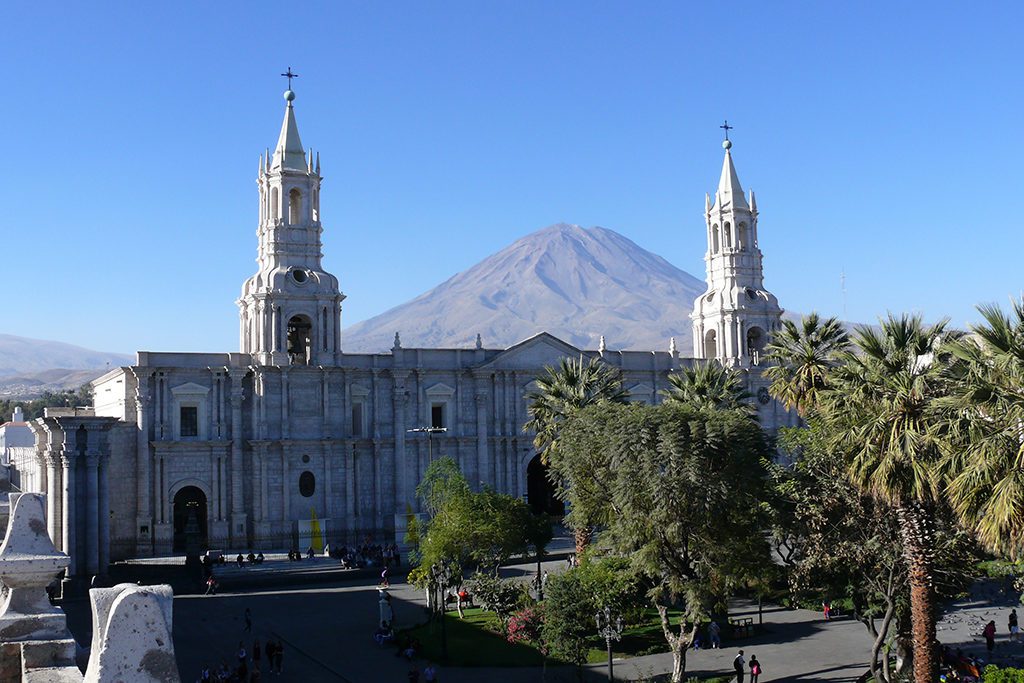 An enormous Cathedral dominates Arequipa's Plaza de Armas. A house of worship stretching over the entire side of a square is unique – even for deeply religious Peru. Construction began in 1629. However, its current structure was designed during the reconstruction after a fire and completed in 1844.
At the end of the 19th century, they purchased a pulpit from France and an organ from Belgium. In addition, marble from Italy was used in many places. Also, the Arequipa Cathedral is one of the few churches worldwide that can legally hoist the Vatican's flag.
More Majestic Structures
Another one of Arequipa's most important structures is the Santa Catalina Monastery. The city council commissioned it in 1579. At that time, many of the rich Spanish families gave their second daughter to the monastery for the Kingdom of Heaven.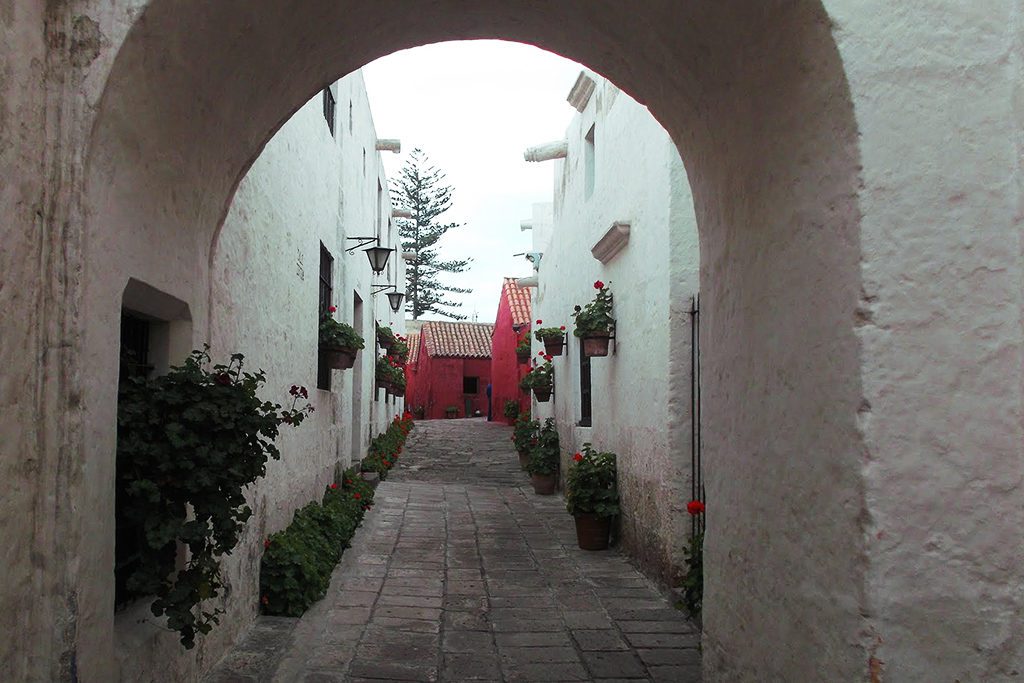 By walling up the Santa Catalina Monastery, they actually established an autonomous settlement. Up to 150 nuns have lived there in a strict enclosure.
Every four years, they admitted eight novices. These women did not come empty-handed. As a matter of fact, they had to bring a dowry of at least 1,000 gold pesos. This way, they could maintain the monastery. Only after a reform in 1871 did the monastery accept novices without a dowry.
Today, the monastery is a museum. Preferably on a guided tour, visitors can admire English carpets, Spanish silk curtains, Flemish lace scarves, exquisite furniture, fine porcelain, and silver wear.
Before your visit, make sure to visit their excellent website where you find all the relevant info for your visit.
The Anthropological Museum
Don't miss the highly interesting Museo Santuarios Andino. Here, life in the Andes is explained and the mummy Juanita is on display.
On a guided tour, you get to see about 550 years old ceramics, textiles, and bioarchaeology objects from the Inka Culture.
All this is interesting and impressive, however, the highlight is La Señorita Juanita. This young lady, also referred to as la niña de los hielos, which loosely translates to the ice maiden, is a mummy discovered in 1995 by archaeologist Johan Reinhard and the climber Miguel Zárate. In the crater of a volcano, they found the excellently preserved body of a young woman. In the surroundings, they found also several offerings including some gold figurines.
A Gift To The Gods?
It is believed that she was part of a human offering. These were quite frequent in the Inca Empire.
After a thorough biopsy, it now is known that Juanita died at 13 or 14 years somewhen between 1440 and 1450. She was slim, healthy, and pretty with immaculate teeth and strong bones.
She was found holding her umbilical cord, which had probably been kept specifically for her sacrifice. This finding explains that she had been probably selected for human offering already before her birth.
A fissure in her skull and internal bleeding proves that she had died from a blow to the head while she was kneeling.
What a story, right?
By the way, when I visited the museum, Juanita had a couple of days off for restoration so her colleague, mummy Sarita, had to fill in.
Actually, I don't know if there's a big difference in the appearance of 500 years old mummies.
Doing Nothing
If you still have time left, you might want to pay the Mercado San Camilo a visit. Here you will find everything you need for everyday life and also a couple of things you might want to take to your loved ones back home.
The roof of the market, by the way, was constructed by no one lesser than Mr. Gustave Eiffel; yes, the one with the tower.
Also, just strolling up and down the streets of Arequipa, enjoying the architectonical beauty of the buildings and the natural allurement of the surroundings is a wonderful option.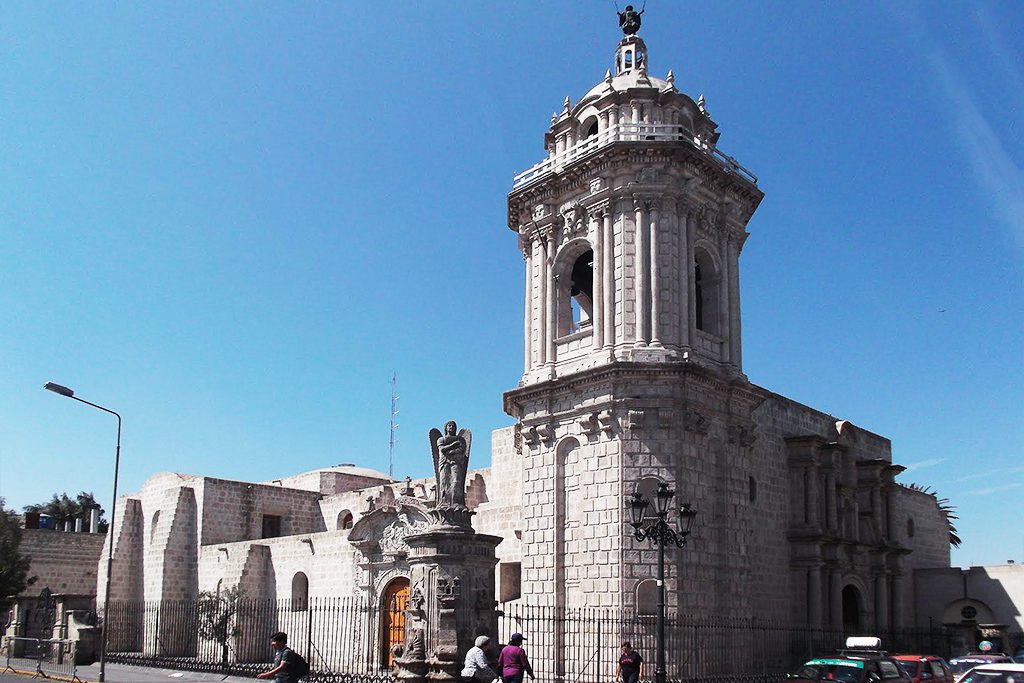 Colca Canyon
Also not far from Arequipa are the gorges of the Cotahuasi and the Colca Cañon. These canyons are among the deepest in the world with an altitude difference of up to 3000 meters.
Pick up was at 2.30 a. m. Due to the fatigue and the wee hour, we were freezing like never before. The first two hours were torture. I was afraid of getting sick from the freezing cold. But after breakfast at about 7 o'clock, we slowly defrosted and the outer temperature began to rise. Hence, we actually appreciated the first stop which was the picturesque town of Chivay. 
Chivay
Small Chivay is actually the capital of the Caylloma province in the Colca Valley. The city is located at an altitude of 3635 meters so you might feel a bit mountain sick. They say that coca tea helps. Well, it didn't help me at all. I had to take tablets.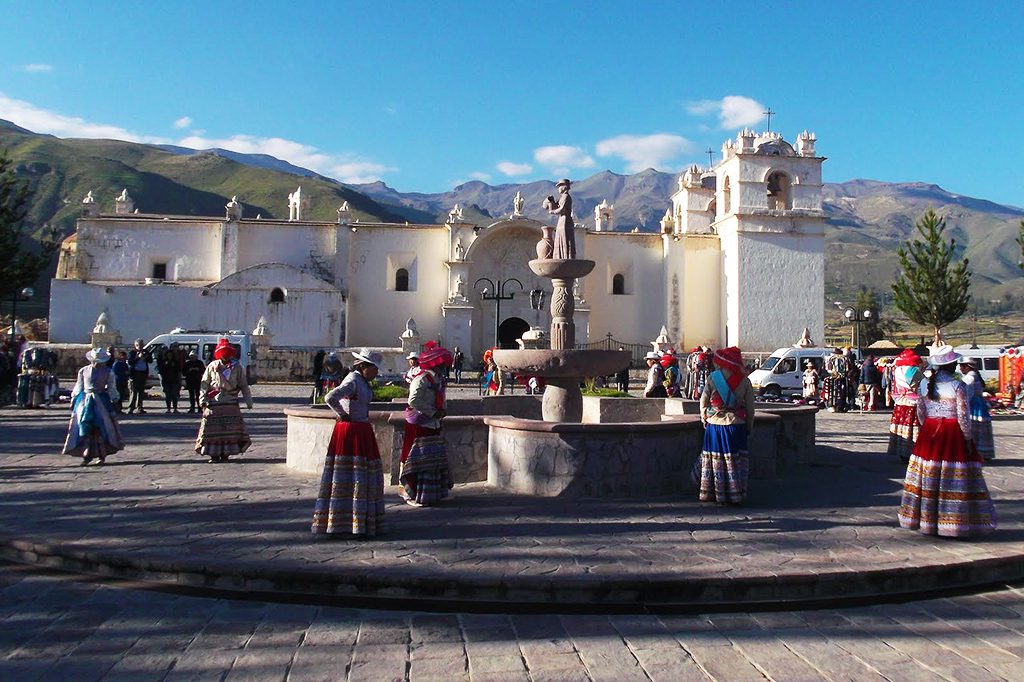 Chivay has a central public square where local people showed traditional dances. It was cute but, honestly, it cannot get more touristy. I mean, who will believe that these good people have nothing better to do than dance around the fountain at 8 in the morning?
However, I enjoyed walking around the town center and admiring the incredible views.
Cruising The Canyon
After about an hour, we continued towards the Cruz del Condor.
Mind you, the Nevado Mismi massif rises fifteen kilometers northwest of Chivay, at an altitude of over 5,500 meters.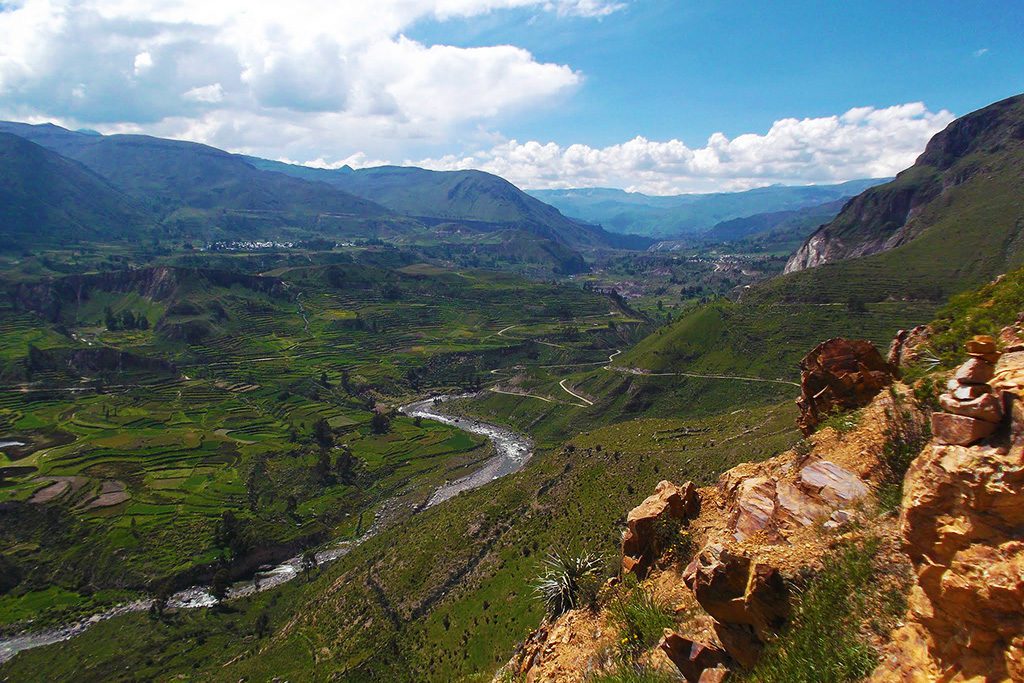 The upper slopes of the canyon were often structured by human hands into terraces. Many of those are several hundred years old. Hence, today's residents use them for their efficient land development. These terrace structures gave the Andean mountain range its name.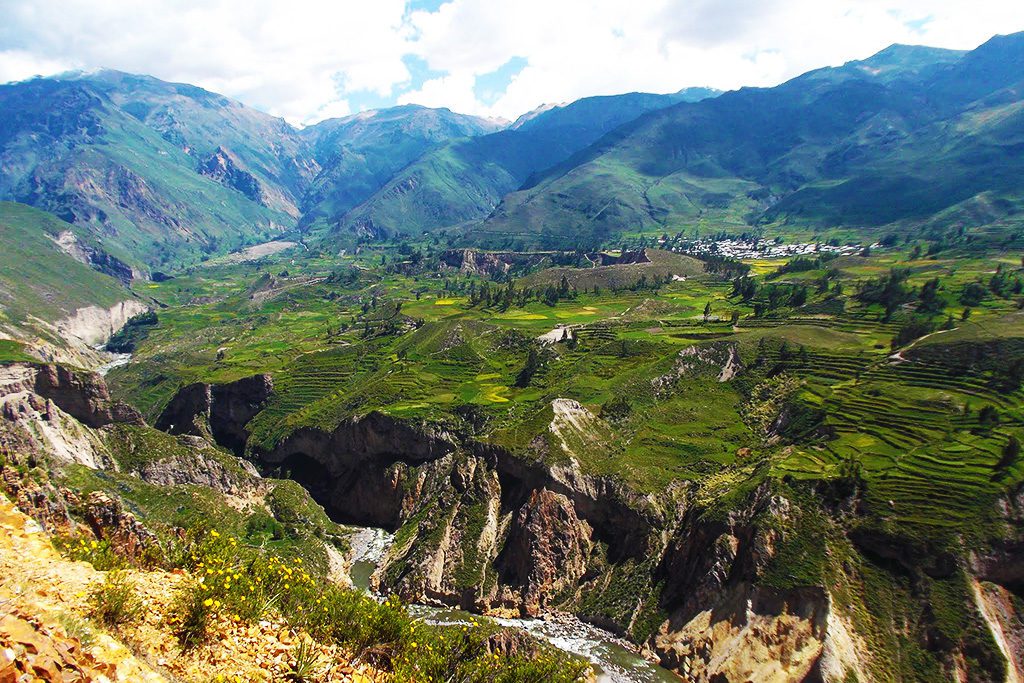 Forty kilometers east of Chivay is the Cruz del Condor where the early bird – got the pun? – can observe these majestic birds. As we arrived, we had the notion of something flying. Possibly it was a condor.
As we got off the van, there was nothing flying. But it didn't really matter since the views of the Canyon were so overwhelming. Who needs the condor que pasa in this fantastic landscape?
Normally, these organized tours also make another stop at the Pampa Cañahuas to see llamas, alpacas, and vicuñas as well as at the Patapampa which is at over 4,800 meters – more freezing! After lunch, there is an optional stop at the thermal pools of Calera. So if your blood pressure isn't messed up enough by the heights, the fatigue, the cold, you can finish yourself off by soaking in hot thermal waters.
Practical Information
How to Get There
Getting to Arequipa is really easy since it's one of the most important cultural hotspots in Perú.
There are comfortable buses from and to Lima. However, the trip takes about 18 hours. So if you want to travel by bus, you might want to make some stops, for example at Paracas, Ica, and Nazca.
We took the night bus from Ica which was fine per se. Nevertheless, I felt nauseous the entire day. I'm not sure if it was the night on the bus or the altitude. Whatever it was, it was unpleasant.
So if you want to go from Lima straight to Arequipa, you should consider flying. Domestic flights are not exactly cheap, but time can be precious, too.
Arequipa's Aeropuerto Internacional Rodríguez Ballón is located about 9 kilometers north of the city center. Especially if you are travelling after dark, I'd stick with an official taxi company. Only those vehicles are allowed on the premises.
A Special Tour
If you intend to travel from Arequipa to Puno, going with the 4M Express bus company is a great option.
They pick you up at your hotel and make a couple of stops on the way. You get to see – and snap – the Pampa Cañahuas at the Aguada Blanca National Reserve.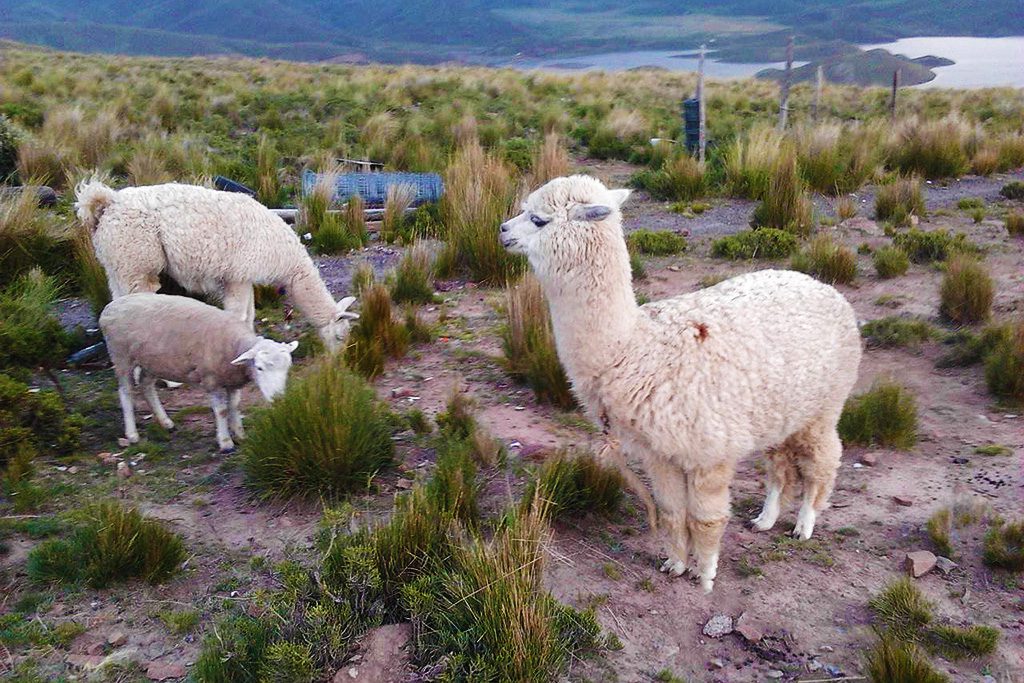 They also promise a stop at the Mirador de Carlitos and at Lagunillas to observe Flamingos – in case there are flamingos to observe.
Finally, you arrive at Puno between 7 and 8 p. m. At 35 USD per person, the tour is a bit more expensive than going on a regular bus, but it's also a bit more comfortable and fun.
If you travel on to Cusco, however, you have to join them Chivay.
Arequipa is also on the PeruHop-route.
How to Get Around
Obviously, there is public transportation in Arequipa such as buses but mainly taxis. However, if you will probably visit only the city center, you can just walk. For longer distances, take a cab. But don't forget to negotiate the price before getting in. Unfortunately, Arequipa is one of the places where they warn you against shady cab drivers.
For longer distances like going to the bus terminal or the airport, you might want to use an App or ask at your accommodation.
Organized Travel
Arequipa is also the gateway to the Colca canyon, and an organized tour shouldn't be missed.
As I explained in another post, pre-booking tours – and of hotels, for that matter – in Perú can sometimes be a bit more expensive. You might pay a higher price when booking on the internet. Just go to one of the offices and bargain a little bit and you'll be much better off.
I did the tour with Colcandina Travel and it was fine. The price seemed not so bad, but I'm sure you can bargain a bit when you don't book the tour on the internet but just walk in at their office. Remember: There is competition on the spot that does not have the means to advertise on the internet.
They also offer hiking tours through the Canyon. Sounds alluring, but keep in mind that any form of physical activity is much more exhausting due to the altitude.
However, if you want to make sure to join a certain activity or tour on a specific day, you might want to pre-book*:
Where to Stay
There are many beautiful guesthouses in colonial buildings around Arequipa. We stayed at the Casona Plaza Hotel Colonial* and liked it a lot. At a reasonable price, it's very – well, colonial – and within walking distance of the Plaza de Armas. However, here is a choice of various accommodations around Arequipa*:
What To Eat
You should absolutely eat at one of the restaurants around the Plaza de Armas. Not for the excellent food – food is excellent basically everywhere in Perú. No, you should enjoy a meal there for the incredible views.
All the restaurants are on the buildings' first floor and have pleasant balconies from where you can leisurely observe the Arequipeños ply their trade.
Cash And Cards
Most bigger businesses in Arequipa are accepting credit cards. However, you might need some cash. Although there are many banks in the city center and all of them have an ATM, at some of them, I was not able to withdraw cash – with a perfectly fine credit card.
I got a bit nervous, but in the end, I found a bank where it worked like a charm.
The exchange rate is 1 US$ = 3.96 PEN current rate resp. 1 €UR = 3.95 PEN current rate as of November 2022.
Language
Although Arequipa is one of Perú's cultural hotspots, not everyone's English is good enough for more complex conversations. And since it's always a courteous gesture to learn at least some basic vocabulary when visiting a country, you might want to brush up your Spanish on babbel.
Arequipa and its amazing surroundings were only one of many beautiful stops on my tour through Perú. To read about the others, go to the main post and take your pick! There, you'll also find further relevant information on money, communication, and more.
To read a post on the mountainous region around Arequipa and the Colca Canyon, Puno and Lake Titicaca as well as Cusco, the Sacred Valley of the Incas, and Machu Picchu, go to this special post.
Pinnable Pictures
If you choose to pin this post for later, please use one of these pictures:
Note: This post is being regularly completed, edited, and updated – last in November 2022.
Did You Enjoy This Post? Then You Might Like Also These:
* This is an affiliate link. If you book through this page, not only do you get the best deal. I also get a small commission that helps me run this blog. Thank you so much for supporting me!