Coming to one of Morocco's imperial cities, you would probably expect a kasbah and a medina, mighty mosques, and colorful souks. But would you anticipate some of the most vibrant urban art scenes? Yet, every year, Morocco's capital Rabat hosts a fantastic international street art festival called JIDAR. Then, artists from all over the world come to Rabat to leave their beautiful traces on the city's façades.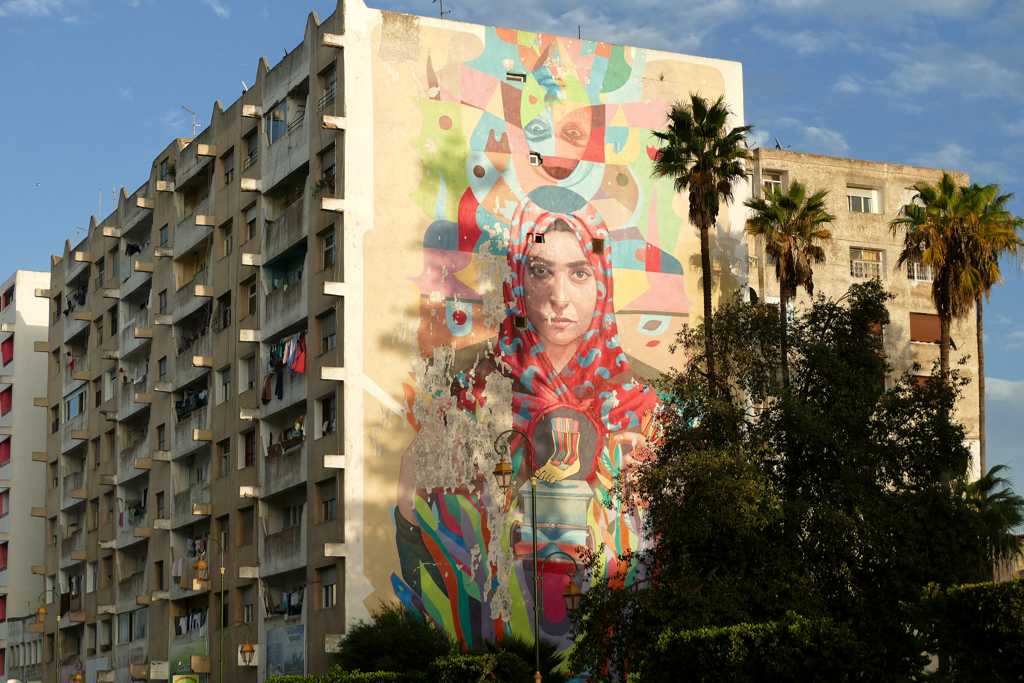 Hence, in this post, I'm guiding you to some of the best murals that were created over the past years. So tie your trainers, polish your camera's lens and just follow me.
Street Art
There aren't just a couple of terms that can define street art in all its shapes and forms. As a matter of fact, the art of sketching and painting on walls goes way back to the cavemen, to the era of the Pyramids in Giza, as well as the Roman Empire.
In many cities around the world, the contemporary graffiti movement started in the 1960s as a claim of urban territory by gangs but also as a response to political and social injustice. Graffiti developed from the so-called tagging, hence writing names'n'slogans in a more or less artsy way.
On the other hand, larger than life wall-paintings are rooted rather in murals from Latin America. The most famous muralist was probably Frida Kahlo's husband Diego Rivera. Albeit, he rather depicted and honored the Indigenous heritage and culture than expressing social problems and protest.
It's All About Beauty
And that's exactly the contentual approach of the artists who participate in the Jidar Street Art Festivals. In their works, they don't address any social issues, and there is certainly no political message. While many participants depict Moroccan people in a rather folkloric setting, even clear poverty is presented in an almost picturesque and romanticized way.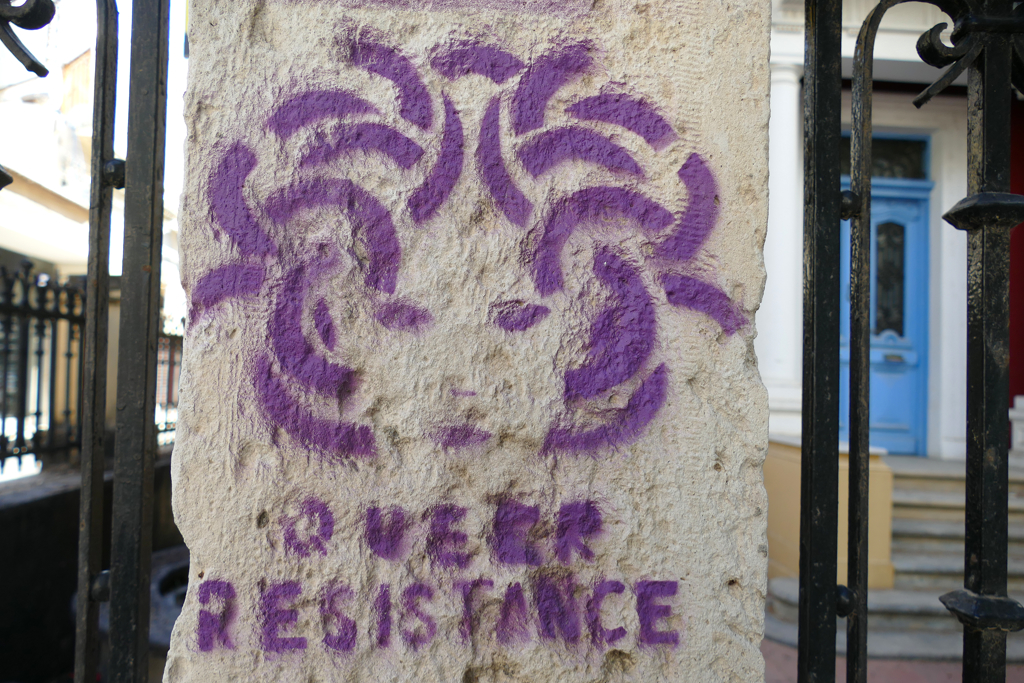 Particularly in comparison to the best street art in Hamburg, this is in stark contrast to European urban art which grew out of rage about economic injustice and social and political protests.
Obviously, there is no strong subversive cultural movement in Morocco, hence, neither national nor international artists are encouraged to draw attention to social or political evils.
While in many European cities, urban art is more about the message and sometimes lacks a bit of artistic talent, in Morocco, it's exclusively about artistic value with no societal content whatsoever.
Rabat
Although I saw the first piece of truly stunning street art as soon as I arrived in Rabat and stepped out of the Agdal train station, it actually took me a while to realize that this wasn't just one lucky shot.
Every day when exploring Rabat after school, I spotted and photographed outstanding murals without thinking twice. Only two days before leaving the country did I go on the internet and searched for Street Art in Rabat. And there it came up, the information that Rabat is arguably one of the capitals of urban art.
JIDAR
EAC-L'Boulvart – whereby EAC stands for Education Artistique et Culturelle – is a non-profit organization that promotes various urban arts in Morocco. Since 1999, they've been organizing workshops, concerts, festivals, and other events. In this context, artistic director Salah Malouli initiated the Jidar Street Art Festival in 2015.
Since its first edition, the Jidar Street Art Festival has made Rabat one of the most intriguing places of international urban art. Every year – except for 2020 – national and international artists were invited to leave their traces on the walls all around the city.
After seven years, you won't find those truly amazing pieces concentrated in one neighborhood, obviously. While there are some pieces jammed in just one residential block, oftentimes you have to travel by bus to a rather secluded neighborhood where you then walk for twenty minutes from one mural to the next.
In this post, I've put together an overview of the past editions from the first one in 2015 to the newest one that took place in the summer of 2022. As always, my selection is very subjective and meant as an inspiration. You'll find all the works I'm introducing on the map at the end of this post. But mind you, urban art is kind of a lively organism and prone to change and even disappear.
Also, I've added a list of the featured artists' instagram accounts at the end so that you can enjoy their works from your lazy chair.
And now: Open Sesame! Follow me into the magic world of Rabat's street art!
2015
INTI
Born in the Chilean city of Valparaíso in 1982, the artist adopted his name from the Incan Sun God and the Quechua word for sun. This way, he's paying homage to his Chilean roots.
INTI's murals deal with topics of life and death in the backdrop of religion and pageantry. The portrait subjects are clearly Chilean: Incans and other tribesmen, peasants and revolutionaries. The artist proudly underlines South America's rich cultural history, however, he also addresses Chile's social injustice and shaky politics.
With his motifs and techniques, INTI promotes Latin American street art around the world. You'll find his pieces in Belgium, France, Germany, India, Lebanon, Mexico, Norway, Peru, Poland, Slovakia, Spain, and – of course – Chile – to name just a few.
INTI likes to collaborate with other street artists under the name STGO Undercrew. This artist squad has worked for Adidas, the Rip Curl music festival, and the Maquinaria Festival in Chile.
I introduced INTI also in my post Best Street Art in PARIS: How Mehdi Ben Cheikh Transformed the 13th Arrondissement Into An Open-Air Gallery.
Cisco Kaesele
Cisco Kaesele from Barcelona is mainly known as a tattoo artist. In 1997, he started to paint but got really serious about it only about ten years later. Coming from an artistic family, he was introduced to art at a very early age. Hence, art and creativity are a necessity for him.
He works in many different sectors – on canvas, digitally, and on skin, obviously. His favorite medium that grants him the most creative freedom, however, are walls that he decorates with fantastic murals.
Simo Mouhim
Simo Mouhim grew up in Casablanca where he enrolled in the École Supérieure des Beaux-Arts in 2003. After his studies, he initially pursued a career as a graphic designer and artistic director. Eventually, he began painting independently.
During his first participation in Sbagha Bagha, another popular Moroccan street art festival that takes place in Casablanca, he created a marvelous piece, which brought him the admiration of some of the biggest names in international street art.
His most important source of inspiration is the traditional Moroccan life mainly in his hometown Casablanca.
PixelPancho
PixelPancho was born in Turin in 1984. His grandfather introduced him to the wonderworld of painting. Later, he enrolled in the Albertina Academy of Fine Arts in his hometown and eventually in the Academy of Fine Arts in Valencia. No wonder he got in touch with the graffiti and street art scenes since that's really big in the Catalan metropolis. I've dedicated the best street art in Valencia an entire post.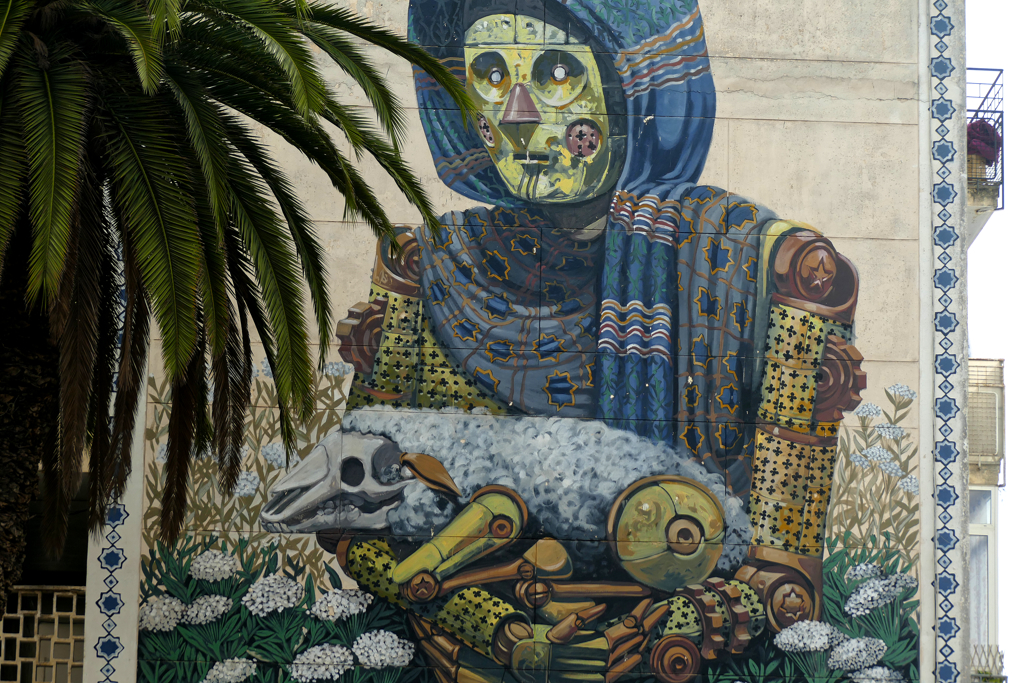 Obviously, PixelPancho soon began to engage in urban art himself. Meandering between Turin and Valencia, he created street art using different mediums such as tiles, paint, stickers, and posters. Interestingly, he names Valencian historic painter Joaquin Sorolla, the surrealist master Salvador Dali, but also contemporary artists Ron English and Takashi Murakami his inspiration.
Today, PixelPancho's quirky robots can be found in Amsterdam, Paris, Vienna, Warsaw, and many other cities.
2016
Ammar Abo Bakr
Ammar Abo Bakr was born in Egypt in 1980. He studied at the Luxor Institute of Fine Arts. Later, he taught at this very institute while also creating street art.
His work consists of portraits, Egyptian history, and Egyptian pop culture. Around 2011, hence during the time of the Egyptian Revolution, his work on Mohamed Mahmoud Street was particularly meaningful as this street leads from the Tahrir Square to the Ministry of the Interior. The graffiti on this street served as some kind of information board of what was going on.
In 2012, Ammar and other street artists initiated the so-called No Walls project.
The artists tried to cover all the concrete barricades the government had put up with graffiti. The purpose of the project was to use trompe-l'œil to let those barricades visually vanish.
Today, Ammar Abo Bakr's work can be seen not only in Cairo but also in Alexandria, Beirut, Brussels, Amsterdam, Berlin, Cologne, and Frankfurt.
MACHIMA
MACHIMA was born Annassi Mehdi in Casablanca. He started sketching and painting when he was still a kid. Eventually, he made his hobby a career. Although he's working in many different art styles, his true fans immediately recognize his specific style.
He describes his way of painting as comic-like. However, he adds Moroccan elements.
Funnily, MACHIMA's biggest fear is getting stuck in a comfort zone. He claims to need curiosity and challenges to thrive: "As long as I still see mistakes in my work, I'm safe."
Case Maclaim
Case Maclaim, also known as Andreas von Chrzanowski, is one of the founding members of the renowned Ma'Claim Crew. In his hyper-realist paintings, the sigths'n'signs of hands play a major role.
Therefore, in his mural depicting a carpet maker, only the fingers can be clearly seen while the rest of the image is hidden behind a curtain of threads.
Ever since Case Maclaim started to paint in 1995, he has left his fingerprints – metaphorically and also literally – in over 20 countries. No wonder, the sign language of his hand is globally understood.
I introduced him first in my post Best Street Art in Berlin, and he is one of my favorite urban artists.
Normal
Normal was born Ayoub Abid in Agadir in 1990. He developed a high interest in visual art and music already at a young age.
Holding a degree in Graphic Design, he became an art director and illustrator. Since 2014, he participated in various street art projects.
In addition to his professional obligations, Ayoub is still devoted to his street art activities.
2017
Hendrik Beikirch
German graffiti and street artist Hendrik Beikirch was born in Kassel in 1974 and studied art education at the University of Koblenz-Landau. He has been an important figure in the graffiti and street art scene since the 1990s.
Beikirch, who also signs his works with the abbreviation ecb, is famous for his larger-than-life portraits in black and white that he paints on canvas, paper, and walls, obviously. He has a very distinctive artistic language.
Obviously, his amazing portraits can be found in many places around the globe.
Gleo
The artist Gleo comes from the Colombian city of Calí. He began to paint the walls of his neighborhood when he was only 17 years old and since then, he developed a very distinctive series of motifs. They are very detailed, full of color and fantasy.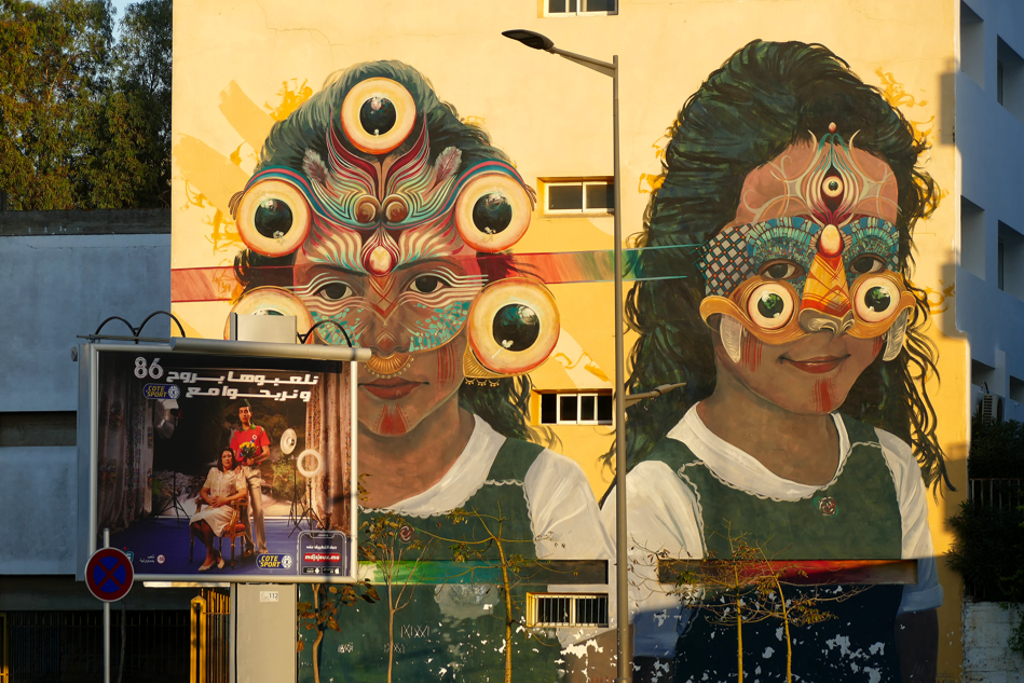 Gleo gets his inspiration from antique'n'archaic cultures. No wonder his favorite country is Mexico – a land full of mysterious iconography, bold colors, and a rich tradition in muralism.
OKUDA
OKUDA was born Oscar San Miguel in Santander in 1980. He began his artistic career in 1997 by embellishing railway tracks and abandoned structures in his hometown. In 2007, OKUDA ​​obtained a bachelor's degree in Fine Arts from the Complutense University in Madrid where he has been living since 2000.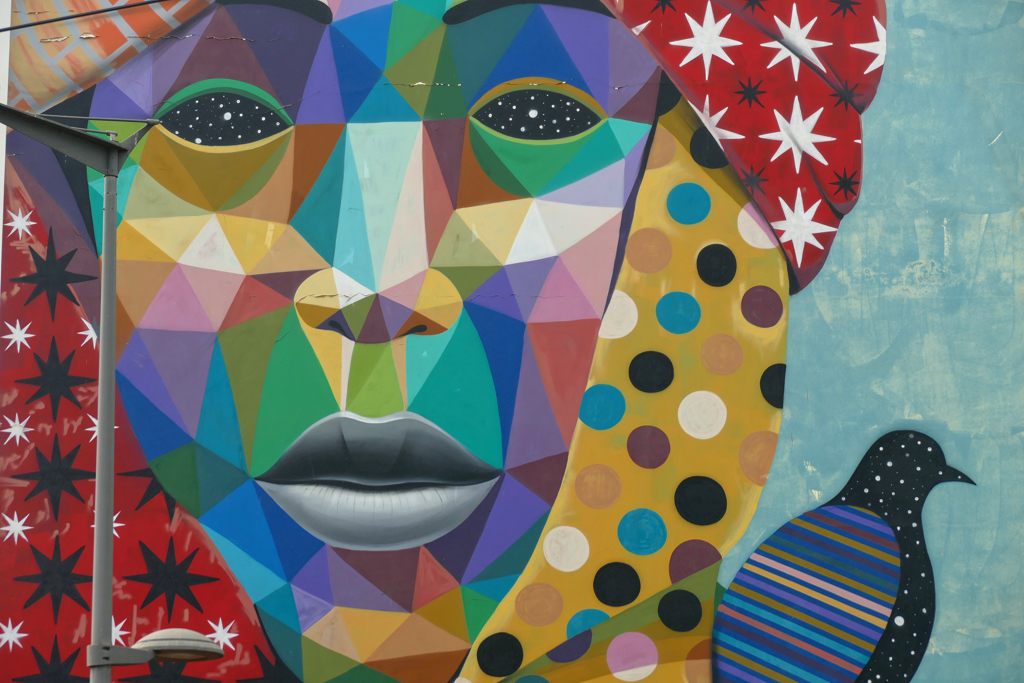 The artist claims to be inspired by everything that surrounds him, be it the environment or everyday things in which he finds motivation. He is interested in pop culture, especially film and fashion.
Although OKUDA ​​lives and works in Madrid, his work can be seen in streets and galleries in many European countries, but also in India, Mali, Mozambique, and South Africa as well as in Brazil, Chile, Mexico, Peru, Japan, and the USA. Most of the time, he is commissioned, featured, and sponsored for instance by brands such as Puma, Adidas, Kia, and Polo Ralph Lauren among others.
Already in 2016, he was ranked 42nd of the world's top 100 street artists by the Swiss online magazine Widewalls. I introduced OKUDA first in my post on Best Street Art in Málaga.
2018
Ghizlane Agzenai
Born in Tangier in 1988, Ghizlane Agzenai lives and works in Casablanca. She is a self-taught artist. Travelling the world, she has left her brightly colored geometrical traces in Berlin, Barcelona, Casablanca, Paris, Rabat, and beyond. Her works include murals and paintings in numerous urban art festivals and exhibitions.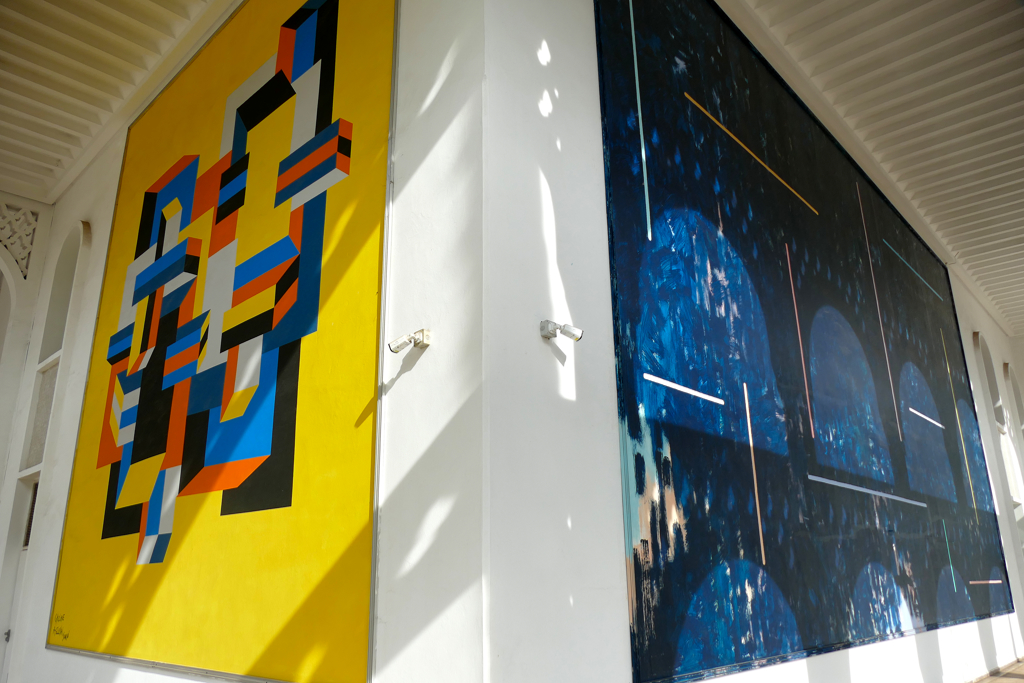 Ghizlane Agzenai combines different techniques to create what she calls her totems. Her work includes paintings and obviously also murals. On the occasion of the Jidar Street Art Festival in 2019, she was one of the artists chosen to decorate the walls of the Mohammed VI Museum of Modern and Contemporary Art.
Adam Belarouchia
Adam Belarouchia grew up in a poor suburb of Rabat. In 2018, he graduated from the Fine Arts School of Tétouan where he was introduced to the aesthetics of comic books. And actually, to this date, this is reflected even in his murals.
By the way, Belarouchia's graduation project used the means of comic strips to deal with discipline in Moroccan primary schools. In his cartoon, Belarouchia drew a pupil, arriving at school in the shape of a happy-looking, walking mouth. As his teacher educates, disciplines, and drills him, the boy transforms into the shape of an ear.
This story refers to the custom in Moroccon school where the teacher shouts at the class "I speak", and the students answer "I listen".
Decertor
Daniel Cortez from Peru is better known under his nom de plume paintbrush Decertor. He began his career with no formal studies in art. He gets his inspiration from the common men and women in Peruvian cities.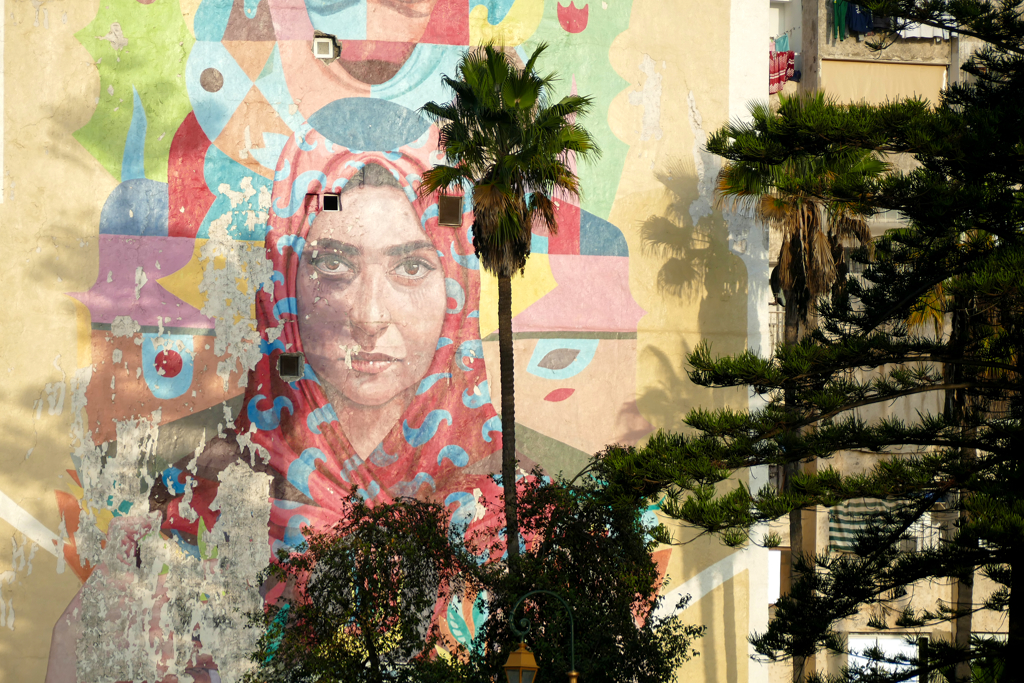 As a street painter, he was part of the Hip Hop movement in Lima which further paved his way for painting murals.
Decertor believes that street art is a powerful tool to shed a light on social and global issues. Apart from his hometown Lima, he has embellished buildings and walls in cities like Cartagena in Colombia, Cochabamba in Bolivia, Mexico City in Mexico, Buenos Aires in Argentina, and Azemmour and Rabat in Morocco, to name just the most important ones.
Mina Hamada
Mina Hamada was born in Louisiana, but she grew up in Tokyo. There she studies Design and Illustration at the Sokei Academy of Fine Art & Design. Also, she had her first exhibitions in Japan.
At the end of 2009, Mina Hamada moved to Barcelona where she got involved in the city's urban art scene. She painted her first large-scale murals. In 2011, she began to collaborate with Buenos Aires-born street artist Zosen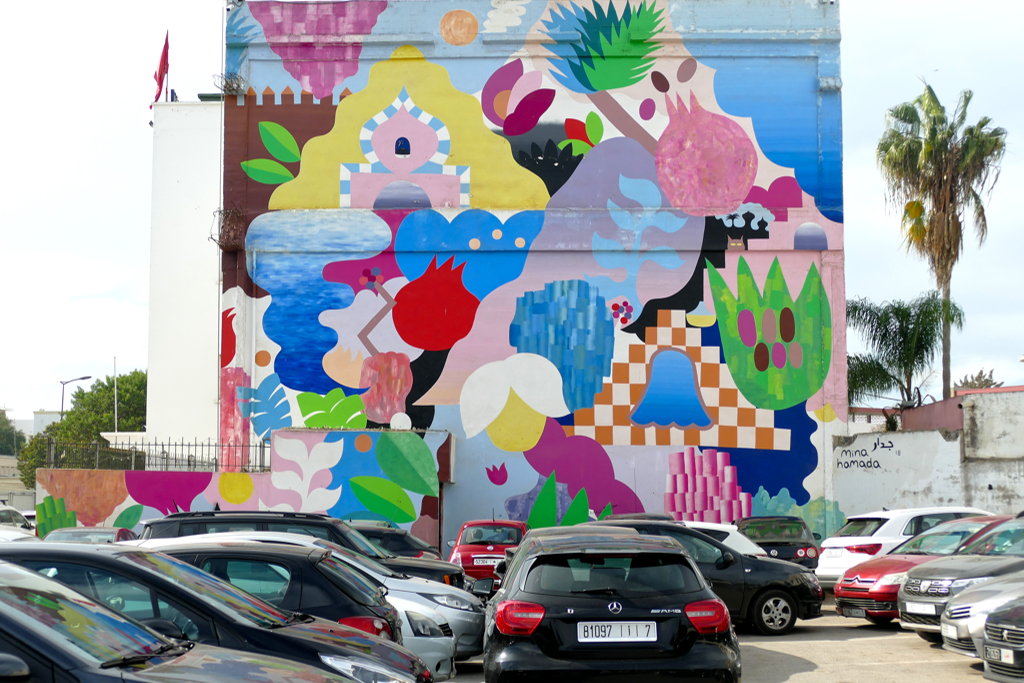 Mina Hamada´s work is exhibited in galleries and public spaces all over Europe, the USA, Latin America, and Asia.
Hamada paintings are characterized by organic shapes in clear colors. Her murals are poetic and invite the viewer into a dream world. The titles of her works are in Japanese, Spanish, or English which reflects her multicultural background.
Dimitris Taxis
Polish-born artist Dimitris Taxis was born in 1983. When he was three years old, his family moved to Athens.
Growing up in a family of artists facilitated Dimitris' entrance into the world of art. At the age of 14, during a family vacation in his mother's home Poland, he discovered street art to be his jam. However, he studied at the School of Fine Arts of Athens from where he graduated in 2008.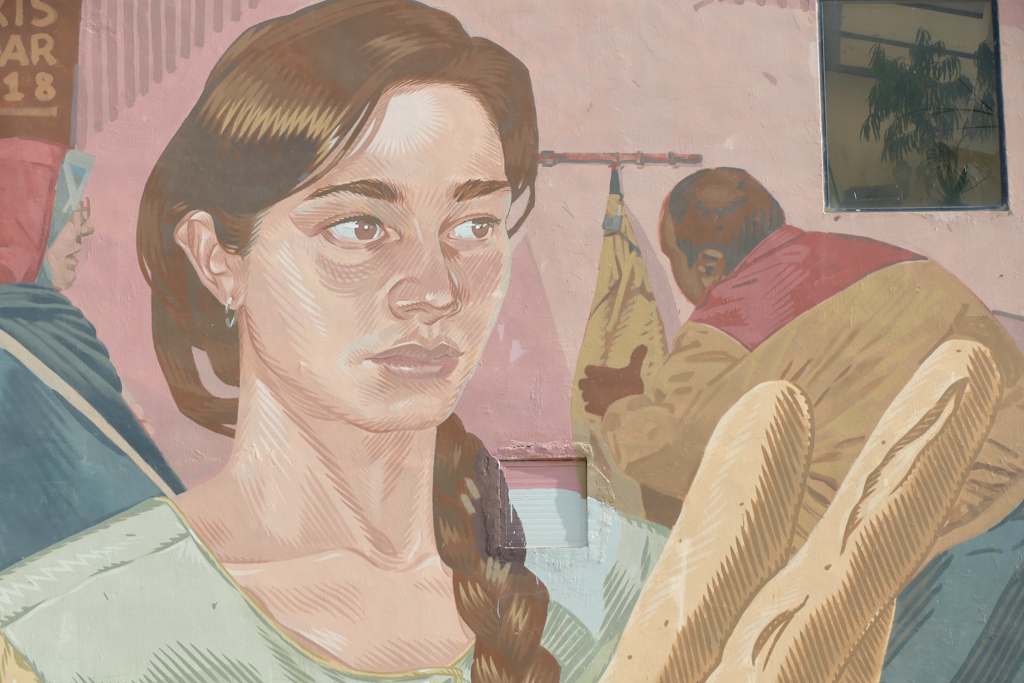 Taxi is intrigued by the everyday struggle, desolation, and hardship, hence, feelings that have haunted humanity forever.
Apart from murals, he also draws comic strips and illustrates newspapers, magazines, and books.
TXEMY
Txemy Basualto has roots in Chile and the Canary Islands but has been based in Barcelona since 2001.
He's one of those restless artists, always in search of the unknown.
Txemy, whose mural you can see on the picture of the Mohamed VI Museum of Modern and Contemporary Art in the section on Ghizlane Agzenai, has presented his work in Barcelona, Bilbao, London, Madrid, Miami, New York, Paris, and San Sebastián, among others.
Major companies such as Adidas, Nike, Converse, Burton, Ray-Ban, Volvo, Absolut Vodka, and Volkswagen – to name just the most important ones – have commissioned his powerful designs for their products.
ZOER CSX
The French conceptual artist and product designer Zoer was born in Palermo in 1985. After having travelled the world, he now mainly lives in the French countryside.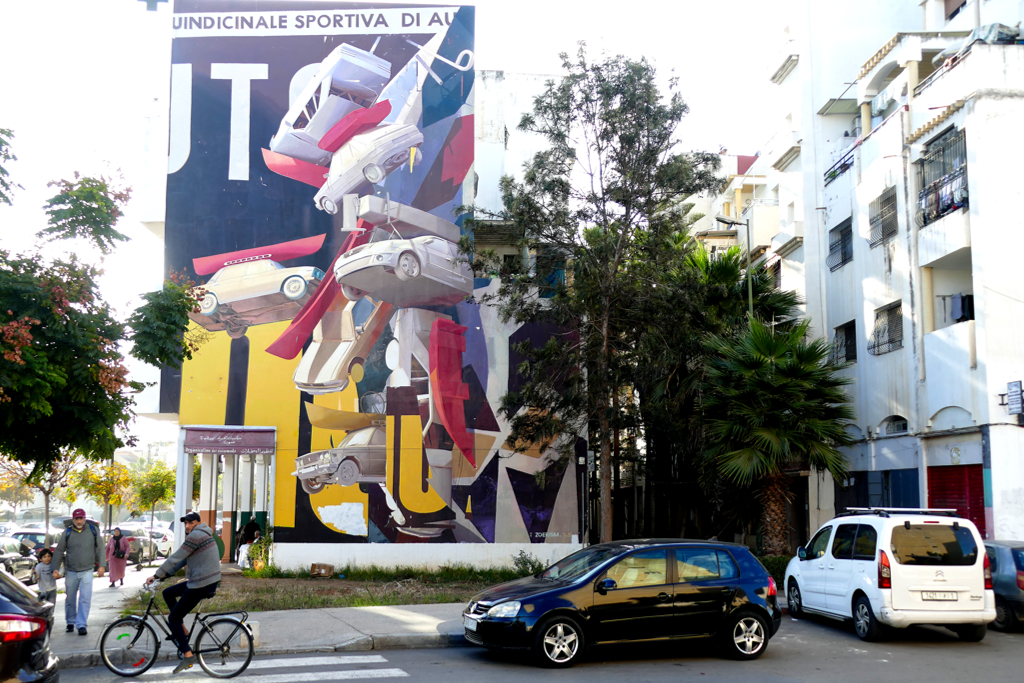 As a trained product designer, he enjoys studying an object to fully understand its function. Then he captures its shape and form in his paintings. Zoer is a figurative painter, hence, acrylic and oil colors are his favorite mediums.
2019
Danaé Brissonnet
Danaé Brissonnet is a French-Canadian artist from Quebec. Apart from street art, she dedicates herself to mask-making, puppetry, and also illustrating.
To her, working as an artist is far more than just creating something pretty. She invites her audience into a world full of symbolism, myths, and metaphors. Also, it's important for her to immerse in the culture'n'community of the places where she leaves her mystical traces on façades and walls for instance by organizing workshops.
You can find her detailed fantastical and very colorful murals in many European cities, but also in northern and western Africa, in the US, in Canada, and in Mexico, as well as in India.
DYNAM
DYNAM was born Youness Amriss in 1995. Since his childhood, he was creating hyperrealistic portraits. He visited the Superior School of Fine Arts where he specialized in advertising design.
In 2018, he was invited to the Casamouja international street art festival where he created a gigantic portrait of Ingrid Bergman starring in the movie Casablanca. This work is the initial spark for DYNAM's career as an urban artist. Only a few months later, he creates Morocco's largest mural in the city of Tiznit in less than six days. A performance that will open the doors to the 4th edition of the international festival of Jidar in Rabat.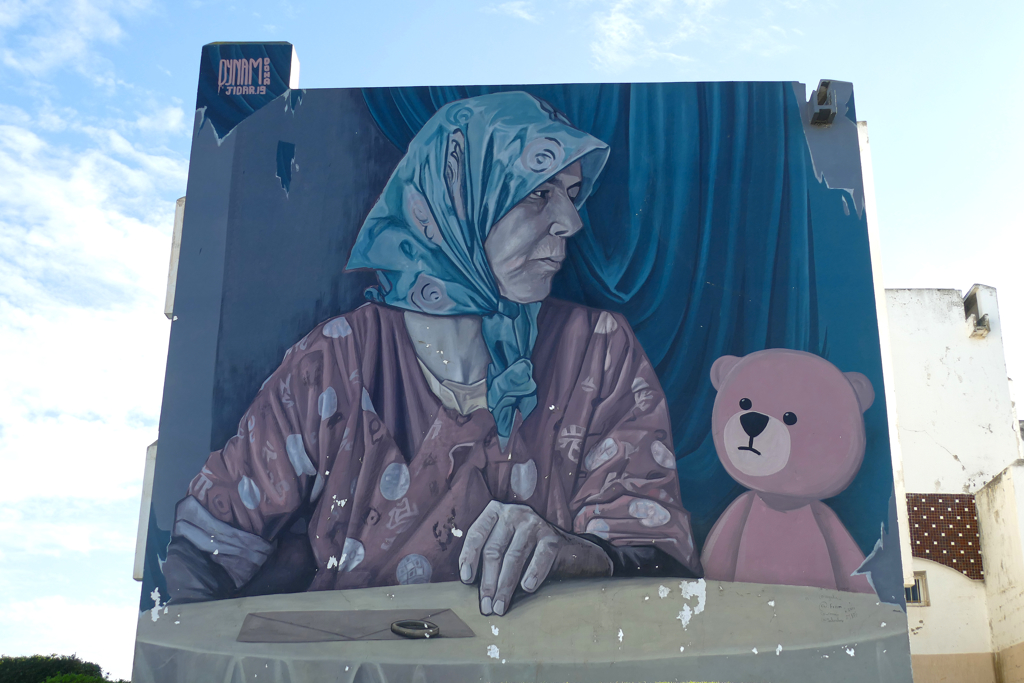 After he creates a sad portrait of an infertile woman which caused a furor on social media, he adds a teddy bear to his realistic, sometimes sweet, sometimes sad, but always moving portraits. Somehow, this softens the blow and is quite soothing.
GR170
GR170 aka Grito works and lives on the outskirts of Barcelona.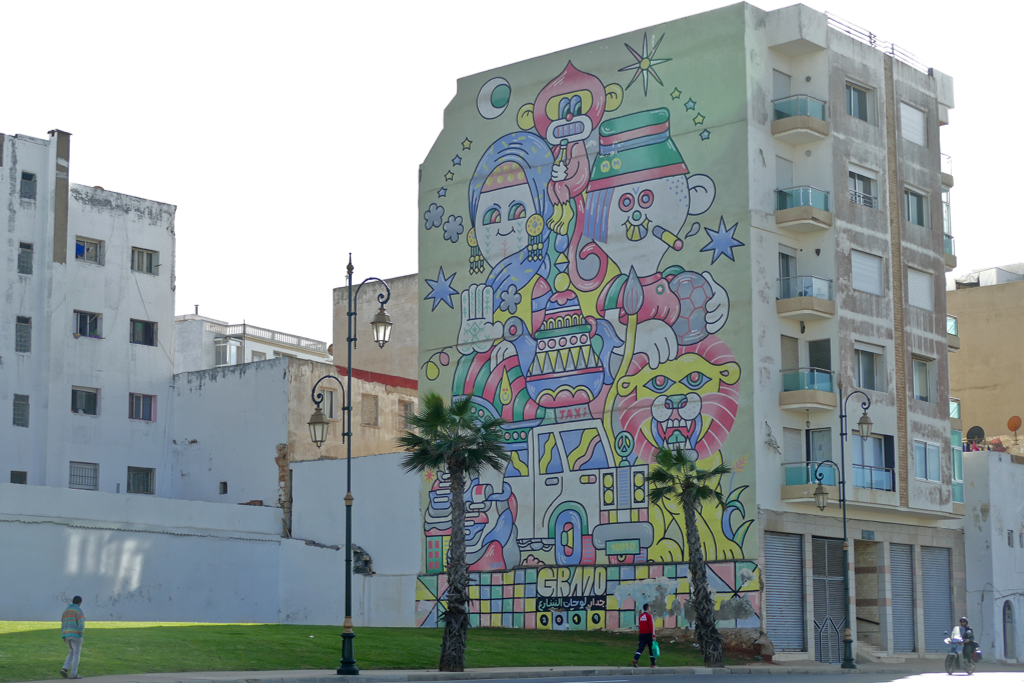 He has been embellishing dull walls since early 2000. Often, his motifs are playful and in friendly colors just like illustrations for children's books. Also, Grito prefers paint brushes over spray cans and likes his works very colorful.
Hyuro
Hyuro is the pseudonym of artist Tamara Djurovic from Argentina, and I introduced her for the first time in my post Best Street Art in Berlin.
Initially, she worked on canvas. After she met the Spanish street artist Escif in Valencia, she began to paint murals. By the way, I've introduced Escif in my post on Street Art in Valencia.
Fun fact: In 2014, Hyuro depicted a naked woman for the Living Walls project in Atlanta. After residents considered it to be pornographic, it was first vandalized and eventually painted over. Those people would probably also demand that Michelangelo's David puts some clothes on.
Sadly, Hyuro died of leukemia in 2020. Nevertheless, her painted legacy around Europe but also in Argentina, Brazil, Mexico, Morocco, and Tunisia will live on.
MACHIMA
I've already introduced Mehdi Annassi aka MACHIMA already above.
In 2019, he participated again in the street art festival and contributed a powerful portrait of a mother sheltering her child from harm.
Phlegm
Phlegm is a muralist and artist from Wales. He is world-renowned for surrealistic motifs including architectural features like turrets and stairways as well as fantastic creatures. His intertwined fantasy worlds remind me a bit of the aesthetics and technique of M. C. Escher.
His fantastic motifs consist of complex details painted in precise strokes, mostly in black and white. Phlegm considers each of these drawings as a part of a gigantic illustration that extends around the world. Apart from walls, he decorated airplanes, boats, and vehicles. Also, he participated in many street art projects for instance in Australia Belgium, Canada, Italy, Norway, Poland, Spain, Sri Lanka, and the USA – to name just a few.
2020
DAIS
Since for obvious reasons, the Jidar Festival did not take place in 2020, I take the opportunity to introduce another great Moroccan artist, namely DAIS from Meknes.
Since Covid was the reason that the festival didn't take place, I picked a mural related to this topic. DAIS painted it in his hometown to raise awareness of the danger of Covid on the one hand, but most importantly to thank those essential workers for their service and for saving lives.
DAIS was born Said Sabbah in 1990. Ever since he began painting murals in 2005, he created many wonderful pieces in various Moroccan cities and took also part in some prestigious events dedicated to street art like for instance the Jidar Street Art Festival.
2021
Paola Delfín
Paola Delfín was born in Mexico City. Her work leans strongly towards the aesthetics of illustrations. As she carefully and meticulously depicts settings and characters, she creates scenes that tell whole stories.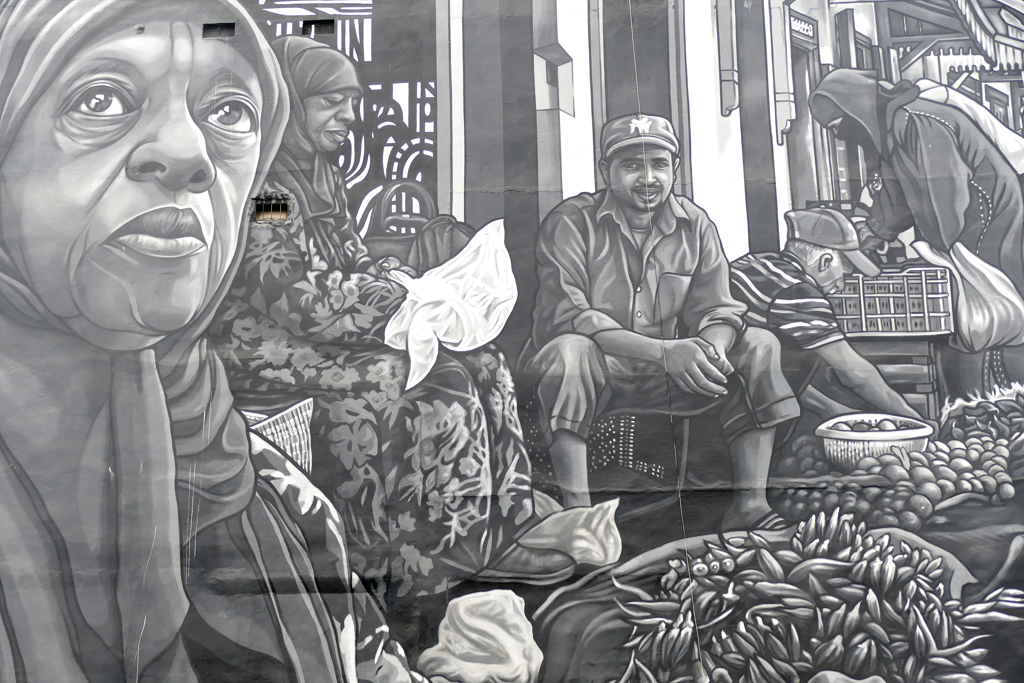 Creating urban art is dear to her since it's accessible to everyone and by no means elitist.
While covering dull walls, her murals tell stories of women. They show them in their diverse beauty, fragility, strength, happiness'n'hardship.
HAMADARAKA
HAMADARAKA is a painter duo consisting of the twins Eru and Emu Arizono. They contributed their designs to magazines, fashion brands, as well as movies.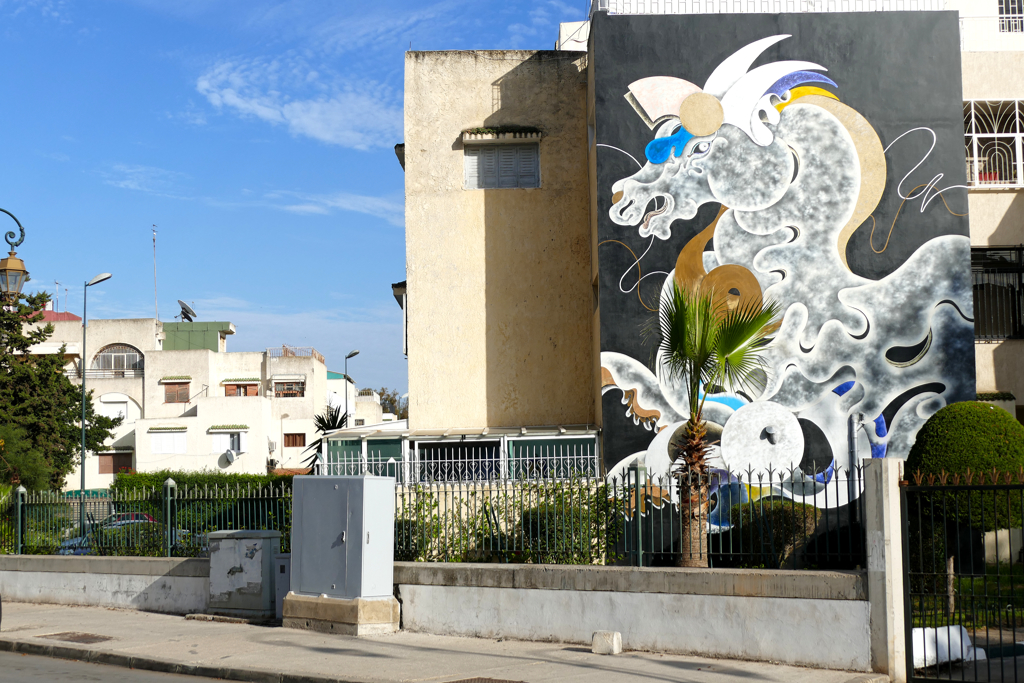 The sisters partake in exhibitions, artist-in-residence programs, and street art festivals. Apart from their hometown Tokyo, they worked in New York City, Rotterdam, Taipei, Berlin, Düsseldorf, Brussel, Paris, Marseille, Brasilia, and Oaxaca, to name just a few.
Udatxo
Udane Juaristi Ibañez is a painter born in Azkoitia in the Basque Country in northern Spain. She studied fine arts in Bilbao as well as at L ́Ecole Nationale de Beaux Arts in Paris. During his studies, she experimented with different techniques and developed her very unique style.
Although Udatxo presented her artwork in exhibitions, urban art is most dear to her.
She creates scenes based on photographs she takes during her travels around the world. She likes to capture the movement, the colors, and the expression of ordinary people going about their daily business.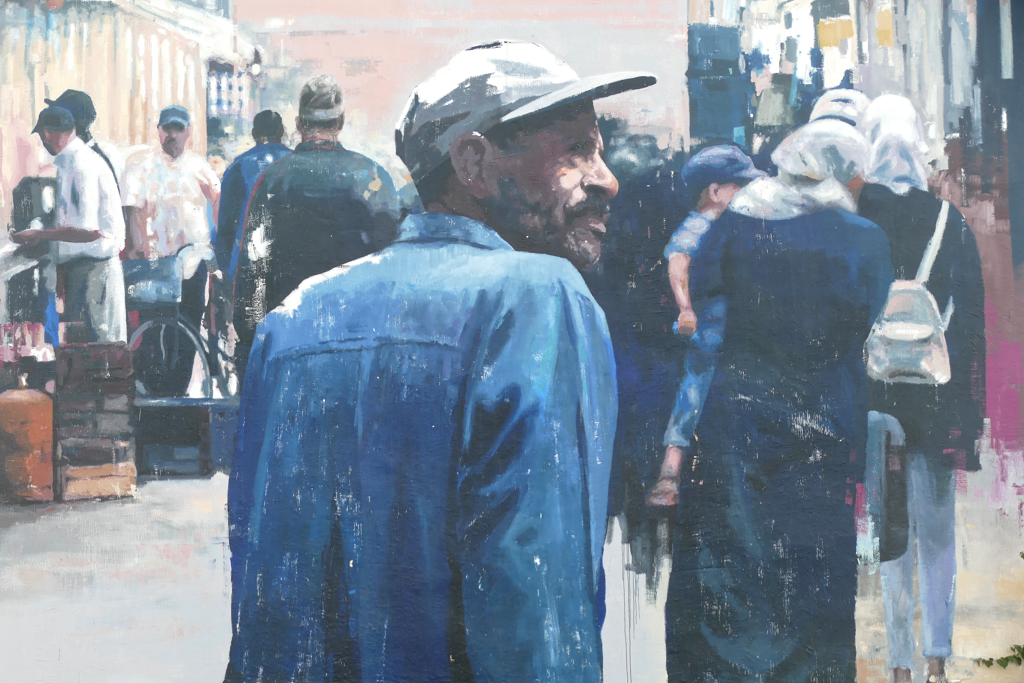 Udatxo has participated in exhibitions and urban art festivals mainly in Spain.
2022
Juraj Ďuriš
Juraj Ďuriš was born in Slovakia in 1992. He graduated from the Faculty of Fine Arts in Brno.
His main focus lies in painting, yet, he also experiments with objects, installations, and murals, obviously.
Ďuriš leans towards the aesthetics of pop art. The lavish use of bold colors makes his paintings energetic and fun. His daring, expressive brushstrokes create fantastic compositions, bursting with life.
Beau Graff
The artist's real name is Birame Mbaye and he was born in Guédiawaye on the outskirts of the Senegalese capital Dakar in 1987.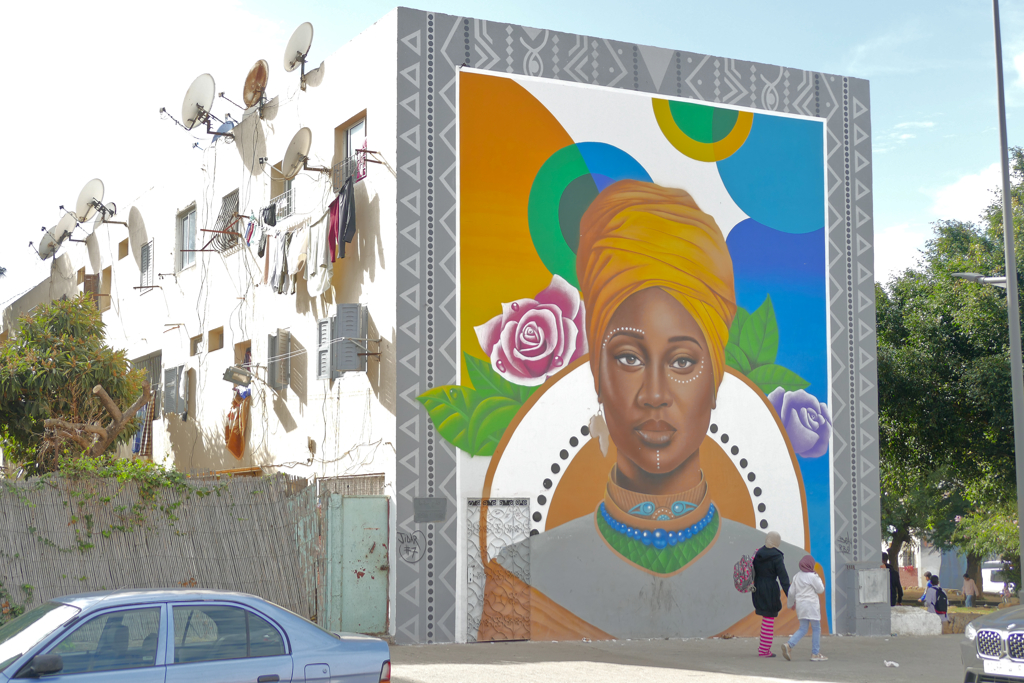 Under the influence of his love for hip-hop music, Beau entered the world of graffiti in 2008. Today, he's an important member of Senegal's urban art scene and collaborated with some of the big names like Mad Zoo.
He was invited to participate in art festivals in his home country and beyond.
During the pandemic, Beau Graff got involved with the Senegalese RBS art collective and supported them in the fight against the spread of the virus in Senegal through educative graffiti.
Manolo Mesa
The Spanish artist Manolo Mesa was born in Cádiz.
His work reflects the relationship between humanity and nature. It describes the resistance against an increasingly repressed nature.
Manolo Mesa's murals are embellishing the streets of Paris, New York, Valencia, and many more.
On Instagram
Unfortunately, I cannot introduce all the great artists that are embellishing Rabat's façades. And even those few I'm presenting above have created many more amazing pieces.
So if you want to dig deeper into the subject – or get inspired for your upcoming trip to Rabat – check out these accounts of the above-featured artists:
Ghizlane Agzeai
Ammar Abo Bakr
Hendrik Beikirch
Adam Balarouchia
Bohemio
DAIS
Paola Delfín
Juraj Ďuriš
DYNAM
Gleo
GR170
Beau Graff
Mina Hamada
HAMADARAKA (Emu Hamadaraka)
HAMADARAKA (Eru Hamadaraka)
Hyuro
INTI
Cisco Kaesele
MACHIM
Case MaClaim
Manolo Mesa
Simo Mouhim
Normal
OKUDA
Phlegm
Pixel Pancho
Dimitris Taxis
TXEMY
Udatxo
ZOER CSX
How to Get Around
Tram
The metro area of Rabat has a population of almost 2 million people. While most visitors spend their time in Morocco's capital mainly in the sections around the Medina, I discovered how widespread the city really is only during my hunt for the urban art I'm introducing in this post.
Rabat has an excellent system of public transport which will make most of your mural hunt quite comfortable.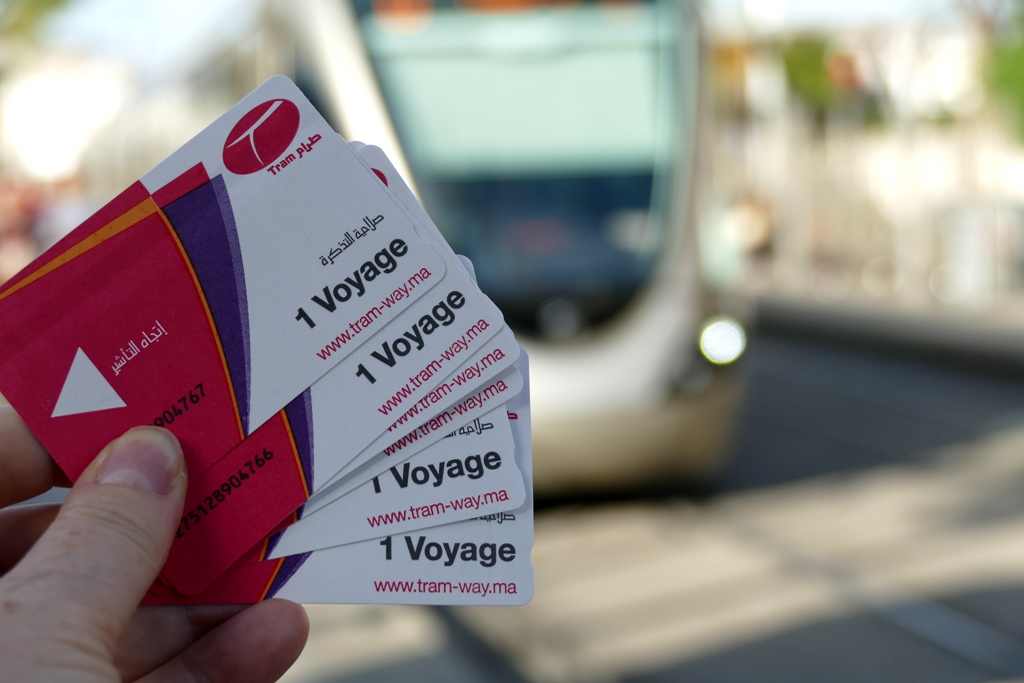 Since 2011, there is the Rabat-Salé tram system. Although there are only two lines, they cover major parts of the general points of interest. A single ride costs 6 Dirhams and you can obtain tickets either from a teller or from a machine.
Once you're on the train, you need to validate your ticket at one of the yellow machines. Also, there is a conductor checking people's validated tickets.
Bus
At the first glance, Rabat's bus system seems less organized than the tram, but that's the problem in every city around the globe, I guess. But once you familiarized yourself with the system, it's actually pretty great. To get to some of the murals that I'm introducing in this post, you won't be able to avoid bus rides.
I'm not publishing the tram's system map since you can see it at every stop as well as right on the trains. Also, if you check your route on maps, google shows you the tram connections. Unfortunately and for no reason, it totally ignores the bus itineraries.

Credit: Casabus, Plan bus rabat salé, CC BY-SA 4.0
Therefore, above, you'll find the bus system map to see which bus takes you to your desired destination. In general, buses are going every couple of minutes and a single ticket costs 5 Dirhams no matter how far you go.
However, since the tram and the buses are managed by two different companies, tickets are by no means interchangeable.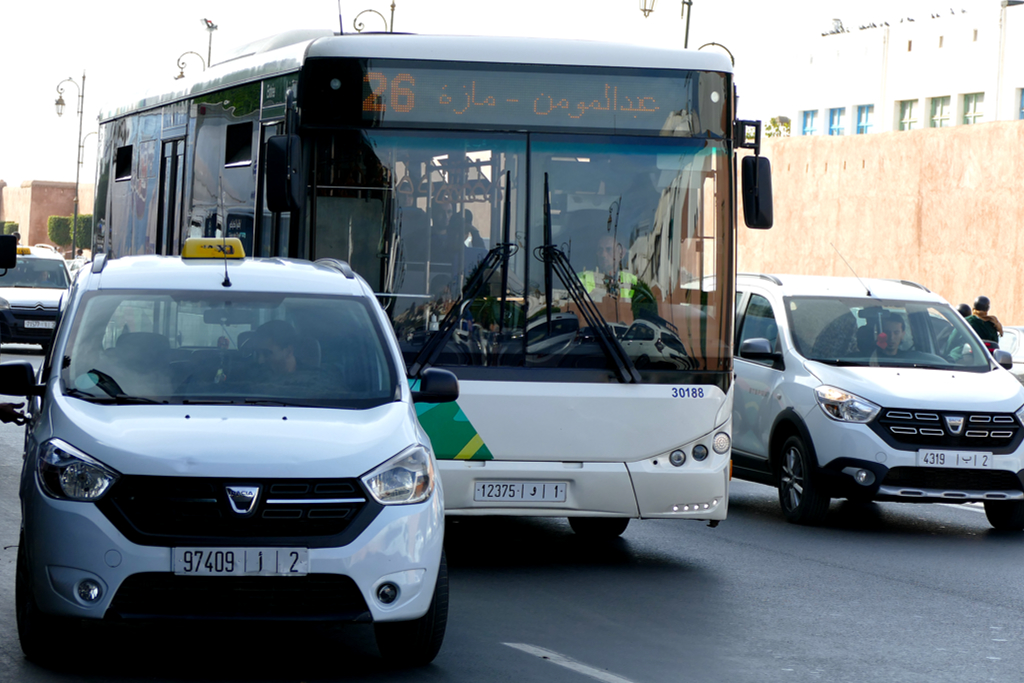 Obviously, you can go to specific places by cab or the so-called Grand Taxi, hence, shared cab. While the first option will get quite expensive if you want to see different works, the second one might be far more complicated than just taking the bus.
Map
This map should help you to find the murals I'm introducing in this post. Clicking on the slider symbol at the top left or the full-screen icon at the top right will display the whole map including the legend.
Searching for Street Art was only one of many amazing activities on my visit to Rabat. To read about the rest, go to this comprehensive guide! Also, in my general guide to Morocco's four imperial cities, you'll find further valuable information that will make your own trip much smoother and more enjoyable.
Pinnable Pictures
If you choose to pin this post for later, please use one of these pictures:
Did You Enjoy This Post? Then You Might Like Also These: