Let me guide you through the most important landmark of Coimbra, namely the university founded in the 13th century and combining beauty with knowledge.
At this magisterial institution, knowledge is dressed in incredible beauty.
Coimbra – I love the sound of the city's name. It sounds so…Portuguese: Proud and unperturbable.
Coimbra. Every time I hear the name, I automatically hear heels clicking and I stand a bit more upright.
Before I came to Coimbra, I read in a brochure about how underestimated the city is. How people come on a day trip and stay only for about two hours when there is so much to see.
Well, there isn't, take it from me.
While two hours might be a bit brief, a day trip will do.
Albeit, I'm talking only about the city center.
Exploring also the surroundings and visiting e. g. the beach region around Figueira da Foz is a whole different story and will take longer.
But for the city center, one day is enough.
Unexpected Stampedes
Coming to Coimbra, climbing up the extremely steep, narrow alleys covered with slippery cobblestones, you feel like walking through some set for a dark, scary movie on some cleric or academic mystery. The ancient buildings and walls – massive, majestic, eternal – deem totally surreal. Just stunning.
But what's this? All of a sudden, a rumble, the noise of a thousand hoves trampling, swirling up the fine white sand covering the university's court.
The horde is ushered by a feisty leader who's yelling orders in a tiny microphone. He yells, the horde follows mindlessly, showing no mercy, trampling down everything that's in its way.
I shield my eyes against the glaring reflection of the sun – and realize that the horde is a group of Asian tourists. All of them equipped with a purple earpiece.
Some are wearing matching t-shirts.
The writing have a nice day on their chests is quite ironic since they are about to ruin mine.
Yes, it takes more to ruin my day than a vast group of noisy, ruthless tourists from China.
But unfortunately, there is more. There are more – more groups, more leaders, more trampling, more yelling. Tourist hordes from all over the planet, all of them equipped with earpieces. Following leaders with headsets yelling in Japanese, German, French.
Thus, how zen do you have to be to dismiss all this brouhaha and just enjoy the venerable atmosphere that the buildings and statues desperately try to protect against these amusement park visitors?!
More zen than I am, that's for sure.
Under these circumstances, it's, obviously, not easy to inhale the grandeur of centuries of culture and knowledge installed, guarded, and transferred for centuries at this prestigious institution of wisdom.
The Belly of Coimbra
Walking away from the groups, I decide to myself that Coimbra is breathtakingly beautiful, but that the masses of visitors are suffocating me.
Hence, I walk back towards my small guesthouse, located across the train station.
To get to the reception as well as to the rooms, I have to climb up three flights of steep stairs in a dark hallway. Inhaling the smell of old stones and wood. Hence, the scent of the real Coimbra.
Then, around the corner more real Coimbra. Stores that sell household items like molds to make the traditional natas in different sizes. Also, boutiques offering table runners and aprons for the good Portuguese housewive.
Tiny scarcely illuminated corner bars serving Sagres beer to the working-class heroes from the nearby construction site. And restaurants that have not menus that are not translated to four different languages.
What a difference a time of the day makes
The next morning, walking towards the Praça 8 de Maio, there are only a handful of individual travellers in the streets. Other than them, Portugueses as far as the eye can see respectively the ear can hear.
I visit stores and markets and even some landmarks like the Jardim da Manga and the municipal market – no tourists, just me and Coimbra's housewives.
Mind you, most groups are coming to Coimbra only for a couple of hours, hence, mostly in the afternoon.
They visit the most important sights – the Sé Velha, the old cathedral, and, of course, the campus of the old university, shop some souvenirs, join an early Fado-concert – and off they go to…I don't know where, and as a matter of fact I don't want to know.
Touring Coimbra
Coimbra is located in the region Centro, about halfway between Porto and Lisbon. And it is somewhat formidable, indeed.
Therefore, it's no wonder this majestic place even used to be Portugal's capital from 1139 to 1256.
Today, it is home to about 143,000 inhabitants. Including about 30,000 students.
Where they study? At Coimbra's most important and most visited attraction, the Universidade de Coimbra, of course.
The majestic structure and special atmosphere put Hogwarts to shame.
Largo da Portagem
Coming from the train station, take a short walk along the river Mondego to the Largo da Portagem. Not only is this square one of Coimbra's most beautiful ones, but you also find the tourist information here.
From the Largo da Portagem, just stroll down the elegant Rua Ferreira to the Rua da Almedina, then leading to the Torre da Almedina, the Almedina tower. If you are interested in learning more about the city's history, you might wanna drop in – short before you get to the arch – at the Museu da Cidade da Coimbra, the city museum.
Sé Velha
From the arch, you wind your way up on stairs and cobblestones – shoes, ladies! – to the Sé Velha, Coimbra's old cathedral.
Along the way, you'll see many little souvenir shops and cafés and snack bars and on the Rua Quebra Costas as well as a couple of Fado bars. Many of the concerts start already at 6 p. m. Since these aim more at the day tourists, I would prefer a later session.
After visiting the Sé Velha, a Romanesque Roman church opened in 1146, keep on climbing and you'll finally get to the major attraction, the university.
University of Coimbra
While the Paço das Escolas, the impressive main square, some galleries, and of course all the streets between the outer university buildings can be visited for free, you only need a ticket if you want to see the famous Biblioteca Joanina, the university's old library, completed in 1728.
The baroque building houses about 200,000 books – and we are not talking Penguin here. The first books are dating from 1750. It's really beautiful and very impressive.
If you want to visit the library, the first thing you should do as you arrive on campus is to buy your ticket. There are only 60 people at a time allowed to enter. Since you're allowed to stay just ten minutes, normally you don't have to wait too long. However, you cannot expect to be let in right after buying your ticket. Your time slot might be a bit later.
Going from the ticket counter back to the main square, take a good look at the truly amazing Porta Férrea, the iron gate.
The Chapel And The Tower
Besides the library, the indisputable highlight, there are more interesting things included in your ticket such as the adjacent Capela de São Miguel, St. Michael's chapel.
Next to the chapel is the entrance to the Torre da Universidade. Before you climb up, a student has to announce your arrival upstairs. Mind you, the staircase is so narrow that only one person at a time can go up or down.
Once you're ready to go down again, another student has to call downstairs to check if the stairs are clear.
Entering the building through the Via Latina, the main entrance, you can visit some of the majestic halls like the Sala Amarela, the yellow hall, or the Sala dos Archeiros, the armory. Following a long hallway, you get to the great hall of acts, the Sala dos Capelos.
At the end of the tour is the Sala del Examen Privado, the private examination hall. It used to be part of the Royal Palace and the King's private chamber. In this room, the first reunion between rector D. Garcia de Almeida and the professors of the university took place on October 13, 1537. That's, actually, the date of the final installment of this fine institution at Coimbra.
More Knowledge
Connected to the university, there are some scientific museums to be visited such as the Museu Botânico, the natural history museum, and the Museu da Ciência da Universidade de Coimbra, the museum of science which is included in your ticket.
If you feel like taking a break from constantly awing at ancient buildings, then walk in the southeastern direction from the university and visit the Jardim Botânico da Universidade de Coimbra, the botanic garden which is part of the university.
Just around the corner from the museum of science is the Sé Nova, hence, the new cathedral of Coimbra, and next to it you can visit the Museu Nacional Machado De Castro, the National Museum Machado de Castro where you can admire Gothic sculptures and religious art.
Even if you don't visit the museum, check out the courtyard since the whole complex is architectonically very interesting.
Museu Nacional Machado De Castro
Largo Dr. José Rodrigues
3000-236 Coimbra
Phone: +351 239 853 070
Email: geral@mnmc.dgpc.pt
Opening hours are Tuesday to Sunday from 10 a. m. to 6 p. m.
Around the Praça 8 de Maio
From here, make your way down back to the Rua Ferreira Borges and continue walking north. In the early evening when the tour groups are gone, the Portuguese life conquers the city and you can sit in one of the cafés watching people doing their shopping and running their errands.
As the Rua Ferreira Borges continues into Rua Visconde da Luz, at the end you'll reach the Praça 8 de Maio where the Igreja de Santa Cruz is located. While this house of worship, built in founded in 1131, is not necessarily the most beautiful church around, it is a National Monument due to the fact that two Portuguese Kings are buried here.
At the town hall, which is the building next to the church, turn right into Rua Olímpio Nicolau Rui Fernandes. At the next block on the right, you'll spot an interesting building, the Claustro da Manga, one of Portugal's first Renaissance structures.
Across the street, it's complemented by the Fonte Nova, the new fountain, also known as the Fonte dos Judeus, the Jewish fountain. It dates back to 1137, but was remodeled in a baroque fashion in 1725.
And this, meus amigos, was Coimbra. In one day.
Practical Information
How to Get There
By Train
Coimbra is halfway between Porto and Lisbon, hence about 2 hours by train from either of these cities.
Also, it is a great gateway for visiting the beach destinations of Portugal's Centro region such as Figueira da Foz.
Important: In Coimbra, as in other Portuguese cities, the railway station in the city center is a railhead where only trains with the final destination Coimbra go. All the other trains that are passing through do stop at Coimbra-B. From there you have to take another train or a bus to the city center.
Going from Coimbra to e. g. Lisbon, you have to go first to Coimbra-B and change trains there.
That's important to know so you don't miss any trains or connections.
There are many trains going to the most important places in Portugal. You can get all the info you need and also buy your tickets on Comboios de Portugal's website.
By Bus
There are organized day trips from Portugal's big cities Porto and Lisbon. Nevertheless, they are far too expensive.
Especially, since travelling by public bus is so easy and you have to pay a small fraction for the tickets.
Since either city is about two hours from Coimbra, a self-organized day trip is really no biggies.
However, since Coimbra is much quieter in the morning, I'd actually recommend spending the night and exploring in the morning before the large groups of day-trippers fall upon the city.
A popular national bus company is Rede Expressos with many convenient connections at reasonable prices.
The bus terminal is a bit over 1 kilometer north of the Coimbra-train station, hence, if your luggage is not too bulky, within walking distance.
How to Get Around
The Coimbra trolleybus is the oldest in Portugal – and today sadly also the only one.
Since 2013, the regional public transport company STMUC operates also Diesel buses.
No matter which kind you prefer, STMUC has a really comprehensive'n'clear website where you can trace all the routes and check fares also in English. Spoiler alert – they are really cheap, as little as 2,20 €uros for three trips up to 5,80 €uros for ten. A day pass sets you back as little as 3,50 €uros!
However, if you don't mind walking, exploring the city on foot is, obviously, also a great option.
Where to Sleep
I liked my shabby, cheap Residencial Aviz*. It is in a residential building with the narrowest, longest, and steepest stairway I've ever seen. It doesn't stink, but there is the odor of old. It would make the perfect setting for a film noir.
Anyway, I had a small yet squeaky clean room with an en-suite bathroom for an incredible price.
Nonetheless, I wouldn't have the nerve to actually recommend staying there. Although it's perfectly located – amidst really Portuguese shops'n'coffee bars and about three minute's walk from the train station.
Still, I'm not recommending it since I cannot judge to which extent you are into quirky and film noir.
Therefore, here is a map* with a good choice of other accommodations in Coimbra:
Where to Eat
At the small eatery that I discovered only by chance – and maybe by my gourmand instincts – the menu was handwritten, advertising about fifteen dishes, however, many were marked do dia, of the day. Sounded fresh to me.
Also, it is a bit hidden and off the clearly marked tourist trails; hence, to me, another recommendation.
I had sardinhas do dia that came with potatoes and a big mixed salad. For this meal and the accompanying half bottle of white wine, I paid under ten €uro.
Oh, talking 'bout €uros: They take only cash, no cards.
Paço do Conde
Rua do Paço do Conde 1
3000-307 Coimbra
Phone: + 351 – 239 – 82 56 05
Since my very quirky Residencial Aviz* didn't offer breakfast, I had the great chance to experience Portuguese delicacies and life at a snack bar just one block down.
My biggest problem, though, was what to choose.
Finally, I ordered far too much to eat it all on the spot. Consequently, the lovely lady had to make me a doggie bag that camey ver handy on the train to Lisbon.
Pastelaria Arco Iris
Avenida Fernão de Magalhães 22
3000-034 Coimbra
Phone: + 351 – 239 – 833 304
What to See
I'm an avid solo-travelling woman. Since solo-travel doesn't equal solitude, I love to join organized tours here and there. They allow me to meet fellow travellers – for just a short moment or a lifelong friendship.
Therefore, here are some great ideas of what to do when visiting Coimbra. Pre-booking online will guarantee your place at the activity of your choice*:
Money
Until now, 20 European countries replaced their former local currency with the €uro starting in 2002. Obviously, Portugal is one of them. The exchange rate is 1 US$ = 0.94 EUR as of January 2023. However, you can check today's conversion rate on this page.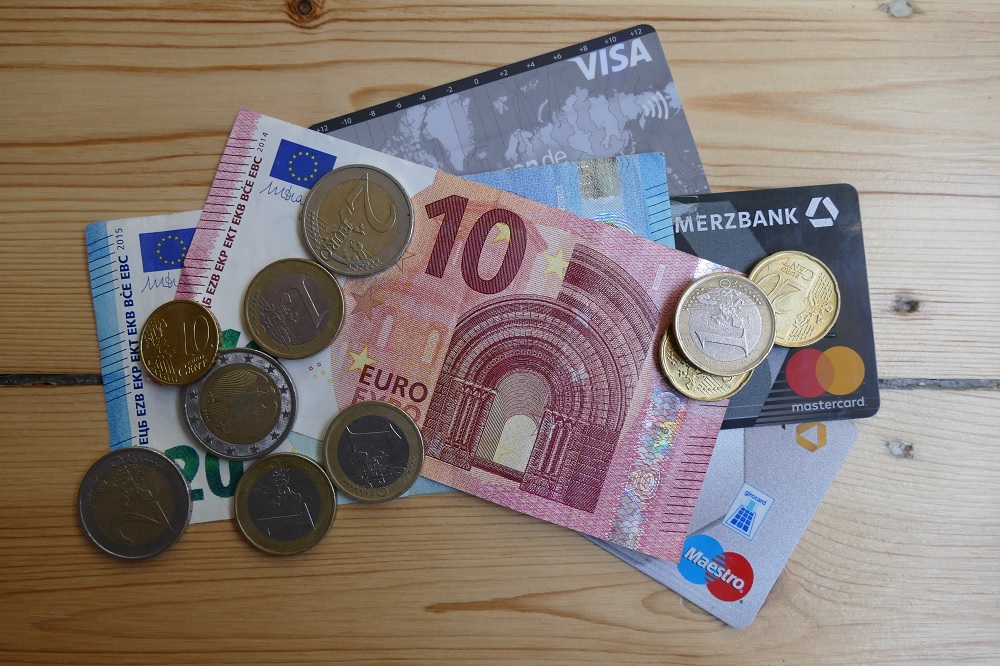 Cards are accepted basically everywhere. Except, of course, at the small stands on the streets and at the market.
Language
Actually, many Portuguese have a great command of the English language. However, it's always nice to be able to say at least some pleasantries in the local language so you might want to pick up some words e. g. online with babbel.com.
The first lesson, which already covers all the hellos and thank yous, is even free.
Since Coimbra was only one of many beautiful places I've visited in Portugal, read about the others by going to the main post and taking your pick! There you'll also find valuable general information that will make your trip smoother.
Pinnable Pictures
If you choose to pin this post for later, please use one of these pictures:
Note: I'm completing, editing, and updating this post regularly – last in January 2023.
Did You Enjoy This Post? Then You Might Like Also These:
* This is an affiliate link. If you book through this page, not only do you get the best deal, I also get a small commission that helps me run this blog. Thank you so much for supporting me!