Floating in Palomino: The former fishermen's village is booming! Because it has one of Colombia's nicest beaches and a river with a major fun factor.
So floating is what we did today. Not only in time, but on the long and winding Palomino river.
Palomino
Palomino is a slightly shabby village between a road and a nice stretch of beach, frequented mainly by the hippieish backpacker crowd. Thus there are many, many hostels – and if this is still too bourgeois for you, you can rent only a hammock for a handful of dollars.
You can hear the late Bob Marley at every corner. Rasta culture rules.
It's amazing how the relatively small island of Jamaica enriched hippiebackpackertourism all over the world.
Even in Bali and Thailand, I saw beach boys imitating the half-asleep, philosophical – rather confusion than Confucius – attitude.
Although supposedly Jamaican at heart, their bodies remained Asian and they have straight hair and cannot grow dreadlocks.
So they wear their hair long – problem solved.
Chick magnet just the same.
So anyway, we didn't go to Palomino to listen to the Rivers of Babylon.
We came to float down river Palomino.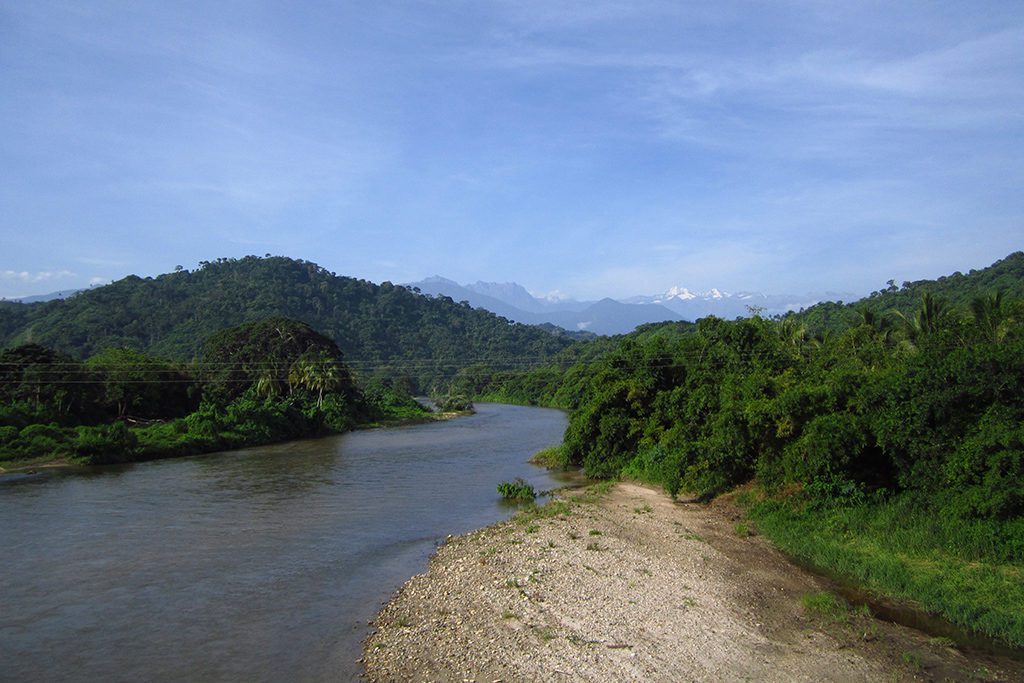 Although the village is mainly a beach location, it is at the same time on the foothills of the Sierra Nevada Mountains of Colombia, the world's highest coastal peak. Therefore, there is not only the ocean, but there is also a river.
The good people of Palomino found a way to turn this river into a stream of gold: They offer floating down in lorry tires – great fun for young and old.
Riding
Everybody in Palomino seems to be in the tubing business. Actually, there is a pile of lorry inner tubes in front of basically every house.
For a couple of pesos, the owner hands you a tube and hires a young man on a motorbike for you and off you go.
It's not very handy to carry a huge tube while riding a bike. Therefore they invented the technique of sliding the tube over both riders.
You get into the river somewhere in the jungle.
The bike gets you there approximately halfway. That's far more interesting in the rain: a roiling river of mud, deep puddles, and slippery rocks.
Our protective suits consisted of no hard hats but shorts and a tank top. We were going to get wet, after all.
I wonder how far the tube would absorb a fall.
Would we just bounce off and rock'n'roll downhill – tubed to our driver?
Anyway, faith and the drivers were kind and we arrived safely at the pretty tight jungle trail.
From here on we were on our own.
Hiking
Marching half an hour on a very narrow, very steep, and very slippery mud trail carrying a huge tube in the pouring rain does not sound that great, I guess. But besides the fact that I ruined my flip-flops from all the flipping and flopping in the mud, I actually enjoyed the beauty of the sumptuous forest a lot.
Once at the river shore, you make yourself comfortable in the tube. You wiggle and giggle and shriek. That's not the official, necessary part of the program, but everybody does.
Off you float.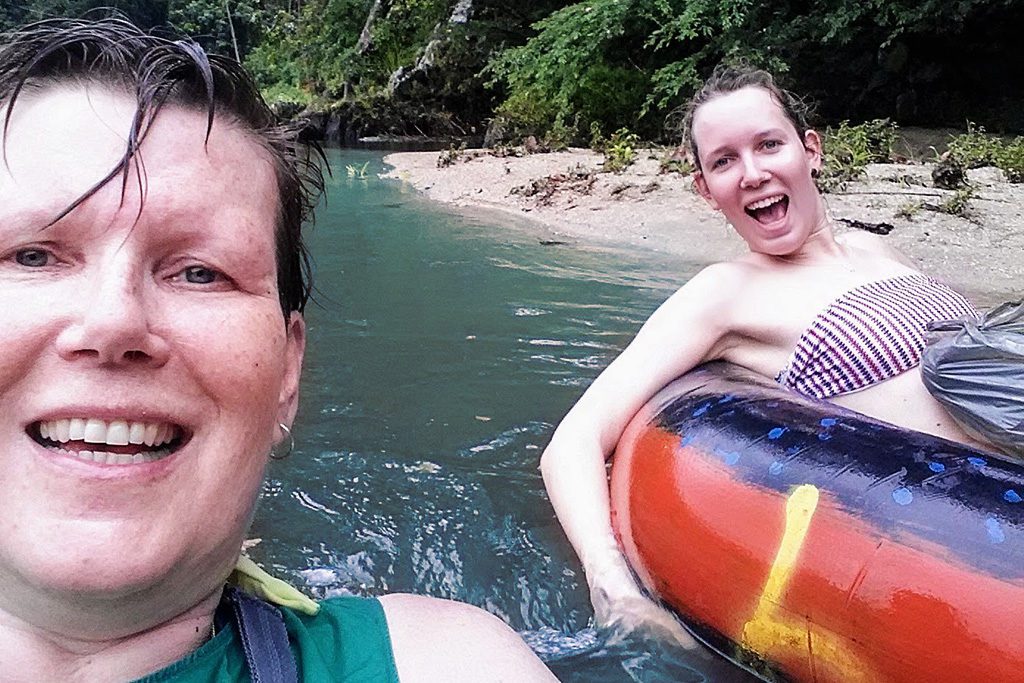 Floating
It's great fun, but don't think that you can just hang in there and let the mighty river do all the work!
If you do that, you end up against rocks and in the bushes. There were co-tubers floating from bush to bush, but that's only fun for others, and while the water has a suspicious appearance, at the shores it's plain disgusting.
I know that because I got there twice.
So what you have to do is to observe the course of the river and the rapids and navigate with your arms as quickly and frantic as you can.
But there are also long smooth parts where you can relax and appreciate the mighty jungle with its numberless species of majestic trees.
You can watch colorful birds sitting on branches above your head, from time to time diving to get something out of the water.
Wait a minute – so there is something in the water, that's attractive to birds?!?
After all, my butt is hanging in this water….
Never mind, it's just so, so beautiful!
If you worry about safety: The danger, that you capsize because your bottom touches the ground is in many parts bigger than drowning.
After approximately two hours – depending on your navigation skills – the fun is over and you reach the beach, i. e. a sandbank separating the river from the ocean.
There you can just leave the tire and jump into the crashing waves which are rather for surfers than for swimmers.
However, the beach of Palomino was my favorite in Colombia so spending at least two days here is absolutely worth it.
Practical Information
How to Get There And Around
Coming from Santa Marta you can get to Palomina by bus in about two hours. Buses are leaving Santa Marta very often, therefore, it's even possible to go to Palomino on a day trip.
Nonetheless, since the Parque Tayrona is located halfway between those two places, you should definitely try to spend at least one day at this fantastic National Park. I'm sure my post on Tayrona will convince you.
Because of the high frequency of buses you are flexible in putting together an itinerary to your liking.
To go back to Santa Marta, you can catch the bus at the gas station between Carrera 7a and Carrera 8a.
Where to Sleep
Of course, I would have preferred staying somewhere close to the beach, preferably in a wooden Caribbean cabana. And actually, there are tons of these small houses. The problem was, that we were there at Easter and Semana Santa in a Latin American country is utter madness. So all the reasonably priced accommodations were booked out.
Since I was not willing to pay a fortune for an average wooden cabana, I opted for the Color Hostel Palomino* which is a mix of hotel and hostel. Hence, they have dorms as well as private rooms with en-suite bathrooms.
Although I wouldn't warn you to stay there, in all honesty, I really cannot recommend it if you have other options suiting your budget.
Along the main dirt road stretching about one mile from the principal road to the beach, you'll find are many guesthouses, cabanas, hostels, and nicer hotels to choose from.
Therefore, here are other options for where to stay in Palomino*:
Where to Eat
Many of the accommodations on the main road Troncal del Caribe and the…Caribe, hence, the Caribbean Sea, have an adjacent restaurant. Since Palomino is a bit hippie-ish, it's easy to get also vegetarian or even vegan food there.
A nice and reasonably priced eatery is the Oasis at the corner Troncal del Caribe with the Carrera 6a.
Important to Know
There is no bank or ATM in Palomino. Best you bring enough pesos for your stay. You can also change US Dollars at some of the guesthouses and restaurants, but you'll probably get a worse exchange rate; which shouldn't be that dramatic since you probably won't need to change large amounts.
Palomino was only one of many beautiful places I've visited in Colombia. To read about the others, go to the main post and take your pick! There you'll also find valuable general information that will make your trip smoother.
Pinnable Pictures
If you choose to pin this post for later, please use one of these pictures:
Note: This post is being regularly completed, edited, and updated – last in November 2022.
Did You Enjoy This Post? Then You Might Like Also These:
* This is an affiliate link. If you book through this page, not only do you get the best deal. I also get a small commission that helps me run this blog. Thank you so much for supporting me!