Copenhagen is an amazing mix: There are waters and greeneries, romantic castles and quirky neighborhoods, the world's oldest amusement park and exciting contemporary art, luxurious restaurants and communal eateries. Obviously, there is also urban art, and some of the best street art in Copenhagen can be found in the city's least touristy, residential area of Nordvest.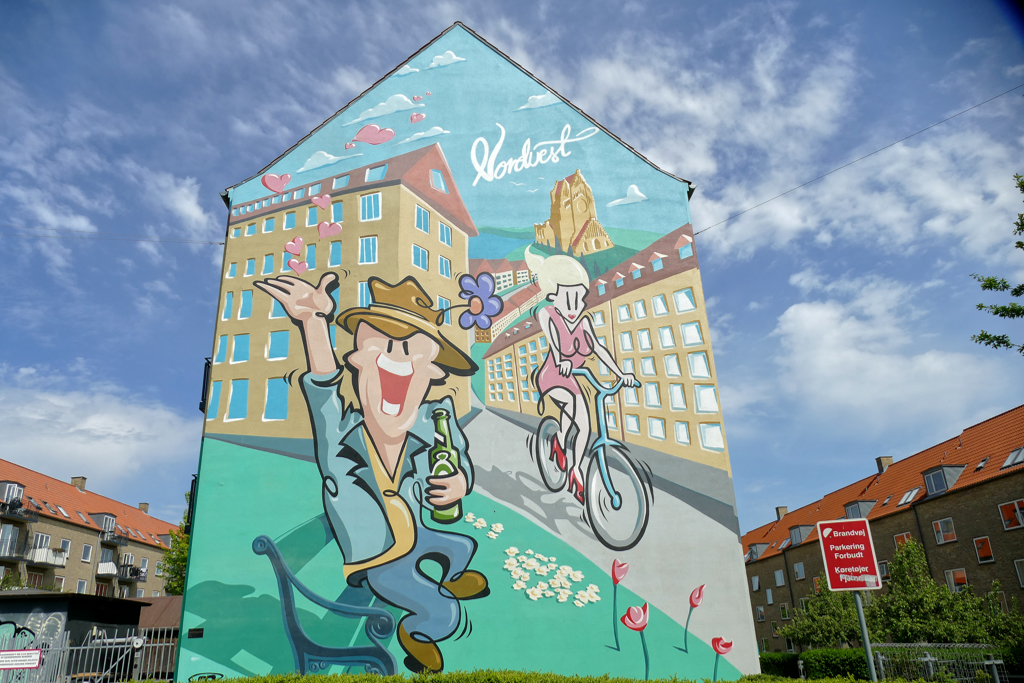 In this post, I'm guiding you to the murals that were created on the walls alongside Møntmestervej and Rentemestervej. So tie your trainers, polish your camera's lens, and just follow me.
Street Art
The phenomenon of street art, hence, of writing, drawing, and painting on walls is not a modern thing. As a matter of fact, it goes way back to the cavemen, to the era of the Pyramids in Giza, as well as the Roman Empire.
However, in many cities around the world, the modern-day's graffiti movement started in the 1960s as a claim of urban territory by gangs but also as a response to political and social injustice. Graffiti developed from the so-called tagging, hence writing names'n'slogans in a more or less artsy way, to painting beautiful murals that transform neighborhoods in open air-galleries.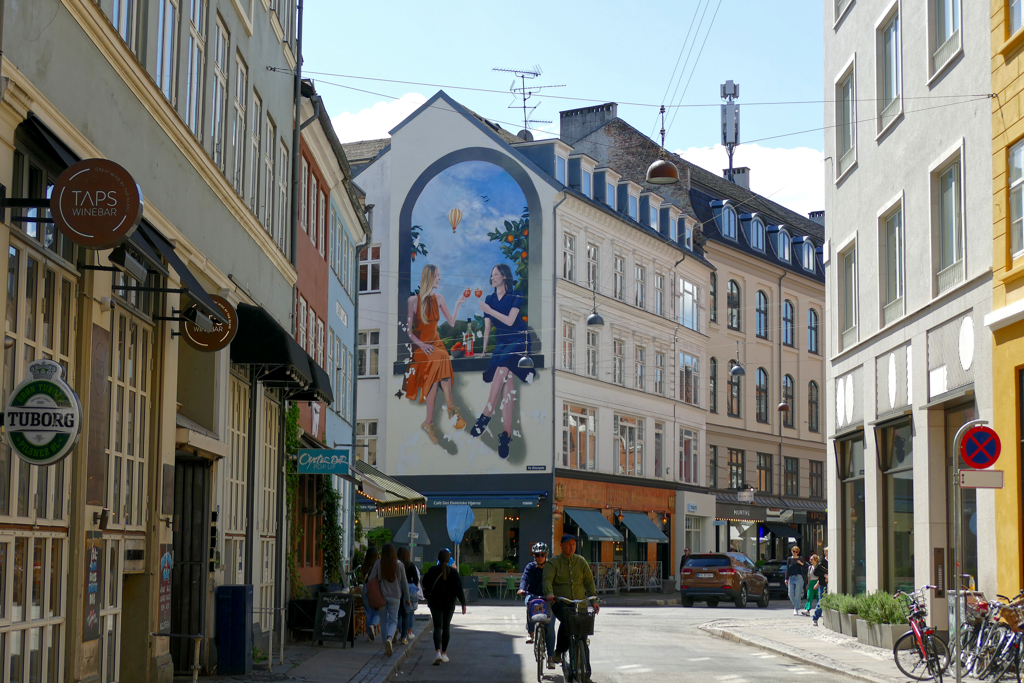 Although I'd argue that Copenhagen is not the urban art capital of the world, you'll spot artistic murals all over the city. I was very impressed when I learned that some of the works date back to the early 1990s. Yet, they are still in good condition, and no self-proclaimed street artist smeared his tag across a true piece of art. Sadly, you won't find this kind of respect in every city.
As in other cities, too, in Copenhagen, urban art is also used to upgrade rather dull neighborhoods. This is where the Open Air Gable Gallery in Nordvest comes in.
Nordvest
Nordvest is a multicultural neighborhood in the – you probably guessed so – northwest of the city center. It's actually not that far out, but since Copenhagen's center is quite small, you have the feeling of venturing to the outskirts. Albeit, you'll get there in about twenty minutes by bicycle or public transport.
Howsoever, only a few visitors venture out to Nordvest which is a big mistake if you want to experience a truly local vibe. Although there are not that many of what you would consider landmarks in Nordvest, there is the absolutely jaw-dropping Grundtvig's Church.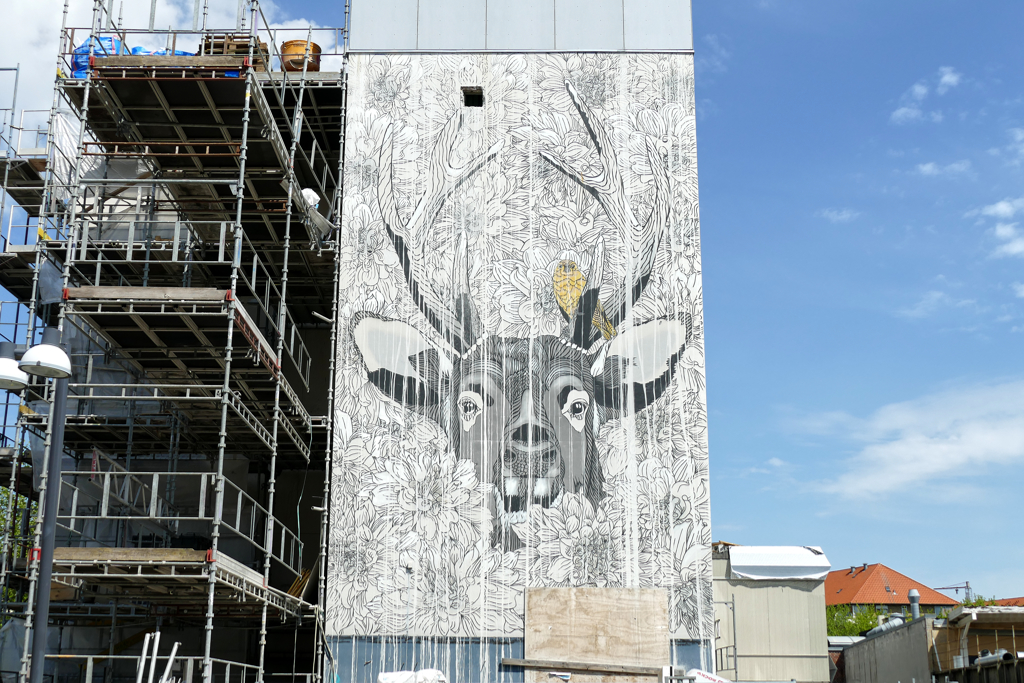 Also, on your way to Nordvest, you should make a stop at Denmark's best-known cemetery Assistens. It is the final resting place of many famous Danes like poet Hans Christian Andersen, philosopher Søren Kierkegaard, and physicist Niels Bohr.
It's a great place to visit, to take a stroll or cycle. What's a bit irritating, though, is that Danish families are even enjoying picnics between the graves.
Open Air Gable Gallery in Nordvest
Jens-Peter Brask is a passionate art collector, curator, and publicist. In Nordvest, he curated 16 murals on gables alongside the housing project Andelsforeningen AB Mønten located between Møntmestervej and Rentemestervej. The gables were painted between 2017 and 2019 and are Scandinavia's largest open-air gallery.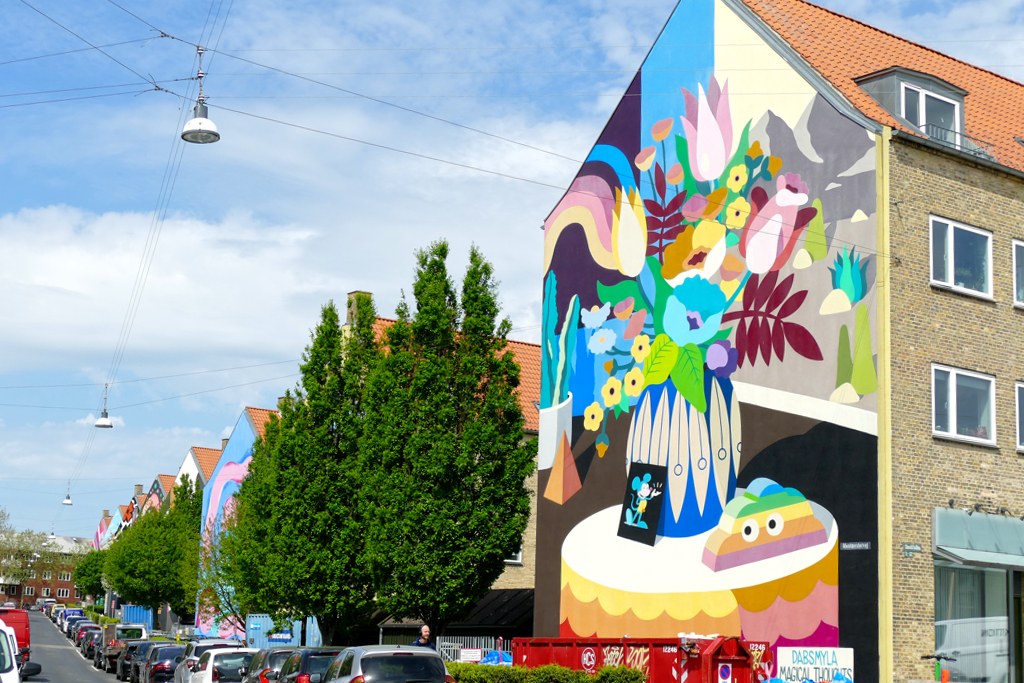 As a young man, Jens-Peter Brask was part of the graffiti movement himself. Urban art in Berlin and Miami inspired him to initiate the gable project in the Nodvest. After all, in those cities, underrated neighborhoods like Schöneberg and Wynwood became tourist attractions after muralists had embellished their walls. In my blog, I've introduced similar projects for instance in Aruba, Amsterdam, and Málaga. Urban art improves the quality of life around the globe.
The artists were absolutely free during the entire creative process. Several of them are rooted in the street art sphere. However, interestingly, most participants are mainly known for classic art forms such as painting and drawing on canvas and on paper and not so much on walls. This is a truly unique aspect and I can only assume it was this outstanding project that motivated them to take their talent to the street.
The Artists
In this post, I'm introducing the artists who participated in the street art project Open Air Gable Gallery in Nordvest and, obviously, their respective contributions. As always, I've added a list of the Instagram accounts of all artists featured in this post. This way, you can learn more about them and enjoy additional pieces straight from your lazy chair.
I'm presenting all the façades of the house blocks facing Møntmestervej from east to west. Then, I walk you down Rentemestervej in the opposite direction.
DABSMYLA
DABSMYLA are an Australian couple; a real couple as in husband and wife. They work together as visual artists. The right perspective plays a major role in DABSMYLA's work. The onlooker basically zooms in to spot an element which is a segment of a larger image.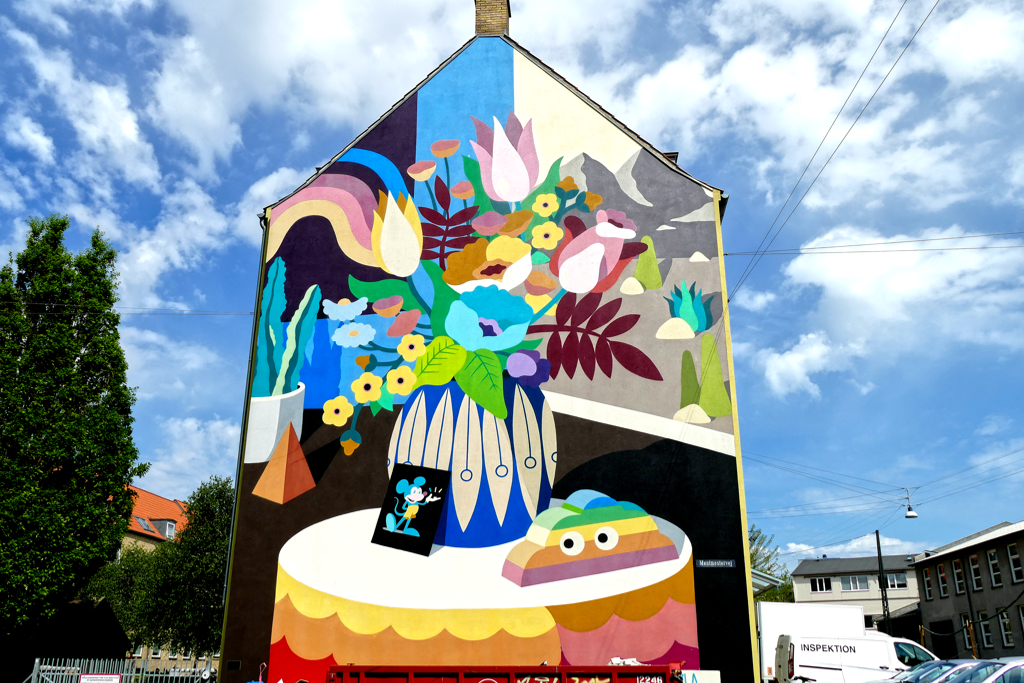 Nothing remains random or unplanned in DABSMYLA's complex creations. They are thoroughly designed and precisely accomplished in a perfectly bold color scope. Their motifs float somewhere between realism and dreamscape and are full of quirky details.
Mason Saltarrelli
Mason Saltarrelli was born in New Orleans in 1979. Already at the tender age of twelve, he started to portray jazz musicians. He later moved to New York where he currently resides in Brooklyn.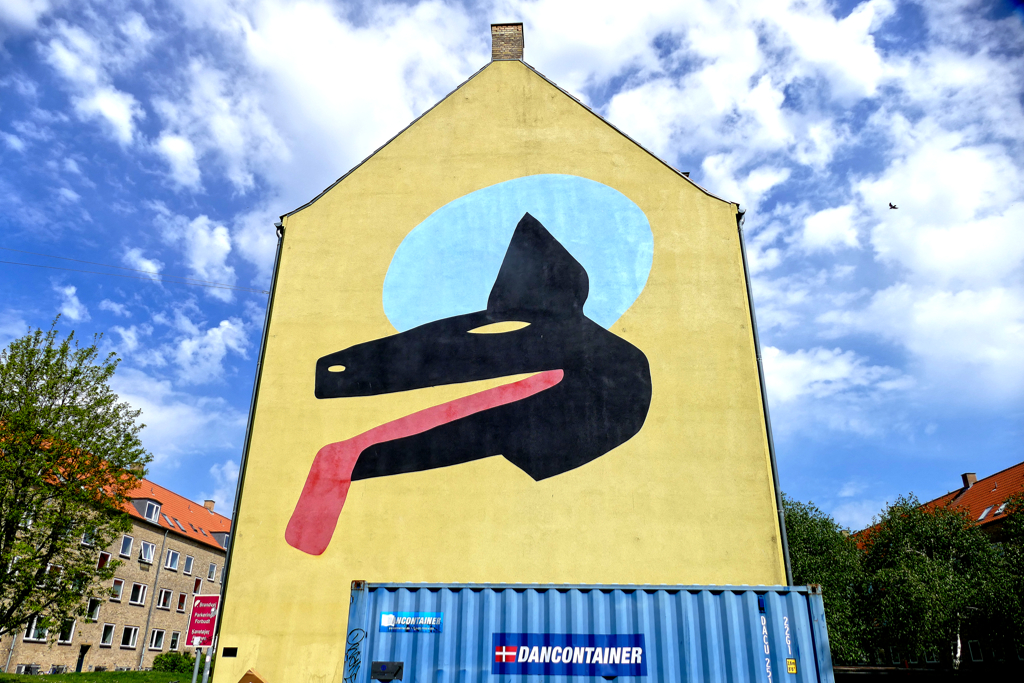 Saltarrelli lays out his work intuitively according to tribal as well as his individual symbology. He paints his pure and simple shapes in oil, gouache, graphite, and spray paint. As he paints on canvas, he often leaves the unfinished works outdoors to expose them to the elements. This way, the work's textures and colors morph in accordance with nature into an individual result.
Saltarrelli's paintings and works on paper have been presented in many galleries and introduced in various art magazines. I'd argue that the Birddog he painted on the second block on Møntmestervej is his only mural.
Coline Marotta
Coline Marotta was born in France in 1991. Today, she resides and works in Copenhagen and Marseille.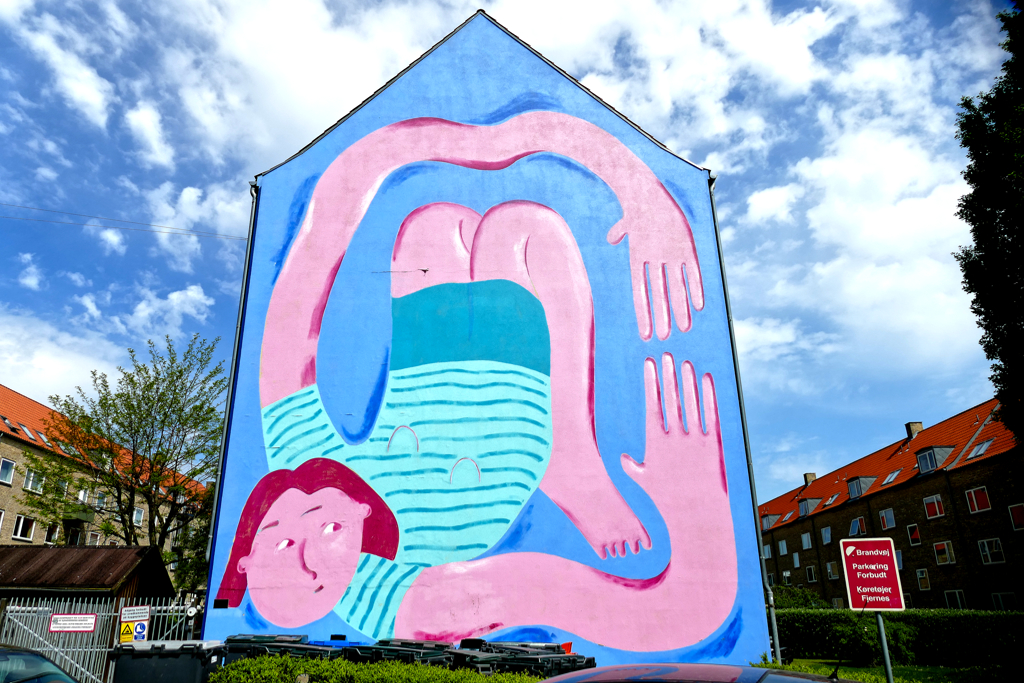 Marotta's paintings have a rather soft expressionist appearance. She depicts moments of ease and tranquility, depicting her long-limbed personas in postures of weightlessness and boundless mobility.
Coline Marotta graduated from the Royal Danish Academy of Fine Arts in 2017. Her work is found in public exhibitions as well as in private collections in London, Hong Kong, New York, and many other places.
Despite her international success, Marotta is a novice when it comes to urban art.
Jon Stahn
Jon Stahn was born in 1969. In 2006 he graduated from the Royal Danish Academy of Fine Arts in Copenhagen. Whether in his sculptures or in his drawings and paintings: His artistic work bursts of creativity and imagination.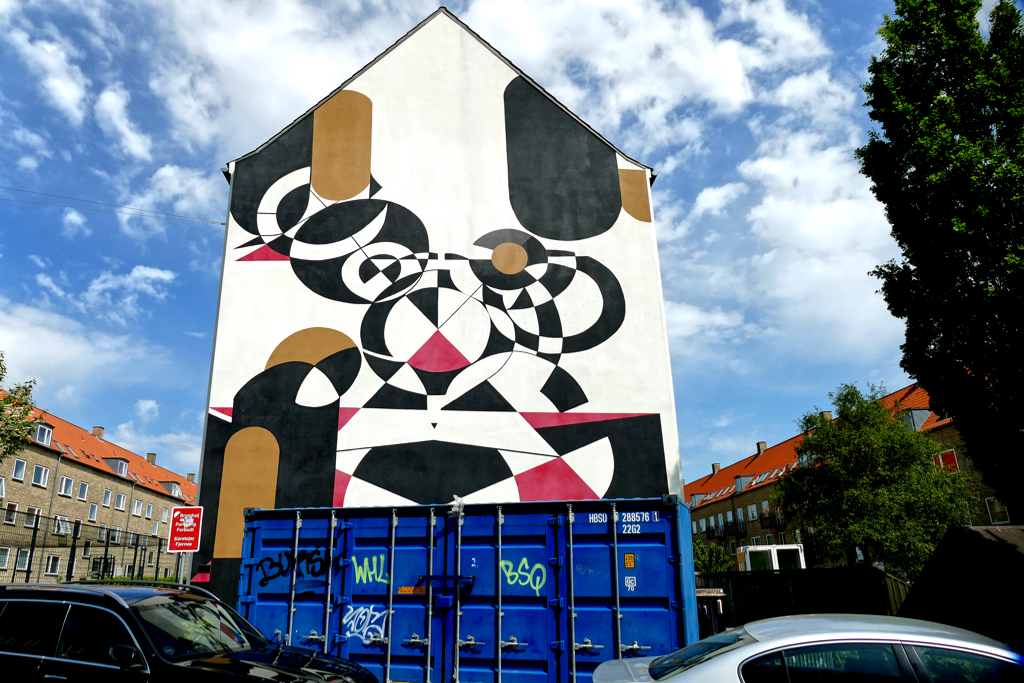 Stahn gets his inspiration from the life around him. Often, he himself is the model for the depiction of the human body in his work. "I would rather expose myself than humiliate others", says Stahn.
Jon Stahn works according to a concept in which the medium, as well as the material, are only selected once the idea for a project has been established. In this frame, Jon Stahn's work ranges from painting to graphics, from sculpture to installation and video.
Anders Brinch
Anders Brinch was born in Denmark in 1971 and just like Coline Marotta and Jon Stahn, he graduated from The Royal Danish Academy of Fine Arts, however, that was in 2007.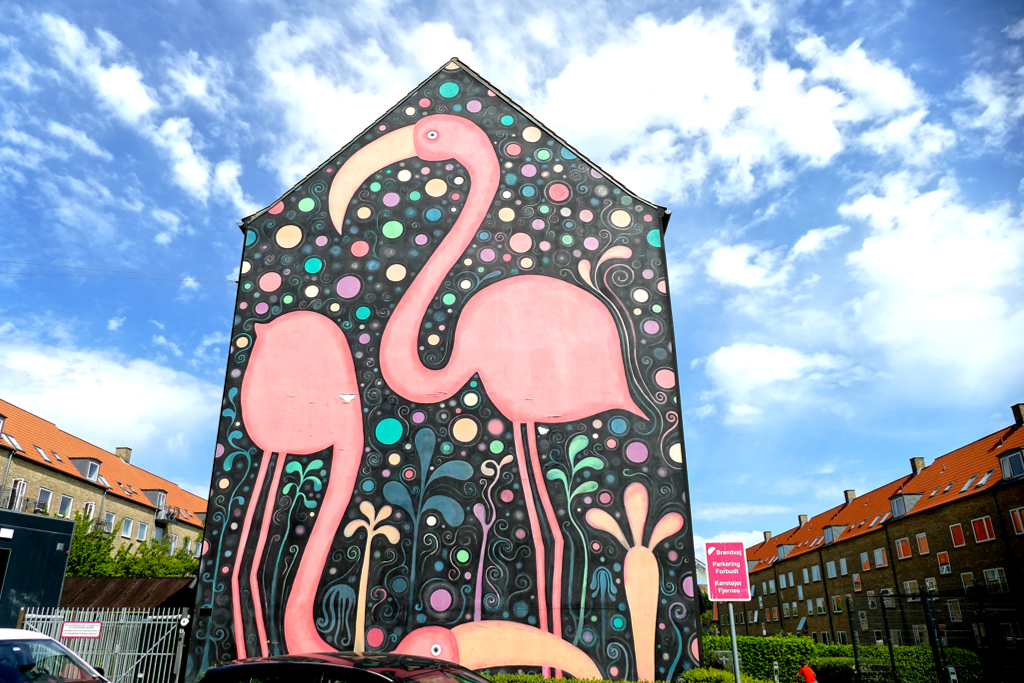 Brinch creates paintings, sculptures, and installations in colors spanning from light pastel to bold shades. Brinch gets his inspiration from pop culture, cartoons, movies, and theater plays. Then, he creates his ironic and outlandish imaginary cosmos.
Anders Brinch has shown his work in important art venues in Denmark and beyond. The flamingos on Møntmestervej, however, seem to be his first mural.
Aiko
Aiko Nakagawa aka Lady Aiko or simply AIKO was born in Tokyo in 1975. During her college years, she founded a pirate television station and broadcast her own music videos and short films.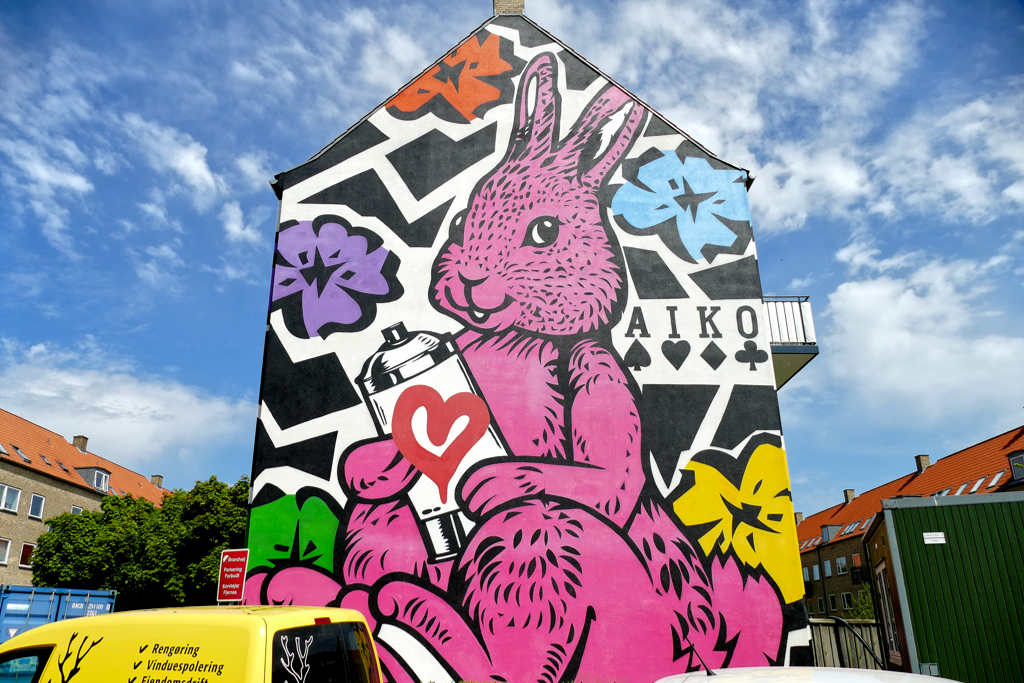 She moved to New York City in the 1990s where she studied media at the New School University. Also, she apprenticed in Takashi Murakami's studio in Brooklyn. Although AIKO gets her inspiration largely from New York neighborhoods, her style is deeply rooted in her Japanese heritage and her experience as a Japanese woman.
The topics in AIKO's work are often linked to romance, but also sexuality and promiscuity. She advocates the power of women and addresses gender inequality and other issues. Her most spectacular project was when she wheat-pasted nude images of herself around the city of New York. As an artist, she appreciates the freedom and spontaneity, but also the challenges that come with using the street as her canvas.
Today, her large-scale murals are found in cities like Rome, Shanghai, and New York.
Timmi Mensah
Timmi Mensah was born in Copenhagen to a Danish mother and an African father in 1970. Like many mix-raced kids, he struggled in finding his identity since he didn't feel either fully Danish or African.
At the age of 14, he got in contact with the hip-hop scene and began tagging his name on trains. Only one year later, he and his crew, the Lyngby Graffiti Boys, gained major praise after they were broadcasted on national television, painting a large mural.
Mensah went to the Bronx when he was 17 which was a turning point in his life as he immediately clicked with this cultural melting pot. In New York, he also developed his so-called wild style channeling his frustrations and pain into creativity.
After a job with the Nordisk Film company where he was working in the cartoon department, Timmi Mensah also began to paint in oil and acrylic on canvas. Also, to pay bills, he began tattooing which he is doing to this date.
The mural by Timmi Mensah is the cover picture of this post.
MadC
Claudia Walde aka MadC was born in Bautzen in the former GDR in 1980. She studied Graphic Design in Halle and in London. In 1998, she began to create murals using spray cans. By now, her urban art is found in more than 35 countries including the Czech Republic, France, Germany, Greece, Hong Kong, Ireland, Lebanon, the Netherlands, Spain, Sweden, and the USA, to name just a few.
Layering in bright colors is Claudia Walde's preferred technique. She achieves this luminosity by combining spray paint with watercolor and acrylic.
Claudia Walde is a member of various artist groups such as the Franco-German Bandits, the US-American Wallnuts Crew, and the internationally active Stick Up Kids.
I've introduced the Stuck Up Kids around urban artist CANTWO in my post on the Best Street Art in Hamburg.
HuskMitNavn
HuskMitNavn, which translates to Remember My Name, was born in the Danish town of Taastrup in 1975. Today, he lives and works in Copenhagen. Fans in Denmark and beyond do remember his name for his humorous, but also political and controversial drawings, paintings, and street art.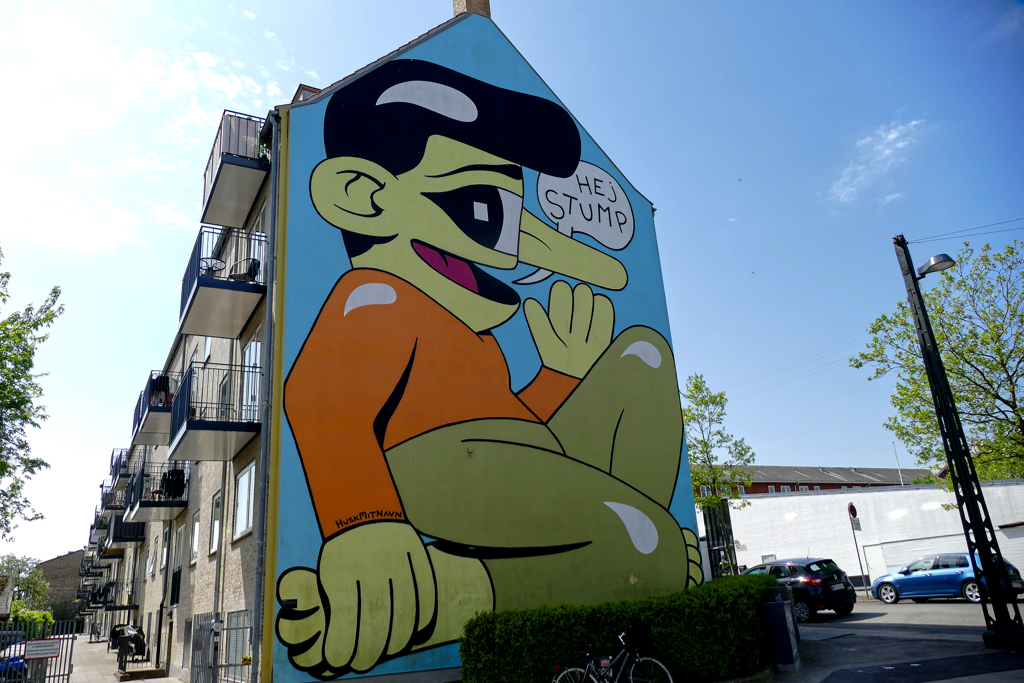 You'll find his iconic characters mostly around Copenhagen, but also in other European cities. Also, he illustrates international magazines and newspapers and has published a book. His works are shown in several art museums and collections. As I scrolled through his Instagram, his works truly warmed my heart and put a smile on my face.
Roma Manikhin
Roma Manikhin was born in Moscow in 1977. He shares his experiences and expresses his emotions in the vibrant colors and joyful movements of his paintings and raw wooden sculptures.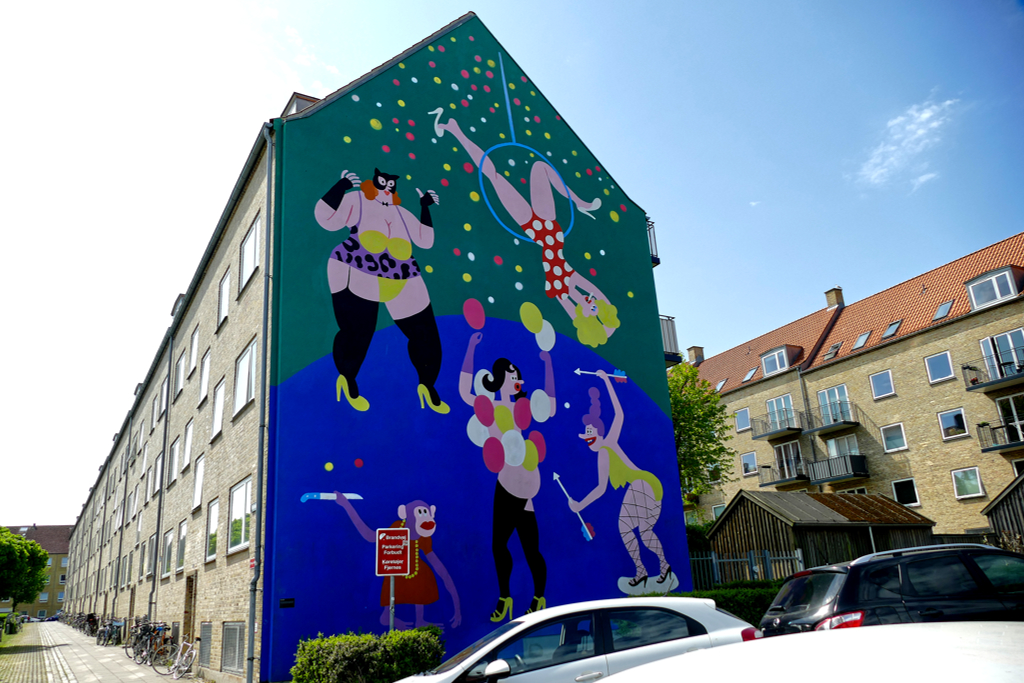 Due to his professional background as an illustrator and graphic designer, Manikhin makes use of a broad spectrum of bright colors and paints bold lines'n'shapes. His self-proclaimed mission is to spread joy and offer an escape into a light-hearted universe where all creatures can relish each other's company.
Roma Manikhin is based in Berlin. His paintings and sculptures are found at the museum Zuzeum in Riga as well as in private collections in Denmark, Italy, Sweden, Turkey, and the USA
Peter Birk
Peter Birk was born in Aarhus in 1985. Among the artists who curator Jens-Peter Brask commissioned for this project, Birk is one of the few who actually come from graffiti and street art. Actually, he is one of the leading Danish urban artists.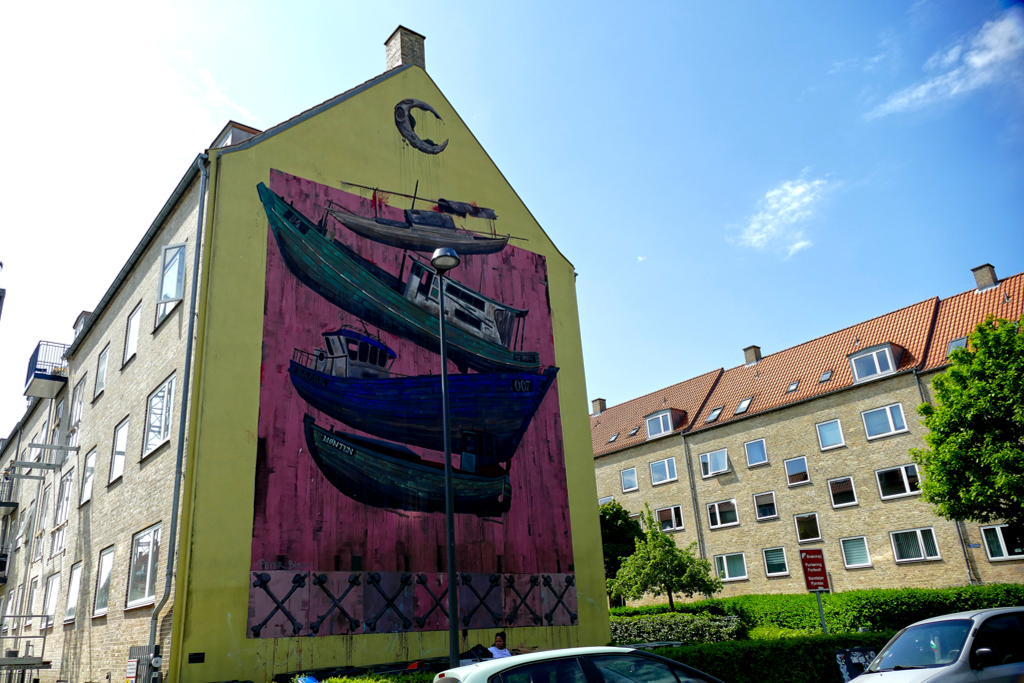 Birk is mostly known for his unique motifs and his creative approach to colors and compositions. As you can see in this mural depicting wrecked ships, Peter Birk currently focuses mainly on picturing decay.
Mikael B
Mikael Brandrup aka Mikael B or KETS was born in Holbæk in 1984. He studied graphic and web design at the Københavns Tekniske Skole. When he was 15 years old, he began to experiment with graffiti lettering. He practiced by setting up wood panels in his parents' backyard which he then covered with his graffiti name KETS.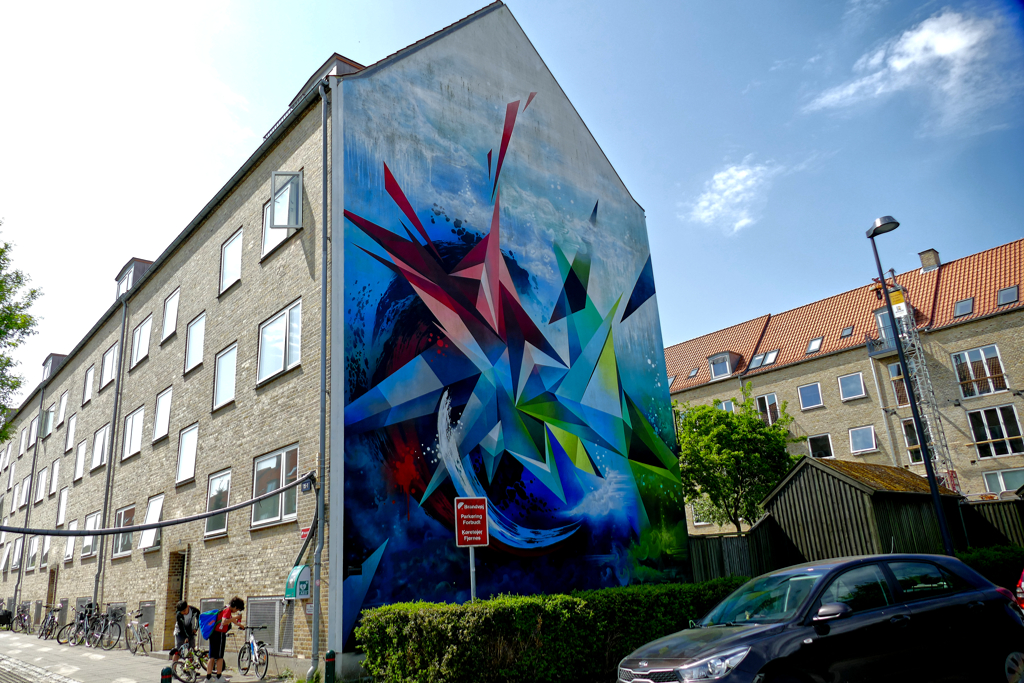 Today, however, Mikael B lives in Los Angeles where he works as a visual artist and graphic designer. Galleries in many European cities as well as in the US have presented his work in exhibitions.
Mikael B creates classic paintings and designs for everyday objects. However, he also is a great muralist.
CMP ONE
Claus Michael Pedersen aka CMP ONE is a Danish artist who was born in 1970.
In contrast to many of the other artists who have participated in this project, he is no street art rookie but has been an avid urban artist since the early 80s. CMP ONE is one of the founders of Danish street art and a legend. Also, he is well-known all over the world for his great talent which is reflected in his iconic style.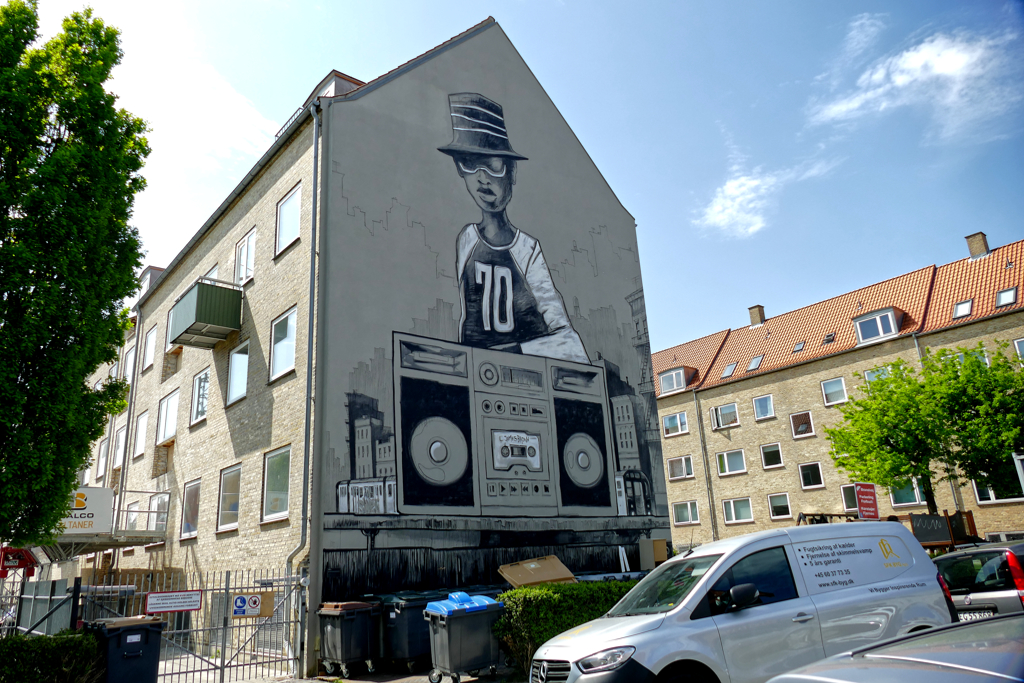 CMP ONE's style is rooted in his passion for hip hop from the Bronx and the grungy New York subway with trains covered in graffiti. Although CMP ONE is a master when it comes to large-scale murals, he also paints on canvas and draws with permanent markers in the tradition of the first B-boys.
Jakob Tolstrup
Born in 1983, Jakob Tolstrup is culturally mostly inspired by the 1990s when a group of artists became famous as the YBA which is short for Young British Artists. Apart from the Brits, Tolstrup also took inspiration from Japanese mangas. This way, he portrays his own bizarre cartoons in wildly ingenious paintings. His creations are witty, quirky, and bewildering just like a weird dream.
Today, Jakob Tolstrup resides in Copenhagen as well as Berlin.
Boy Kong
Boy Kong was born in Orlando in 1993. He is of Chinese-Vietnamese descent and works as a self-taught multi-media artist. He creates watercolors, paintings, collages, sculptures, and, obviously, murals. His motifs are rooted in Ukiyo-e, surrealism, and graffiti, obviously.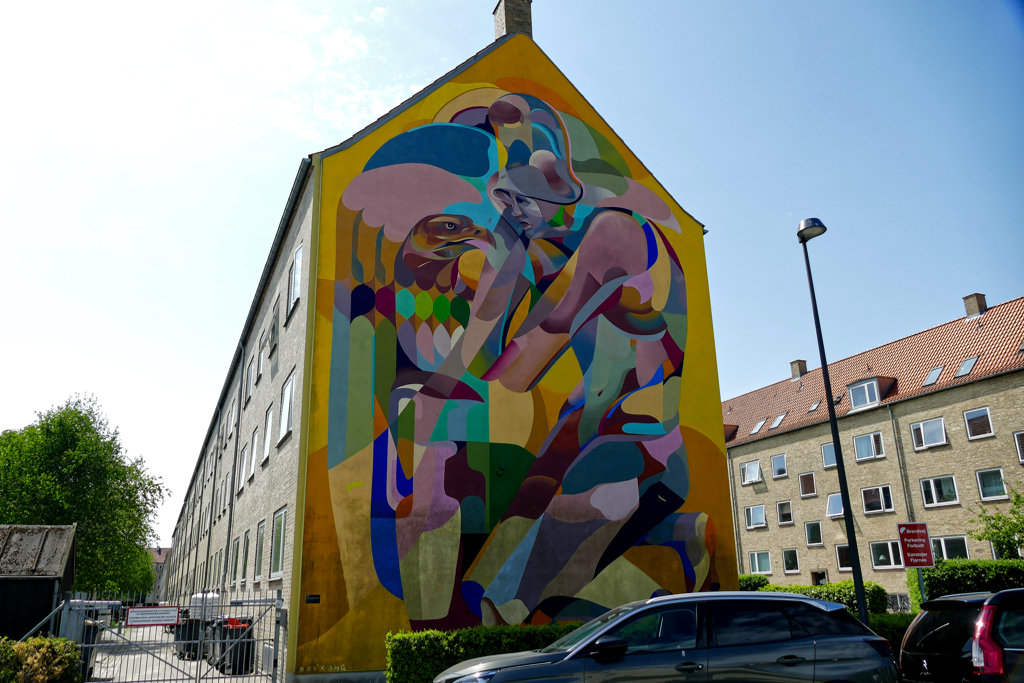 His work has been exhibited in a number of solo and group shows and is included in the corporate collections of Nike, WeWork, and Rag & Bone. His murals were commissioned by various significant institutions.
Today, Boy Kong resides in Orlando and New York City.
Victor Ash
Victor Ash aka Ash was born in Paris in 1968. Today, he resides in Copenhagen. He began his artistic career as a graffiti writer in the early 1980s. He was part of the Parisian graffiti collective BBC or Badbc.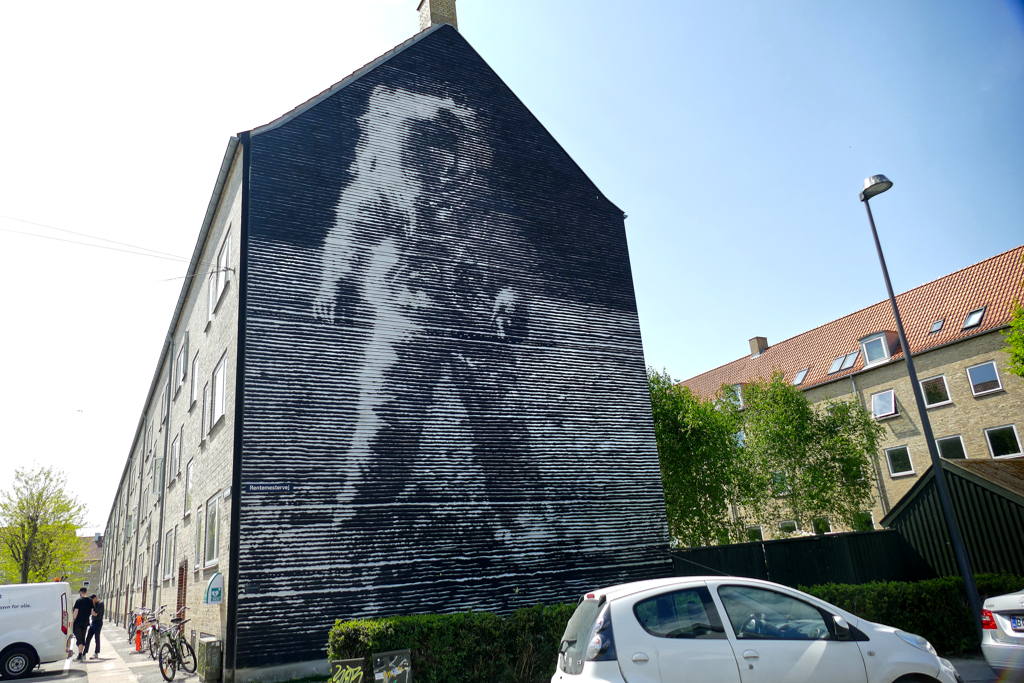 In 1989, French fashion designer Agnès b. invited Ash, JonOne, and several other graffiti artists to participate in the exhibition Les Peintres de la Ville, hence, City Painters in English. It took place at the Galerie du Jour in the hip'n'trendy neighborhood of Centre National d'art et de Culture Georges-Pompidou. Actually, this was the first time Ash presented his paintings inside a gallery.
To this date, Ash has left his traces in various cities around the world. Especially the murals he created in the German capital Berlin made him a street art legend. However, I introduced him also in my post Street Art in SEVILLE: Arte Para Todos in the San Pablo District as well as in the street art section of my post on Puerto de la Cruz.
There is More
So yes, these are the works that were created within Jens-Peter Brask's Open Air Gable Gallery Project. Apart from Nordvest, you'll also find many great murals in the judiciously gentrified district of Vesterbro west of the main station. However, you'll find amazing urban art basically everywhere in Copenhagen, albeit not at a high density as in cities like Berlin or Paris.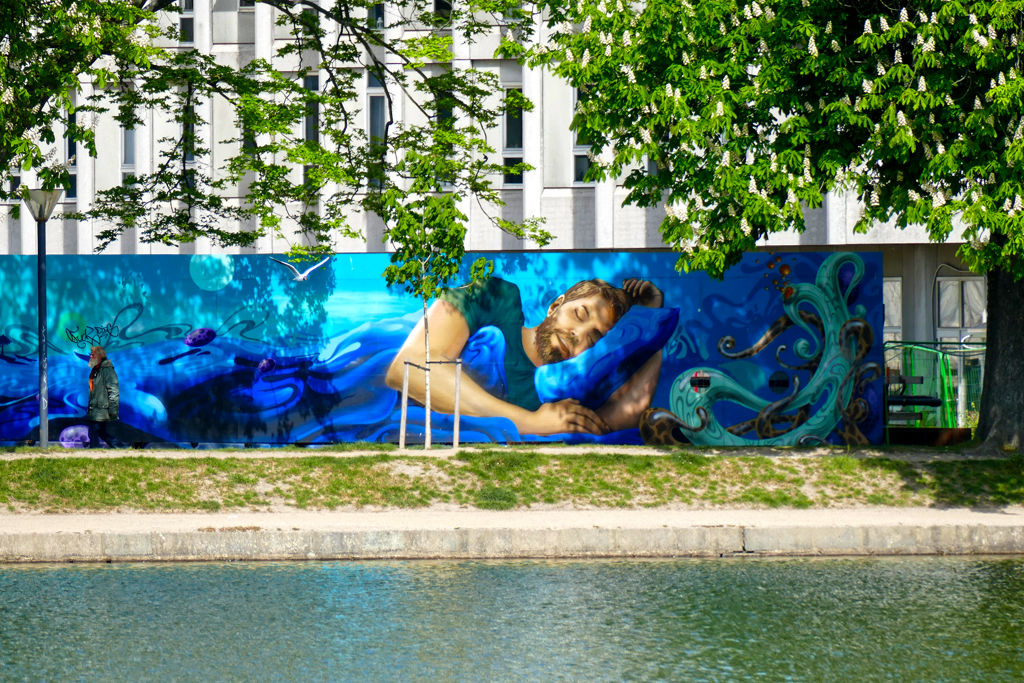 What I highly appreciated about Copenhagen- in contrast to for instance London and most of all Hamburg– is how murals are treated with respect. No so-proclaimed artist is smearing his pointless tag across a highly elaborate work. It's amazing to see murals that have remained undamaged for over 30 years.
Conor Harrington
One of my favorite murals in Copenhagen is by Conor Harrington who was born in Cork in 1980. He is known for his large-scale murals in which he combines contemporary and historical references to tackle socio-political themes.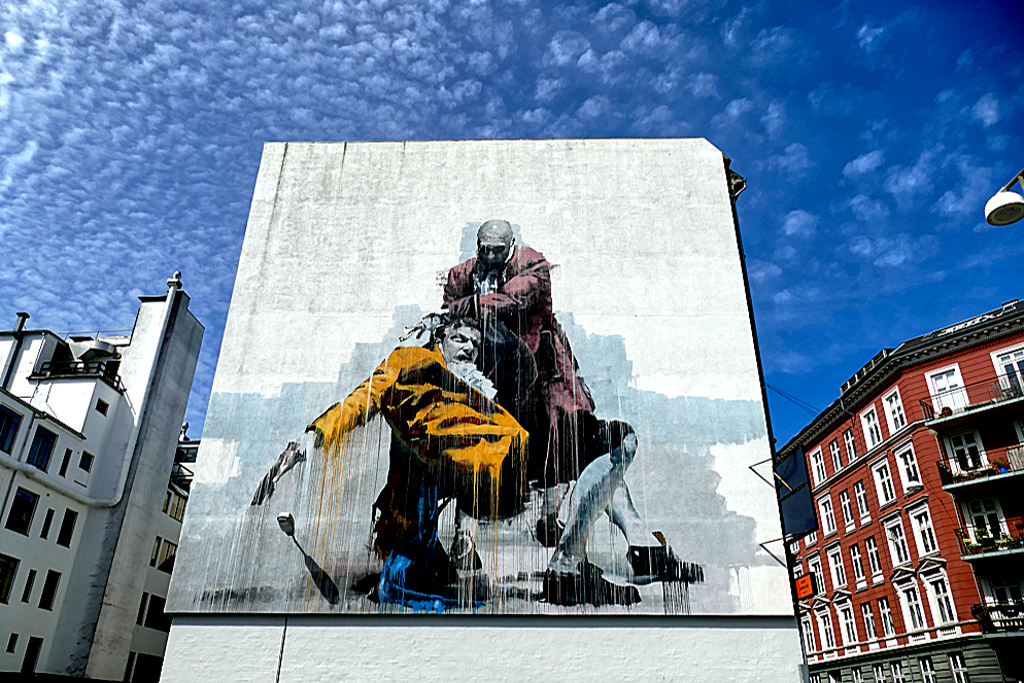 Conor's murals have a clear touch of Renaissance art to them as they capture not only the movement and expression perfectly but also express a particular mood in a powerful way. Historic events are often the center of Harrington's gigantic murals. In Copenhagen, he was one of only six artists who participated in Søren Solkær's Surface Project in 2015.
I introduced another one of Conor Harrington's impressive portraits in my post on the Best Street Art in Paris.
Mruta Hashim Bushiri
This piece on Sankelmarksgade is the most special mural in this post, maybe even in all of Copenhagen due to the stories behind it. Mruta Hashim Bushiri from Tanzania painted it in the traditional style developed by Tingatinga in 1991.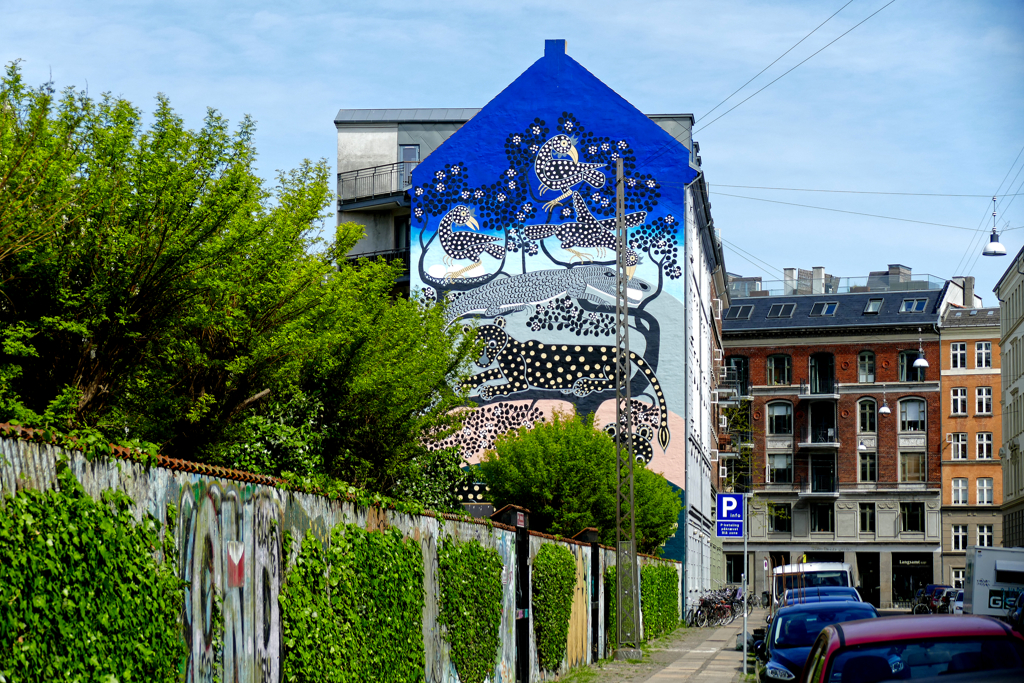 Edward Saidi Tingatinga was a Tanzanian painter. The local Tingatinga art movement was named after him. Mruta Hashim Bushiri was a retired police officer in Dar es Salaam and Tingatinga's cousin. He joined the artist's students in taking lessons and soon mastered this art brilliantly.
Mruta became a well-known Tingatinga painter himself and after his cousin passed in 1972, he became one of the founders of the Tingatinga Partnership continuing the legacy of teaching students in this technique.
I'm not only impressed by this story but by the fact that Mruta's mural has been in Copenhagen since 1991 and no self-proclaimed graffiti artist has vandalized it by spraying his pointless tag across it. Man, cities like London and Hamburg have so much to learn when it comes to respecting urban art!
Peter Abelin and Erik Jerichau
Walking down one of Vesterbro's main streets Halmtorvet, suddenly you spot a building opening to the sky. On a sunny day, you might actually think for a moment that you are looking through an arch.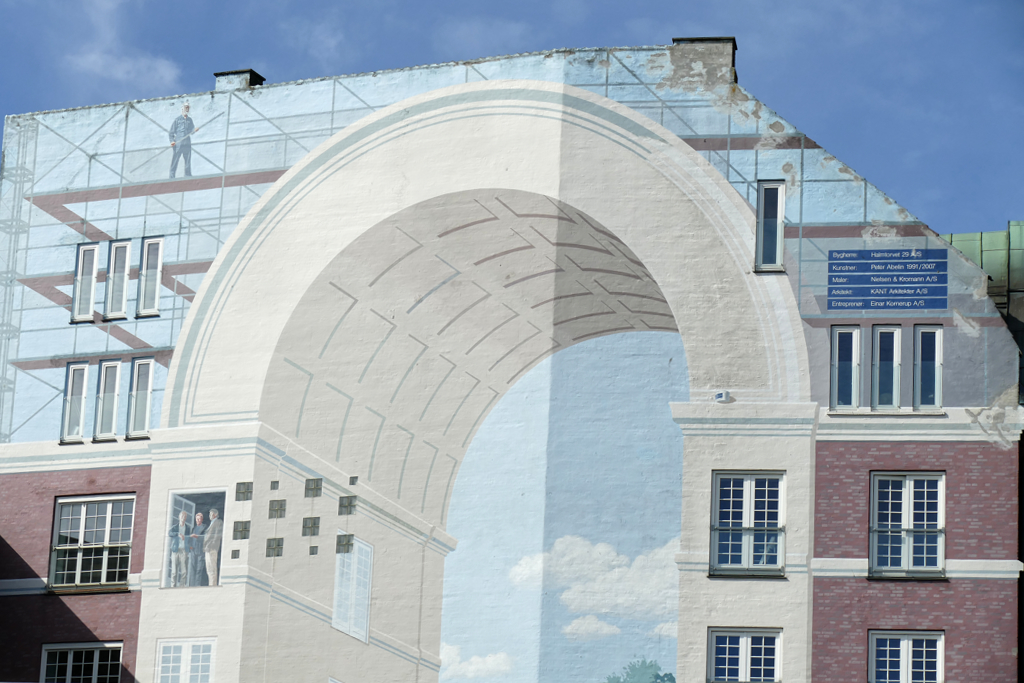 This absolutely amazing trompe l'oeil was created by Peter Abelin and the graphic artist Erik Jerichau on the pharmaceutical company Nomeco's building back in 1991.
On Instagram
To dig deeper into the subject and see more of the amazing art the above-featured artists have created, you can just check out their Instagram accounts:
Peter Abelin
AIKO
Victor Ash
Peter Birk
Boy Kong
Mikael Brandrup
Anders Brinch
CMP ONE
DABSMYLA
Connor Harrington
Husk Mit Navn
Erik Jerichau
Roma Manikhin
Coline Marotta
Timmi Mensah
Mason Saltarelli
Jon Stahn
Jakob Tolstrup
How to Get Around
Cycling
Although the Nordvest neighborhood is not in the very center, going there by bicycle takes less than half an hour and is therefore highly recommended. This way, you have the freedom of your own mean of transportation and can still move from mural to mural quicker than by walking. Copenhagen is number one among Europe's most cycle-friendly cities, hence, you'll be amazed by the comprehensive network of bicycle lanes!
I assume you won't bring your own bike. Obviously, this is not a problem since there are many places where you can rent bikes.
Public Transport
The second-best way to explore Copenhagen's street art is by walking. Since Nordvest is on the outskirts of the very city center, you'll need to get there by bus or subway. Also, if you want to explore more of Copenhagen's street art, you probably won't be able to avoid taking public transportation. Fortunately, as in basically every European city, there is a comprehensive network of public transportation in Copenhagen. The most important means are the metro, trams, and buses.
A single ticket within the city center costs 24 DKK. You can buy tickets from machines as well as at 7-Eleven kiosks at the train and metro stations. If you prefer, you can also buy tickets online or download the app called DOT Billetter.
If you are planning on taking public transportation more often, you might want to purchase a so-called City Pass. This pass comes in various versions. You'll probably need either the City Pass Small or the City Pass Large. Still, you can check out all options on this website.
While the small version grants unlimited access to buses, trains, metro, and harbor buses in the city center including the airport, the large version also includes all trips to Roskilde and all destinations in Northern Zealand. You can choose either pass for 24, 48, 72, 96, or 120 hours. The costs for the small one ranges from 80 to 300 DKK and the large one sets you back between 160 to 600 DKK.
Map
This map should help you to find the murals I'm introducing in this post. Clicking on the slider symbol at the top left or the full-screen icon at the top right will display the whole map including the legend.
Searching for Street Art was only one of many fun activities on my visit to Copenhagen. To read about the rest, go to this comprehensive guide where you'll find further valuable information that will make your own trip much smoother and more enjoyable. If you have only a short layover in the city, my post 24 hours in Copenhagen has you covered.
Pinnable Pictures
If you choose to pin this post for later, please use one of these pictures: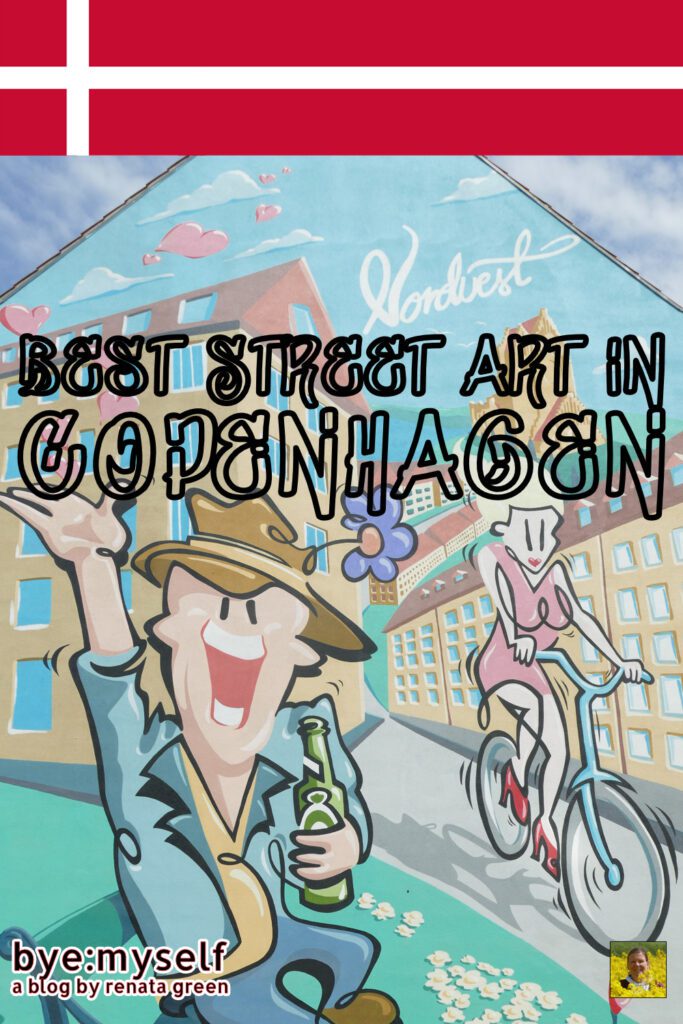 Did You Enjoy This Post? Then You Might Like Also These: