Santa Clara – a place where to this date you can relive the history of Cuba 's revolution.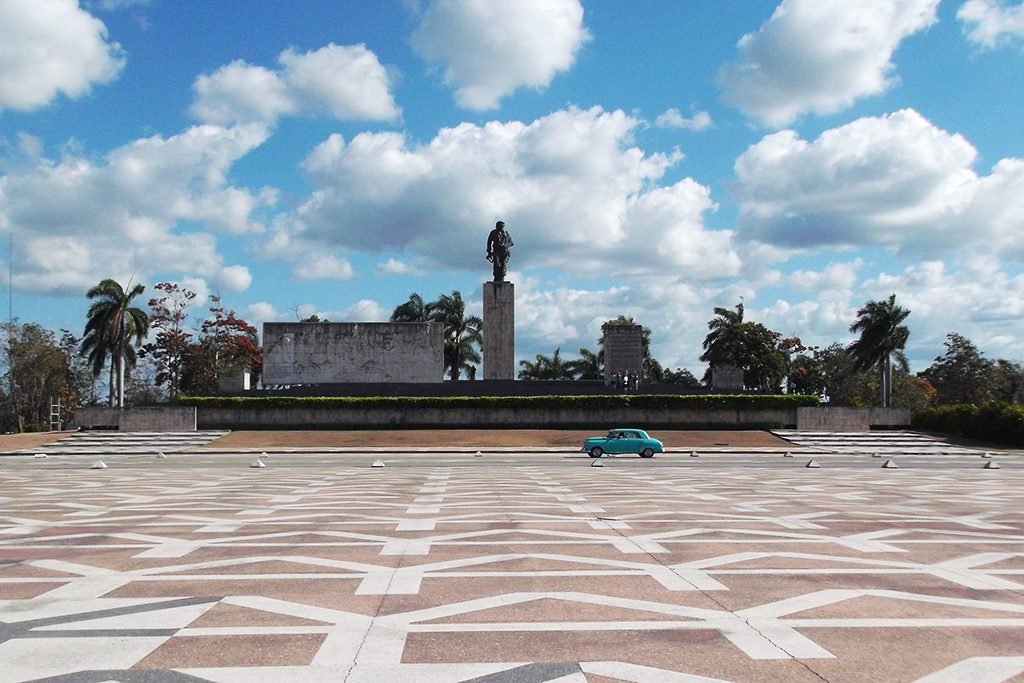 With the historic Hotel Santa Clara Libre at the Parque Vidal, the Mausoleo Che Guevara, the revolutionary's last resting place, and the Toma del Tren Blindado site, Santa Clara is still breathing revolution.
After the touristy amusement park that is Trinidad, the bus "back to Cuba" took me to Santa Clara. This city, on the other hand, is totally unspoiled by foreign tourism.
Santa Clara's Key Role
The city was founded in 1689 and named in honor of Saint Clare of Assisi.
Santa Clara was strategically highly important during the Cuban revolution against the corrupt Batista regime.
Lead by commandant Che Guevara, the guerillas brought an armored train on the outskirts to a halt. Then, they looted weapons and supplies. As a matter of fact, the subsequent two-day fight was Che Guevara's greatest military achievement.
Hence, after two years of guerrilla warfare ended. In fact, the rebels had fought against a numerically far superior government army in the mountains of the Sierra Maestra. After the blows of Santa Clara, however, the way to the capital Havana was free.
Finally, on January 1, 1959, dictator Fulgencio Batista fled Cuba to the USA.
A Walk in the Park
Like every decent Latino city, Santa Clara also has a central park. Here, it's called Leoncio Vidal after the Cuban revolutionary who fought for Cuba's independence in the late 19th century.
Following his revolutionary example, Santa Clara was a hotspot during the revolution.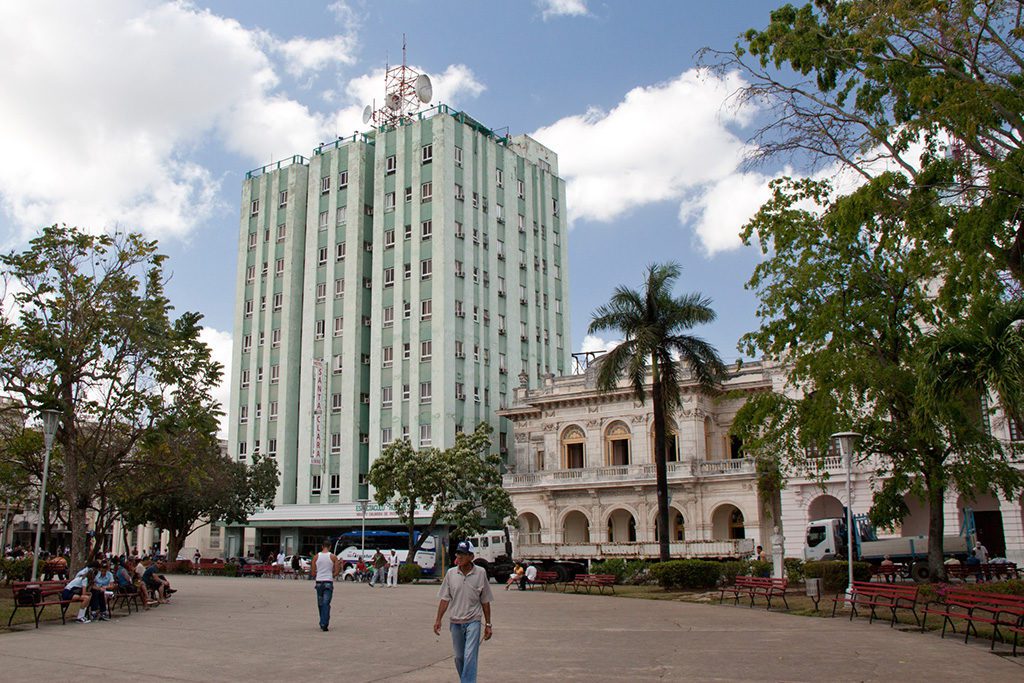 On the south-west side of the park is the famous Hotel Santa Clara Libre. It was built in 1954. Since it's Santa Clara's highest building, the revolutionaries used it as a strategical observation point.
Today, it still is a hotel and on the ground floor, it houses a movie theater called after Camilo Cienfuegos. Probably, there were already too many places called after Che. Hence, they picked his rebel buddy to name the cinema.
Yes, it is a big hotel with air-condition and whatnot. Nevertheless, you'll be always much more pampered if you stay with a family at a Casa Particular, take it from me.
Taking the Armored Train
This subheading is misleading – you cannot take the armored train. As a matter of fact, the armored train was taken. I've sketched this event above.
It was in 1958 that Che Guevara's men and raided the train that transported weapons, ammunition, and provisions for Batista's troops.
Cuban artist José Delarra designed a memorial by using four authentic wagons.
The memorial is open from Monday to Saturday from 9 a. m. to 5.30 p. m.
Only a five minutes walk further east is the statue Che con niño which shows…Che with a child. There are many melodramatic and a tad cheezy memorials around Cuba. To me, Che con niño takes the cake.
Hasta Siempre, Commandante Che Guevara
The most important landmark, however, is the Museo y Monumento Memorial Comandante Ernesto Che Guevara west of the city center.
This monumental complex represents the glory of the revolution. The monument was designed by architect Jorge Cao Campos and sculptor José Delarra. In 1988, on the occasion of the 30th anniversary of the battle of Santa Clara, the monument was unveiled in the presence of Raul Castro.
A mighty-looking six-meter-high bronze statue of Che Guevara dominates monument's center. Che is shown in full combat gear with an arm in a cast. He had broken his arm in a decisive battle.
The bas-relief around the statue shows combat scenes and quotes from the farewell letter he wrote before leaving for Bolivia.
There, the Comandante was arrested and murdered in 1967. Only in 1997, archaeologists in Bolivia found his remains and those of six of his comrades.
After his remains were transferred to Cuba, he was buried with full military honors on October 17, 1997. Only then, Che Guevara's mausoleum was added to the monument.
Both, the museum as well as the mausoleum are located at the rear of the monument. At the mausoleum are the remains of 38 revolutionaries.
The museum was designed by Blanca Hernández Guivernau and shows personal items from Che Guevara's life.
The mausoleum is open daily from 8 a. m. to 9 p. m.
On Duty
As a matter of fact, at the mausoleum, I couldn't help but remember how I waited over an hour in the sun in front of the Etecsa phone company in Viñales to buy a scratch card for the internet.
Well here, at the museum, three ladies were standing at the entrance, barking at everybody who used the 'wrong' door to appreciate the late Ernesto Guevara's belongings and life story.
Apart from the fact that people would have found out pretty fast that they started the tour at the wrong end of his lifeline, I believe that one woman barking orders to use the other door would be enough.
Nope, three women standing side by side barking that Ernesto's life began with his birth and not his death.
Well, a centrally planned economy has definitely its flaws.
Streetart
Besides the main revolutionary spots, Santa Clara surprised me with lots of street art. Compared to other Latin American countries such as Colombia the murals are less angry, powerful, and rather tamed. But interesting just the same.
Apart from the well-known trio Castro, Guevara, and Cienfuegos, there is another memorial dedicated to another boy group – the most famous one from Liverpool.
On December 8, 2014 – hence, the date John Lennon was murdered – artists Guillermo Pérez Alonso, Wilfredo Rodríguez, and Liván Díaz designed one streetcorner to honor this band that – yes: revolutionized! – the world of music.
Another nice activity is just walking around, observing Cuban life, visit a cigar factory, and buy some cigars. A perfect spot to do so is
Fabrica de Tabacos Constantino Pérez Carrodegua
Calle Maceo 181
Santa Clara
Mind you, you have to buy the ticket one day before your visit.
A place to buy some high-quality good cigars is just across the street from the factory – not cheap = no cheat.
La Veguita
Calle Maceo 176
Santa Clara
Map
This map should show you all the places I mentioned in this post that are worth visiting:
Practical Information
How to Get There and Around
By Plane
There is actually an international airport in Santa Clara. The Aeropuerto Abel Santamaría was, obviously, named after the Cuban revolutionary. What else have you expected from this cradle of revolutions?!
Flights from Canada, Italy, Germany, and various Latin American destinations are bringing travellers who are mainly heading to the Cayo Santa María and other isles off the northern coast.
There should be domestic flights to Cayo Coco and Manzanillo, but you might want to double-check if and when those flights are scheduled.
By Bus and by Train
There are two buses between Havana and Santa Clara operated by Viazul. Also, you can get from Santa Clara south via Cienfuegos to Trinidad and north to Camagüey.
If you want to try your luck, there should be a train from Santa Clara to Havana. The trip takes a bit over six hours and you shouldn't count on this option – as I explained in the main post on Cuba.
Where to Stay and to Eat
Praising Cuba's private businesses: One of the best restaurants with excellent food, friendly service, and a very pleasant live background music is the Florida Center. It is located about two blocks East of Parque Vidal on the calle Colón. It was one of the very best places I visited in Cuba.
Besides the restaurant, Florida Center* is also a highly recommendable casa particular on Calle Maestra Nicolasa.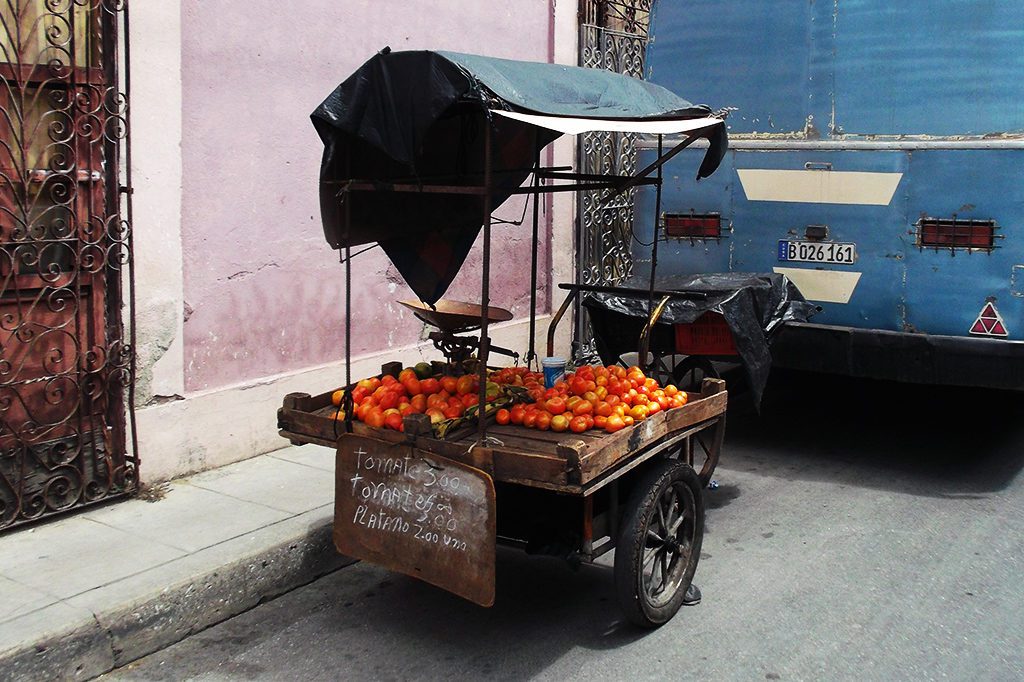 There is another place I'd like to recommend – maybe just for a drink or possible for a nice snack.
Coming back from the Armored Train Park towards the city center, you cross the Rio Cubanicay. To your left is a small, very charming coffee bar called Café-Museo Revolución.
You should definitely stop there for coffee and a curious look around.
Café-Museo Revolución
Calle Independencia 313
50100 Santa Clara
Phone: + 53 – 5 – 2511017
The café is open from Monday to Saturday from 11 a. m. to 11 p. m.
Cash and Cards and Connection
There is an Etecsa Office one block west of the Parque Leoncio Vidal on Enrique Villeundas. On this page you'll find ETECSA's complete list of hotspots. To narrow it down, you need to choose Villa Clara from the dropdown menu Provincia and Santa Clara from Municipio. Then, you'll see all the places where you can access the internet.
Santa Clara is a big city, consequently, there are banks and ATMs. There is a BANDEC on Máximo Gómez and ATMs on Maestra Nicolasa and Céspedes just one block north from the Parque Leoncio Vidal.
Until the end of 2020, there were two official currencies: The CUP – Peso Cubano – and the CUC – Peso Convertible. The socialist island state has had this confusing dual currency system since 1994.
However, since the beginning of 2021, only the Peso Cubano keeps circulating. The exchange rate is 24 CUB to one US$. This unification of the currencies is expected to grant Cuba's citizens equal opportunities and social justice.
Already in July 2020, Cuba had abolished the ten percent tax on US$ purchases that had been in force since 2004. Since then, in some shops, certain products can also be paid for by card in the US currency.
Since this novelty is still in progress, obviously, some prices in my posts on Cuba still quote the Peso Convertible CUC – as do many Cuban websites. I hope that they'll correct their sites asap so that I can adjust the information on my blog. However, if you don't want to wait: One CUC equals one US$, so that shouldn't be a big problem, after all.
Santa Clara was only one of many fascinating places I've visited in Cuba, obviously. Hence, to read about the others, go to the main post and take your pick! There you'll also find valuable general information that will make your trip smoother.
Pinnable Pictures
If you choose to pin this post for later, please use one of these pictures:
Note: I'm completing, editing, and updating this post regularly – last in November 2022.
Did You Enjoy This Post? Then You Might Like Also These:
* This is an affiliate link, obviously. So if you book through this page, not only do you get the best deal. I also get a small commission that helps me run this blog. Thank you so much for supporting me!