Paris' Charles de Gaulle Airport is the third-busiest hub in Europe after London and Istanbul. Therefore, chances are that you have a connection that you probably don't want to spend sitting on an uncomfortable metal chair munching on overpriced sandwiches. And this is exactly where this post comes to the rescue: It is designed to transform a dull layover into a short, meticulously planned extra vacation of up to 24 hours in Paris.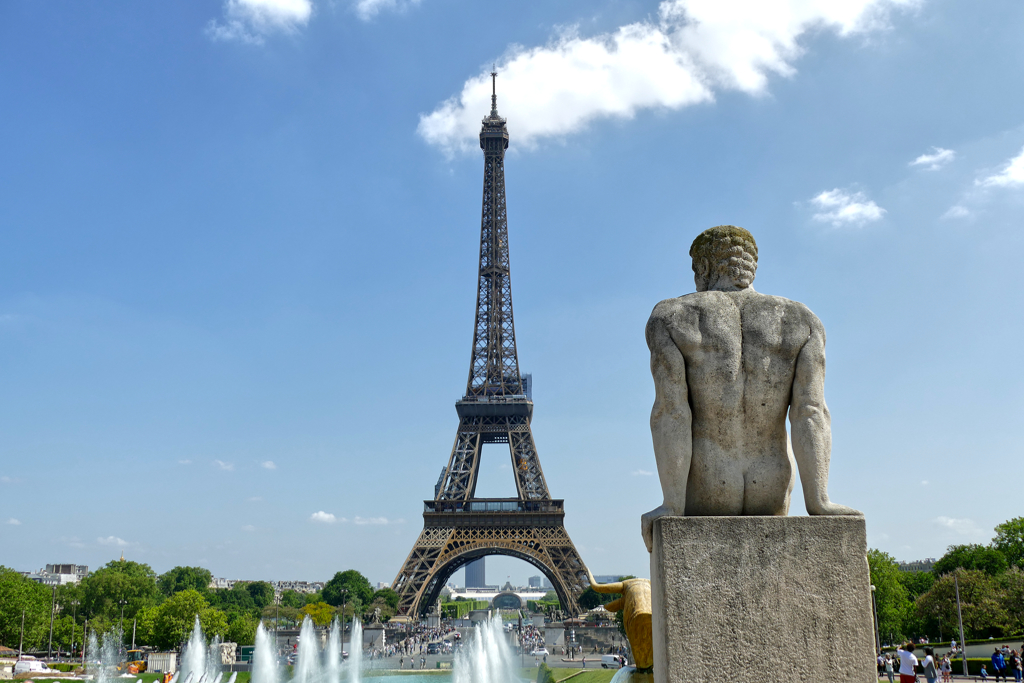 Now, you might think that 24 hours are far too little to explore the so-called city of lights. Of course, you are absolutely right, but this applies to almost every popular stopover destination. However, if you follow my itineraries, you'll be surprised how much you get to see and experience of the proverbial savoir vivre.
However, if you have more time to spare in the city, good for you! In my comprehensive post PARIS Museum Pass: Skip the Lines And See It All For Less, you'll find tons of places and activities to choose from.

Paris – With a Capital P
France has this system of centrality so that basically all important exhibitions and shows are presented rather in Paris than in any other French city. Here the capital is a capital with a capital…P.
Yet, I was keen to find as many sights as possible located in one area so that you don't have to travel crisscross town. Also, the hotel is right next to the Gare du Nord station which connects the city with all three airports. This way, it is absolutely worth the trip downtown if you have a couple of hours.
Local Currency
€uro / 1 €UR = 1.10 US$ as of July 2023 / current rate
Emergency Contacts
Police 17
SOS – all services (recommended when calling from a mobile) 112
National Airline
Airports
Charles de Gaulle / IATA-Code: CDG
Orly / IATA-Code: ORY
Beauvais / IATA-Code: BVA
Tourist Info Online and Onsite
Paris Tourist Office
Réception du Carrousel du Louvre
99 rue de Rivoli
75001 Paris
Getting Downtown and Back
There are three airports serving Paris: The two main airports are Charles de Gaulle in Roissy northeast of the city and Orly south of the center.
There is a direct local RER train going between Charles de Gaulle Airport and the city center. It costs 11.40 €uros and takes about half an hour to Gare du Nord and a few other stops within the city limits. However, there isn't a direct train line from Orly airport. Either way, you have to change between the Orlyval Métro and the RER at the Antony Train Station. A trip cost 12.10 €uros and takes around 60 minutes.
However, both airports can also be reached by more expensive airport buses: For 16.20 €uros, the Roissybus takes you to and from the Charles de Gaulle Airport in about 75 minutes. The stop is at 11, Rue Scribe close to the Opéra. Yes, it's actually more expensive than the RER and it takes longer. Beats me why people are taking it.
Anyway, there is also the Orlybus which takes you from the stop at Place Denfert-Rochereau in 30 minutes to the airport. It also costs only 11.20 €uros, hence, in this case, the bus is a better option than the RER.
Finally, Paris Beauvais airport is located further north and is served by budget airlines. There is a bus going between Beauvais and the city center by public transport. It goes to Porte Maillot from where it also leaves around 3 hours before the departure of scheduled flights. You can conveniently check the departure on their website. A single trip costs 16.90 €uros, and a roundtrip 29.90 €uros. The ride can take up to 90 minutes depending on the traffic.
Riding the Métro
One trip by Métro including all connections within 90 minutes costs you 2.10 €uros. In case you buy a carnet which is ten tickets, it only sets you back 19 €us and will cover the day. Just so you know, there is also the rechargeable carte Navigo. However, you have to buy a card for two €uros, hence, at the end of the day, you don't really save unless you come to Paris more often.
If you have luggage and do not spend the night, you can leave your belongings at the so-called Bagagerie Gare du Nord.
Morning Activities
Once you get to the Gare du Nord, you are actually within walking distance of one of the city's most iconic landmarks, the Basilica of Sacré-Coeur, as well as the most picturesque neighborhood, namely Montmartre. If you don't feel like walking for about fifteen minutes, you can take bus #54 at Gare du Nord and get off at the fifth stop which is Anvers – Sacré Coeur.
The name Montmartre stems from the Latin Mons Martis which translates to Mount of Mars. Accordingly, Montmartre is on a hilltop which grants you the best panoramic views of the cities. If you do not want to climb the starts, you can always take the Funiculaire de Montmartre for the price of a single Métro ticket.
On the mountaintop is the famous Basilica Minor Sacré-Cœur de Montmartre, a Roman Catholic pilgrimage church that was built in a neo-Byzantine style. Deviating from tradition, Sacré-Cœur faces north instead of east. Five domes are arranged around a cross-shaped central building based on the Byzantine standard.
Visiting Sacré-Cœur is free of charge. The entrance to the Dome is outside the Basilica to the left. Keep in mind that you have to climb 300 stairs, however, the panoramic view from up there is just amazing. The basilica is open every day from 10.30 a. m. to 8.30 p. m.
As Seen on Instagram
The entire area is very picturesque and represents everything John and Jane Doe expect to see on their first trip. While that's totally understandable, be prepared for large crowds pushing their way through the narrow streets.
The Place du Tertre dates back to the 14th century and I have no doubt that it was idyllic and picturesque at the time – or at the times when Toulouse-Lautrec, Picasso, and Modigliani lived in the neighborhood. Today, Place du Tertre is a zoo where you push your way through crowds of tourists who get their portraits painted by artists who are a bit less famous than Pablo Picasso.
Hence, hurry in the opposite direction, where the cobblestone-covered Rue Cortot leads to the Pink House.
The pink house has been an attraction in Paris for ages.
The painter Maurice Utrillo had already immortalized it in his pictures, and Picasso liked to enjoy refreshments here. All of this was before Instagram, obviously. Today, you have to be a fast shooter to get a pic without an upcoming influencer in it.
As you continue on the quaint Rue de l'Abreuvoir, you get to the Buste de Dalida. It's a bronze sculpture created by Alain Aslan. It is rumored that stroking Dalida's breasts brings good luck. Luckily, this superstition only caught on after her death….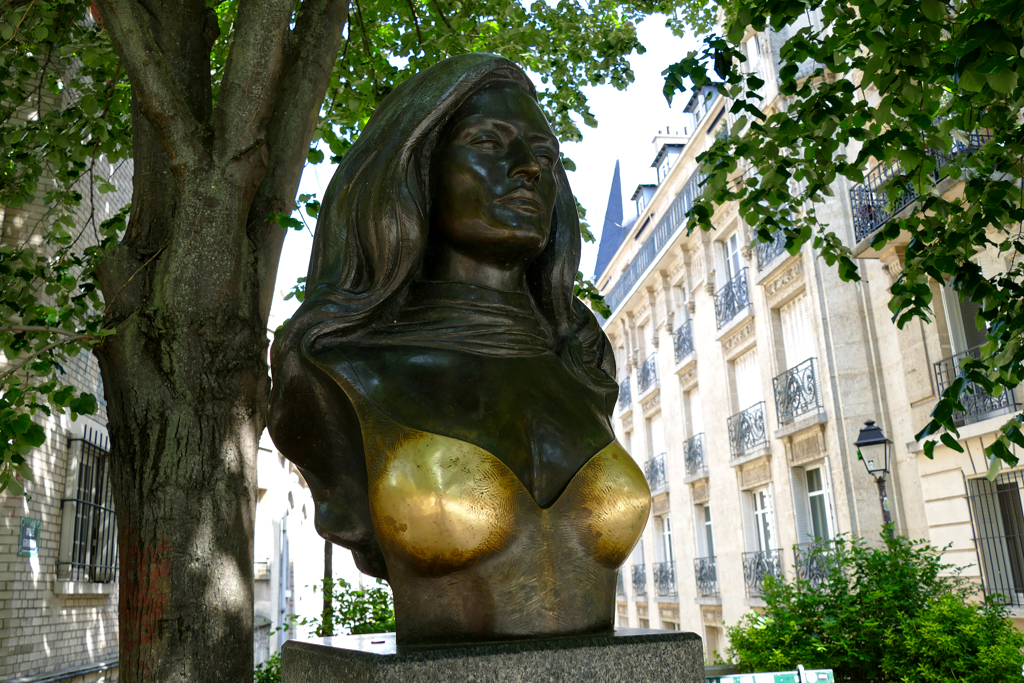 Fans of Dalida can also see her former house on Rue d'Orchampt and visit her grave at the Montmartre cemetery.
Either way, this graveyard will be the last stop on our morning tour.
As Seen at the Movies
Long before Emily came to Paris, Amélie took fans of movies as well as the city of Paris by storm. The Fabulous Destiny of Amélie Poulainis a French-German romcom from 2001 with the very charming French actress Audrey Tautou in the title role. It was shot in various spots around Montmartre.
Amélie used to work at the Café des Deux Moulins where to this day, you can enjoy local refreshments. Amélie's Apartment used to be on Rue Androuet. At the corner, you can shop for groceries at the Marché de la Butte. A few steps down Rue des Trois Frères is the legendary Fotomaton that played a key role in this very charming story.

Not far from Amélie's small world is the intriguing Mur des je t'aime, hence, the I love you wall in English. On the eastern façade of an older apartment building is the lettering I love you in over 300 variants and 250 languages.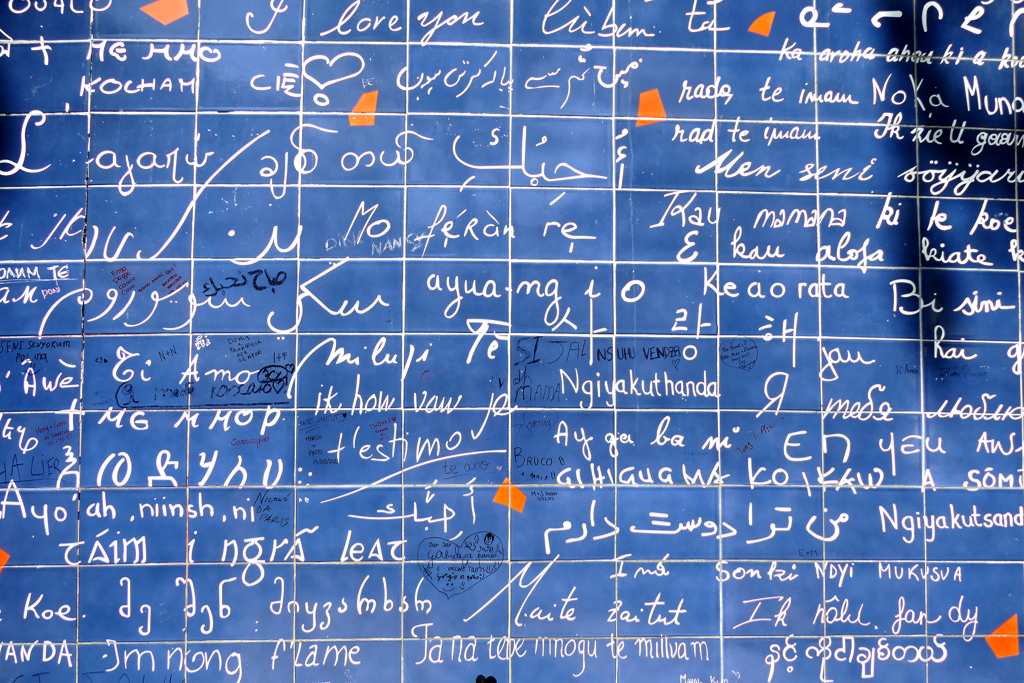 The idea is based on Jules Verne's journey around the world in 80 days. The initiator, Parisian singer Frédéric Baron, began to collect I Love Yous in 1992. His brother, who was a sailor, brought back new variants from distant countries.
Finally, the wall was created from 612 rectangular, dark blue enameled panels in 2000. Today, the Mur des je t'aime covers an area of incredible ​​forty square meters. It can be accessed on weekdays between 8 a. m. and 5.30 p. m. and on weekends from 9 a. m. until 5.30 p. m.
The Final Spot
While for around 20,000 people, the Cimetière de Montmartre is the final resting place, on our tour, it's just the last stop. While the Cimetière du Père-Lachaise is the city's largest and definitely most famous cemetery, the Cimetière du Nord – which is the graveyard's official name – is the oldest one and installed between 1818 and 1824.
Just like Père-Lachaise, it is a beautiful, serene park, and on your stroll on tree-lined paths, you'll spot the tombstones of celebrities such as composer Hector Berlioz, fashion designer Pierre Cardin, painters Edgar Degas and Francis Picabia, actress Jeanne Moreau, as well as singers France Gall and Dalida.
The graveyard is open weekdays from 8 a. m. to 6 p. m. On Saturdays, they open only at 8.30 a. m. and on Sundays only at 9 a. m.
From the cemetery, it's only a five-minutes-walk to the lunch place at Place de Clichy.
Morning Activities
It shouldn't surprise you that it's no biggy to spend an inspiring and fun day in Paris even if it's raining. Let's just visit some of the world's most famous museums.
While I cannot recommend the Paris Pass, you definitely should get a Paris Museum Pass*. It's valid for two consecutive days, which you probably won't need. But at a price of 55 €uros, it still will pay out if you follow this itinerary. And another advantage is even priceless: You don't have to wait in those crazy lines that tend to form at the entrances to the city's world-famous venues.
To learn more about the pass, please go to my post PARIS Museum Pass: Skip the Lines And See It All For Less.
Musée d'Orsay and Musée Rodin
One of Paris' most exquisite museums is definitely the Musée d'Orsay on the banks of the river Seine.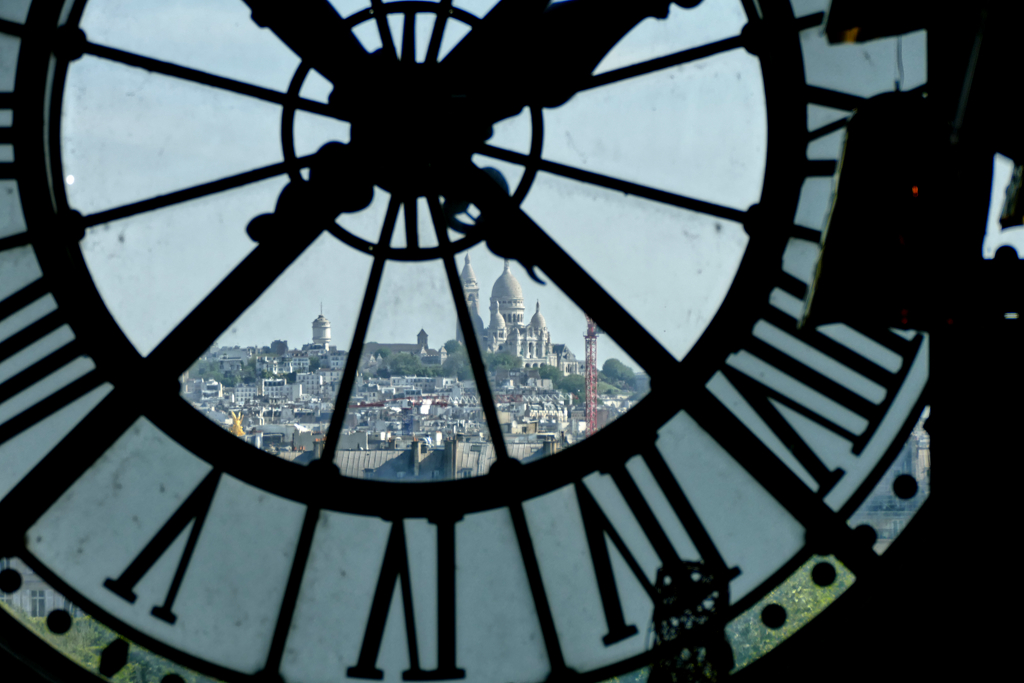 Getting there from the Gare du Nord is quick and easy: Take regional train RER B to Saint-Michel Notre-Dame from where you continue on RER C to the stop Solférino right next to the venue.
The Musée d'Orsay is housed in a former train station, the Gare d'Orsay. This station was built for the Paris International Exposition and used until 1939.
In 1986, the station was re-opened as a museum which now houses about 4000 paintings from the era 1848 to 1914 on 16.000 square meters.
The Musée d'Orsay is open from Tuesday to Sunday between 9.30 a. m. and 6 p. m. Thursdays, they are closing only at 9.45 p. m. The general entrance fee is 16 €uros for the permanent collection and you can buy a timed ticket online*.
Just a few steps from the is one of my other favorites, namely the Musée Rodin.
The beautiful Hôtel that today houses the museum was completed in 1732. In 1909, Auguste Rodin rented four rooms in the building that became the Musée Rodin in 1919. His works are presented in a very alluring fashion in the mansion as well as in the spacious park.
The Musée Rodin is open from Tuesday to Sunday between 10 a. m. and 6.30 p. m. The general entrance fee is 13 €uros and you can buy a timed ticket online*.
At neither of these museums is it necessary to book a time slot with your Paris Museum Pass.
Note that there is a combi-ticket for both museums for 24 €uros – in case you don't have a Paris Museum Pass*.
Lunch
Léon de Bruxelles is actually a chain restaurant but it is far from being junk food. Actually, they specialize in mussels, but you can also order meat and veggie dishes. Howsoever, this eatery is popular with locals and visitors alike and the big advantage is that you find them all over Paris – and many other French cities.
Hence, as you are coming from the Cimetière de Montmartre on a sunny day, your branch is in Place de Clichy Square.
On a rainy day, you get there from the Musée Rodin by taking Métro #13 at Varenne and get off at Paris Montparnasse. From there, it's a one-minute walk to 82 Boulevard du Montparnasse.
You'll find both branches on the map at the end of this post.
At Place de Clichy, they open every day from 11.45 a. m. to 11 p. m. Fridays and Saturdays, they are closing only at midnight. The branch at Montparnasse, however, opens daily from 11.30 a. m. until midnight and Fridays and Saturdays until 1 a. m.
Afternoon Activities
From Place de Clichy it's a half an hour walk to the Arc de Triomphe in the center of Place Charles de Gaulle. However, Métro #2 takes you from Place de Clichy straight to the stop Charles de Gaulle – Étoile in just ten minutes.
The triumphal arch was commissioned by Emperor Napoleon I after the Battle of Austerlitz to celebrate his victories in 1806. Construction was finished in 1836. Beneath the arch lies the so-called Tomb of the Unknown Soldier. An Eternal Flame is burning in memory of the unidentified soldiers fallen in WWI.
At a height of 50 meters is a viewing platform from where you have fantastic views of all of Paris – from Sacre Coeur down the Champs Elysee, from the Eiffel Tower to the skyscrapers of La Défense. However, I was surprised that there isn't even the slightest warning that climbing the 284 steps of the spiral staircase can be quite a challenge. Yes, you guys, climbing all the way up in circles within a rather narrow staircase can be an issue for some folks, so consider that before buying your ticket.
The arch can be climbed every day from 10 a. m. until 10.30 p. m. for an entrance fee of 13 €uros. You can buy individual tickets on this website*.
Gardens And Squares
As you walk from the Arc de Triomphe down the Champs Elysee with all those luxurious flagship stores left and right, you'll finally reach the Place de la Concorde, the city's largest square. However, it is only the second-largest square in France after the Place des Quinconces in Bordeaux.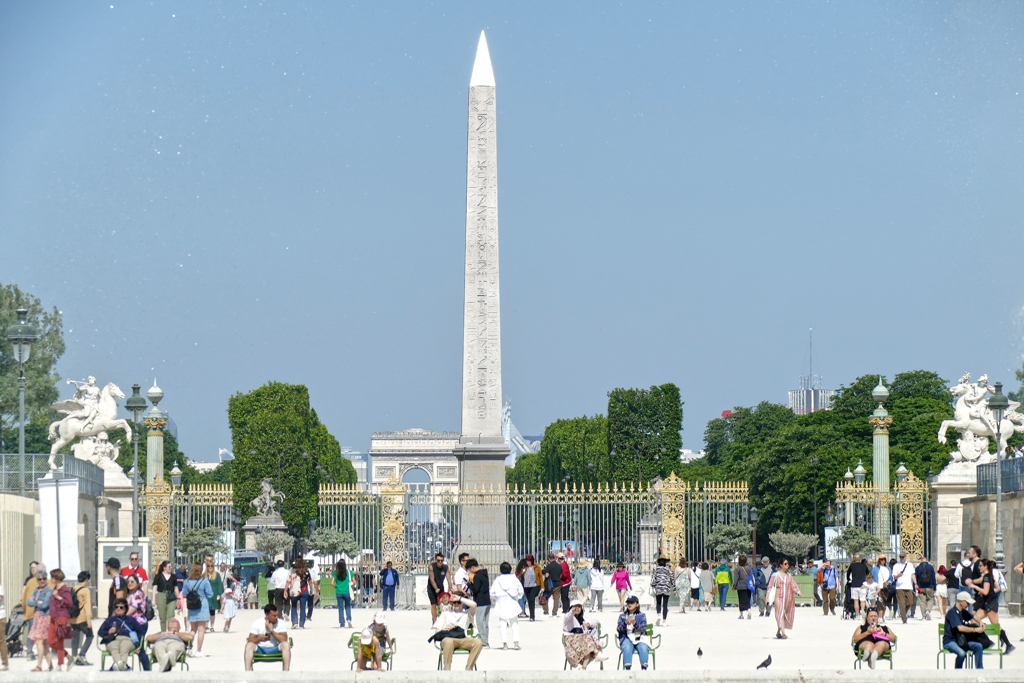 Its most prominent feature is the 23.5 meters high granite Obelisk. It stems from the 13th century BC and comes from the Temple of Luxor. Muhammad Ali Pasha gifted it to King Louis-Philippe and it was erected in Paris in 1836. It is one of the landmarks marking the so-called Ax Historique between the Louvre, the Arc de Triomphe, and beyond.
Adjacent to the Place de la Concorde is the beautiful Jardin des Tuileries, the Louvre's former palace park. To me, this is one of the most French icons, and in fact, it has been immortalized in many works of art such as paintings and also compositions.
At the time the Palais des Tuileries was built, the western side of the garden was designed in the Italian Renaissance style for Queen Catherine de Medici who was born in Florence and became a French queen from 1547 to 1559 by marriage to King Henry II. It remained a private Royal garden until the revolution.
The garden is open every day from 7 a. m. to 9 p. m.
The Ultimate Highlight – Literally
You cannot visit Paris without seeing the Eiffel Tower! If you don't feel much like walking, you get a great view from the beautiful Pont Alexandre III west of the Place de la Condorde.
Alternatively, you can walk across the Invalides complex to the Champ de Mars. From there you have a completely unobstructed view of the iconic 330-meter-tall iron-frame tower.
Built from 1887 to 1889, Gustave Eiffel designed it as a monumental entrance portal and a lookout tower for the world exhibition commemorating the 100th anniversary of the French Revolution. At that time, the tower was the tallest building in the world. In 1930, however, the Chrysler Building in New York took over.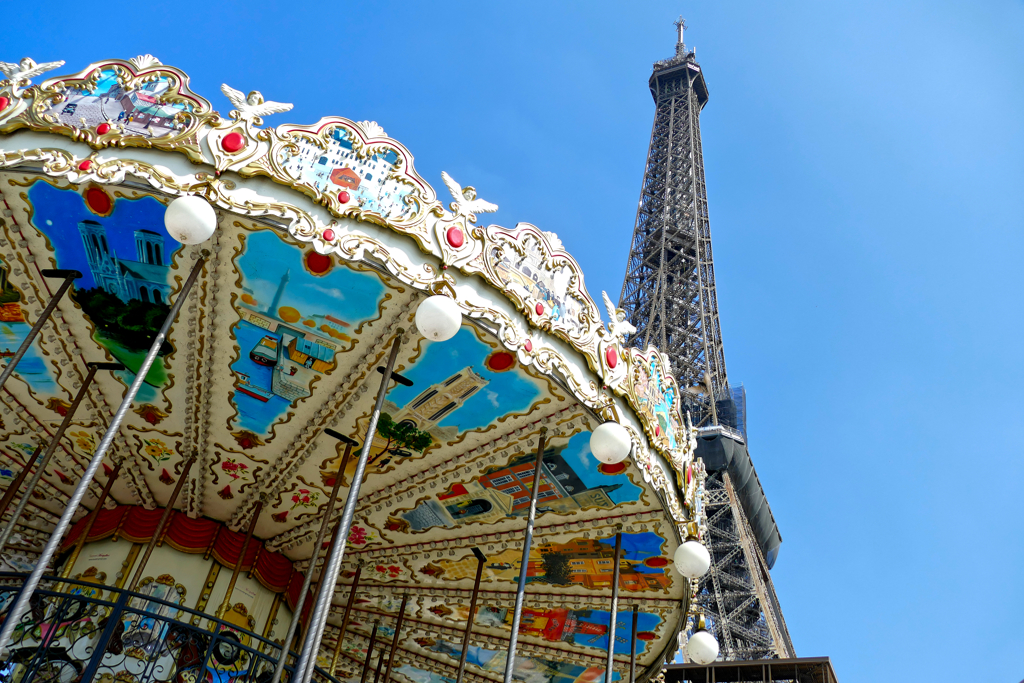 The tower became a significant part of French radio and television as the transmitter of the first European public radio program in 1921 and the first French television program in 1935. It is still the most important transmission system in the greater Paris area. As the city's tallest building, it is still the most important feature in the cityscape. With around seven million visitors every year, the Eiffel Tower is one of the world's most visited landmarks.
The Eiffel Tower is open every day from 9.30 a. m. until 10.45 p. m. There are various ticket options depending on which level you want to visit and if you're willing to climb the stairs or prefer taking the elevator. Either way, you can buy your ticket online*.
To get from the Champ de Mars to the dinner place, hop on the Métro #8 at École Militaire and get off at Grands Boulevards. From there it's less than 80 meters.
Afternoon Activities
What better way of visiting two of Paris' most significant art museums than a moody rainy afternoon?! To get to the northern bank of the river Seine – or the rive droite, as Parisians call it – take Métro #12 at the Montparnasse station and go to Concorde. From there, it's only a five minutes walk to the Musée de l'Orangerie.
Musée de l'Orangerie
During the Third French Republic in the 19th and 20th centuries, the Orangerie was used as barracks, for storage, as well as a venue for concerts and even for sports. Obviously, there were also various exhibitions taking place in the building. In 1921, the Orangery as well as its twin building, the Jeu de Paume, were planned to become a branch of the Musée du Luxembourg, dedicated to contemporary art.
Today, the Musée de l'Orangerie is best known for the two halls with Claude Monet's water lily paintings. These paintings are 2 meters high and form a total length of over 100 meters. The French Surrealist André Masson called these water lily displays the Sistine Chapel of Impressionism.
In addition to these early 20th-century paintings by Monet, the museum owns a vast collection of impressionist works.
The Musée de l'Orangerie is open from Wednesday to Monday between 9 a. m. and 6 p. m. for a general entrance fee of 12.50 €uros. You can buy tickets for reserved time slots on this website*. However, if you have a Paris Museum Pass, make sure to book a time slot in advance!
Musée du Louvre
Yes, the big moment is here, we are going to what's probably the world's most famous museum, the Musée du Louvre. From the Musée de l'Orangerie, you can either cross the Jardin des Tuileries by walking. Or, if it's raining too hard, take bus #72 from Concorde – Quai des Tuileries to Pont des Arts.
Today's art museum is housed in the historic Louvre Palace. Built in 1190, the building was initially a defensive castle. Eventually, it served numerous governmental purposes. Between the 14th and 18th centuries, it was a royal residence. Since its opening in 1793 in the course of the French Revolution, the collection has grown to over 380,000 pieces. However, only about a tenth is on display at a time. A size of almost 73,000 square meters and around 10 million yearly visitors make the Louvre not only the largest but also the most visited art museum in the world.
Here you can admire some of the world's most famous works like the Mona Lisa by Leonardo da Vinci, Wedding Feast at Cana by Paolo Veronese, The Coronation of Napoleon by Jacques-Louis David, Liberty Leading the People by Eugène Delacroix, as well as amazing sculptures like the Venus de Milo, to name just a vanishingly small number of masterpieces.
The Musée du Louvre is open from Wednesday to Monday between 9 a. m. and 6 p. m. Fridays, they are closing only at 9.45 p. m. The general entrance fee is 15 €uros on the spot and 17 €uros if you buy a timed ticket online*.
Don't forget to book a time slot with your Paris Museum Pass!
Dinner
When I travel, I try to find this mom-and-pop eatery where I rub shoulders with locals. A place where the average towny enjoys his or her lunch. Bouillon Chartier has been a Parisian culinary institution for over a hundred years.
The first Bouillon Chartier opened in 1896 and is located in a back building on Faubourg-Montmartre. The interior is designed in an art deco style and hasn't practically changed over the decades.
The spacious hall offers seats for over 300 people and looks a bit like an old-fashioned train station eatery. It even has a large clock on the wall!
The busy waiters are pacing between the small tables in long white aprons, black vests, and bow ties.
They write down the order right on the paper tablecloth in front of you where they also sum up l'addition at the end of your meal.
Good news: They are open every day from 11.30 a. m. until midnight.
Bad news: They are not taking reservations – and very often, the queues are quite long.
Nightcap
Why not combine the nightcap with a visit to one of the most important art venues Paris has to offer? Hence, why not visit the Centre George Pompidou? After all, this iconic building closes to the public only at 9 p. m, and the bar stays open until 2 a. m.
If you're not too tired and the weather allows walking, coming from Chartier, you can just stroll down Rue Montmartre. This will take only about twenty minutes. Otherwise, you can take Métro #9 at Grands Boulevards, change to #4 at Strasbourg-Saint Denis, and finally get off at Étienne Marcel.
On the initiative of former President Georges Pompidou, the architects Renzo Piano, Richard Rogers, and Gianfranco Franchini designed what then was called the Centre National d'Art et de Culture Georges-Pompidou. It then opened in 1977. I've introduced other amazing projects by Renzo Piano in my posts on Berlin as well as Athens.
One of the cultural institutions at Centre George Pompidou is the Musée National d'Art Moderne. Here, you'll get to see momentous works of art from the 20th century.
From 11 a. m. to 9 p. m., the entrance to the building is free of charge. On Thursdays, it's open until 11 p. m.
The general admission to the Musée National d'Art Moderne, however, is 15 €uros for the permanent collection and an additional 2 €uros for the temporary exhibitions. Booking of a time slot is not necessary with your Paris Museum Pass.
Their restaurant and bar is open from noon to 2 a. m. After 8.50 p. m., access is granted at the entrance by the escalator facing 50 rue Rambuteau.
To get back to the 25hours Hotel Paris Terminus Nord*, take Métro #4 at Étienne Marcel which takes you to Gare du Nord in about 15 minutes.
Accommodation
Especially if you are on a layover and need to get back to the airport in the early morning, staying close to Gare du Nord is highly recommendable.
Hotels in Paris are ridiculously expensive, indeed. In general, you have to do a lot of research and book well in advance to get a halfway acceptable price. Nonetheless, 25hours Hotel Paris Terminus Nord* is just south of the Gare du Nord and reasonably priced.
However, on the map below, you can choose suitable lodging options in Paris according to the location – and your budget, obviously*:
Map
This map should help you to easily find all the wonderful places I'm introducing in this post. To switch between the itineraries for a sunny and a rainy day just open the legend at the left upper corner and you can hide or unhide the respective layer as you wish. This way, the map will show only the section you really need and be more clear.
Pinnable Pictures
If you choose to pin this post for later, please use one of these pictures:
Note: I'm completing, editing, and updating this post regularly – last in July 2023.
So did You Enjoy This Post? Then You Might Like Also These:
* This is an affiliate link, obviously. Therefore, If you book through this page, not only do you get the best deal. I also get a small commission that helps me run this blog. Thank you so much for supporting me!
Icons: money bag by Roundicons from www.flaticon.com, police car, train, sun, glass, and bed by Freepik from www.flaticon.com, takeoff plane and board made by ultimatearm from www.flaticon.com, info made by Roundicons from www.flaticon.com, umbrella made by Kiranshastry from www.flaticon.com, food plate by Vectors Market from www.flaticon.com