Hamburg is home to Europe's third-largest harbor. This might give travellers – like for instance cruise ship passengers – the opportunity to explore the city on a layover. For them, I've put together a perfect itinerary for up to 24 hours in Hamburg.
This very popular category on my blog is designated to transform a layover into a short extra vacation.
Hamburg has almost 2 million inhabitants and is, therefore, Germany's second-largest city. The Hanseatic city of Hamburg is also a federal state of its own. I've written about the powerful Hanse League in a former post.
Even on a short visit, you'll be enchanted by alluring views of the centrally located lake'n'river Alster and the river Elbe that flows all the way to the North Sea. Hence, I'm sure Hamburg's maritime charm and traditional openness to the world will amaze you so you'll be back for a longer stay.
Local Currency
Local Currency:
Euro (EUR) / 1 EUR = 1 US$ as of November 2022 / current rate
Emergency Contacts
Police 110
Fire Department 112
National Airline
Airports
Hamburg Airport / IATA-Code: HAM
Tourist Info Online and Onsite
Hamburg Welcome Center (Airport) – open daily from 10 a. m. to 6 p. m.
Tourist Information at the Main Train station – open weekdays from 10 a. m. to 4 p. m.
Getting Downtown and Back
The easiest and fastest way to get from the airport to the main train station is the S-Bahn, a local train, that takes you there for 3,40 € in just 24 minutes.
If you have luggage, you can store it in the lockers at the main station.
Morning Activities
The train station is just minutes away from the Binnenalster, the smaller, inner part of the Alster lake. Therefore, strolling downtown and towards the world-famous harbor along the water is a pleasant start to your sunny day.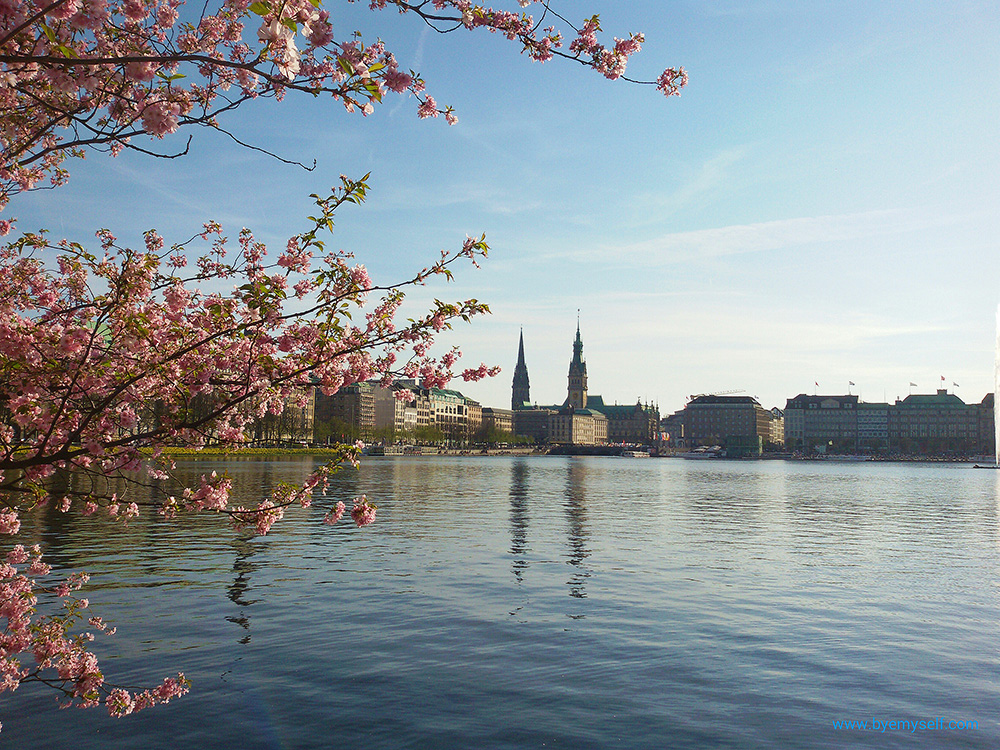 Exit the station building towards the Glockengießerwall* and walk right passing the building complex of the Hamburger Kunsthalle, Hamburg's art museum. As you get to the lake, turn left and stroll along the Ballindamm, enjoying fantastic views.
The Ballindamm is named after Albert Ballin, the man who professionalized emigration to the New World in the 19th century. Also, he invented leisure ship cruises. Read about this fascinating man in my post on From North German Ports to the Americas: Migration in the 19th and 20th Century.
Note
In this article, I'm obviously writing out some of the German names of brands and places. Consequently, you will notice that there are letters that might not exist in other languages:
Firstly, there is the letter ß that exists only in the German alphabet and it's by no means a B. It's a 'sharp' S as in kiss. In writing, you can actually replace it with a double S.
Then, there are three more vowels, ä being the easiest one since it's pronounced like an open e as in head.
Ö and ü are tougher, ö being pronounced more or less like the e in her. Finally, the letter ü is like the u in huge.
Once you have reached the end of Ballindamm, continue straight towards Hamburg's beautiful town hall.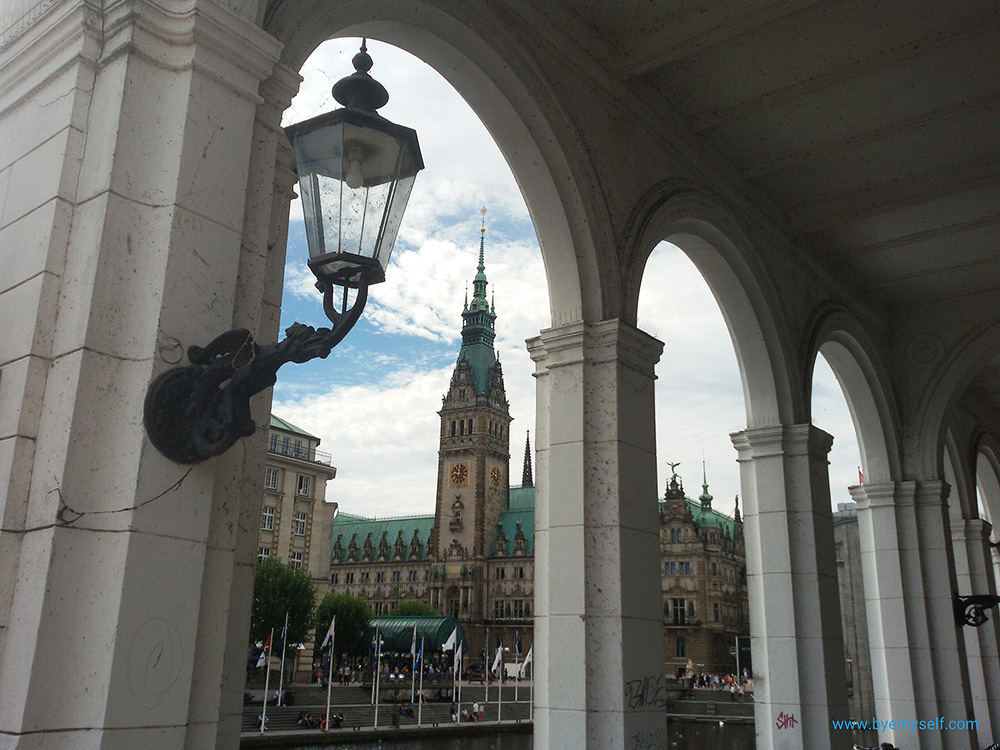 The imposing building was built between 1886 and 1897 in a neo-renaissance style. It's not only impressive outside, but it's also very beautiful inside so I can highly recommend joining a guided tour.
As you continue your walk on the Alter Wall to the building's northern side, you get a peek at some alluring waterways. These are the so-called Fleete.
These waterways were built in the past to get goods from the harbor into the city. Nowadays, this purpose is obsolete, hence, most of these canals were filled. However, those that remained and give the city center a romantic twist, can be explored on a highly interesting cruise where you learn much about Hamburg's glorious past as a merchant city.
You can join the two-hour cruise at the Jungfernstieg jetty at Alster Lake.
Alster-Touristik
Anleger Jungfernstieg
20354 Hamburg
Phone : + 49 – 40 – 35 74 24 0
Email: info@alstertouristik.de
The waterways cruises are taking place daily from March 30 to October 28 at 10.45 a. m., 1.45 p. m., and 4.45 p. m.
Morning Activities
It's raining? Good for you, since many of Hamburg's museums and exhibition halls are scattered around the main station. In one day, you can only see the most important ones, but actually, you could spend days just walking from exhibition to exhibition.
There is an art pass for 25 €uros that grants free access to five art museums. This pass is valid for three days. Yes, I know that this guide is designed for only 24 hours and that you might not want to visit all participating venues. However, since already the visit to the three galleries I'm suggesting for the morning would set you back 38 €uros – I guess it's not that hard to do the math.
You can obtain the 3-Tages-Pass at the cash of each of the participating galleries.
Hamburger Kunsthalle
The Kunsthalle, Hamburg's art museum, is just across the street from the central train station. There is a collection of paintings and sculptures from medieval times to the contemporary.
Particularly noticeable are the paintings from German Romantic by Caspar David Friedrich, Philipp Otto Runge, Wilhelm Leibl, and Anselm Feuerbach.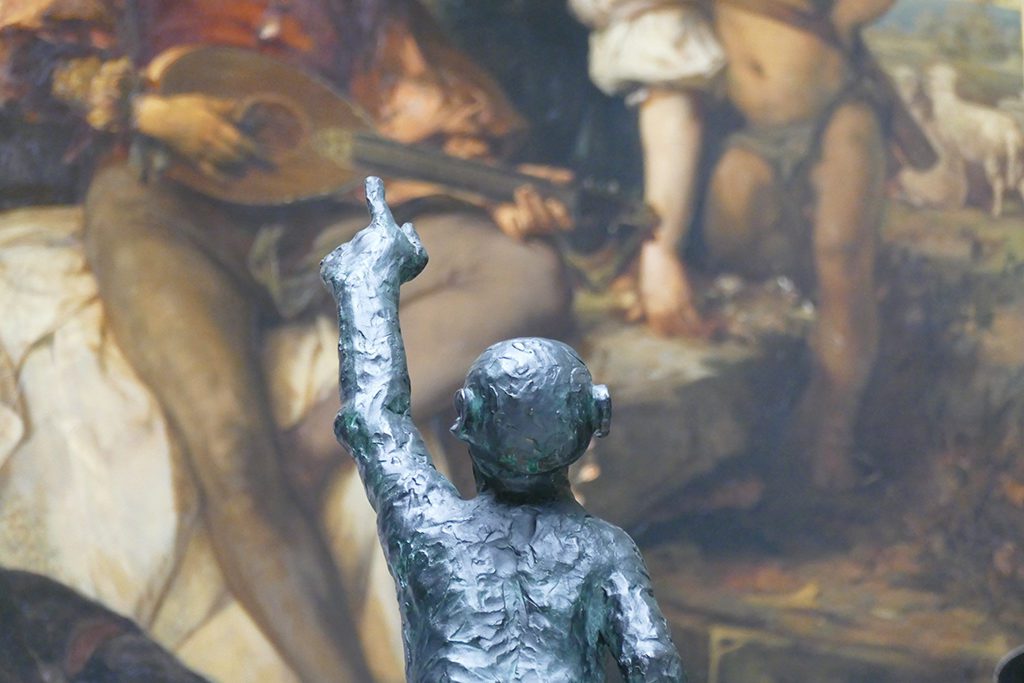 They also own some of the most important works by German impressionists Max Liebermann and Lovis Corinth.
Hamburger Kunsthalle
Glockengießerwall 5
20095 Hamburg
Phone: + 49- 40 – 42 81 31-200
Email: info@hamburger-kunsthalle.de
Open from Tuesday to Sunday from 10 a. m. to 6 p. m. (Thursday to 9 p. m.)
Deichtorhallen
To get to the Deichtorhallen Hamburg, you have to walk back past the central train station and continue basically along the rail tracks towards the river Elbe. It's about a ten minutes walk. However, if it's raining too hard, you can walk through the station building to the subway U1 and travel one stop to Steinstraße. There, you just cross the road to get to the exhibition halls.
The Deichtorhallen used to be a covered market and is one of Europe's largest exhibition spaces for contemporary art and photography.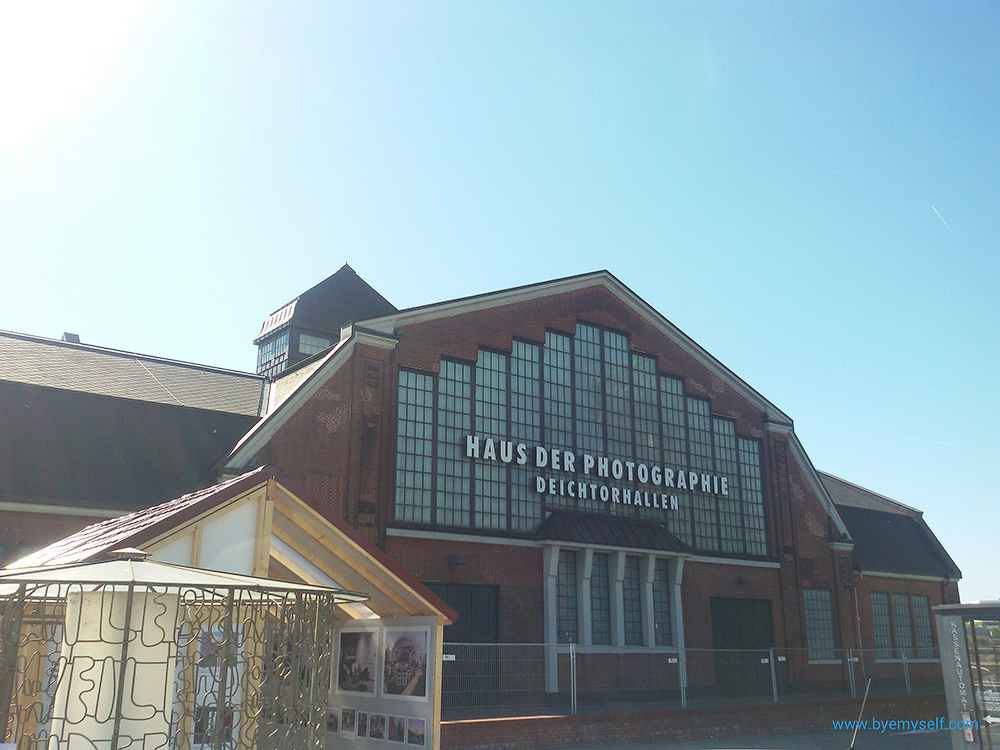 The steel-glass structure from 1911 resp. 1913 has attracted art aficionados with its spectacular exhibitions of world-renown artists since 1989. Actually, they consist of two galleries: The Haus der Photographie, a large photo gallery, and the Halle für aktuelle Kunst showing contemporary art.
Since you have to pay for each venue separately, it makes the above-mentioned pass worth buying.
Deichtorhallen Hamburg
Deichtorstraße 1-2
20095 Hamburg
Phone: + 49 – 40 – 32103-0
Email: mail@deichtorhallen.de
Open from Tuesday to Sunday from 11 a. m. to 6 p. m. (every month's first Thursday to 9 p. m.)
Lunch
When in Hamburg, eating fish is a must. And the best place to do so is Daniel Wischer. Here, the food is always excellent: fresh, tasty, and plenty. No wonder – Daniel Wischer has been frying fish since 1924!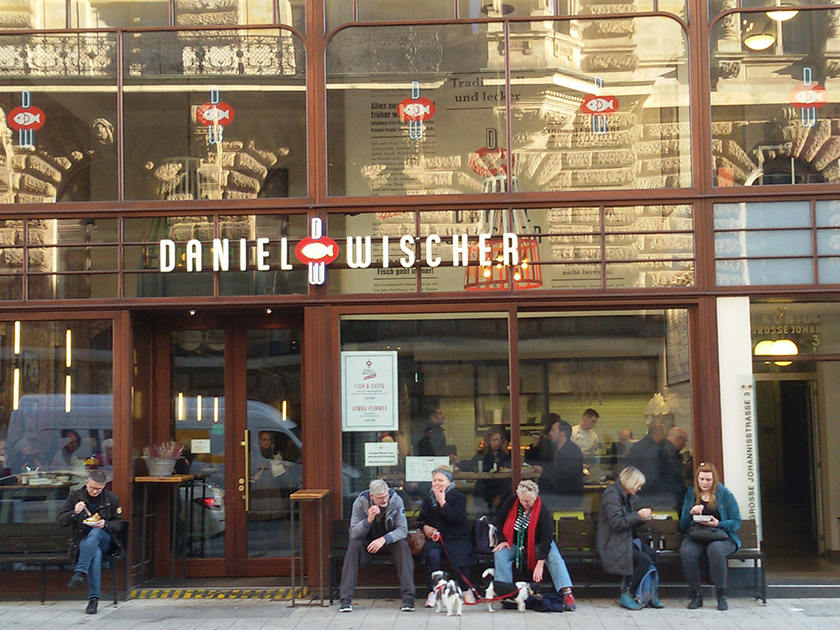 On a sunny day, I'd recommend the branch at Große Johannisstraße since it's right next to the town hall.
On a rainy day, as you are coming from the Deichtorhallen, you're better off at the quirky Steinstraße-branch since it's far closer to the venue.
Daniel Wischer
Große Johannisstraße 3
20457 Hamburg T
Phone: + 49 – 40 – 36 09 19 88
Open Monday to Saturday 11 a. m. to 10 p. m.
Steinstraße 15a
20095 Hamburg
Phone: +49 – 40 – 32 52 57 95
Open Monday to Saturday 11 a. m. to 4 p. m.
Afternoon Activities
Now that you've eaten, let's keep walking. Hamburg is home to Europe's third-largest harbor – after Rotterdam and Antwerp – which makes a visit indispensable.
From your lunch at Daniel Wischer, you just walk past the town hall down the street Großer Burstah. As you turn left into the Rödingsmarkt at the next big junction and keep walking straight, you'll get to the waterfront.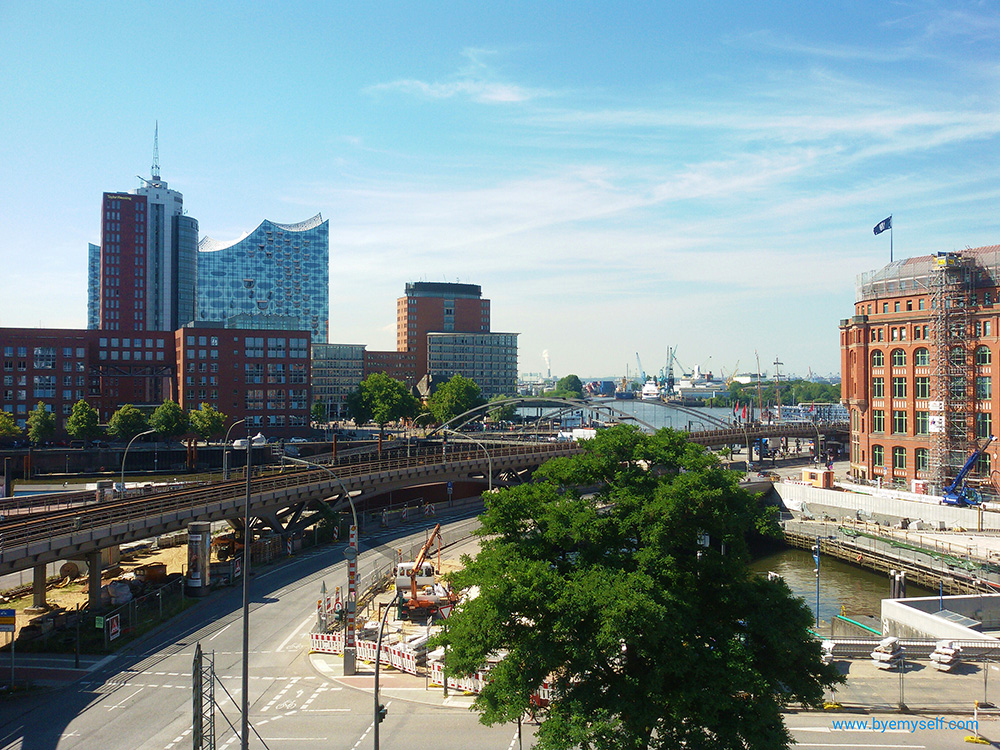 There is a new promenade alongside the river Elbe. From here, you have a great view of the Elbphilharmonie, Hamburg's concert hall, and many impressive ships. There is the red Feuerschiff that houses a restaurant and a bar. You can even spend the night in one of their small guest rooms. Next to it are the Cap San Diego and the Rickmer Rickmers, ships that used to sail the Seven Seas, and are museums now.
Above and Below
While a stroll alongside the waters is fine and dandy, a cruise on the river Elbe is an indispensable activity.
The cheapest way to navigate along the river Elbe is by ferry #62. This is actually the way locals cross the river since it is part of the regular public transportation system.
For the price of a standard ticket, the ferry takes you along all the sights like the harbor, obviously, the Fischmarkt, the new and modern Docklands, the Museum Harbor with the old ships and boats, the yacht harbor at Teufelsbrück, the Airbus plant all the way to the former fishermen village Finkenwerder.
Today, it's a rather boring middle-class residential neighborhood, so don't bother to get off. Just stay on board since, after a couple of minutes, the ferry goes back to Landungsbrücken and will take you right where you've started from.
Once you get back to Landungsbrücken, there is still one must-do: The Old Elbtunnel which was built in 1911. For the longest time, it was the only way to cross the river. Apart from the ferries, of course.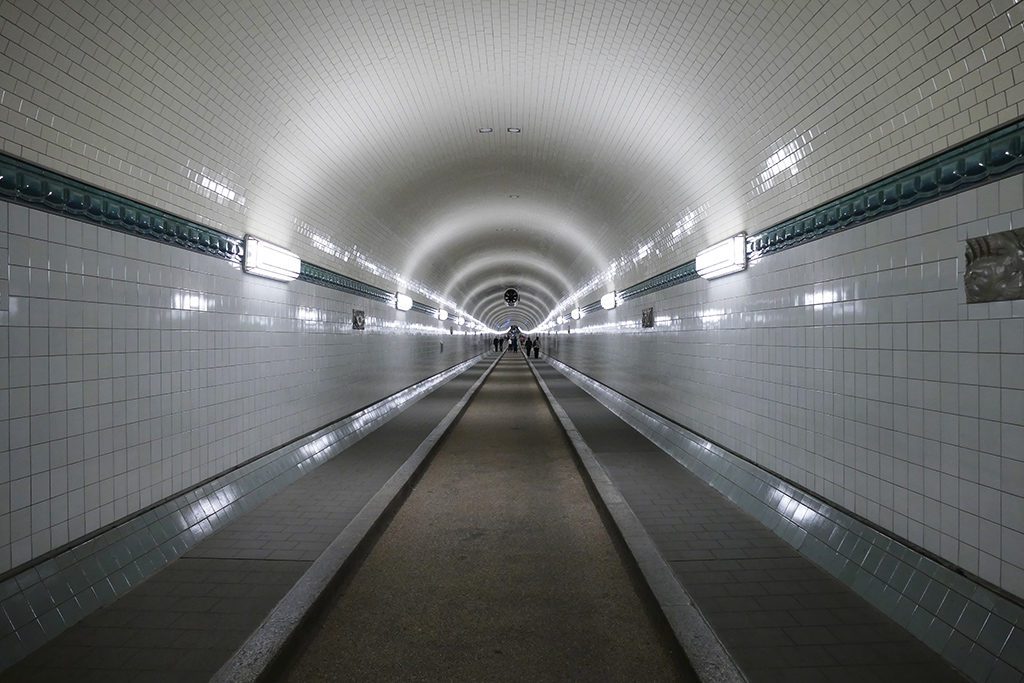 To get down to the tunnel which is 24 meters below street level, you can climb down some stairs or take an elevator.
Pedestrians and Cyclists are crossing the 426 meters long tunnel for free.
From Steinwerder on the southern bank, you enjoy one of the best views of Hamburg's most iconic skyline.
Afternoon Activities
After lunch at Daniel Wischer on Steinstraße, hop on the U-Bahn, Hamburg's subway, at the stop Mönckebergstraße and go to St. Pauli. Travelling between these two stops, you'll get an amazing view of the Harbor so make sure to sit on the left.
At the Museum für Hamburgische Geschichte, hence the Museum of the History of Hamburg, you'll get the most complete overview of Hamburg's exciting history. Trace the records all the way back to the 9th century when Hamburg's predecessor, the Hammaburg, used to be a village with a population of about 200 fishermen, farmers, and craftsmen.
Find out how it grew to an important commercial center with an internationally operating harbor. Every aspect of life in Hamburg over the centuries is taken into focus.
A visit is recommendable for everybody, but especially kids will enjoy exciting trips back in time: There is a special self-guided tour with 50 different stops at the museum, one of them being a real piece of the steamship 'Werner', built in 1909 and scrapped in 1960.
Museum für Hamburgische Geschichte
Holstenwall 24
20355 Hamburg
Phone: + 49 – 40 – 428 132 100
Email: info@hamburgmuseum.de
Open Sunday to Monday 10 a. m. to 5 p. m. (weekends to 6 p. m.)
Alter Elbtunnel
One of the coolest things to do at the harbor is clearly below the waters, hence, you'll be sheltered from the rain. If it's not raining too hard, you can just descend the Helgolänger Allee to the Landungsbrücken. If this is not an option, just take the subway to the homonymic stop.
Check the itinerary for the sunny day above to get further information on this quirky landmark.
Dinner
One of my favorite restaurants is right off the infamous Reeperbahn, Hamburg's red-light district. Its name Freudenhaus translates to house of pleasure. Hence, don't be surprised if people either frown or crack up laughing when you tell them you're going to the Freudenhaus. Mind you, in German, Freudenhaus is synonymous with brothel.
However, at this Freudenhaus, the pleasures are exclusive of culinary nature. Classic home cooking, pimped-up comfort food, Hamburg's fish classic. No matter what, this house definitely is full of pleasures that you'll enjoy in a very plushy, fun setting.
Not exactly cheap, but very recommendable!
To get there from the Elbtunnel, you either have to walk up the Davidstraße or take the S-Bahn at the stop Landungsbrücken and alight one stop further at Reeperbahn.
Freudenhaus St. Pauli
Hein-Hoyer-Straße 7-9
20359 Hamburg
Phone: +49 – 40 – 31 46 42
Email: info@stpauli-freudenhaus.de
Open daily from 5 p. m.
Nightcap
Since you've had dinner at Hamburg's famous red-light district, it won't be difficult finding a bar to enjoy a nightcap.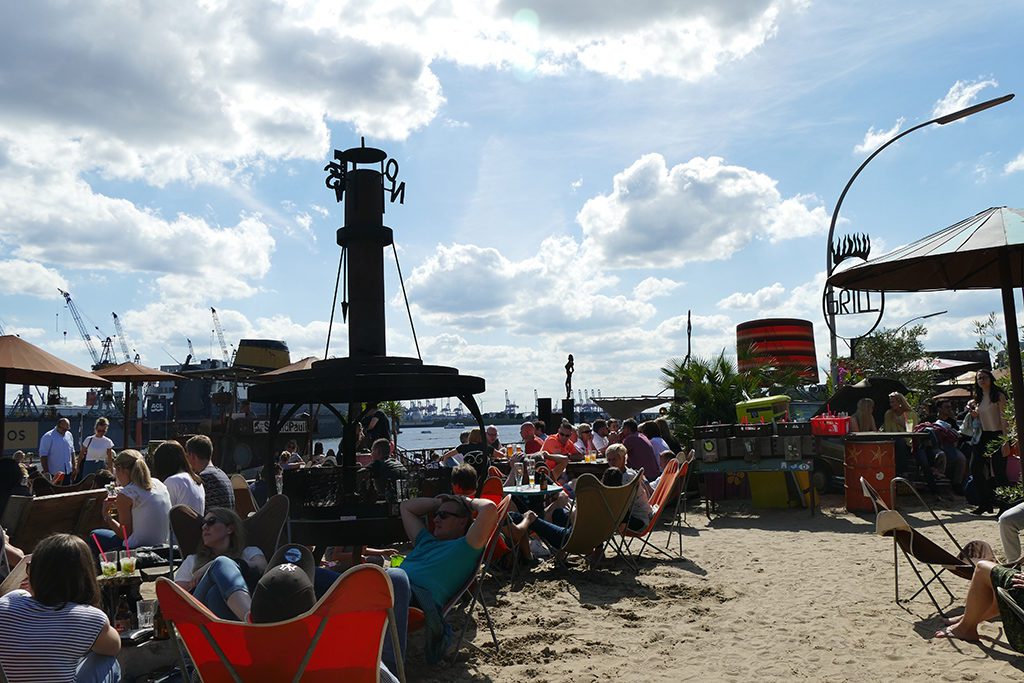 However, if the weather permits, you should make your way back to the waterfront and enjoy a sundowner at the beach club Strandpauli. But even if it's raining, you'll savor a cocktail inside at the club's covered area.
Accommodation
Since there is an excellent connection between the central train station and the airport by public S-Bahn, accommodation in the Hauptbahnhof's vicinity is recommended.
Right across the street is the hotel Hotel Reichshof*. Since its renovation a couple of years ago it is part of the Hilton chain and accordingly comfortable.
Map – sunny day itinerary
Map – rainy day itinerary
If you have more time to spend in Hamburg, check out my comprehensive post – it's coming from me, a long-time resident.
Before coming to Germany, you might want to check out my post All you need to know before going to GERMANY. This information will make your trip smoother and more enjoyable.
Pinnable Pictures
If you choose to pin this post for later, please use one of these pictures: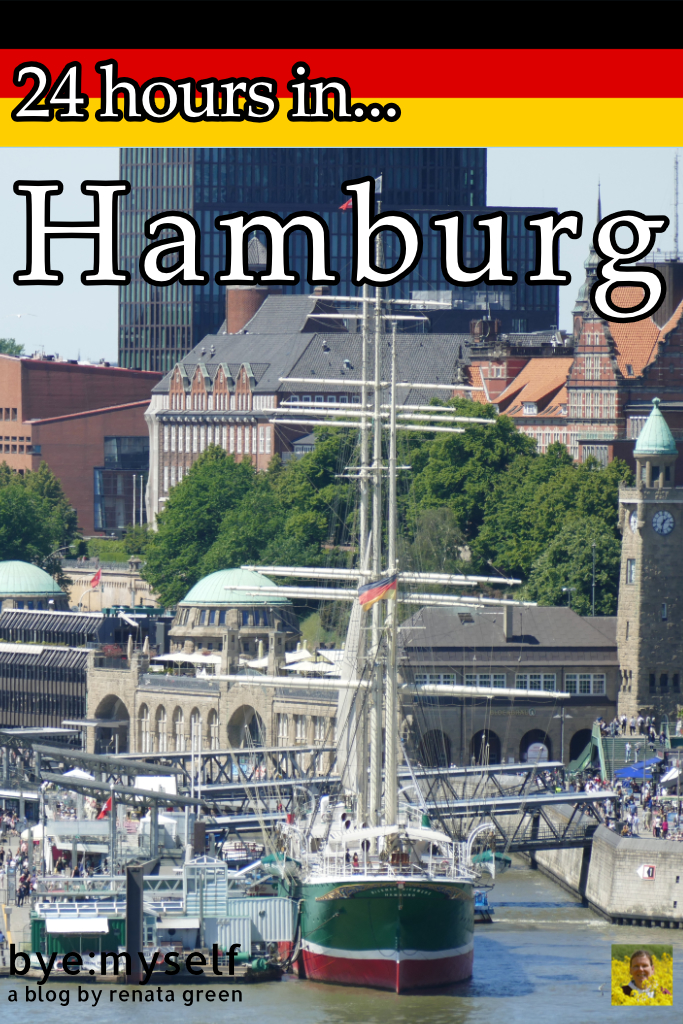 Note: I'm completing, editing, and updating this post regularly – last in November 2022.
Did You Enjoy This Post? Then You Might Like Also These:
Disclaimer: * This article contains affiliate links. By purchasing items through my affiliate links or booking hotel rooms at no extra cost for you, I will receive a small commission that helps to run this site.
Icons: money bag by Roundicons from www.flaticon.com, police car, train, sun, glass, and bed by Freepik from www.flaticon.com, takeoff plane and board made by ultimatearm from www.flaticon.com, info made by Roundicons from www.flaticon.com, umbrella made by Kiranshastry from www.flaticon.com, food plate by Vectors Market from www.flaticon.com