Visiting Venice, you absolutely have to venture out on a day trip to discover the Crystalline World of Murano, located in the dreamy Venetian lagoon.
Most visitors to Venice stay and explore only the Centro Storico, the historic center. However, there is a total of 120 islands in the lagoon of which only 11 are permanently inhabited. Of those islands, Murano is the third largest one – after the Centro Storico, obviously, as well as the Lido di Venezia. As a matter of fact, Murano consists of seven small islands divided by eight channels and connected by bridges.
World-famous for glass and crystal, Murano is definitely worth the short boat trip. Mainly when the exhibition Glasstress is on, visiting Murano's crystalline world is indisputably a must. After all, the island is located only about 1.5 kilometers – which equals one mile – north of the Centro Storico.
Although there are some landmarks such as the Church of Santa Maria e San Donato, the Church of San Pietro Martire, and the Palazzo da Mula, most people are visiting for the glass. For the uncountable stores as well as for the Murano Glass Museum, housed in the large Palazzo Giustinian.
Murano's History
In the 13th century, Murano was a summer resort for the Venetian aristocrats who commissioned beautiful villas with orchards and gardens.
Since the furnaces that the local artisans used for melting the glass on the main island were a fire hazard, the Venetians outsourced the glass production to the island of Murano.
This way, the island became Europe's prime glassmaking center, whereby the 15th and 16th centuries were the heydays of production.
Murano wasn't only famous for its outstanding quality. During the 15th century, the local glassmakers created cristallo. This almost transparent crystal was the world's finest glass. On the other hand, they also developed a white-colored glass, a milk glass called lattimo, that looked like porcelain.
Huge chandeliers, amazing mirrors, bowls and vases, jewelry, and beads are manufactured to this day on the island of Murano. And glass in all shapes and forms is probably the most sought-after souvenirs among visitors to Venice.
In the 13th century, it took the nobles about an hour to row a boat from Venice to Murano – which, of course, they didn't have to do themselves.
Today, if you catch the vaporetto at the Centro Storico, you'll cross to Murano in about ten minutes.
Traditional Glass: Museo del Vetro
Murano's Glass Museum was founded in 1861. Its headquarters are in the Gothic Palazzo dei Vescovi di Torcello.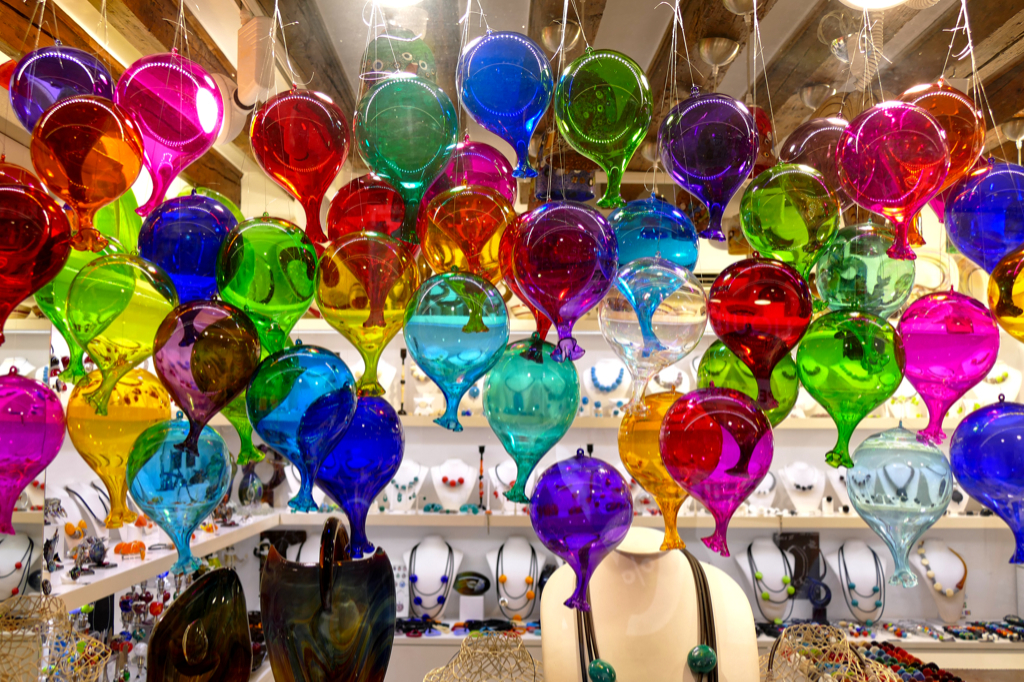 Initially installed as an archive, it quickly evolved into a museum. Then, in 1862 it was linked to a glassmaking school. Here, trainees had the opportunity to study the designs and prototypes of traditional glass works.
In the mid-20th century, an archaeological section was added. Its most significant treasures are founds from the city of Zadar in today's Croatia. Mind you, major parts of southeast Europe – all the way to the Greek island of Crete – used to be under Venetian rule for centuries.
The museum is open every day from 10 a. m. to 6 p. m. for a general entrance fee of 11 €uros. If you get a combi ticket with the Lace Museum on Burano, you pay only 13 €uros for both venues. However, the entrance to both museums is also included in Venice's Museum Pass*.
Museo del Vetro – Glass Museum
Fondamenta Marco Giustinian 8
30141 Murano
Contemporary Glass: Adriano Berengo and the Fondazione Berengo
Mr. Adriano Berengo was born in Venice in 1947. He studied in his hometown at the Ca' Foscari University in Venice as well as at the State University of New York where he obtained his Ph.D. After a short career as a teacher of English Literature and Language, he started working as the artistic director at the glassworks Vetreria Salviato & C. in 1982.
In 1989, Mr. Berengo founded the Berengo Studio to promote glass as an artistic medium.
Then, in 2014, Fondazione Berengo was installed. It's focusing on Adriano Berengo's thirty-year project, namely to unite and present the traditional glass art of Murano together with contemporary art projects in a fresh, innovative way.
Glasstress
In 2009, the project Glasstress was introduced. It's showing the most interesting glass works as a collaterale during the mega-event Biennale di Arte.
The venue of choice was the historical Palazzo Franchetti right in the heart of the Centro Storico, right across from the Accademia.
Didn't I say Mr. Berengo wanted to show glass art in a fresh and innovative way? Well, he achieved his goal with bravado.
When I visited Glasstress in 2013 for the first time, this exhibition just blew me away and left me speechless.
To me, glass, handicraft, and art alike, had always been not only a fragile and tender material, but also lovely and sweet – pleasant and pleasing.
What I saw there was totally different from what you'd expect from glass. The works were raw and rough, political, critical, and daring.
It was possible to create this from glass?! Wow!
Glasstress became one of my very favorite shows at the biennials and since then, I haven't missed a single one.
Expect the Unexpected
It never got old or mediocre. On the contrary, with every issue, I was amazed by what artists had contributed. Obviously, those were artists I had never expected to work with glass. For instance, quirky guys like Ai Weiwei, the Chapman Brothers, or Erwin Wurm. Even Ilya and Emilia Kabakov chipped in. Albeit, they are famous for filling rooms with their installations referring to life in the former Soviet Union – I've introduced their ingenious installation The Palace of Projects in my post on the German city of Essen.
In 2019, to celebrate Glasstress' 10th anniversary as well as 30 years of Berengo Studio, the exhibition moved from the Palazzo Franchetti to the island of Murano.
It was simply a masterstroke to choose an abandoned glass furnace for presenting this kind of outstanding work and installation. You truly have the impression to witness how these incredible pieces are emerging before your eyes.
You can visit these impressive exhibitions from Tuesday to Sunday between 10 a. m. and 5 p. m. free of charge.
Fondazione Berengo Art Space
Campiello della Pescheria 4
30141 Murano
My Gallery
Below are some of my favorite Glasstress exhibits. They'll give you an idea of what to expect.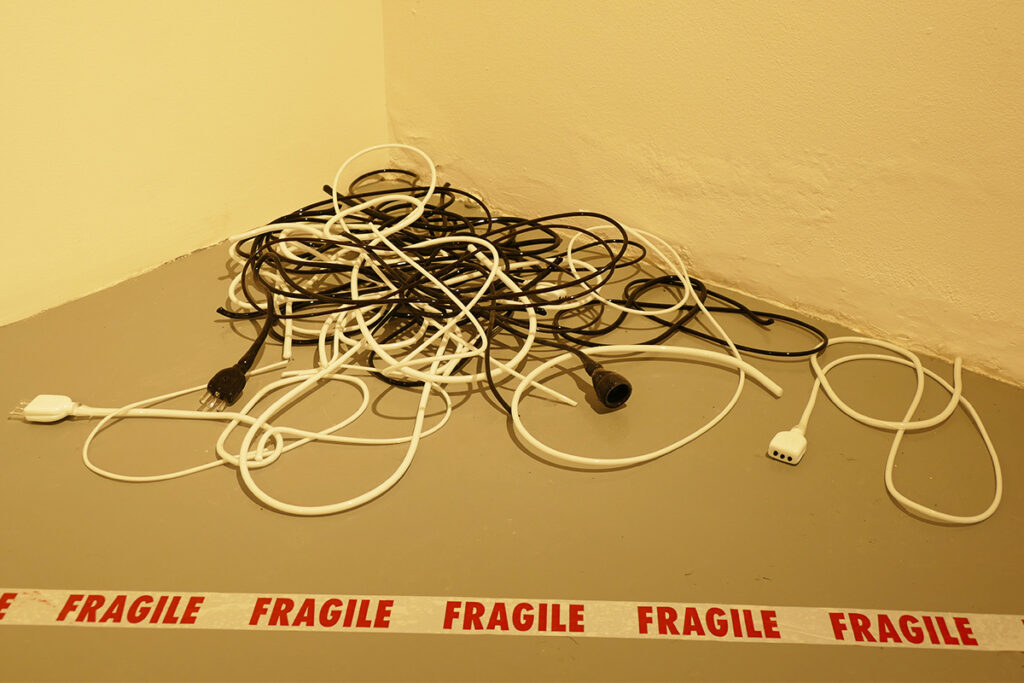 Behind Beyond Glass
Although Murano is by far not as packed with landmarks as the Centro Storico, there are some squares, bridges, and houses of worship worth a visit.
Most importantly, there is the Basilica dei Santa Maria e San Donato. The church is one of the oldest in the entire Venetian Lagoon, documented for the first time in the year 999. Nevertheless, the current building with its free-standing square campanile was completed in 1140. Its interior is famous for its colorful Byzantine mosaic floor with elaborate floral motifs.
On the Campo di Santo Stefano is the former Chiesa di Santo Stefano. Today, the oratory is all that remains of an ancient Catholic church. The structure is made entirely of exposed brick. The main entrance is located in an atrium in the lower part of the gabled façade. The belfry from the 19th century is one of Murano's most famous landmarks.
The Chiesa di San Pietro Martire, hence, the Church of Saint Peter the Martyr was constructed together with a convent of Dominican fathers in 1348. In 1474, it was destroyed by a huge fire. Eventually, it was reconstructed in 1511. It's worth a visit for some wonderful artworks such as two paintings by Bellini.
Secular Edifices
The former Chiesa di Santa Chiara is a medieval church from the early 13th century. It used to be part of a large monastery and was inhabited by various orders for more than 500 years. Arguably, it housed one of Casanova's lovers. Also, presumably, there is a secret underground path leading off the island.
Howsoever, in 2015, it was opened to the public as a museum. You can learn about Murano's history and witness fascinating glass-blowing demonstrations. Also, they rent the venue out for fancy events.
You can tour the former Chiesa di Santa Chiara and attend a glass-working demonstration from Monday to Saturday between noon and 3 p. m. The general entrance fee is 12 €uros.
Former Church Santa Chiara – The Glass Cathedral
Fondamenta Manin 1
30141 Murano
A fine example of how the Venetian patricians used to live in the gilded age is the Palazzo Da Mula. This former summer features large Gothic windows and Veneto-Byzantine elements from the 12th and 13th centuries. It is one of the few palazzi which did not fall victim to the restructuration of the island of Murano in the 1800s.
How to Get There And Around
Although the Centro Storico, the fish-shaped historic center of Venice can be reached and also explored by walking, this is not an option if you want to visit also the other islands scattered in the Venetian lagoon. Of the 120 isles, only 11 are permanently inhabited and can be visited by private and public water transport.
Fortunately, apart from public land transport, the ACTV transport company has also a comprehensive net of vaporetti, water buses taking you to any place in the lagoon on a regular schedule.
Firstly, there is the direct vaporetto line #3 going from the main stop at Piazzale Roma more or less straight to Murano. There it stops in different places before going back.
The more popular route is taking vaporetto #12 at the stop Fondamente Nove on the northern edge of the Centro Storico. It makes a stop at the lighthouse of Murano and continues to Burano and Torcello.
Once the regular vaporetti are suspended, there is a nightly connection by line NLN and NMU; hence, you never get stuck on any of the islands overnight.
ACTV has an excellent website and even an App for iOS and Android. To get an overview of your options, check out their very neat system map.
Which Ticket to Buy
While at 9.50 €uros, individual tickets are ridiculously expensive, there are travel passes that are actually not that bad. The more days you buy, the cheaper are your rides. Here is a chart on how much you pay for a day pass in 2022:
| | | | |
| --- | --- | --- | --- |
| 24 hours | 48 hours | 72 hours | 168 hours (7 days) |
| 25 €uros | 35 €uros | 45 €uros | 65 €uros |
Note that a 24-hour ticket can actually be used on two days since the clock starts ticking the moment you validate your ticket and lasts actually 24 hours. With the other tickets, it's the same, obviously.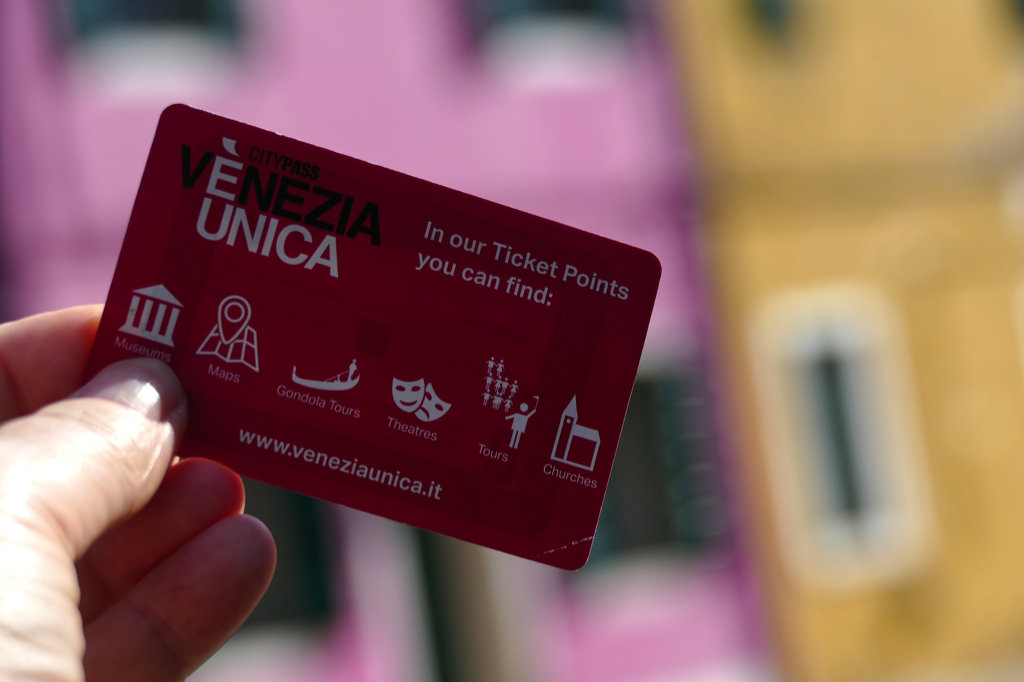 Young people under 29 years of age get an even better deal with the Rolling Venice Card. This title costs 6 €uros and is valid for one whole year. Not only do you get great discounts at many museums and other places of interest. You also pay only 27 €uros for a 72 hours-pass instead of the regular 45 €uros. Unfortunately, you can actually buy only 72 hours-passes. But if you stay for instance for a week, you can get two so that you pay only 54 €uros in total.
There are passes that include trips from and to the Marco Polo Airport. However, keep in mind that as you activate your pass at the airport, the clock starts ticking. It might be cheaper to pay that extra fee for those trips in order to activate your pass later when you need it for your sightseeing.
Taking the Alilaguna water airport shuttle to Murano costs only 8 €uros instead of the 15 €uros that you have to pay if you're going to the Centro Storico.
Getting There Organized
It's very easy to visit Murano, Burano, and Torcello on a self-guided tour. I've put together a guide including many good tips to make your day trip smooth'n'fun.
Another valid option is to visit Murano – preferably with the neighboring isles Burano and Torcello – on an organized tour. This option is even not more expensive than going by yourself. However, you have to stick to their schedule and itinerary which can be a bit of a drag. On the other hand, you don't have to jiggle timetables and check out routes. You just hop on a boat and leave the planning and organizing to others*:
What to Eat And Where to Sleep
Most visitors come to Murano on a day trip which is fine with regard to the number of landmarks you'll find there. However, it is absolutely recommendable to stay the night as you get to know the place in a totally different atmosphere once the throngs of people are gone.
On this map, you'll find a choice of convenient small lodging options*:
Since Murano mainly caters to day-trippers, there are many restaurants serving all the nice treats you also get in Venice or on the mainland. Prices are approximately like in the Centro Storico.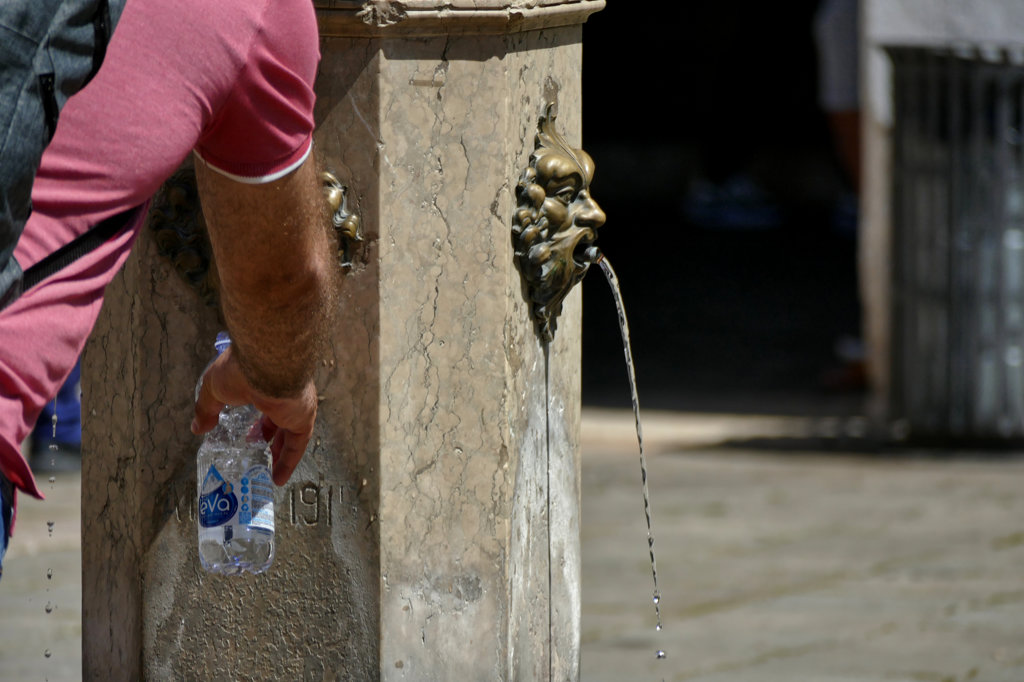 Like in many places around Italy, you can save some money – and the environment more plastic – if you drink the water from the fountains you find in many places and on basically every square. Yes, for you Italy-rookies, those fountains might not look that trustworthy but don't worry, unless there is a clear sign stating otherwise, it is tasty clean drinking water.
Map
Murano is not that big, however, this map should show you at one glance which spots not to miss. Clicking on the slider symbol at the top left or the full-screen icon at the top right will display the whole map including the legend.
Pinnable Pictures
If you choose to pin this post, please use one of these pictures:
If you have more time to spend in Venice, make sure to also check out my posts on the lace-producing island of Burano, the small islet of Torcello, as well as the Lido di Venezia. In this guide, you'll find a comprehensive itinerary on how to visit the three islands in the Venetian lagoon on a self-guided Vaporetto ride.
Did You Enjoy This Post? Then You Might Like Also These:
Note: This post is being regularly completed, edited, and updated – last in November 2023.