Right from the start, let's put two things straight: Firstly, Ios is not a mobile operating system but one of the Cycladic Islands. And secondly, during the off-season, the island of Ios does not live up to its reputation as a notorious teenage rampage party destination. As soon as all those juvenile disco queens and kings return to their original realms, Ios becomes a very laid-back, even serene island full of natural beauty and tranquility.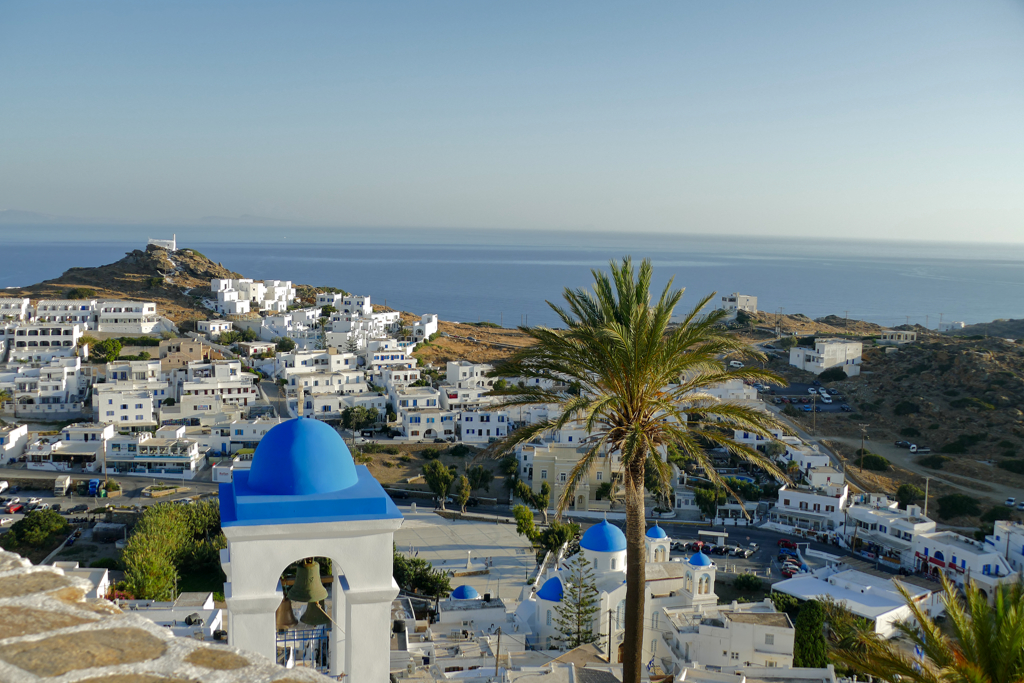 To be honest, I don't even remember exactly what made me come to Ios in the first place. I actually think that it was primarily the island's convenient location halfway between Santorini and Naxos. So why not squeeze in a couple of days on yet another of the Cyclades? And I certainly didn't regret it.
Welcome to Ios
First of all, congrats on having found my guide to the island of Ios. When I was looking for some info before I visited this Cycladic island, all I got was info on the latest generation of Apple's mobile operating system. So you are a better researcher, obviously. And even if you were actually looking for info on the latest iOS version, I still urge you to stay for a while since the island you'll now learn about is absolutely splendid.
As I mentioned above, I was nervous to get caught in some teenage rampage but instead, I spent three of the most relaxed days of my entire trip to Greece. This is mainly due to the fact that despite some history, Ios has basically only one major settlement which is the Chora.
Yet Another Chora
Now, let me quickly clarify two things here: There is a Chora on Ios, there is a Chora on Naxos, there are places called Chora in other Cycladic islands. This is due to the fact that Chora is not the townlet's name but – meaning town in Greek – specifies it as the island's main settlement. In Greece, it is common practice to name an island's principal town simply after the island. Hence, if you take the bus, you buy a ticket either to Ios or to Chora – either way, you'll end up in the island's main town.
However, and this is my second remark, don't pronounce it the English way like chap or chicken. CH in Greek is pronounced like CH in German or J in Spanish – rather breathed almost as an H. You're better off referring to it as Hora than as Shora.
But now let's continue with the introduction.
Uptown Girls And Downtown Boys
Ios' main settlement is basically divided into the upper part with the pretty old town and the lower part which is the port. The distance between both parts is walkable in about 15 to 20 minutes, however, from the port, you have to walk up a pretty steep hill. To be honest, I didn't do it once since I didn't see the point as there is a great reliable bus system.
Apart from being Ios' most important gateway – it's easy to be the most important one as long as there is no other – the port area has a laid-back and even slightly sophisticated flair to it.
The main promenade is lined with lovely Greek taverns. To the east is a small yacht harbor while in the west, the port area merges into one of Ios' best beaches.
And this is a great segway to the next chapter – and definitely Ios' strongest suit: The beaches.
Beaches by Bus
If you've known me for a while, you know that I'm not driving which can sometimes collide with my passion not only for travelling but for exploring. In Europe, however, there is a good system of public transportation basically everywhere – other parts of the world would actually profit very much from something similar.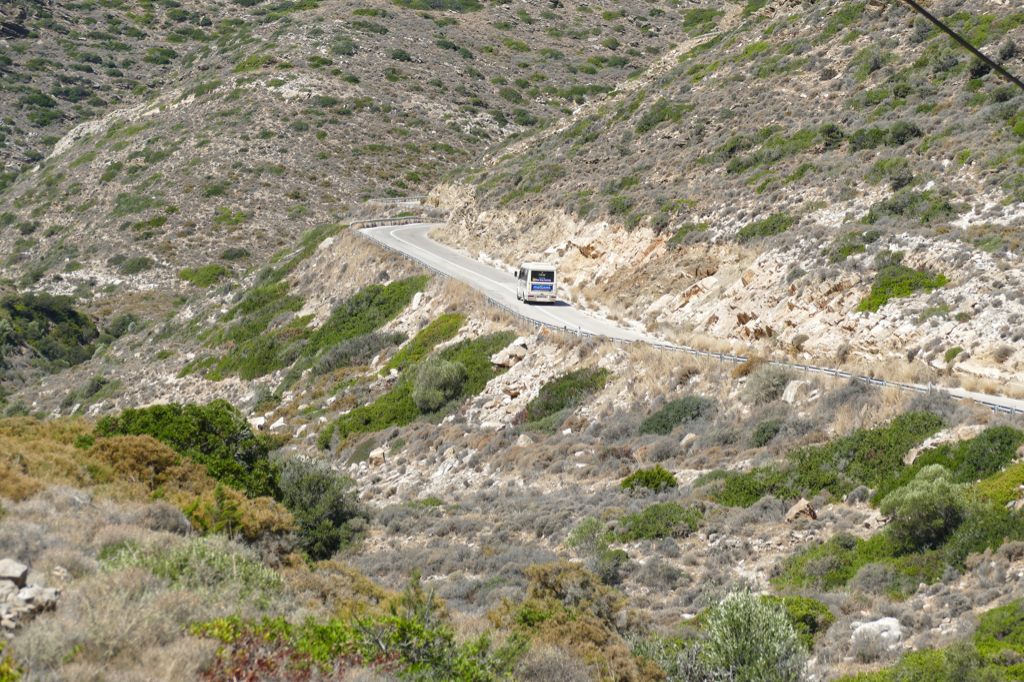 Given that the Cyclades are a group of 39 islands and most of them are not exactly densely populated – as a matter of fact, 15 aren't inhabited at all – the local government could simply ignore the need of moving people from A to B. Obviously, there are also locals who need to go from some remote village to the so-called Chora, the respective island's main village. But those locals don't need a regular service to some secluded beaches, I suppose. And yet the people in charge decided to install amazing, reliable bus services to basically every point of interest at a pretty cheap price instead of forcing people to rent a car or at least a motor scooter.
Going Public
Nevertheless, although Ios' buses are actually going to basically every point of interest, they don't necessarily do so in ten-minutes-intervals. To the more popular destinations, there are coaches every twenty minutes from the wee hours till late. Service to the more secluded beaches, however, is limited to one ride per day; there and back that is, obviously. Still, with a tiny bit of organization, you can easily explore Ios' mesmerizingly beautiful beaches by public transport.
Beaches, hiking, architecture, history, food – this is what all the Cycladic islands have in common. If you visit various islands, you should decide on your priorities. For instance, I visited Santorini, Ios, and Naxos. Since I had only a few days on each of the isles, I focused on the whitewashed settlements in Santorini, enjoyed the beaches of Ios, and explored the hinterland and some archeological sites on Naxos. If you focus on one main activity per island, you'll be able to outsmart FOMO and won't get stressed out.
During my stay on Ios, I focused on the beaches which have been voted in various polls as some of the best beaches in all of Europe. In fact, Ios boasts about 75 kilometers of beautiful, white sandy beaches alongside amazingly turquoise'n'transparent waters.
Gialos
As a matter of fact, to spend the day on one of the most pleasant beaches on Ios, you don't even need any kind of vehicle.
Gialos Beach – sometimes spelled and, most importantly, always pronounced Yialos – is a small settlement adjacent to the port of Ios. Therefore, it is only a few walking minutes away from the harbor just below the Chora.
There are significantly fewer people on the beach than at Mylopotas Beach. The beach has good size and is well-maintained. Just across the road are small taverns and bars many of which have umbrellas and sunbeds right on the beach. If you prefer to stretch out your beach towel on the soft sand, you can do so under one of the many trees to be sheltered from the hot Greek sun.
You might think that the proximity to the harbor has a negative impact on the water but actually, that's not the case. The water is as clear as everywhere around all the Greek islands that I've visited.
As a matter of fact, watching the ferries entering and leaving the port gives the beach a very special atmosphere.
Mylopotas
This is Ios' most famous beach – which for one group of visitors is heaven while for another lot it's simply hell.
Mylopotas Beach is the most popular beach on the island. The approximately one-kilometer-long beach consists of mostly fine golden sand and pebbles in some places. The bay is surrounded by a mountain range. Across the water, you can see the neighboring island of Sikinos. Along the beach, there are hotels, restaurants, bars, and small shops.
The southern part is dominated by the (in)famous Far Out facilities such as the Far Out Club. All hell breaks loose here, especially during the high season. Particularly in the months of July and August, the beach is a magnet for teenage party people.
In the low seasons, Mylopotas gets significantly quieter. Nonetheless, this beach remains the most humming one on the entire island.
There are buses going between Mylopotas and Chora respectively the port, the frequency, however, depends on the season.
Magganari
First of all, note that this beach is often spelled Manganari – just like Mylopotas is sometimes spelled with an i instead of an y. Unfortunately, for no apparent reason, differences in the transcriptions from Greek to Latin letters are quite common and can be very confusing for instance when doing research on the internet.
No matter how you spell it, in any case, this beach will put a spell on you!
Magganari is located all the way in Ios' southwest and consists of many small bays. The larger ones have sunbeds and umbrellas and even a restaurant. The smaller bays are more secluded and tranquil, but you have to bring everything you need with you.
You can get to Magganari Beach every day by public bus, however, there is only one connection there and back. Yet, the bus stops not only at the port and the Chora but also picks up people along Mylopotas Beach.
While I was in Ios, the bus to Magganari left the port at noon, the Chora around 12.05 p. m., and Mylopotas around 12.15 p. m. It then went back from Magganari at 5 p. m.
Two more things: Obviously, by the time you come to Ios, these hours might have changed so make sure to check out the latest schedule on the page of the KTEL bus company. Also note that according to my experience, buses on the Cyclades tend to be on time – actually, they might even leave a couple of minutes early. Hence, make sure to be at the bus stop at least ten minutes early.
Theodoti
If you think that the mesmerizing Magganari Beach is as good as it gets, you'll stand corrected as soon as you put your eyes on Ios' Theodoti Beach on the east coast.
The Theodoti Beach is located around 14 kilometers northeast of the Chora. It is the perfect place for those seeking relaxation and serenity, especially during the high season.
With a length of about 650 meters, Theodoti is one of the largest beaches on the island. Although it's covered by white sand, access to the crystal clear Aegean sea can be quite rocky in many parts. You have to be very careful when walking into the water, and you should preferably wear swim shoes with profiled soles for a good grip on the slippery rocks.
If you want to make sure to get into the water safely, walk all the way to the southern end of the beach where there is a truck selling snacks. Here, the beach is sandy all the way into the turquoise waters. Also, the owner of the truck is also renting out beach beds and umbrellas for a very reasonable fee.
If beer and some crisps from the truck do not satisfy your foodie needs, just walk up the road past the Agia Theodoti church. To your left is the Koukos tavern and guesthouse where you can have a traditional Greek meal or just a refreshing drink with a complimentary million-dollar view of the coastline below and the sea and the small Cyclades Iraklia and Schoinousa in the backdrop.
Some People Are Mean…
Actually, my trip to Theodoti is the reason why I emphasized that you should be at the bus stop on time.
As a matter of fact, I was there on time, and there was a small, beige bus waiting. I asked the driver if he was going to Theodoti. If you consider an unfriendly headshake a valid answer, he said no.
Okay then. I waited.
After a while, the beige bus came back.
He stopped at the station for a couple of minutes, then he left again.
I kept waiting. Weird, according to my experience, buses on the Cyclades tend to be very much on time.
"The bus to Theodoti is stopping here, right?" I asked the driver of the bus getting ready for going up to the Chora.
"Yes, but he already left a couple of minutes ago. It was the small beige bus."
"He told me, he wasn't going to Theodoti!"
"That's right – his first trip was to Koumpara. Now he left for Theodoti".
Are you kidding me?
So the mean bus driver had come back to the stop, knowing that I wanted to go to Theodoti but since I didn't ask again, he just left me there waiting like an idiot?
Man, me and bus drivers – we definitely aren't a pair made in heaven.
…And Some Are Very Kind
I even wrote an entire post on my most memorable encounters with bus drivers.
But actually, after what happened next, I should rephrase my claim to "me and some bus drivers". Because the Chora-driver offered to call his evil mate.
He told him what happened and asked him to pick me up at a crossroad where he would leave me.
At least I guess that's what he told him, I don't speak any Greek, after all. I'm just guessing from what happened next: The friendly Chora-driver kicked me out at a secluded crossing of the main road, reassuring me the mean Theodoti-driver would pick me up in a moment, and that I shouldn't worry.
Well, after my recent experience with his buddy, I still did worry but I remained in the spot as being told.
And really, just minutes later, the beige bus came around the corner. He actually stopped for me, and off we went to the wonderful beach of Theodoti.
Now, you might ask yourself why I made such a fuss and didn't just hop on the next bus to Theodoti. That's a valid question, and the simple answer is: Because there isn't any. There is actually one bus going to Theodoti in the late morning and another one going back to the Chora and the port in the afternoon. That's it.
Therefore, if the driver leaves you standing, you can make other plans for that day; unless another driver fights for your right ride.
Obviously, by the time you come to Ios, the schedule might have changed so make sure to check out the current one on the page of the KTEL bus company.
Small Bays
Apart from the big'n'beautiful beaches, there are uncountable lovely small bays. Unfortunately, most of them can be reached easily and comfortably only if you have your own vehicle. However, there are two bays I'd like to recommend which you can actually reach either by walking or after a short bus ride.
Valmas
The bay of Valmas lies hidden west below the Chora. The walk from the center is about 20 minutes. Since it's quite secluded, it stays empty even during the high season. You can also walk there on a dirt path from the port past the Agia Irini church. The walk is very enjoyable, offering great views.
Like in many beach spots in the Cyclades, there is a bit of sand on the beach of Valmas, but as you go into the water, there are a lot of mostly flat, slippery rocks. I'd stronger recommend bringing good swim shoes to Greece.
Since this beach is secluded, you won't find any infrastructure here. Bring enough water, possibly an umbrella or a pop-up beach shelter, and everything else you might need for a lovely day on the beach. Although there is a small restaurant there, I wouldn't really rely on it.
Kolitsani
Also, the small bay of Kolitsani is located south of Chora below the road to Mylopotas. The beach itself is rather narrow, yet very impressive for its green crystal clear waters and golden sand. It is protected on all sides by rocky hills and green trees and grants idyllic scenery.
Yes, Kolitsani has no facilities like umbrellas and sunbeds. Kolitsani beach is recommended for nudism and more private sunbathing during the low season. Above Kolitsani, there is a Modern Art Museum displaying works of famous artists.
The beach can be reached by walking down a steep hill. Therefore, I'd recommend wearing sensible shoes that have soles with a good grip.
Chora And Beyond
Ios' Chora is just one kilometer above the port. Yet, it's a rather steep walk which might be a bit challenging during the summer months. But every twenty minutes, a bus shuttles you comfortably between the two parts of town. Mind you, there are fewer buses during the low season.
The town which is built between two small hills is certainly picturesque yet not necessarily something to write home about.
The truly majestic Cathedral Church of Evaggelismos greets visitors in the main square where you also find the bus stop. As you walk past the church, there are no roads, only narrow alleys and stairs leading uphill.
The small houses lining those alleys are whitewashed with blue-colored doors and window frames. On their ground floor, they house small souvenir shops, cafés, and taverns.
Old Windmills of Ios
East of the center are Ios' famous windmills. While there are supposedly twelve of them, only ten are easily visible. The remaining two mills are probably hidden somewhere between private houses.
None of the windmills are still functioning, yet, they are a cherished icon of the island.
At night both the village and the windmills are beautifully illuminated.
Skarkos
Ios simply wouldn't be a Greek island if it hadn't an archeological site.
The settlement of Skarkos is located on a hilltop in Ios' most fertile area of Kambos about one kilometer northeast of the Chora and the port.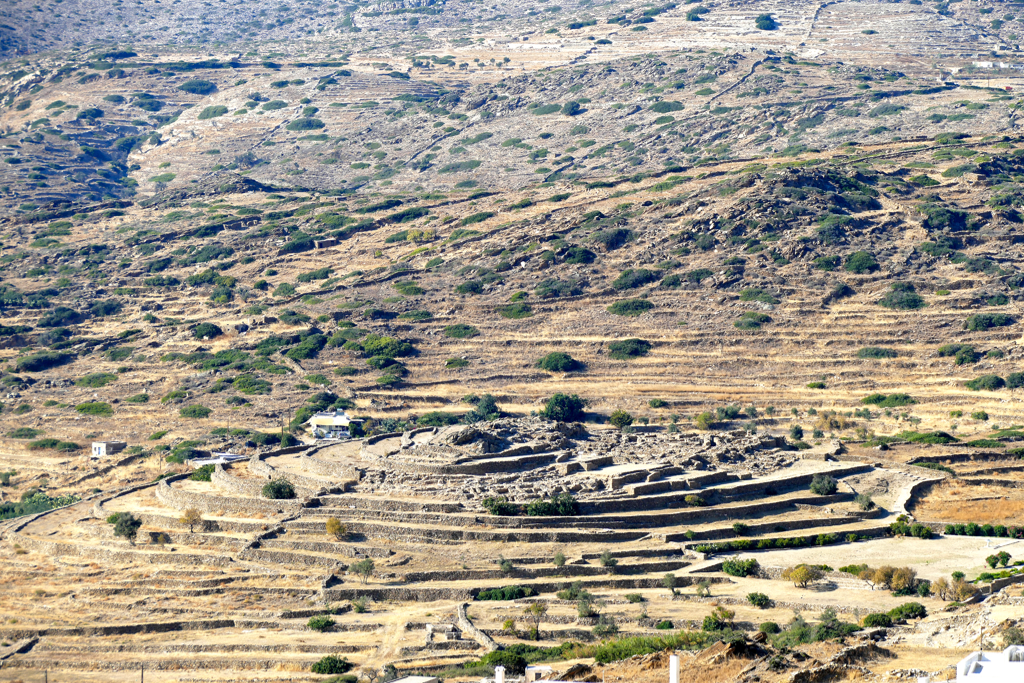 It is a settlement from the Bronze Age around 2700 BC which must have been inhabited by 200 to 300 people. The rectangular stone houses are built on terraces. Based on the architecture and the numerous small finds, their function as well as life in the early Cycladic Keros-Syros society can be traced.
The archeological site spreads over one hectare. To this date, it is the largest and best-preserved settlement from the Keros-Syros culture. It is assumed that it was abandoned following a natural disaster, probably an earthquake.
Skarkos can be visited Wednesday to Monday between 8 a. m. and 3.30 p. m. for an entrance fee of 4 €uros.
Homer's Tomb
Another feature a Greek island cannot do without is a poet and philosopher. And Ios prides itself to be the final resting place of none lesser than Homer, one of the greatest poets of all times who wrote the epics Odyssey and Iliad.
According to a legend, Homer died after consulting Pythia, the high priestess of the Temple of Apollo at Delphi, about his origins and eventually violating the oracle. Others claim that he died from sadness over an unsolved riddle, still others that he was seriously sick and came to Ios to die. And finally, there are those who question whether there even existed a historical person "Homer" at all.
Either way, Homer's tomb is located on the Psathopyrgos hill above the gulf of Plakotos in the northeast of the island. From Ios' Chora, it's a 13 kilometers drive, and the views are said to be just stunning.
Unfortunately, there is no public bus going there.
Going To The Chapel
There is an incredible number of more than 365 churches, chapels, and little monasteries in Ios – one for every day of the year.
24 of those are in and around the Chora. No, fear you not, I won't introduce all of them, just the most iconic ones.
Cathedral Church of Evaggelismos
As I mentioned above, the Ios' most prominent house of worship is the Cathedral Church of Evaggelismos. Next to it stands the small chapel of Agios Ioannis Prodromos.
The church was constructed on top of the ruins of an old church in 1930. It is built in the distinctive Cycladic style with whitewashed walls. Obviously, the dome as well as the towers are painted in that iconic blue. Inside are various frescoes and sacred icons. Nevertheless, it's not always open for touristy visits.
Church of Panagia Gremiotissa
Nomen est omen: since the church is positioned almost on the top of the Chora's cliff, it's called Gremniotissa, hence, of the cliff.
According to legend, during the Ottoman occupation of Greece, people in Crete intended to salvage their religion by sending an eikon of Panagia in a wooden raft across the Aegean sea. Their hope was that someone would rescue the image.
And indeed, shepherds noticed a light on Mylopotas beach and found the raft with the precious freight. They stored it at the church of Saint Nikolaos. I spare you all the back and forth that followed. All you need to know is that the people of Ios finally built a church for the Panagia in a place facing the island of Crete.
The Church of Panagia Gremiotissa is definitely worth the short climb. It is open every day from 8 a. m. and noon and then again in die afternoon from 5.30 p. m. to 7 p. m.
Chapel of Agios Eleftherios – Chapel of Agios Georgios – Chapel of Agios Nikolaos
Once you've reached the Church of Panagia Gremiotissa, you definitely should keep on walking uphill to visit an amazing trio of Chapels on top of the hill.
Obviously, I'd recommend going there in the afternoon to enjoy also the sun setting over the Aegean sea.
The lowest of the three white chapels is the one of Agios Eleftherios. The next one, the chapel of Saint George, is the only one with a special decorative feature: Above the entrance door is a beautiful mosaic depicting the patron saint. On top of them all is the chapel of Saint Nicholas.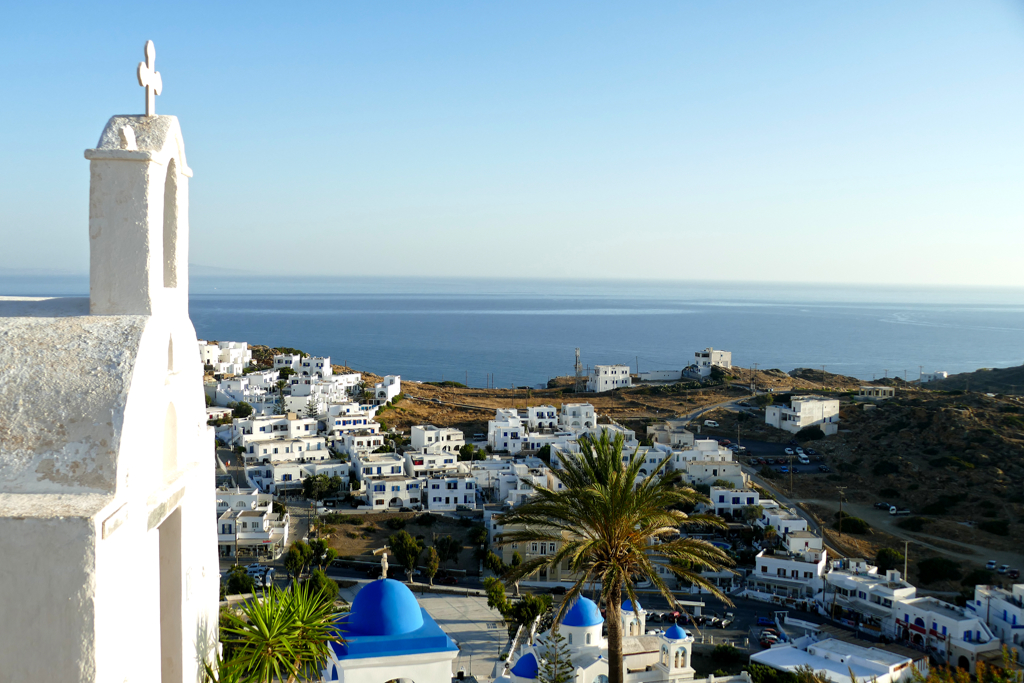 Church of Agia Irini
From the highest point to the lowest next to the Aegean sea: There you'll find the Church of Saint Irene. It is located just a short walk south of the port of Ios. In the 17th century, this Greek Orthodox church was built on a rock above the sea.
In the church's vicinity is a strange grave from the 17th or 18th century. The stone is engraved with compasses, a skull, and bones. Therefore, it is assumed that a pirate is resting here, although it's not proven.
Practical Information
How to Get There
By Plane
This chapter will be amazingly short for the sole reason that there is no airport on Ios. The nearest airport is in Santorini. However, since there are far more connections to Athens, it's probably better to fly there and take the ferry from Piraeus.
If you are visiting also some of the other Cyclades like for instance Mykonos, you can also check out flights there. I actually came to Ios by ferry from Heraklion on the island of Crete, and I also included a three-day stopover on Santorini.
By Ferry
Ferries are going to Ios from Santorini, Naxos, Heraklion on the island of Crete as well as from the port of Piraeus in Athens.
There are different standards of ferries, and prices differ accordingly. You can check prices and book tickets online for instance at ferryscanner.com or directferries.co.uk. On all ferries, you can buy some kinds of snacks and drinks, hence, you do not need to bring that on board if you don't want to.
Since you have to leave larger pieces of luggage in the boarding area and have to climb to the upper decks to find your seat, make sure to pack all your valuables in a smaller piece of hand luggage that you can have on you all the time.
If you have a flight to catch or any other critical connection, always keep in mind that the scheduled times are subject to change at any time. If those are foreseen, the ferry company will inform you. Yet, delays can also occur on short notice.
Therefore, I would never book a flight for the same day.
How To Get Around
Bus
As in all of Greece, the most important means of public transport are the buses operated by the company KTEL.
Everywhere I went, the system of public transportation was comprehensive and very reliable. Obviously, there are only a few – sometimes even only one – connections to more secluded places. However, if you are halfway organized, you can still easily explore the island of Ios by bus.
Nevertheless, in the off-season during the winter months, some connections to the secluded beaches might be suspended.
To get more information on schedules and prices, go to KTEL's website. Tickets are very cheap and can be obtained from the driver.
Rental Car
Although the bus system is really great, I won't argue that the ideal means of transport for visitors might still be a rental car. It's the only way to explore the entire island at any time comfortably at a flexible pace.
Although the road conditions vary, they should be easy to drive on. However, you should always keep an eye on potholes or herds of sheep and goats crossing your way.
Boat
Especially during high season, visiting more secluded bays'n'beaches by boat is a wonderful experience.
There are various companies offering tours by speedboat to pristine bays which often include also stops for some great snorkeling.
Organized Trips
Since there might be only one or two daily connections to some of the beaches I'm introducing above, you might prefer going there on an organized day trip. Also, exploring Ios from the water is a very special experience that you should book organized.
And finally, spending a lovely day out in the company of strangers – who then might become friends – is always a treat even for a dedicated solo-traveller like myself. Therefore, check out these promising activities*:
Where to Stay
This post aims at visitors who are looking for the serene side of Ios. For you guys, I'd recommend staying in the port area. It's a perfect gateway to all places of interest either by boat or by bus. Yet, it's very quiet. But don't worry, if you are up for an aperitif, a sundowner, and possibly some live music, you'll still find a good choice of bars.
In case you don't depend on Ios' public transport, you can stay basically anywhere around the island, obviously.
Well, not only did I stay minutes from one of Ios' best beaches. My hotel was also within walking distance from the port. I know, this combination sounds like you are swimming in waters polluted from the machine oil while your head is exploding from the noise of heavy engines. But no, nothing of that sort. There are maybe two ferries per day, and the jetty is far enough from the beach so that you don't have to swim around the vessels.
Again, I came from Santorini where tourism degenerated into a soulless industry. The port of Santorini is a couple of kilometers from the main town and just an efficient arrival-departure-machinery. In contrast, the port of Ios is actually a pleasant square with some roads lined with cafés and restaurants, and shops. I certainly won't pretend that there are those old fishermen sitting around, drinking Raki, swaying to the tunes of Zorba the Greek. But it's a nice area where dining or just hanging out is quite nice.
Nevertheless, if you came to Ios for the (in-)famous party nights, accommodation in the vicinity of Mylopotals beach is your best bet.
On this map, you'll find a great choice of lodging options for every taste and every budget*:
What to Eat
No offense, but I'd argue that Greece is not a destination for self-proclaimed gourmets. There are tons of food everywhere, however, the classic cuisine is intended to fill you up and definitely not refined. Also, Greeks prefer their food to be lukewarm, and that's how it is served in the taverns.
In most restaurants that cater to tourists, you'll find all the dishes you know from your Greek restaurant back home: Gyros, Souvlaki, Bifteki, and the like. All very much on the meaty side. A restaurant serving exactly these Greek classics at a very reasonable price is Peri Anemon in the port of Ios. Right next to it is a fish restaurant, however, it's far pricier. Either way, it's not easy to find varied vegetarian let alone vegan food. The best alternative are probably Greek salads.
In the Chora, I had a very nice dinner at the Kabouris restaurant, you'll find the spot marked on the map below.
When it comes to breakfast, just enjoy your morning coffee at one of the bars or bakeries, if your hotel does not offer any breakfast.
There is a small bakery in the port selling all kinds of sandwiches as well as sweet'n'hearty-filled pastries. Obviously, they have all kinds of bread, pies, and cookies. Their coffee is excellent and compared to other breakfast joints around the harbor quite cheap.
Definitely recommended for breakfast, but also to stock up on snacks for instance for a long day on the beach.
Cash And Cards
Until now, 20 European countries replaced their former local currency with the €uro starting in 2002. Obviously, Greece is one of them, obviously. The exchange rate is 1 US$ = 0,94 EUR as of March 2023, but you can check the conversion on this page.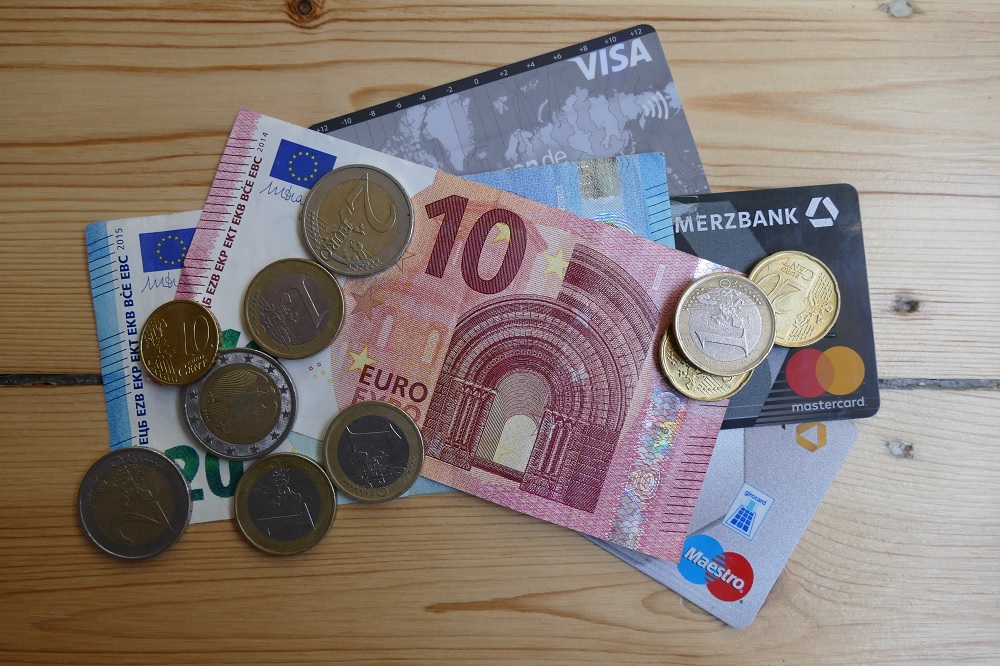 Especially since the Covid pandemic, even small businesses prefer that you pay by credit card.
However, people on the island live on tourism, hence, ATMs can often be found even in the most remote places.
Language
The Greek language had an immense impact on the development of Europe: Both the Latin and the Cyrillic alphabets were developed on the basis of the Greek alphabet. Also, the New Testament was written in classic Greek and is still read in the original version during Greek church services. Only the fall of the Byzantine Empire in 1453 marks the end of the Medieval Greek period.
This is when the era of today's version of the Greek began.
To this date, scientific terms stem directly from classic Greek – and Latin, obviously.
Although Greek is such a significant language, not many foreigners speak it. But basically, all Greeks working in tourism and gastronomy speak quite decent English. However, it's always nice to be able to say at least some pleasantries in the local language so you might want to pick up some words for instance on Lingohut. This online program offers an amazing choice of more than 45 languages!
By the way, in general, menus, timetables, street signs, and other important information are written in both Greek and Latin letters. Nevertheless, to make things easier for you, below is a list of Greek letters and their respective translation.
Greek Alphabet
| Upper Case Letter | Lower Case Letter | Greek Name | English Name |
| --- | --- | --- | --- |
| Α | α | Alpha | a |
| Β | β | Beta | b |
| Γ | γ | Gamma | g |
| Δ | δ | Delta | d |
| Ε | ε | Epsilon | e |
| Ζ | ζ | Zeta | z |
| Η | η | Eta | h |
| Θ | θ | Theta | th |
| Ι | ι | Iota | i |
| Κ | κ | Kappa | k |
| Λ | λ | Lambda | l |
| Μ | μ | Mu | m |
| Ν | ν | Nu | n |
| Ξ | ξ | Xi | x |
| Ο | ο | Omicron | o |
| Π | π | Pi | p |
| Ρ | ρ | Rho | r |
| Σ | σ,ς | Sigma | s |
| Τ | τ | Tau | t |
| Υ | υ | Upsilon | u |
| Φ | φ | Phi | ph |
| Χ | χ | Chi | ch |
| Ψ | ψ | Psi | ps |
| Ω | ω | Omega | o |
Connection and Communication
Since June 2017, no roaming charges apply within the EU with a European mobile phone contract. This applies to all 27 countries of the European Union as well as Iceland, Liechtenstein, and Norway. It pertains to all contracts.
When roaming is unavailable, you can connect to the internet at basically every museum, eatery, and hotel.
You can get a SIM card if you insist on being online 24/7. The most popular ones are from COSMOTE, Vodafone, and WIND. You can get them for 5 €uros in their respective stores.
In Greece, they use plug types C and F. Their voltage is 230 V, and the frequency is 50 Hz. Whereby, as nowadays all these chargers have integrated adapters, in general, the voltage and frequency don't really matter.
By the way, you'll find comprehensive travel info in my post World's Most Complete Travel Information – an indispensable globetrotter-classic.
Map
On this map, you can see where all the wonderful places that I'm introducing in this post are located. This way, you can put together your itinerary accordingly.
Clicking on the slider symbol at the top left or the full-screen icon at the top right will display the whole map including the legend:
Pinnable Pictures
If you choose to pin this post for later, please use one of these pictures:
Did You Enjoy This Post? Then You Might Like Also These:
* This is an affiliate link. If you book through this page, not only do you get the best deal. I also get a small commission that helps me run this blog. Thank you so much for supporting me!