If every country was like Korea, amazon, kindle, and co. wouldn't stand a chance: The number of bookstores and public libraries is just incredible – almost like in ye olden days of literature. There are actually entire streets lined with good old-fashioned stores where you can smell the scent of freshly printed pages, hear the rustling of paper, see beautifully designed covers – in short: A feast for all your senses. The shop owners have tried to give their stores an individual touch and arrange and present the books like works of art. Cozy reading corners and integrated coffee shops invite you to browse on-site and make Seoul's bookstores and libraries wonderful places to spend a rainy afternoon.
In this post, I'm introducing my personal favorites among the best and most beautiful bookstores in Seoul.
Bookstores And Libraries
I was simply blown away by the apparent love for literature and for printed books that are beautifully arranged in unique spaces. It is certainly thanks to the pure love of the printed book, the tradition of harmonious Feng Shui, and the Korean penchant for sophisticated aesthetics that the bookstores and the attached cafés or tea rooms are so cozy and stunningly furnished that you will want to spend hours there.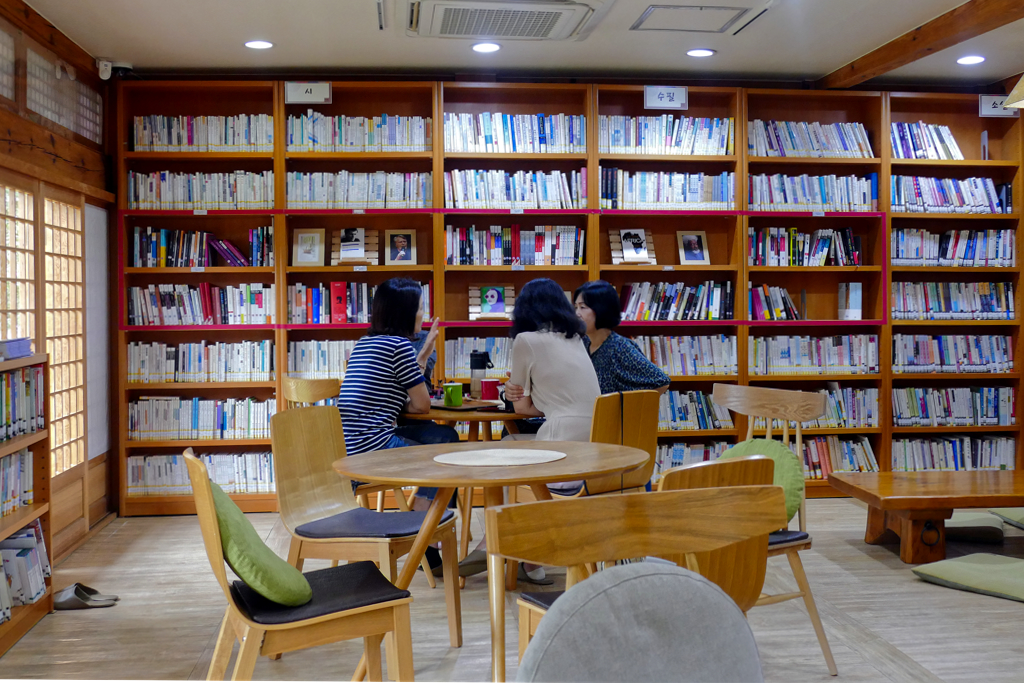 But that will only be one aspect that particularly attracts us foreigners. For Koreans, the combination of a library, a cozy reading corner, and a well-equipped workplace certainly have another, far more practical advantage.
Space And Time
With 524 people per square kilometer, Korea has one of the largest population densities in the world. Seoul is the frontrunner with a staggering 16,130 people per square kilometer. To give you an idea, London only has a third of this number, Berlin only a quarter, and Miami around a tenth. This explains the incredible abundance of high-rise building complexes that are everywhere in Korea. After all, all these people need a roof over their heads. And the area under these roofs is often rather limited, hence, there is not much space for each individual.
So where to go if you want to read a book in peace or do a paper for university?
That's right, in a café where, together with your favorite beverage, you can find a socket, USB ports, WiFi, and, above all, space and peace.
So it's no wonder – and a gift for us visitors – that there are plenty of libraries and bookstores where you can study, work, or just hang out!
Whatever the reasons behind Korea's rich café and book culture – I'm loving it!
In this post, I'm introducing my five favorite spots between iced coffee and a captivating read.
Starfield Library
Let's start with the arguably most Instagrammed famous library in all of South Korea. The Starfield Library is a public space located in the very center of Seoul's COEX Mall. Here, everyone can just grab a book, sit down, and take a break at one of the affiliated cafés.
No, you don't have to learn Korean as wide sections of the library consist of foreign books. After all, the 13-meter-tall bookshelves hold a little something of 50,000 volumes. However, if you prefer screen over paper, there are iPads you can use to read e-books. In addition, you can browse about 600 Korean and international magazines!
As the iconic shelves stretch over two floors, you really have to be careful when going up the escalator as the particular beauty of those bookcases and the enchanting atmosphere of the place can be quite distracting.
On a regular basis, there are various events taking place such as meetings with authors, discussions about literature, poetry readings, lectures, and more.
All of this sets Starfield Library apart from any other library and although it's really not an insider tip anymore, it definitely is one of Seoul's most iconic must-see places.
The library is located at the Starfield COEX Mall, 513 Yeongdong-daero in Gangnam. It is open every day from 10.30 a.m. to 10 p.m.
ARC.N.BOOK
Unfortunately, the legendary ARC.N.BOOK branch at Euljiro is only found on Instagram nowadays since the store has been closed. However, there is a smaller, more intimate branch located on the 4th floor of Lotte World Mall. Here too, you walk through unique arch-shaped bookshelves and find cozy nooks where you can check out your favorite read undisturbed.
Explore the various book genres available in the store. ARC.N.BOOK aims to create a space where passionate readers can communicate and connect through their love of books.
If you also have a love for sweets, you came to the perfect place as there is one of the iconic Artisee cafés right on the spot.
Apart from books, ARC.N.BOOK sells various trendy brands of stationery, accessories, diffusers, and other nicknacks that also make great souvenirs.
ARC.N.BOOK is located on the 4th floor of the Lotte World Mall, 240 Olympic-ro in the Songpa district. It is open every day from 10.30 a.m. to 10 p.m.
Who Is Lotte?
Lotte department stores, Lotte hotels, Lotte theme park, Lotteria – Lotte wherever you go. Since in Germany, Lotte is a not uncommon female name, I was a bit surprised being surrounded by Lotte everywhere in Korea. Until I read the company's history.
In 1948, a member of the Korean community in Japan by the name of Shin Kyuk-Ho founded a small business in Tokyo. Shin Kyuk-Ho was a big fan of Germany's greatest prince of poets of all times, the one and only Johann Wolfgang von Goethe. In 1941 at the age of 19, he had enthusiastically read Goethe's novel The Sorrows of Young Werther. Eventually, he named his newly founded company after the novel's main character Charlotte, abbreviated to Lotte. Charlotte, however, is the name of premium auditoriums in movie theatres run by the Lotte company.
Since this post is all about books, the background story that the literary figure of a world-famous German poet laureate became the namesake for a business empire is quite appropriate, isn't it?
Seoul Book Bogo
Just a ten-minute walk from the Lotte World Mall is my personal favorite among Seoul's libraries, the Seoul Book Bogo. Visiting this book repository has a feel like travelling back in time into a safe space where higher faster further was no virtue. A place where you are surrounded by silence and contemplation – and 120,000 old books that can tell tales from a tranquil era before our times.
The Book Bogo used to be a warehouse and was then converted into a humongous bookstore in 2019. Actually, it consists of 25 secondhand bookstores. It also contains a library, and they organize cultural programs from time to time.
You can also admire the arched shelves of the Book Bogo in the second episode of the Netflix-RomCom Hotel Del Luna.
The Seoul Book Bogo is located at 1 Ogeum-ro in the Songpa district. It is open from Tuesday to Sunday between 10 a.m. to 8 p.m.
Book Park Lounge
Life quickly becomes a K-Drama when exploring Korea: The Book Park Lounge is a very popular movie star as since 2018, it starred in Rich Man, Romance is a Bonus Book, Psychopath Diary, Must You Go, The Witch's Diner, as well as in the Netflix series Nevertheless.
But most importantly, the Book Park Lounge is one of my absolute favorite hideouts in Seoul's urban jungle. This café-bookstore spreads over two levels of the culture complex Blue Square and houses a collection of over 3,000 books. Those books are available in Korean, obviously, but also in English and you find them in a bookshelf that passes through five floors!
However, the books at Book Park are not for sale nor can they be borrowed.
So how can you enjoy literature at the Book Park Lounge? Well, there are nooks and two cafés where you can unwind and read as many oeuvres as you like. Also, you can enjoy a snack and a beverage with your book.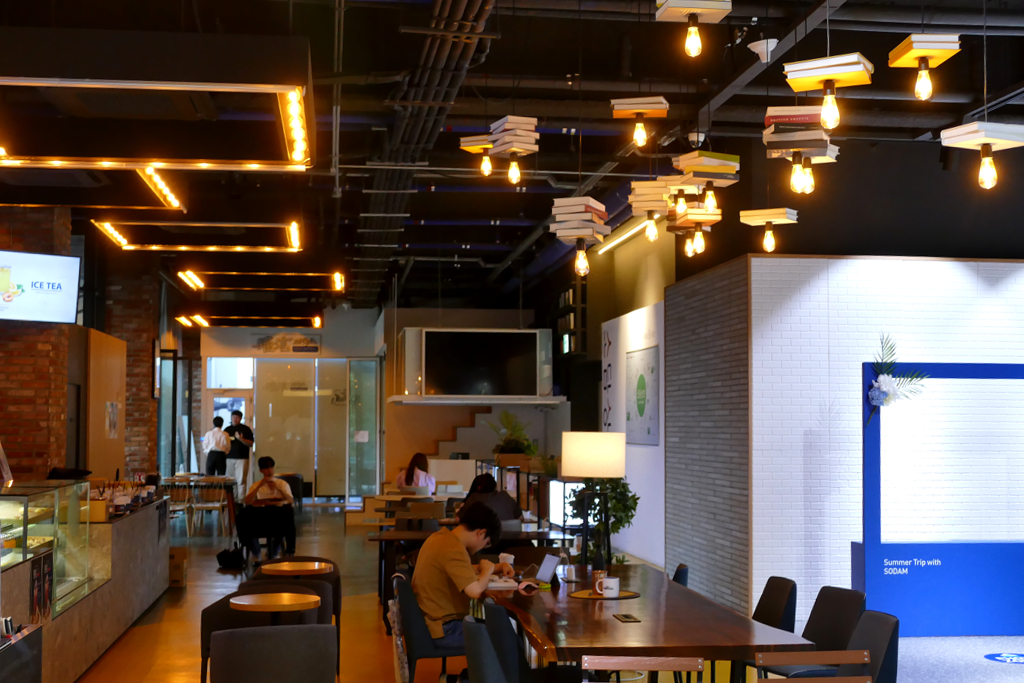 While the café on the second floor is freely accessible, you have to pay an entrance fee to hang out at the premium lounge on the third floor. For KR₩ 9,900, you can obtain a day pass that even includes a beverage.
They also organize cultural events such as lectures. Also, you'll find a small shop selling beautiful stationery and small toys on the second floor.
The Book Park Lounge is located at 294 Itaewon-ro in Yongsan, and it is open from Tuesday to Sunday between 11 a.m. and 10 p.m.
Kyobo Book Centre
Another movie star is the Kyobo Book Centre branch in Gangnam as one of the protagonists of the K-Drama Alone In Love works there.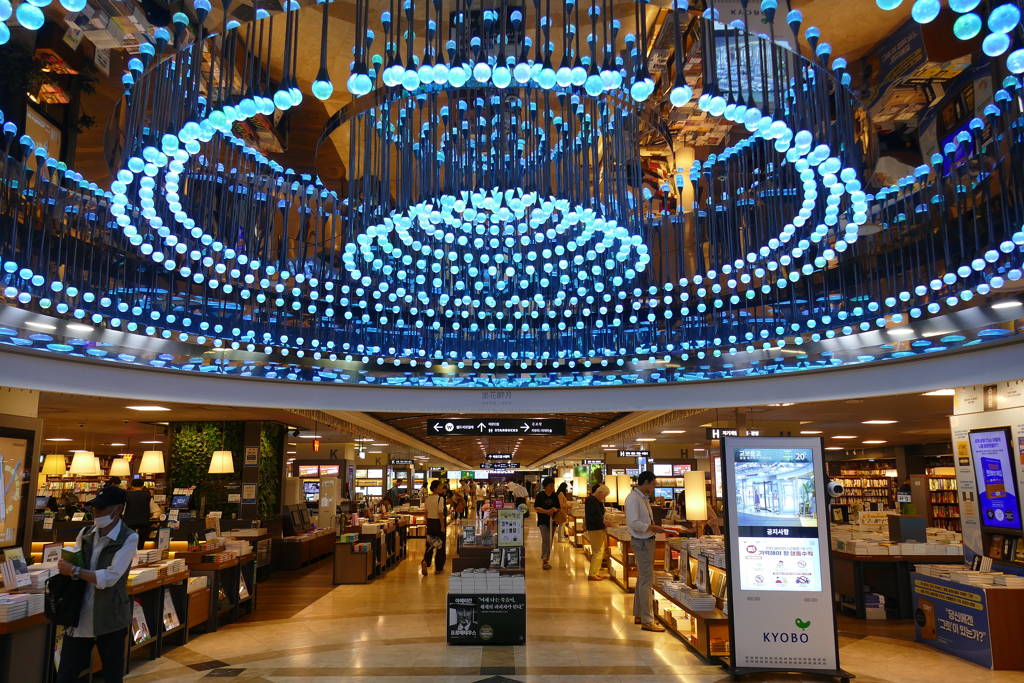 With ten stores in seven cities, Kyobo Book Centre is actually Korea's largest bookstore chain. Its flagship store is located just off the Gwanghwamun Plaza in the basement of the Kyobo Building.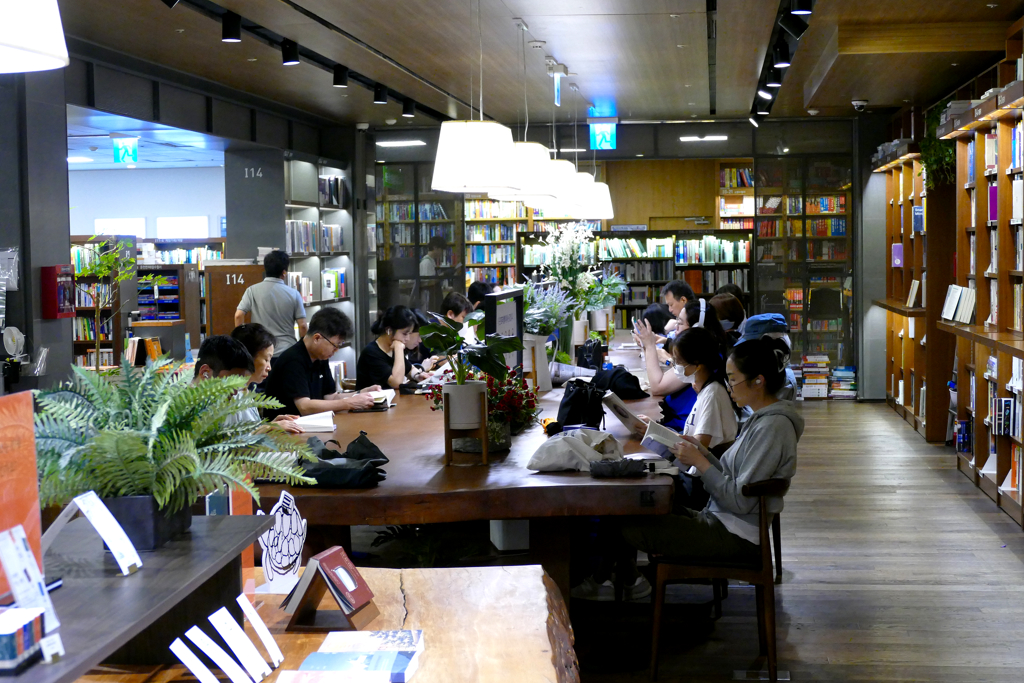 Here, you can search for around 2.3 million books that are categorized electronically so you can find them in the blink of an eye. Don't worry, they have a large section with titles in foreign languages. They have a spacious reading section, and there is a large Starbucks coffee shop. The store also houses a large video and music section, and they sell beautiful stationery.
The Kyobo Book Centre flagship store is located at 1 Jong-ro in the Jongno district. They are open every day from 9.30 a.m. to 10 p.m.
The Kyobo Book Centre – Gangnam Branch is at 465 Gangnam-daero and is also open daily from 9.30 a.m. to 10 p.m.
My Three Most Recommended Reads
Now that we have strolled between bookshelves, touched and admired books, ordered a delicious coffee specialty at the counter, and sunk into a deep wing chair to dive into a gripping read, it's time to recommend some books by Korean novelists.
I picked my three favorite novels. All three were written by women, and all three feature a woman as the central topic. Maybe that's because women are rarely the center of attention in Korean society.
Since these books are told in a gripping way and provide an unvarnished look at Korean social structures, I believe they add great value to everyone's travels through Korea. After reading these novels, you will have a different, more realistic view of the country. This may not always be pretty, but it definitely triggers your observation skills and increases your understanding of what's happening around you.
Kim Ji-Young, Born 1982 by Cho Nam-Joo
This book guides us through the life of Kim Ji-Young. Telling us about her upbringing and her adult life, the novel sheds light on the position of women in Korean society. By describing the apparently ordinary, it points out the hardships Ji-Young had to go through – all the small obstacles, the seemingly normal discrimination, and the social judgment women in Korea have to endure day by day. Kim Ji-Young, Born 1982 is not a loud, combative book. It denounces in a quiet yet forceful way.
The book has less than 200 pages and is a gripping read so you will probably finish it in just one day.
The Vegeterian by Han Kang
In the book The Vegetarian, Yeong-Hye, a graphic artist and wife, decides to quit eating meat after a literally bloody nightmare.
Shockingly, this decision leads to devastating consequences in her personal as well as social life. Just like in Kim Ji-Young, Born 1982, a minor, personal decision by a woman unexpectedly shakes entrenched social and family structures to their foundations.
In 2016, The Vegetarian won the Man Booker International Prize. The book was translated into around 30 languages.
Pachinko by Min Jin Lee
What sets Min Jin Lee, the author of Pachinko, apart from the other authors is that she doesn't live in Korea but is based in Harlem. Pachinko is her second novel. It is a historical epic that portrays a Korean family who migrates to Japan. As it is set in the years between 1910 and 1989, it covers the era of the Japanese occupation of Korea as well as WWII.
In Japan, the Korean family faces racism and discrimination, an experience they share with most ex-pats in the land of the rising sun. Lee touches on various historical topics and many unhealed wounds between both countries.
Pachinko has been compared to works like The Forsyte Saga by John Galsworthy and Great Expectations by Charles Dickens. The novel was a 2017 finalist for the National Book Award for Fiction. In March 2022, Apple TV+ produced an adaptation of Pachinko.
Map
On this map, you can see where exactly my favorite bookstores and libraries are located.
Clicking on the slider symbol at the top left or the full-screen icon at the top right will display the whole map including the legend.
Visiting the best bookstores and libraries was only one of many amazing activities during my stay in Seoul. To read about what else I enjoyed doing, just hop over to my post Best Things to Do in SEOUL: The Must-Dos And the Hidden Gems.
However, Seoul was only one of many fantastic destinations I got to see during my tour of South Korea. Check them all out in my post Grand Tour of SOUTH KOREA – A Guide for Individual First-Time Visitors.
There, you'll also find valuable general information that will make your trip smoother and much more enjoyable.
Pinnable Pictures
If you choose to pin this post for later, please use one of these pictures:
Did You Enjoy This Post? Then You Might Like Also These: