Come on in, join us at our transnational Christmas dinner table where we slowly bid the year 2020 farewell.
Driving Staying Home For Christmas
I spent at least half of the Christmasses of my adult life somewhere more or less far away. Sometimes by myself, sometimes in the company of my daughter. Sometimes I visited friends.
I spent Christmasses far away in tropical places like Jamaica, Belize, Honduras, and Hawaii. But I also went on trips to France, Greece, or I hopped across the border to Austria.
But here we go again…whereby the term going makes me all sentimental since we are actually going nowhere. Europe is locked down – again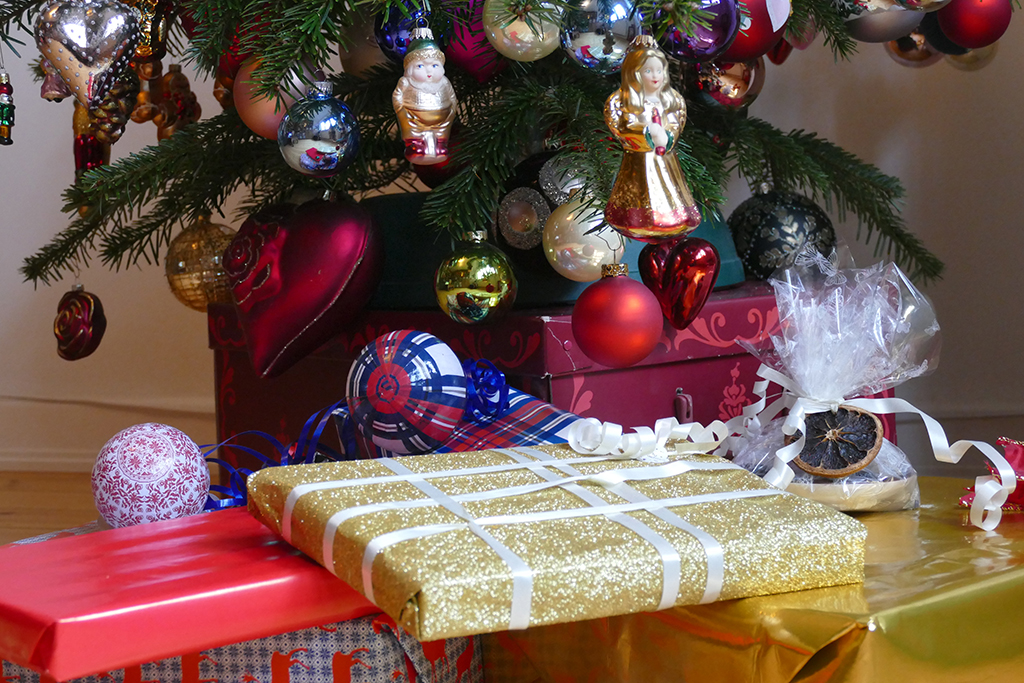 Although I'm a restless and avid globetrotter, I can also develop a very homely side. I've already proved this in my post on pickled and preserved Mediterranean delicacies that I've published earlier this year.
During these travel-restricted times, what's better than bringing international favorites to the table? So come and join us at our table where we enjoyed a Transnational Christmas Dinner 2020.
And so you can share this Holiday Season with us, I added four dessert recipes at the end of this article.
Dinner on Christmas Eve
The Starter
As I mentioned above, I've spent Christmas in France – in total about eight times. I'll never forget the first time I attended Christmas dinner at my friend's home. I don't know how his mom did it since she didn't have any help and still served about twelve different courses.
There were starters and soup. There were oysters and there was ris de veau – which visitors to France tend to mistake for some fried rice or so. Nope, actually, it's sweetbread from a calf.
Pardon – what is 'sweetbread'?
Well, sweetbread is the fancy term for the animal's thymus or pancreas. Sounds gross, tastes delicious, especially drowned in a creamy sauce.
So anyway, after the large family was stuffed to the brim – the immediate family was joined by about a dozen aunts'n'uncles – there was still so much left that we feasted on those delicacies for days.
To honor those wonderful Christmas memories from France, I decided on a classic Pâté en croûte as a starter.
Diced meat was mixed with lots of fresh herbs, eventually ground with a bit of bread, and finally wrapped in a buttery shortcrust.
The Soup
Our soup paid tribute to our North German home – namely the city of Hamburg. It's a potato chowder with a generous dash of cream. This year, however, I added some of the veggies that I had purchased for the duck sauce of the following main course. Therefore, the soup was a bit zingier.
The smooth vegetable cream is finally seasoned with a generous share of grainy mustard and topped with stripes of smoked salmon and some fresh dill.
The Main Course
This year, our main course was a duck with a couple of complementing sides. I think this dish – in its local variations – could be eaten all over Europe and possibly even in the US and Canada.
The duck was brushed with orange juice – for the taste and for the color. Its main sidekick were dumplings made from a mix of potatoes, chopped Brussels sprouts, and bacon bits. I used this dough also for the duck's filling.
A baked apple filled with a mix of marzipan, ginger, and rosemary added some spicy and a bit exotic zing.
The veggie sides were a fruity red cabbage with lots of delicious apple slices and a cream-braised savoy cabbage.
Fun sidenote: The other day, I've heard a funny explanation where the tradition of having duck or goose for Christmas comes from. Strictly speaking, Christmas eve is still within the fasting period. Since ducks and geese are swimming, they were declared fish and therefore allowed even during this time.
I don't know if this story is true, but it's funny just the same – and we truly enjoyed our once feathered 'fish'.
The Desserts
It's actually amazing that I've made even two desserts – given that I'm no dessert person.
Nevertheless, I love thick creams, and both desserts are made with Mascarpone – a tribute to my beloved Italy – and a generous blob of whipped cream.
I tried to make things a little bit lighter by adding fruits – but I'm afraid I failed.
For the baked apple dessert, I piled layers of apples stewed in home-made caramel, crumbs of speculoos, and that heavy cream in little jars. For serving, I sprinkled the treat with chopped burnt walnuts.
The trifle is basically the same idea only that I used mixed frozen berries instead of apples, and the crumbs were made of chocolate-covered gingerbread that I first soaked in black currant liqueur I still have from my trip to Riga.
Breakfast on Christmas Day
Scones
I was amazed that the next morning, we were actually able to eat again. Well, to increase our appetite, I served freshly baked scones – enriched with a dash of marzipan and some aromatic orange peel.
As many other foods, to us, scones are not just a pastry but a culinary reminder of lovely stays in London where we enjoyed many cream teas over the years.
Raspberry Tart
Also, I had prepared a beautiful Tarte Linzer Torte-style – which is a traditional Austrian pastry. As I mentioned above, two years ago, we had spent Christmas at a friend's home in Vienna – so with this Tarte, I paid tribute to one of my favorite cities in the world.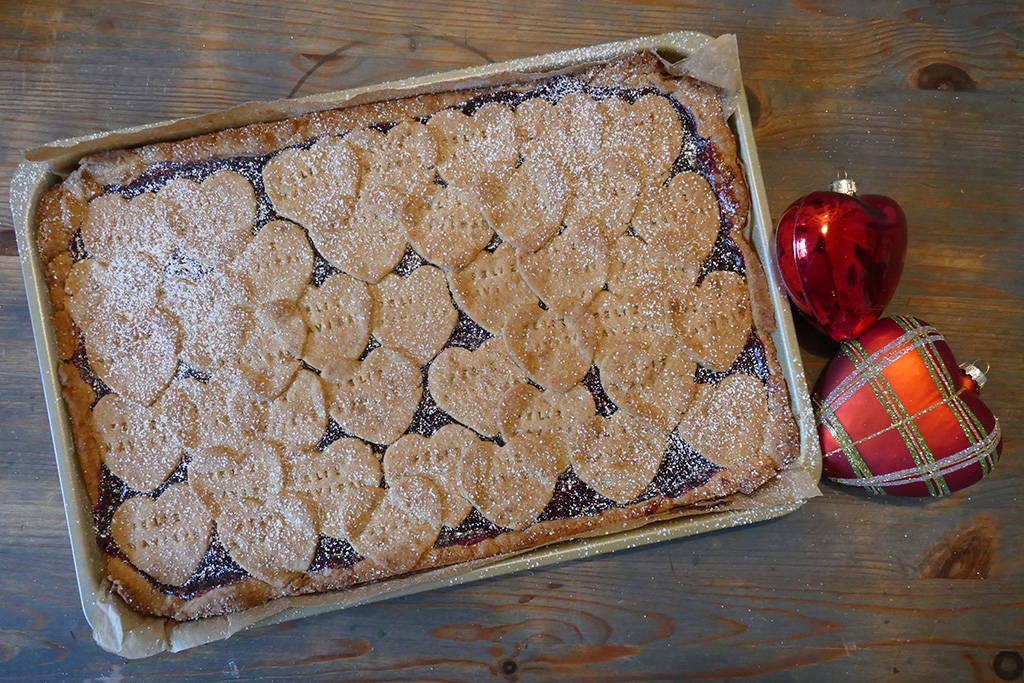 Below I leave the recipes to the last four sweet treats for you and hope you enjoy them as much as we did.
Happy Holidays!
Recipes
Since I'm sure that you had something terrific for Christmas dinner, too, I only supply you with the recipes for the sweets since these can be quickly prepared even over the next days. You'll probably have most of the ingredients – or something you can replace them with – at home.
However, if you are interested in any of the above introduced recipes, don't be shy! Just send me a message and I'll send them right away.
Gingerbread Trifle
This Is What You Need…
…for four
gingerbread, plain or chocolate-covered, 200 grams
Mascarpone (or curd cheese), 200 grams
whipped cream, 250 grams
cinnamon, 1 teaspoon
liqueur, preferably blackcurrant, 2 soup spoons*
mixed berries, frozen
fruit juice, preferably blackcurrant
confectioner's sugar, 100 grams
chocolate shavings
…And This Is How You Do It
Crumble gingerbread and soak in liqueur and juice.





Mix the Mascarpone with sugar and cinnamon.




W

hip the cream and fold gently into the curd.




Fill a layer of curd into a glass container. Follow with a layer of gingerbread. Then, place a layer of berries on top.
Repeat and then finish with a last layer of curd.



Finally, sprinkle with grated chocolate and serve refrigerated.



*I've used a wonderful souvenir I brought with me from my trip to Riga. Obviously, this is a great way of incorporating travel souvenirs into my kitchen.
Baked Apple Dessert
This Is What You Need…
…for four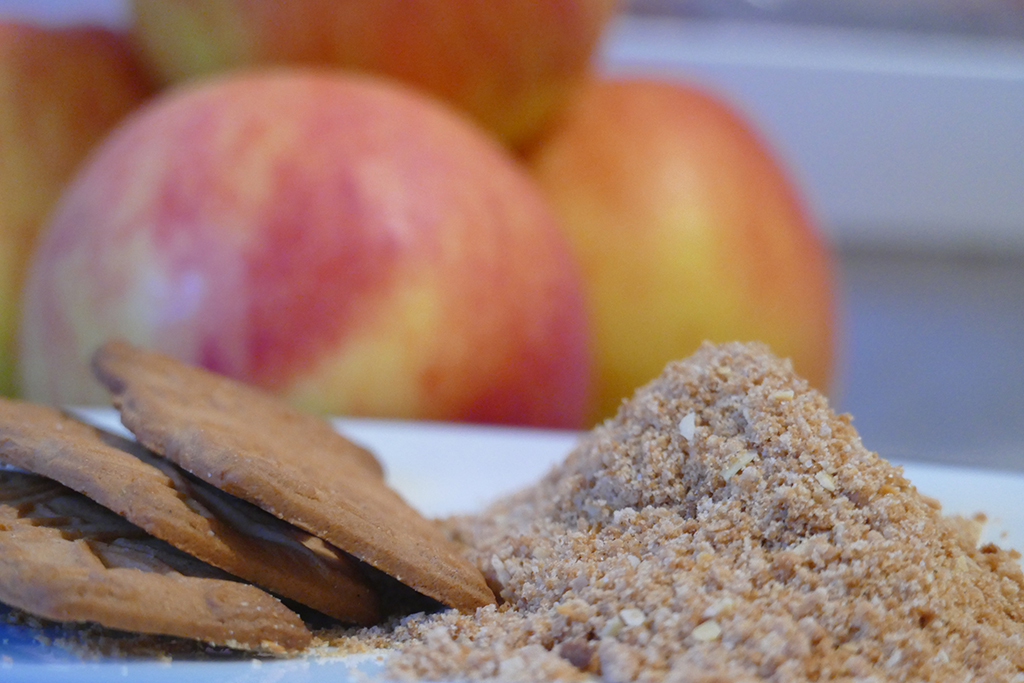 three big apples
one vanilla bean
butter, 35 grams
brown sugar, 100 grams
cinnamon, a pinch
Grand Manier (or apple juice), 2 soup spoons
Mascarpone (or curd cheese), 200 grams
whipped cream, 100 grams
speculoos (or other dry cookies), 70 grams
chopped burned walnuts or almonds
…And This Is How You Do It
First, peel, core, and dice the apples.


Then, halve the vanilla pod and scrape out.


Put butter, 70 grams of sugar, half of the vanilla pulp, and cinnamon in a saucepan and let simmer briefly without stirring.


As soon as the sugar is a little caramelized, add the apple pieces and liqueur or juice. Simmer for about 5 minutes, stirring well. The apple pieces should be soft but not completely overcooked.


Now remove the apple pieces from the pot with a sieve scoop and place in a bowl.


Simmer the caramel sauce for another 5 minutes until it thickens. Then add the pre-cooked apples again and simmer for another 2 to 3 minutes.


Mix the Mascarpone – or, hence, curd cheese – with the remaining sugar and vanilla pulp.


Then whip the cream and fold gently into the curd.


Crumble speculoos.


Now fill a layer of apples into a glass container. Follow with a layer of crumbs. Finally, top it with a thick layer of curd.



Decorate with some apple slices and some chopped burned walnuts and serve refrigerated.
Scones
This Is What You Need…
…for eight to ten pieces
Marzipan, 70 grams
flour, 340 grams
sugar, 2 soup spoons
zest of an organic orange
baking soda, one soup spoon
salt, one pinch
butter, ice-cold, 115 grams
milk or liquid cream, 120 milliliters
eggs, two
cream, liquid, two soup spoons
…And This Is How You Do It
Grate the marzipan on a kitchen grater. This works best when it's ice-cold.


Mix flour, sugar, orange zest, baking powder, and salt. Add the butter in pieces and the marzipan and knead into soft small crumbles.



Whisk milk and eggs together and add to the flour mixture

and knead everything well with floured hands to a smooth dough.


Roll out the dough with a rolling pin so that it is about 1.5 centimeters thick.


Dip a large cookie cutter or a glass in flour, then carefully cut out disks.



Then, knead the leftover dough together again and roll it out to cut further disks. Repeat until there is no dough left.




Place the disks on a baking sheet and brush with the cream



Bake for about 20 minutes in the pre-heated oven (about

200°C)
Raspberry Tart
This Is What You Need…
flour, 250 grams
brown sugar, 75 grams
sugar, 75 grams
baking soda, one teaspoon
ground almonds (or hazelnuts), 200 grams
salt, one pinch
cinnamon, one teaspoon
ground clove, one pinch
butter, ice-cold, 225 grams
egg
egg yolk
raspberry jam, 500 grams
…And This Is How You Do It
Mix the flour, sugar, baking powder, salt, nuts, cinnamon, and clove.




Add the very cold butter in cubes as well as the egg and egg yolk and quickly knead into a shortcrust.



Shape the dough into a flat brick and place it in a covered bowl. Refrigerate for at least one hour, however, preferably overnight.




Roll out 1/3 of the dough so that it is about 0.5 centimeters thick.


Cut out cookies in the shape of your choice – stars, trees, hearts – or a wild mix. I used a cookie stamp* to engrave the wish Feliz Navidad in mine. Place cookies on a plate and refrigerate.


Line a baking pan of approximately 25 x 40 centimeters with baking paper. Ideally, the baking paper sticks out a bit on the sides. This way you can later heave the Tarte out of the mold more easily.


Now roll out the remaining dough the size of your baking pan. Place into the mold. Press it up the edges with your hands. Refrigerate.

It is crucial to keep the dough as chilled as possible during all steps.


Preheat the oven to 180 ° C


Take the baking pan out of the fridge and spread the jam evenly. This should be stirred nice and smooth. If it isn't spreadable enough, you can briefly heat it up a little.


Place the cut-out cookies on top in a decorative way of your choice.


Bake for about 25 to 30 minutes until the top is light brown.
I hope you'll like my recipes and enjoy preparing your Christmas treats. If you have questions, you know where to find me.
Also, don't forget to let me know in the comment section below how it went!
Pinnable Pictures
If you choose to pin this post for later, please use one of these pictures: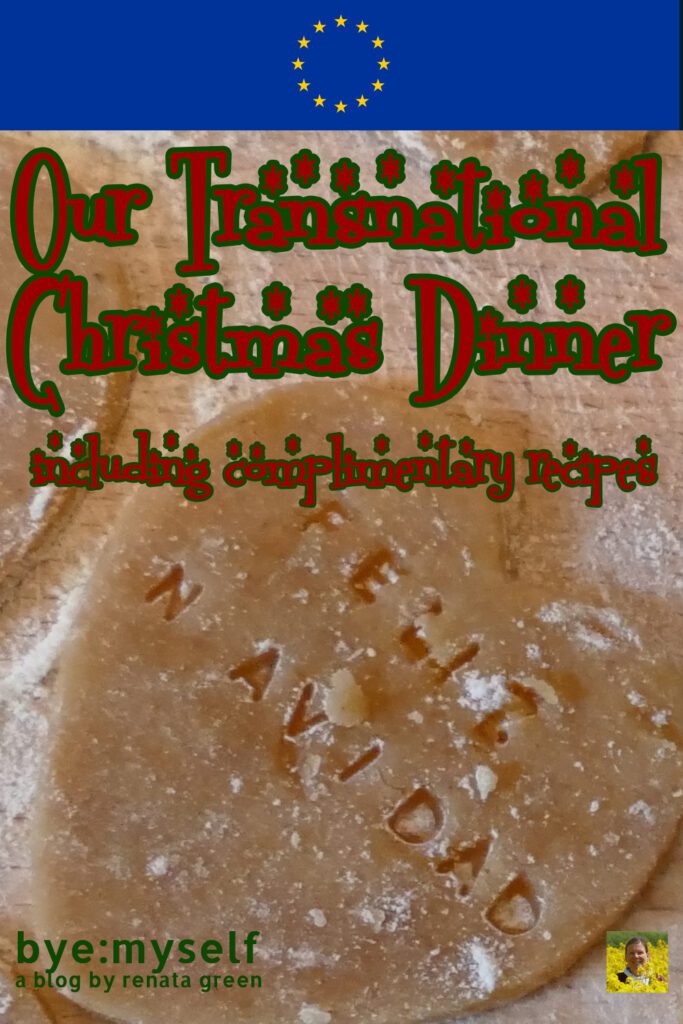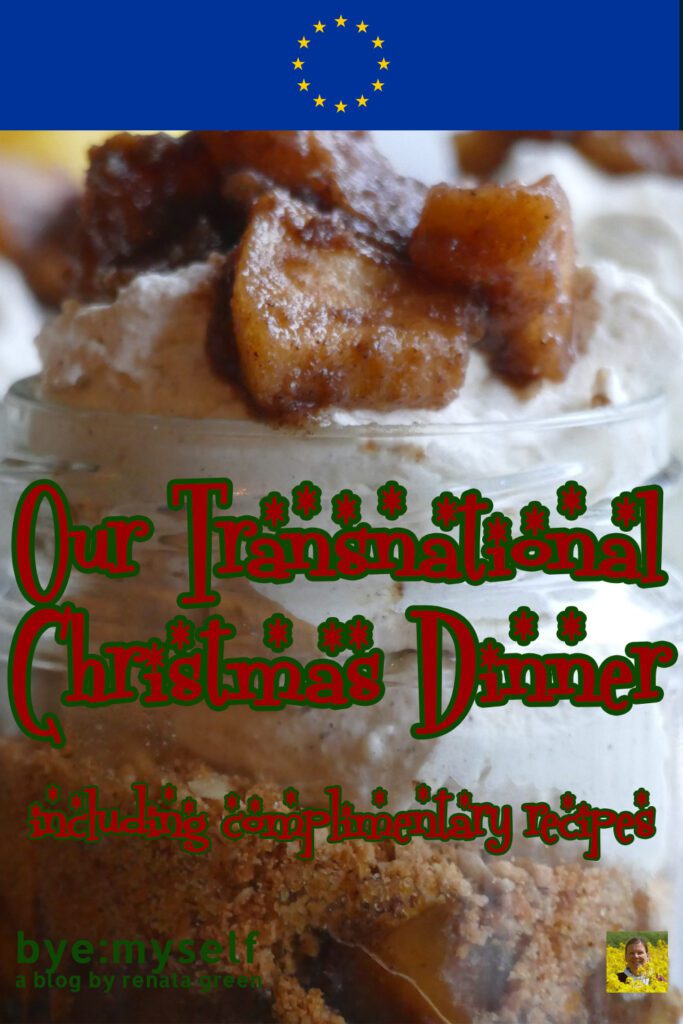 Did You Enjoy This Post? Then You Might Like Also These:
*This is not an affiliate link, but just a service to my readers.