To visit Austria's capital, for the most part, you don't need to join an expensive city tour. In fact, almost all of magnificent Vienna can be visited by streetcar.
So hop on, let's explore a city full of history, stories, and myths.
VIENNA's Grand Past
Vienna has an everchanging and compelling past. Whether it is the Congress of Vienna where after the Napoleonic wars Europe's layout and further history were determined. Or Empress Sisi and her tragic story. Might be the gilded years around the turn of the century when Vienna – next to Berlin and Paris – was the center of the artistic and intellectual avant-garde.
Progressive painters like Egon Schiele, innovative designers like Koloman Moser, inventive architects like Otto Wagner and Adolf Loos, exciting musicians like Arnold Schönberg, and of course the father of psychoanalysis Sigmund Freud make a compelling case for the city's grandezza.
Back to Black
After all these ingenious tendencies were destroyed by the Nazis, Vienna had to find its balance after the war. Graham Greene's post-war classic 'The Third Man' gives us a vivid idea of Vienna's shady, sinister side.
Until now the city has a dark, melancholic flair to it; if you want to feel it, that is.
It is absolutely possible to visit the city and focus exclusively on its sugarcoated and romantic sides. But it's the rich mix of century-old Royal culture and architecture, once hyper-modern, misunderstood innovations of design and style, a little petty-bourgeois attitude, and at the same time crazy artists and progressive intellectuals that make Vienna one of a kind.
Off the Beaten Paths
The many tourists coming here every year prove that this elegant, sophisticated metropolis has never lost its charm and attraction.
I'm going to Vienna every year – since there are always some of Europe's best exhibitions taking place, but also because it's just such a beautiful and cool place. So let me take you with me on a really special Vienna tour – sort of a hop on hop off thing, but we can pay as little as 2.20 €uro for it: We are going by cable car – which the Viennese call 'Bim' because of the noise of the bell announcing the cart's departure.
The 'Bims' #1 and #2 are actually going in a circle around the city center. This street is cleverly called "Ring". Actually, they are stopping at some of the most interesting, important, but also hidden spots you absolutely should see.
Welcome to Vienna – General Tourist Information
I will not lie to you, you can do this tour in one go by taking the touristy 'Ring-Tram'. It's the ancient yellow car that starts its tour at the Schwedenplatz and takes you around in about 30 minutes. You'll get some information, but you can go only once and the whole trip costs you 9 €uro.
But I find it's much cooler to do it on your own. Especially since you might hop on and off as much as you please if you buy a 24 hours ticket for 8 €uro (resp. 14,20 €uro for 48, 17,10 €uro for 72, and also for a week whereby it has to be from Monday on.
On Arrival
You'll probably arrive in Vienna by plane and land in Schwechat, the city's airport located about 14 km from the city center.
Getting downtown from there is easy peasy, actually, there are four options. However, I recommend only one – unless you arrive at inhumane hours or have to schlepp very heavy luggage. Take the S7 ('S-Bahn') towards Floridsdorf and get off at Landstraße/Mitte. This train takes only about two minutes longer than the CAT (City Airport Train) and costs a fraction. A one-way ticket costs 3,90 €uro. If you get one of the a. m. tickets, you only have to pay an additional 1,70 €uro for the trip from the airport – while the CAT costs 12 €uro (and the shuttle bus 8 €uro).
*The letter ß exists only in the German alphabet and it's by no means a B – it's a 'sharp', double S as in kiss. When writing, you can actually replace it by a double S.
Money
After going through customs, you'll find bank booths as well as ATMs to change or get money.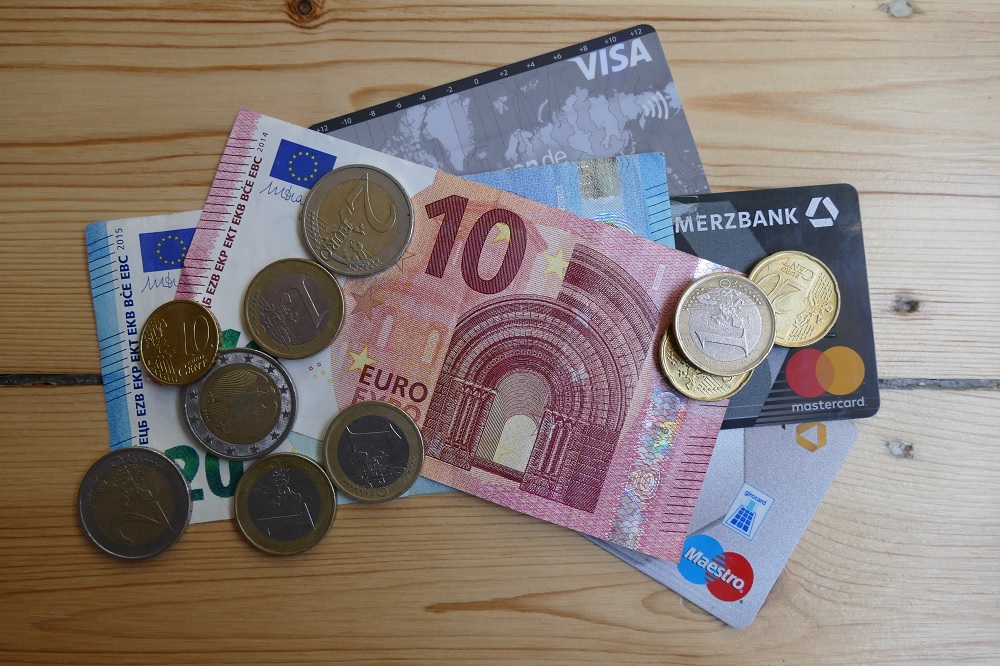 Until now, 20 European countries replaced their former local currency with the €uro starting in 2002. Obviously, Austria is one of them. The exchange rate is 1 US$ = 0.94 EUR as of January 2023. However, you can check today's conversion rate on this page.
Language
Austrians speak German with a strong accent and a peculiar dialect which might frustrate you if your German is only basic; especially at the beginning of your stay, you might have some difficulties understanding people.
However, there are so many tourists coming here every year that most people speak pretty decent English or even other foreign languages.
For some useful words and phrases, you might want to practice a little with the help of e. g. Babbel (the first lesson is for free and already supplies you with useful basic vocabulary).
Tourist Information and Deals
Whatever you have planned, you'll probably be much better off with a discount card, one of these tourist cards you get in practically every (European) city. To make things difficult, in Vienna there are two types: The Vienna Card which grants you free use of transportation and discounted entrance to many attractions, and the Vienna Pass which grants you free access to many attractions, but no free use of transportation so that you need to buy an additional travel card.
I'd go for the Vienna Pass since the entrance fees are pretty high, so 'free' is much better than 'discounted' and you can add the travel card if you really need it which might not be the case every day.
In case you have further questions, here are the contact details of
Tourist Info Vienna Airport
at the arrival hall
Open daily from 7 a. m. to 10 p. m.
Tourist-Info Vienna
Albertinaplatz/Maysedergasse
1010 Vienna
Open daily from 7 a. m. to 7 p. m.
What to See
I'm an avid solo-travelling woman. Since solo-travel doesn't equal solitude, I love to join organized tours here and there. Also, to make sure that Vienna's attractions you intend to visit aren't sold out you might want to book ahead. However, here are some ideas of what to do and how to visit Vienna in an easy way*:
Sleeping
Accommodations in Vienna are not exactly cheap. The Ruby Hotels are a chain and the Ruby Lissi* is conveniently located close to the airport transports as well as to the Schwedenplatz (on my map it's marked with this star ✪) which is the starting and final point of our city tour; and all this at an okay price.
However, it's certainly a good idea to check out other options and rates on this map*:
Eating
Vienna is famous for its hearty, a bit heavy cuisine with lots of meats, dumplings, and fantastic desserts and cakes. Also, the variety of Viennese coffee specialties will make your head spin!
Cafés
Since its opening in 1873, the Café Landtmann is probably Vienna's most prestigious and elegant café.
Café Landtmann
Universitätsring 4
1010 Vienna
Phone: + 43 – 1 – 24 100-120
Email: cafe@landtmann.at
Open daily from 7.30 a. m. till midnight
Not as elegant, but a real institution: Elias Canetti, Andy Warhol, and Sir Peter Ustinov are only three internationally famous stars from a long list of celebrities to enjoy Hawelka's hospitality…and specially roasted coffee that can also be ordered from their online store.
Cafe Hawelka
Dorotheergasse 6
1010 Vienna
Phone: + 43 – 1 – 512 82 30
Email: office@hawelka.at
Open daily from 8 a. m. till midnight (Friday and Saturday till 1 a. m. and Sunday from 10 a. m.)
In a Rich Man's World
Every time I set foot in the Royal Patisserie Demel, I crack up laughing.
It's not the salesladies, here they call them 'Demelinen' – who lower themselves to serve the customers in a quite charming old fashion. No, it's the prices that are just ridiculous: their famous chocolate, called cats' tongues for their shape, cost about 22 €uro for 160g. Do you think that's extreme? Check out their online shop for 300g of cookies for 19 €uro or 125g of sweets for over 24 €…I could go on and on, but I can't since I'm still laughing hysterically.
Demel
Kohlmarkt 14
1010 Vienna
Phone: + 43 – 1 – 535 17 17 – 0
Email: wien@demel.com

Open daily from 8 a. m. to 7 p. m.
Snacks
Also a classic, but much more affordable are the sausages at Bitzinger's stand in front of the Albertina gallery behind the opera. But get there in time before you are really hungry since the line can be very long; a proof of their quality at a fair price.
Bitzinger Würstelstand Albertina
Phone: + 43 – 660 815 24 13
Email: wurst@bitzinger.at
A very unique snack bar is Trzesniewski. Don't know how to pronounce it? Never mind, even Vienneses don't, so they even put it in a slogan: Trzesniewski – unspeakably good.
Their specialty are little sandwiches with all sorts of hearty spreads: whether meat or fish-based, whether with herbs or veggie – Trzesniewski's little sandwiches are good, indeed. Try them with a 'pfiff' of white wine – a 'pfiff' is a small glass of wine – about 100 ml / 3.4 fl oz.
They have a couple of branches all over town, but my favorite is at the Dorotheergasse.
Tresznewski
Dorotheergasse 1
1010 Vienna
Phone: +43 – 1 – 512 32 91
Email: office@trzesniewski.at

Open weekdays from 8.30 a. m. till 7.30 p. m., Saturday 9 a. m. till 6 p. m. 19.30 and Sunday from 10 a. m. till 5 p. m.
Restaurants
If you have a craving for heavy, hearty Austrian cuisine, there's no better place than Reinthaler. They have a restaurant close to the Albertina, but the Beisl (=pub) at the Dorotheergasse has more space – and the place is always busy, believe me. No wonder: they are offering fantastic, huge main courses at 9 to 16 €uro!
Reinthaler's Beisl
Dorotheergasse 2-4
1010 Vienna
Phone: + 43 – 151 312 49
Email: reinthalersbeisl@gmail.com
Open daily from 11 a. m. till 11 p. m.
Plachutta is another classic, but a little more sophisticated, i. e. more expensive. They have a couple of branches in the center of Vienna, but my favorite is the one at Wollzeile.
Plachutta
Wollzeile 38
1010 Vienna
Phone: + 43 – 1 – 512 15 77
Email: wollzeile@plachutta.at
Last but not least there is the very rustic Zwölf Apostelkeller, the cellar of the twelve apostles; and here, like in all the other eateries I've mentioned, you'll feel close to heaven, I can promise you that.
Zwölf-Apostelkeller
Sonnenfelsgasse 3
1010 Vienna
Phone: + 43 – 1 – 512 67 77
Email: office@zwoelf-apostelkeller.at
TOURING THE CITY CENTER BY STREETCAR
But hey, before you take a break at one of the cafés or restaurants, let's explore the city by streetcar.
The Ruby Lissi Hotel is just a stone's throw from our starting point, the Schwedenplatz.
At Schwedenplatz, you get on tram #2 towards Dornbach. Don't make yourself too comfortable since you have to get off already after two stops at Stubentor.
MAK: Österreichisches Museum für angewandte Kunst
Our first stop is the museum of applied arts which offers a couple of inspiring temporary exhibitions, but the most popular pieces are Klimt's infamous designs for the ceiling of the University of Vienna's Great Hall which were at that time very controversial and the artist discredited.
MAK – Österreichisches Museum für angewandte Kunst / Gegenwartskunst
Stubenring 5
1010 Vienna
Phone: + 43 – 1 – 711 36-0
Email: office@MAK.at

Open Tuesday to Sunday 10 a. m. to 6 p. m. (Tuesday to 10 p. m.)
Stadtpark
You could take the tram to the next stop, but that's ridiculous since the central park is adjacent to the MAK so you just have to cross Weiskirchnerstraße.
Especially in summer, you'll enjoy a stroll through the park under the big trees, admiring the statues among which the Johann Strauß memorial is the most famous – and most flashy – one.
Since at our next stop we'll have to walk a lot, you might want to get on the tram at Weihburggasse, but get off at the next stop, the Schwarzenbergplatz.
At this square, the very socialist appearance of the Soviet War Memorial might strike you as odd. Unveiled on August 19, 1945, it honors the Soviet war dead of the Vienna Offensive.
Belvedere
Right behind the square is the entrance to the baroque Belvedere-complex consisting of the 'Lower Belvedere', the garden palace, built around 1714 for Prince Eugen.
The 'Upper Belvedere' was added a couple of years later (from 1720 on) and is even more luxurious.
Today, both buildings are museums that can be visited separately or with a combined ticket.
What to See
While the Lower Belvedere houses temporary exhibitions, the permanent collection at the Upper Belvedere is indisputably a must-see since it shows some of the most important works of mainly Austrian and German painters like Gustav Klimt and Egon Schiele, Hans Makart and Hans von Marées, Alfons Walde and Ferdinand Waldmüller – to mention just a few.
The Latest Annex
In 2011, the Belvedere was completed by the '21er Haus', a gallery for modern art about 10 minutes from the Upper Belvedere. I've been here a couple of times and each and every exhibition was great, so I urge you to visit this venue, too.
Österreichische Galerie Belvedere
Prinz Eugen-Straße 27
1030 Vienna
Phone: + 43 – 1 – 795 57 – 0
Email: info@belvedere.at
Open daily from 9 a. m. till 6 p. m. (Friday till 9 p. m.)
The 21er Haus is open from Wednesday till Sunday from 11 a. m. till 6 p. m. (Wednesday and Friday till 9 p. m.)
Coming from the Schwarzenbergplatz, you get to the 21er Haus in 'laps', but walking all the way back might be a bit far. Therefore I suggest you take tram #D towards Nussdorf at the Quartier Belvedere station back to Schwarzenbergplatz where you change in the next #2 – we want to continue our circle, after all.
Karlsplatz
As you arrive at the next stop which is Oper/Karlsplatz, you have many options to visit great attractions: Turn left and go south and you'll get to the Karlsplatz with its iconic Karlskirche, a grand Roman-Catholic church built in the first half of the 18th century. The church is richly decorated and absolutely worth a visit.
In its neighborhood is one of the old train stations designed by master architect Otto Wagner in the style of Art Nouveau.
Secession
Before you go back to the tram station, you ought to cross the horrible junction at Operngasse to the Secession, the building that initially housed works of the Vienna Secession movement founded by Gustav Klimt, Koloman Moser, Josef Hoffmann, and others. At its lower level you can admire Klimt's famous Beethoven frieze. Upstairs, modern temporary exhibitions are taking place.
Secession
Friedrichstraße 12
1010 Vienna
Phone: + 43 – 1 – 587 53 07
Email: office@secession.at
Open from Tuesday to Sunday from 10 a. m. to 6 p. m.
If you are a great art aficionado like I am, you will enjoy a visit to the Academy of Fine Arts just behind the Secession. The gallery is actually at the academy's premises which is at first irritating, but the visit – and the searching – is worth it to see masterpieces like e. g. Botticelli's tondo "Madonna with Child and Angels" and of course Hieronymus Bosch's "Last Judgement Triptych".
Gemäldegalerie der Akademie der bildenden Künste Wien
Lobkowitzplatz 2
1010 Vienna
Phone: + 43 – 1 – 588 16 22 01
Email: gemaeldegalerie@akbild.ac.at

Open Wednesday till Monday from 10 a. m. till 6 p. m.
Nobles and Royals
Coming back to the Oper/Karlsplatz stop of tram #2, you now keep on going north, taking a good look at the impressive opera building to your left. Please refuse to buy tickets to some concerts by the friendly young men dressed as some sort of Mozart. These tickets are a big scam: You'll get to see a concert, but it will be some cheesy stuff in some back alley and certainly not worth whatever they make you pay for it.
Better keep on going down Kärtnerstraße, look left into Philharmonikerstraße behind the opera to get a glance at the famous Hotel Sacher where a bell boy in sleek livery is holding the door for the rich and noble guests.
Keep walking and turn left into Marco d'Aviano Gasse which leads into Neuer Markt. Ahead you'll see the Kapuzinerkloster, the Capuchin Abbey, and right next to it the Imperial Crypt where all the tombs of the Royal family members, among them Elisabeth of Austria, aka Sisi!
Kapuzinergruft
Tegetthoffstraße 2
1010 Vienna
Phone: + 43 – 1 – 512 68 53
Albertina
Now walk the Tegetthoffstraße back towards the opera and you'll get to the Helmut Zilk-Platz with the anti-war memorial by Austrian bad-boy artist (one of many…) Alfred Hrdlicka.
To your right is the 'Albertina', another great art venue with the permanent exhibition of the Batliner collection of art from the 19th and 20th centuries like French impressionists and Fauves, German expressionists, and much more.
Besides this permanent collection and the collection of modern art in the basement, there are always at least two changing exhibitions taking place.
On the first floor, the palace's state apartments with the original furnishing and decoration can be visited.
Albertina
Albertinaplatz 1
1010 Vienna
Phone: + 43 – 1 – 534 83 0
Email: info@albertina.at
Open daily from 10 a. m. till 6 p. m. (Wednesday and Friday till 9 p. m.)
Once you're here, you might want to try one of the Bitzinger-sausages (see the Snack section above).
Hofburg
Oh, you thought the highest density of attractions was at the stop Oper/Karlsplatz?
Well, you stand corrected since at the next stop, the Burgring, are some of the greatest museums – greatest in both, quality and size.
Let's first visit the 'Hofburg', the majestic complex to your right. The Hofburg, the Royal Castle, was the Habsburg's residence between the 13th century till the end of WWI in 1918. After WWII in 1945, it became the Austrian President's official seat.
Besides the official apartments, the Hofburg houses Austria's National Library and a couple of museums – and these are very interesting when it comes to Austria's history and therefore not to be missed.
Surprisingly Interesting: The Sisi Museum
Our image of the Empress Elisabeth of Austria is without doubt influenced by Ernst Marischka's sugarcoated, cheesy trilogy of Sisi-movies that we have to endure Christmas after Christmas after…
Therefore I was first rolling my eyes when getting to the museum, but I must say, it's really very nice and interesting and not at all tacky.
It explains all the difficulties Sisi undoubtedly had with her surrounding, her role – and herself: her obsession with sports, her what we would call now anorexia, her longing, and her fears.
I particularly enjoyed the exhibition of costumes and attires from the former annexed regions in Bohemia, the Balkans, and Italy – until 1918 all part of the imperial and royal Austria.
In another wing, the originally furnished and decorated Imperial Apartments can be visited.
Next to the Sisi-Museum, I simply adore the Silver Chamber where all the table services, chandeliers, and huge centerpieces are exhibited – just so sophisticated.
Hofburg
Michaelerkuppel
1010 Vienna
Phone: + 43 – 1- 533 75 70
Email: info@hofburg-wien.at
Open daily from 9 a. m. to 5.30 p. m. (in July and August till 6 p. m.)
A Spanish Riding School in Austria
Since you're on all these Royal activities – and especially if you are visiting in the company of teenage girls – you might want to visit the famous Spanish Riding School located in the very Hofburg.
They have a varied program that you can check out and book on their Website: Firstly, there are the 'White Ballet'-shows where the horses 'dance' in formations. However, there is daily training in the morning – and there are guided tours of the premises.
Spanische Hofreitschule
Michaelerplatz 1
1010 Vienna
Phone: + 43 – 1 – 533 90 31
Email: office@srs.at
By the way: In case you didn't purchase any card that grants you a reduction – there is a ticket combining three imperial attractions (the Hofburg, Schönbrunn Castle, and the Museum of Furniture at a cheaper price.
MUSEUMS
Kunsthistorisches Museum
Since the two museum buildings – the Museum of Art History to the left and the Museum of Natural History to the right with monarch Maria Theresia sitting enthroned in the middle might be confused with a castle, I specifically pointed out that the castle is on the other side.
Yes, these are museums.
The Museum of Art History houses incredible treasures from all art epochs and from around the world: whether the Cranachs, Raffael, and Tizian, whether Velazquez or Caravaggio – and of course, the masterpieces by the Bruegels – these galleries have them all. It takes certainly many hours if you really want to see everything. Since these are only the paintings.
They also show art from Egypt as well as Greek and Roman statues, a coin collection, and much more.
However, if you have only a little time and are not the greatest art aficionado, this museum could be skipped since it does not reflect Austria and namely, Vienna as much as the other art museums do.
Kunsthistorisches Museum
Burgring 5
1010 Vienna
Phone: + 43 – 1 – 525 24- 0
Email: info@khm.at
By the way: In case you didn't purchase any card that grants you a reduction – there is a ticket combining the Kunsthistorisches Museum and the Museum Ludwig (see below) at a cheaper price.
Naturhistorisches Museum
The Museum of Natural History owns a collection of about 30 Million pieces which makes it one of the world's most important Natural History Museums of the world – and it's one of Austria's largest museums. In case you are travelling with kids or if you are really a sucker for nature studies, a visit might be a great idea. Otherwise – especially if you're on a tighter schedule – I'd rather skip it since it has next to nothing that might be considered Vienna-related.
Naturhistorisches Museum Wien
Burgring 7
1010 Vienna
Phone: + 43 – 1 – 52177-0
Email: info@nhm-wien.ac.at
Open Wednesday till Monday from 9 a. m. to 6.30 p. m. (Wednesday to 9 p. m.)
mumok – Museum moderner Kunst
There is the so-called 'Museumsquartier', a Museums Quarter, at the building complex of the former Royal Mews. After long planning and also almost 20 years of many, many disputes, the Museumsquartier was officially opened in 2001. In fact, the complex houses a wide range of different museums, galleries, and halls covering almost every kind of interest or liking.
In addition, there is a modern annex housing the mumok – Museum moderner Kunst, the Museum of Modern Art, founded by the Ludwig Foundation.
The mumok does have a permanent exhibition of some really cool pieces and, moreover, organizes great shows of modern art.
Although the mumok is certainly one of Vienna's most important venues when it comes to art, for the average tourist who wants to explore the city itself it might be dispensable.
mumok Museum moderner Kunst
Museumsplatz 1
1070 Vienna
Phone: + 43 – 1 – 525 00-0
Email: info@mumok.at
Open daily from 10 a. m. to 7 p. m. (Monday from 2 p. m., Thursday to 9 p. m.)
Museum Leopold
Besides the Upper Belvedere, the Museum Leopold is another must-see museum since its collection focuses mainly on Austrian art from the turn of the century when great painters like world-famous Egon Schiele and Gustav Klimt, but also daring artists like Anton Kolig and Richard Gerstl, who are not as beloved – maybe because their motives and techniques are rougher and wilder than those of the above-mentioned superstars.
However, the Leopold has them all – and many, many more.
Apart from the Art
In addition to the innovative, reckless painters, the Ludwig – named after its founder, collector Rudolf Leopold, an ophthalmologist – shows the wonderfully plain furniture from the 'Wiener Werkstätten', the Vienna workshop, designed by Josef Hoffmann, Koloman Moser, and others.
Besides their own treasures, the Museum Leopold has always one or two exhibitions of modern art in its basement.
There is, of course, a nice café in case you need to refresh, and I recommend checking out their gift shop which is very art and Vienna-based, but in a rather classy way.
Leopold Museum
Museumsplatz 1
1070 Vienna
Phone: + 43 – 1 – 525 70
Email: office@leopoldmuseum.org
Open from Wednesday to Monday from 10 a. m. to 6 p. m. (Thursday to 9 p. m.)
Glorious Structures
Going on by tram #2, you'll see the parliament building and the magnificent town hall to your left. In winter there's a cute Christmas market in front of the building and a huge ice skate ring right next to it – great fun for everybody (besides the Grinch). Another, even bigger Christmas market is to be found between the two museums around Ms Maria-Theresia mentioned above.
At the Parlament stop, you have to change trains.
At this time, as we are sitting in tram #1, look right and you'll see the Burgtheater, one of Europe's most prestigious theaters – every actor is proud to have been a 'Burgschauspieler', a Burg-actor.
And two blocks further is the above-mentioned Café Landtmann – just in case you might need a sophisticated break.
The next place of interest is the University complex is coming up to your left and after a while the stock exchange building ('Börse') to your right. We are now heading towards the Donaukanal, the Danube canal.
The tram turns right, goes along the Danube, and finally gets back to Schwedenplatz where our tour started.
Yet There is More
Although I followed the tram's map, it's not possible to visit all the listed attractions in one day. It is meant as a guideline, a golden thread. On your personal trip, you should either split the tour and do it in hops – or you do the whole tour and get off only at some of the most interesting and important attractions.
And there are still two great attractions in the city center that are not on the route along the 'Ring' so I mention them separately:
Beyond the #2
Stephansdom
Saint Steven's Cathedral is Vienna's most important landmark and within walking distance from the hotel resp. the Schwedenplatz.
Built in the early 12th century, it is the Roman Catholic Archdiocese of Vienna and consequently the seat of Vienna's Archbishop.
The Stephansdom is over 107 meters long and over 34 meters long. It has four towers, whereby the highest, southern tower measures 136 meters. Also, there are 343 steps to be climbed to get to the tower chamber from where you have an incredible view of Vienna.
Besides precious altars and chapels, there are also the treasury and the catacombs to be visited.
Domkirche St. Stephan
Stephansplatz 3
1010 Vienna
Phone: + 43 – 1 – 515 52 3054
Open daily from 6 a. m. to 10 p. m. (Sunday from 7 a. m.)
KUNST HAUS WIEN
As I wrote at the beginning of this post, Vienna has always been home to inspiring, innovative wackos. Friedensreich Hundertwasser (1928 – 2000) was certainly one of the most imaginative and eccentric. But the crooked, colorful, organic buildings he left us are proving that dreams can be blueprints for reality.
Besides his grand oeuvre of multicolored, vibrant paintings and drawings that is on show at the KUNST HAUS WIEN, there are also changing exhibitions taking place.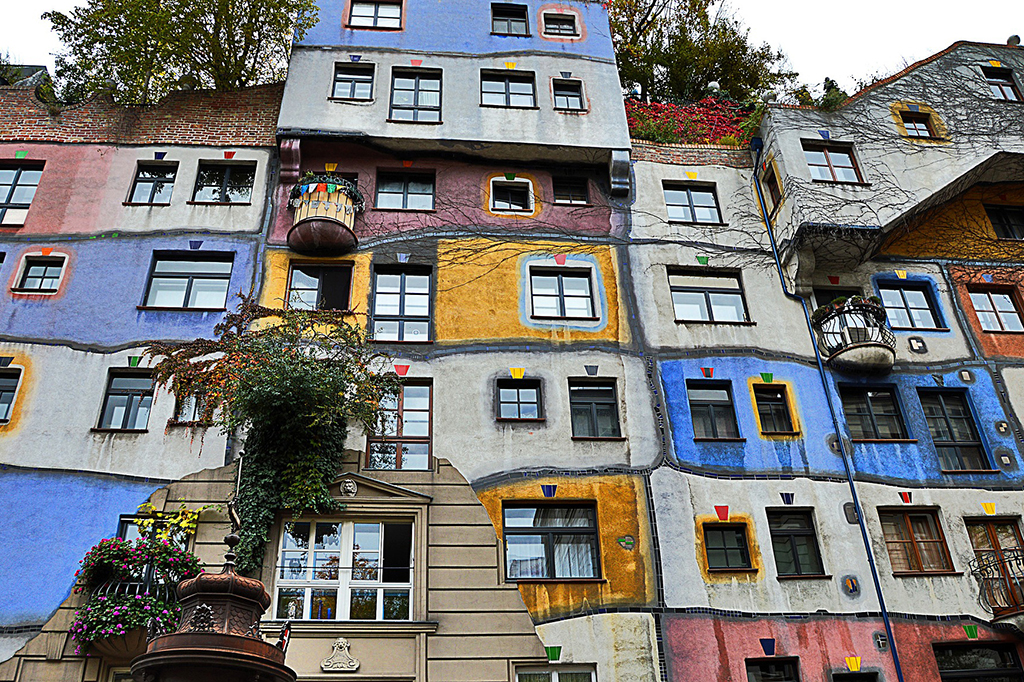 The Hundertwasserhaus, which can be seen only from the outside and not actually visited since there are people living there (some folks have all the luck!), is just a five minutes stroll along Untere Weißgerberstraße away on Kegelgasse 34-38 (1035 Wien
Telefon: +43 650 7138620). There is an info center across the street.
KUNST HAUS WIEN
Untere Weißgerberstraße 13
1030 Vienna
Phone: + 43 – 1 – 712 04 91
Email: info@kunsthauswien.com
Open daily from 10 a. m. to 6 p. m.
CHARMING OUTSKIRTS
If you have more time and want to experience some real Austrian flavor, you should get out of Vienna on a day trip; let's face it: in our globalized world, the big cities are much less genuine and cultural than the outskirts and rural areas.
Schönbrunn
But before we take our hiking boots on, we pay Schönbrunn a visit – Vienna's Number One attraction. At this former summer residence, the originally furnished and decorated apartments can be visited. To learn about history, a guided tour is recommended.
But also the vast, manicured gardens including the famous Gloriette and the maze made of hedges are nice spots to be visited. Especially in summer, Schönbrunn, now on the list of the Unesco World Heritage Sites, is a great place to get away from the hustle and bustle of Vienna's city center.
However, by subway U4 it can be reached from the Schwedenplatz in about 30 minutes.
Schloß Schönbrunn
1130 Vienna
Phone: + 43 – 1 – 811 13-0
Email: info@schoenbrunn.at

Open from April 2 to June 30 and September 1 to October 31 from 8 a. m. to 5.30 p. m. and then, from July 1 to August 31 from 8 a. m. to 6.30 p. m. and from November 1 to March 31 from 8 a. m. to 5 p. m.
Kahlenberg
The Kahlenberg is part of the Wienerwald, the Vienna forest. It is a very popular excursion destination to locals and tourists alike – mainly because of the smashing views – on clear days all the way to the Schneeberg, the snow mountain. On a height of 484 meters, the mountain's highest point, is the Stefaniewarte, a lookout built in 1887 and, obviously, named after Belgian princess royal Stefanie.
A little lower is the St. Josefskirche, Saint Joseph's church. Especially because of its black Madonna the church is a very popular pilgrimage church.
Although hiking the Kahlenberg is a legitimate rustic outing, you'll get there from Schwedenplatz by public transportation in less than 45 minutes, taking the subway U4 to Heiligenstadt and from there bus 38A uphill.
Wine'n'Whining
If you are rather a hedonist than a hiker, you just get to the Kahlenberg to walk the Kahlenbergstraße down south. Then, after about 20 minutes, you'll find the most original Heurigen-taverns where you can sample Austrian wines and snacks – called 'Schmankerl' – like hams and cheeses on farmer's bread. After all, this is what the Heuriger-tradition was initiated for!
Also sometimes, local fiddlers will entertain you with their tacky tunes. Hence, a truly Austrian experience!
If you have only a day in Austria's mesmerizing capital, this helpful 24 hours in Vienna post provides a perfect itinerary.
Map
On this map, you'll find all the wonderful places I'm introducing in this post.
Clicking on the slider symbol at the top left or the full-screen icon at the top right will display the whole map including the legend.
Wanna see how we were going? Then trace our tour on this great downloadable map of all public transport.
Pinnable Pictures
If you choose to pin this post, please use one of these pictures:
Note: I'm completing, editing, and updating this post regularly – last in January 2023.
Did You Enjoy This Post? Then You Might Like Also These:
*This is an affiliate link, obviously. Hence, in case you book through this page, not only do you get the best deal. I also get a small commission that helps me run this blog. Thank you so much for supporting me!