The Marais is one of the trendiest neighborhoods in Paris. Cool bars and crowded restaurants, hip stores, and expensive, stylish apartments – these are just a few things you can find in the Marais neighborhood today.
In the 17th century, the Marais became the preferred residential area for the nobility, who had numerous villas and city palaces built there. In the course of the French Revolution, however, the nobility was expelled from the Marais. They probably took their belongings with them, however, they had to leave their posh cribs behind.
In this post, I'm inviting you on a stroll that will take us to 10 of the most beautiful palaces in the Marais Neighborhood of Paris.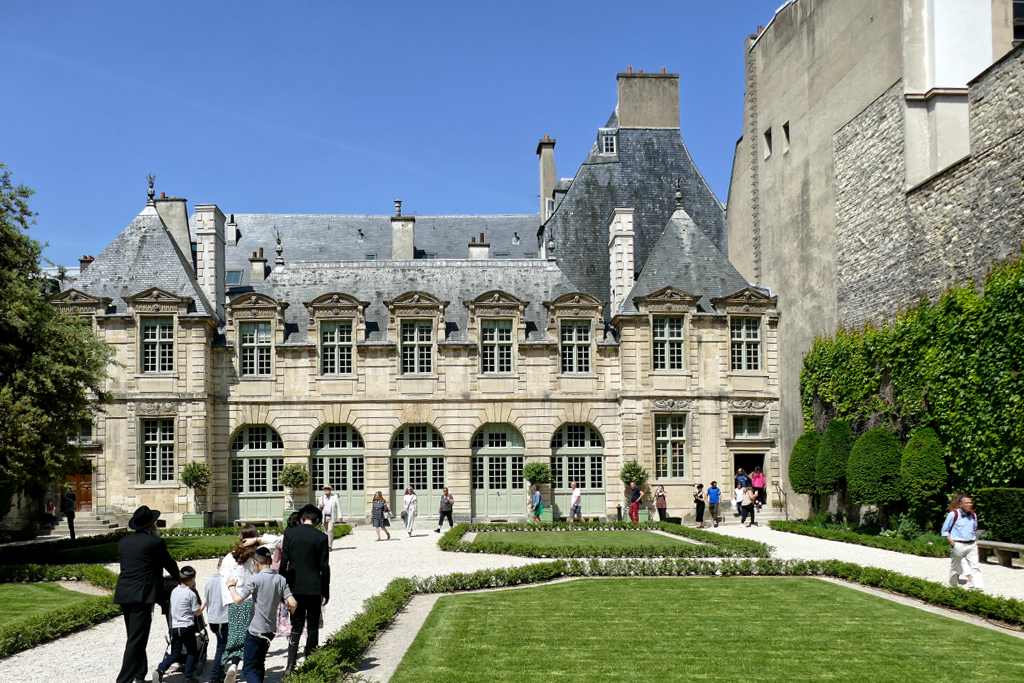 Le Marais
Today's trendy district Le Marais used to be a swampy terrain just outside the city limits of Paris on the northern, hence, so-called right bank of the Seine river. In the 13th century, it was drained and suburbanite as the city walls were expanded in the 14th century.
Eventually, Le Marais became the preferred neighborhood for the nobility of the 17th century. The wealthy owners were expelled in the course of the French Revolution at the end of the 18th century. Understandably, this led to an architectural decline in the neighborhood.
However, since Le Marais escaped the Haussmannian modernization mania in the 19th century, some of the city's oldest and most magnificent Hôtels Particuliers, hence, city palaces remained untouched. Also, some crooked houses of craftsmen, apartment buildings, as well as the religious settlements of the Knights Templar are still standing side by side.
Right in the center of Le Marais lies the Place des Vosges, one of the oldest and actually most beautiful squares in the entire city. Henry IV commissioned the square in 1605. Until the French Revolution, it was called Place Royale. Some of its most illustrious tenants were the novelist Victor Hugo who lived at number 6 and Cardinal Richelieu who stayed at number 21.
Historically, Le Marais has always been the center of Parisian Jewish life. First, Sephardic Jews who were expelled from Spain and Portugal have found a new home here. After the French Revolution, particularly devout Jews came from Alsace, and Ashkenazi Jews from Eastern Europe followed. After large numbers of Jews were deported and murdered during WWII, Sephardim from North Africa settled again in the 1960s. Today, they are a significant part of the Jewish community. Mind you, with 400,000 members, France has the largest Jewish community in all of Europe. About half of the French Jews live in Paris – and most of them still in Le Marais.
10 Most Beautiful Palaces
Thinking about the most beautiful palaces in Paris, grand courts and chateaux like the Palais du Louvre, the former residence of the French Kings comes to mind. Or the Palais de Chaillot and the Palais Bourbon which is the gathering place of the National Assembly. Also, there are the Grand and the Petit Palais which are housing fantastic exhibitions. And so does the Palais de Tokyo.
However, you don't necessarily think of the city palaces the Parisian nobility commissioned in the 17th century in the Marais neighborhood. Actually, today, you can visit many of those stately buildings as they are housing institutions such as the French National Archives or museums like the Picasso Museum and the Museum of Jewish Art and History. Hence, in this post, I'm introducing ten of the most outstanding Hôtels.
Now, wait a minute: Are you taking me to a guesthouse, I hear you asking. Mais non, ma chérie, although I'm calling those smaller palaces Hôtels, they were by no means remodeled into inns.
As a matter of fact, a Hôtel Particulier in French is a freestanding elegant townhouse always located between an entrance court, the so-called cour d'honneur, and a garden in the back.
Mind you, in French, you also call a town hall an Hôtel, namely an Hôtel de Ville. Then, the old term for the principal hospital in French towns is Hôtel-Dieu, hence, the hostel of God. Actually, that's also where the Hôtel des Invalides – which today houses the military museum – got its name from. It used to be a hospital for war wounded and veterans.
Oh, and before I forget: A Hôtel is also a hotel.
Hôtel de Saint-Aignan
Claude de Mesmes aka Comte d'Avaux, commissioned architect Pierre Le Muet to design the Hôtel. It was completed in 1650. Claude de Mesmes was ambassador to Louis XIV who co-signed the Peace of Westphalia contract. Originally, the building was named Hôtel d'Avaux after him. Yet in 1688, Paul de Beauviliers, Duc de Saint-Aignan, acquired the mansion. He had it remodeled and enlarged. André Le Nôtre designed the garden.
In the 18th century, the mansion changed owners various times. During the French Revolution, it became national property. Only in 1823 was the Hôtel owned privately again. From the middle of the 19th century, it was divided into rental apartments. The tenants were humble Jewish families who had come mainly from Poland, Romania, and Ukraine. To create as much living and working space as possible, three floors and multiple extensions were added.
In WWII, many Jewish residents were arrested and eventually deported to concentration camps where thirteen of them were murdered.
Hôtel de Saint-Aignan Today
In 1962, the city of Paris acquired the building. In the course of the remodeling, the various extensions were demolished again. This way, the original appearance was largely restored. In 1988, it got on the list of French monuments as a Monument Historique.
Today, the Hôtel de Saint-Aignan houses the Musée d'Art et d'Histoire du Judaïsme. It is located at 71 Rue du Temple and is open from Tuesday to Friday between 11 a. m. and 6 p. m. and on weekends from 10 a. m. to 7 p. m. The general entrance fee is 10 €uros.
Even if you have a Paris Museum Pass, booking a time slot in advance is mandatory! You can learn more about the highly recommendable Paris Museum Pass* in my post PARIS Museum Pass: Skip the Lines And See It All For Less.
Hôtel de Guénégaud
Jean-François de Guénégaud des Brosses commissioned architect François Mansart to design the Hôtel de Guénégaud-des-Brosses. It was then built between 1651 and 1655. Guénégaud des Brosses was a secrétaire du Roi, hence, the King's secretary, maître des Comptes which is a fancy word for an accountant, and Councillor of State. to designs. Together with the Hôtel Carnavalet, it is the best-preserved city palace designed by Mansart.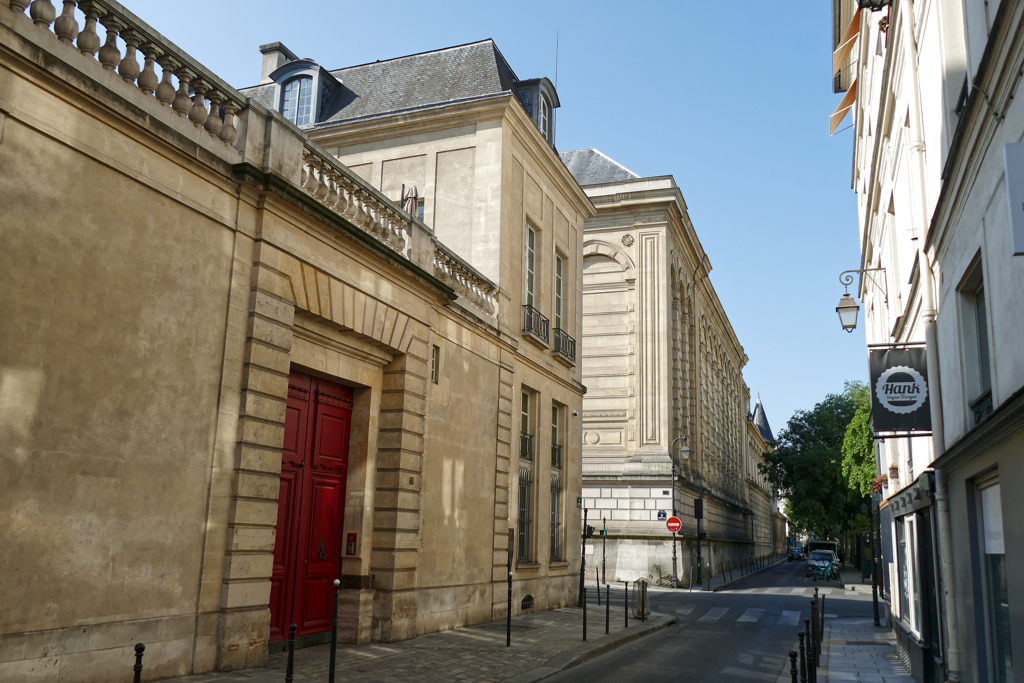 Jean Romanet acquired the Hôtel in 1703 and greatly beautified its interiors over the following year.
Eventually, it fell into disrepair. Hence, it was divided into apartments by the late 19th century. Finally, the city of Paris acquired the building in 1961. After an extensive restoration, it has housed the Musée de la Chasse et de la Nature since 1967.
It is located at 60 Rue des Archives and is open from Tuesday to Friday between 11 a. m. and 6 p. m. On Wednesdays, it closes only at 9.30 p. m. The entrance is free.
Hôtel de Soubise
Literally around the corner of the Hôtel de Guénégaud is the Hôtel de Soubise, definitely one of the most beautiful city palaces you'll get to see on this tour.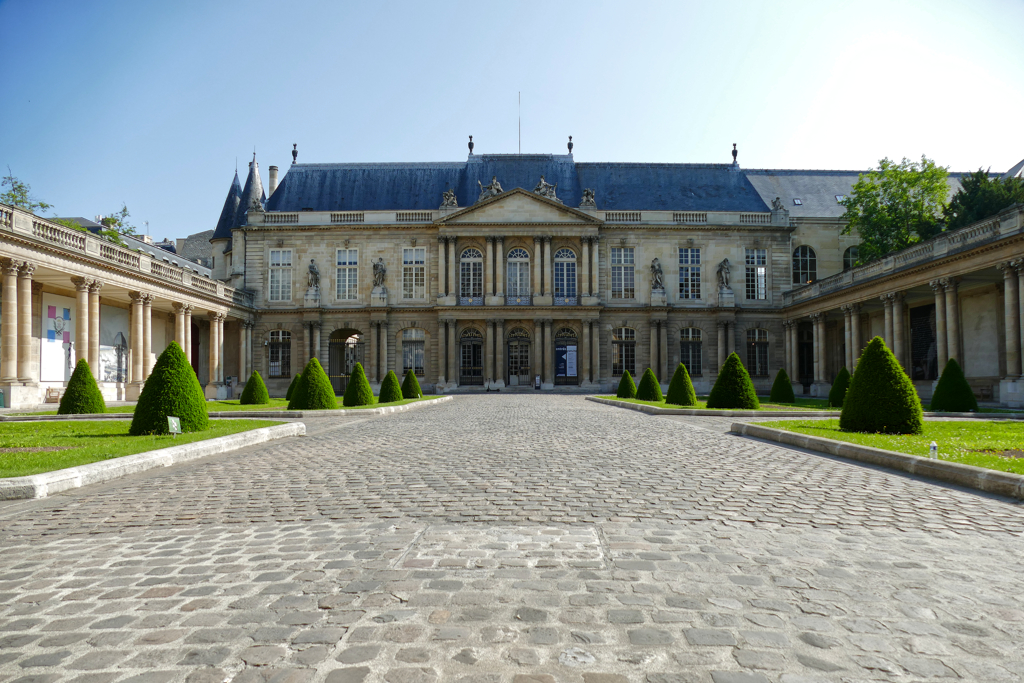 Constable Olivier de Clisson commissioned the Hôtel de Clisson on the very property. It was completed in 1375. However, today, only the fortified gate flanked by two towers remains from the old structures since François de Rohan, Prince of Soubise, bought the complex in 1700. In 1705, he commissioned the architect Pierre Alexis Delamair to build the Hôtel de Soubise on the site.
The Prince's son Hercule-Mériadec de Rohan-Soubise commissioned Germain Boffrand to design the Apartment du Prince on the ground floor and the Apartment de la Princesse on the first floor on the occasion of his marriage to Marie -Sophie de Courcillon. The apartments were completed in 1739 and are exquisite examples of the Rococo style during Louis XV.
The brothers Lambert-Sigisbert Adam and Nicolas Sébastien Adam sculpted the allegorical stucco decoration of the rooms. Famous Rococo artists including François Boucher were commissioned to create the paintings set into the panelling. Hercule-Mériadec's grandson Charles de Rohan-Soubise was the mansion's last residence. With his death in 1787, the line of the princes of Rohan-Soubise died out.
After the Revolution
During the French Revolution, the staterooms were emptied and served different purposes. In 1808, a decree released by Napoleon passed the hotel into state ownership. From 1847 to 1862, the Hôtel housed the École National des Chartes, a college specializing in historical sciences. In 1867, archive director Léon de Laborde set up today's Musée des Archives Nationales. There is a permanent exhibition as well as temporary shows.
The Hôtel de Soubise is located at 60 Rue des Francs Bourgeois. It is open to the public on weekdays except Tuesdays between 10 a. m. and 5.30 p. m. and on weekends from 2 p. m. to 5.30 p. m. There is no entrance fee.
Hôtel Salé
Pierre Aubert, a salt tax collector, commissioned Hôtel Salé. It was completed in 1659. The name Salé, hence, salty in English, derived from the commissioner's trade. After the finance minister Nicolas Fouquet fell from grace in 1661, Aubert lost his fortune, too. The building changed hands frequently. Also, it housed the Embassy of the Republic of Venice between 1668 and 1688.
The City of Paris has owned the palace since 1962. In 1968, it has been listed as a Monument Historique. Since 1985, following major restorations, the Hôtel Salé houses the Musée Picasso.
The Hôtel Salé is located at 5 Rue de Thorigny. The Musée Picasso is open from Tuesday to Friday between 10.30 a. m. and 6 p. m., and on weekends they are opening already at 9.30 a. m. The general entrance fee is 10 €uros and you can book tickets on this website*.
If you have a Paris Museum Pass*, you do not need to book a time slot but can just skip the line.
Hôtel de Donon
In 1545, the monks of Sainte-Catherine-des-Ecoliers subdivided their lands. Médéric de Donon, lord of Châtres-en-Brie and Loribeau acquired a plot and commissioned the Hôtel de Donon in 1575. He was the King's adviser and general overseer of his buildings.
Since Médéric de Donon was a close supporter of King Henry III, the Catholic League locked him in the Bastille in 1588. He was only released after King Henry IV had renounced his Protestant faith in 1593. Yet, he died in the Hôtel de Donon a few months later in 1594. The hotel then passed to his son Jean de Donon.
Jean-Louis Le Mairat acquired the building in 1640. It remained in family ownership until 1798. Following the marriage of Françoise Le Mairat and Étienne Hénault de Tournevilleit, the mansion passed to the Hénault de Tourneville family.
Howsoever, the hotel was transformed into an apartment building in 1839. For this purpose, it was remodeled and various extensions were added.
In 1974, the city of Paris bought the building from the descendants of the Bourgeois. It was decided to set up an art museum for the Cognacq-Jay art collection. Ernest Cognacq and his wife Marie-Louise Jaÿ were the owners of the La Samaritaine department store. Over the years, they acquired a large collection of exquisite furniture and precious works of art. Since the couple had no children, they donated the collection to the city of Paris in 1928.
The Hôtel de Donon is located at 8 Rue Elzévir. The Musée Cognacq-Jay moved here in 1990. Free visit to the galleries is possible from Tuesday to Sunday between 10 a. m. and 6 p. m.
Hôtel de Carnavalet
Jacques des Ligneris, then President of the Paris Parliament, commissioned the Hôtel de Carnavalet in 1548. Its current name, however, derives from Madame de Kernevenoy of Brittany who owned it in 1578. François Mansart radically remodeled the Hôtel de Carnavalet, which is one of the oldest palaces in Le Marais, to its present appearance in 1655. Apart from the Cour Carrée of the Louvre Palace, the Hôtel de Carnavalet is one of the few Renaissance buildings in Paris.
One of its most famous inhabitants was Marie de Rabutin aka Madame de Sévigné, famous for her witty letters mostly addressed to her daughter Françoise-Marguerite de Sévigné. She lived in the Hôtel from 1677 until her death in 1696.
A few architectural elements saved from demolition during Haussmann's urban redevelopment in the 19th century, such as the Pavillon des Marchands Drapiers and the central block of Hôtel de Choiseul, were added to extend the museum around the lush gardens. Entering the gardens from the Rue des Francs Bourgeois, you'll get to admire the so-called Nazareth Arch, a Renaissance structure coming from the Île de la Cité. In the Hôtel's main courtyard is a statue of Louis XIV. As a matter of fact, it is the only royal statue in Paris that was not destroyed during the French Revolution!
The Hôtel de Carnavalet is located at 23 Rue de Sévigné and houses the homonymous museum. Visit to the permanent exhibition of the Musée Carnavalet is free of charge from Tuesday to Sunday between 10 a. m. and 6 p. m.
Hôtel d'Angoulême Lamoignon
Francis I. ordered to divide the royal Hôtel Saint-Paul and its gardens into plots in the second quarter of the 16th century. Extensive construction of Hôtels Particuliers followed and made Le Marais the preferred Parisian district of the high nobility.
François de Pisseleu, abbot of Saint-Corneille de Compiègne, entrusted the construction of his Hôtel to Philibert de l'Orme in 1559. In 1584 Diane de France, Duchess of Angoulême and legitimized daughter of King Henry II., inherited the Hôtel. However, administrative impediments forced the Duchess to rent it out as the legal issues lasted until the beginning of the 17th century.
Among the tenants was also Guillaume de Lamoignon de Blancmesnil, the first president of the Parisian Parliament. He made the Hôtel a meeting place for the great minds of his time such as Madame de Sévigné, Jean Racine, and Guy Patin, to name just a few. The Lamoignons lived in the building until 1750 when Guillaume de Lamoignon de Blancmesnil had to leave it for the Chancellery of France.
Since 1969 the Hôtel d'Angoulême Lamoignon has housed the Historical Library of the City of Paris and is located at 24 Rue Pavée. Its spacious lush garden, however, is accessible from 25 Rue des Francs Bourgeois and open to the public on weekdays from 8 a. m. to 8.30 p. m. and on weekends from 9 a. m. to 8.30 p. m.
Hôtel Hénault de Cantobre
The tax collector René Jean Rémy Hénault de Cantobre commissioned architect Edme Fourier to build the eponymous Hôtel in 1707. In 1793 Edme Delaborne acquired the mansion which then remained in the same family until the 20th century.
However, the City of Paris bought the Hôtel Hénault de Cantobre in 1943. Since 1996, it has housed the Maison Européenne de la Photographie.
While its plastered main façade faces Rue François-Miron, the rear wall is made from freestone and faces the garden at 5 Rue de Fourcy.
Since 1926, the main façade, as well as the balcony and its ironwork, are classified in the inventory of the Monuments Historiques.
The Maison Européenne de la Photographie is open from Wednesday to Friday between 11 a. m. and 8 p. m., on Thursdays, they are closing only at 10 p. m. The general admission is 13 €uros.
Hôtel de Sully
The Controller of Finances Mesme Gallet commissioned architect Jean Androuet du Cerceau to design a house with a garden, an orangery, and access to the former Place Royale, today Place des Vosges. He completed the Hôtel de Sully in 1630.
In 1634, Maximilien de Béthune, 1st Duke of Sully, bought the mansion and spent the last years of his life here. Yet, the Sully family owned the property until the 18th century.
To divide the building into condominiums, it underwent numerous modifications in the 19th century, also to accommodate workshops and stores. Since 1862, it is a Monument Historique.
In 1944, the Hôtel de Sully became state property. It is located at 62 Rue Saint-Antoine and has been the seat of the so-called Center des Monuments Nationaux since 1967.
While you can visit the interiors only on certain occasions, the courtyard and the garden are accessible free of charge every day between 9 a. m. and 7 p. m.
Hôtel de Sens
The Archbishop of Sens owned a palace in Paris from 1292. When Tristan de Salazar became archbishop in 1475, he had the palace remodeled in a flamboyant style transforming it into one of the most beautiful buildings in the city.
As Paris became an independent archbishopric in 1622, the archbishops of Sens quit using the palace and rented it out. Hence, from 1689 onwards, it was the headquarters of a transport company, a cannery, a jam factory, and a glazier's workshop.
In 1911, the city of Paris acquired the Hôtel de Sens and had it restored. Today, it houses the Bibliothèque Forney, a library that specializes in decorative arts.
The Hôtel de Sens is located at 7 Rue des Nonnains d'Hyères. The Bibliothèque Forney is open from Tuesday to Friday between 11 a. m. and 7 p. m., on Saturdays, they are opening only at noon. Yet, in the courtyard is a beautiful serene garden that you can access on weekdays from 8 a. m. to 8.50 p. m. and on weekends from 9 a. m. to 8.50 p. m. Visits to the library as well as the Jardin de l'Hôtel de Sens are free of charge.
How to Get Around
Public Transport
I'd argue that of all European cities, Paris has the most comprehensive network of public transportation. The world-famous metro alone has incredible 302 stations. In fact, you're never farther than 500 meters from a metro station.
Le Marais is surrounded by a dozen Métro stations. Going clockwise and beginning at 12, you can get off at Temple, République, Oberkampf, Filles du Calvaire, Saint-Sébastien – Froissart, Chemin Vert, Bastille, Sully-Morland, Pont Marie, Hôtel de Ville, Rambuteau, and Art et Métiers.
Single rides cost 2.10 euros. If you buy a so-called carnet, that's 10 tickets, you pay only 19
You can buy those iconic small paper tickets that I love or you get a Navigo card for 2 euros that you then can tap up.
If you travel with one of those cute paper tickets, make sure to keep it until the end of your trip. In some places, you need to insert it in a turnstile to leave the stations. Also, there might be ticket controls within the station and if you cannot show a validated ticket, you're in trouble.
Yet, there are also travel passes for 1, 2, 3, or 5 consecutive days. You can choose between a pass valid for zones 1 to 3 in the center and a pass for all zones in Paris and the entire Île-de-France including airports, Disneyland Paris, and Château de Versailles.
| | | | | |
| --- | --- | --- | --- | --- |
| | 1 Day | 2 Days | 3 Days | 5 Days |
| City Center | 12.00 €uros | 19.50 €uros | 26.65 €uros | 38.35 €uros |
| City Center and Île-de-France | 25.25 €uros | 38.35 €uros | 53.75 €uros | 65.80 €uros |
Kids under 4 years of age travel for free, under 12 they pay half price.
Walking
The long list of Métro stations surrounding Le Marais proves that you're never more than 500 meters from the next stop. Nevertheless, to explore the neighborhood, you have to walk. While especially the northern part of Paris is quite hilly, Le Marais actually isn't. However, in this old neighborhood, many streets are paved with cobblestones. Therefore, do yourself a favor and wear sensible shoes like loafers or sneakers – or even light hiking boots. Don't even think about wearing thin heels, you'll ruin your shoes, your feet, and thusly your day.
Cycling
While in the past, only cities like Amsterdam and Copenhagen were famous for innercity cycling, it's becoming more and more popular all over Europe. Also in Paris, you can join the fun and rent a bike. The company Vélib offers regular bikes which are green as well as blue e-bikes. Both kinds have baskets and locks in case you need to take a break. You need to pick the bike up respectively return it at one of the many stations located throughout Paris.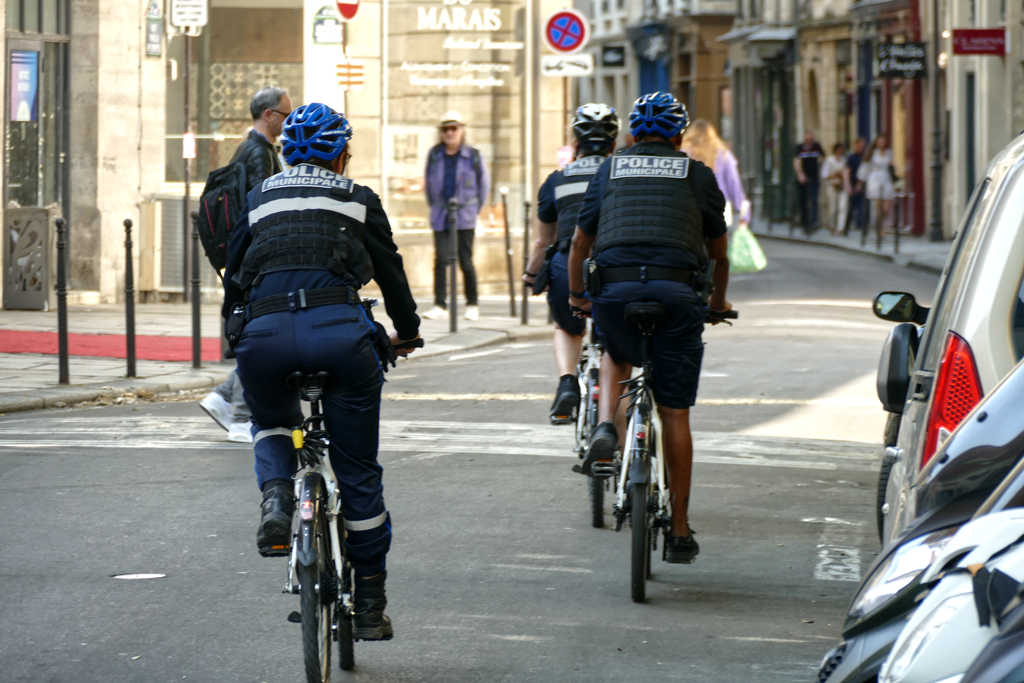 You can sign up for passes online. However, if you cannot receive a text message on a French phone to confirm your payment, you'll need to sign up at one of the terminals. Make sure to take a picture of the passcode on the screen in case something goes wrong with the confirmation. You get an account number and a PIN. Keep them thoroughly.
There are passes that anyone with a valid credit card can obtain as well as subscription options for residents or long-term visitors.
As a matter of fact, they will charge you two fees: Firstly, for the pass right away whether you ever use the bikes or not. Then, there comes also the rental fee for the actual use.
Pay As You Ride
Occasional users should get the Ticket-V for three €uros. It is suitable for a single-use rental of a green bike or an e-bike for up to 45 minutes. After that, you'll have to pay one €uro for each additional 30 minutes on a regular bike or two €uros for e-bikes.
The Pass 24-hour Classique costs five €uros. For 24 hours, you can use the green bikes for free for up to 30 minutes. After that, they will charge your credit card one €uro for each additional half hour until you return the bike. This way, you can use as many bikes as you like without paying more than the pass fee. All you have to do is switch bikes after 30 minutes.
If you decide to use a blue e-bike with your Pass Classique, it will cost 2 €uros for every 30 minutes with no free minutes.
If you opt for either the Pass 24-hour Electrique which costs ten €uros or the Pass 3 Jours for 20 €uros, the first six trips on a blue e-bike are free for up to 45 minutes. Then, they will charge one €uro for each additional 30 minutes. If you decide on using a standard green bike with this pass, it's free for up to 60 minutes per trip. After that, it's one €uro per 30 minutes.
Apart from the Ticket-V, all passes allow you to take up to five bikes at a time with one account. This comes in handy for small groups or a family since you have to open just one account for the entire party.
Where to Stay in the Marais
Since Paris is one of the most touristy cities in Europe, there is a wide choice of accommodation and all of them are crazily expensive. Since Le Marais became so incredibly hip over the past years, don't expect to find decent accommodation at a reasonable price. However, if you're not travelling on a budget, you certainly won't regret it if splurge and choose a lodging option in the heart of Le Marais. Hence, on this map, you can check out the availability and prices of some suitable hotels*:
Where to Eat
I love the Levante eateries in the Marais district. The most famous one is certainly L'As du Fallafel where even celebrities like Lenny Kravitz enjoy their kebab.
I don't know how long Mr. Kravitz had to wait in line. Every time I get there, the queues go all the way down the Rue des Rosiers. Anyway, L'As is just one of the uncountable Middle Eastern eateries, hence, you won't go home hungry.
A great alternative is a sandwich or some cake from La Boutique Jaune. Sacha Finkelsztajn opened his classic grocery store in 1946, and since then, you can buy all kinds of traditional Jewish bread and cakes, canned goods, condiments, and other groceries. And for around 10 €uros, they fix you a delicious classic Jewish sandwich.
My Tip
The most idyllic place to enjoy your snack is the Jardin des Rosiers Joseph Migneret. It is a beautiful lush garden nestled between historic mansions. The main entrance lies a bit hidden in the building on Rue des Rosiers 10. The garden is open weekdays from 8 a. m. to 7 p. m. and weekends from 9 a. m.
Organized Tours in Paris
Although I'm an avid solo-travelling woman, I sometimes like to join organized tours. This way, I learn more about a place, and sometimes it's more fun to visit landmarks in the company of like-minded fellow travellers.
In a busy city like Paris, booking tickets'n'tour well ahead can be crucial. Especially during high season, pre-booking online will guarantee your spot at the activity of your choice*:
So yes, these are the ten most beautiful Palaces in the Marais many of which you can visit for free. If you need further inspiration on how to visit the city on a budget, check out my post Paris for free where you'll find tons of tips. To obtain comprehensive info that will make your trip to Paris smoother and much more fun, just rush over to this post where you not only find many suggestions on what to visit but also tons of practical information and tips on lodging, public transport, money and discounts, connection and communication, and much more.
And finally, if you have only a short stay in Paris, make the best of it with my guide for 24 hours in Paris. There you'll find a complete itinerary for a sunny day as well as for a rainy day.
Map
On this map, you can see where exactly the so-called Hôtels are located.
Clicking on the slider symbol at the top left or the full-screen icon at the top right will display the whole map including the legend.
Pinnable Pictures
If you choose to pin this post for later, please use one of these pictures:
Did You Enjoy This Post? Then You Might Like Also These:
* This is an affiliate link. If you book through this page, not only do you get the best deal. I also get a small commission that helps me run this blog. Thank you so much for supporting me!