Have you ever heard of Inhotim, the Botanic Garden, and Open Air Gallery in Brazil?
No?
No wonder, since this amazing place is hidden on the outskirts of a lost place called Brumadinho, located about one hour from Belo Horizonte.
At Inhotim, God's artistic creations such as flowers and trees are of genuine, pure beauty, indeed. However, in combination with creations by earthly visual artists, they become just marvelous.
Bernardo Paz, the founder of Inhotim, is not the first impresario to recognize that this synergy is just unbeatable.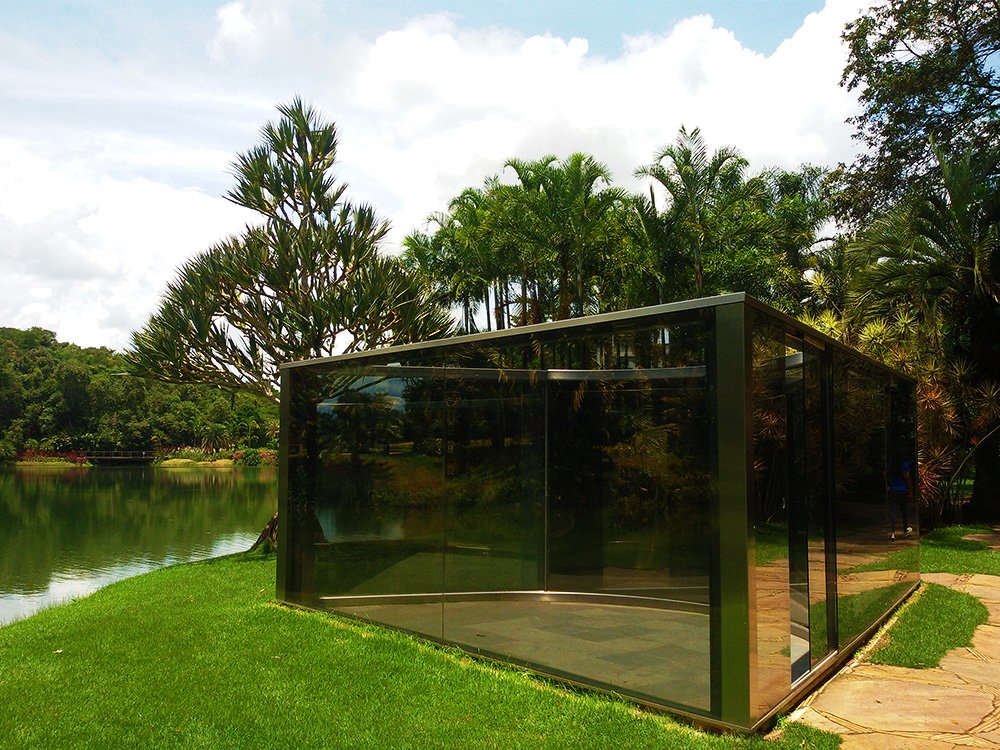 I've been to a couple of other fantastic combinations of Godly and artistic creations, brought together by some wealthy impresarios like Henry E. Huntington at his Library, Art Collections, and Botanical Gardens in San Marino, just minutes from Pasadena. Another world-famous venue in a breathtakingly beautiful setting is Knud W. Jensen's Louisiana Museum of Modern art at Humlebaek North of Copenhagen.
However, I can assure you that none of these can compete with Inhotim.
Brumadinho
The premises, officially called Instituto De Arte Contemporânea E Jardim Botânico, are located prima facie unexpectedly on the outskirts of Brumadinho. It's a village in Brazil's federal state of Minas Gerais amidst a depressing minors' region about 60 kilometers from Belo Horizonte.
Despite its isolated location, Inhotim attracts art aficionados from around the world.
As a matter of fact, the district of Brumadinho was founded in 1923 and populated by miners and their families.
Bernardo Paz de Mello
The founder of Inhotim, Bernardo Paz de Mello, was born in 1949 in the very district of Minas Gerais where he also made his fortune. As he has been very attached to his native region, he bought a large lot of land. Not only did he build his home on the ground. He also installed his ambitious art venue Inhotim in this forlorn spot.
In 2019, Brumadinho and its approximately 20,000 inhabitants gained notoriety when in January a tailings dam collapsed. This led to a mudflow that buried houses in a rural area near the city. About 186 people died.
Inhotim
Inhotim – what an unusual name, right?! It is said, that Bernardo Paz's property once belonged to an Englishman. The locals referred to him as 'inho Tim – Mister Tim.
The entire complex of Inhotim, hence, the botanic garden including all the galleries, spreads over more than 20 square kilometers. It's located on the northern outskirts of Brumadinho. If you are not exactly gimpy, it's easy to walk there. Nevertheless, there is also a local bus between the town center and the gardens.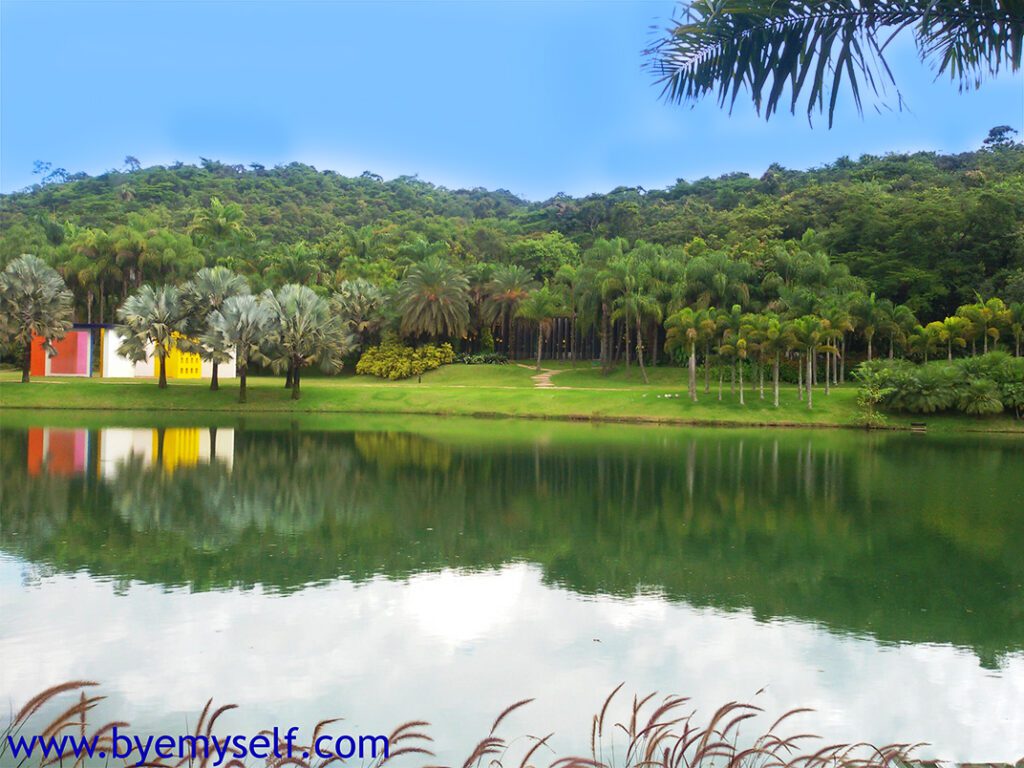 It is a garden Eden with an indescribable variety of different species of extraordinary plants. The number of different palm trees alone…I think there is no plant on earth that's not represented in Inhotim. Actually, Paz even imported flora from different places in Asia.
No wonder it is so beautiful since it was the famous landscape artist Roberto Burle Marx who designed the layout for Bernardo Paz.
Adding Excellence to Beauty
This paradisiac plantation alone would make every trip to Inhotim worth the time and effort. However, the lush gardens are just a rich setting for amazing architecture housing large galleries and white cubes.
There are two dozen of pavilions with lots of space even for humongous installations.
So inside and out, there is an exquisite collection of the most outstanding modern art on display. As a matter of fact, the exhibit shows about 500 works by Brazilian and international artists like Yayoi Kusama, Anish Kapoor, and Olafur Eliasson.
Paz's complete collection, however, consists of more than 1.300 works.
Bernardo Paz started buying the land and building his home that he filled with art in the 1980s. He began buying Brazilian modernist art. Only in 1995, he became a serious collector. Brazilian contemporary artist Tunga inspired and motivated the wealthy impresario.
Slowly but surely, Paz extended his activities until he finally founded Inhotim in 2002.
Initially, the institution opened its gates exclusively to certain groups. Only since 2006, also has the general public been allowed to visit. Since then, about 3 million visitors made their way to Inhotim.
As You Visit
Today, everything there is special and beautiful and caring and welcoming. Whether it's the repellent that every visitor can use for free or the little cars that take guests from gallery to gallery.
Of course, there is free WiFi. But what is as important and convenient is the high number of sockets you find all over the place to recharge your phone or camera whenever you need it.
There are water faucets at the visitor's disposal and many clean bathrooms – with an intriguing smell of lemongrass!
They have a rather fancy restaurant serving an excellent all-you-can-eat buffet for 20 bucks. But there is also a cheaper buffet-style restaurant which is also good, but more like a cafeteria.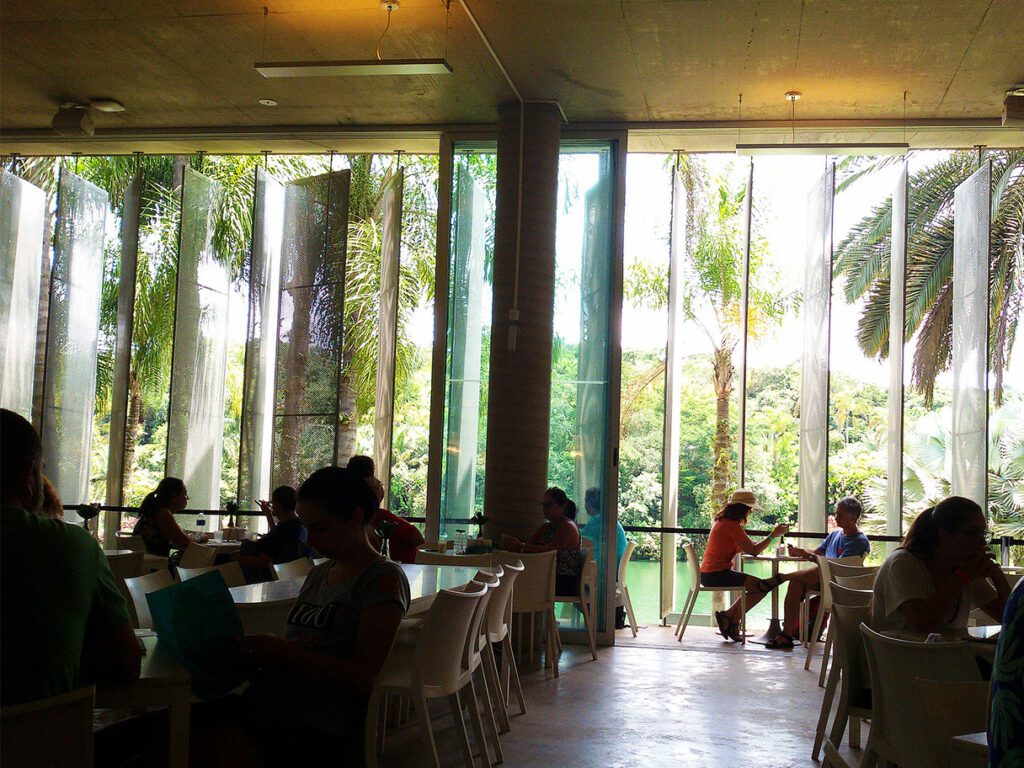 In addition, there are a couple of snack- and fast-food stands on the premises.
There are many shady places where you can relax from walking and repose from awing. Some of them are equipped with extraordinary seats made of raw wood.
Of course, there is a gift shop where you can stock up on original souvenirs.
You can easily spend the entire day there. And that's what I did without any symptoms of museum fatigue.
Thinking Big and Falling Deep
So yes, the place has a size of 5,000 acres and the collection consists of 1,300 works. Obviously, thinking big is definitely Bernardo Paz's motto.
Also, the mining magnate likes to emphasize that he was planning the museum for the next 1,000 years.
Well, living in Germany, I must say that people here would get very suspicious when they hear this.
In the last century, Europe's experience with over-ambitious men planning for 1,000 years was quite unpleasant – if you know what I mean.
However, his over-the-top gigantomania is not the impresario's biggest flaw.
Sadly, he doesn't seem to always live up to his ideals. The man who became a billionaire through a network of mining and steel companies has been accused of breaking a series of environmental laws. Furthermore, he benefited from child labor and according to governmental investigations of 'slave-like' working conditions in one of his plants.
Finally, in 2017, Paz was convicted of money laundering and sentenced to nine years of jail.
To keep Inhotim's name clean, he stood down from his position as chairman of the board of directors.
What's in a Name?
Actually, the fact that he's being convicted for money laundering is even a tad bit funny. My God, that's such a Latinamerican cliché!
The accusations of having damaged the environment are more than disappointing. The effect of these violations had a terrible impact on people's living conditions. And having abused his workers is just despicable.
Although I still think that Inhotim is a fantastic project, the allegations against Paz do give it a negative connotation. It's a bit as if you find out that a singer of beautiful, soulful love songs is a child molester.
Things get tainted.
My Eight Favorite Galleries
But as I said – heaven is a place on earth, and this place goes by the name of Inhotim.
Obviously, I cannot introduce all of the 500 pieces. And to cherish them, you have to see them in person, anyway. So I show you some of my favorite pieces – and hope you like them. This way, you might want to put Inhotim on your list when visiting Brazil.
Installations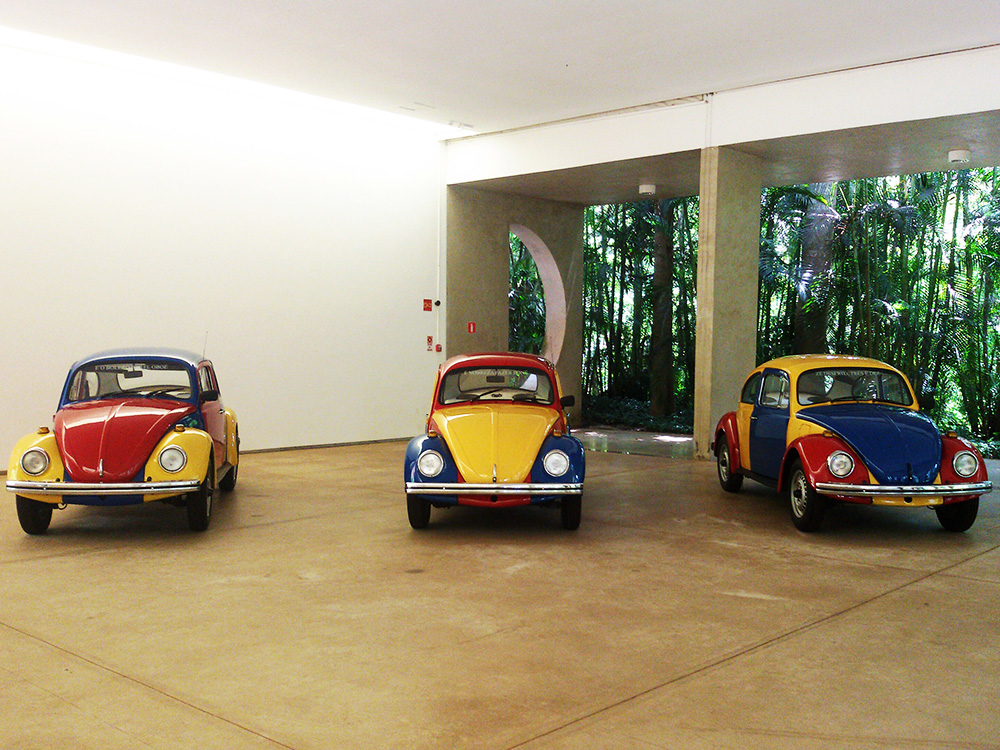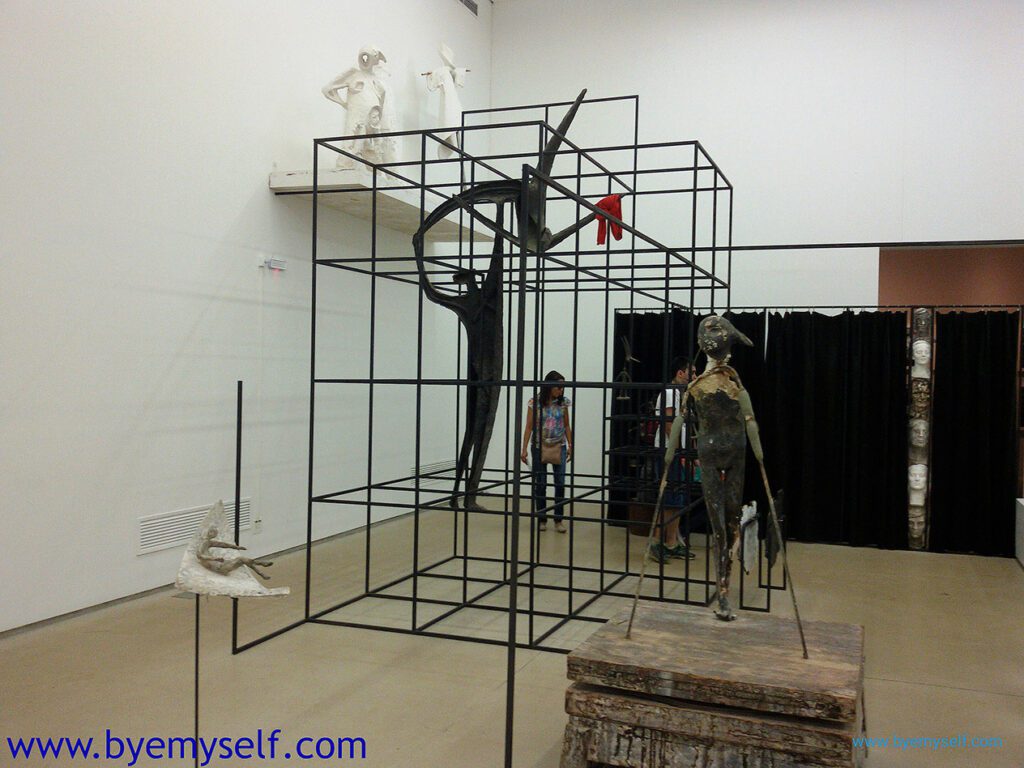 Paintings and Photography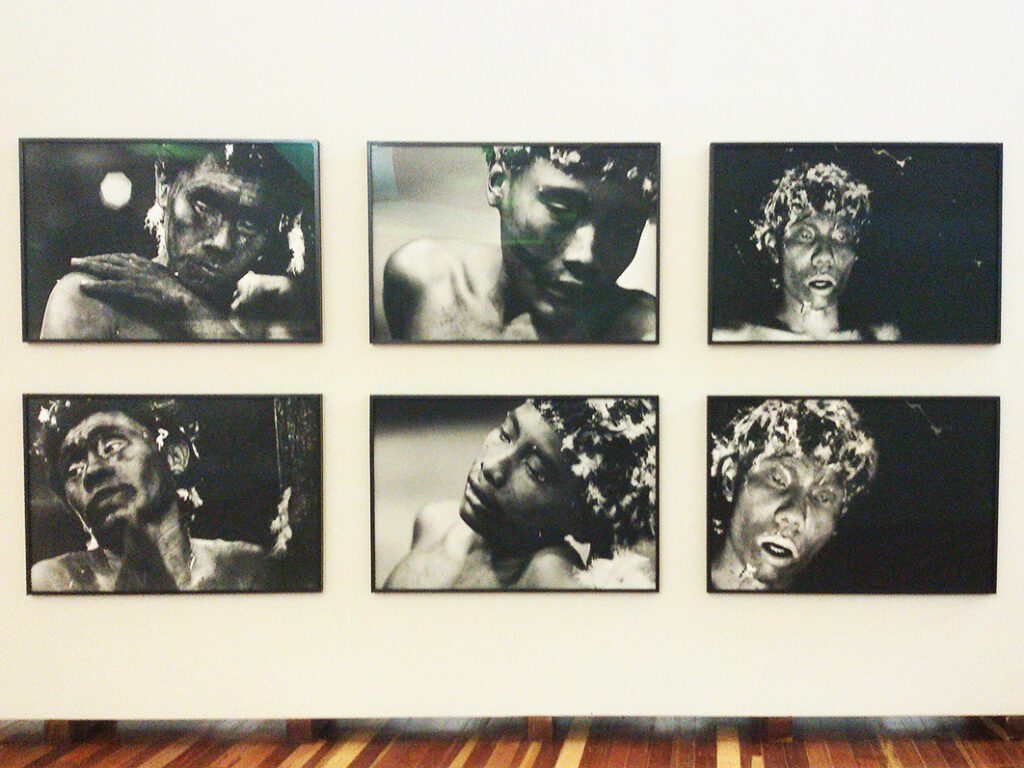 My Eight Favorite Sculptures And Installations
The pavilions are spacious so that even gigantic artifacts can be exhibited. However, there are pieces so humongous and heavy that they have to be outdoors.
Here are my favorite outdoor sculptures and installations.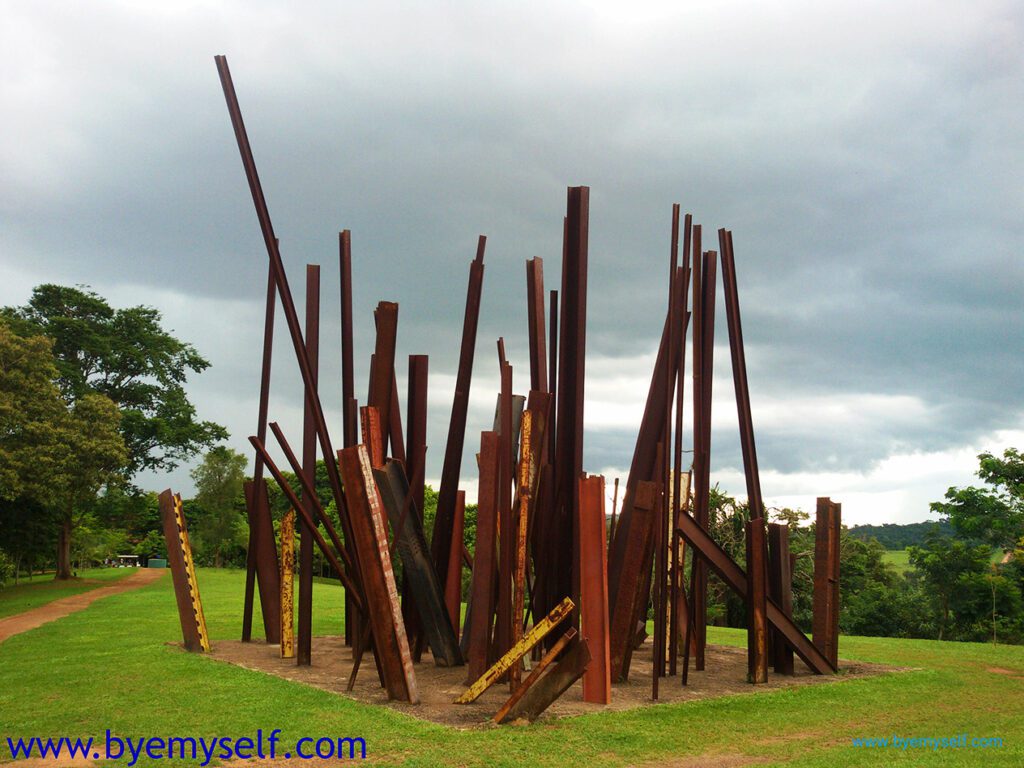 How to get there
Getting to Brumadinho by public bus for instance from Belo Horizonte is fast, safe, and easy.
I don't know how many buses are actually going from Belo Horizonte to Brumadinho since it's really not that far. Since I had to make sure to catch my plane the next day, I made a reservation online and went with Saritur. A one-way-ticket costs about 25 R$.
Once you arrive at Brumadinho, you can either take a cab, a local bus, or just walk. From the village center, it's about 20 to 30 minutes on foot.
Easy Day Trip
On weekends and holidays, Saritur offers a shuttle service from Belo Horizonte and back. It leaves at 8:15 a. m. from the central bus station and gets to Inhotim at 10 a. m. The fare is 41 R$. In the afternoon, the coach leaves Inhotim at 5:30 p. m. and arrives in Belo Horizonte at 19:25 p. m. – this trip costs – for whatever reason – only 37 R$.
There is also a shuttle service organized by the Inhotim people that theoretically serves the venue every day except Mondays. However, on Tuesdays, Thursdays, and Fridays, there have to be at least four passengers. You can make a reservation by sending your name and phone to inhotim@belvitur.com.br or through the website www.belvitur.com.br.
Generally, the coach leaves Belo Horizonte at 8:30 a. m. and goes back depending on the closing hours, i. e. 4:30 p. m. on weekdays and 5:30 p. m. on weekends and holidays. A roundtrip costs 66 R$, and only return 35 R$.
If you only need a return ticket, you have to get it at Inhotim. This is subject to availability.
If you have questions or want to make sure that the service is available, you can call + 55 – 31 – 32 90 91 80.
Opening Hours And Admission
The gardens and galleries are open to the public from Tuesday to Sunday from 9:30 a. m. to 4:30 p. m. – Saturdays, Sundays and holidays to 5:30 p. m.
The one-day admission for adults is R$ 50, kids from 6 to 12 have to pay half price and if they are younger than 6, entrance is free. Everyone else gets in for free on Wednesdays – except on holidays. For two days, adults pay R$ 88, and for three R$ 120.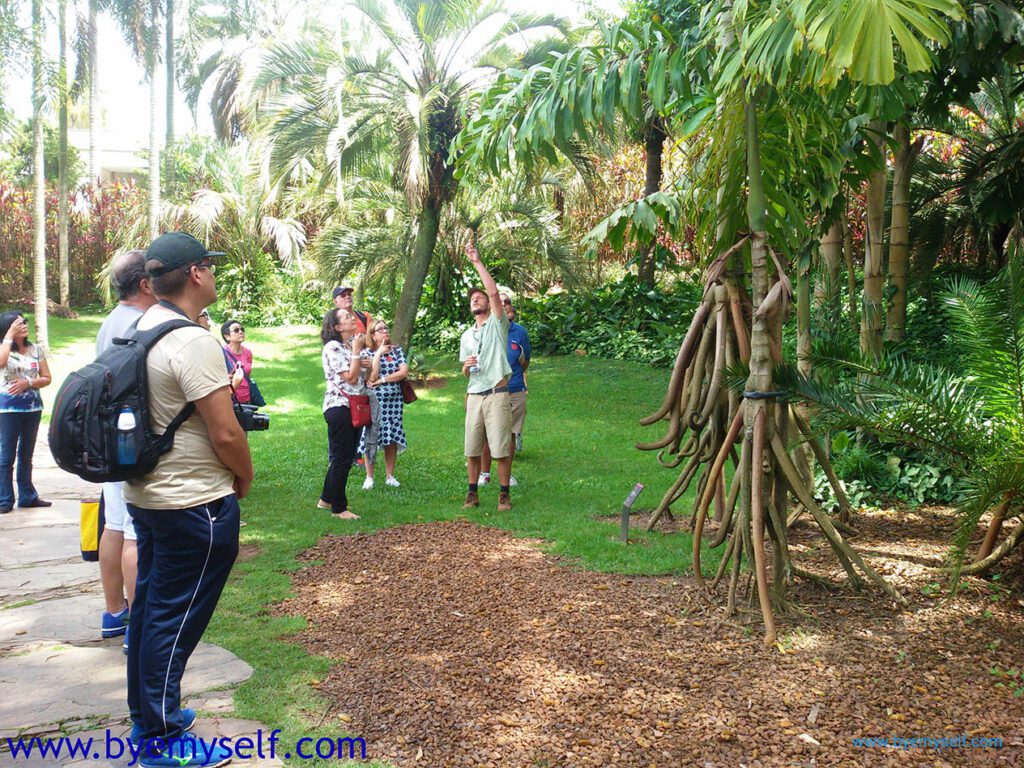 Note that there are small carts available that drive visitors between the different galleries. The use of these carts costs an additional 35 R$ per visit- and I highly recommend it since the site is huge.
Charter of a private cart for up to 5 people costs 750 R$ per day or 150 R$ per half an hour.
Important Note
Before you go, check their website or inquire directly whether special rules apply during your period of visit. When I visited, I needed proof of yellow fever vaccine, a couple of months later they abolished that. However, to save yourself from disappointment, inquire shortly before visiting.
INHOTIM
Rua B, 20
Brumadinho
Phone: + 55 – 31 – 35 71 97 00
Email: info@inhotim.org.br
Where to Spend the Night
Honestly, there is no reason to spend the night at Brumadinho since there are all these convenient options to get to Inhotim just for the day.
However, if you prefer to book accommodation rather there than in Belo Horizonte, I can recommend Hostel Hari* due to its proximity to the venue. A ten minutes walk, and you're there.
Another upside of this place is that the hosts are very kind. They have rooms of different sizes.
Still, you have to share the bathroom with other guests which might be a bummer. Also, the walls are quite thin so you definitely should bring earplugs.
On this map, you find various lodging options around Brumadinho*:
Wanna read about other great places and more impressive art in Brazil? Then quickly go to this post and take your pick! There you'll also find valuable general information that will make your trip smoother.
Pinnable Pictures
If you choose to pin this post, please use one of these pictures:
Did You Enjoy This Post? Then You Might Like Also These:
Note: I'm completing, editing, and updating this post regularly – last in December 2022.
Disclaimer: I appreciate that Inhotim did support me by granting free entrance and use of the shuttle carts. However, all opinions on these services are mine and weren't by any means influenced by my cooperation partner.
* This is an affiliate link. If you book through this page, not only do you get the best deal. I also get a small commission that helps me run this blog. Thank you so much for supporting me!