After having presented three mega art events on this blog over the past few weeks, I actually wanted to leave it at that for this summer. But last weekend, I paid the Berlin Biennale 2022 a visit. This event impressed me so much that I needed to write at least a short post about it.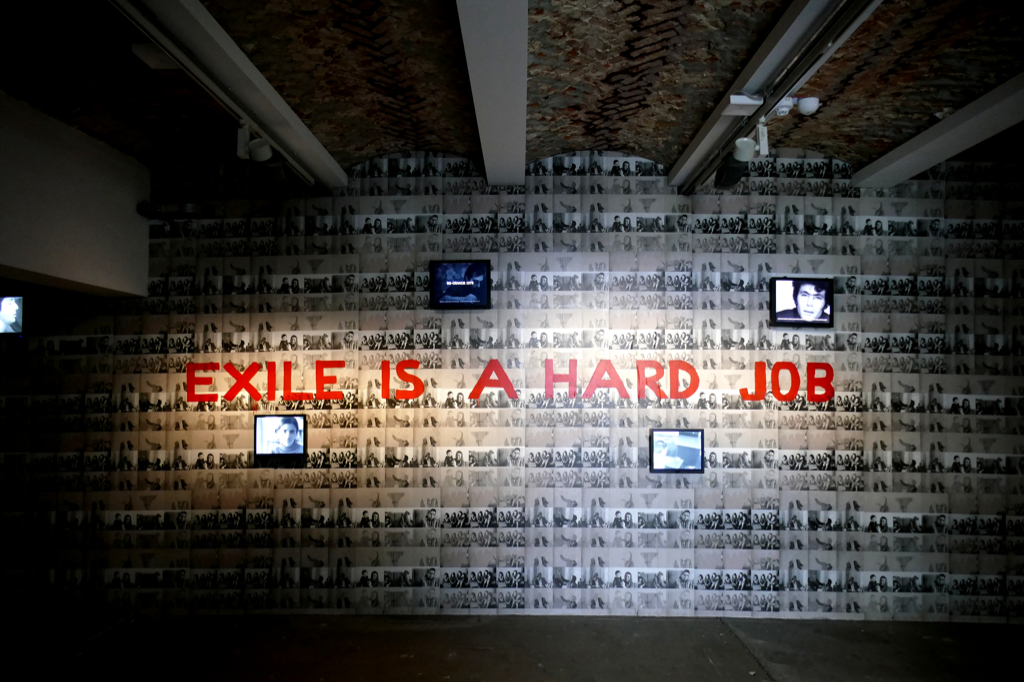 Like the Biennale in Venice and above all the Documenta in Kassel, the Berlin Biennale is also influenced by current political and social developments. Therefore, conceptual works and installations are presented rather than pretty pictures.
What impressed me in Berlin – especially ten days after my visit to Kassel – is a clear concept, the conscientious subdivision, and the stringent and consistent thematic organization and execution.
Berlin Biennale
Not only do I presume that you know that there is a Berlin and where it is located. Also, for the unlikely event that you do need context, I've written two extensive posts on Berlin – BERLIN guide: get the most for less on bus 100 and BERLIN – a Guide to the Wild Wild East – as well as a 24 hours in BERLIN-guide for a short trip. So I have you covered when it comes to the city as such.
Hence, we can go straight to the wonderful art event that is the Berlin Biennale.
This art show was founded in 1996 by Klaus Biesenbach. Today, he is the director of Berlin's Neue Nationalgalerie – an art museum that I urge you to visit, too.
The Berlin Biennale takes place every two years in different months and at different locations. It deals with political and sociological subjects and brings together artists with a bold political profile from all over the world.
12th Berlin Biennale in 2022
As in Venice and Kassel, artists from various regions are dealing with the legacies of colonialism, racism, oppression, and exploitation. In contrast to the participative brouhaha that is this year's Documenta, they do it in a clearly structured yet creative manner. Their works are deep and impressive. They go where it hurts. But their message is clear. You don't need to stand there reading long pamphlets to understand what they want to tell you. Their message comes across through their work. As, in my humble opinion, it should be. Yes, there are short introductory texts next to the works. But mostly, the work speaks for itself in a pretty clear language.
Not only is the underlying concept absolutely clear. In some of the venues, the works are even clustered according to sub-topics. For instance, at the Akademie der Künste Pariser Platz, the works deal with colocalization and racism. At the KW Institute for Contemporary Art, female artists prevail respectively women are the main focus of the works. The works at the Akademie der Künste Hansastraße are dealing with the deprivation of land use, destruction of living space, and exploitation.
However, in a way, all those sub-topics are intertwined as all oppression is connected.
Still present! is this Biennale's title. An extremely ambiguous title, come to think of it. Still present! is a wonderful thing when we are talking about the planet and humankind. Still present! is horrible when it comes to racism, exploitation, and oppression.
In comparison to the Documenta, the Berlin Biennale is tiny in size. It is convincing proof of the saying that sometimes, less is more.
The Curator
The curator of this year's Berlin Biennale is Kader Attia. He was born north of Paris to Algerian parents He received his artistic training in Paris and Barcelona. In his work, Attia deals with the influence of western culture and capitalism on societies in North Africa and the Middle East. His main focus is the after-effects of colonization. Kader Attia lives and works in Berlin and Algiers.
I was actually quite excited when I heard that Kader Attia would be this Biennale's curator. A couple of years ago, at the Biennale di Venezia, his work Narrative Vibrations left me totally mesmerized.
In this work, the voices of female Arabic singers bring sand to vibration under glass globes. And it actually works only with the voices, the sand does not vibrate when there are instruments. Absolutely fascinating! And a clear feminist message, too.
Actually, female positions are strongly represented in this year's Berlin Biennale, too.
Below, I'm listing the venues of the Berlin Biennale 2022 and point out my favorite works.
Hamburger Bahnhof – Museum for Contemporary Art
The Hamburger Bahnhof was built in the middle of the 19th century as a terminus for the railway line between Hamburg and Berlin. Before Germany's reunification, it remained vacant for decades. Reopened in 1996, it is now one of the most important museums for contemporary art in the world.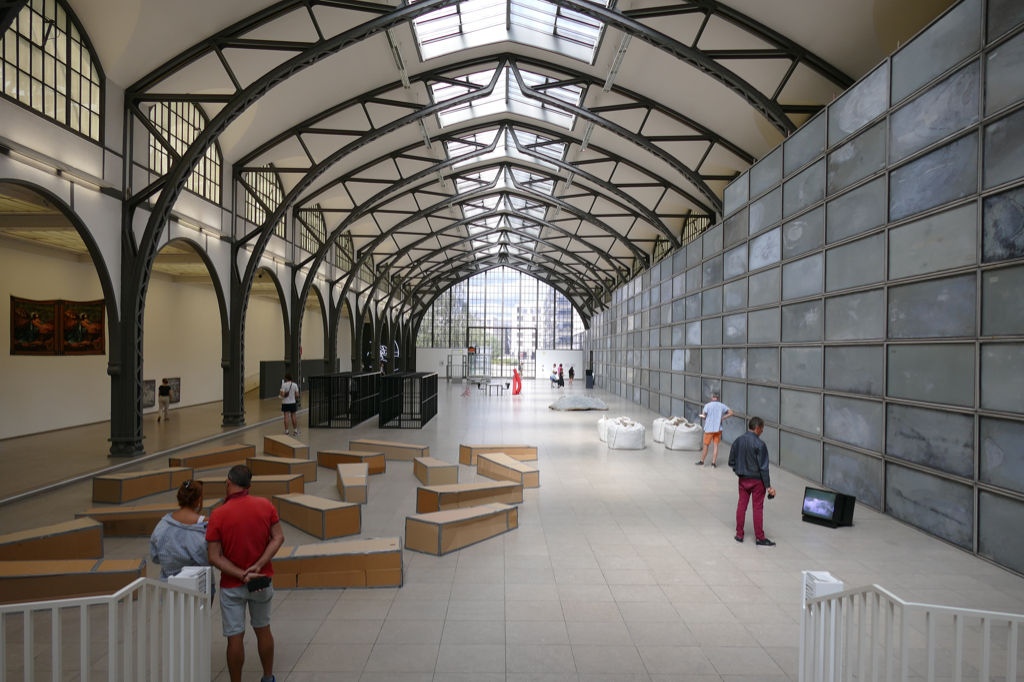 The annex, the so-called Rieckhallen, combines spacious industrial halls with small side rooms which even allows the presentation of large installation and makes undisturbed screening of gripping videos possible.
Clément Cogitore
Talking 'bout gripping videos, one of my favorite works was the film Les Indes Galantes by Clément Cogitore. It shows dozens of dancers performing a mix of hip hop, street fight, and krumping to the music of the baroque composer Jean-Philippe Rameau. In 1735, he brought for the first time performing artists of African origin to the Académie Royale de Musique in Paris.
Video artist Clément Cogitore adapted the opera with young artists in 2017. In this production, street dance is combined with baroque music to create a decolonized version of the work.
Noel W Anderson
Unique yet powerful pieces are the tapestries by Noel W Anderson. Apart from the important subject, I very much liked the realization of the woven fabric as tapestries are not an often-seen surface in contemporary art.
The African-American artist Noel W Anderson is aware that images of aggression against black people are constantly being disseminated. By optically distorting the motifs he has chosen, Anderson disrupts the perception. This makes it more difficult to grasp the scenes depicted. Using These kinds of tapestries that were invented towards the end of the slave trade, he links black history with the black present.
Calida Garcia Rawles
Although there were all those sophisticated installations and many of those works impressed me a lot, my third favorite at the Hamburger Bahnhof are relatively simple paintings. However, they are beautifully made and bear in their tender simplicity a strong message.
Los Angeles-based artist Calida Garcia Rawles paints bodies that seem to dissolve in water. Yet, we are made of water. However, for the Afro-American artist, water also stands for the abduction of Africans who were brought to the Americas for slave work. To her, water stands for much more than just a liquid. It is a powerful political tool.
Akademie der Künste Pariser Platz
The Academy of Arts was founded in 1696. During Germany's separation, two individual academies were established in East and West. Although they were merged after the reunification, the two venues remained. This year, the Berlin Biennale is being held in both houses for the first time.
At the main building behind the Brandenburg Gate, the show's focus is clearly on racism and colonialization and the ongoing consequences.
Moses März
There are those huge mind maps, drawn on simple paper with pencils and black markers. Here and there is a small spot in red, that's it. And yet, I spent quite some time looking at these explanatory sketches, tracing the connections, understanding correlations.
Berlin-based author'n'artist Moses März claims that his interest in cartography stems from his editorial work for Chimurenga Chronic, a pan-African literary magazine based in Cape Town. He developed this technique of translating context into lines and little scribbles during several projects for the magazine. And now, at the Biennale, he shows out timelines and linkages in an absolutely fascinating way.
As a matter of fact, this kind of mapping is not only inspiring and fun to look at. It also makes you see the big picture – literally – and understand how everything is connected; whether in a good or a bad way.
Prabhakar Kamble
Prabhakar Kamble gives those at the end of India's food chain a voice. For his work Utarand, the artist has cast the feet of agricultural workers in metal to prop up the terracotta pots traditionally used to store cereals and other foods. Atop are symbols of the respective position in the Indian hierarchy.
There is a sweeper's broom, a sanitation worker's gloves, but also a cow whose life is considered more worthy than that of lower-cast humans. Kamble painted those tokes in indigo, the color also associated with the abolishment of castes.
Deneth Piumakshi Veda Arachige
Deneth Piumakshi Veda Arachige is originally from Sri Lanka but currently living in France. At the Berlin Biennale, her multidisciplinary installation deals with racism, colonialization, and restitution. In pictures and letters, she tells the story of her ancestors, the Indigenous Adivasi.
Her art project Voices from an Archive Silenced deals with the expeditions of Paul and Fritz Sarasin to what then was called Ceylon between 1883 and 1907. There, the Swiss naturalists examined the bones of the Adivasi, Singhalese, and Tamils, sorted and cataloged them in an inhuman way.
Finally, they returned to Europe with a large collection of skulls that are still in the archives of several European museums.
Around the corner from the Art Academy is one part of Nil Yalter's work on emigration. You'll find the spot in the map below.
Akademie der Künste Hanseatenweg
As I mentioned above, it's the first time that both buildings of the Art Academy are participating in the Berlin Biennale.
At the Akademie der Künste Hanseatenweg, the leading topic is destruction of the environment – and also man-provoked destruction by the environment.
Mai Nguyễn-Long
Mai Nguyễn-Long is the daughter of an Australian mother and a Vietnamese father. After growing up in Papua New Guinea and the Philippines, she now lives and works in Dharawal Country in Australia.
Her contributions to this year's Biennale are dealing with the historical trauma and post-war consequences of the Vietnam War. Her installation Specimen mimics deformed animals, organs, and fetuses that you find preserved in science museums or hospitals. They symbolize the atrocious effect of Agent Orange which still torments the lives of thousands of people in Vietnam.
Đào Châu Hải
Another Vietnamese artist, namely Đào Châu Hải, created his literally sharp and spikey work Ballad of the East China Sea in 2010.
This represented part of the Pacific that had become the subject of violent clashes between neighboring countries. His work transforms the poetic waves into dangerous blades and spikes. Although the sculpture looks airy and light, it is treacherous and harmful.
KW Institute for Contemporary Art
The KW Institute for Contemporary Art has housed contemporary art for more than 30 years. Also, it is the cradle where the Berlin Biennale was held for the first time in 1998.
The main focus of this part of the Biennale is clearly feminism. Hence, the works are either created by female artists or deal with women-related topics.
By the way, most of the participating artists show their work in more than one venue – depending on the respective focus. Hence, you'll find for instance Mai Nguyễn-Long's and Deneth Piumakshi Veda Arachige's works also at the KW. Susan Schuppli, whom I'm introducing below, is also represented at the Campus of Democracy.
Susan Schuppli
Born in Canada, Susan Schuppli lives in London. At the Biennale, she shows videos from her series Cold Cases. The ambiguity of the word cold plays a major role in her films denouncing the cruelty of North American authorities.
In the video Icebox Detention Along the US-Mexico Border, the artist documents how officials working at migrant detention centers use low temperatures to literally torture people.
Her video Weaponizing Water Against Water Protectors is screened at the Akademie der Künste Hanseatenweg as it touches on an environmental subject. It shows the merciless use of water cannons against protesters at the Dakota Access Pipeline at Backwater Bridge in the north of the Standing Rock Sioux Reservation. Eventually, more than 300 protesters had to be treated for hypothermia.
Mathieu Pernot
The photographer Mathieu Pernot is based in Paris. He has portrayed the Roma family Gorgan who is living on the outskirts of Arles in southern France for decades. In the process, his work ranges from social documentary photography to participatory personal portraits.
Although the family has lived in the region for generations, their living conditions haven't improved. The French society stigmatizes them as outlaws.
The Roma minority made her way into the arts this year. Whether at the Biennale in Venice or the Documenta – all of a sudden, the marginalization of the European Roma becomes a topic. Finally, I must say. There are still far too many people who condescendingly refer to them as gypsies – and treat them accordingly.
But apart from his protagonists, I also like the way Pernot compiled his personal archive of the Gorgan family. You feel how close the objects in his pictures are human and very close to his heart.
Zuzanna Hertzberg
Women are mostly victims of wars, not heroes. Hence, in her work, Zuzanna Hertzberg remembers the female contribution to Jewish resistance since the early 20th century. For a decade, she has assembled a comprehensive archive of female Jewish opposition for instance during the uprising in the Warsaw ghetto. In her work, the Polish-Jewish artist pays tribute to those heroines who are mostly forgotten.
Stasi Zentrale Campus for Democracy
With around 50 buildings and thousands of offices, these used to be the headquarters of the Ministry of
State security in the GDR. From here, the Socialist Unity Party of Germany organized the surveillance and suppression of the population. Today, this former place of terror houses a museum and stands strong as a reminder against dictatorship and for democracy.
There are only a few works on display in this venue. Obviously, they are thematically connected with the history-charged building. They deal with surveillance, control, oppression, and toxic masculinity.
Hasan Özgür Top
In his video The Fall of a Hero, Turkish artist Hasan Özgür Top draws a very clear and convincing connection between the recruiting and heroization of ISIS and other governments. And those weren't necessarily designated dictatorships. In this very eye-opening video, you learn how ISIS uses classic patterns of marketing which are not unknown to other forms of government, either. Toxic masculinity, the struggle against liberalism and so-called decadence, compensation for inferiority complexes – all of this makes those warriors near and far brothers in arms.
The trip to Berlin's deep east is worth it for this video alone.
Plan Your Visit
Opening Hours And Tickets
In 2022, the 12th Berlin Biennale takes place from June 11 till September 18. It's open from Tuesday to Sunday between 11 a. m. and 7 p. m.
The general admission costs 18 €uros, but there are discounts for certain visitors like students, handicapped people as well as groups so you better check out their website. There you can also buy your tickets online.
At every venue, you can pick up a great map. While it doesn't seem to be very comprehensive at first sight, it is actually very well designed and helpful – especially as you combine it with the detailed info you can obtain on the Biennale's website.
How to Get Around
Berlin is Germany's largest city, hence, don't even think about visiting all venues of the Biennale exclusively by walking.
Obviously, Berlin has a comprehensive network of public transportation. There are subways, regional trains, trams, and buses. You can easily check the most convenient route on Google maps.
A single ride costs 3 €uros and only 2 €uros for a so-called Kurzstrecke. This short trip includes only up to 3 stops for S-Bahn or U-Bahn including interconnections. On buses and trams, a Kurzstecke consists of up to 6 stops. Hence, you can save a lot of money by getting a day pass for 8.80 €uros. Note that this pass is valid for 24 hours after clocking in. If you are travelling with others, a group ticket for €uro 25,50 for up to five people might be a more attractive option.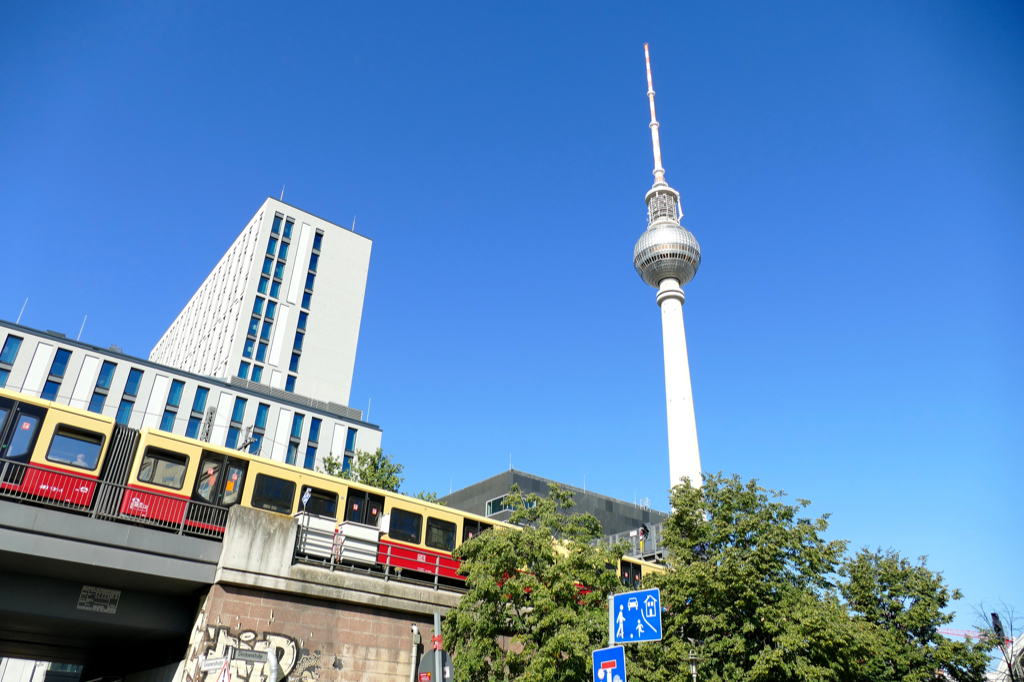 If you want to see more of Berlin than just Urban Art, the WelcomeCard is probably the best choice. You'll get free access or at least reasonable discounts on tours and entries, but also on food and drinks at selected restaurants and shops. It also includes unlimited rides on all public transport. So this card grants you a far more complete and diverse program.
June to August 2022
Due to the high energy and fuel prices, the German government agreed on a relief package for all citizens. Among other measures, it includes a so-called 9 €uros ticket. With this ticket, you can travel throughout Germany for the entire month of June, July respectively August.
With the 9 €uros ticket, you can travel by regional trains between cities. However, you can also use regular buses, trams, subways, and suburban trains as well as regional express trains in any city. Currently, this is your best option anywhere in Germany.
While the 9 €uros ticket is valid throughout Germany, it is not linked to German citizenship. Therefore, foreign visitors to Germany can use the 9 €uros ticket, too. Keep in mind that children under the age of six travel for free, anyway.
Cycling
While driving in the city center is rather a drag than a convenience, Berlin can easily be explored cycling. If your hotel doesn't have bikes for rent, you can get them for instance at nextbike. You find their website here.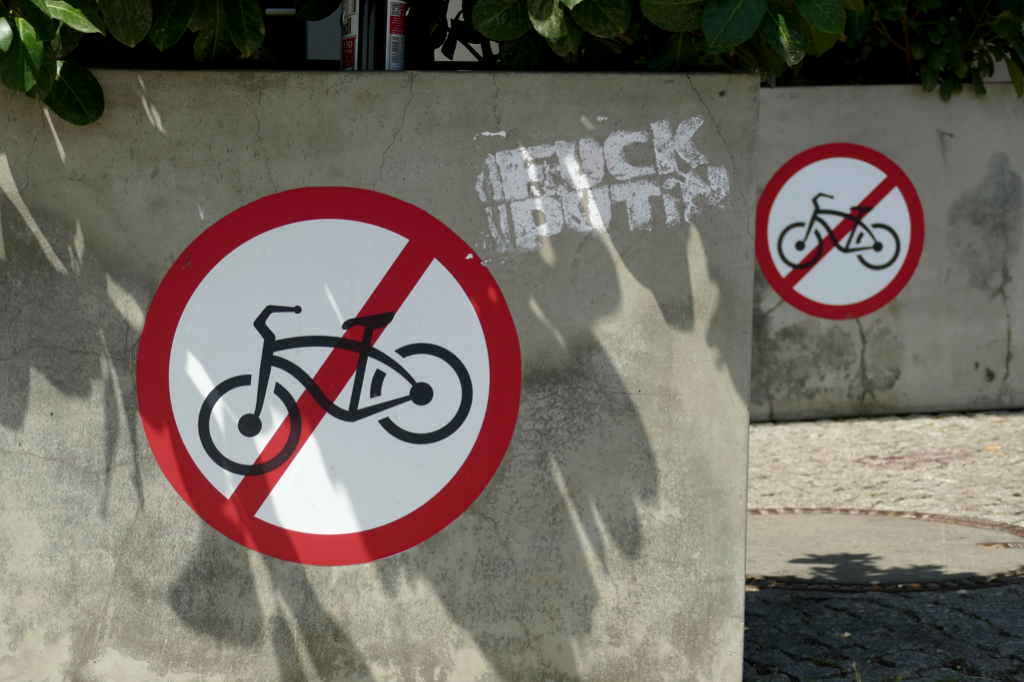 Registration is free, however, you need to create an account with a starting credit of 1€uro. Then, you can pay by credit card, debit, your mobile phone account, or PayPal. For a monthly fee of 10 €uros, you get 30 minutes per rental free. Berlin is huge, but there are many nextbike stations around town. Therefore, if you play your cards right and give your bike back in time, you probably won't pay more than your monthly fee.
However, if you do not want to pay a monthly fee, the rate is 1 €uro for 15 minutes. Therefore, I presume that even if you'll explore Berlin cycling for only one single day, paying the monthly fee is a far better deal, obviously.
Map
This map will you to find the participating venues easily. Clicking on the slider symbol at the top left or the full-screen icon at the top right will display the whole map including the legend.
Do you want to see more of Berlin than just the Biennale? I'm so glad to hear that – and I have you covered. In my comprehensive guides BERLIN guide: get the most for less on bus 100 and BERLIN – a Guide to the Wild Wild East as well as in my itinerary for 24 hours in BERLIN, I'm taking you to the most popular spots around the city as well as to some hidden gems.
Also, I've put together a complete list of what to know before you go when visiting Germany. This information will make your stay smoother and more enjoyable.
Pinnable Pictures
If you choose to pin this post, please use one of these pictures:
Did You Enjoy This Post? Then You Might Like Also These About More Art And Art Events:
Disclaimer: Berlin Biennale 2022 granted me free entrance to write about this year's edition. Howsoever, all opinions in this post are mine and were by no means influenced by my cooperation partner.