While Venice is a place worth visiting even when nothing special is on, here is how to visit the city during the Biennale di Arte, one of the world's most important art events, in 2019.
However, the Biennials add some contemporary suspense and glamour to all the shiny renaissance the Doges left behind, and this summer, the 58th Biennale di Arte is on.
Venice and I: Regular Visits to the Mystic Lagoon City
I've always loved Venice. Since years ago, after a horrific ride I'd spent standing in a packed, hot public bus taking me from the Aeroporto Marco Polo to the capital of the Veneto, I set foot on the Piazzale Roma. From that very moment on, I was overwhelmed and in everlasting love.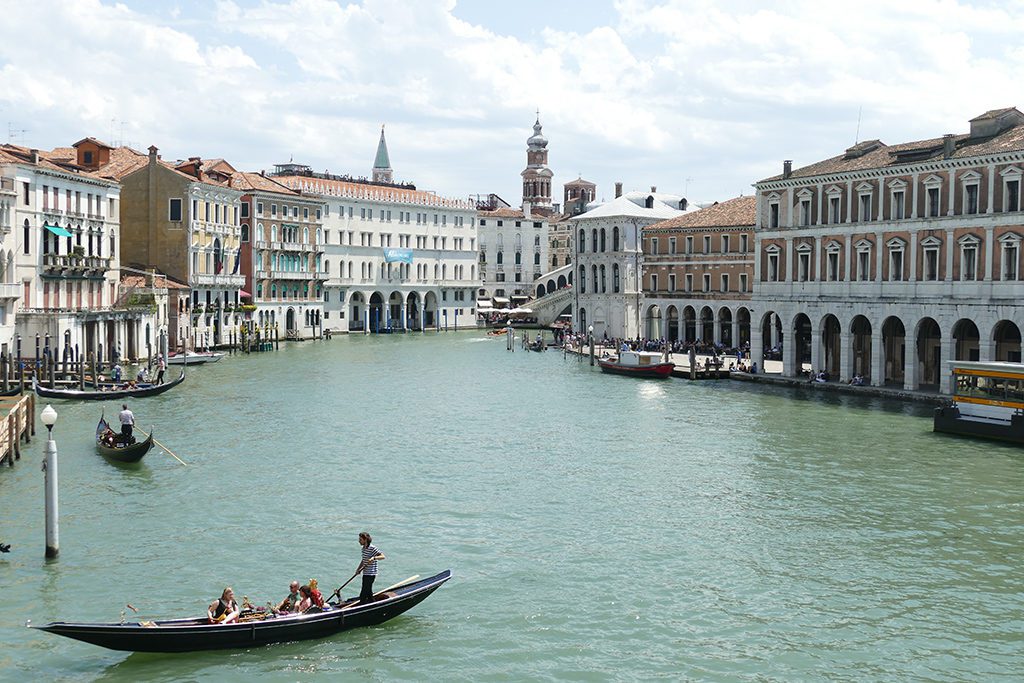 This city, built on stilts, is just so unique. Despite its modest size, Venice used to rule major parts of Europe. And, of course, beautiful.
So, yes, I don't really need a special occasion to keep coming back.
Meanwhile, I'm not taking the horrific bus anymore; today, there are far better options at a still okay price.
However, every time I set foot on Piazzale Roma, awe and joy are overwhelming me. Despite the fact that it has developed so much over the decades since I arrived there for the first time.
The Biennale and I: The Perfect Event for an Art Addict
I don't need a special occasion to visit Venice. Nonetheless, lately, I've been coming back only on special occasions, namely the Biennale di Arte. This art biennial, obviously, takes place every other, odd-numbered year.
Before I visited the Biennale for the first time a couple of years ago, I was a bit intimidated:
Since Venice was so packed already without any special event, how terrible must the crowds be during such an outstanding event?! Consequently, I armed myself for the worst.
Once there, to my surprise, I realized that most tourists still do come for the standards. They are still visiting Saint Mark's Square, the gondolas, and the Rialto bridge. Overall, people even don't know about the great event that's taking place right next to the above-mentioned must-sees. Although the country pavilions as well as the Collaterali, special themed exhibitions, are clearly marked.
When I tell other tourists that I'm there for the Biennale, they even ask if I'm an art buyer. This is hilarious since, of course, you have to enjoy the art on the spot. Obviously, you cannot get yourself a little Baselitz as an exclusive souvenir.
So don't worry, neither is the city fuller during the biennial nor are the venues packed with the average tourists.
Read in my post on Venice travel hacks on how to avoid the crowds as well as you can.
The Biennale…
The Venice biennial dates back to 1893. Then, the city council decided to introduce an exhibition on Italian art – called Esposizione Biennale Artistica Nazionale.
The first one took place in 1895 and since then, every two years.
Over the following years, it opened to other countries. Therefore today, it is an important international art show and called L'Esposizione Internazionale d'Arte, La Biennale di Venezia.
The Giardini And the Arsenale
Firstly, one of the two main venues are the Giardini, the gardens, in the Castello neighborhood.
Here above all, 27 countries have the opportunity to present artists of their choice at their respective national pavilions. The first one, by the way, was the Belgian one, built in 1907.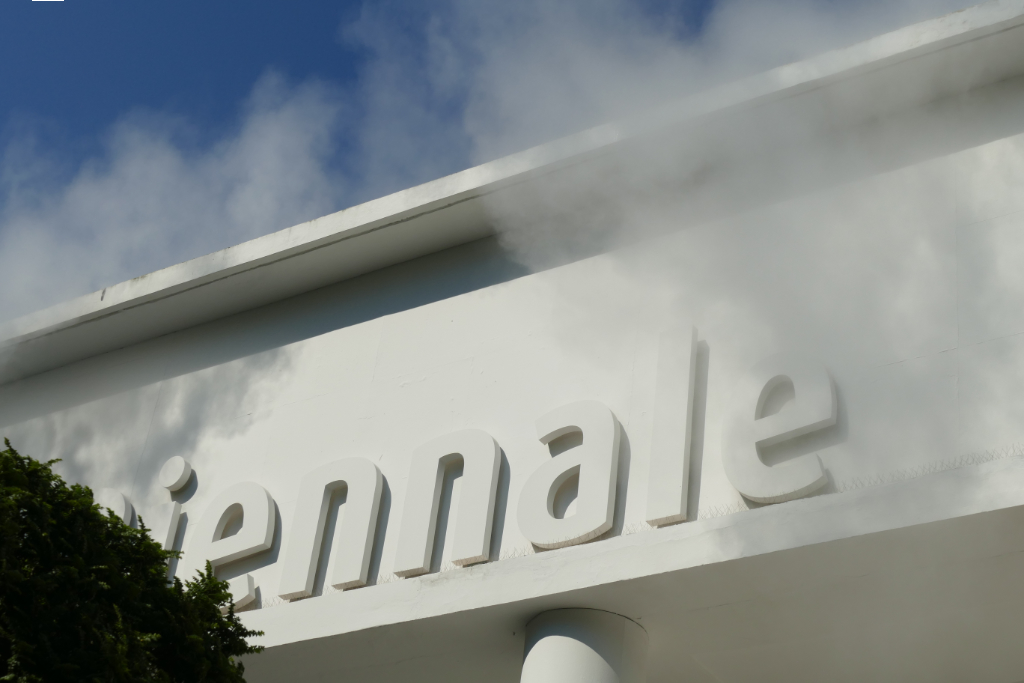 Since 1980, the other main venue is the Arsenale, a huge terrain of former shipyards and armories, located just minutes from the Giardini.
The other several dozen states that have not built their own pavilion can still exhibit in rented venues scattered throughout the city. This way, during the Biennial, you have access to Palazzi and other buildings that normally are not open to the public – a huge attraction.
Regardless of country representations, the Arsenale has a themed exhibition compiled by curators.
This Was On In 2019
The 58th Biennale was taking place from May 11 to November 24, 2019.
The curator of 2019's main exhibitions was Mr. Ralph Rugoff. Born in 1957 in New York City, he has been the director of London's Hayward Gallery since 2006.
Following the motto May You Live in Interesting Times, the main exhibitions introduce 83 artists from around the world.
Art From Around The World
In addition, there are 89 nationals participating in the historic Pavilions at the Giardini, at the Arsenale, and in the historic city center of Venice. However, Ghana, Madagascar, Malaysia, and Pakistan are participating for the first time.
Besides the Biennale di Arte, the art exhibition, the Venice Biennale consists of an annual music festival since 1930, 1932 a film festival, a theater festival since 1934, and a festival of contemporary dance since 1999. While these​ biennials take place annually, the Biennale di Arte alternates since 1980 with the Architecture Biennial.
…and I
Altogether, I'm coming every two years to Venice to see the Biennale, and it never gets old. In fact, there are far too many unique events and exhibitions in mesmerizing places.
My Personal Favorites from 50 Countries in 2019
In summary, I made a list of my preferred works from 2019. Following the Biennale's concept, I sort them in alphabetical order according to countries – 50 altogether.
However, I did not stick necessarily to the official country pavilion, but show you what I've liked from that specific country.
Some were the official contributions, while others are just my personal favorite. And sometimes, it was simply impossible to pick only one artist from a country. However, I limited myself to two max so that this post doesn't get out of hand.
At this post's end, in summary, you'll get all the relevant info to make your visit to the Biennale an unforgettable one.
Tip: If you visit rather in Autumn, prices for accommodation and many services get much lower. Nonetheless, make sure to check out my post on how to visit Venice on a budget.
Andorra
Argentina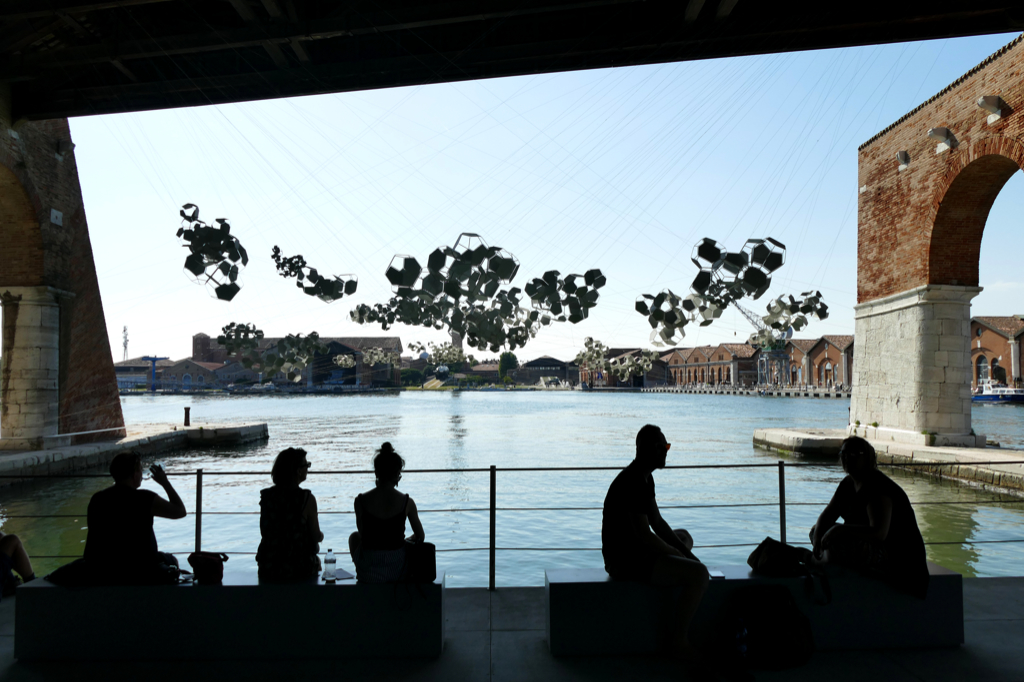 Australia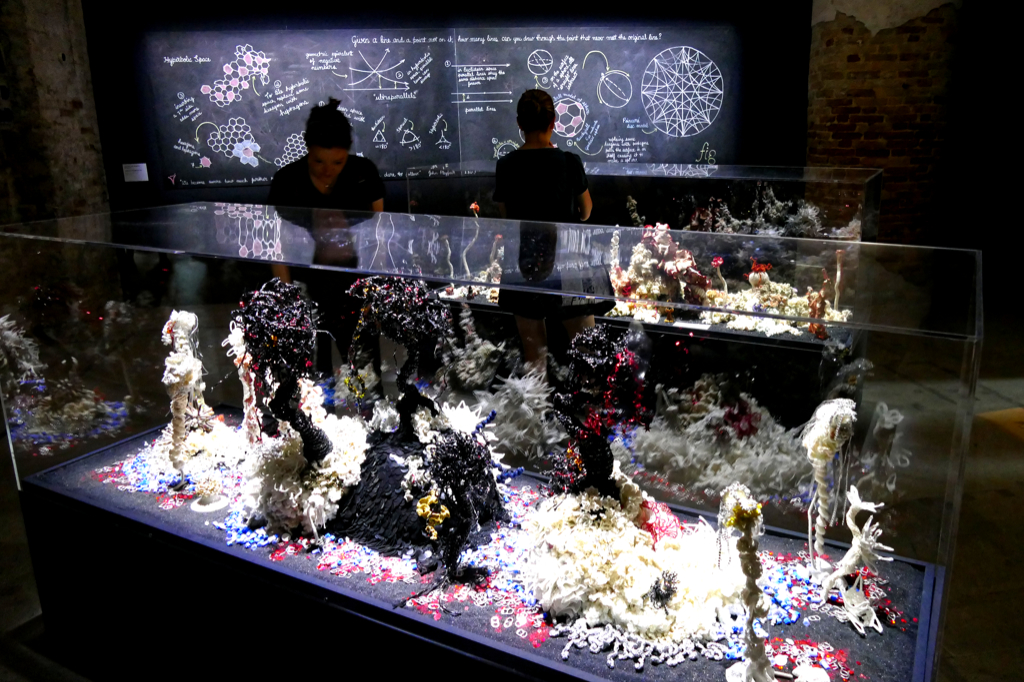 Austria
Azerbaijan
Belgium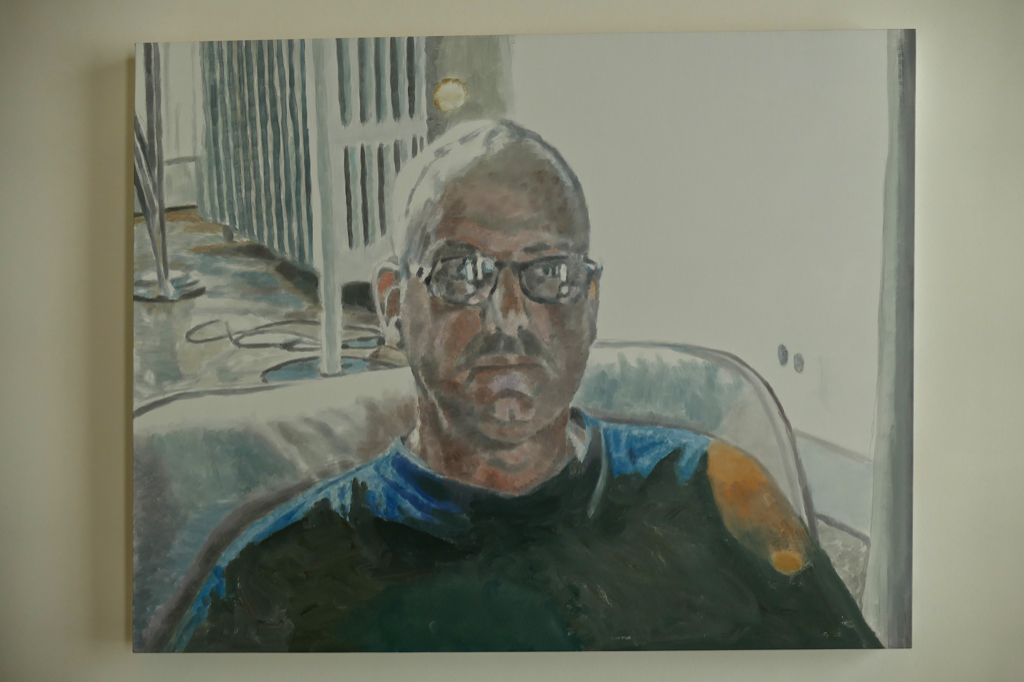 Belarus
China
Colombia
Cuba
Dominican Republic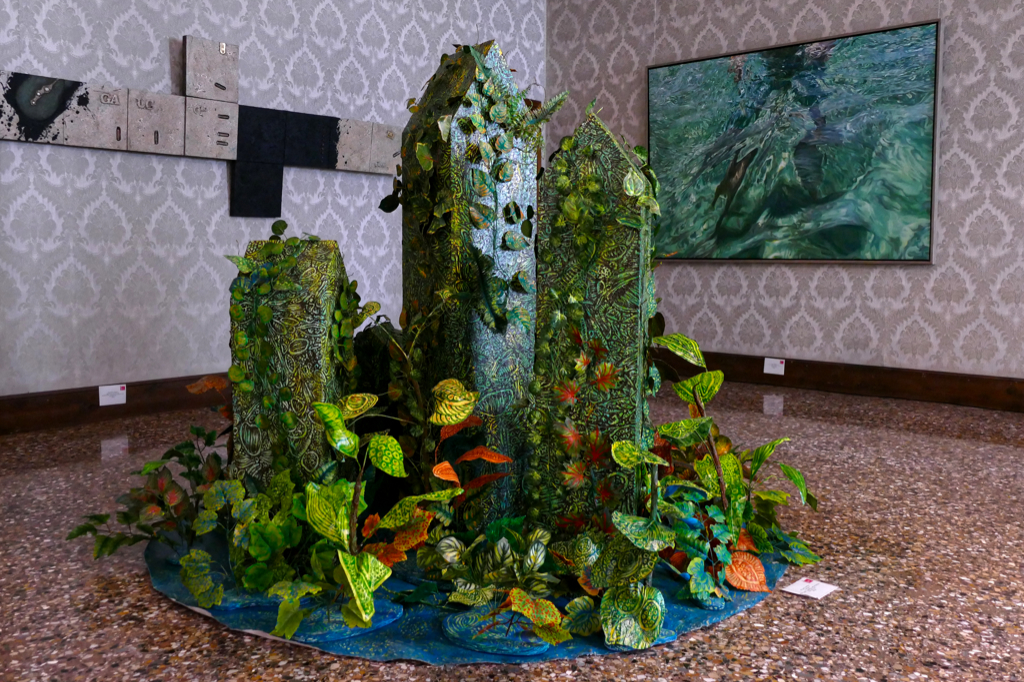 Ecuador
Estonia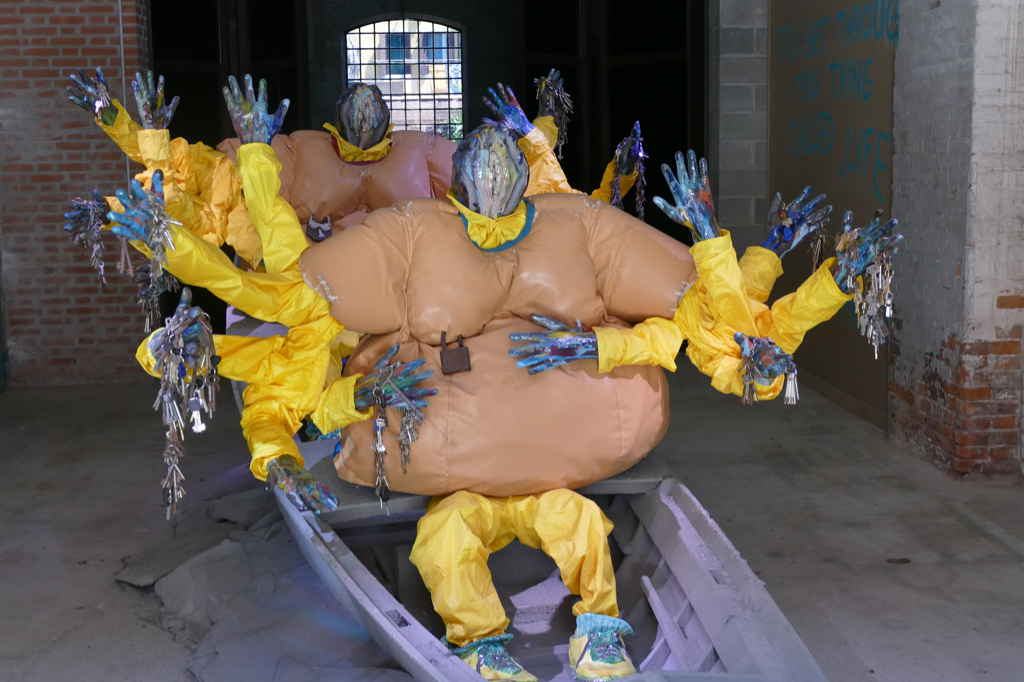 France
Germany
Ghana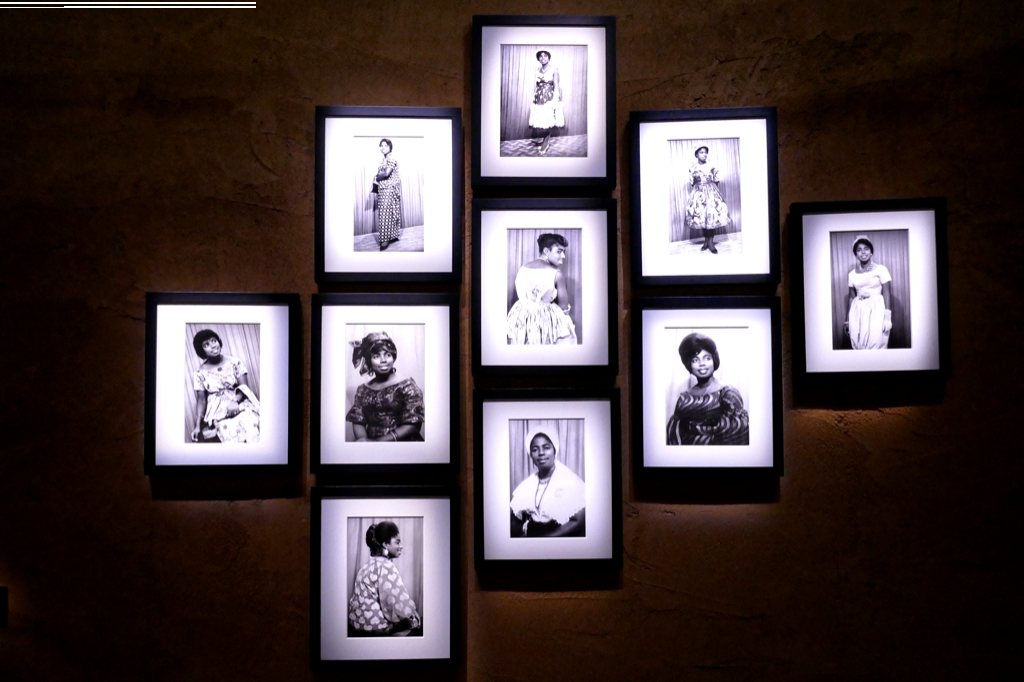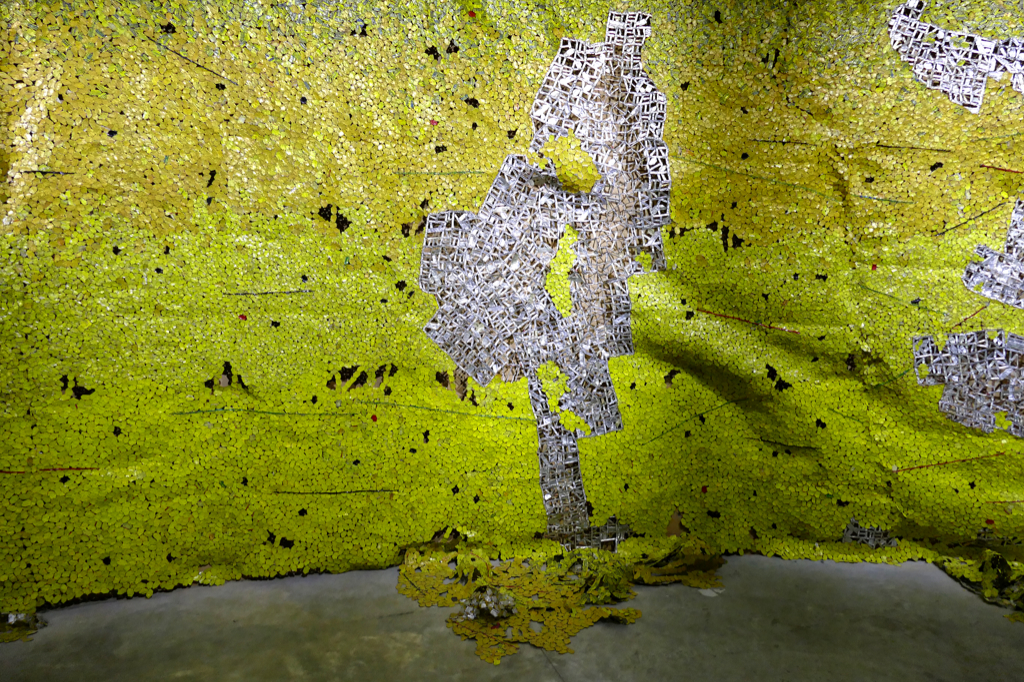 Guadeloupe
Why François Piquet's videos Pré-requis à la discussion décoloniale, Prerequisites for decolonial discussion, are one of my favorite exhibits this year? Watch them and you shouldn't wonder any longer.
Guatemala
Iceland
India
This year, there were so many great pieces from India – either at their pavilion or at group exhibitions – which really makes it difficult to pick the most impressive ones.
However, Shilpa Gupta's For, in your tongue, I cannot fit carries, alas, an important message in times when writers and journalists are still being prosecuted. Her sound installation consists of 100 speakers, microphones, printed text, and metal stands. While you can listen to recitals of a different poet's verse, the corresponding text is spiked on a stand.
All these authors were imprisoned for their poetry or politics.
The title, though, is inspired by the work of 14th-century Azerbaijani poet Imadaddin Nasimi.
At the Arsenale is her amazing work Untitled (Metal Gate).
Iran
I actually like monochrome paintings and installations. Especially grey makes you feel like living in a world of black and white; which I sometimes actually do, but that's a whole different story.
I'm the greatest fan of Jan of de Beeck's installations in gray, and Reza Lavassani's festive table reminded me of it.
What I love the most about his life-sized and immaculately crafted table is the fact that it's entirely made of paper-mâché.
Iraq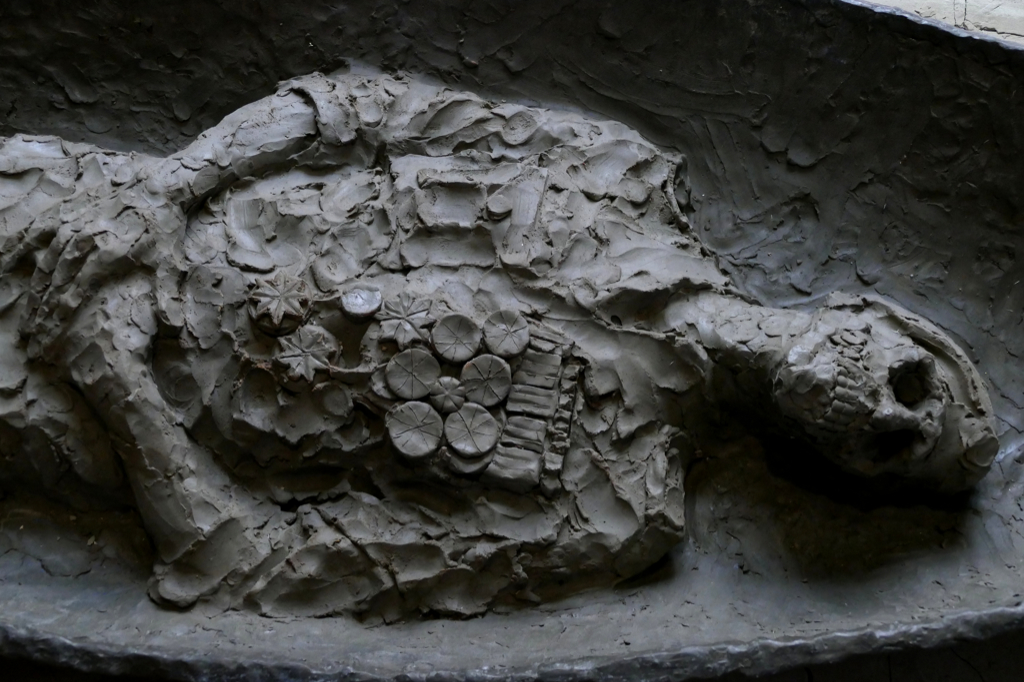 Israel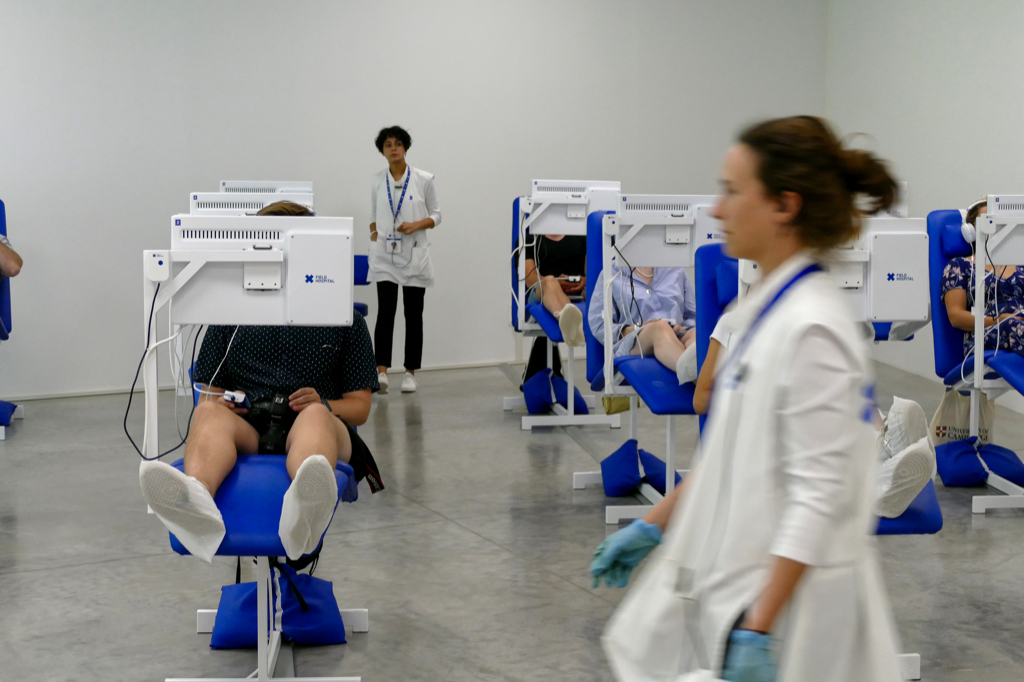 Italy
Ivory Coast
Japan
Kenya
Kiribati
Korea
Kosovo
Luxemburg
Macao
Madagascar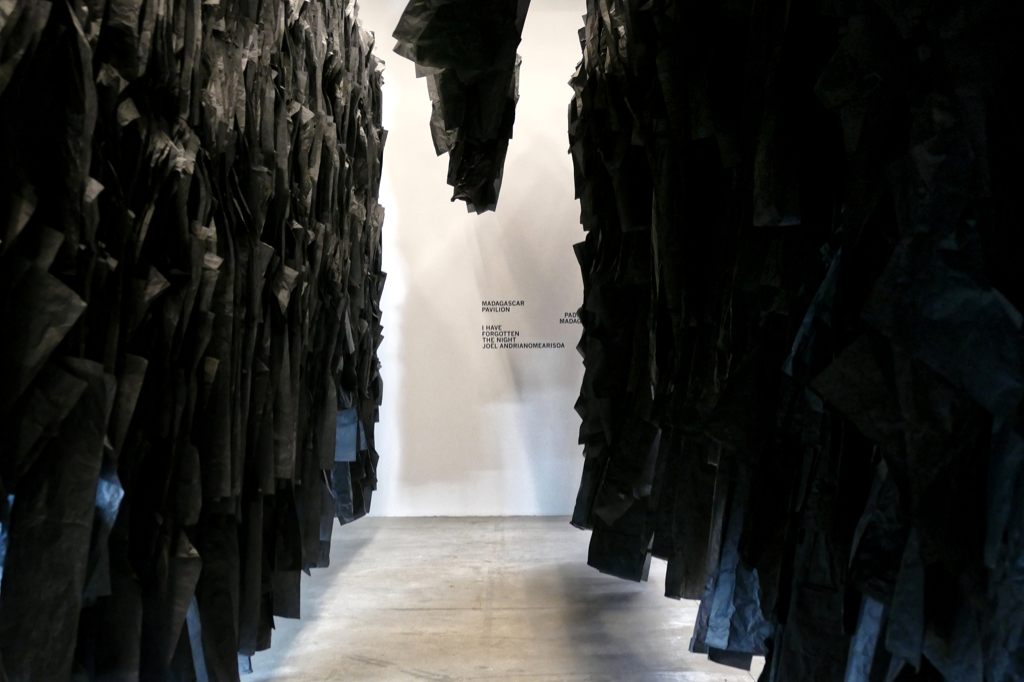 Mexico
Netherlands
Nigeria
Peru
Philippines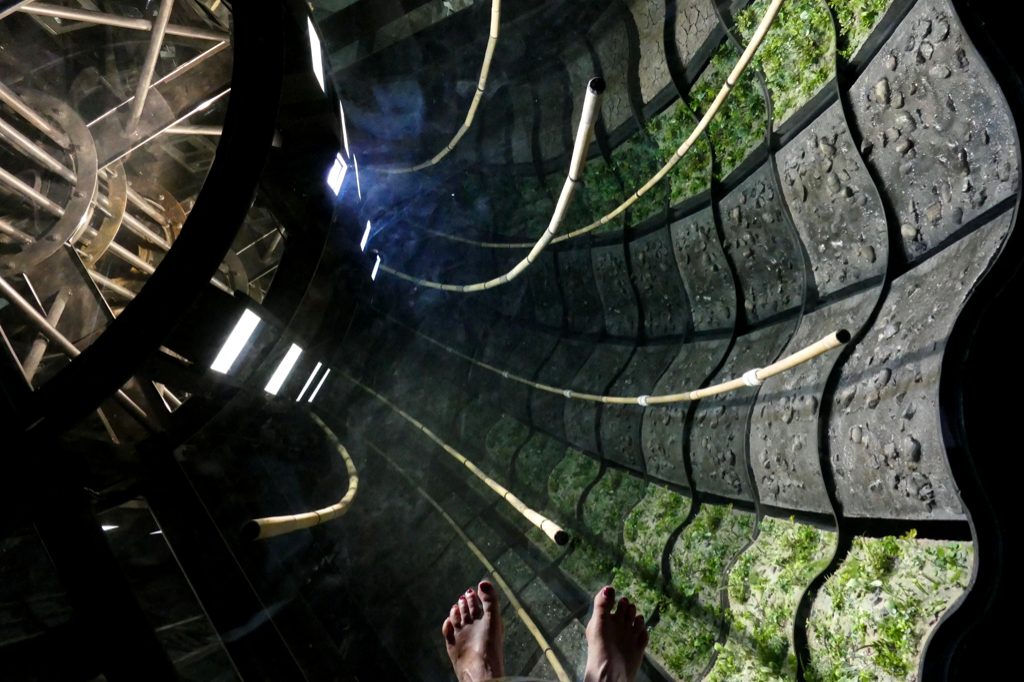 Romania
R

ussia
Saudi Arabia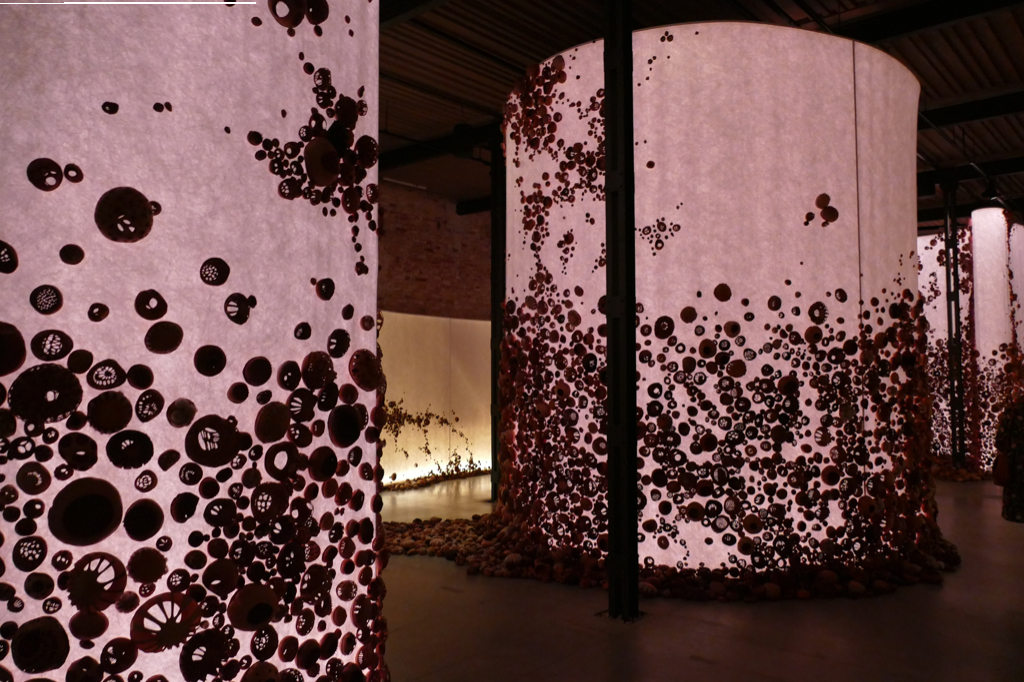 S

outh Africa
Spain
Sweden
T

urkey
U

kraine
U

nited Kingdom
ED ATKINS. Ye Olde Food – K21 from Institut für Kunstdokumentation on Vimeo.
USA
Venice
Zimbabwe
Tips on How to Visit

As I wrote above, the Biennale is basically divided into three parts. Firstly, there are the two official venues Arsenale and Giardini. Then, there are the country pavilions all over the city. Finally, you have the so-called Collaterali, major art exhibitions taking place at exclusive venues.
The Main Venues
To visit the Arsenale and the Giardini, obviously, you need to buy a ticket. However, there are different kinds of tickets – with or without guided tours and other extras.
In 2019, for the first time, I bought a so-called plus-ticket. While with the regular ticket, you have a one-time admission to each venue, the plus-ticket is good for multiple visits on three consecutive days.
In conclusion, I found it was not worth it. In fact, both venues are pretty far from the city center. Therefore, it's wise to plan to spend an entire day at each of them. This way, you get to see everything during one visit and don't need to come back.
On the other hand, the plus-ticket costs only 10 €uro more. So if you prefer to take it slow, it won't really burn a hole in your pocket.
I absolutely recommend buying your ticket online since there might be rush hours. In that case, you'll have to stand in line forever.
If you prefer to get a ticket on the spot, it is faster at the Giardini than at the Arsenale. At least according to my experience.
These two main venues close on Mondays. In contrast, many of the pavilions in the center close on Tuesday.
The Country Pavilions
For the most part, there is no entrance fee to the country pavilions. Since they are spread across the entire city and beyond, the challenge is rather to find them in the narrow, hidden alleys of Venice.
However, the city pavilions are a very charming part of the Biennale. Hence, you have access to buildings that normally are not open to the public.
Also, the combination of the old, deteriorating walls and ceilings and the sometimes hyper-modern art is very alluring.
The Collaterali
These are major art exhibitions, either presenting one famous, important artist or a group of artists in a themed exhibition.
Since the Collaterali are mostly taking place at exclusive art venues such as the Fondazione Prada, the François Pinault Foundation, or the Ca' Foscari, you need a ticket to visit. In general, that's not exactly cheap.
I gave you good basic information on when and how to visit the Biennale. However, you might wanna dig a bit deeper. For instance, you might need to know which ticket is the best for you, which exhibitions are on and more.

Obviously, the Biennale has an informative website where all of your most important questions will be answered.
Map
On this map, you get an overview of where all these wonderful works can be found:
Pinnable Pictures
If you choose to pin this post, please use one of these pictures: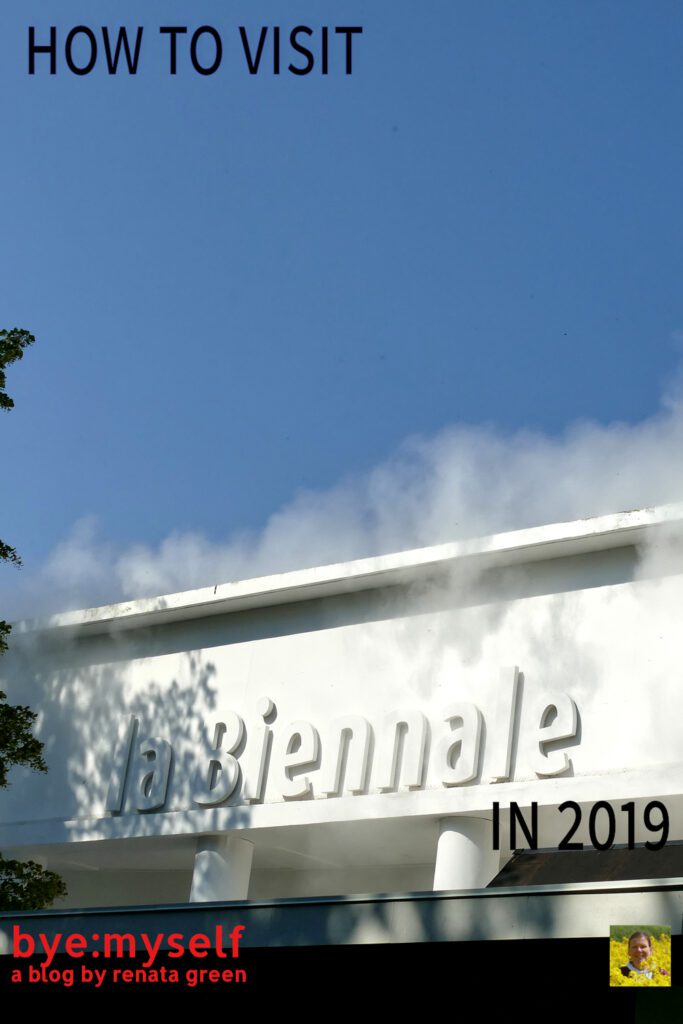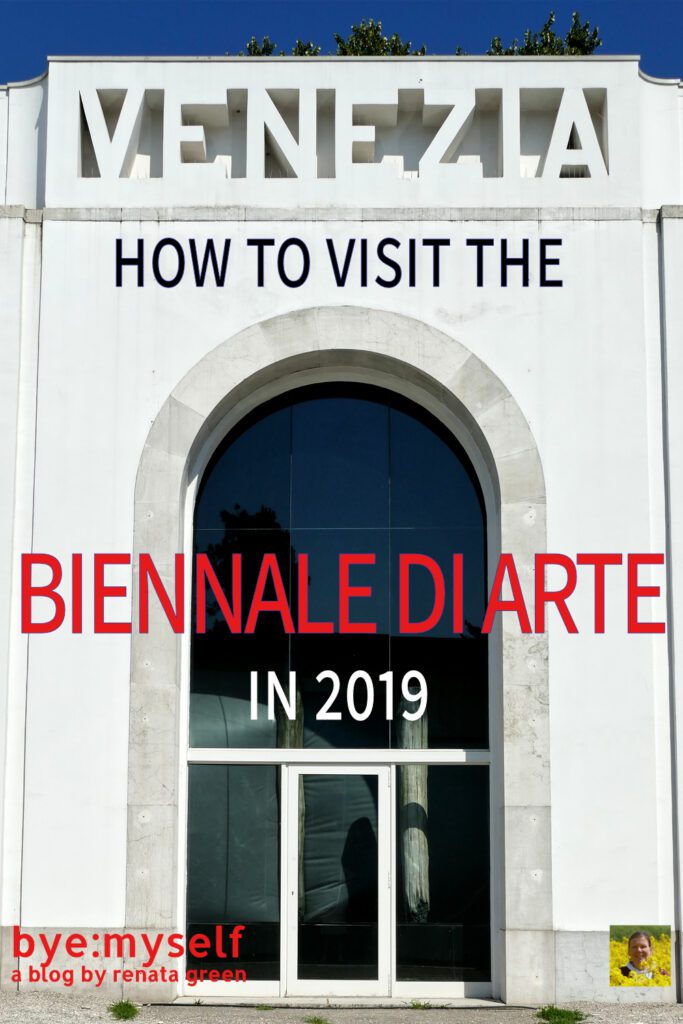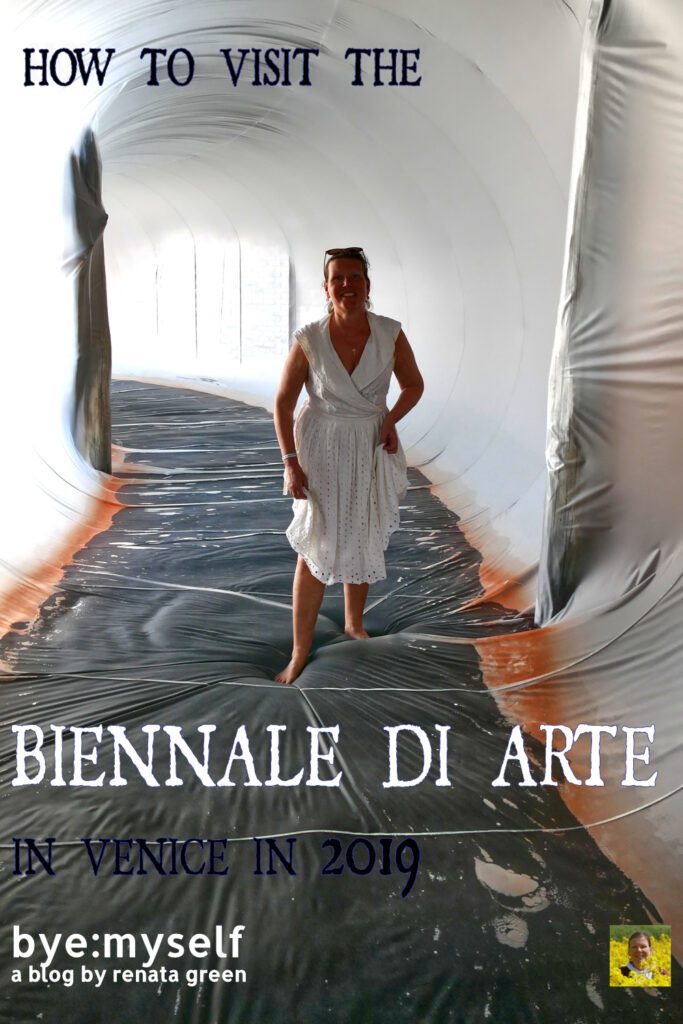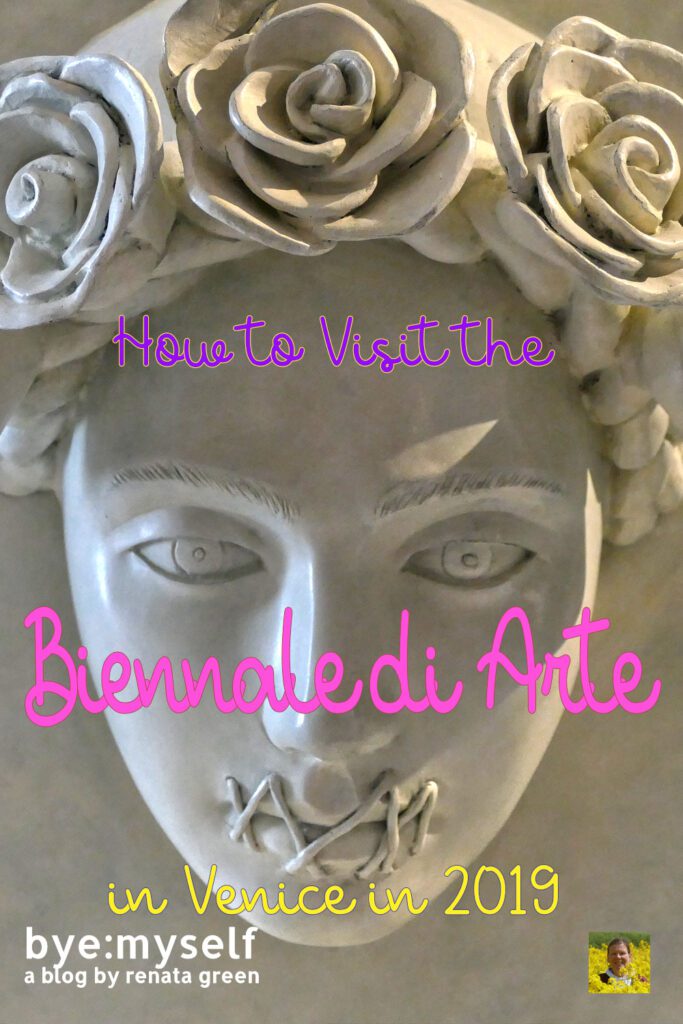 Did You Enjoy This Post? Then You Might Like Also These: