Here comes a complete guide to Malaysia, Asia's fascinating melting pot. The Malayan people consist of various ethnicities and different religions.
When it comes to tourism, Malaysia has been stepping it up a notch. Still, it's by far not overrun by tourists.
Apart from a fascinating mix of religions and cultures, you find unspoiled nature and empty beaches.
Ethnic Mix
However, Malaysia's strongest suit is the diversity of its people.
The different ethnicities live together peacefully. After all, there is a Street of Harmony in many cities. Those are streets where a Hindu Temple, a Buddhist Temple, and a Mosque are found wall to wall.
Actually, I think the very distinctive philosophies and religious rules make assimilation difficult.
The population is a mix of almost 70 % Malay, 23 % Chinese, and 7 % Indians. In total, Malaysia is inhabited by approximately 32 million people.
For the visitor, it's interesting and inspiring. You can plunge into totally different cultures staying in the same small town.
Malaysia's History
The reason why Malaysia's population is this diverse lies, of course, in its history and mainly in the colonial past.
Early Settlers
Already in the first century, Chinese and Indians began to establish trading ports and towns in Malaysia.
With the hegemony of the Majapahit empire, Islam began to spread in the 14th century. Eventually, in the 15th century, the Malacca Sultanate was founded. Quickly, it became an important trading place.
Malacca was first conquered by the Portuguese in the 16th century. Eventually, the Dutch took over.
I'm referring to this hegemony in the language section below.
The British Take Over
End of the 18th century, the inevitable British Empire took over and with it the infamous British East India Company.
Penang, Malacca, Singapore, and Labuan became the Straits Settlements.
However, until 1909, the four northern states Perlis, Kedah, Kelantan, and Terengganu were controlled by Thailand.
In WWII, the Japanese Army invaded also Malaya.
During this time, ethnic tensions and nationalism grew quickly.
Consequently, Britain's post-war plans of uniting the administration of Malaya under a single crown colony were strongly opposed.
Also, suspicion of the Indian population grew. Indians were seen as the British's protégés. This, by the way, is disturbingly similar to the root of ethnic conflicts in Sri Lanka.
On the other hand, the Chinese were envied for their relative wealth.
The worst ethnic conflicts happened in 1969 during the post-election riots. The number of fatalities during these conflicts differ very strongly depending on the sources. Therefore, I don't quote them.
However, on August 31, 1957, the Malaya Federation gained independence. By then, it consisted of nine Malay Sultanates as well as the Straits Settlements Penang and Malacca.
There are two excellent books dealing with these topics. The most complete one is The Long Day Wanes: A Malayan Trilogy by Anthony Burgess. It deals with ethnic and sociological aspects.
The other one is The Singapore Grip by J.G. Farrell and focuses rather on the life of the British colonialists.
Both are fascinating and educational reads.
Practical Information
Money
Since 1975, the Malay Dollar is officially called Ringgit. One Ringgit is divided into 100 Sen.
The exchange rate is 1 US$ = 4,36 MYR current rate resp. 1 €UR = 4,71 MYR current rate (as for April 2020).
There are ATMs practically everywhere. Credit cards are widely accepted.
Language
The official language in Malaysia is Malay. It's often referred to as Bahasa – which translates to language. It is extremely similar to Bahasa Indonesia.
I gained some basic knowledge for my trip to Bali. I was amazed by how easy it is to learn. Especially since it's written in Latin letters.
It's very interesting that there are still remains from Portuguese. For instance, sepatu for shoes or meja for table. But mostly there is a strong Dutch influence such as gelas for glass or handuk for towel. These words are also very similar in German.
Everything related to time like hours and weekdays is, obviously, deriving from Arabic. As a language aficionado, I loved diving into these structures and enjoyed studying.
Yes, Indonesian is actually one of the languages babbel offers – still don't get why.
However, as usual, the first lesson is free. It supplies you with the most important words to interact with people.
Getting There…
There are many airlines flying relatively cheap to Kuala Lumpur. From Europe, KLM has often unbeatable prices. I don't know if it's the colonial past or that many Indonesians are studying or have relatives in the Netherlands. Be it as it may, Malaysia lies conveniently within the route.
…And Around
On the Malayan peninsula, there is a very good and reliable train going from Kuala Lumpur to Butterworth. If your destination is on this route, it's highly recommendable.
From Butterworth, you can quickly cross to Pulau Penang by ferry.
There is an excellent bus system. The quality of the vehicles, however, differs strongly. From new, modern, and climatized coaches to pretty shady ones. The quality of the drivers is always…questionable.
They are often pretty rude, do whatever makes them happy and comfortable. If they like to smoke while driving, they are smoking and respond pretty indignant if you ask them not to.
I've had my generous share of arguments – you can read about it in an earlier post.
Also, they seem to be always in a rush. Why else would they speed like they do, the wheels barely touching the ground?!
Some rides actually made my blood freeze.
This proves that there are more people not happy sitting in big clouds of smoke. Or flying pretty low over the highway.
Hence, in 2017, the Malaysian Road Transport Department (JPJ) took measures. They encourage the public to report bus drivers exceeding the speed limit, smoking, or using a mobile phone while driving. The report can be submitted to the JPJ via WhatsApp +60 – 11 – 51 11 52 52.
I'm usually not a big fan of reporting people. However, in this case, it could save lives.
Private Transport Companies
Besides the regular public transport, there are many private companies offering shuttles. They travel between the most important touristy places such as Kuala Lumpur, Malacca, the Cameron Highlands, and the Taman Negara.
This service is a bit more expensive than regular buses. However, it's much more efficient and comfortable. And faster.
Albeit, this is not always a good thing…
If you have limited time to spend on the peninsula, you might consider using these private companies. In general, it's a door to door service.
The route I travelled…
….and the places I visited
Pinnable Pictures
If you choose to pin this post, please use one of these pictures: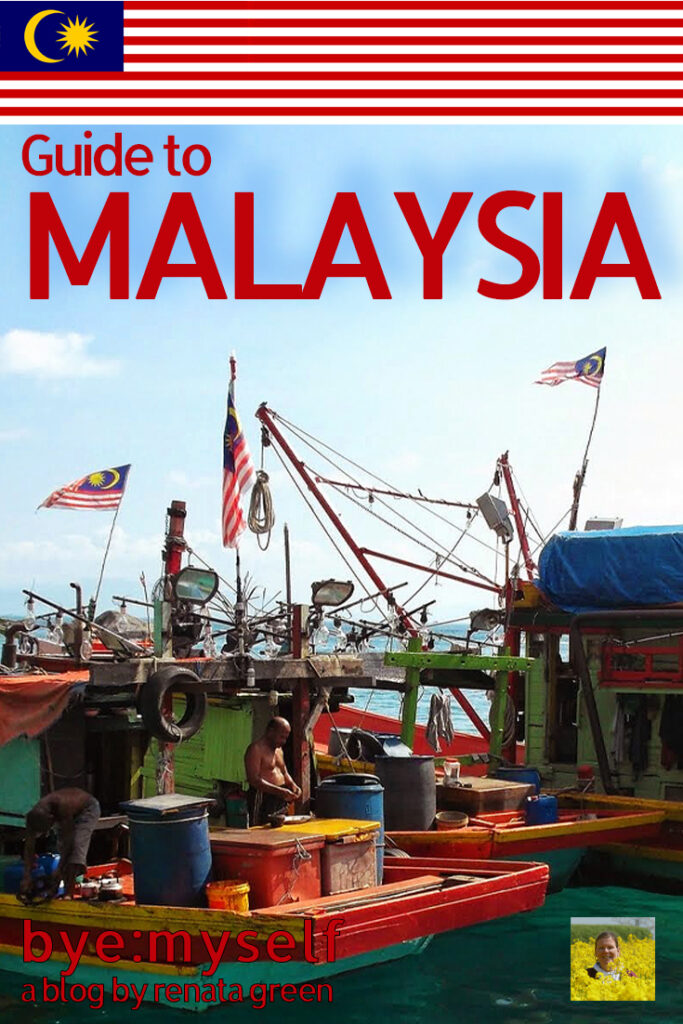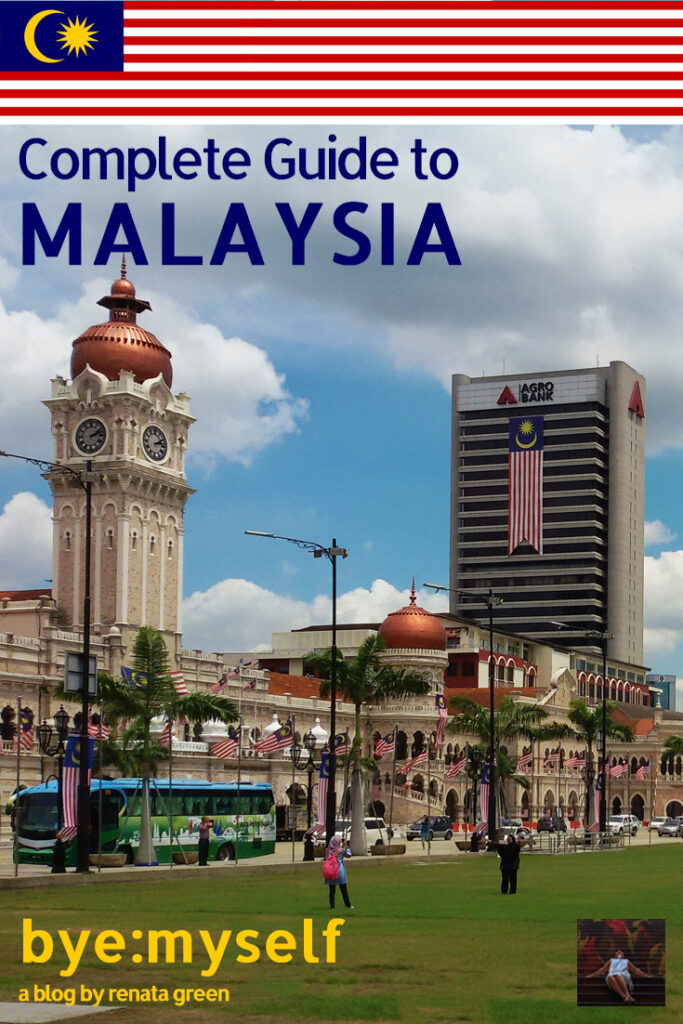 * These are affiliate links. If you buy something through this page, you get the best deal. I also do get a small commission so I can run this blog. Thank you so much for supporting me!
Did You Enjoy This Post? Then You Might Like Also These: