After having been on a travel diet for over two years, you cannot imagine how thrilled I am that life is getting back to some kind of normal. Not only can I easily travel to Venice – I was even able to visit the mega art event Biennale di Arte in 2022.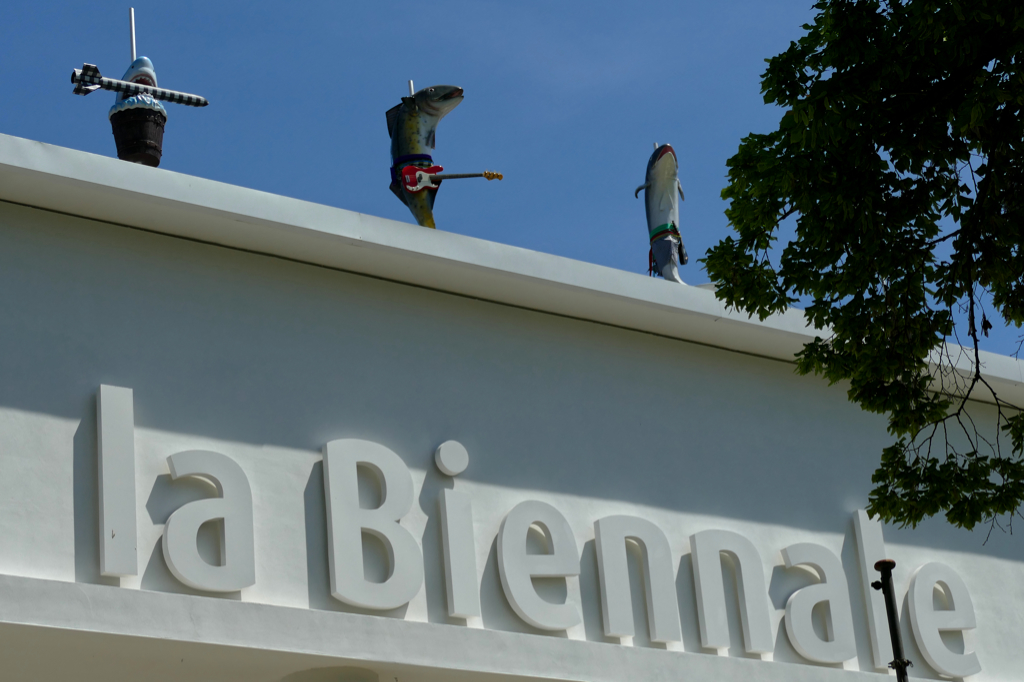 Wanna enjoy it, too? In this post, I show you how. So put on your most comfortable shoes and follow my lead.
Venice and I: Regular Visits to the Mystic Lagoon City
To me, Venice has always been not only one of Europe's most beautiful cities – maybe next to Prague. It's also one of the most unique places on planet earth. Already the idea of what incredible economic and political power this relatively tiny place built on stilts in the waters used to have for centuries. The amazing number of artistic geniuses that were active right here and composed, painted, and sculpted indelible masterpieces with reference to this unique place proves that Venice is simply magic.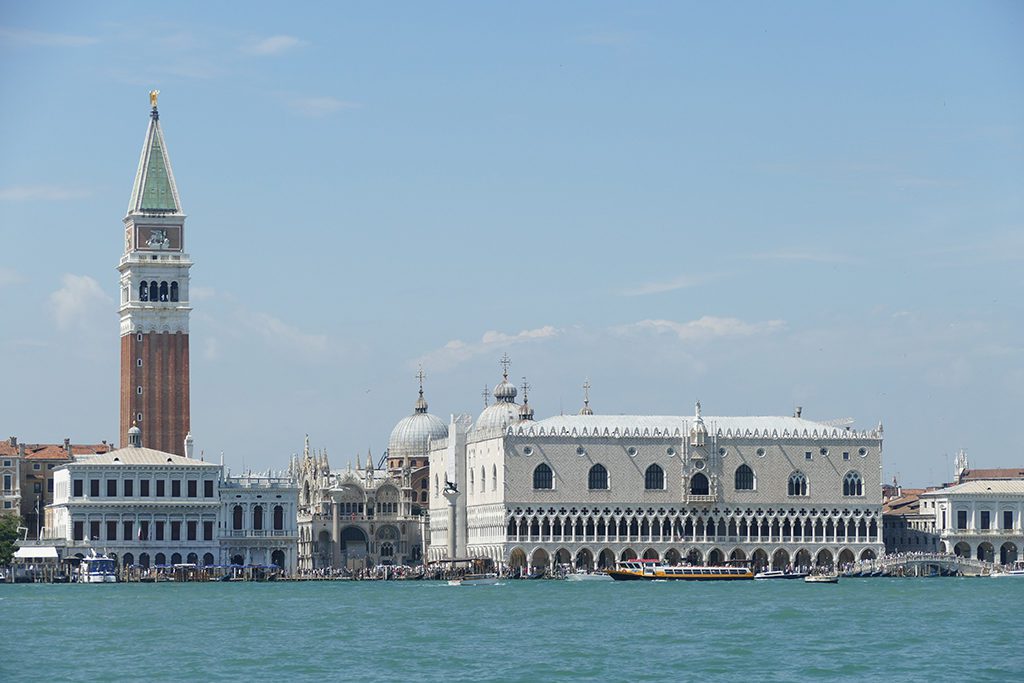 Even large groups of noisy tourists cannot temper my delight when it comes to Venice. When in Venice, I'm far too mesmerized to be annoyed. Also, since I keep coming back every other year, I hardly ever frequent the heavy-duty tourist spots anymore.
Although the city as such is also a reason for my regular visits, for many years now, the occasion has been the mega art event Biennale di Arte.
The Biennale and I: The Ideal Event for an Art Addict
As the name suggests, the Biennale di Arte has been taking place every other, odd-numbered year. This changed in 2021, obviously. The 59th edition was postponed to 2022.
Before I visited the Biennale for the first time a couple of years ago, I was a bit intimidated:
Since Venice was so packed already without anything special going on, how terrible must the masses be during such an outstanding event?! Consequently, I armed myself for the worst.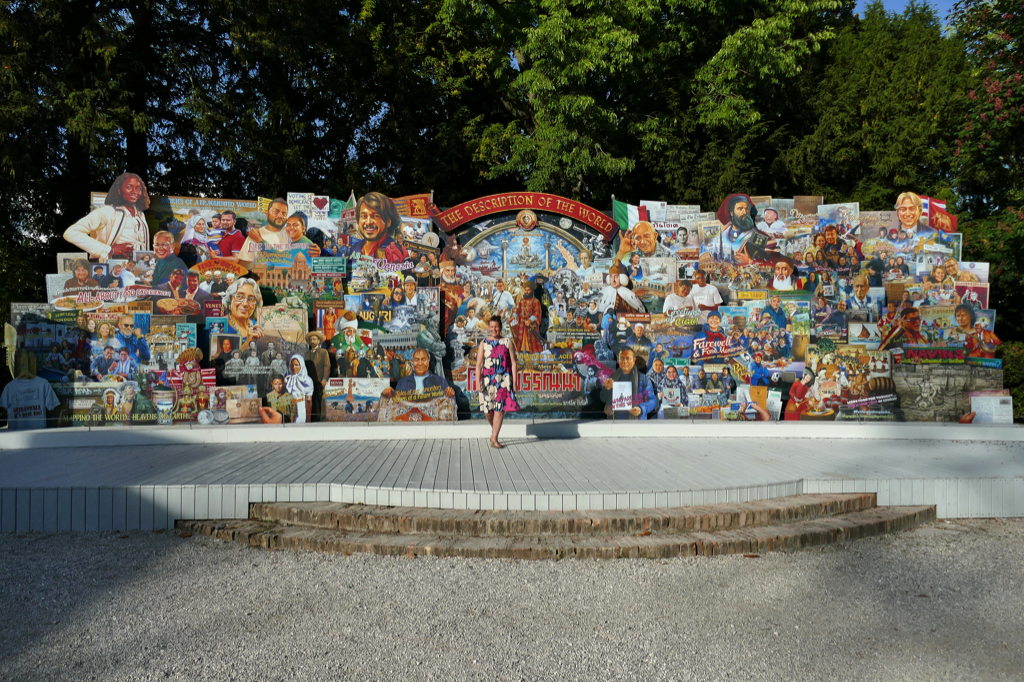 Once there, to my surprise, I realized that most tourists still do come for the regular sights'n'landmarks. They are visiting Saint Mark's Square and the Rialto bridge, they glide in Gondolas and purchase tacky masks. Many visitors aren't even aware that a great art show is taking place. Basically, Venice remains mostly untouched by this event.
It's in the Mix
Even if you are just coming to see the city, you'd need weeks to visit it all: Venice has about 30 museums, approximately 200 palazzi, and roughly 90 churches – and we are talking just about the so-called Centro Storico, hence the main fish-shaped part. Now, add around 110 art venues that are temporarily installed during the biennial and you get the picture.
You need to choose. Therefore, I'm skipping the traditional landmarks and heading for the new and the temporary.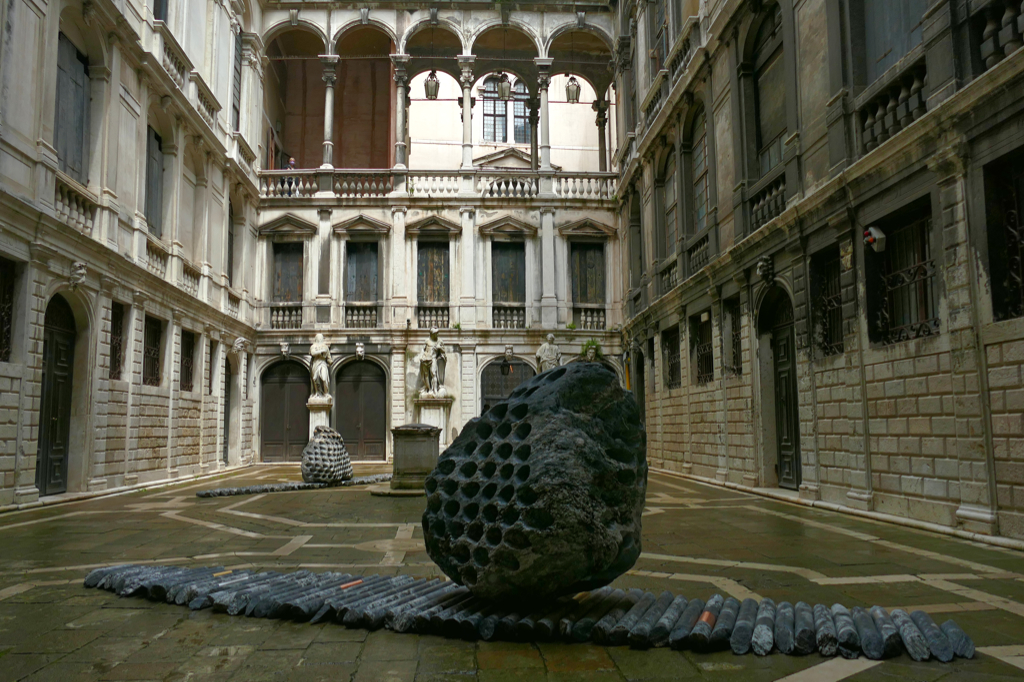 However, even for first-time visitors who are focusing rather on the traditional must-sees, visiting Venice during the Biennale bears a great advantage. Since many parts of the art event are housed in the old palaces, you get access to palazzi that are normally closed to visitors.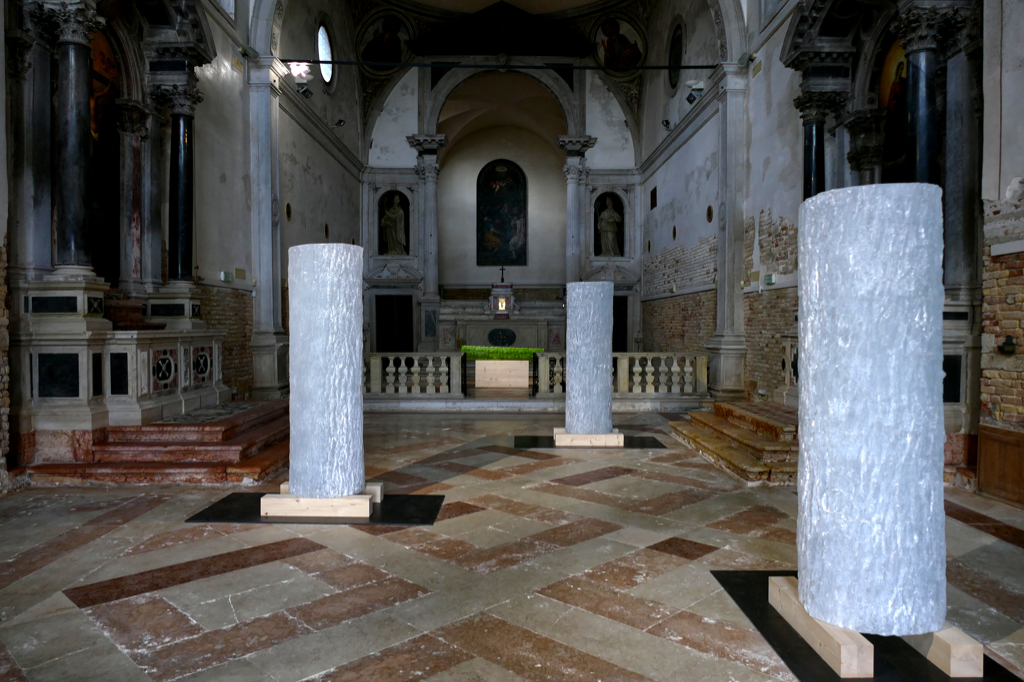 For me, however, it's the mix of it all that catches me in a whirlwind of awe: The iconic sights of the canals and bridges and alleys that never get old. The inspiring art from all over the world. Wild'n'daring contemporary pieces exhibited in front of antique tapestry and under ancient gilded ceilings. If I could create a world for myself, it would be an everlasting Biennale di Arte in Venice.
The Biennale…
But what exactly is the Biennale di Arte? Well, the Venice biennial dates back to 1893. Then, the city council decided to introduce an exhibition on Italian art – called Esposizione Biennale Artistica Nazionale. The first edition took place in 1895, and since then, every two years.
Over the years, it opened up to other countries. Therefore today, it is an important international art show and called L'Esposizione Internazionale d'Arte, La Biennale di Venezia.
Normally, this art show is taking place every other year – as the title insinuates. Therefore, every odd year, I was roaming the venues, palaces, and galleries in search of the most inspiring and exciting artworks. Since ironically, the last two and a half years were quite odd on so many levels, the biennial skipped the odd year of 2021. It now takes place in the even years, starting with the 59th edition in 2022. Of now, the biennial had to be revoked only during WWI and WWII, hence, last year's cancellation was – yet another – historical event.
The Giardini And the Arsenale
The Biennale takes primarily place at two large venues. One of them are the Giardini, the gardens, in the Castello neighborhood.
Here above all, 28 countries have the opportunity to present artists of their choice at their respective national pavilions. The first, by the way, was the Belgian one, built in 1907.
In 1980, the art show was extended to another major venue, namely the Arsenale. This arsenal is a massive terrain of former shipyards and armories, located just minutes from the Giardini.
The remaining countries that have not built their own pavilion can still exhibit in rented venues scattered throughout the city. This way, as I pointed out above, you have access to Palazzi and other stately buildings that normally are not open to the public.
Beyond the country's contributions, there are themed exhibitions in central pavilions of both main venues. Those are designed by a curator.
This Is On In 2022
Since the Biennale di Arte is such an important international event, the paintings, sculptures, installations, photos, and videos always had a reference to current social and political topics. In 2015, for instance, in the recent heyday of migration, many exhibitions dealt with that topic. Obviously, there is always a strong focus on environmental and other global issues, too.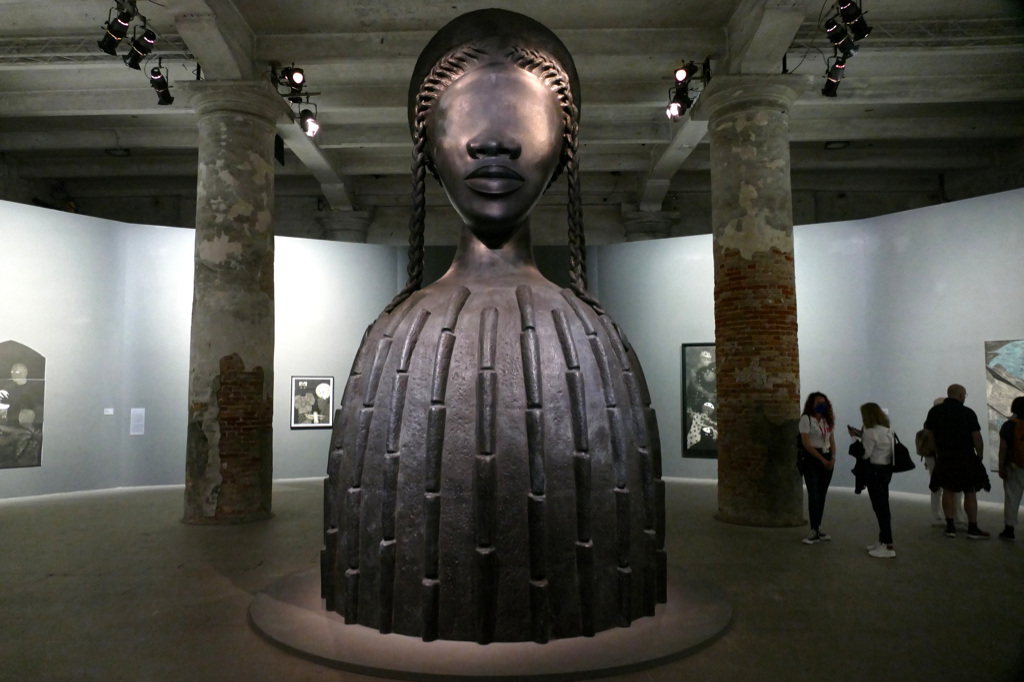 However, this year, I had the feeling that something had changed. Somehow, I think that the fact that the world had to deal with a pandemic for over two years gave the curators and organizers time to think, feel, and look deeper. I don't think that it is by chance that three important participants, namely the US, Great Britain, and Scotland presented works by women of color for the very first time.
Shine a Light
Also, at the pavilion of the Nordic countries, the Scandinavians finally pay tribute to the oppressed minority of the Sami people, Lapland's indigenous inhabitants. The Roma people, one of Europe's most oppressed and neglected minorities, are taken into focus in at least three works. The old white men don't have it that easy anymore. The Black Lives Matter movement and the overdue sensitivity towards the LGBTQ+ community seem to have left a mark and inspired new topics.
As a matter of fact, Sāmoan-Japanese artist Yuki Kihara deals with South Pacific islanders who identify as Fa'afafine, Sāmoa's so-called third gender at New Zealand's pavilion. Diversity becomes a thing everywhere.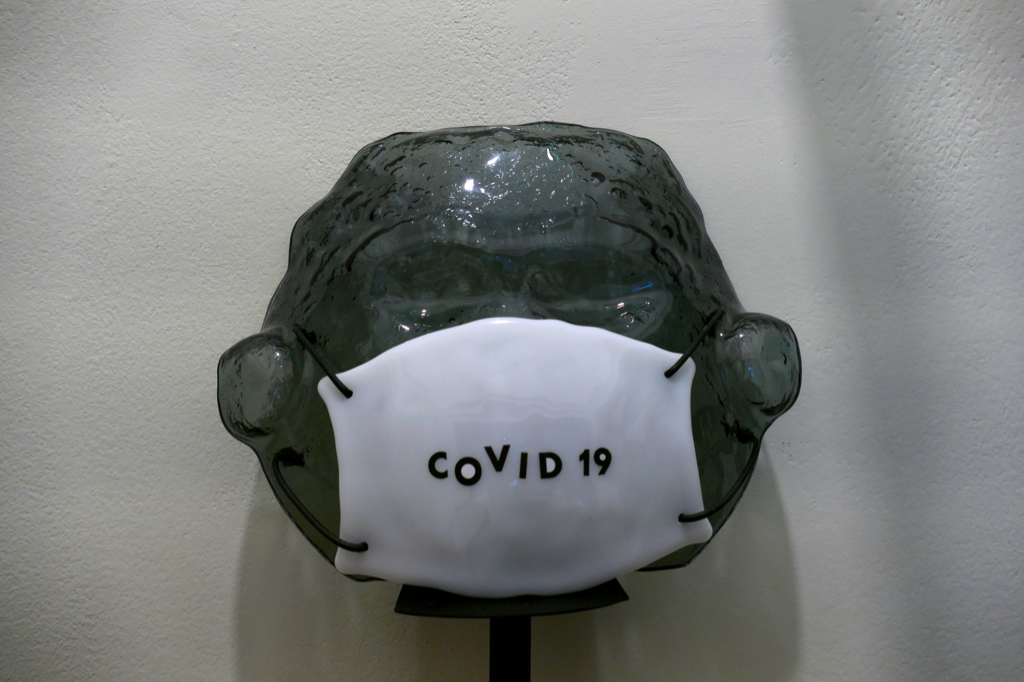 However, interestingly, neither the pandemic nor the war in Ukraine is this biennial's predominant topic. Probably the latter occurred too recently. Nevertheless, they managed on short notice to put together the exhibition This is Ukraine: Defending Freedom. Housed in the Scuola Grande della Misericordia, sentimental works from artists who are still working in Ukraine despite Russia's war are exhibited on the ground floor. Contemporary superstars like Takashi Murakami, Damien Hirst, Marina Abramovic, and JR contributed amazing pieces that are displayed on the upper floor.
Who's Boss
As I explained above, there is a central, curated exhibition divided between the two main venues. While the participating countries are not bound to a specific topic, the centrally curated part has a motto.
This year, Italian-born and New York-based curator Cecilia Alemani is in charge of things. She already designed the Italian pavilion in 2017. Also, she's married to Massimiliano Gioni who was the artistic director of the 55th Venice Biennale in 2013. Hence, it runs in the family.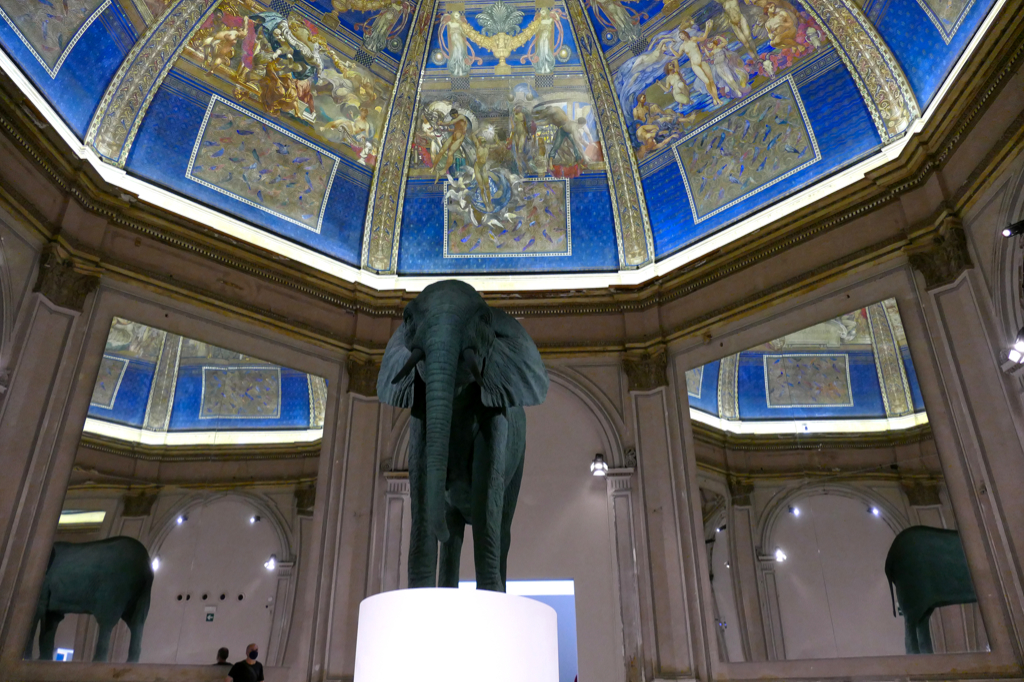 For the 59th edition, Alemani chose the title The Milk of Dreams. It's adopted from a book by Leonora Carrington. In this work, the Surrealist artist describes a magical world where life is constantly re-envisioned through imagination. Hence, the exhibition is picking up on Carrington's supernatural creatures on their journey through the metamorphoses of bodies and surroundings.
Roughly, there are three big points: Firstly, the representation of bodies and their metamorphoses. Then, the connection between bodies and the earth, and finally the relationship between individuals and technologies.
Cecilia Alemani combined works by together 213 artists. As a matter of fact, that's almost triple the participants her predecessor Ralph Rugoff chose for the biennial in 2019.
In addition, there are 79 national participants in the historic Pavilions at the Giardini, at the Arsenale, and in the historic city center of Venice. This is actually ten less than at the last show in 2019.
…and I: My 50 Personal Favorites from 41 Countries in 2022
Altogether, I'm coming every two years to Venice to see the Biennale, and it never gets old. In fact, there are far too many unique events and exhibitions in mesmerizing places. This year, the event takes place from April, 23 until November, 27. Since this year, I visited really early, I can gladly supply you with much valuable info and helpful tips on how to visit. Also, just like in 2017 and 2019, summarized a list of my preferred works from this edition.
Below, I sort 50 works in alphabetical order of the countries. However, you'll notice that there are only 41 countries on that list. That's because, for the very first time since I've been blogging about the biennial, it was impossible to pick just one contribution from each country. Mainly, the United States made it quite difficult since this year, not only are they officially represented by the amazing sculptor Simone Leigh. In addition, there is a mind-blowing collateral exhibition by Kehinde Wiley on the island of St. Giorgio.
Oh, sorry, I haven't explained the so-called Collaterali yet: Apart from the major venues and the country pavilions, there are art exhibitions taking place that are not officially part of the Biennale di Arte. They are rather a very fancy by-catch. I assume they pick the timeframe of the biennial for their shows since they know that enough art buffs will be in town.
Guidance
So anyway, the below list is sorted by country, however, according to my very personal preferences. I've added brief info on the work, and also whether it's part of the curated exhibitions, a country pavilion, or a collateral show. Furthermore, I've stated where you'll find it. As some of the Collaterali end earlier than the official Biennale di Arte, I've quoted the date as well.
Nevertheless, on the map at this post's end, you'll find everything: The main venues, the country pavilions, and the Collaterali, no matter if it's on my hit list or not. Also, you'll get all the relevant info to make your visit to the Biennale unforgettable one below.
Albania
Lumturie Blloshmi: From scratch
Albanian artist Lumturi Blloshmi was a painter, photographer, installation, and performance artist.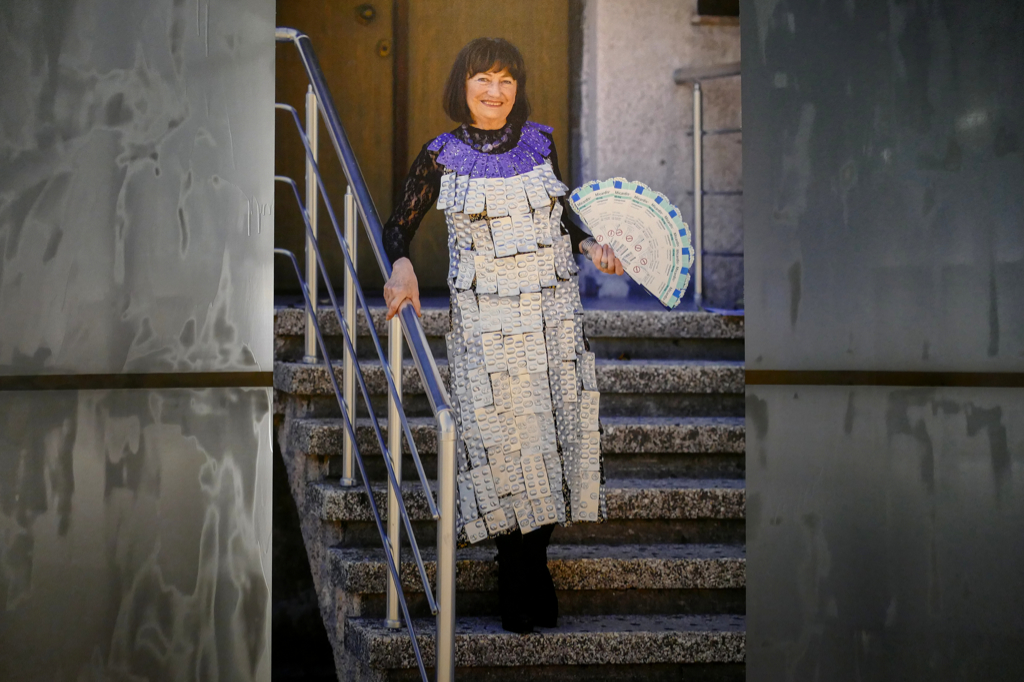 Her works are strongly influenced by her personal experience and the political climate when experienced in former communist Albania. Sadly, she passed away of Covid in 2020.
Venue: Albanian Pavilion at the Arsenale
Argentina
Mónica Heller: The Importance of the Origin Will Be Imported by the Origin of the Substance
The video installation by Mónica Heller from Argentina's capital Buenos Aires comes very close to this year's approach to surrealism, obviously. The artist shows some hilarious animated characters that seem to be stuck in infinite time loops and quirky cycles.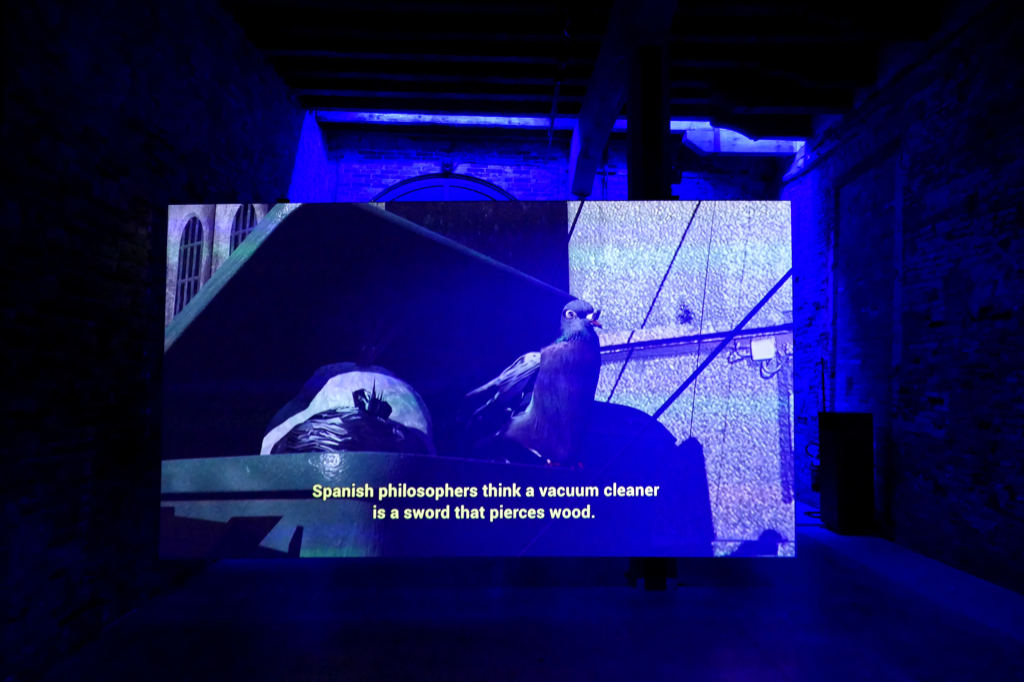 Venue: Argentinian Pavilion at the Arsenale
Australia
Naja Utzon Popov: Momentum
Naja Utzon Popov is a Danish-Australian sculptor, textile designer, and ceramicist. Her sculpture, which I've picked exclusively for its beauty, is made of 30 black ceramic columns and about 10,000 small handmade green porcelain shells.
It represents the natural regrowth after Australian bushfires when plants start to climb up the burnt-out trees. Therefore, the sculpture symbolizes new life, hope, and change.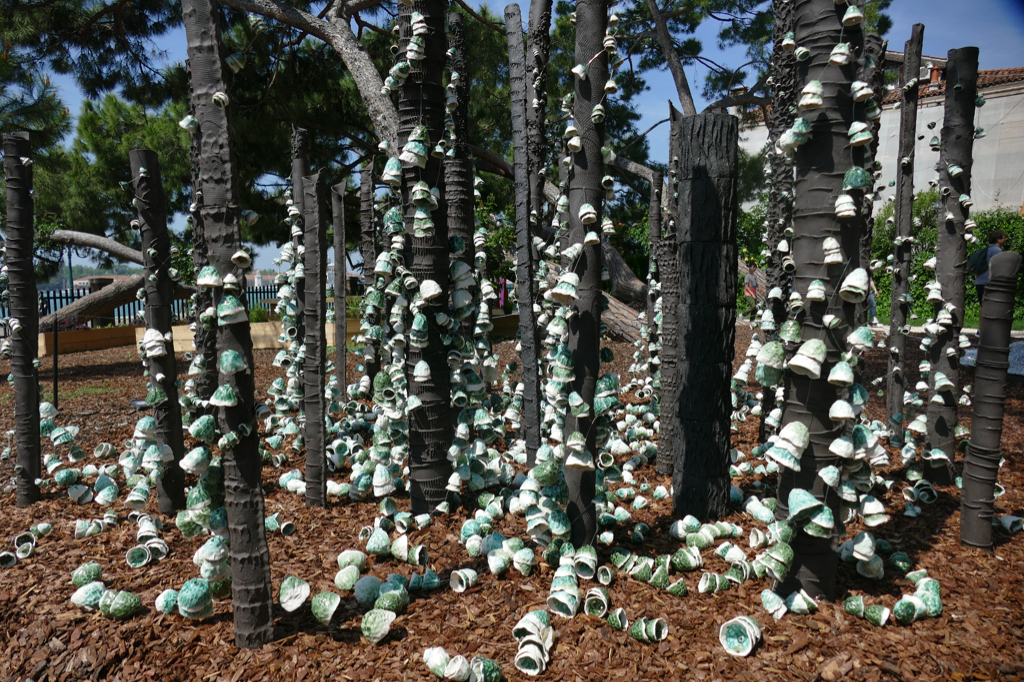 This beautiful installation stands at the Giardini de la Marinaressa halfway between the Arsenale and the Giardini. As a matter of fact, the Marinaressa gardens are one of three venues of the art project Personal Structures. The other two are the Palazzo Bembo and Palazzo Mora. You'll find all three spots on the map below.
Venue: Giardini de la Marinaressa
Austria
Jakob Lena Knebl and Ashley Hans Scheirl: Invitation of the Soft Machine and Her Angry Body Parts
As Cecilia Alemani intended to make room for diversity, Austrian artists Jakob Lena Knebl and Ashley Hans Scheirl are the perfect protagonists and at the same time activists. It starts with the combination of clearly male and female first names – a who is who of genders.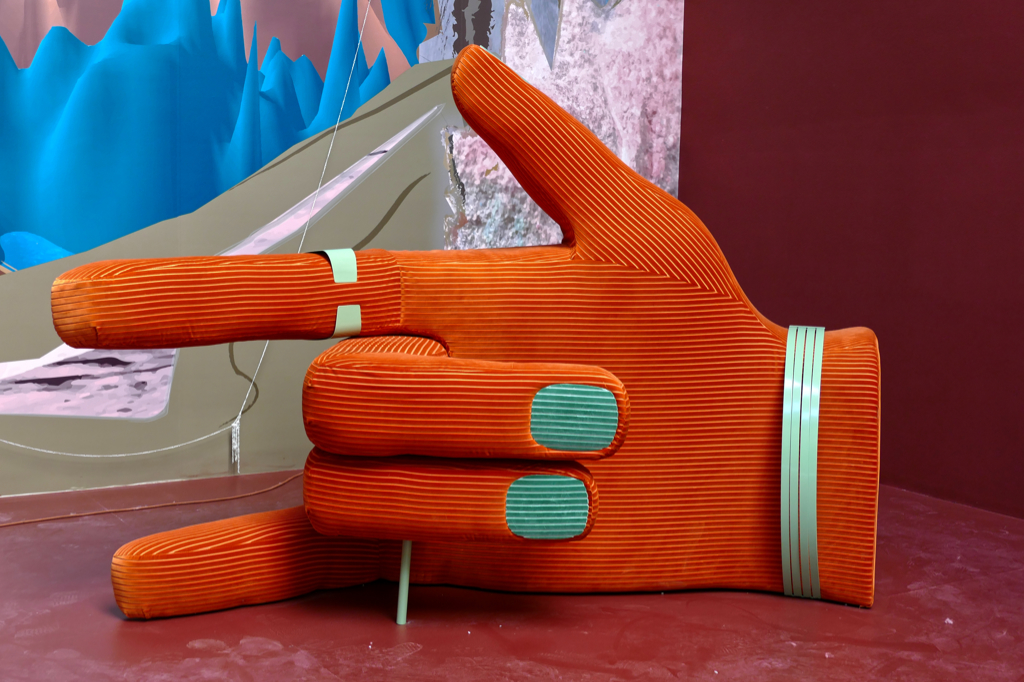 Also, their loud and bizarre exhibition brings various aspects of diversity discourses to life. Their exhibition's title refers to William S. Burroughs – which to me is also reflected in the shape and color scheme of the 1960s and 1970s. Gosh, was that a colorful era!
Venue: Austrian Pavilion at the Giardini
Azerbaijan
Various Artists: Born to Love
Seven female artists use modern techniques and materials to express their ideas.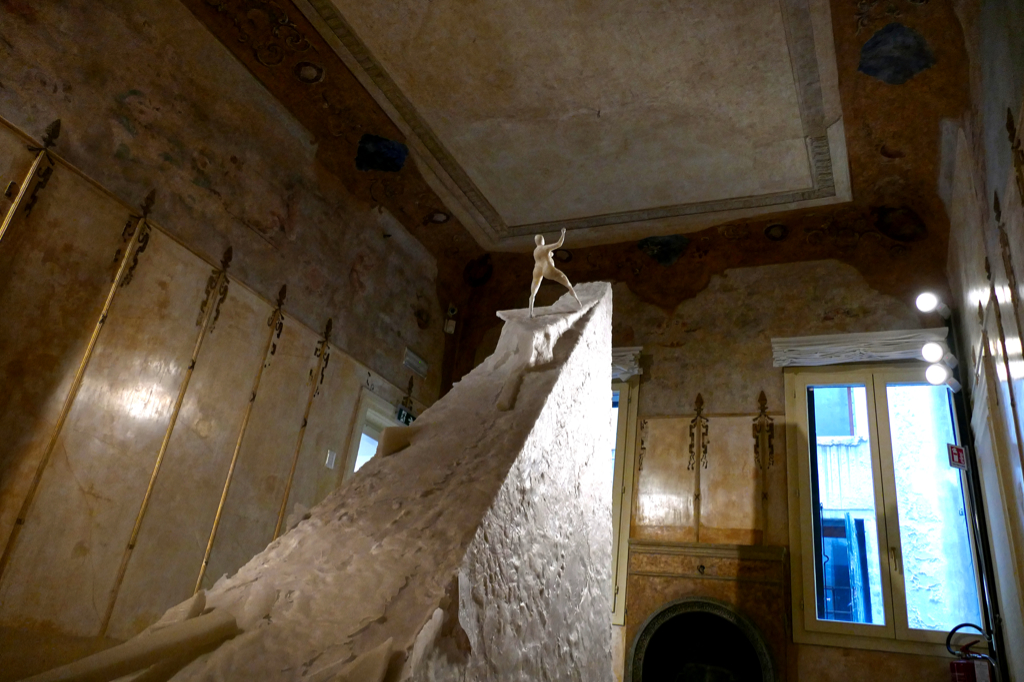 Venue: Pavilion of Azerbaijan, Procuratie Vecchie San Marco 139-153
Bangladesh
Various Artists: Time: Mask and Unmask
This group exhibition implements the philosophy of erasing everything ephemeral and superficial and preserving only the essential.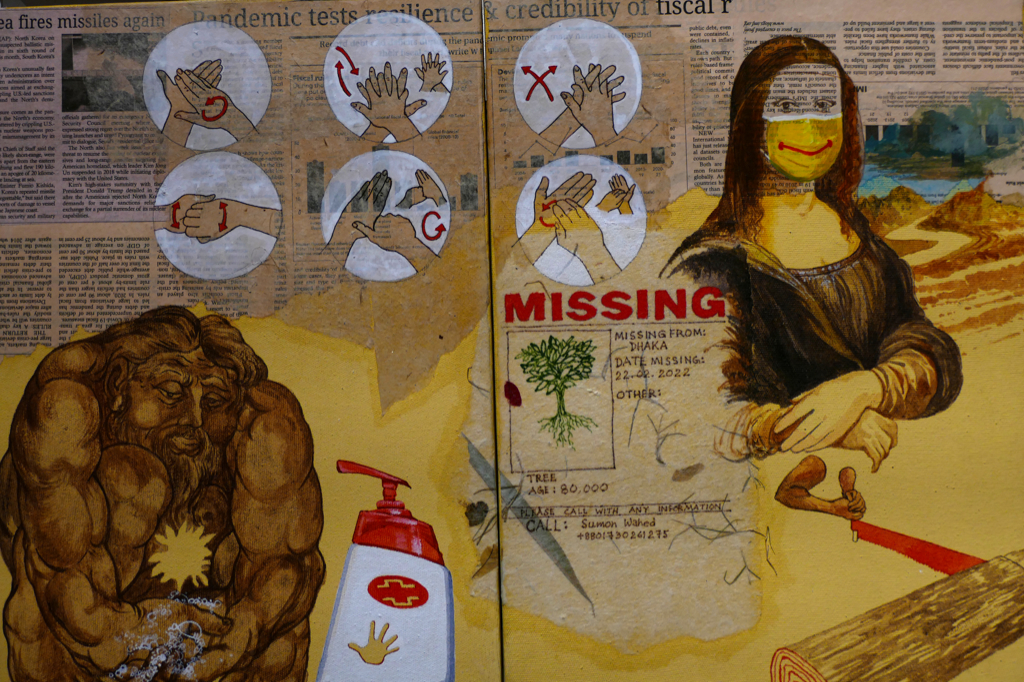 It is one of the very few shows that deal with the pandemic crisis. In order to escape the threat of death, we had to be masked. Unmasking will then evoke the hope of restoring normality.
Venue: Pavilion of Bangladesh, Palazzo Rossini, San Marco 4013
Belgium
Francis Alÿs: The Nature of the Game
If I had the choose the one masterpiece of this year's biennial, it would probably be Francis Alÿs' screening of children's games in many different countries.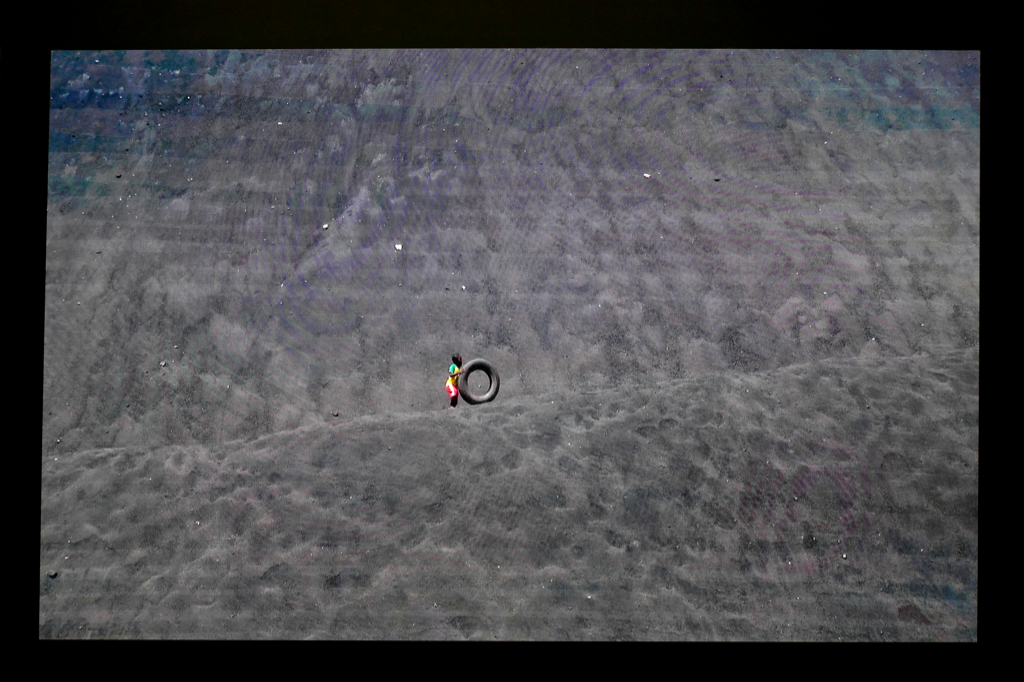 Yes, the fact that kids around the world are engaging in partly rather weird activities instead of spending their childhood in front of screens it's lovely and gives me hope. In addition, Alÿs' filming skills make this endangered paradise a true masterwork.
Unfortunately, Francis Alÿs has not uploaded my favorite video on his youtube channel, however, a quick look is absolutely worth it just the same since there are many other high-quality reels.
Venue: Belgian Pavilion at the Giardini
Brazil
Jonathas de Andrade: com o coração saindo pela boca / with the heart coming out of the mouth
Thank God, I don't have to choose my very favorite exhibit since Francis Alÿs had strong competition from Jonathas de Andrade from Brazil who is visualizing in an ingenious and hilarious way body-related puns and idioms.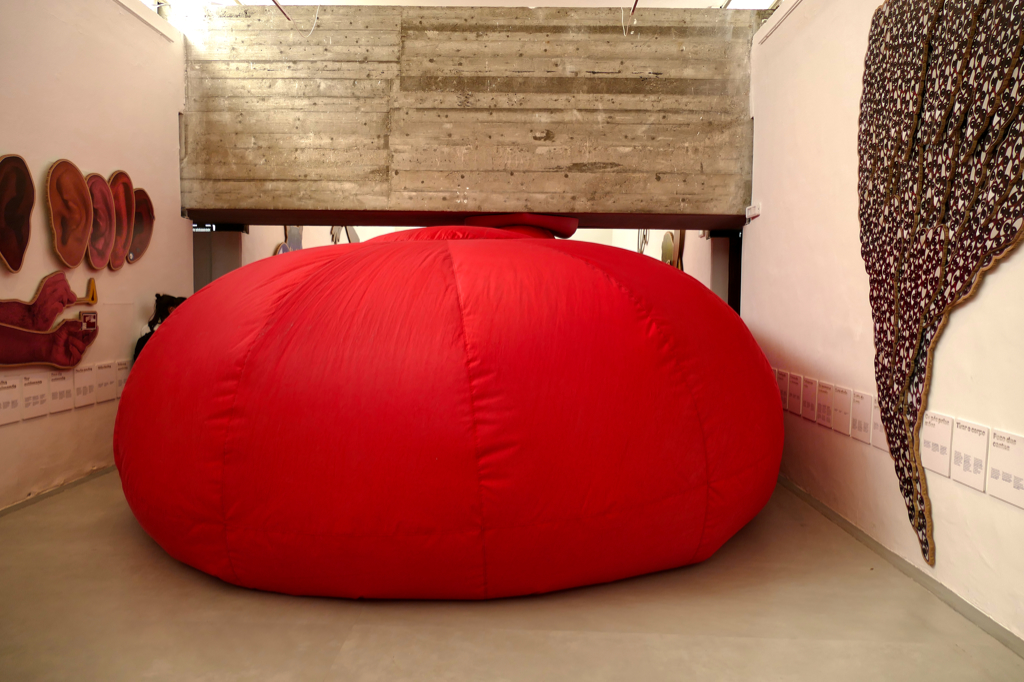 In contrast to the art show's surrealist motto, he depicts these proverbs in a very literal and realistic fashion.
Venue: Brazilian Pavilion at the Giardini
Marcelot
The Swiss watch manufacturer Swatch has sponsored the biennial for years. One of their activities is the Swatch Art Peace Hotel which grants outstanding artists residency. Therefore, also this year, the works of six artists are exhibited at the Arsenale, and Marcelot is one of them.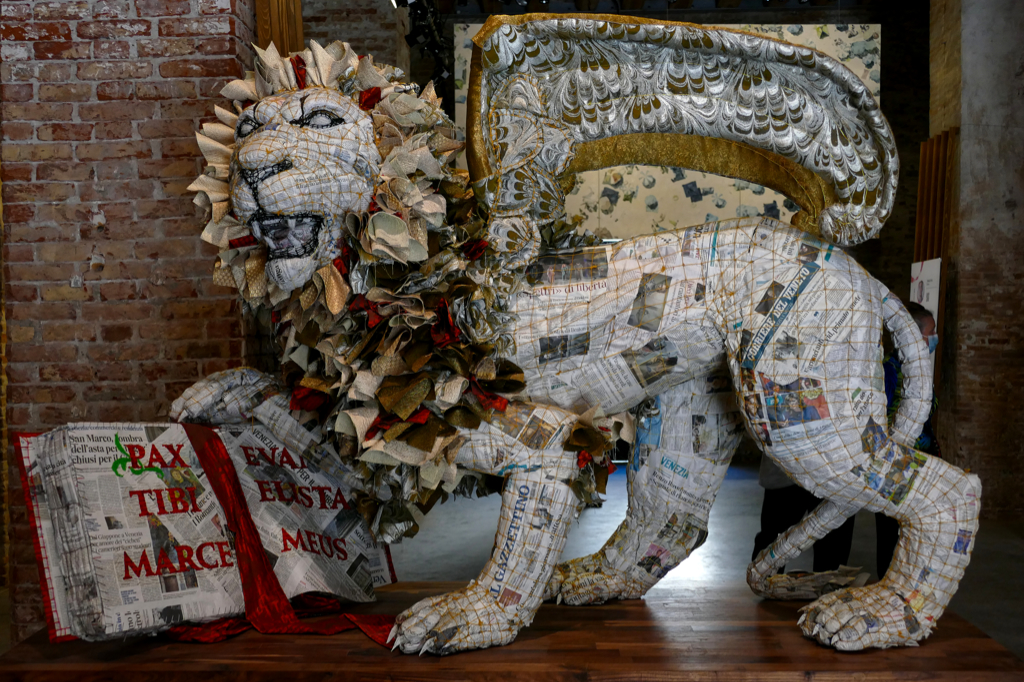 Marcelot aka Marcelo Tomaz Galvão de Castro works in his current projects with newspaper since: "Newspaper is information, and information is power."
I love his sculpture depicting Venice's iconic Lion of Saint Mark which Marcelot created from local newspapers and dainty Venetian fabrics from the Rubelli collection.
Venue: Sale d'armi, Arsenale
Colombia
Delcy Morelos: Earthly Paradise
Delcy Morelos from Colombia has developed a technique of painting, installation, and sculpture in which natural materials such as soil, clay, fabrics, and fibers predominate.
At the Colombian pavilion, however, visitors walk through a small yet almost shoulder-high maze where they can smell the earth's aroma mixed with hay, cassava, cacao, and different spices.
Enjoying art rather with your nose than with your eyes is definitely an ingenious approach.
Venue: Colombian Pavilion at the Arsenale
Croatia
Tomo Savić-Gecan: Untitled
Now, this is a bit crazy since I haven't seen the Croatian pavilion. This is no wonder since there is no actual pavilion.
In a window of Via Giuseppe Garibaldi is a board announcing at what hour and in which country pavilion a discussion of a certain topic will take place. Obviously, an algorithm defines this schedule.
So I'm actually appreciating rather the concept than the performance since when I read the announcements on the board, I had already visited the Giardini and wasn't able to join.
Therefore, make sure to check out what's on before you head for the Giardini.
Well played, Croatia!
Venue: Croatian Pavilion, Via Giuseppe Garibaldi 1513, Castello
Cuba
Belkis Ayón
Cuba is a fine example to talk about the Biennial's downside. While in general, at the Giardini and the Arsenale as well as the larger venues everything runs smoothly most of the time, there might be minor obstacles when it comes to the country pavilions and some smaller galleries.
It happened to me twice that I couldn't visit a show because there was a problem with the electricity. I tried to visit the pavilion of Cameroon a couple of times on different days and at various hours – nevertheless, it remained closed. Also, I arrived at pavilions just to read an apologetic note that this particular day it wouldn't open. And so on.
Alas, if the people at the Cuban pavilion had at least left a note! Hence, I will never know why I had taken the vaporetto all the way to San Servolo just to find their doors locked. Since San Servolo is not exactly Grand Centrale station, I had lost two precious hours. Thanks for nothing, Cuba.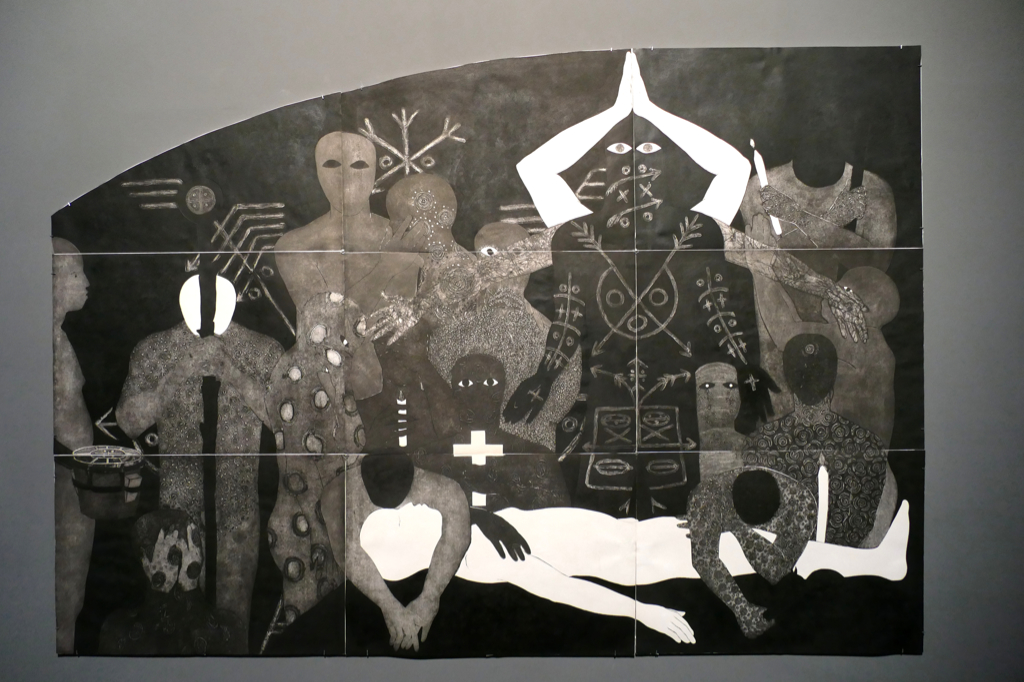 Therefore, I'm honoring the late Cuban printmaker Belkis Ayón, a wonderful artist who at the young age of 32 sadly committed suicide in 1999.
Her forceful collographies are exhibited at the main entrance hall of the Arsenale.
Venue: Arsenale
Denmark
Uffe Isolotto: We Walked the Earth
I love sarcastic, ironic, and fun art. But I also like disturbing and dark. Uffe Isolotto from Copenhagen is undoubtedly a master of the latter.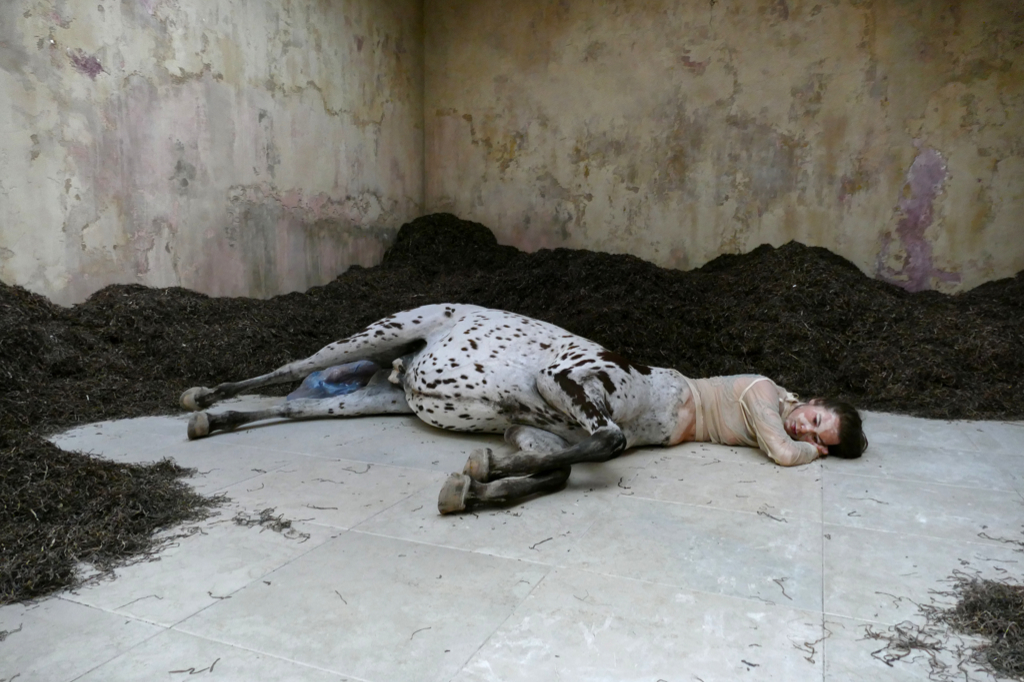 He staged a bleak drama amidst a Danish farmhouse in a hyper-realistic fashion.
Don't try this at home.
Venue: Danish Pavilion at the Giardini
Ecuador
Marcello Martinez Vega: El Pais del Cacao
I've mentioned the regular Collaterali Personal Structures above in the Australia section. All those years, they were one of my very favorite Biennale-parts, but this year….I don't know what happened but I liked hardly anything.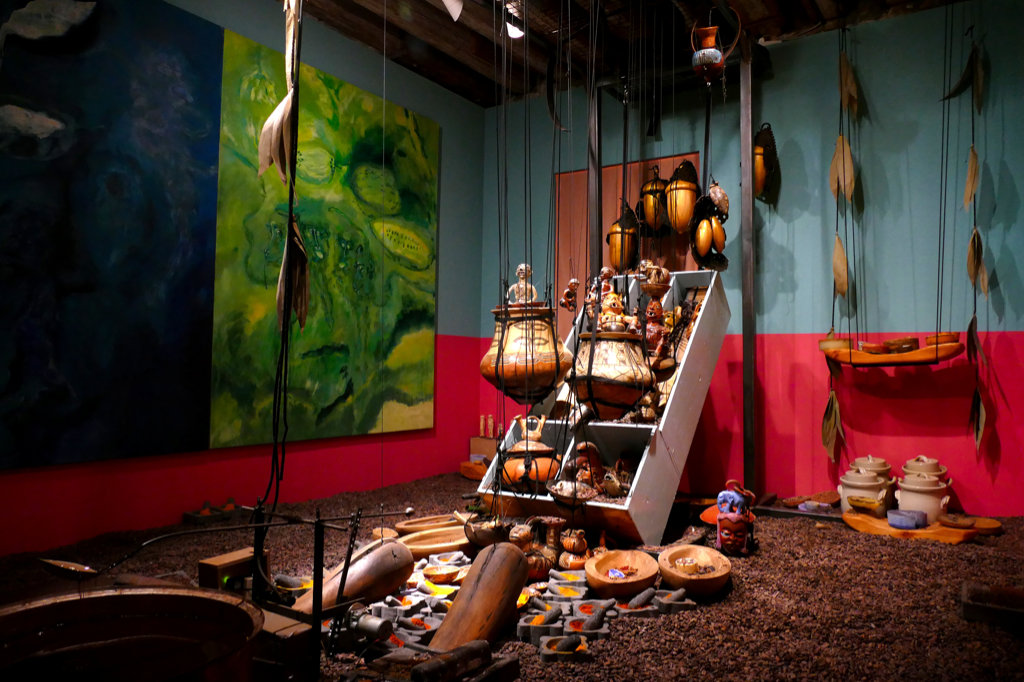 An exception is Marcello Martinez Vega's El Pais del Cacao, the land of cocoa where he installed a lovely and colorful tribute to one of South America's most iconic staple produce. Although I see tons of works at every biennial, I immediately recognized Martinez Vega's style since already at the biennial back in 2019, I loved his installation Back to Black Forest.
Venue: Palazzo Mora, Strada Nova 3659
France
Zineb Sedira: Les rêves n'ont pas de titre / Dreams have no titles
And here comes another one of my absolute favorite installations in 2022. London-based Franco-Algerian artist Zineb Sedira turned the French pavilion into a movie set – very charming, elegant, and très French. At the adjacent cinema, you get to see the artist's personal memories on the big screen – filmed in a very retro style. The story, however, was filmed at the very set you just visited. A melancholic setting with a very captivating je ne sais quoi.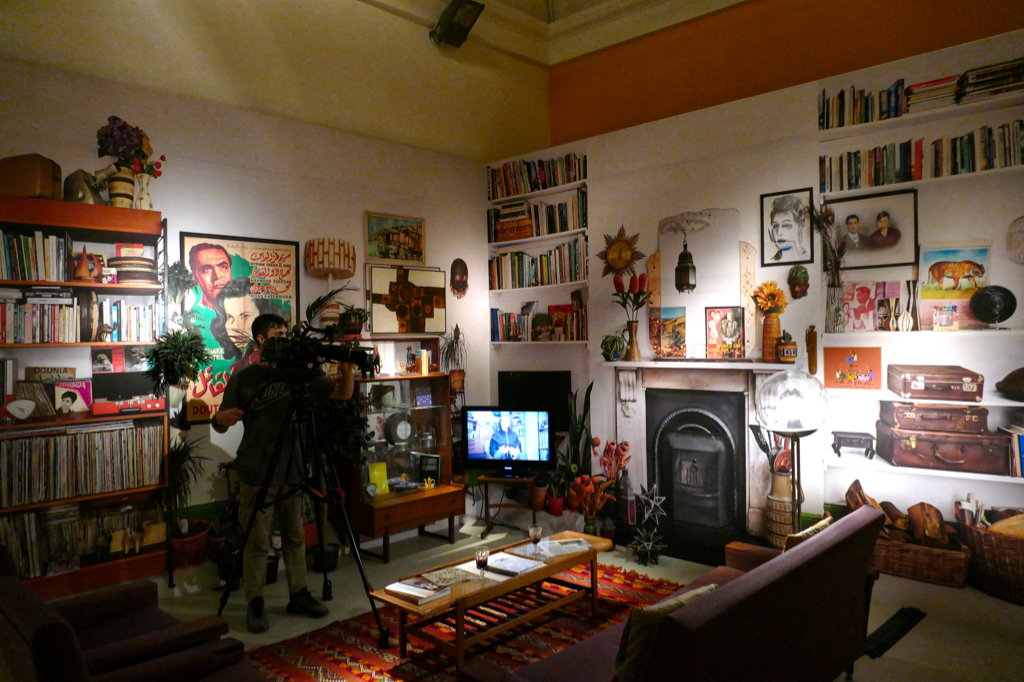 Zineb Sedira, by the way, is the first French artist of Algerian descent to represent la grande nation at the biennial.
Venue: French Pavilion at the Giardini
Claire Tabouret: I am spacious, singing flesh
A lot has been written about Claire Tabouret's paintings. I just like their expression, technique, style, and coloring. That's it – and sometimes, that's enough.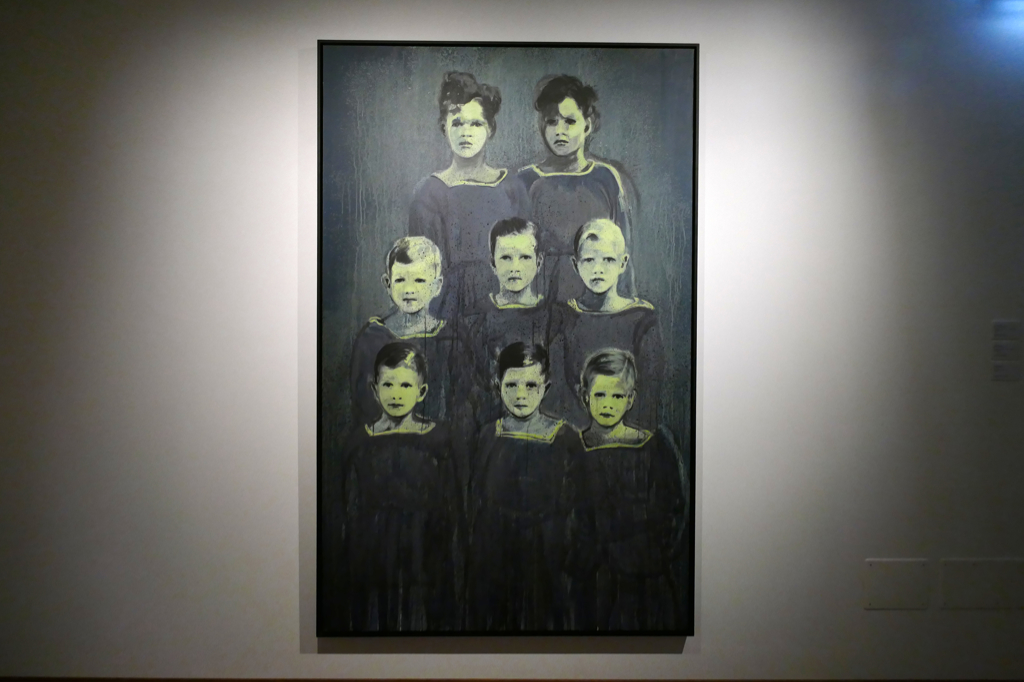 Venue: Palazzo Cavanis, Dorsoduro 920
Germany
Anselm Kiefer: Questi scritti, quando verranno bruciati, daranno finalmente un po' di luce
As often, the German pavilion is rather sad. Nothing shocking, and definitely not fun. Therefore I skip it and go straight to the mega exhibition of Anselm Kiefer's work at the Palazzo Ducale.
So, I find the German pavilion not uplifting enough, hence, I recommend a work by Anselm Kiefer instead? I totally hear you. Yes, Anselm Kiefer is very far from being uplifting; but he is a genius.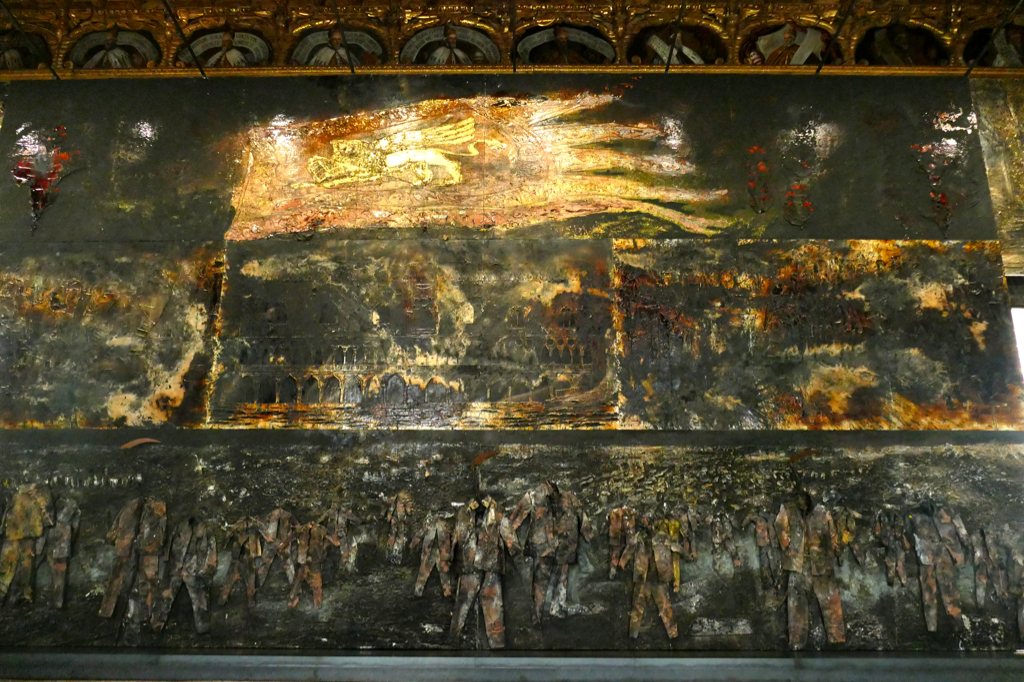 I'm sure that the Venetian people in charge agree with me since they allowed the German superstar to decorate the stately Sala dello Scrutinio with his space-filling work. I'm pretty sure that very few artists were granted this privilege in the past – apart from Signore Tintoretto and his posse.
Parole, Parole, Parole
Inspired by the words of Venetian philosopher Andrea Emo Questi scritti, quando verranno bruciati, daranno finalmente un po' di luce – which translates to These writings, when burned, will finally cast a little light – he produced some larger than life painting specifically for the Palazzo Ducale in 2020 and 2021.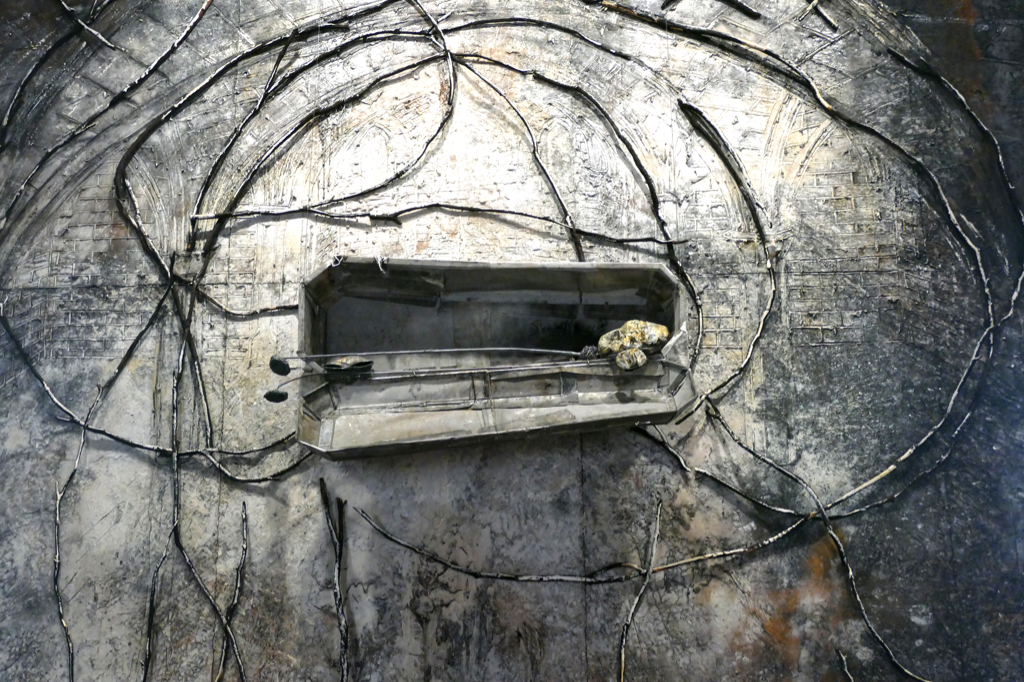 Kiefer created works in his very distinctive style so that the dark, rotten, burned elements deem like the outcome of the fire that destroyed the room's earlier decoration. Yet, his paintings as well will be destroyed once the temporary exhibition is over and they are removed from the Palazzo. Hence, if you want to enjoy this once-in-a-lifetime art experience, make sure to get to the Palazzo Ducale before October 29 when the exhibition ends.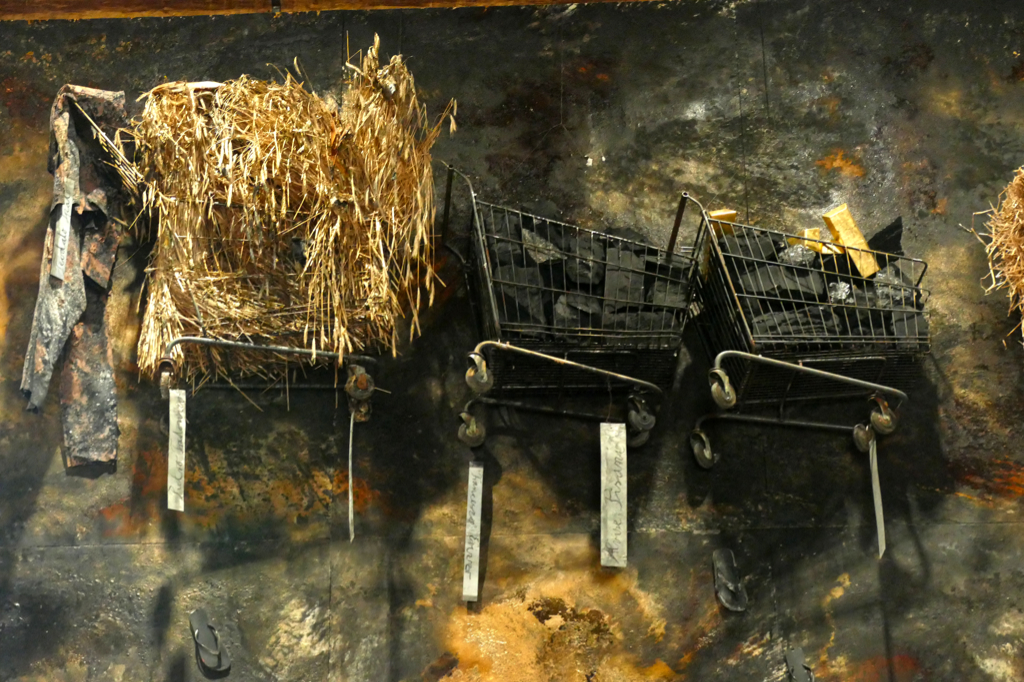 A visit to the Anselm Kiefer exhibition is included in the general ticket to the Palazzo Ducale which costs 25 €uro and includes in addition entrance to the Museo Correr, Museo Archeologico Nazionale, and the Monumental Rooms of the Biblioteca Nazionale Marciana. Nevertheless, lines at the palace can be very long, therefore I recommend buying a fast entrance ticket* – there's so much to see in Venice, and you don't want to waste your precious time standing in line, do you?
The Palazzo Ducale is open to visits every day from 9 a. m. till 7 p. m. – the Anselm Kiefer exhibition ends already on October 29, 2022.
Markus Lüpertz: paintings and sculptures
The library inside the stately Palazzo Loredan is one of the venues I visit every time – no matter what is on. The antique bookcases which can be reached over beautifully carves spiral staircases are just amazing.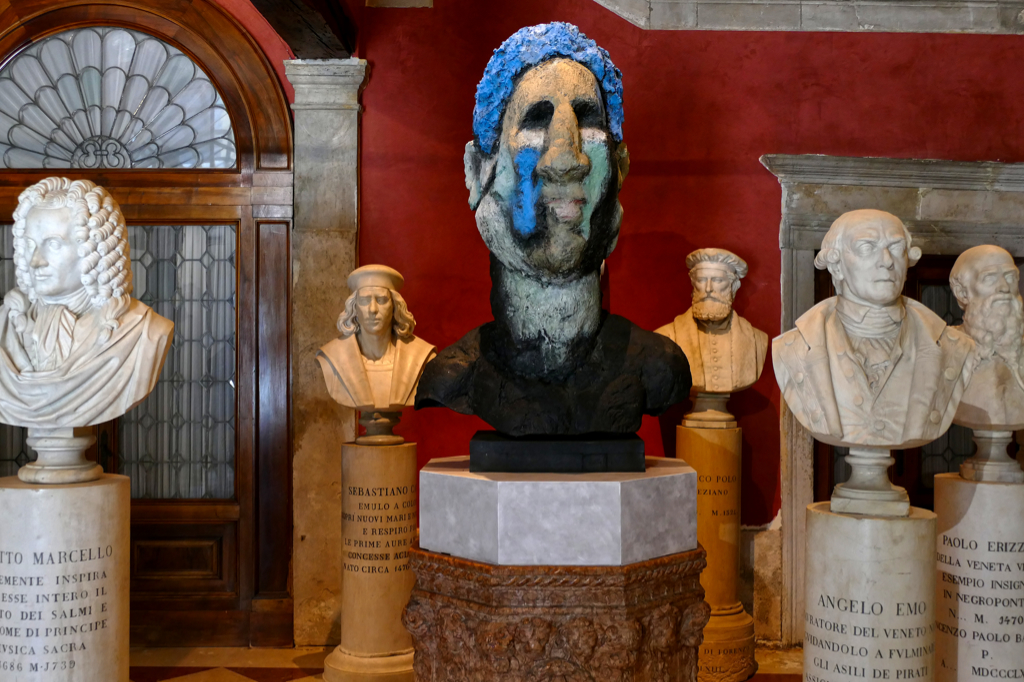 This year, they are complemented by recent paintings and sculptures made by another German superstar, namely Markus Lüpertz. In these works, Lüpertz deals with traditional themes of art history and brings the past into the modern.
The Markus Lüperts exhibition ends already on August 7, 2022.
Venue: Istituto Veneto di Scienze, Lettere ed Arti, Campo San Stefano
Grenada
Various Artists: An Unknown that Does Not Terrify
Generations of Grenadians have participated in the so-called Shakespeare Mas where costumed players recite passages from Shakespeare's Julius Caesar to each other in an open-air theatre.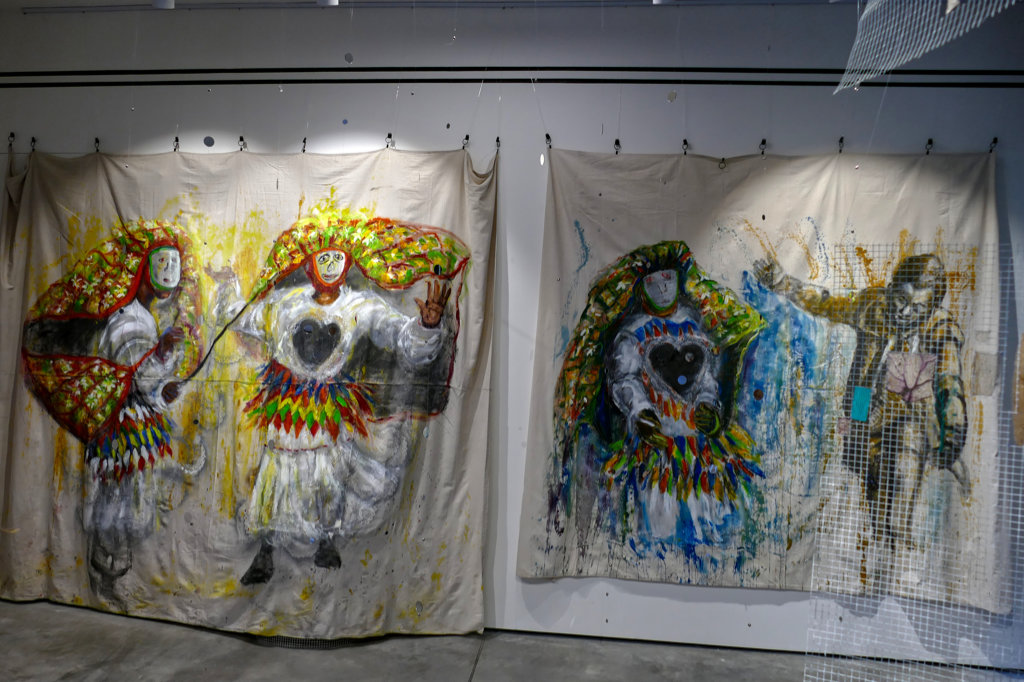 This installation which includes a very charming video, paintings, and sculptures, is referring to this tradition in an alluring way.
Venue: Il Giardino Bianco Art Space, Via Giuseppe Garibaldi 1814, Castello
Guatemala
Christian Escobar "Chrispapita": Inclusion
Since some of the country pavilions, as well as the Collaterali, aren't within the Centro Storico, hence, the main part of Venice, you cannot avoid taking vaporetti if you want to see it all. In my post Venice on a Budget, I'm giving you advice on which ticket to obtain – together with many more valuable tips and hacks on how to visit Venice without burning a hole into your wallet.
Why I'm announcing this here? Because this year, the Guatemalan pavilion is on the Giudecca island across from the Centro Storico's Fondamenta Zattere.
This year, Guatemala exhibits just one large painting. Sometimes, that's enough.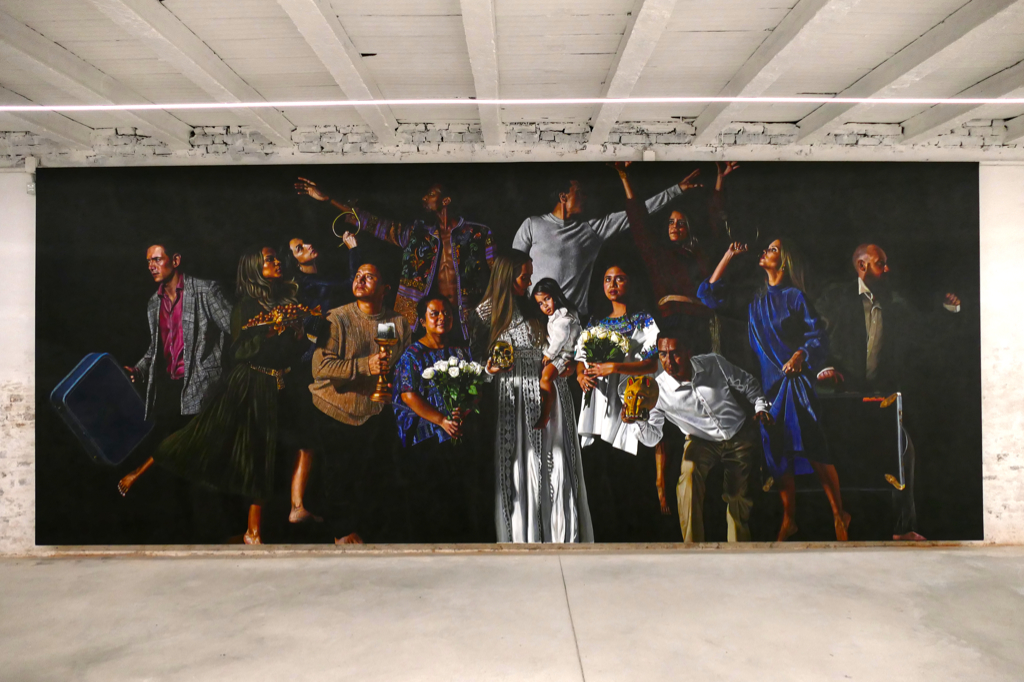 Inspired by Caravaggio, Christian Escobar aka Chrispapita honors the beauty, virtue, and power of his Guatemalan people. And just like looking at a painting by Caravaggio, the detailed images of people from very different backgrounds, all depicted in a highly respectful fashion, the painting tells a story, that touches your soul.

Venue: SPUMA – Space For The Arts, Giudecca 800
Hungary
Zsófia Keresztes: Dopo i sogni: ho il coraggio di sfidare i danni / After Dreams: I Dare to Defy the Damage
Believe it or not: Zsófia Keresztes is only the third female artist showcasing her work at the Hungarian pavilion. Way to go, Hungary.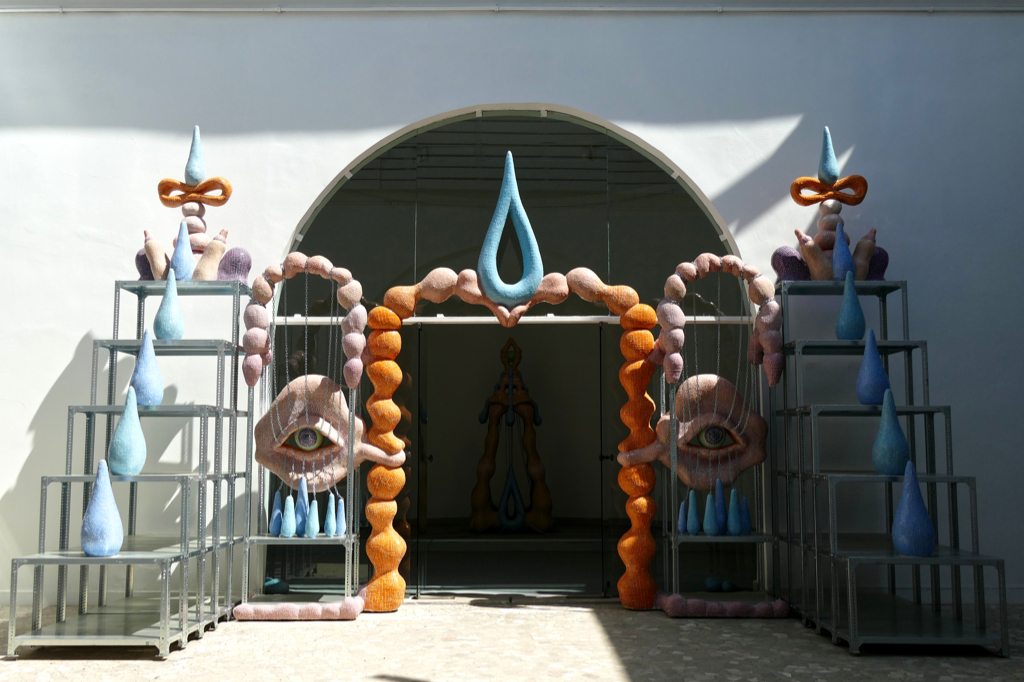 The installation of her organic-shaped sculptures covered in pastel mosaic pieces are mirrored and mutually referenced body fragments, building in their unity a complete form.
Venue: Hungarian Pavilion at the Giardini
India
Anish Kapoor
Apart from Anselm Kiefer, another international megastar sent his work to Venice. Anish Kapoor, who is mostly famous for the Cloud Gate at the Millenium Park in Chicago,
His show takes place in two amazing venues, namely the venerable Accademia and the Palazzo Manfredi.
I would divide it thematically into three parts: The first is quite disturbing with huge piles of what seems to be intestines – what's the motto? Guts are the new black? And while I usually don't have a problem with more or less shocking installations, I read a reference to abortion into it which I find problematic.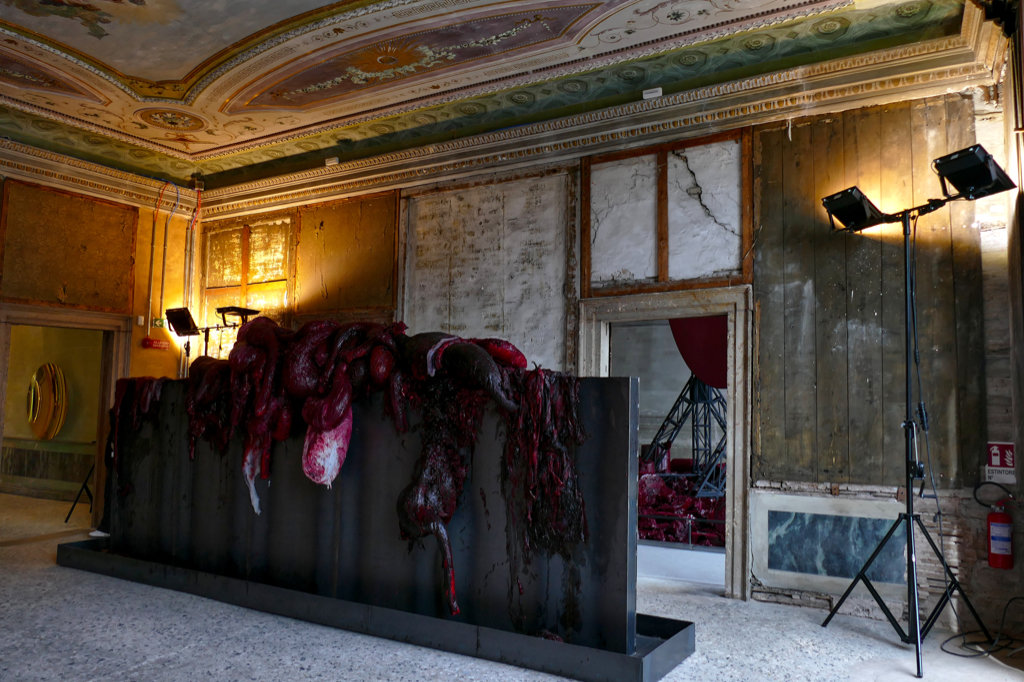 In the second part, Kapoor is playing with the visitor's focus. There are concave and convex mirrors and it's actually fun playing with your own reflection.
Fool Me Once…
The third, most amazing, and truly impressive part is also fooling the viewer's eye in a simply mind-blowing way.
Firstly, Kapoor created some really incredible carvings where a piece of marble seems to just float in the air.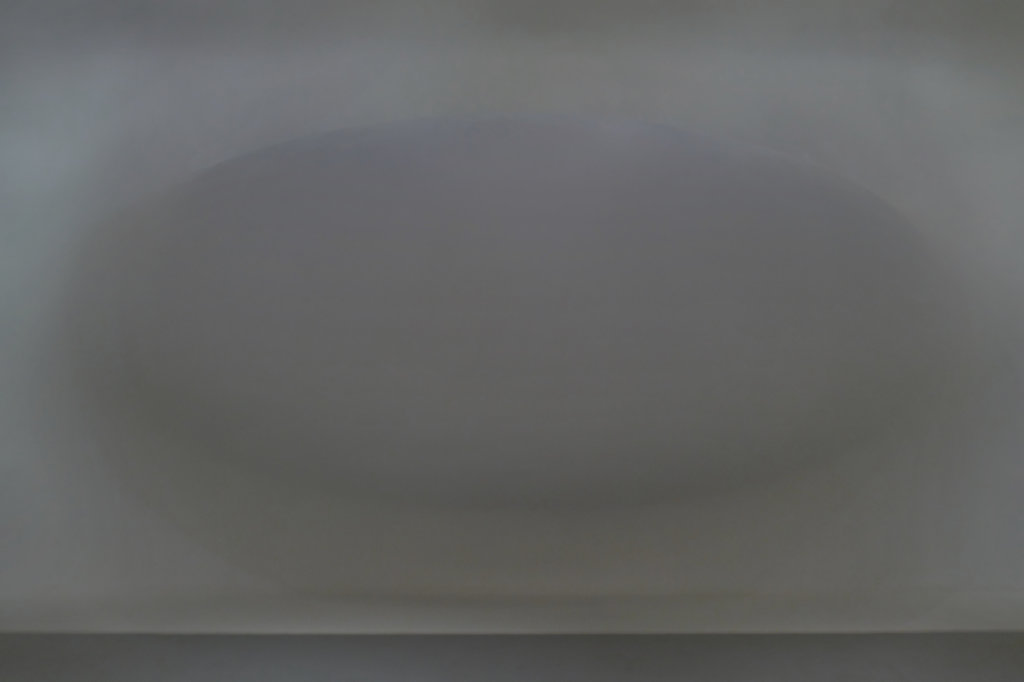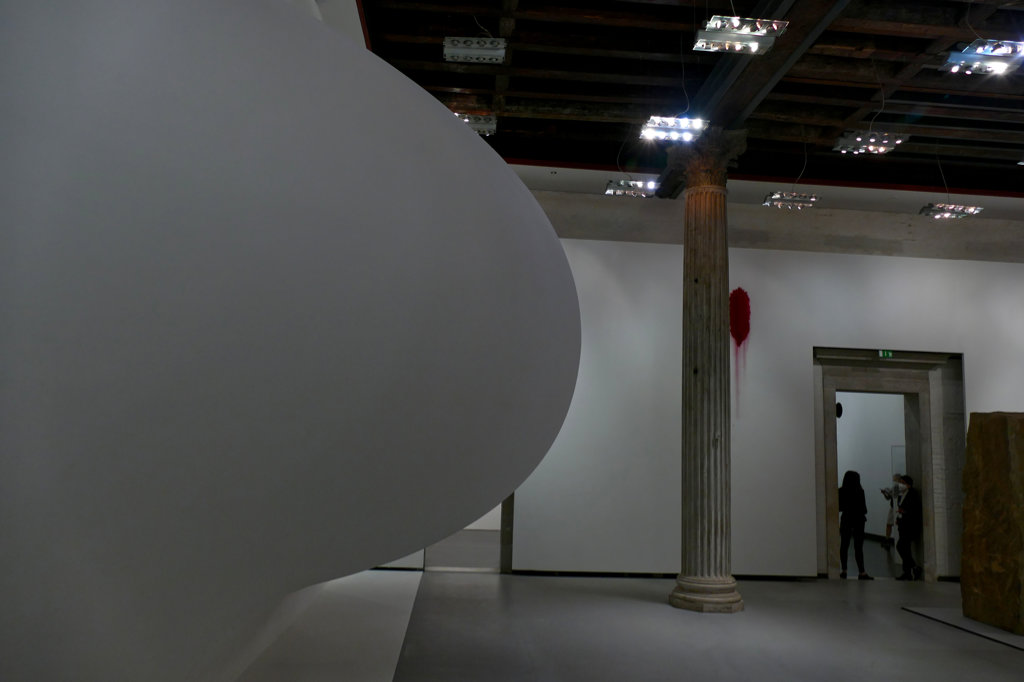 Yet, far more impressive are his works from Ventablack, arguably the world's blackest black. This color was created by a British company and does miraculously absorb 90 percent of the light. Therefore, even three-dimensional objects appear just flat. Since Vantablack absorbs nearly all the light shining on it is basically impossible to discern shape. You stand before a black square and only as you look at it from a different angle, do you see that it's actually a pyramid.
Describing visual phenomena is like explaining a joke. Hence, see for yourself at
Venue 1: Gallerie dell'Accademia, Campo della Carità, Dorsoduro 1050
Opening Times: Monday 8.15 a. m. till 2 p. m. and Tuesday to Sunday from 8.15 a. m. to 7.15 p. m.
Venue 2: Palazzo Manfrin, Fondamenta Venier, Cannaregio 342
Opening Times: Monday 10 a. m. till 2 p. m. and Tuesday to Sunday from 10 a. m. to 7 p. m.
Tickets: General admission is 12 €uros, Visitors aged 18 to 25 pay only 2 €uros and if they are under 18, admission is free. It pays out to be young….on so many levels.
The Anish Kapoor exhibition ends already on October 9, 2022.
Iran
Various Artists: Alluvium
The art space OGR from Turin brought this alluring installation to Venice on the occasion of the biennial.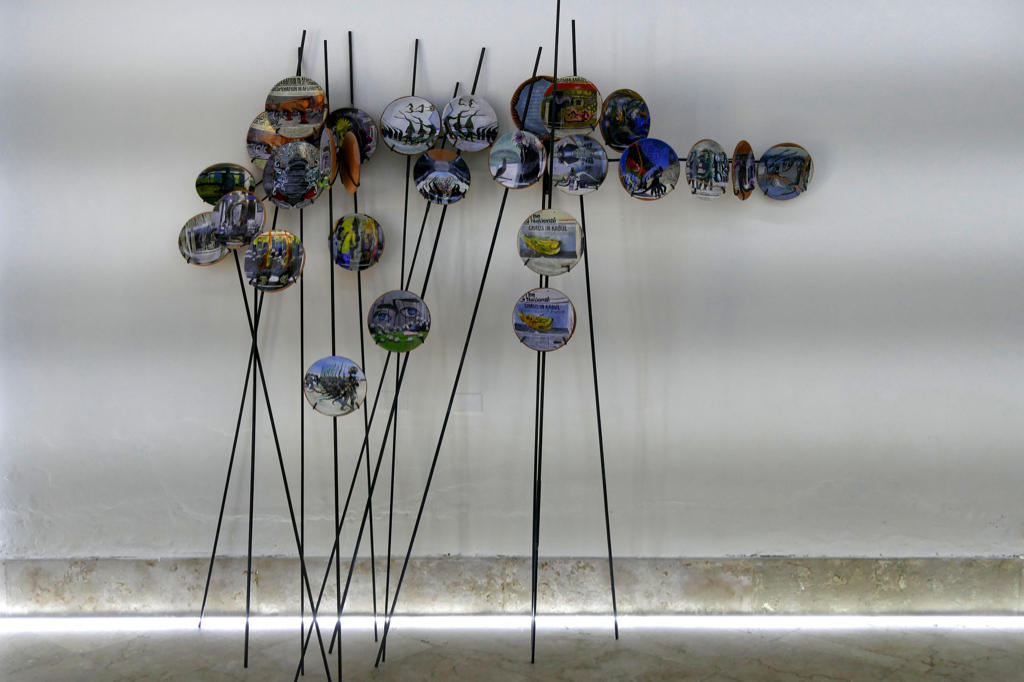 Alluvium consists of frameworks of iron rods that hold terracotta plates. Those were produced by local craftsmen in Middle Eastern fashion.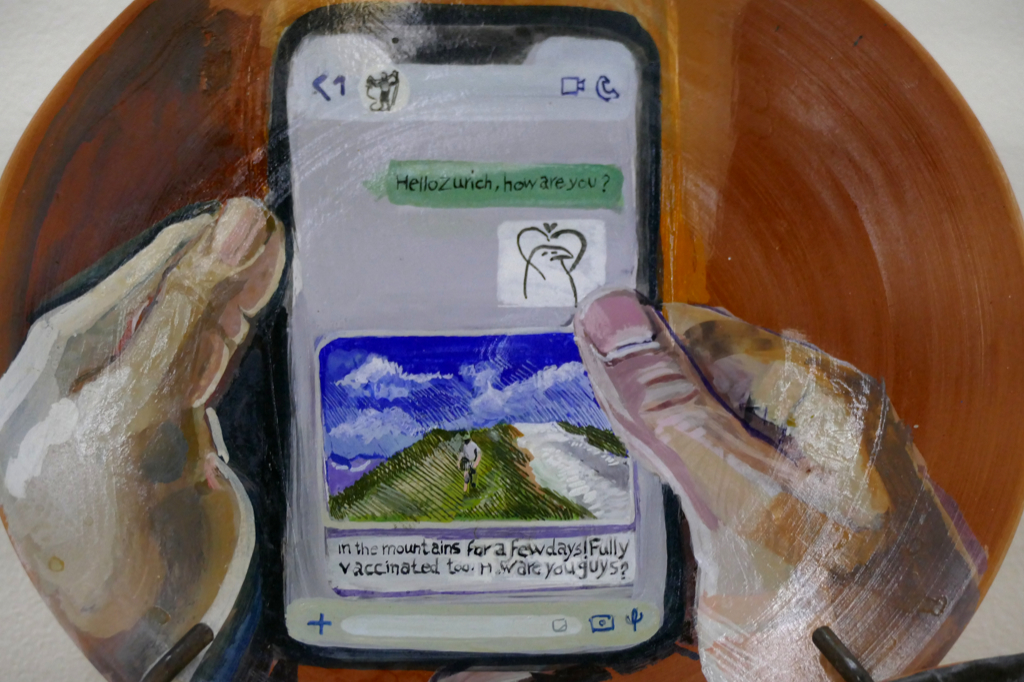 The paintings on those plates are adopted from images from the news. This way, a different image, impression, and message are concocted.
Venue: Complesso dell'Ospedaletto, Barbaria delle Tole 6691
Italy
Francesca Leone: Take Your Time
As rust oxidizes on her metal flowers, Francesca Leone lets time become part of her work.
The calm atmosphere in this exhibition feels like a well-deserved break in the frantic hunt for art.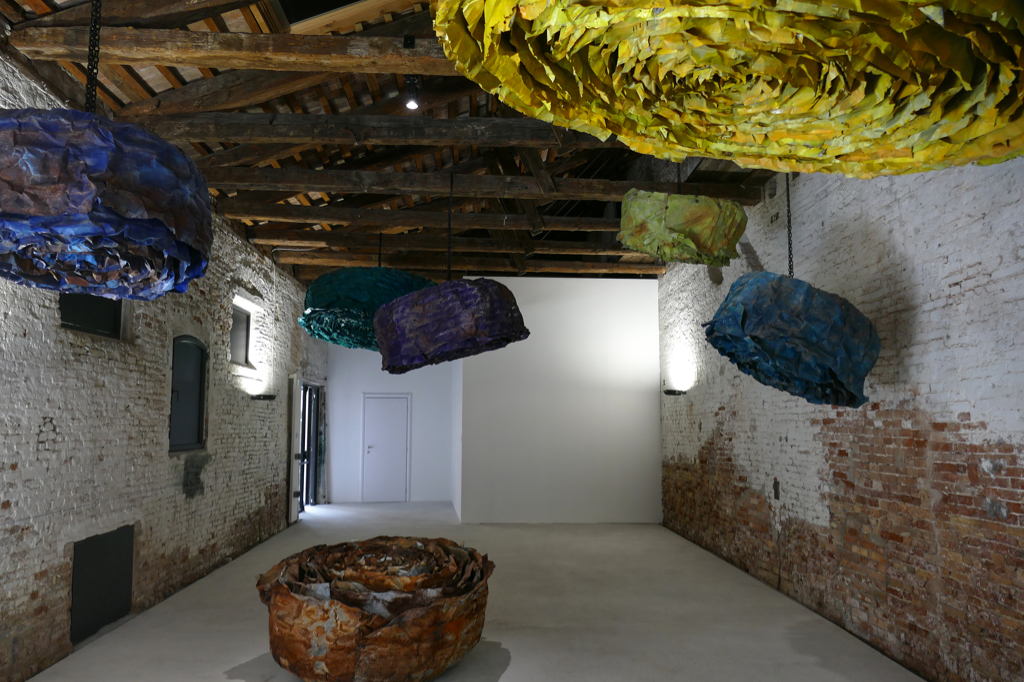 Take your time grants the luxury of giving art time to tell its story and wrap us up in its own magic.
Venue: Salone Verde, Calle della Regina 2258, Santa Croce
My Tip: This year, there are a couple of venues and exhibitions where you can enjoy a tranquil atmosphere and recharge your batteries during this artsy scavenger hunt. I've listed them below in the chapter Silence is Golden.
Various Artists: On Fire
The title reveals the content: All works at this relatively small yet very impressive exhibition were created by fire, smoke, soot, and coal. Canvases, wood, and other surfaces are burned, charred, or sooted.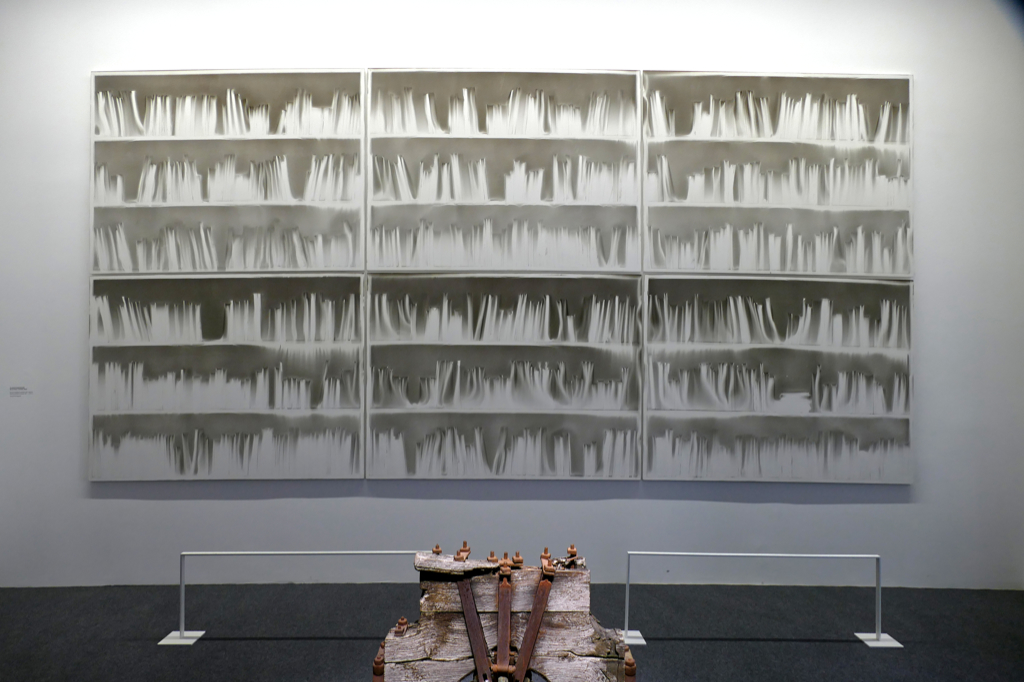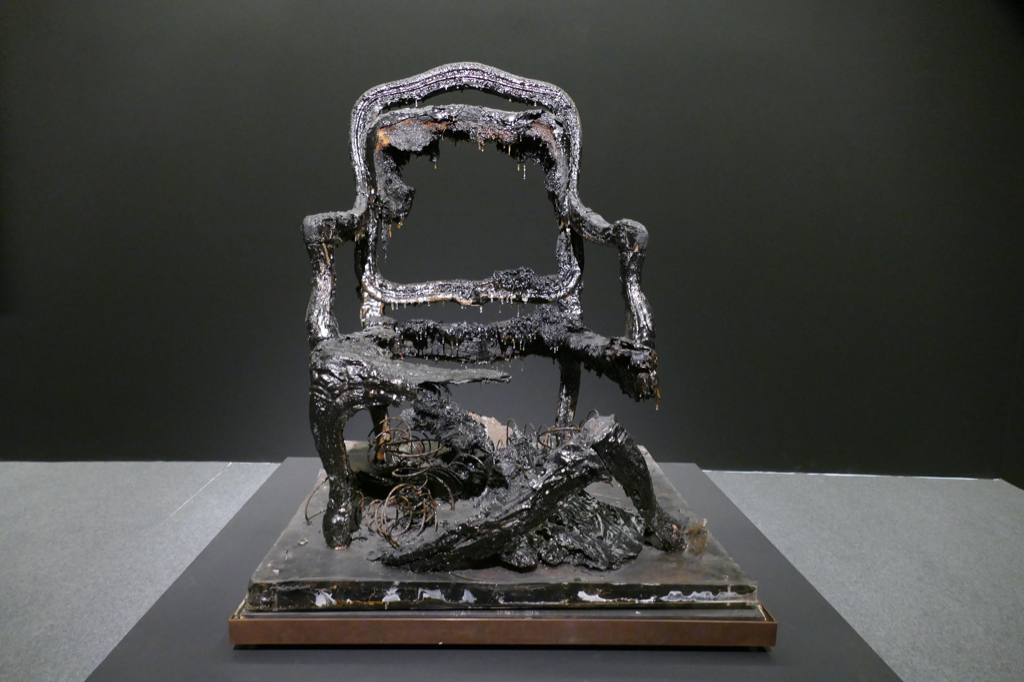 They are imaginative and beautiful and not to be missed.
The exhibition On Fire ends already on July 24, 2022.
Venue:
Venue: Fondazione Giorgio Cini on Isola di San Giorgio Maggiore
Ivory Coast
Various Artists: The dreams of a story
Beats me why Aron Demetz's – admittedly very alluring – wooden sculptures are included in the Ivory Coast's pavilion. After all, he's from South Tyrol and therefore Italian. No matter what, his work is really impressive.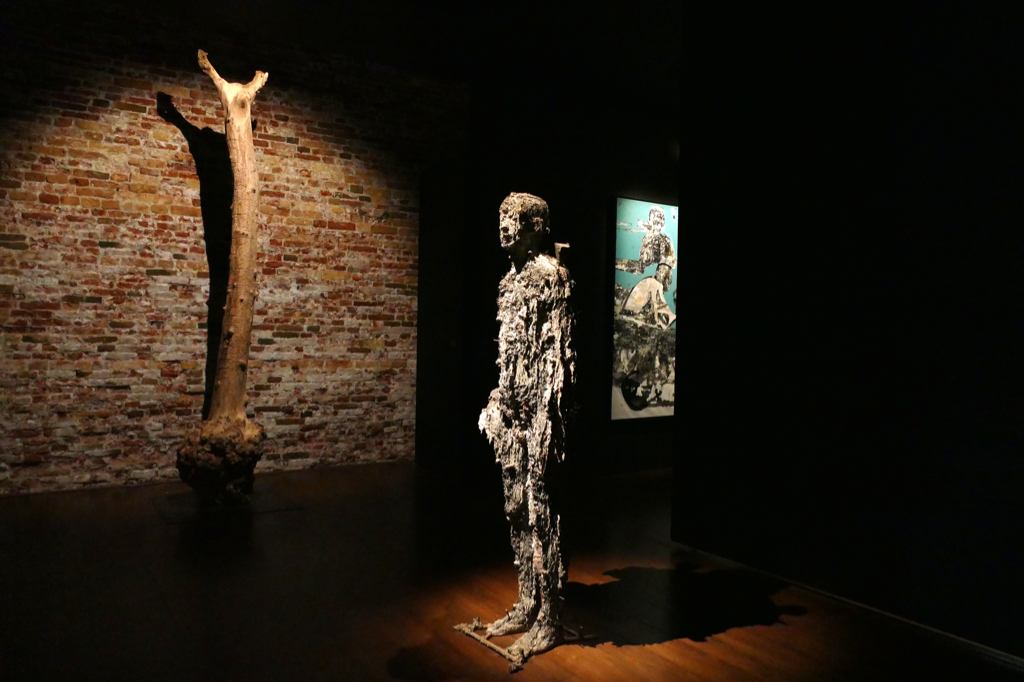 Laetitia Ky on the other hand is as African as can be. In 2016, she began creating sculptures from wire, thread, and her own dreadlocks that she lengthened with weaves into her natural hair.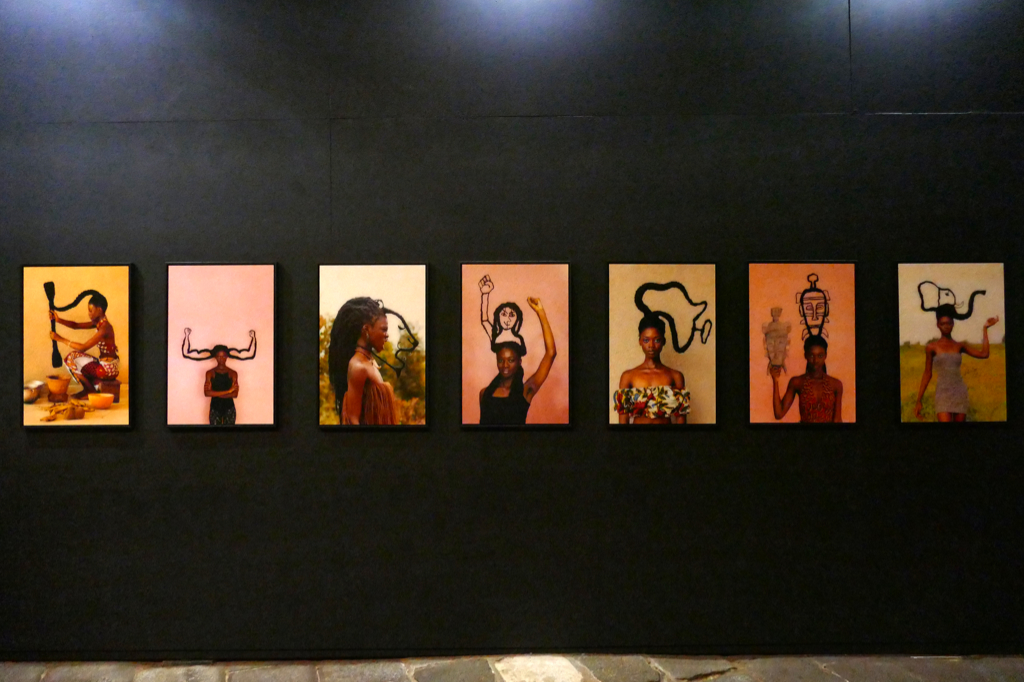 These hair sculptures are made in up to six hours. Most of them carry a feminist message referring for instance the me too-movement or the USA's anti-abortion laws.
Another artist in this show that I like a lot is Yéanzi.

Venue: Magazzino del Sale 3, Dorsoduro 264
Kosovo
Jakup Ferri: The Monumentality of the Everyday
At the last biennial in 2019, Kosovo screened interviews with victims of the Balkan war which was really sad and depressing.
Therefore, I was surprised to see such a fun and wacky show in 2022.
Jakup Ferri's work is inspired by children's drawings, folk art, and so-called Outsider Art. The paintings and embroidery are based on the artist's drawings.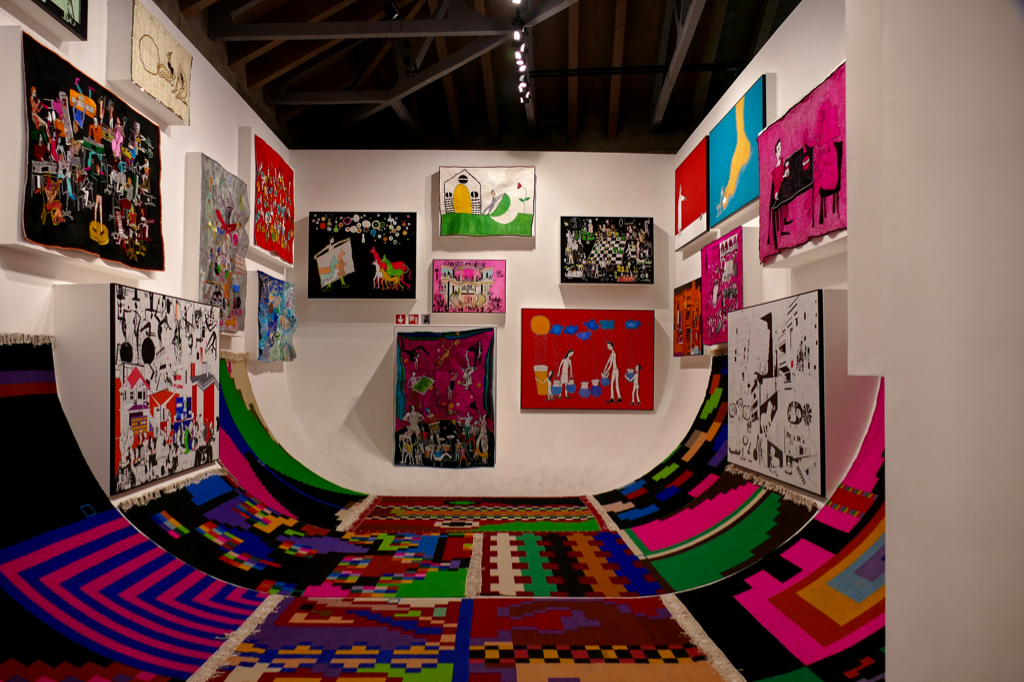 Ferri collaborates with women from Albania, Kosovo, Burkina Faso, and Surinam to create his textile works.
Venue: Pavilion of Kosovo at the Arsenale
Latvia
Skuja Braden (Ingūna Skuja and Melissa Braden): Selling Water by the River
The craziest work, however, are the pottery and porcelain worlds created by Ingūna Skuja from Latvia and Melissa Braden from California in the USA.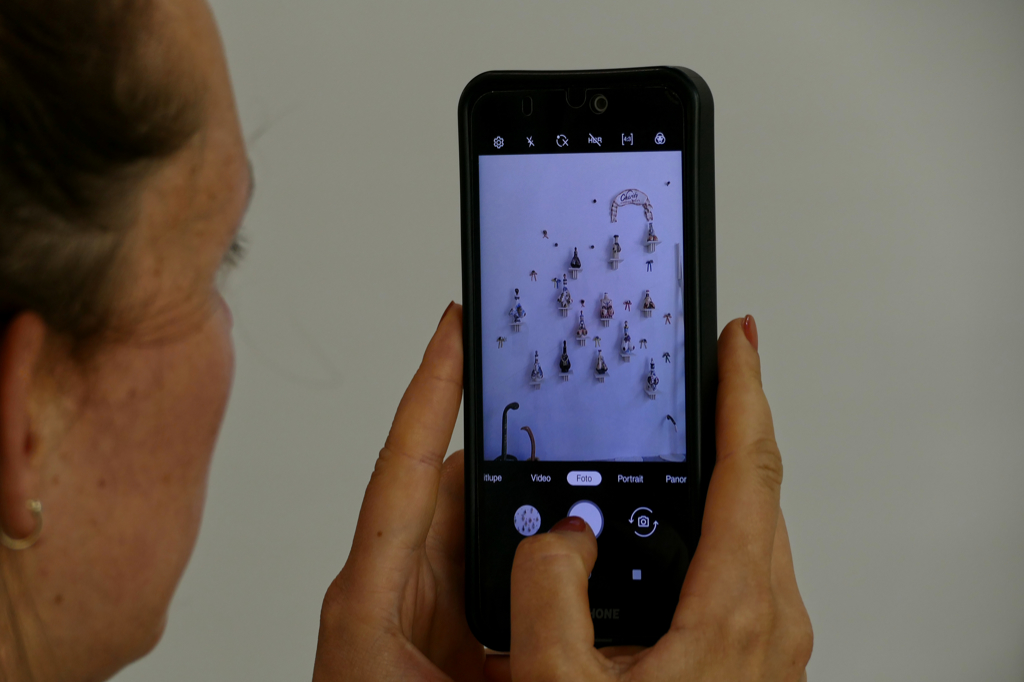 At the first glance, you see plates and vases, centerpieces, and nicknacks. A bit kitschy but nothing to write home about. But as you look closer, the motives are….unusual, to say the least. Painted in a classic Asiatic style, female couples are getting it on on the vases. The centerpiece is made up of phalluses, vaginas, and anuses.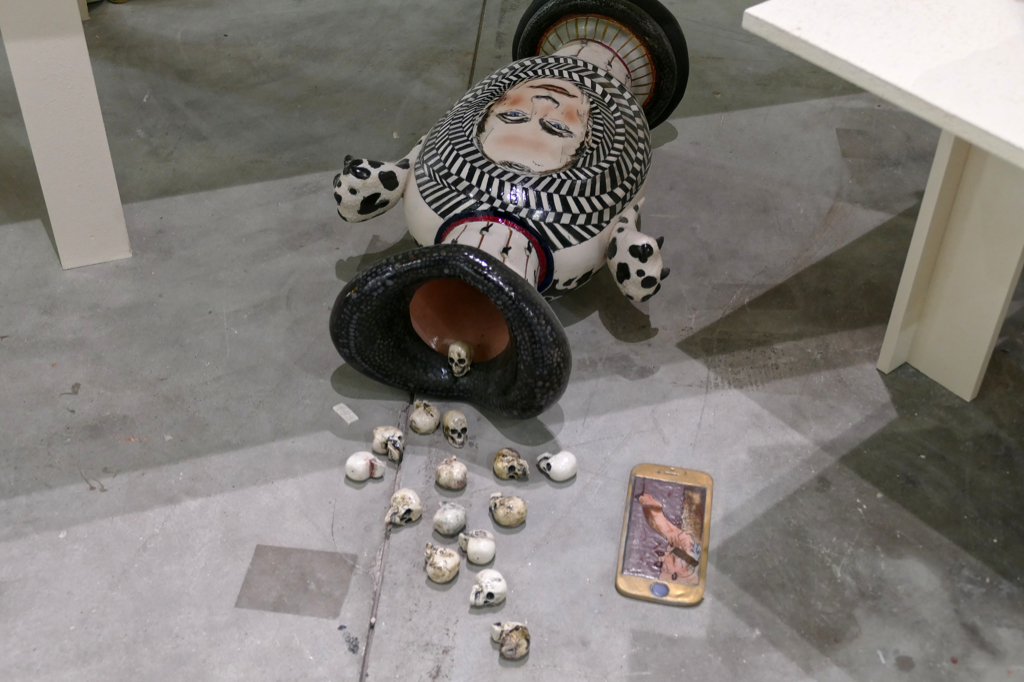 This installation purports to represent the mental, physical, and spiritual realms of the artists' homes. Their ideals and identities are revealed and reflected in the images on the porcelain.
Venue: Latvian Pavilion at the Arsenale
Lebanon
Ali Cherri: Titans
Ali Cherri's terracotta titans are reminiscent of the deities of ancient mythology.
They commemorate the time of the emergence of elements and the birth of living beings created from soil.
Ali Cherri lives and works in Beirut and Paris. He was awarded the Silver Lion in the category as the most promising young participant.
Venue: Central Pavilion at the Arsenale.
Macao
YiiMa Art Group: Allegory of Dreams
The artist group YiiMa, founded by Ung Vai Meng and Chan Hin Io, presents an allegory of dreams referring to this year's concept The Milk of Dreams.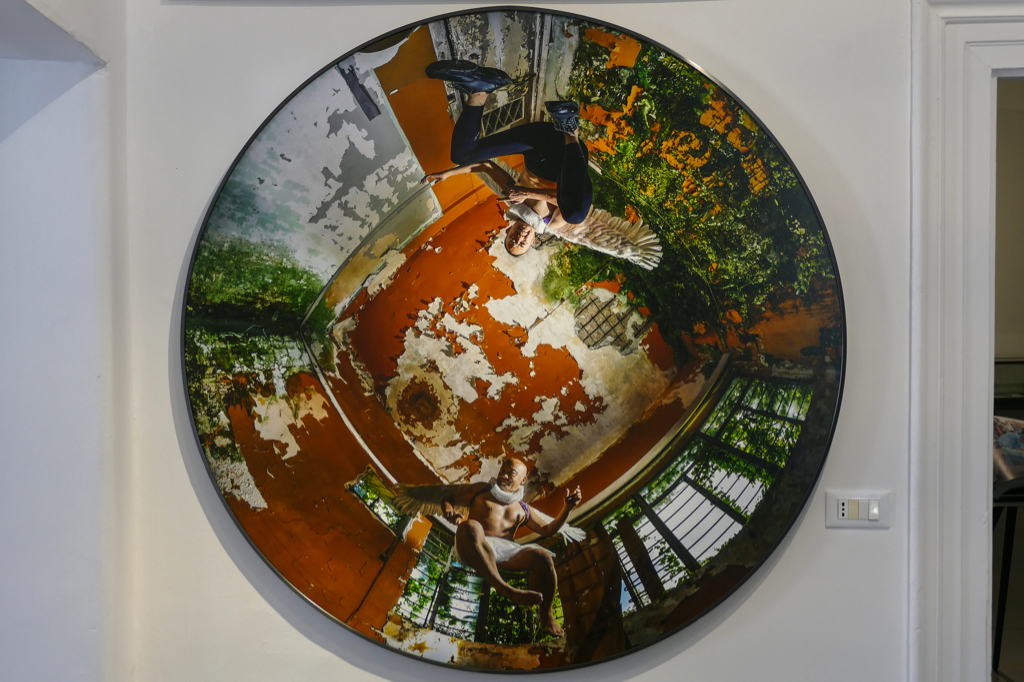 Documentaries of live performances by the two artists are presented, depicting scenes from their everyday life in a surreal fashion
Just for the record, this exhibition is technically a Collaterale, not a country pavilion. This explains why it ends already on October 20, 2022.
Venue: Campo della Tana, Castello 2126/A (Across from the entrance to the Arsenale)
Malta
Various Artists: Diplomazija Astuta
The artists interpret Caravaggio's altarpiece The Beheading of Saint John the Baptist, which hangs in the Cathedral of St. John in Malta's capital Valletta, in a kinetic installation.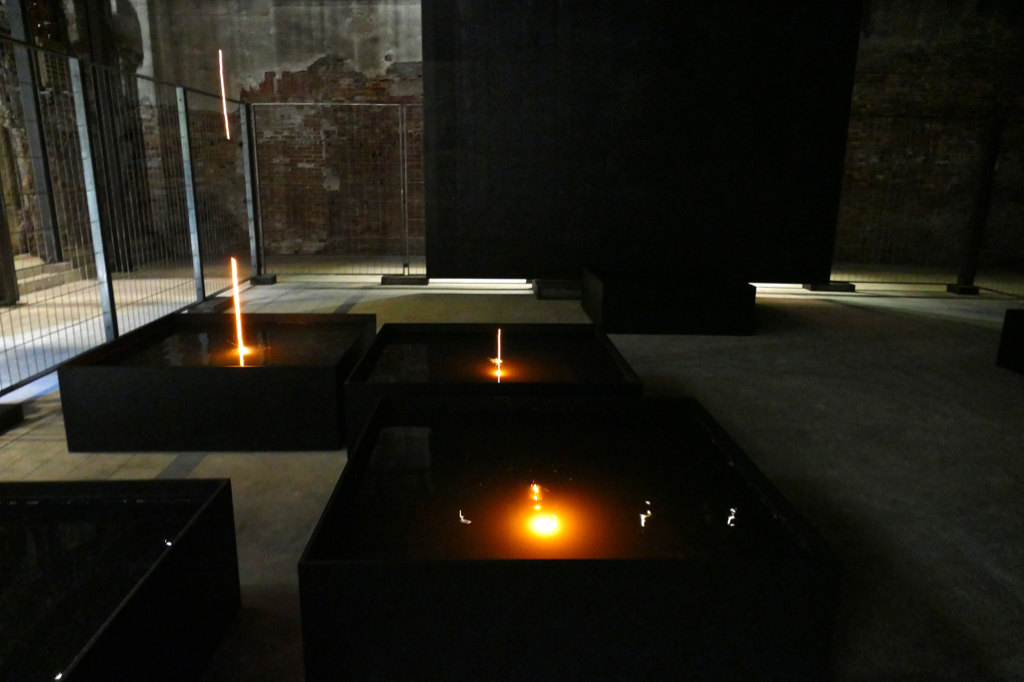 Using induction technology, molten steel droplets fall from above into seven rectangular basins of water. Each one of them represents a certain section of The Beheading.
Venue: Pavilion of Malta at the Arsenale
Nepal
Ang Tsherin Sherpa: Tales of Muted Spirits-Dispersed Threads-Twisted Shangri-La
The composition of the work is based on the narrated history of the Himalaya. It deals with spirits, nomadism, and rich imagery.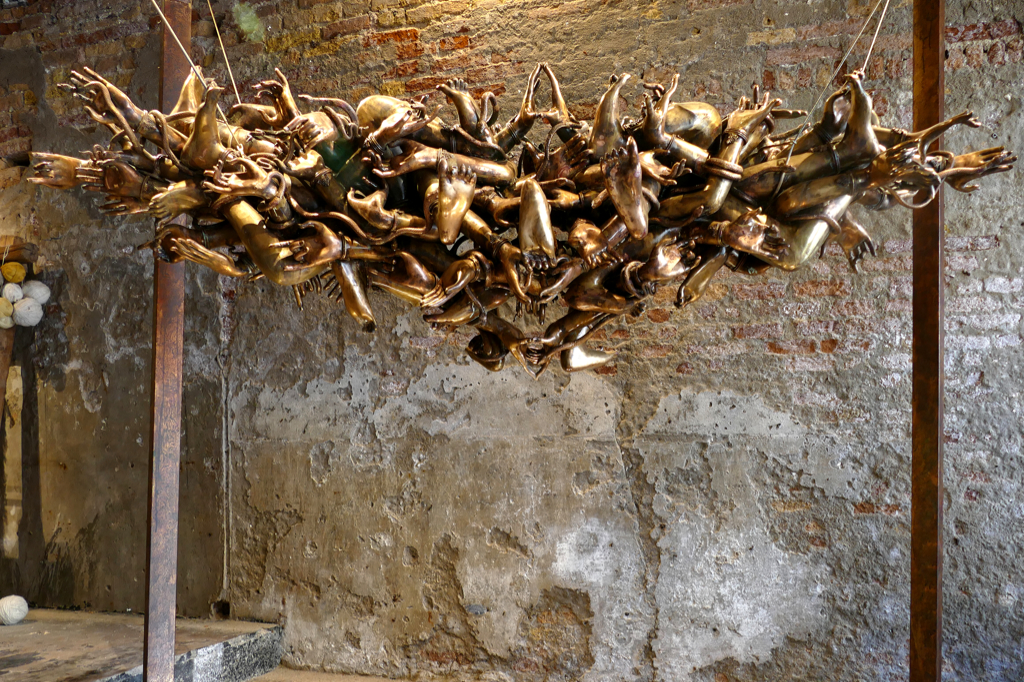 Ang Tsherin Sherpa collaborated with artists from the Himalayas.
Venue: Sant'Anna Project Space One, Castello 994
New Zealand
Yuki Kihara: Paradise Camp
I already mentioned above that Yuki Kihara is the first indigenous Pacific artist to be introduced at the New Zealand pavilion.
In her Paradise Camp, the artist sheds a light on life in the Pacific from the unique perspective of Fa'afafine, Samoa's so-called third gender.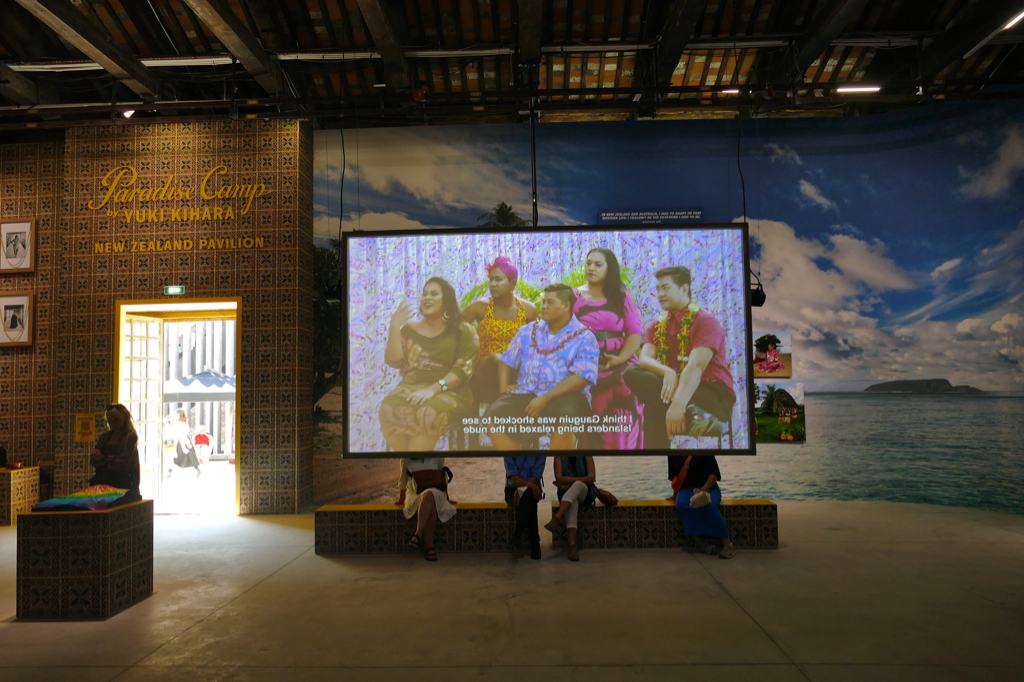 Paradise Camp was designed eight years ago and consists of twelve large-format photographs that are stylistically based on Paul Gauguin's paintings. In a staged "talk show" a group of Fa'afafine comments on selected Gauguin paintings. Kihara draws an internationally lesser-known image of life in the Pacific Islands.
Venue: Pavilion of New Zealand at the Arsenale
Poland
Małgorzata Mirga-Tas: Re-enchanting the World
The artist places the mostly oppressed yet largest European minority, the Roma, in a traditional iconography and an art historical context.
The twelve months of the year are depicted on panels in the style of Renaissance astrological frescoes. Above are idealized depictions of gypsy life, and below are scenes from the Roma's everyday life.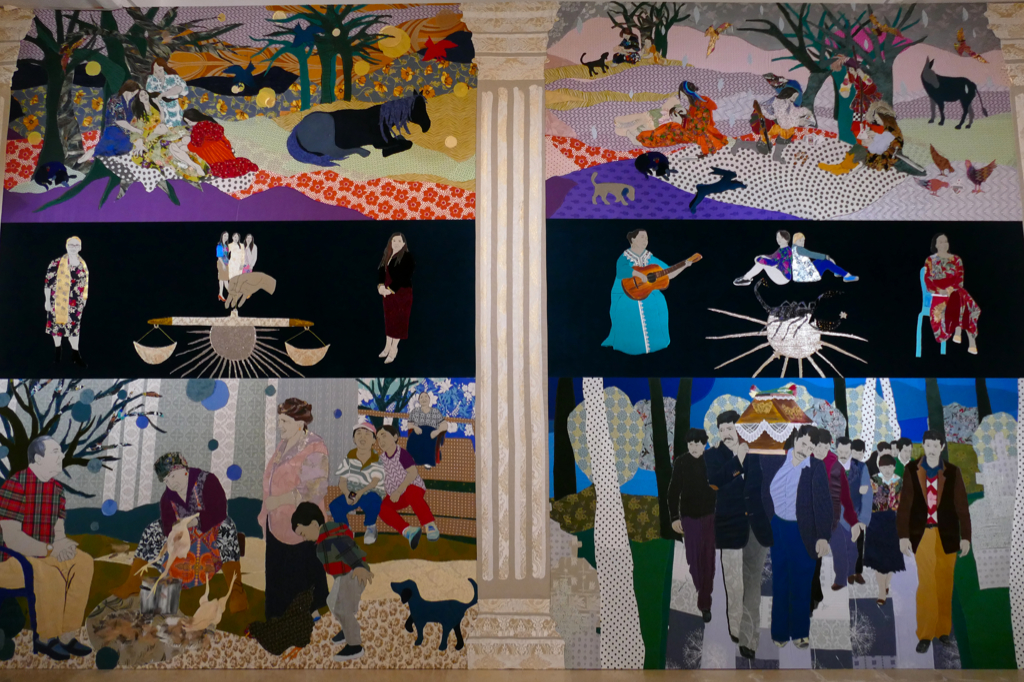 For the first time, several exhibitions at the Biennale focus on the Roma people: a video with actors from a Roma slum is screened in the Greek pavilion, and at the Palazzo Loredan a Colleteralo deals with Roma women. As a matter of fact, it's about time.
Venue: Polish Pavilion at the Giardini
Ewa Kuryluk: I, White Kangaroo / Io, il Canguro Bianco
Poland is one of the countries that made it impossible to choose just one artist. Apart from the wonderful exhibition at the Polish pavilion, fantastic pieces by Ewa Kuryluk are shown at the Palazzo Querini.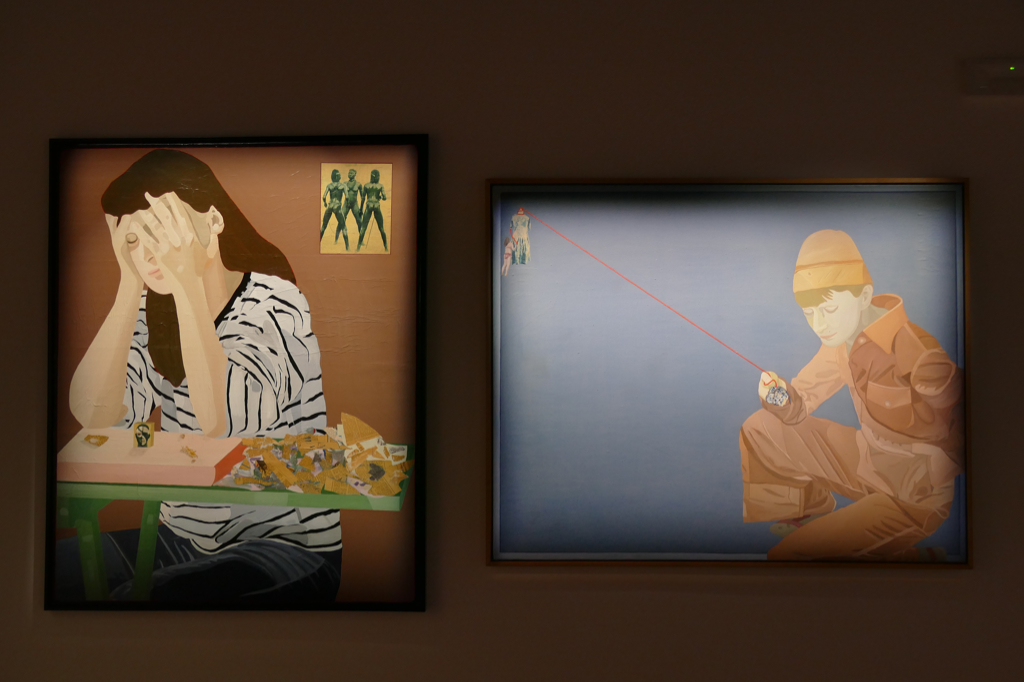 Painter Ewa Kuryluk is a pioneer of textile installation. Although her paintings, which radiate calm, harmony, and thoughtfulness in pastel colors are just wonderful, the actual strength of the exhibition lies in the rubbed, delicate and translucent drawings on long, draped calico strips.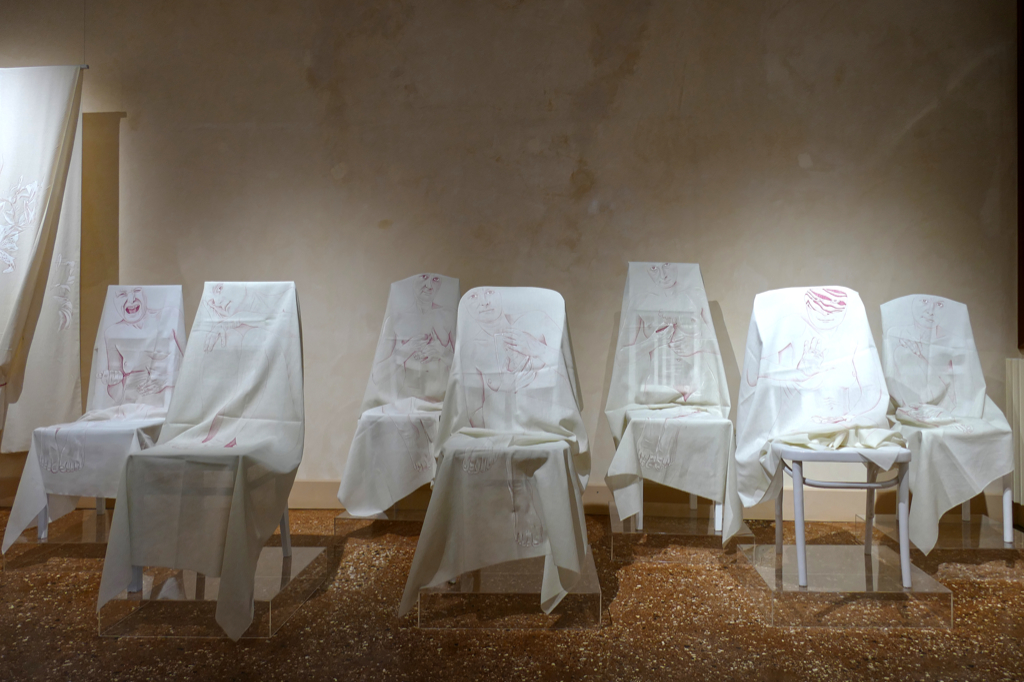 Venue: Palazzo Querini, Dorsoduro 2691
Portugal
Pedro Neves Marques: Vampires in Space
First of all, the Palazzo Franchetti as such is worth the visit and since most of the time, there is an admittance fee, you should take advantage of the fact that a visit to the Portuguese pavilion is free.
The narrative installation consists of videos about the melancholic journey to a distant planet. It's always night in space, making it a perfect habitat for immortal vampires. Pedro Neves Marques
let his personal experience as a transsexual, non-binary person shine through in this poetic yet political epos.
Venue: Palazzo Franchetti, San Marco 2847
Romania
Andra Ursuţa
The Romanian artist is a favorite child of the Biennale – after all, she's participating already for the third time.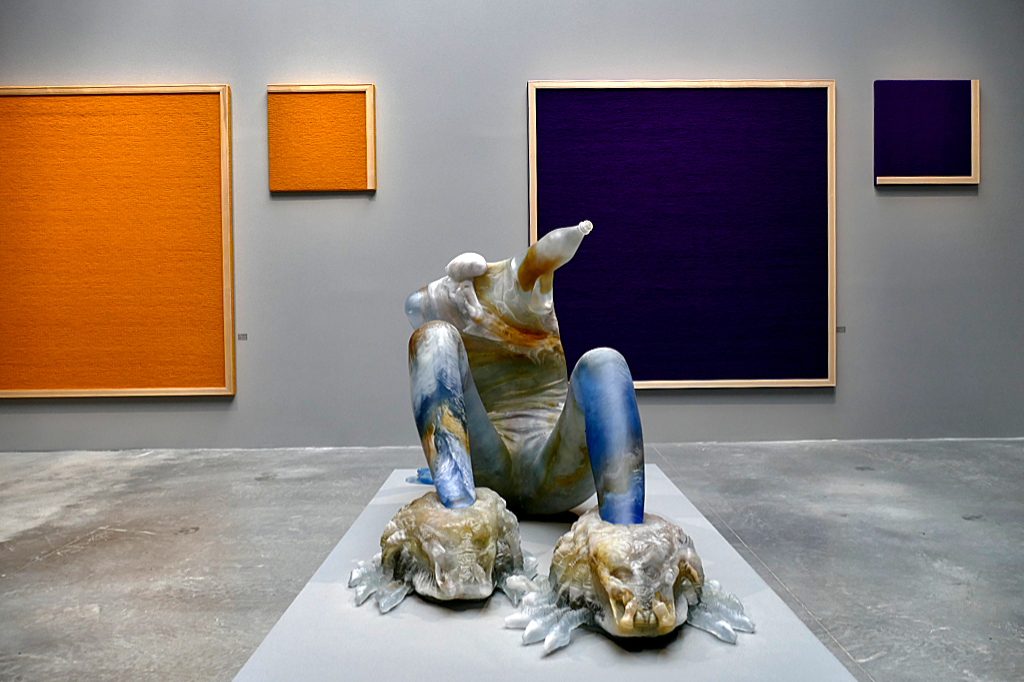 Dark undercurrents of our society are explored in her nine sculptural glassworks.
Venue: Central Pavilion of the Giardini
San Marino
Various Artists: Postumano Metamorfico
Do you know these speeches where comedians just ramble fancy-sounding words that make no sense at all to mock those pseudo-intellectual smarty-pants? Well, the official description of this otherwise really interesting exhibition full of fresh ideas is exactly that; it sounds as if someone just made up words and put them together in a jumble.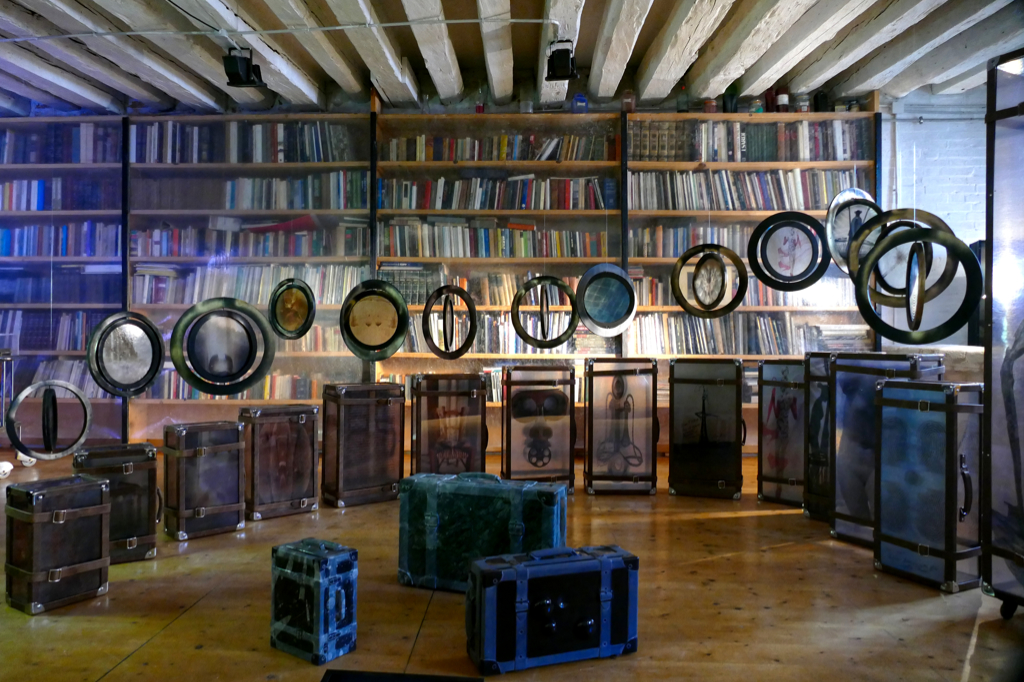 Although I liked basically every piece at the exhibition, one of my favorite works was Rosa Mundi's Europsaurius. The world of free time and travel is intertwined with art and is transformed into a complex installation that traces the evolution of man in his crucial passage from a herbivorous mammalian animal to Homo Sapiens. The 17 suitcases were created especially for this project.
My other favorites were the quirky Digital Humanities by Michele Tombolini. Venice-born Michele Tombolini is creating large, vibrant paintings in which he integrates interactive elements in a fun yet slightly disturbing way.


Venue: Palazzo Donà Dalle Rose, Fondamenta Nove Cannaregio 5038
Serbia
Vladimir Nikolić: Walking with Water
Venice is all about waters and so are Vladimir Nikolić's film installations. On the main wall, you automatically become part of the calm waters you're looking at.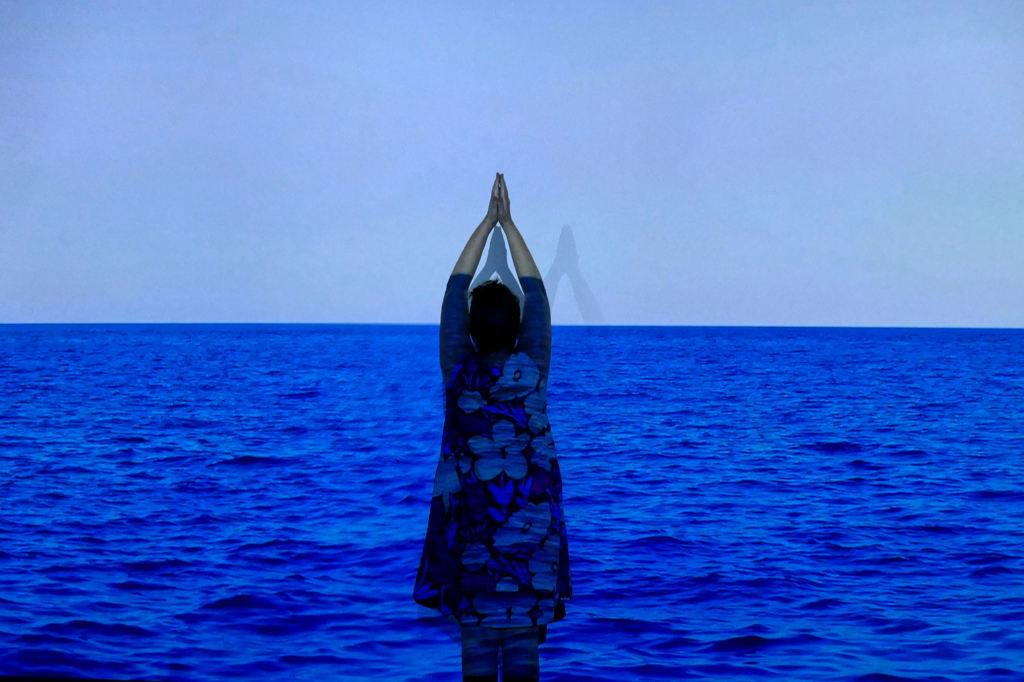 The second work is called 800m, and you are observing a swimmer swim the crawl on – you probably guessed so – 800 meters.
Venue: Serbian Pavilion at the Giardini
South Korea
Chun Kwang Young: Times Reimagined
Most of the paper that Chun Kwang Young has used for his work is taken from books. Those have been passed on through many hands in their making, selling, and reading before being purchased by the artist.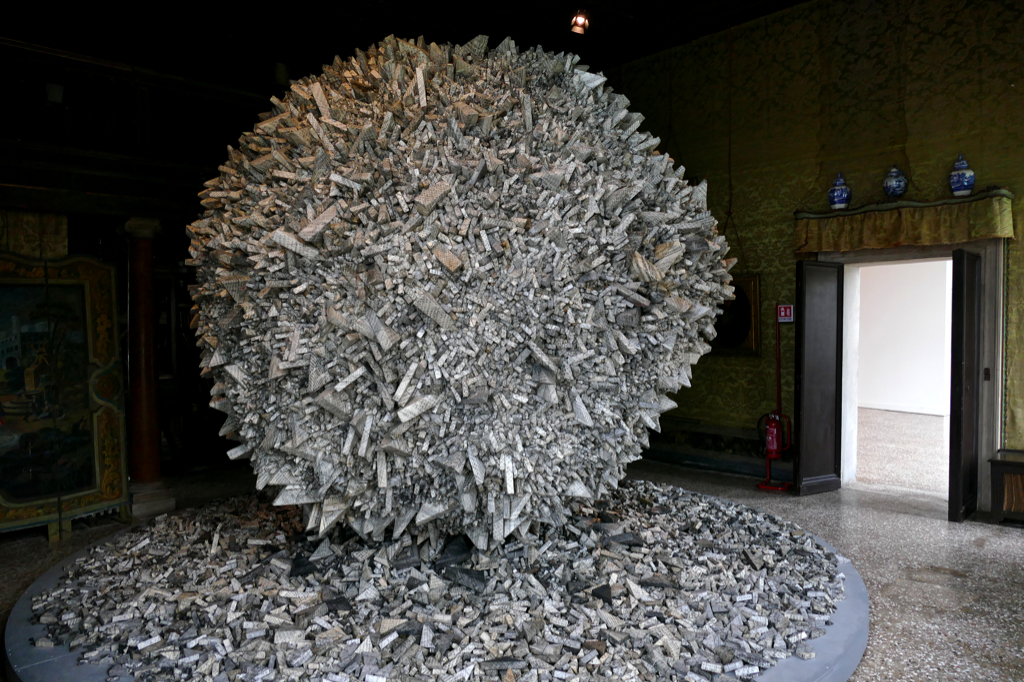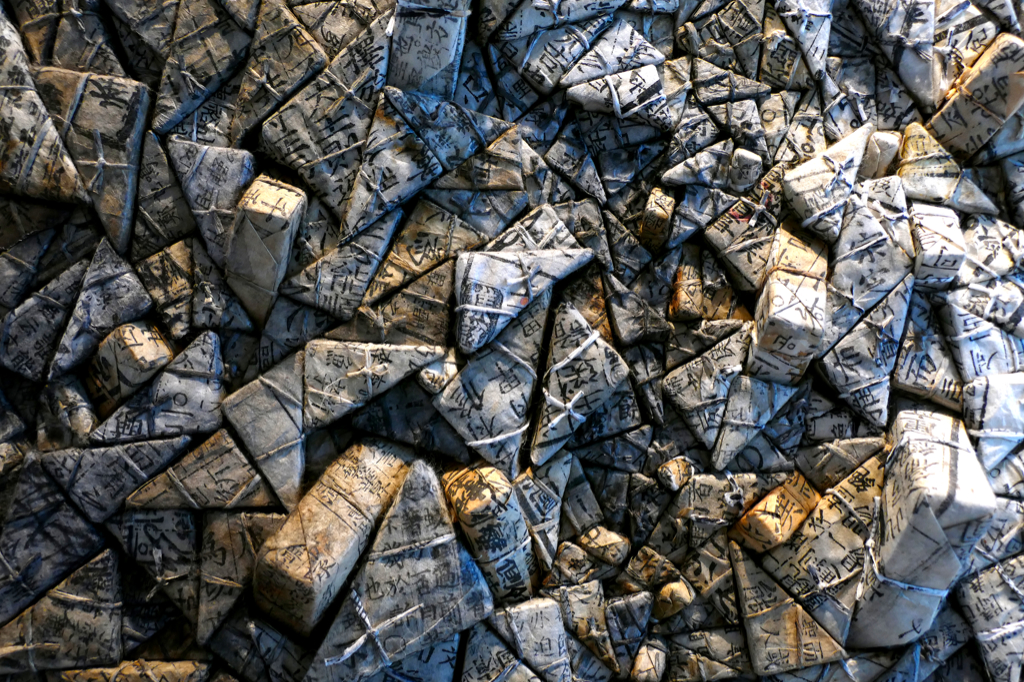 He then disassembles them and constructs triangular-shaped packages. Eventually, Chun Kwang Young creates reliefs, sculptures, and whole installations from these little packages.
Venue: Palazzo Contarini Polignac, Dorsoduro 874
Si On: Doomsday

Three tons of clothing went into creating 's monumental Doomsday. Si On created her giant wave from three tons of clothing.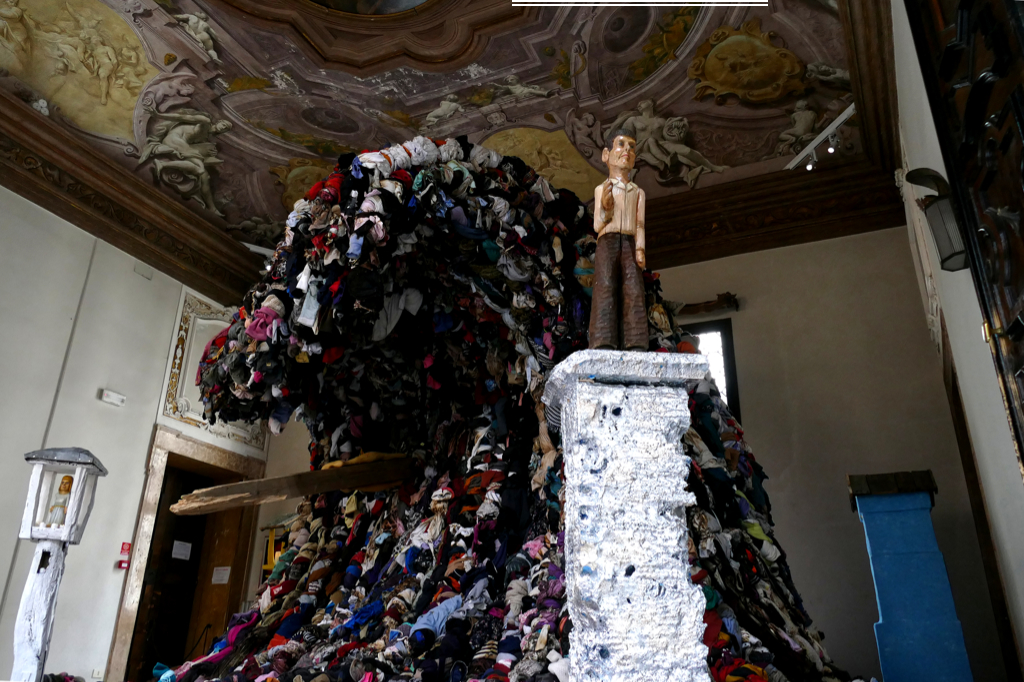 This monster wave expresses Si On's concern for globalization, mass production, and consumption of clothing.
Si On's work is just one of many amazing exhibits of the Collaterale Uncombed, Unforeseen, Unconstrained.
Venue: Conservatorio di Musica Benedetto Marcello, Campiello Pisani
Spain
Ignasi Aballí: Correction
Although at its core, this work is probably the most monumental creation in the exhibition, for the visitor it takes place primarily in the mind: Tucked away in a corner of the Giardini, the Spanish Pavilion looks slightly askew compared to its neighbors Belgium and Holland.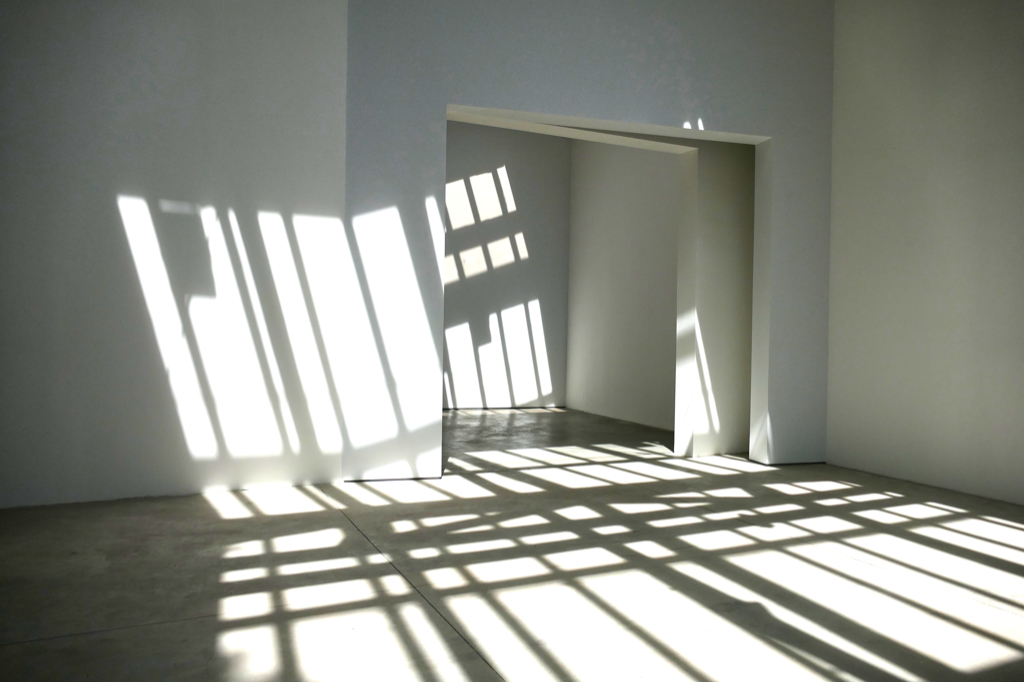 Ignasi Aballí solves this dilemma by recreating the building with new interior walls at an angle of 10 degrees. The intervention disrupts spatial memory and changes the exhibition space.
Venue: Spanish Pavilion at the Giardini
Switzerland
Ugo Rondinone: burn shine fly
This exhibition consists of three parts and they are all included in the title: Inside the Scuola Grande San Giovanni Evangelista are casts of different candles. Each of them stands for a certain stage in the artist's life. In the square outside the Scuola shines a huge golden circle representing the sun.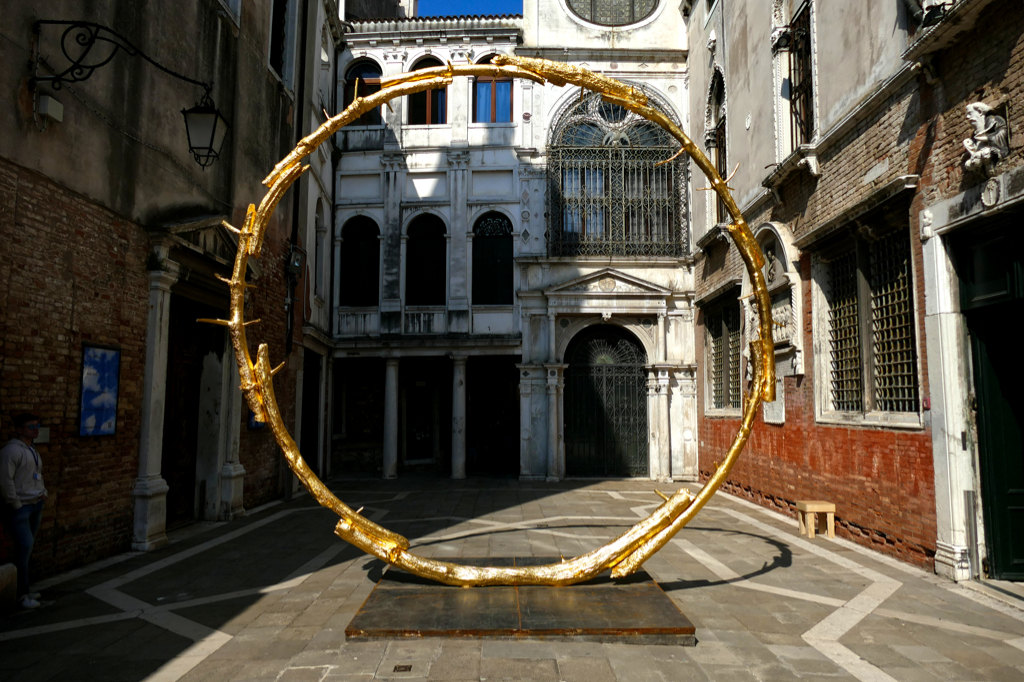 Finally, casts of dancers in motion are hanging from the ceiling. Painted in blue, they fly like clouds.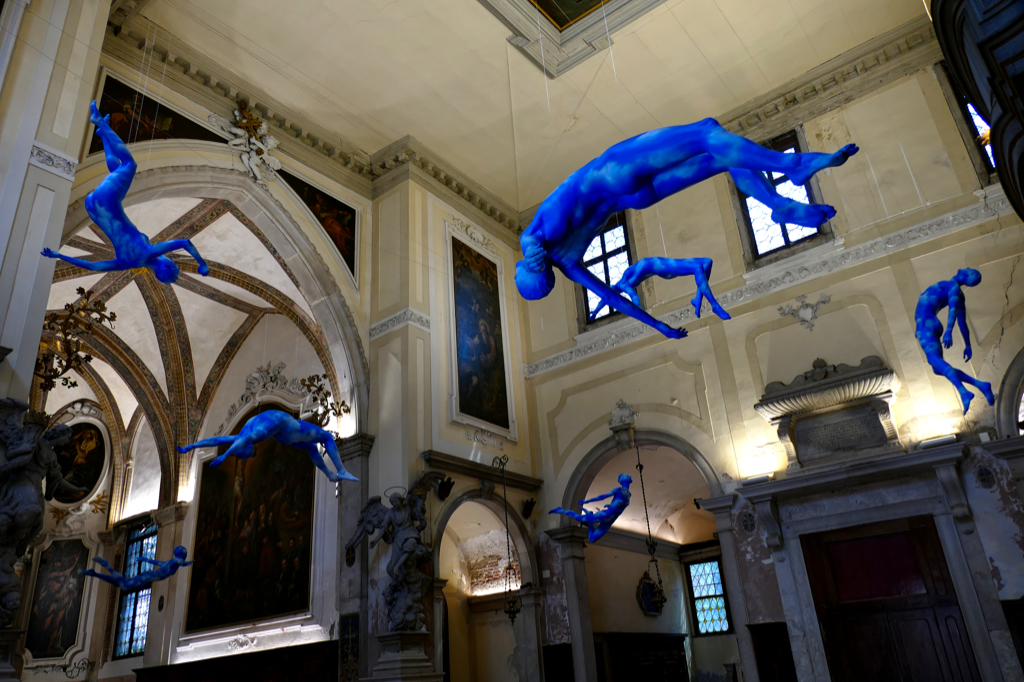 There you have it: burn shine fly.
The Ugo Rondinone exhibition ends already on September 17, 2022.
Venue: Scuola Grande di San Giovanni Evangelista
Thailand
Navin Rawanchaikul: The Description of the World
Just like Marcelot from Brazil, also Thai artist Navin Rawanchaikul is one of Swatch's artists in residence. His giant composition is inspired by the memorable travels of Venetian Marco Polo and the modern migration experience.
You can see it above in the chapter The Biennale and I.
Venue: Center Stage at the Giardini
Ukraine
Pavlo Makov: The Fountain of Exhaustion. Acqua alta

The installation of funnels is a paradoxical symbol of life. One river flows into the other and in the end both exhaust and dry up.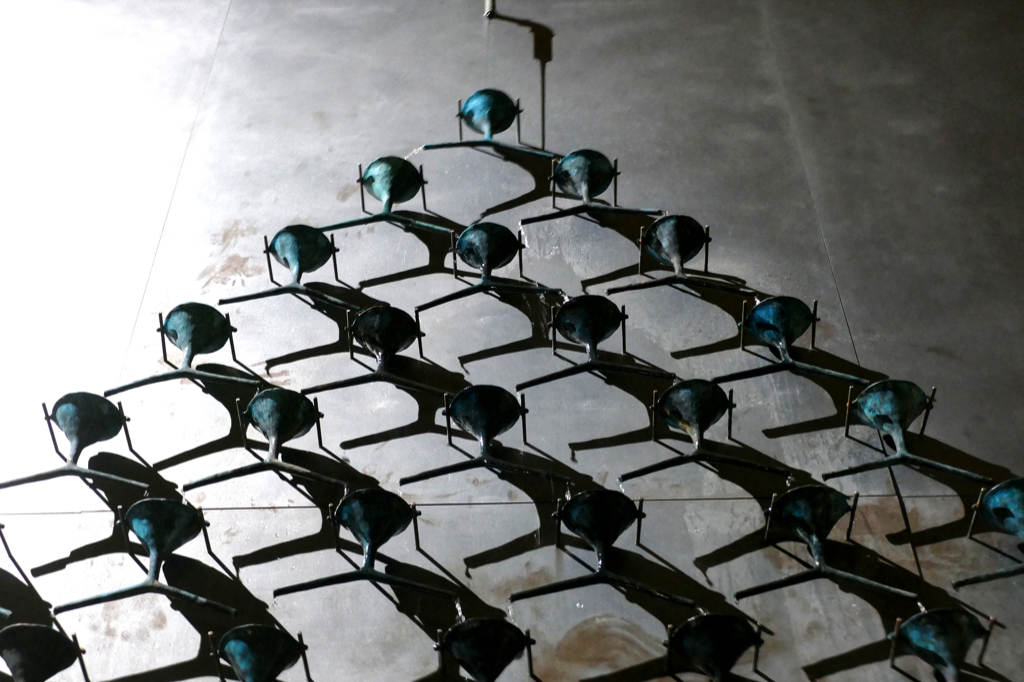 There you have it: The Fountain of Exhaustion.
Venue: Sale d'Armi at the Arsenale
Various Artists: This is Ukraine. Defending Freedom
On the lower floor of the Scuola Grande della Misericordia are works from artists who are still working in Ukraine despite Russia's war.
Contemporary superstars like Marina Abramović, Olafur Eliasson, JR, Damien Hirst, Boris Mikhailov, and Takashi Murakami are united in a critical response to the war. Their works are displayed on the upper floor.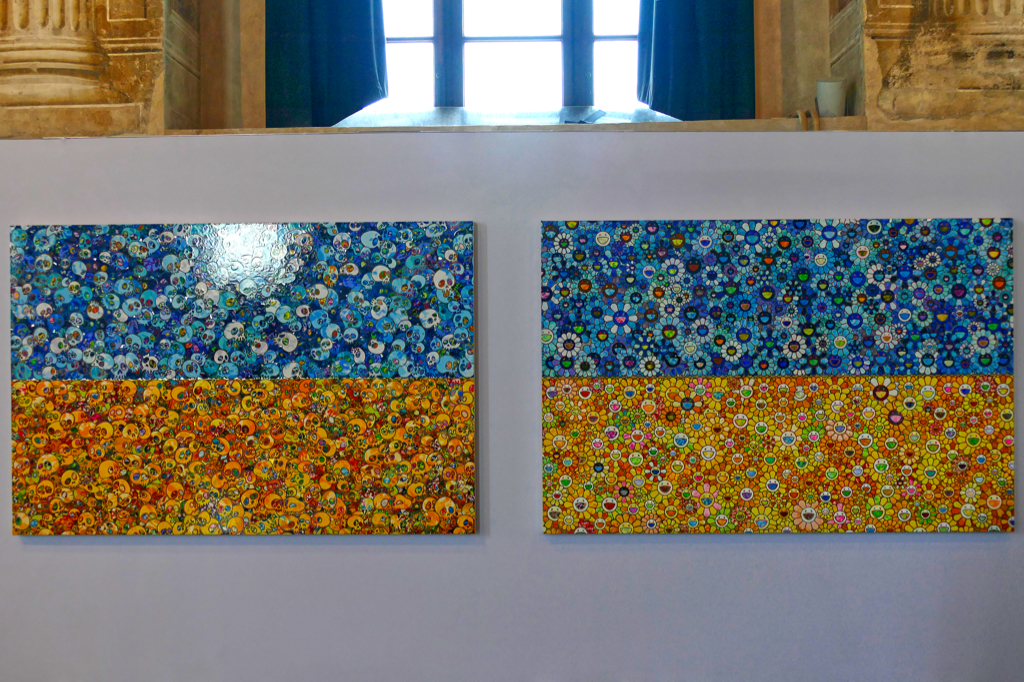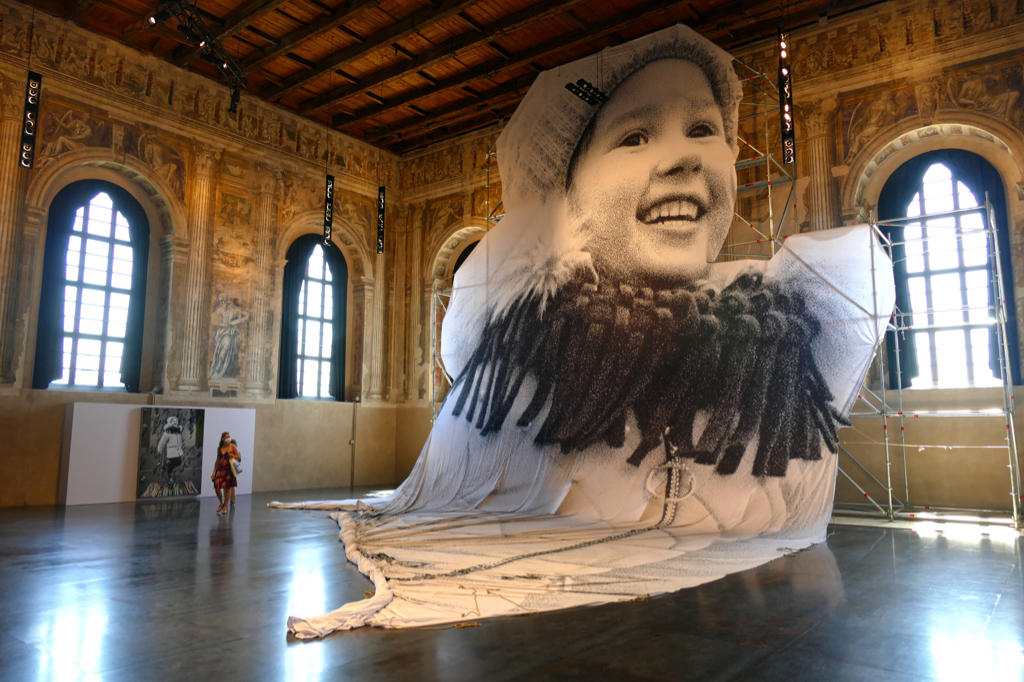 The exhibition This is Ukraine. Defending Freedom ends already on August 7, 2022.
Venue: Scuola Grande della Misericordia
United States Of America
Simone Leigh: Sovereignty
She's the first African-American artist representing her country at the US-American pavilion. And Simone Leigh takes the African very seriously and into focus. This is already reflected in the way she transformed the outside of the US pavilion into an African kraal.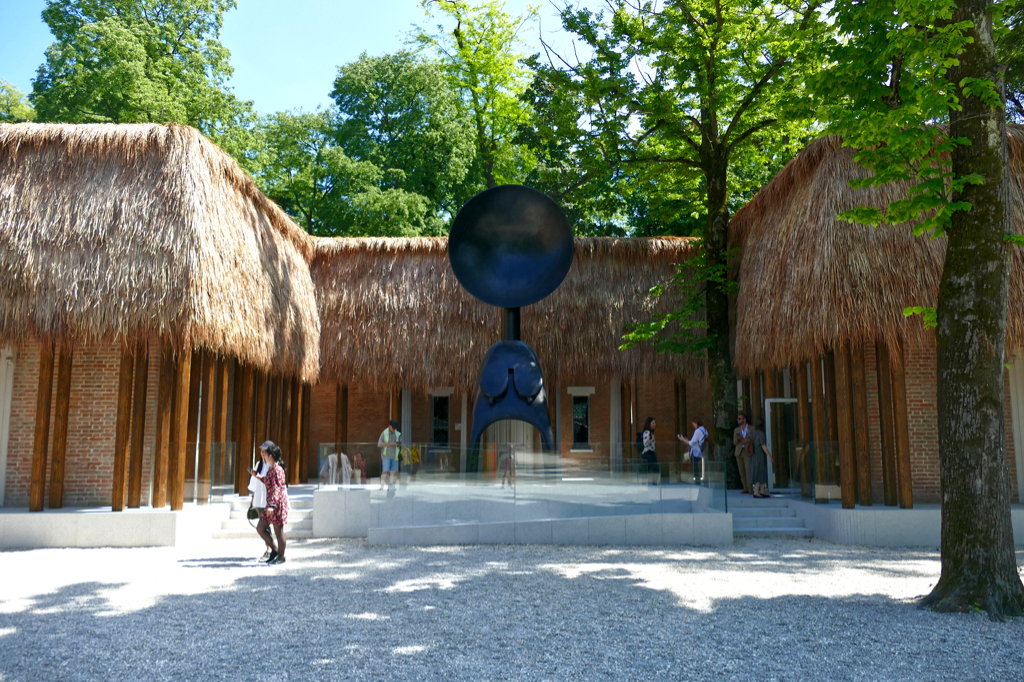 Inside, you'll see her large iron cast sculptures heavily influenced by traditional African art. The heaviness of the material radiates female force and authority. Power to the matriarchate.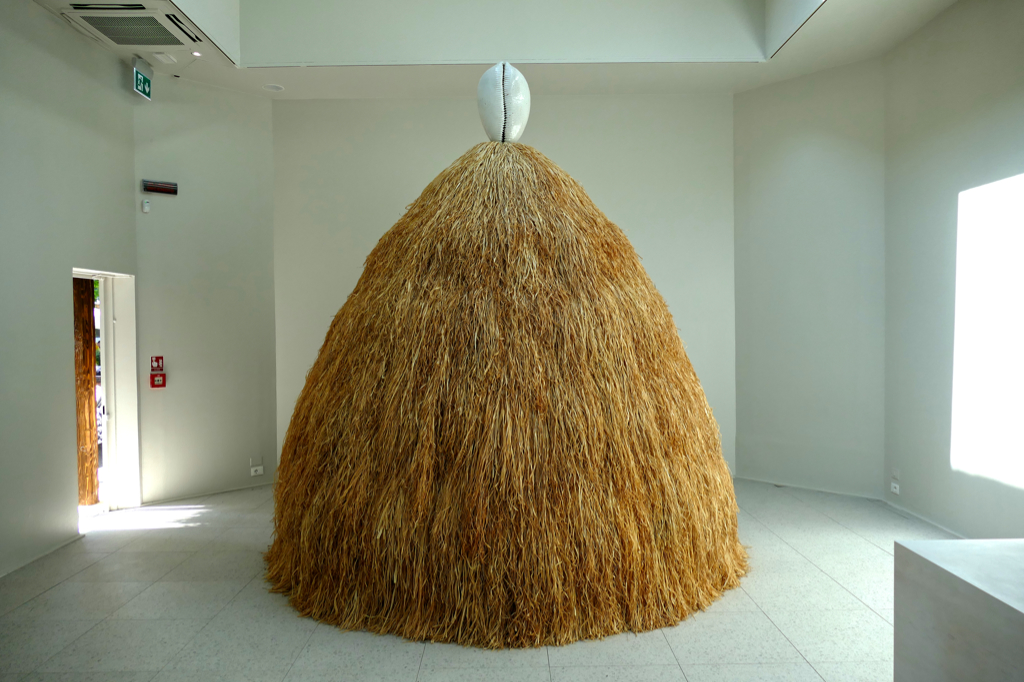 Venue: Pavilion of the USA at the Giardini
Kehinde Wiley: An Archeology of Silence
I admired Kehinde Wiley's work ever since I saw one of his paintings at the Tate Modern in London. A powerful portrait by a relatively unknown artist between all those superstars. Therefore, I was very excited when I learned that he would have a big solo show in Venice.
And he did not disappoint.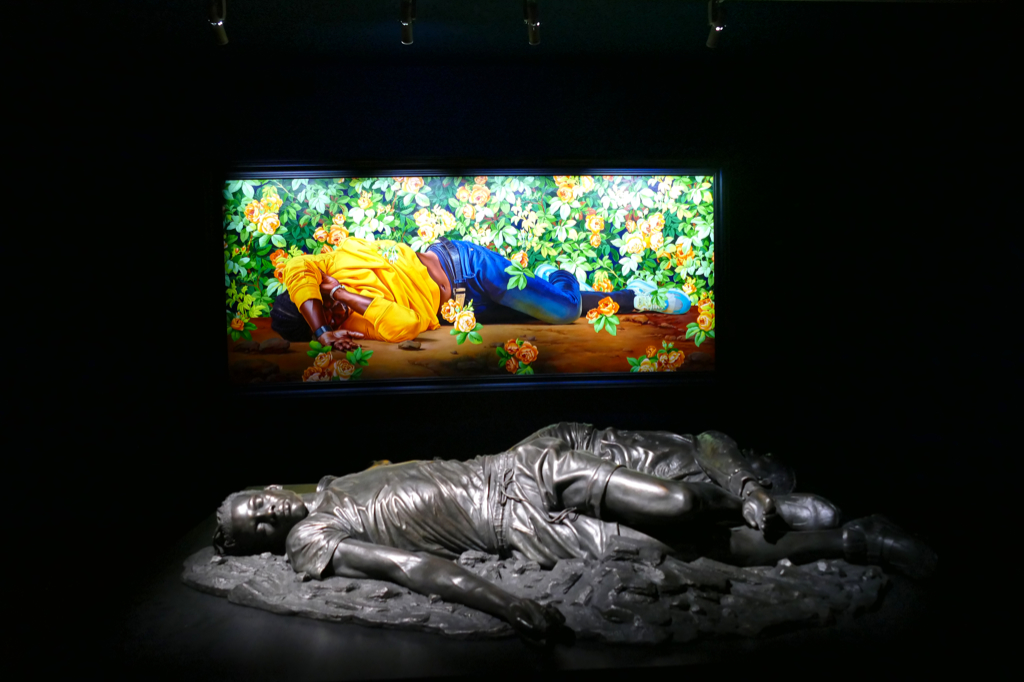 In dimmed rooms, there are pitch-black sculptures in front of portraits in bold'n'bright colors. Mostly, their eyes are closed as they are resting in twisted positions like tired heroes in some ancient mythologies. But they are today's martyrs.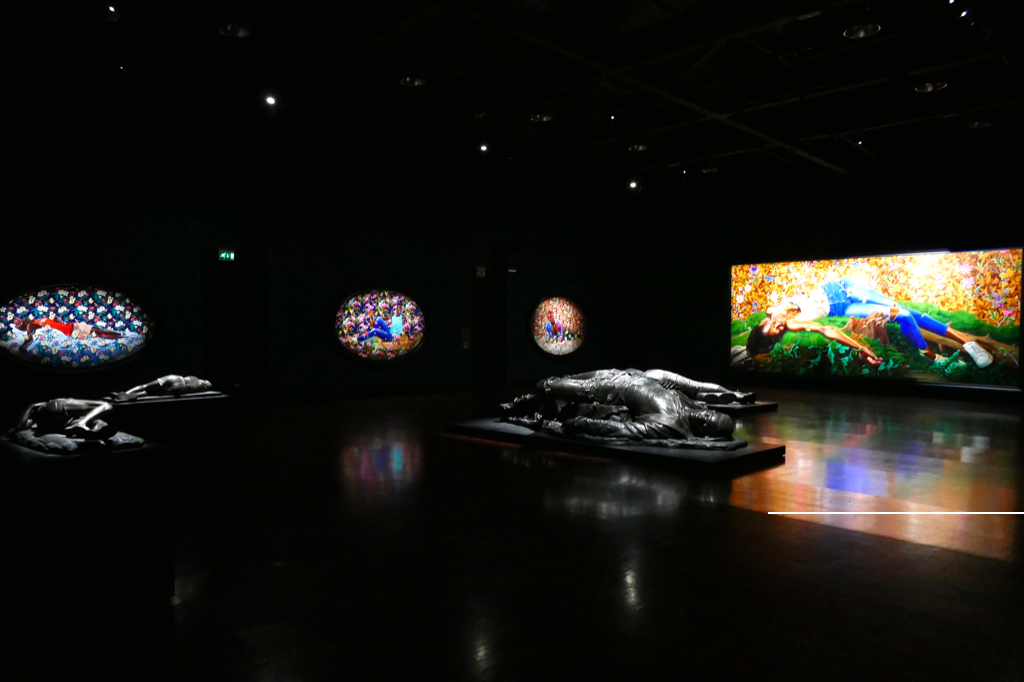 Their habitus comes straight outta Camdon or any other hood for that matter. They are nowadays' icons set in the iconography of classic settings from the Renaissance.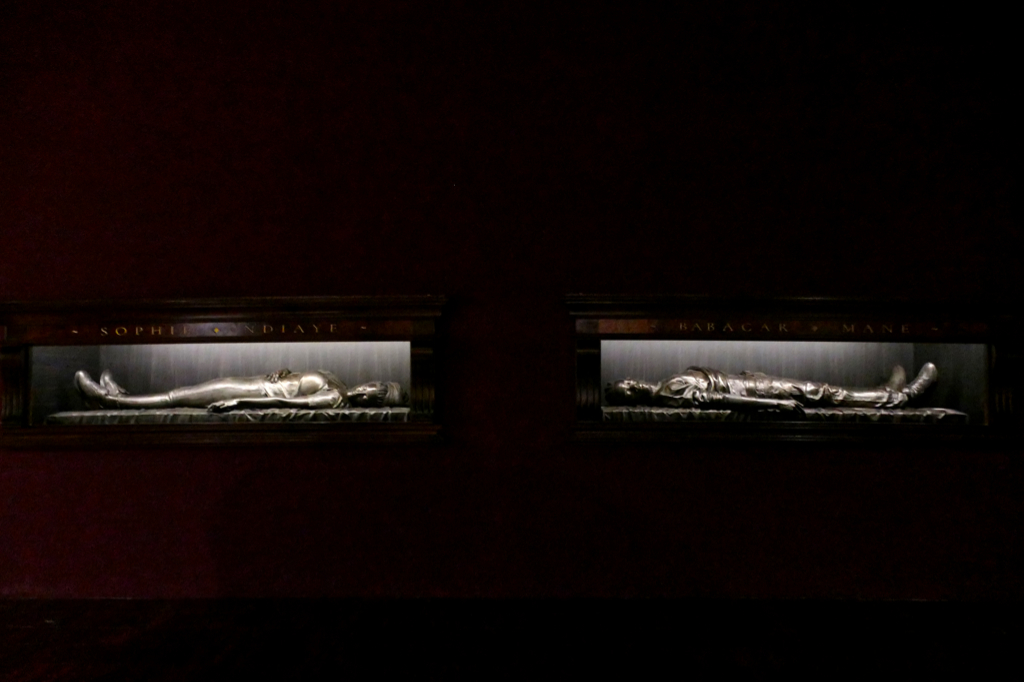 As you walk around, you hush automatically to not disturb these icons in their repose.
The Kehinde Wiley exhibition ends already on July 24, 2022.
Venue: Fondazione Giorgio Cini on Isola di San Giorgio Maggiore
Venezuela
Various Artists: Tierra, País, Casa, Cuerpo
Palmira Correa looks like the friendly elderly lady next door. And she probably is someone's friendly elderly neighbor. At the same time, however, she is a wonderful artist and paints these lovely, naive portraits and sceneries.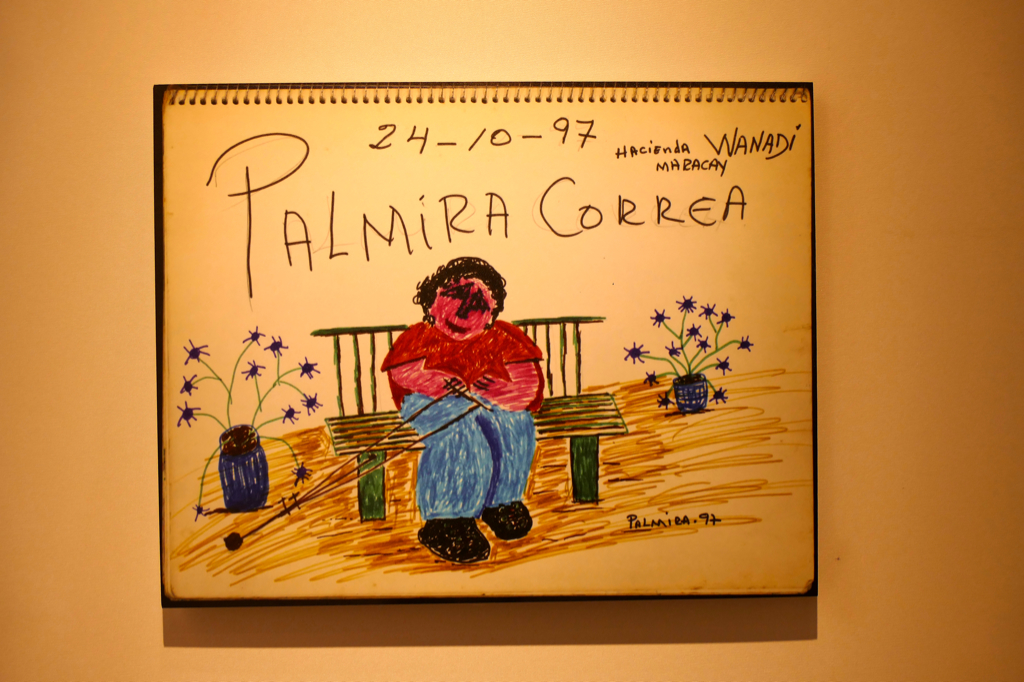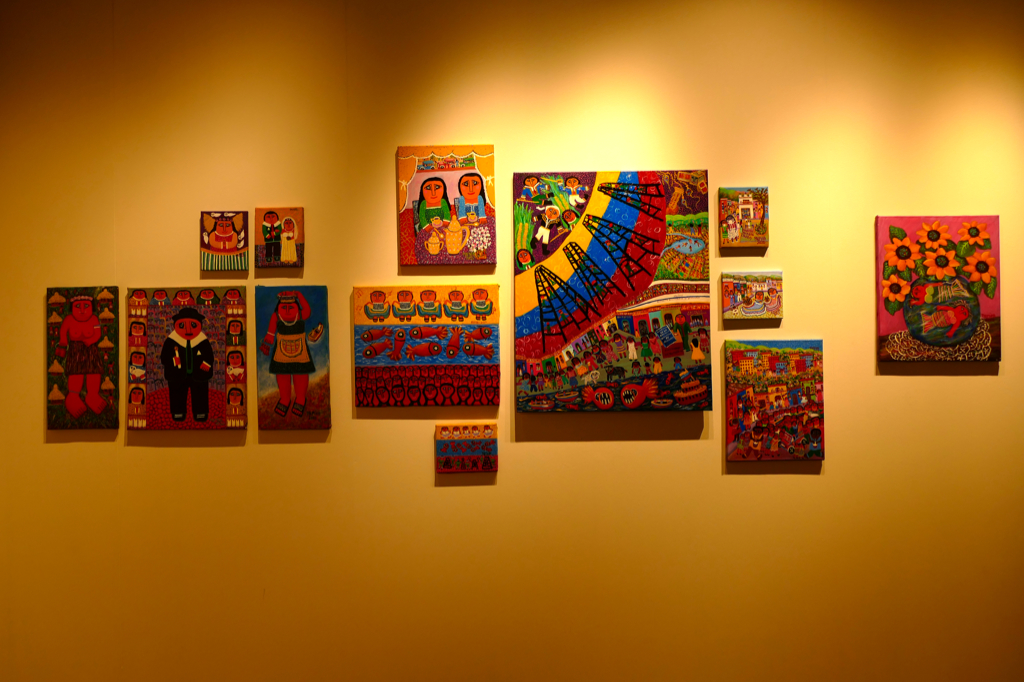 Venue: Venezolan Pavilion at the Giardini
Venice
Various Artists: Alloro
Yes, although there is an Italian pavilion at the Arsenale, Venice has its own pavilion at the Giardini, too. And I cannot remember an edition of the Biennale when the Venetian show wasn't pretty spectacular.
2022 is no exception, although Mimi and I interpreted the intriguing installation totally wrong. As a matter of fact, it's a summary of the Greek mythology of Daphne and Apollo. Well, the laurel bush on the third part of the installation could have been a hint.
Venue: Venetian Pavilion at the Giardini
Silence Is Golden
As I promised you above, here are four exhibitions that are not loud and exciting but peaceful and serene. They are the perfect setting for a quiet, meditative look around, a couple of minutes on a bench – far away from the brouhaha of the city and the main art venues.
Enjoy the silence.
Rachel Lee Hovnanian: Angels Listening
The performative and sculptural installation invites visitors into an immersive experience. The installation is made up of seven angels, large sculptures cast in white bronze, rendered mute by adhesive tape.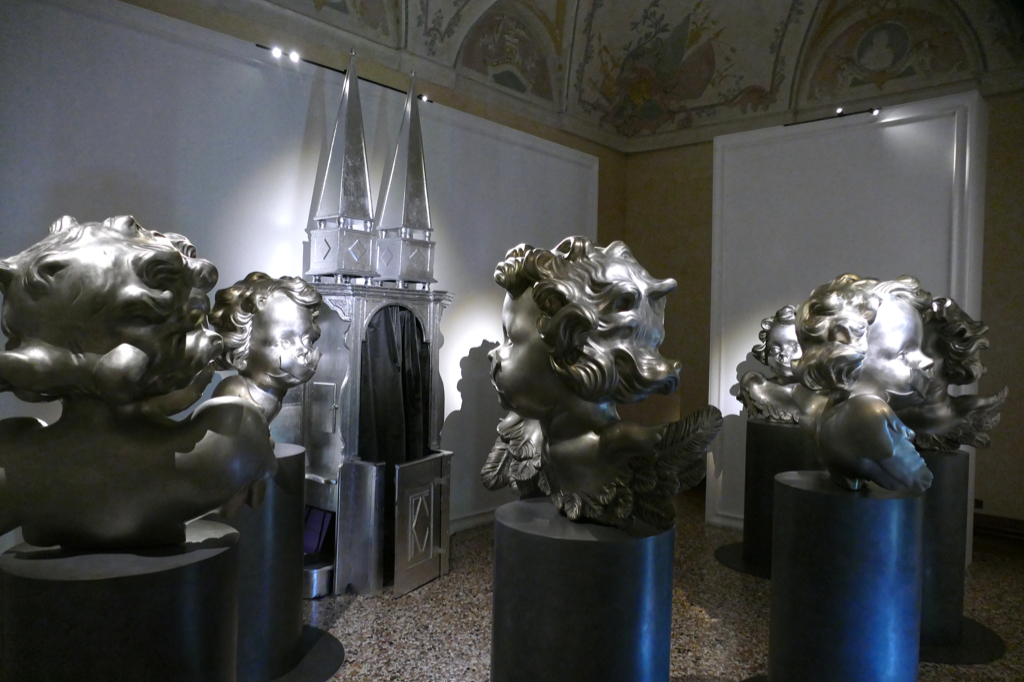 Visitors should write their innermost thoughts on a piece of paper and drop them in a box. At the end of each day, the messages are assembled on some kind of prayer rugs which are scattered in the Loggia's garden.
Here, visitors can sit – either on the rugs or on benches – to ponder and reminisce.
Venue: Loggia del Temanza, Dorsoduro 1602
Alberta Whittle: deep dive (pause) uncoiling memory
The artist is the first woman of color representing Scotland at the Biennale.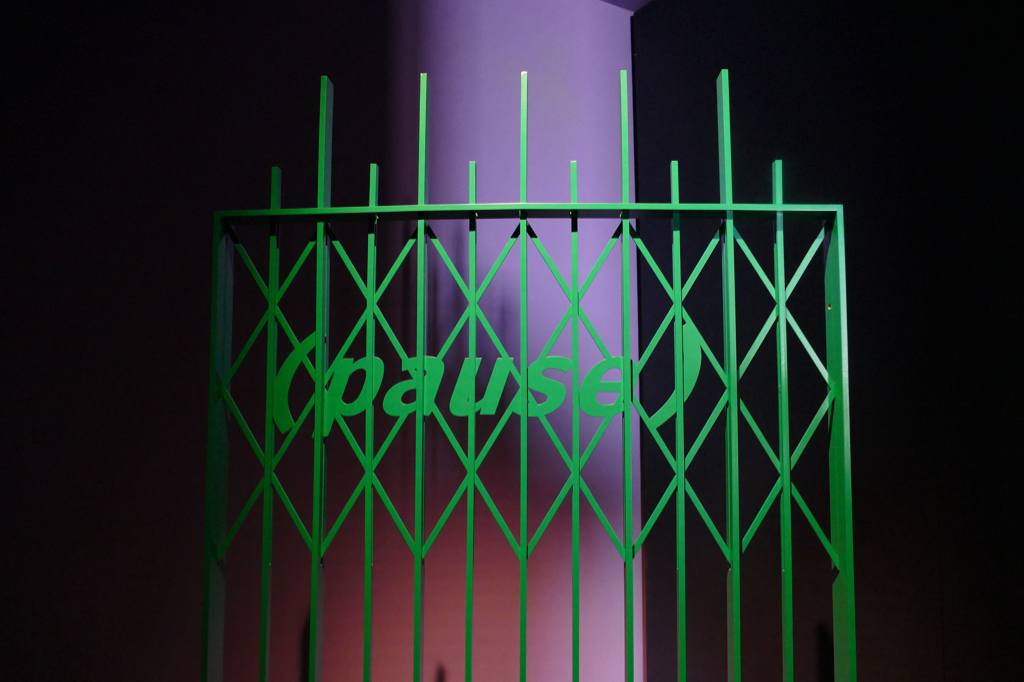 In her multimedia work consisting of a tapestry, a sculpture, and a video, the artist addresses colonization, police brutality, gender issues, and racism. At the same time, she creates enough room and tranquility for restorative self-healing.
Venue: Docks Cantieri Cucchini, S. Pietro di Castello 40
Lita Albuquerque: Liquid Light
Not far from Alberta Whittle's haven of tranquility is Lita Albuquerque's installation Liquid Light.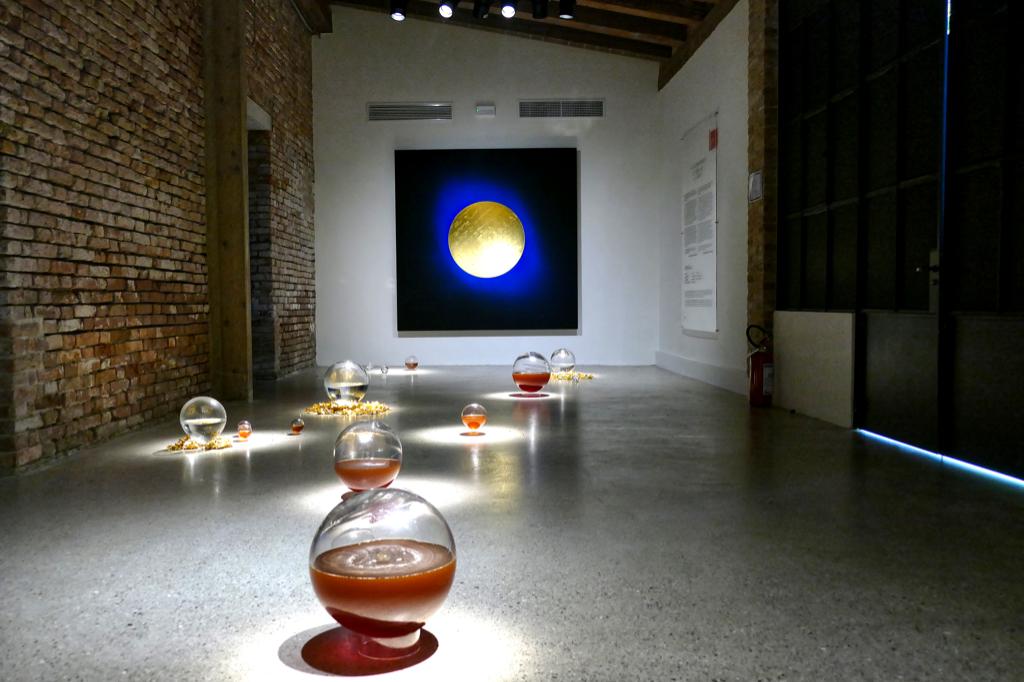 A traveler moves through Albuquerque's film, encountering the earth with wonder and apprehension. Set in calmly flowing images of iconography, personal history, and wide landscapes, Liquid Light is a video installation created in collaboration with Venetian artisans.
Venue: Olivolo, San Pietro di Castello 59
Lena Herzog: Last Whispers
The linguistic diversity of the world is dying at an unprecedented rate.
Of the incredible 7,000 languages ​​that still exist on earth, only 30 are spoken by the majority of the world's population. A language dies every two weeks, and it is feared that at least half of the languages ​​currently spoken on the planet will be extinct by the end of this century.
This is just a trailer, the entire video is 20 minutes long. You enjoy it in a comfortable easy chair over a virtual reality headset:
In the Last Whispers project, the artist draws parallels to the extinction of species.
There is an installation on the university campus, and in the Ca' Foscari at Zattere, you can listen to dreamy images of some of the endangered languages.
The projection of the video will end by July 30, the installation will be taken down already on September 30, 2022.
Venue Installation: Ca' Foscari, Dorsoduro 3246
Venue projection virtual reality: Ca' Foscari Zattere, Zattere al Pontelungo, Dorsoduro 1392
Plan Your Visit
When to Go
Normally, the biennial begins beginning of May, this year, however, it has begun already at the end of April. It then lasts till the end of November.
If you visit very early in May or June, prices for accommodation and many services are still lower than during the high season in summer. Also, during the summer months, it get's really hot, and walking around is rather a drag than fun.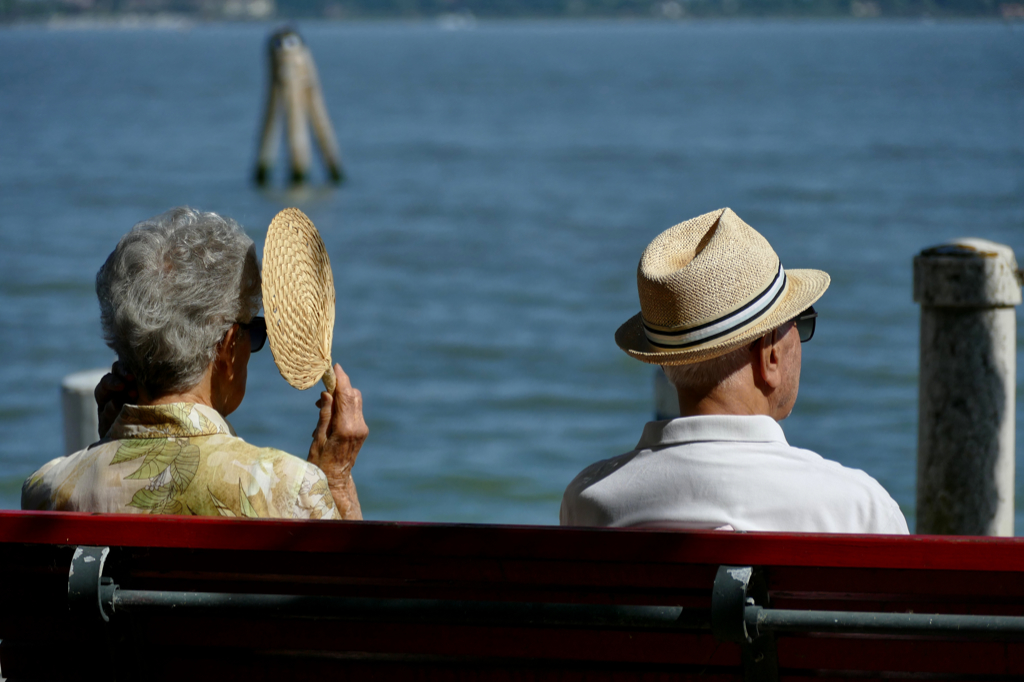 Obviously, you can also go in autumn, let's say October or even November. However, some of the major exhibitions and events will be taken down by then.
Either way, make sure to check out my post on how to visit Venice on a budget where I supply you with tons of tips on how to visit Venice smoothly and without burning a hole into your wallet.
Tickets
In 2022, the Biennale di Arte is taking place from April, 23 until November 27.
As I wrote above, the event is basically divided into three parts. Firstly, there are the two official venues Arsenale and Giardini. Then, there are the country pavilions scattered all over the city. Finally, you have the so-called Collaterali, major art exhibitions taking place at exclusive venues.
To visit the Arsenale and the Giardini, you need to buy a ticket, obviously. However, there are different kinds of tickets – with or without guided tours and other extras.
This year, a general ticket costs 25 €uros and grants one-time access to both main venues on the same day or on different days that don't even have to be consecutive.
Students and visitors under the age of 26 pay only 16 €uros.
Then, they are passes that grant multiple visits: The full price is 85 €uros for unlimited visits. Students and visitors under the age of 26 pay only 45 €uros.
You can also obtain a ticket for 7 consecutive days for 45 €uros. These options are really only for you hardcore culture vultures since let me tell you, there is a lot going on you want to see also outside the Giardini and the Arsenale. According to my experience, it's enough for your eyes and your brain to visit each venue only once.
I absolutely recommend buying tickets online since there might be rush hours. In that case, you'll have to stand in line forever. If you prefer to get a ticket on the spot, it is faster at the Giardini than at the Arsenale. At least according to my experience.
Opening Hours
The Giardini and the Arsenale are open from 11 a. m. to 7 p. m. until September 25. During this period, the Arsenale will be open until 8 p. m. on Fridays and Saturdays.
From September 27, they will be open from 10 a. m. to 6 p. m.
While the two main venues remain closed on Mondays, many of the country pavilions in the center close on Tuesdays.
Theoretically. In practice, it happens that you find a note on the door of a pavilion saying it will remain closed for whatever reason. Or you are asked to come back later since there is a problem with the electricity. Or for no apparent reason, a pavilion doesn't open. Ever, no matter how often you pass by. This can be very frustrating, especially if you've searched for that address for hours or even had to take a vaporetto to another islet. Yet, somehow, it's part of the charm of the whole thing so don't get upset and just pick another venue. There is enough other stuff to see, believe me.
Entrance Fees Outside the Main Venues
There is no entrance fee to the country pavilions. Since they are spread across the entire city and beyond, the challenge is rather to find them in the narrow, hidden alleys of Venice. Also, some of them are on Venice's smaller islands like the Giudecca, Isola di San Servolo, and others.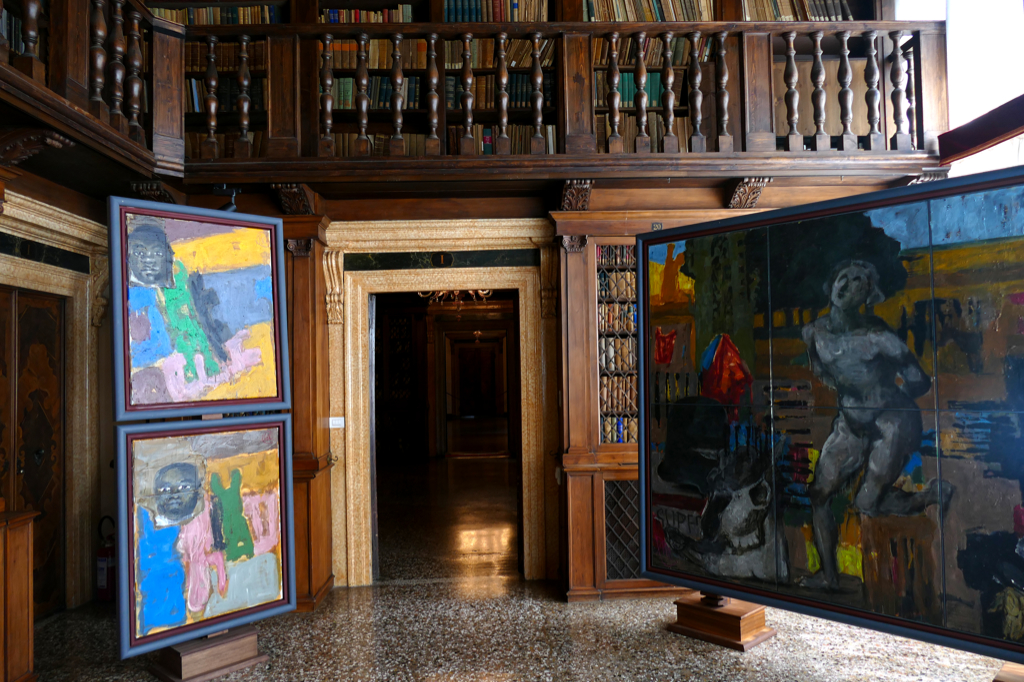 However, the city pavilions are a very charming part of the Biennale since you have access to buildings that normally are not open to the public. Also, the combination of the old, deteriorating walls and ceilings and the sometimes hyper-modern art is very alluring.
Simultaneously with the main event Biennale di Arte, major art exhibitions are taking place. They either focus on one famous, important artist or a group of artists in a themed exhibition.
Since these so-called Collaterali are mostly taking place at exclusive art venues such as the Fondazione Prada, the François Pinault Foundation, or the Ca' Foscari, you need an extra ticket to visit. In general, those are not exactly cheap. However, this year, the ticket to the Anish Kapoor shows are only 12 €uros for two venues, and the exhibition of Kehinde Wiley's work at the Fondazione Cini is even free of charge.
How to Get Around
As you might know, the Centro Storico and most of the smaller islands in the Venetian lagoon are car-free. Therefore, you simply cannot avoid a lot of walking. As a matter of fact, neither can you avoid taking some kind of boat if you want to visit exhibitions on other islets such as the Giudecca, Isola di San Servolo, or the Isola die San Giorgio Maggiore, to name just a few. Also, depending on where you're based, the walk to and from the main venues can be an exhausting hike, especially after a long day spent walking around galleries.
Venice has the tacky gondolas, and there are very expensive water taxis. However, there is also a very comprehensive net of vaporetti which are basically water buses.
Tickets and Passes
While at 7.50 €uros, individual tickets are ridiculously expensive, there are travel passes that are actually not that bad. The more days you buy, the cheaper are your rides. Here is a chart on how much you pay for a day pass in 2022:
| | | | |
| --- | --- | --- | --- |
| 24 hours | 48 hours | 72 hours | 168 hours (7 days) |
| 21 €uros | 30 €uros | 40 €uros | 60 €uros |
Note that a 24 hours ticket can actually be used on two days since the clock starts ticking the moment you validate your ticket and lasts actually 24 hours. With the other tickets, it's the same, obviously.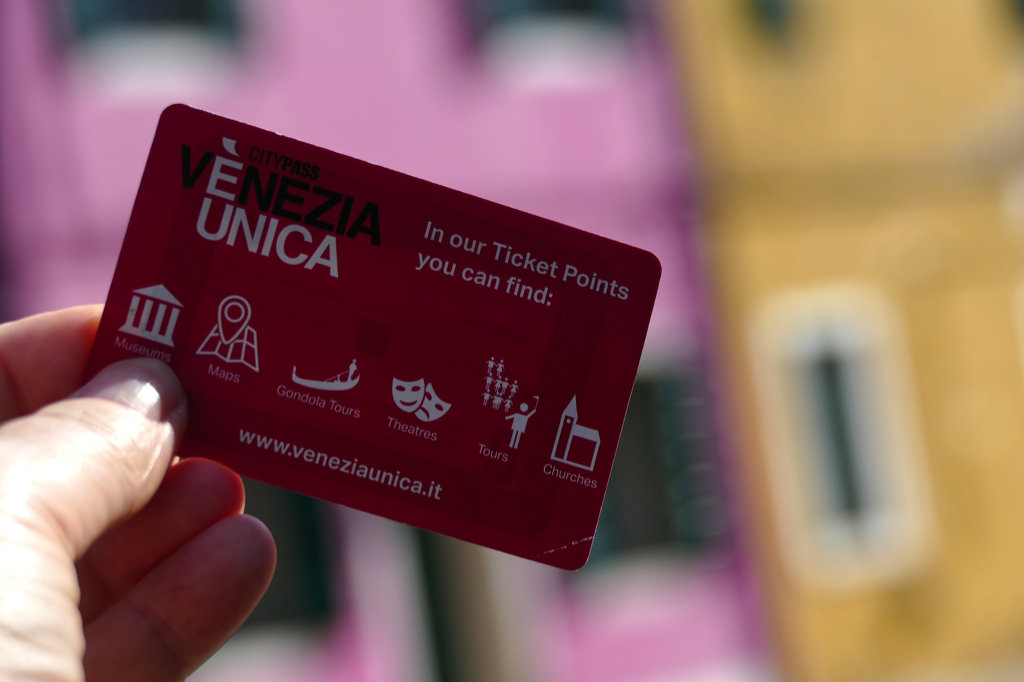 Young people under 29 years of age get an even better deal with the Rolling Venice Card. This title costs 6 €uros and is valid for one whole year. Not only do you get great discounts at many museums and other places of interest. You also pay only 22 €uros for a 72 hours-pass instead of the regular 40 €uros. Unfortunately, you can actually buy only 72 hours-passes. But if you stay for instance for a week, you can get two so that you pay only 44 €uros in total.
Do The Math
Note that there are passes that include trips from and to the Marco Polo Airport. However, keep in mind that as you activate your pass at the airport, the clock starts ticking. It might be cheaper to pay that extra fee for those trips in order to activate your pass later when you need it for your sightseeing.
The passes are also valid in other parts of the Venetian area like for instance on the buses on the Lido di Venezia and on buses, trains, and the tram in Mestre. All in all, they are a really great deal.
Some Extra Tips
After having been to several biennials, I'm happy to share some tips that will make your visit less stressful:
Walk as little as possible.

Don't get me wrong, I'm an avid walker. On city breaks, I walk miles and miles. However, you'll walk those miles even if you try to walk as little as possible. Because don't expect that vaporetto to stop right in front of your accommodation. You'll probably have to cross a couple of bridges to get to your nearest stop.

To get from the end of the Arsenale back to the entrance, it's about a mile. Will say, even if you go straight from the entrance to the final pavilion and back, you'll walk two miles. This route does neither include the meandering within the galleries nor detours to bathrooms.

You won't be exactly lazy even if you avoid walking wherever you can.


Wear comfortable, sturdy shoes

After having explained above how much you'll automatically have to walk, it should go without further explaining why you have to wear comfortable shoes. It won't hurt – literally – if you even opt for hiking boots.

Visiting Venice is exercise. Vising the Biennale is boot camp.


Bring some picnic and water

This is actually optional since there are stands and cafeterias at the main venues. However, It won't surprise you that they are slightly overpriced. As a matter of fact, the prices aren't even the reason that I don't like to buy there. The main reason is the long lines. You wait in line at the entrance, you wait at the bathroom – do yourself a favor and avoid waiting in line for a sip of water.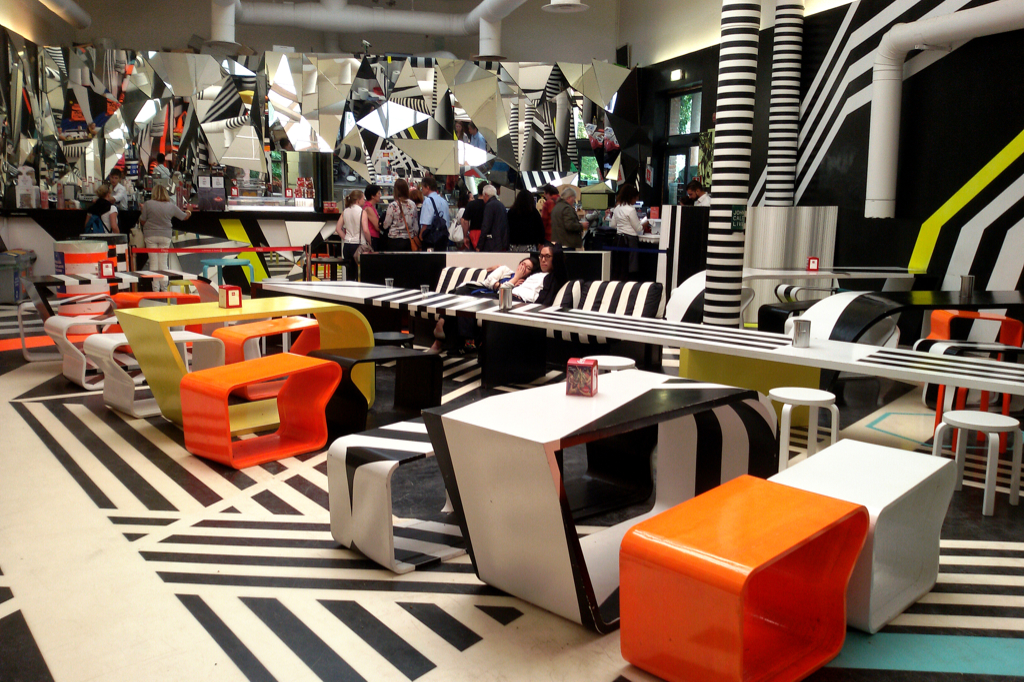 Map
On this map, you get an overview of where all these wonderful works can be found. Clicking on the slider symbol at the top left or the full-screen icon at the top right will display the whole map including the legend.
Pinnable Pictures
If you choose to pin this post, please use one of these pictures:
Did You Enjoy This Post? Then You Might Like Also These About More Art And Art Events:
* This is an affiliate link. If you book through this page, not only do you get the best deal. I also get a small commission that helps me run this blog. Thank you so much for supporting me!