We'll Always Have Büdelsdorf – since every year, hence, also in 2017, the NordArt is taking place in this forlorn suburb with the quirky name.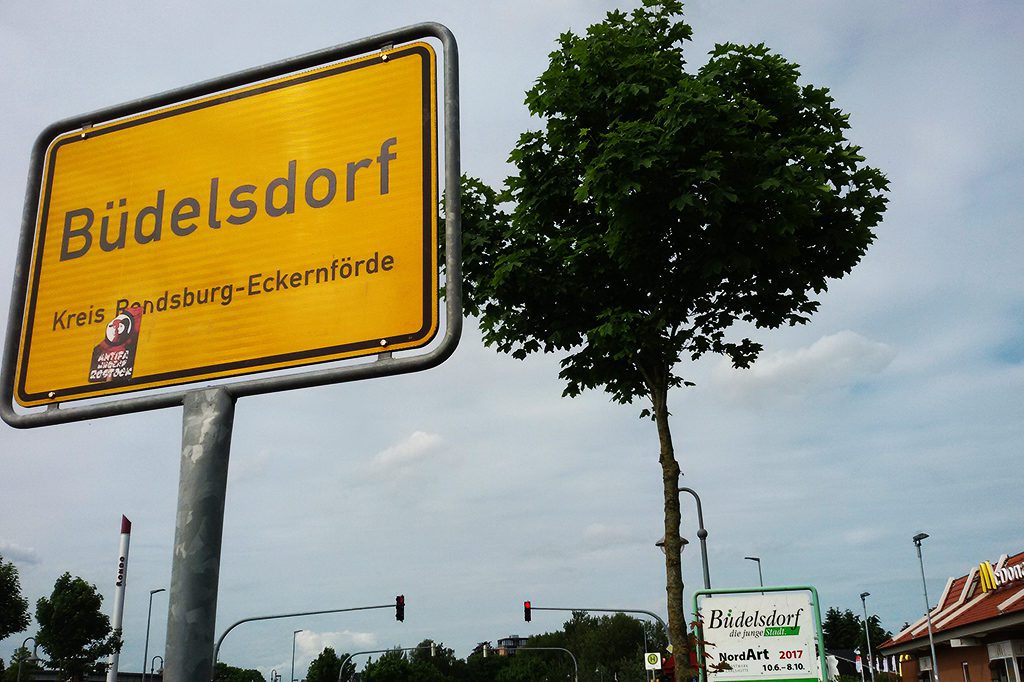 Don't judge an art event by its location: The annual NordArt is one of Europe's biggest exhibitions of contemporary art.
I don't know what Büdelsdorf sounds like to foreign-language speakers.
To Germans, it evokes images of flat, green pastures. Of farmers in mud-smeared gumboots, drinking beer from a bottle on a bench in front of their houses, greeting bypassers with a terse Moin.
This, by the way, is the time-consuming North German form of greeting at any time of the day.
But every summer, Büdelsdorf welcomes tens of thousands of visitors when the NordArt takes place.
Büdelsdorf isn't even a town, it's sort of a suburb of a small town called Rendsburg. So this might give you an idea of how secluded it really is. In English, you call a place like this politely secluded. The Spaniards have a more rustic expression for it: en el culo del diablo – in the devil's butt.
But I assure you it's worth travelling into the devil's…bowels. Because since 1999, there is this spectacular art event taking place.
Why Büdelsdorf?
Why Büdelsdorf of all places? The answer can be foreseen – it's, as always, a question of space and money. In 1827, the Carlshütte iron foundry was opened and operated for 170 years. When the business closed in 1997, Hans-Julius Ahlmann, Managing Partner of the internationally active ACO Group, took over the grounds with its enormous industrial halls and historic housing. Since then, it's been used for various cultural projects. Hence, also every summer for the NordArt.
Most of the statues and installations in the sculpture park remain in their places. Obviously, since they are made of iron, stone, and marble, hence, a bit heavy to be shuffled around on the garden's 861,112 square feet too often. Contrary to the exhibition at the industrial hall that are presenting an interesting selection of contemporary artists every year.
Although you don't find the big, important names here, you'll get to see fresh, inspiring art from all over the world. Also, at the opening, with free entrance for everybody, you get to meet many of the artists in person.
NordArt 2017
In 2017, 3,682 artists from 99 countries applied for showing their masterpieces.
Although that number of applications was slightly lower than in 2016, and the hall offered space for exhibitions on 236,806 square feet, of course, not everybody was admitted. Finally, there were about 200 artists on display.
Every year the focus is on a partner country. In 2017, this happened to be Denmark, bordering the German federal state of Schleswig-Holstein. Hence, they practically just had to hop over the border.
Also, in 2017, Kunstwerk Carlshütte was the official partner in the celebration of 45 years of diplomatic relations between Germany and the People's Republic of China.
Therefore the NordArt focussed once again on artists from the Middle Kingdom.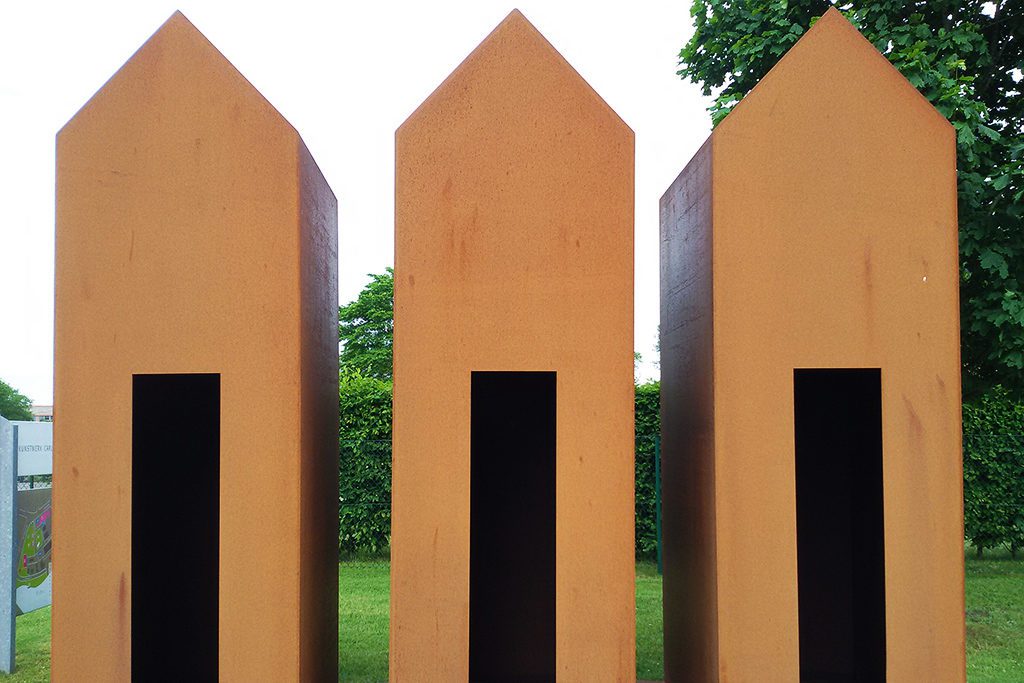 David Černý
Last – and definitely not least – there was David Černý from the Czech Republic, winner of the 2016th NordArt Prize. Consequently, this made him the 2017th Focus Artist.
In his hometown Prague, there are now 14 installations in public spaces.
At the NordArt, he tops this by presenting 19 of his really fun sculptures and installations.
I'm introducing some of Černý's street art in my post Three Days In Prague – For First-Timers & Repeat Visitors.
What to Know When Visiting the NordArt
On this page, you'll find all the relevant information you need before – and while – visiting the NordArt.
How to Get to Büdelsdorf
You get to Rendsburg by train from Hamburg in less than 90 minutes, and from Berlin in about 3,5 hours (via Hamburg). From the train station, it's a 15-minute walk to the Kunstwerk Carlshütte.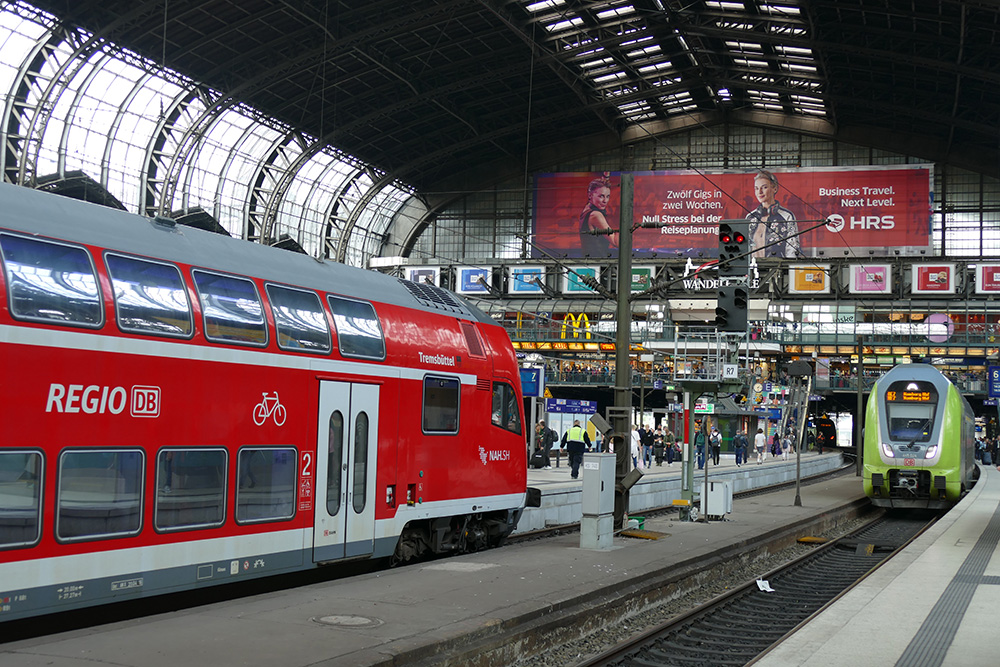 Here's a special tip for you Germany travellers: For about 25 Euro you can travel an entire day by train within every federal state. However, you are only allowed to take regional trains, not IC or ICE. The best part is: each further person pays only 4 Euro, up to 5 people can travel on one regional day ticket.
Due to its central position, Hamburg is automatically included in three tickets (Schleswig-Holstein, Mecklenburg Western Pomerania, and Lower Saxony (which includes also Bremen)).
Büdelsdorf is in Schleswig-Holstein, and the day ticket for one person is 28 Euros.
In this post, you'll find everything you need to know before – and during – visiting Germany.
Pinnable Pictures
If you choose to pin this post for later, please use one of these pictures: